Matt Testro Nowhere Boys Series 1 DVD Interview
Cast: Joel Lok, Dougie Baldwin, Rahart Sadiqzai, Matt Testro, Michaela Banas, Libby Tanner, Damien Richardson
Creator: Tony Ayres
Genre: Action, TV
Rated: PG
Running Time: 598 minutes

Follow the action-packed adventures of four mismatched teenage boys in ABC3's new fantasy series, Nowhere Boys - who return from a school excursion to discover they're stuck in a parallel world into which they were never born.

Nowhere Boys combines supernatural action-adventure elements with comedy and genuine human drama, tracking the journey of alpha jock Jake (Matthew Testro), Goth Felix (Dougie Baldwin, Upper Middle Bogan), nerd Andy (AFI nominee Joel Lok; The Home Song Stories) and the golden child Sam (Rahart Sadiqzai, Neighbours) in their quest to find, out what happened to them and how they can return home.

The series begins when the boys get lost while trekking through dense forest on a school excursion. After surviving a terrifying night trapped by a violent lightning storm, the boys expect a heroic reception when they return home. Instead they discover that they are now total strangers to their friends and families - they don't exist anymore. All public records of them have vanished and the world has reconfigured itself. Felix's disabled brother can walk and Jake's struggling parents are now leading successful lives.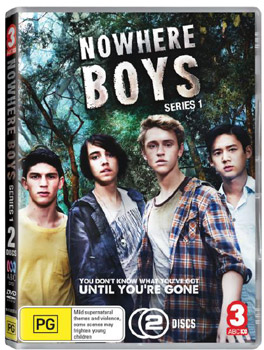 The boys are now forced to fend for themselves and grapple with basic questions of survival. While trying to prove they still exist, Sam discovers he has a doppelgänger called Sammy (Jesse Williams) and Andy's scientific obsession with finding a rational explanation for their bizarre situation nearly kills him. As more strange accidents begin to befall them, the boys start to wonder if something otherworldly is out to get them.

Nowhere Boys Series 1
RRP: $29.95


Interview with Matt Testro
Question: How would you describe your character, Jake?

Matt Testro: Jake starts off as your stereotypical jock and bully; he is not the nicest bloke to Andy and Felix. Although, as the series progresses you see that Jake's behaviour stems from a broken home life as his the man of the house because his Dad is a bit hopeless and a dropkick so Jake has to help his Mum around the house with everything that the Dad should be doing. You can see that Jake is carrying a lot on his shoulders and it makes him have a hard nature that comes across as being aggressive but as the series progresses you see he becomes very protective of the other guys and becomes the man of the group, similar to in his home life.


Question: Do you share many similarities with your character, Jake?

Matt Testro: I hope not (laughs)! I try to think I'm not as scary as Jake and his probably a lot more aggressive than I am and he is a lot better at sport, as well (laughs). I think I am quite practical, like Jake is and I love my Mum as well – they're probably our own similarities, I think!


Question: What was the best part about being on set for Nowhere Boys?

Matt Testro: Whilst all the scenes were interesting in their own way, there were quite a few scenes that stand out because they were an absolute ball to shoot. In general having a great group of mates as your fellow cast members was great; we've all become very good friends and it didn't feel like a job because we were doing something we love around people that you love just as much, it was pretty awesome.


Question: What was the most difficult part about filming Nowhere Boys?

Matt Testro: There were more physically testing scenes especially in some of the later episodes including episodes 11, 12 and 13. In the last block of episodes there were a lot of stunts and it was very cold in Melbourne. It was 8 degrees on set when we were filming episode 10 and we were on the ground and we had to have a net dropped on us, as we are captured; the ground was really muddy and the net was carrying so much water from the rain the night before and when it dropped on us we were drenched in water – that was hard to get through, especially when you're doing multiple takes. There were also more emotionally testing scenes, like when our Mums were all in hospital.


Question: Which was your favourite episode from Nowhere Boys Series 1 to watch?

Matt Testro: As each character has their own episode, that's the pattern; my favourite episodes to watch were any one of mine (2, 6 and 11). I liked watching my own work to see where I was good and where I went wrong; I enjoyed that.


Question: Do you think you would act in a similar way to Jake, if you were in a similar situation as the show?

Matt Testro: Would I act the same as Jake? I do not know, Jake is so strong in the beginning and he takes charge, I don't know if I could take charge as much as him. All the boys will stop at nothing to get back to their families and I know I would do the same.


Question: Nowhere Boys is your first acting job; what did you learn about yourself whilst filming Nowhere Boys?

Matt Testro: It was a very good learning curve and a huge learning experience because I've never acted professionally before. All of the other boys on set had done bits and pieces before and I learnt a lot from Libby Tanner and Damien Richardson who played my parents and the directors such as Daina Reid, (all of the other directors were a little overwhelming at first). I learnt my limits and how far I can push them, that's for sure and I learnt a lot about what I don't know which was a very humbling experience especially when learning how well other people can really connect. I learnt that I can be a lot better than what I thought I could as well by taking in what the others were doing. I took a lot out of the project including what I can do.


Question: What inspired you to begin acting?

Matt Testro: I always acted as a hobby, especially as a kid although I never thought of it as being a career. I used to save up my pocket money to go and do short courses and workshops around Melbourne. Eventually my love grew and I was participating in events and was represented by an agent, I was auditioning and Nowhere Boys was an audition I went for and I happened to be right for the role of Jake.


Question: If you could work with any actor or actress; who would you like to work with?

Matt Testro: I'll give you both (laughs). Leonardo DiCaprio because he is awesome and Jennifer Lawrence as I have a crush on her and she is extremely talented. It would be a tad overwhelming, though!


Question: What's next, for you?

Matt Testro: I am off to LA for the next month to work on pilot season; I will be doing meetings, auditions and learning the ropes of La La Land. I've just come off the back of shooting a US film (titled Eden) so whilst I'm there I will see a screening for that which is very exciting. I can't really talk about the other things coming up, at the moment (laughs).


Interview by Brooke Hunter