Interview with Katrina Barry, Contiki's Managing Director
Question: What are your top reasons for travelling solo?

Katrina Barry: I believe travelling solo is one of the best things you can do for yourself, especially when you are young. It really helps you gain a sense of self, develop independence and build confidence. Without the crutch of a friend or family member, you'll also be forced to make new connections, and will find yourself meeting people you otherwise may not have encountered. There is also a huge sense of freedom that accompanies solo travel. Want to pop into a local gallery but art isn't your partner or friends thing? No problem, you can spend your free time doing exactly what you want, exploring your own interests in a country completely different to home.


Question: Why is Contiki best when travelling solo?

Katrina Barry: 54 years ago, Contiki pioneered the best way to travel solo and still is the most popular choice for young solo travellers as they know Contiki have designed the ultimate experiences and are guaranteed to meet a bunch of like-minded travellers like themselves, from all around the world. The friendships that are forged last a lifetime and we see many groups reconnecting many months, years and even decades after their trips have finished.


Question: What tours do you suggest for those of us, travelling solo, in 2016?

Katrina Barry: All Contiki trips are well-suited to solo travellers, but the best fit really depends on the travel personality of the individual. In Europe we offer eight different ways to travel, with something to suit all types of travellers whether they want to see as much of the iconic sights as possible, or delve deeper into a destination.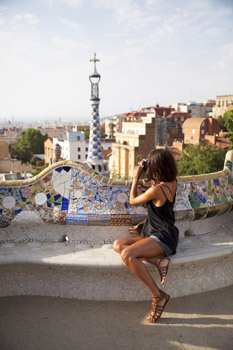 Question: Can you talk about the relationships stats of those who have met on Contiki?

Katrina Barry: A whopping 20% of single travellers experience a holiday romance while travelling with Contiki. Those looking for the real thing will be heartened to hear that many of these aren't just hook ups either with 50% turning into real relationships and one in three Contiki tours per year producing a marriage. If love is a numbers game then these odds are tipped pretty favourably!


Question: Would you suggest Contiki for a couple's holiday?

Katrina Barry: Absolutely! There are a lot of couples who choose to travel on Contiki, and a growing number of those choosing Contiki for their honeymoon. With plenty of free time and most of the accommodation offered on Contiki in hotels, couples on Contiki can enjoy time to themselves and creature comforts while also benefiting from the fun, social elements that have made Contiki such a popular choice for young travellers, whether single or coupled, for over 53 years.


Question: What location would you suggest for couples travelling, in 2016?

Katrina Barry: For couples, there are the traditionally romantic destinations such as Italy or France that will always create fantastic, lifelong memories. However, I would also recommend couples opt for exotic, more off-the-beaten track destinations that will give them an experience unlike any they've experienced with friends or previous partners. The Balkans region, including countries such as Romania, Montenegro, Croatia and Bosnia are really opening up, as is Iceland.

Also good options for couples are destinations that offer bucket list experiences such as Peru and Machu Picchu. Experiencing something as iconic as the Inca Trail for example definitely brings couples closer together.


Question: How would you describe Contiki?

Katrina Barry: Contiki is the world leader in youth travel experiences, a brand that is all about discovery, epic moments and making every second count. Our journeys unlock the local way of life in each and every destination we visit, and with over 300 trips in more than 50 countries, we see every day as the start of a new adventure.


Question: Why is Contiki a safe way to travel?

Katrina Barry: As the experts in youth travel for over 54 years, we really have the art of awesome holidays down to a tee. All of our Trip Managers go through the industry's most rigorous training program before they hit the road, and have extensive local knowledge and contacts should an issue arise. Travelling with Contiki really gives the traveller, plus their friends and family back home, the assurance that they will be well looked after.


Question: Can you share with us the celebrities who have toured using Contiki?

Katrina Barry: There have been a number of well-known names that have travelled with Contiki in the past. Some of these include Jesinta Campbell, Troye Sivan, Sam Frost, Renae Ayris, Sahara Ray, Hayden Quinn, Carissa Walford, Lisa Hyde, Nathan Joliffe, Ryan Ginns, Chloe Morello, Sjana Earp and bloggers Jessica Stein (Tuula Vintage), Nicole Warne (Gary Pepper Girl) and Zanita Whittington (Zanita Zanita).


Interview by Brooke Hunter