Lee Hirsch The Bully Project Interview
The BULLY Project is the social action campaign inspired by the award-winning film BULLY.

The BULLY Project will launch in Australia on Thursday 8 October, aiming to reach 100,000 Aussie kids, creating the spark to ignite a new generation of empathetic and educated individuals.

In Australia, one in four Year 4-9 students are bullied. Bullying also hits the top of the chart as the #1 social issue for students across all states and territories.

Bullying can have serious effects on the wellbeing and mental health of all of those involved. Young people who are bullied are more likely to have depression, anxiety, low self-esteem and feelings of loneliness and isolation, be socially withdrawn, and have an increased risk of substance abuse.

The BULLY Project is embarking on a global movement to stop bullying, transform kids' lives and change a culture of bullying into one of empathy and action.

The power of our work lies in the participation of individuals together with a remarkable list of partners we've gathered who collectively work to create safe, caring and respectful schools and communities.

We're working with ACMI (The Australian Centre for the Moving Image), Samsung and the Foundation for Young Australians' Propeller Project, Monkey Baa Theatre Company, PROJECT ROCKIT and the Victorian Department of Education and Training to present a blockbuster suite of initiatives for the whole school and community to get involved with to create a generation of Upstanders!

The film BULLY is a beautifully cinematic, character driven documentary, directed by Sundance and Emmy-award winning filmmaker, Lee Hirsch, and offers an intimate, unflinching look at how bullying has touched five kids and their families.

Filmed over the course of the 2009/10 school year, BULLY opens a window onto the pained and often endangered lives of bullied kids, revealing a problem that transcends geographic, racial, ethnic and economic borders.

It documents the responses of teachers and administrators to aggressive behaviours that defy 'kids will be kids" clichés, and it captures a growing movement among parents and youths to change how bullying is handled in schools, in communities and in society as a whole.

"BULLY is a stunning example of how documentary film can facilitate social change globally. BULLY and the 200 partners that the project has mobilized are encouraging entire communities to come together to take action. As a result over 3.7 million young people have seen BULLY in the US, and it's been released in over 15 countries. BULLY and its supporting resources provide teachers, students, schools and communities the tools to teach empathy and shift human behaviour."
Ian Darling, Executive Director of Shark Island Institute and the founder and Patron of Documentary Australia Foundation

The BULLY Project Australia is a not for profit project initiated by Shark Island Institute and The Caledonia Foundation and is supported by Documentary Australia Foundation, GoodPitch Australia, Shark Island Productions, UNLTD, Bennelong Foundation and The Pierce Armstrong Foundation.

Visit www.thebullyproject.com.au for more information
Support The BULLY Project through Documentary Australia Foundation
https://www.documentaryaustralia.com.au/films/794/the-bully-project-australia



Interview with Lee Hirsch
Question: What inspired you to create The Bully Project?

Lee Hirsch: We made the film BULLY to be a voice for kids who are experiencing bullying. I was bullied as a kid and one of the things that I experienced was that it was so hard to communicate what was going on, and the magnitude of what was going on.

The film shows what bullying really looks like. We wanted to shine a big spotlight on what's really going on, so that the issue can't be ignored anymore. The film was made to be a catalyst for kids to talk to their parents, teachers, and friends and seek help when they need it.


Question: Can you talk about the idea behind the social action campaign, The Bully Project?

Lee Hirsch: The social action campaign is a global movement to stop bullying, to change a culture of bullying into one of empathy and action.

We've spoken to a lot of people about how the film was designed to bring about change, and after talking about BULLY collectively with teachers, educators and health experts we explored what we could actually do to reduce bullying in schools. When we started, our primary goal was to educate kids, and we wanted 1,000,000 kids to see the film and we created support materials to teach them the lessons of the film. In its first wave, over 250,000 students saw BULLY in movie theatres across North America.

But we soon realized that we were missing a bigger opportunity to impact the adults in the school community. With the guidance of our partners, we looked for the most effective prevention strategies; we asked ourselves what we could deliver at scale that could make a difference. The outcome of that work was a commitment to an educational reform approach known as Social and Emotional Learning (SEL), which is about building trusting relationships within a school, teaching empathy, and ensuring that every student (even in a large school) has one adult they are connected to and can trust when they have a problem.

Since its release over 3.8M kids have seen BULLY so the initial 1 Million Kids Campaign has been stepped up to the 10 Million Kids Campaign.

In addition to the Educators DVD & Resource there's been more than 9,500 community and school screenings, extensive media coverage and follow-up television specials, White House screenings resulting in President Obama endorsing two bills pending in Congress to address bullying and discrimination the launch of the US Mayor's Campaign to End Bullying and the launch of the Adobe BULLY Project Mural, which is a digital destination for people to share art, stories, and perspectives about bullying and how we can stop it.

The power of our work lies in the participation of individuals together with a remarkable list of partners we've gathered who collectively work to create safe, caring and respectful schools and communities.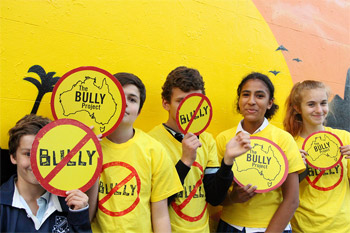 Question: What is the 100,000 Kids Campaign?

Lee Hirsch: The 100,000 Kids Campaign is an effort to spark a new generation of UPSTANDERS in Australia. An UPSTANDER is a person who chooses to take positive action in situations where individuals are being harmed or in the face of injustice in society. We want to inspire and support young people to be UPSTANDERS and work towards creating a tipping point in Australia, where bullying is no longer tolerated.

We are planning on doing this by encouraging 500 schools in Australia to participate in The BULLY Project, so we have created a special edition of the Educators DVD & Toolkit which includes activities mapped to the Aussie curriculum, National Safe Schools Framework and AITSL standards, and we have a bunch of Aussie partners on board who have contributed to the Kit and offer opportunities for young people in Australia to be UPSTANDERS.


Question: How does The Bully Project progress from BULLY the film?

Lee Hirsch: The BULLY Project is a movement which is catalysed by the film, and the movement is all about taking action. We use the film as the talking point for classroom learning, teacher training, and building parents' knowledge and awareness around the issue. There is no doubt that the power of the film can make people notice what's going on and re-think the way they handle bullying situations. And the resources that are built around the film support young people, and parents to be better prepared to manage situations.


Question: What success have you seen from The Bully Project in other countries?

Lee Hirsch: BULLY played at 30 international film festivals in 13 countries. In 2012, the Weinstein Company released the film in 120 cities and 528 theatres in the US. Outside of the USA and Canada, BULLY has been released in 15 countries.

The BULLY Project has sparked in many places around the world, but outside of the U.S. and Canada, we're putting a lot of energy into Australia, and hopefully we can use that as a model to replicate The BULLY Project in other countries across the world.


Question: How do you feel you can change the culture of bullying?

Lee Hirsch: We know that kids with higher social and emotional skills, and greater empathy for others are less likely to bully. Research also shows that if a student is feeling more connected to their school and feels that they're in a positive school climate, they're less likely to bully or be a victim of bullying.

The film BULLY provokes a sense of empathy and inspires action, and the accompanying resources encourage a whole community approach to increasing social and emotional learning skills and lift the school climate. We believe that if enough schools, young people and parents participate in The BULLY Project that we can create a tipping point in society where bullying is no longer tolerated. That if someone sees bullying occur, that they have the confidence and support to step in and help, and if someone is being bullied that they are surrounded by people who are equipped to address the situation appropriately.


Question: What do you hope to achieve with The Bully Project in Australia?

Lee Hirsch: In Australia, one in four Year 4-9 students are being bullied. Bullying also hits the top of the chart as the #1 social issue for students across all states and territories. It's clear that bullying is a major issue for Australia's young people and we want to work together to reduce it.

We've recently launched the 100,000 Kids Campaign and the Australian limited edition of The BULLY Project Educator's DVD & Toolkit. Our first goal is to encourage 500 schools across Australia to get involved by implementing the education resources and taking part in school and community projects to create safer and more inclusive communities.


Question: Who are you working with in Australia to reach these goals?

Lee Hirsch: The BULLY Project Australia was initiated by Shark Island Productions and The Caledonia Foundation with support from Documentary Australia Foundation. They brought on board our Impact Producer, Katie Barry, who since 2014 has been meeting with education and mental health experts to see if and how The BULLY Project was needed in Australia. The Victorian Department of Education were early adopters, having distributed the film to schools across Victoria in 2013, and since they have developed an iBook, linking scenes from BULLY to their Bullystoppers lessons. We also have support from UNLtd, Bennelong Foundation and The Pierce Armstrong Foundation.

We're partnering with ACMI (Australian Centre for the Moving Image) who have incorporated bullying and being an Upstander into their Screen It! Competition. Samsung and Foundation for Young Australians' Propeller Project and PROJECT ROCKIT are also getting involved with supporting resources and the UPSTANDER Awards. Within the kit we also refer a lot to existing mental health programs and support in Australia.

We're also working on some cool projects for next year, particularly activities on the National Day of Action Against Bullying and Violence in March, but I can't give away any secrets just yet.


Question: How has the project and film already changed the lives of Australians?

Lee Hirsch: We know that there are heaps of Aussies who have already seen BULLY, many schools in Victoria have used the film for teacher training, and BULLY was on ABC2 earlier this year. We've had heaps of comments from viewers that they are more likely to step in the next time that they see someone being bullied, which is exactly the impact that we hope to have.

There are a small group of schools who have already started using the education resource and have given us positive feedback that BULLY and the accompanying resources have made an impact. One teacher told us that aside from understanding what bullying is, watching the film has helped his students visualize how it looks, it's opened up conversations between students and teachers, and his students are more likely to tell a teacher or adult when bullying occurs to themselves or when they are a bystander.

We are still very early days here in Australia, we guide schools using the kit to undertake school climate surveys before starting the activities and then every year after that to monitor the long term change in school climate and culture. We have also developed pre and post viewing questions to measure the immediate impact of watching BULLY.

We'd love to hear more stories about how BULLY has made an impact on Australians, so please get in touch with us through our website www.thebullyproject.com.au


Interview by Brooke Hunter