by Paul Fischer in Los Angeles.
DOUGLAS BACK ON TRACK AFTER 3 YEAR BACK
Sporting a neatly combed but thick beard, Michael Douglas returns to movie screens as a presidential Secret Service agent set up as a possible assassin in the new thriller The Sentinel. Last seen in the 2003 flops The In Laws and It Runs in the Family, Douglas says he needed to take a break simply because of "just the joy of having a new family. I?ve got two little kids and a hardworking wife," he says, laughingly. "So, I can take the time. I mean with most dads, it?s always guilt because they never see their kids enough and so I just had a wonderful great bonding experience. We live in a nice environment that?s kind of protected from all this, paparazzi and internet bullshit. So it was just a lovely, lovely time." Douglas describes fatherhood, this second time around "as I guess what you put into it is what you get out. It?s a joy to be able to create that bond, but, basically you can see a direct result of the time and energy that you put in and that kind of bond you get back. We?re not ready for a little girl, though. That has been tough", he says, laughingly.
Douglas, who turns 62 this September, laughingly concedes that he didn?t miss working throughout his two year hiatus. "I would say that my priorities have changed dramatically and I think part of that comes with your career ambitions. Obviously when you start out in your career, you don?t ever think of this as a business that you can kind of balance family and career so early on you?re working hard on your career, particularly being second generation, and trying to establish your identity. I did the best I can as a father for my first son but, was away a lot and then you get older and fortunate enough to recognise you?ve got a good marriage, good kids, something to nourish, protect and enjoy and you don?t see anything really on the horizon that, makes you say I?ve just got to do this."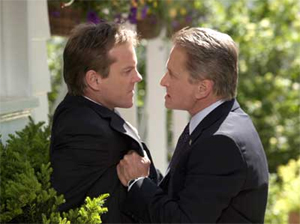 Returning to a familiar genre, Douglas says that he was lured back to the cameras as star of The Sentinel, [which was initiated by his production company 5 years ago], because "I always like those flawed characters that dig themselves a big hole and, if we properly make the story solid, proper and believable, then audiences seem to enjoy watching how you get out of it. I think it?s pretty, unpredictable about who did it and where it?s going to go, which always helps with these things. There?s nothing worse than, always knowing. I?d taken three years break and you work on materials and you look at what they offer you and say, well, I gotta go back to work and I think we can do a good job with this piece." The timeliness of another film dealing with the Presidential politics had not escaped the actor either, with the successes on television with the likes of The West Wing and Commander-in-Chief. Douglas says this continued fascination with the goings on within The White House, issue to the public?s ever growing fascination with power, Douglas argues. "I think, ultimate power seems to be the interest and playing on that field. I mean I?d like to think that all of my pictures kind of have something to do with what?s going on in the world and current events and I get a kick out of seeing what?s going on, the leaks coming out of Washington, homicide detectives working for the mob.
Douglas may now be busy as ever which puts fuel to any suggestion that his absence may have been a risk. If so, he says, he doesn?t think about such issues. "I mean it crosses your mind, but I think when you?ve been there, you change. I certainly probably would have worried more if I wasn?t happily married and starting a new family, but then you?re interest is going to be much more about career. Yet I?ve always, kind of done my own thing and my pictures have been fairly unpredictable. Most of the films I?ve done people told me I shouldn?t have done, but there was an audience for them and they worked out okay , so the appetite of this celebrity media print is so insatiable that, it?s just nice to take a break and have somebody else worry about it." Yet Douglas? own relationship with the print media has changed, given the recent GQ controversy, where he claims he never said "I don't know about Brad Pitt, leaving that beautiful wife to go hold orphans for Angelina. I mean, how long is that going to last?" Claiming he has no recollection ever making those statements, Douglas intends to protect himself from all future print interviews. "I?m tape-recording every meeting I have now and, it?s what I?ve started doing as far as dealing with print." But he no intention of taking legal action against the magazine or the reporter who wrote that story. "It brings more attention...and besides, she?s going to stick by her story .and she?s a full-time senior employee at that magazine. She wrote a letter, well, gee, I?m sorry, maybe I should have been more, discreet."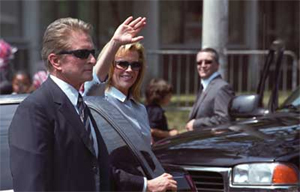 Putting that behind him, Douglas is busy on at least three other films. "I?ve got a picture coming out called You, Me and Dupree with Owen Wilson, Katie Hudson and Matt Dillon. I had a lot of fun doing kind of a broad, broad comedy with the Russo brothers directing, and I think it should be good. I play Katie Hudson?s dad, who?s marrying Matt Dillon who works in my Southern California real estate company and Owen Wilson - who is Matt?s best buddy - ends up kind of moving in with Matt and Katie as a new couple and it?s just....pretty funny. I?m also going to do this thing called The King of California, produced by Alexander Payne and Michael London - a lovely, lovely little script that Mike Cahill, a first-time, director also wrote. It?s about a jazz musician living in Southern California who?s had a bit of a breakdown and? it?s actually kind of a bipolar dark comedy."
Ruling out another Romancing the Stone movie, Douglas does see one of his next films in a similar vein to those. "We?re actually working on a picture due in India called Racing the Monsoon which, is in the spirit of those pictures, and possibly something Catherine could do, although I would be the villain. She?d have a different love interest." And with Douglas also attached or mentioned for Nicole Kassell?s film version of Arthur Miller?s The Ride Down Mt. Morgan, a remake of the 70s thriller The Mechanic, and Mimi Leder?s Smoke & Mirrors alongside his wife, Michael Douglas? hiatus is well and truly at an end.