by Paul Fischer in Los Angeles.
RICHARD GOES HOME
Richard E.. Grant is not only one of Britain?s most accomplished and sought after actors, but following the raves already bestowed on his directorial debut, Wah-Wah, an established career as a director is in his cards. Grant began acting in his native South Africa, where he founded the multi-ethnic Troupe Theater Company. In 1982, he moved to London to stomp the boards in fringe and repertory productions. Grant made his English TV-film debut in Les Blair's improvisational satire, "Honest, Decent and True" (1985). The next year, he entered films as the star of "Withnail & I" (1986), writer-director Bruce Robinson's brilliant observation of the eccentricities of English actors in the 1960s. As the acerbic Withnail, Grant conveyed the great likability of a mostly vile character. He reteamed with Robinson for "How to Get Ahead in Advertising" (1988), a scathing comic indictment of the industry's morals or lack thereof. Here he was Dennis Dimbleby Bagley, an ad exec whose head is taken over by an evil boil.
Grant's American film credits in the early 90s include some of Hollywood's more notorious productions. He co-starred as the husband of Anais Nin in "Henry & June" (1990), the first film to receive the NC-17 rating. He also played the mad English villain opposite Bruce Willis in the much-maligned "Hudson Hawk" (1991). Grant had supporting roles in Robert Altman's "The Player", as the English filmmaker who initially refuses to compromise his "artistic integrity", and Francis Ford Coppola's florid "Bram Stoker's Dracula" (both 1992), as Dr. Seward. He worked with another one of cinema's titans, Martin Scorsese, in the opulent adaptation of Edith Wharton's "The Age of Innocence" (1993), as a smug member of turn-of-the-century New York's high society. He reteamed with Altman for "Ready-to-Wear (Pret-a-Porter)" (1994) as an eccentric homosexual and portrayed a grieving widower coping with a newborn in "Jack and Sarah" (1995). The following year, he played a wealthy suitor to Nicole Kidman's Isabel Archer in Jane Campion's "Portrait of a Lady" and appeared as Sir Andrew Aguecheek in Trevor Nunn's film adaptation of Shakespeare's "Twelfth Night". Also in 1996, Grant published "With Nails: The Film Diaries of Richard E Grant" in England. Wah-Wah, which he also wrote, is a semi-autobiographical 'coming of age at the end of an Age' story, told through the eyes of young Ralph Compton. Set during the last gasp of the British Empire in Swaziland, South East Africa, in 1959, the plot focuses on the dysfunctional Compton family whose gradual disintegration mirrors the end of British rule.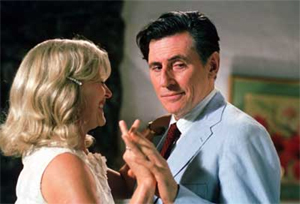 About to premiere in the United States and heading to the Sydney and Melbourne Film Festivals, Grant talked exclusively to Paul Fischer.
Paul Fischer
: I know this is very autobiographical. How cathartic it is writing a script that is so personal?
Richard E. Grant
: Obviously there?s the wisdom of hindsight being middle aged. In writing about and re-examining it certainly brought up stuff and joy at the same time. So I tried as much as possible to write compassionately as I could on why and what and how things happened as they did and I tried and be as accurate and truthful to the town and to the people as I very possibly could.
Paul Fischer
: Was it always your intention to direct it as you saw it as you were writing it?
Richard E. Grant
: Oh yeah, yeah. Though it seemed like we would never ever find out and somebody said to me ?would you let somebody direct the movie?? And I said, ?no?. I knew that when I was asked that I hadn?t really thought about it before but I thought if anyone was going to make it good or fuck it up I would be the one to do it and fuck it up if need be.
Paul Fischer
: How do you avoid fucking it up then?
Richard E. Grant
: How DO you avoid it? By securing an absolutely fantastic cast of people who believe in the movie and hopefully find an audience.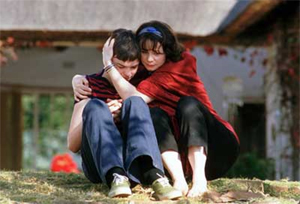 Paul Fischer
: What about your work as an actor and how does that influence the decisions you make as a director?
Richard E. Grant
: I suppose you have real empathy and understanding of what goes into an actor?s performance and how important it is to create a creative environment and relaxed an environment as possible and also encourage them to come forward with improvisation, ideas/suggestions or whatever so that they feel that they are really collaborating the process, so handing them responsibility as it were for more than you might have stand here, hit the mark, say your lines, go home, which so often happens. So I suppose that because I?d written it as well it was sort of like walking into Richard Grant?s memory field because whenever you needed to move something or find out the back-story for anything I was the live encyclopaedia in front of them.
Paul Fischer
: Talk about the balance between being a personal filmmaker and creating a story that has a degree of universality to it. I mean where is that line drawn?
Richard E. Grant
: Well although it is idiosyncratic and specific to my childhood as the British Empire is at the peril of the sixties at Toronto, Palm Springs and the screenings that we?ve had in L.A people respond to the fact that it is about family, the public face, private show of what family is really like dealing with adultery, divorce, addictions, death, first love, lost love and not quite in love all of those things and what really goes on in family lives and that is something that is universal for that fact that people laugh as hard as they do and are so audibly moved by the end has gone a long way to convincing me that it may be specifically my childhood. But there is a lot in there that other people relate too.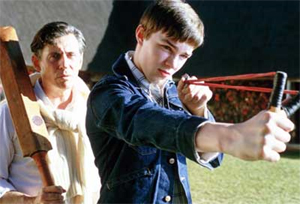 Paul Fischer
: Now you?ve clearly made the decision to turn down work as an actor was that very difficult for you to do while you were involved in the process of getting this made?
Richard E. Grant
: Yeah it was because there is always the risk of every time I turn down a movie I was told well the chances of your Indy movie ever getting off the ground are slowly no existent [laughter]. I mean to take a deep breath and go well have I enough money at this point in time to carry on regardless and to doing this new job or no, so I did.
Paul Fischer
: Is there now more a director in you than there was before? Would you like to direct other things?
Richard E. Grant
: Oh yeah, yeah I am writing something at the moment, which I intend to direct so yeah that is absolutely what I want to do. I am glad I have this day job but this is my passion.
Paul Fischer
: And what are you doing in your day job these days?
Richard E. Grant
: Well I?ve just finished a film called Penelope with Christina Ricci, Catherine O?Hara, Reese Witherspoon and also produced so that is what I?ve been doing.
Paul Fischer
: And anything else on the horizon as an actor?
Richard E. Grant
: No I am now promoting this and going into...I go back to London and then I go to Australia for the Film Festivals in Melbourne and Sydney for the first 2 weeks of June and then I go to South Africa for the release there, I am on this sort of global trot around.