The dynamic new single Don't Miss You from Ricki-Lee has hit # 1 on the Jagermeister AIR chart in its debut week (#36 on the ARIA Singles Chart, #4 on the ARIA physical chart, #4 on the ARIA Australian chart) and Ricki-Lee is thrilled with her continued independent pop success in 2009. Don't Miss You has topped the chart surpassing Samantha Jade, John Butler Trio and Sneaky Sound System to name but a few.
"Being an independent artist, we don't have the budgets of the majors so we work double time to compete in the commercial market. Success like this so much sweeter because my team and I work very hard as an independent artist, management team and record label," said Ricki-Lee.
"I'm honoured to be amongst the great calibre of Australian indie artists who are releasing music this year and to top the AIR chart after one week of the single being on-sale is fantastic news! Now we are focused on climbing up the ARIA chart with this new track!" said Ricki-Lee.
Ricki-Lee has been nominated two years in row at the AIR Awards and is at the forefront of actively promoting independent music in Australia since choosing to sign an indie deal over a major back in 2005. Within that time, Ricki-Lee has produced seven Top 15 ARIA singles and two gold selling albums. All without the assistance of "the machine" that is a major record label.
Don't Miss You is the cheeky leading single and first release from her third studio album Hear No, See No, Speak No (due out November).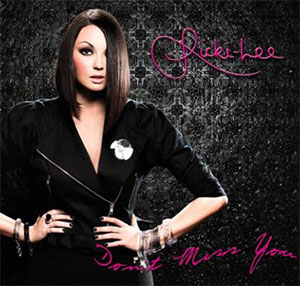 Ricki Lee Don't Miss You Single
Ricki-Lee Coulter has showed us how empowered she feels to be a woman with her latest album. Ricki-Lee is strong and has released a cheeky song about her marriage break-up, titled, 'Don't Miss You'. 'Don't Miss You' is from Ricki-Lee's third studio album, 'Hear No, See No, Speak No'.
'Don't Miss You' showcases Ricki-Lee's strong and talented voice with powerful lyrics. The song clearly shows how Ricki-Lee is feeling this year. The song still is in the popular dance music genre, like most of Ricki-Lee's other songs. 'Don't Miss You' definitely makes you want to get up and dance with all of your girlfriends and forget about any man in your life!
'Don't Miss You' is quite a humorous song, with lyrics such as "You think that I'm cold when I call you a creep, But all your other names would only get bleeped".
Ricki-Lee has been involved in the music industry for four years as an independent artist and in the time she has produced seven top 20 singles and two gold selling albums.
Ricki-Lee starred in the second series of Australian Idol in 2004 and has now gone back to Australian Idol as a mentor.
Along with Ricki-Lee' solo career, she was a member of The Young Divas with other Australian Idol Stars: Paulini Curuenavuli, Emily Williams and Kate DeAraugo.
Interview with Ricki-Lee
Don't Miss You is such a strong song, how does it make you feel to sing it?
Ricki-Lee
: I can't explain the feeling when I sing this song. I wrote this from the heart, I am incredibly passionate about it, when I sing it, no matter how many times I sing it; I am still just as passionate about it and feel just as good every single time I sing it. I definitely l love this song and I love performing it live.
Tell us a bit about the song:
Ricki-Lee
: Yes, Don't Miss You is the new single. It is a bit of a break up anthem, it is very much a girl power break up anthem. It is about a girl, it is about somebody finding strength again and finding her feet after being through a really tough break up and being able to break out and break free and be smiling again and enjoying myself. There are lots of people out there that can relate to songs like this, it is a really strong empowering song for girls.
Where did you write Don't Miss You?
Ricki-Lee
: In New York. This was the first song I wrote on the first day I was in New York- I was overseas for three months working on the album. I was writing with different producers and writers. I spent seven weeks in LA then I went over to New York, I spent four weeks in New York and Don't Miss You was the first track I wrote over there.
How was writing and recording in another country?
Ricki-Lee
: It was awesome, I love going overseas and I loved working with the producers and the writers over there. They have got such a different passion and different energy over there. It is very motivating and inspiring for me to get over there and be working with people like that. These people work with the biggest in the world, P!nk and Katy Perry and Lady Gaga- everybody that I look up to and whose music I buy. It is really an amazing experience to be working in a room with them on a song. Being overseas, you gain so much, I guess, creativity, creative inspiration by being around other people and in a different country. It brings out different emotions you wouldn't, at home, generally be inspired by. I would recommend it to anyone, it is an amazing experience and I learnt so much.
Tell me a bit about the music clip for Don't Miss You:
Ricki-Lee
: The video clip for Don't Miss You was filmed in Sydney, we did it over two days, and we go on a little bit of an adventure throughout the video. The first day we filmed the motorbikes and us running through the parks and running on the Marine and running away from the guys on the motorbikes. Once the sun went down we shot the rooftop party and then on the second day we spent the whole day on this beautiful, beautiful, luxury yacht out on Sydney Habour. We filmed everything on the boat, which was so much fun. The good thing was I had a lot of friends on set with me.
I had heaps of my friends in the clip, even in the party sequence, when we are all partying on the roof top I had a whole lot of my friends there. It is great to be able to share things like that, like music video clips, with my friends because they see me working so hard and it is great to involve them. Also, especially with a song like Don't Miss You, I really wanted to show how important my friends were, during that time, that period during my life. They were really there for me and it was great to be able to involve them in the video.
Do you prefer performing live or recording?
Ricki-Lee
: I definitely prefer performing live, there is nothing like being on stage and performing in front of a crowd. I love recording but performing is a different atmosphere, when you are recording you can't bounce of people there is no atmosphere in the studio, you kind of have to create it yourself and it's a different thing. I love being on stage, I love performing, I love involving an audience and I love having them right there to sing along, to dance with and to joke with.
What or who was your inspiration to go into the music industry?
Ricki-Lee
: I have had a lot of inspiration over the years, I mean as a little kid I would watch people like Michael Jackson and just be absolutely fascinated at him and be in awe at how amazing he is. I used to lock myself in my room and put on my Whitney Houston CD's and pretend to be her and try and hit every single note that she hit- I used to dream that one day that would be me. I worked really hard and I never let go of my dream, it came to reality after working really hard. I look up to so many different people. I love strong independent woman who speak their mind and say what they think like Pink and I love Lady Gaga, I love Katy Perry, people like that.
What advice do you have for someone who wishes to audition for Australian Idol?
Ricki-Lee
: I would say go for it, don't let anything stop you. If there is something you want to do, then go out and do it, there are hurdles along the way, not just in this, but in life in general. I love the saying "If at first you don't succeed, dust yourself off and try again, try again"- especially with the music industry, you can be trying for years and never make it, that is the thing you just have to keep at it. If it is what you want to do, if it is what you love you can't let little step backs stop you, you have to keep going.