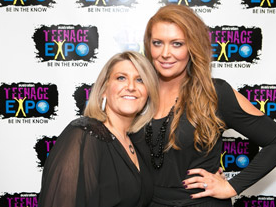 Sacha Kaluri The Australian Teenage Expo Interview
Question: What is The Australian Teenage Expo?

Sacha Kaluri: The Australian Teenage Expo is an educational and entertaining expo that celebrates the youth of Australia. It is a place that is designed to inspire, motivate and foster ambitions and passions in young people.


Question: When and where this year's Australian Teenage Expo?

Sacha Kaluri: We have two schools only sessions on Thursday 28th and Friday the 29th of August from 9am - 3pm, and a session that is open to the public on Thursday 28th from 3pm until 9pm at the Melbourne Showgrounds.


Question: What originally inspired you, both, to create this expo?

Sacha Kaluri: We both have been speaking professionally in schools for the past 15 years. 6 Years ago Sonya and I were both pregnant and were going along to the numerous Pregnancy and Babies Expo. We would walk out with so much information about how to deal with being a new mum. We then realised that there was nothing like this for our target market. Teenagers! So we created it! We also knew that our teens wouldn't be interested in another run of the mill boring event, so we have done everything we can to educate our exhibitors on how to best interact with young people, make everything fun and interactive and from there they will engage with teenagers and build lifelong relationships with them.


Question: Can you talk about the planning approaching this event?

Sacha Kaluri: It's busy, and when we say busy we mean busy. We could work 24 hours a day on this event and it still would not be enough. There are so many elements to the Australian Teenage Expo. Not only is it an expo with a massive array of organisations promoting to young people. We also have 4 full stage production shows. Each seating 1500 students per performance. Then we have FastTrack, our talent competition, which young people enter from around the entire country enter. There is also DEVIa.t.e our Hip Hop all styles dance competition and showdown. We have some of Australia's finest dancers compete in this competition. Finally we have our Expo stage- this rotates with something different every 15 minutes. Last but not least we have lots of celebrities that come along to this event. So there are lots to organise and we are just a small team. But we love a challenge!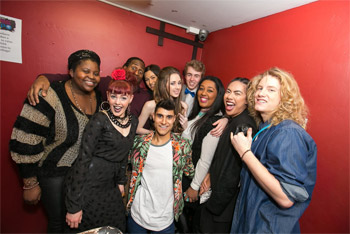 Question: Tell us all about Gold and how the single came about?

Sacha Kaluri: Frank Dixon sang at our event 2 years ago and we fell in love with this talented young man. When we found out he was realising a new single we could not wait to hear about it. Our theme for 2014 is POTENTIAL. Gold is all about raising your self-esteem and being the best version of you. It was a perfect fit to become our theme song for 2014.


Question: Who will attendees be able to meet and greet at the upcoming expo?

Sacha Kaluri: People from The Voice, X Factor, Big Brother, The Bachelor, Summer Heights High, Masterchef, AFL Football Players, The Vixens, Basketball Players, and lots, lots more.


Question: How does the expo support teenagers to achieve their goals and excel beyond imagination?

Sacha Kaluri: We give them so much information in a fun way that opens their eyes as to how much more they can get from their own lives. We let them see that anything is possible.


Question: What will teenagers take away from attending the expo?

Sacha Kaluri: Hopefully a lot of inspiration and motivation. Our aim is to inspire everyone who attends; whether it be to work harder at school or to take singing lessons, we want the youth of Australia to feel that they have the tools they need to reach their potential. And of course, they'll get lots of photos with celebrities for social media, gift bags, a life time of memories and a stack of choices.


Interview by Brooke Hunter