Shelley Hennig Unfriended
Cast: Cal Barnes, Matthew Bohrer, Shelley Hennig, Moses Storm
Director: Levan Gabriadze
Genre: Horror, Thriller
Rated: MA

Synopsis: Whether it's a casual status update, a shared family photo or a short video to a group of friends, modern communication has made our on- and offline lives virtually indistinguishable. And while the majority of the hourly stream of digital media we receive and distribute is welcome and exciting content, some of it is deeply, deeply disturbing.

And some of it can be deadly.

Ushering in a new era of horror, Unfriended follows what happens when a seemingly innocent online prank starts a sequence of events that spirals out of control. A first-person exploration of the terror that can emerge when our connected experiences transform into our deadliest fears, the film unfolds over a teenager's computer screen as she and her friends are stalked by an unseen figure who seeks vengeance for a shaming video that led a vicious bully to kill herself a year earlier. On the anniversary of her death, the very same friends who thought there would be no consequences to their actions will find out just how deadly wrong they are.

It's an average school night as Blaire (Shelley Hennig of Ouija) and her boyfriend, Mitch (Moses Storm of Hulu's The 4 to 9ers: The Day Crew), start a somewhat intimate video chat. Suddenly, they're interrupted by their friends, Jess (Renee Olstead of TV's The Secret Life of the American Teenager), Adam (Will Peltz of Men, Women & Children), Ken (Jacob Wysocki of Pitch Perfect) and Val (Courtney Halverson of HBO's True Detective), who are ready to launch into a group chat session. Before long, the group is joined by a user known only as 'Billie227." They think it's just a glitch and go about their conversation…until Billie begins typing. What comes next devolves into their worst nightmare.

As Blaire begins receiving messages on Facebook and e-mails from someone or something claiming to be Laura Barns (Heather Sossaman of TV's NCIS: Los Angeles)"the girl who killed herself exactly one year ago"she frantically tries to figure out who has intruded into their group chat. Meanwhile, Billie's games force the friends to confront their deepest, darkest secrets and lies. If they find out who posted the shaming video of Laura that led to her death"even if that means these friends suffer in the process"they will appease their tormentor and survive the night.

Stories once thought to be hidden are exposed and relationships are tested to the ultimate degree as the group is tormented by an evil spirit who will not let them free…until it gets the ultimate revenge.

Unfriended
Release Date: April 30th, 2015
About the Production
Creating a New Genre: Unfriended Begins

A new genre in the world of horror has a fascinating origin...

Producer Timur Bekmambetov's penchant for innovative, intelligent and sophisticated filmmaking elevates the horror genre to an unexpected level with Unfriended. A filmmaker who splits his time between the U.S. and Russia, running companies in both countries, Timur Bekmambetov is almost always on his computer, which is how the idea for Unfriended came to life. For 15 years, the thought kept coming up: 'Somebody's got to make a movie about the part of our lives we spend digitally connected."

Timur Bekmambetov elaborates: 'Over the years, I've shared this idea with many filmmakers, trying to find someone to help me make this movie. I was shared this idea, hoping it would spark something inside them. It was hard to convince anyone to take a break from traditional filmmaking and take a risk like this. I knew that the only way to achieve this movie would be to stop thinking and just do."

Jason Blum, the film's executive producer whose company, Blumhouse, is presenting the film, said about the idea: 'What is so fun and scary about Unfriended is that the filmmakers came up with a new way of making a movie that actually elevates and serves the story."

One night, writer/producer Nelson Greaves and co-executive producer Alan Khamoui, another executive from Bekmambetov's production company, Bazelevs, were sitting around the office spitballing ideas for new projects with their boss, and the idea for Unfriended came back around. Nelson Greaves shares: 'We said: -What if this was a horror movie?' At that point, the idea clicked with me. Found-footage films are frightening because of the constraints and limits. What's more limiting than being trapped on your computer as you're attacked and terrorized?"

Nelson Greaves, who was an assistant at the time, needed a reason to still be employed at the company after his supervisor had left, so he jumped into the dark and fleshed out a story that could thrive in this world and still be grounded and relatable. After he wrote the script, he handed it off to Timur Bekmambetov. A colleague of Bekmambetov's, director Leo Gabriadze, just happened to be in Los Angeles at the time filming a commercial, and the Russian producer knew he'd take to the material.

Nelson Greaves recalls: 'Timur Bekmambetov physically handed the script to Leo and told him to read it. Leo went next door and, for the longest two-and-a-half hours of my life, he read the script while I sat there nervous. Good news is that he loved it."

After getting the thumbs-up from Gabriadze, Nelson Greaves reached out to a former classmate and roommate, Adam Sidman, who was working in unscripted television production. As soon as Greaves walked him through the story line, Sidman came aboard and wore every production hat possible"production coordinator, locations manager, hiring the crew, director of photography, creative producing, you name it"and Adam Sidman, Nelson Greaves and Gabriadze shot a test of the script. Soon after, Timur Bekmambetov gave it his seal of approval and green-lit production.

Still, one challenge that presented itself right away was geography. Timur Bekmambetov was in Russia for most of the production and, coincidentally, the majority of his involvement had to take place over Skype. He met the actors, visited the set and even spent hours editing with the team, all over Skype. Bringing it fullcircle, when the movie finally premiered at the Fantasia and SXSW film festivals, Timur Bekmambetov also greeted audiences via this medium.

The production of Unfriended was no small feat for a group that started with three people. Gabriadze shares: 'We had a very small team. In the beginning, it was only Timur, Nelson and me. We were all on the same page of bringing the story to the big screen. It was quite a challenge, but we all strongly believed in the vision. The team grew but still stayed small and engaged. Timur helped and supported us, from day one. Nelson Greaves is a man of great energy and devotion"a gifted writer and a producer. He was the driving force of our production."

Timur Bekmambetov returns the kind words: 'Nelson Greaves and Leo made a great team for the movie. Leo has the wisdom and experience, and Nelson Greaves is young and hasn't yet learned what's -impossible.' They worked together with Adam Sidman, who served as the responsible adult, allowing Leo and Nelson Greaves to dream big and try new things."

One area in which Timur Bekmambetov challenged the team was to discover this new language of filmmaking through trial and error. He reflects: 'Normally, when I make movies, I can draw on references from a long history of moviemaking. For this, we were completely on our own.

We had to invent. We had to try and fail and try again. We had to have discipline to stay within the limitations we had set for ourselves, and trust that people would connect with it."

Throughout the process, Timur Bekmambetov continued working with the team to keep the concept in check. Nelson Greaves provides: 'Whenever we would have a moment of doubt, Timur Bekmambetov reminded us to be brave, be bold and just go for it."

In presenting Unfriended, Blum was excited to push the envelope once again with moviegoers. He notes: 'The best horror films speak to audiences' primal fears, and Unfriended goes deep into the exploration of those fears in an extremely innovative manner of filmmaking. Here, a group of teens who think they're immortal begin to realize the consequences of actions they were so flippant about only one year earlier. When they are tested, will they stand together or will their group be torn apart by the very decisions that once brought them so close?"

Want to Play a Game? Casting Unfriended

The principal cast of Unfriended consists of six characters who become trapped in a game of cat and mouse, as Billie torments them with secrets they thought would never be uncovered and pushes them into horrifying actions. Working on tight time constraints, casting director John Mcalary brought talented actors in for auditions, but, as the performers would soon learn, they weren't average auditions.

In the beginning, the team had actors read in the room with them, but it soon became quite clear that they needed to audition in front of a computer. So, the casting process took place just that way, in two different rooms, via video chat, and the cast was chosen based upon those auditions. Once they assembled their top choices, Gabriadze and his key crew conducted a mix and match of sorts, in which they took different groups of six people and had them do a scene together. In this, each was asked to find their character's personality and place in the group. Indeed, it was crucial that each actor was comfortable with improv and quick changes. After that, the final group of six was chosen.

In auditioning actresses for the role of Blaire, the team knew the moment they saw Shelley Hennig that she was their Blaire. For Hennig, the chance to engage in improv was a primary draw for her. She shares: 'The audition was totally unconventional, compared to other projects I've auditioned for. I was in an office, Skyping with an actor in a separate room, while John [McAlary], Nelson Graves and Leo watched us from their monitor. They let us be free to improvise, which made it much easier to connect and build chemistry with the actors I was auditioning with. That process instantly hooked me, and went on to be how we actually shot the entire film."

Shelley Hennig, who is well-known for her role as Malia Tate on TV's Teen Wolf, walks us through a quick description of Blaire: 'She's that girl in high school who makes it a priority to do the right thing, and keep life pretty simple. She's usually satisfied to spend her time hanging out with her crew on Skype, and being totally in love with her high-school sweetheart, Mitch."

Of his leading lady, Gabriadze commends: 'When we met Shelley Henning, we all agreed she would make the perfect Blaire, as she is an extremely talented and hardworking actress. We also arranged a couple auditions to see how other actors got along together. Dynamics among them were very important for us, as they all are close friends in the movie. From that, we felt that Shelley Henning and Moses Storm would make a perfect couple on screen."

As they never actually make physical contact throughout the film, it was important that Blaire and Mitch have palpable chemistry. After seeing several actors for the role of Mitch, the core team found him in Moses Storm. The performer, who will star in and is writing his directorial debut, #ModernMillennial, shares his experience: 'What drew me to the project was how innovative the concept of the film was. I'd never seen anything like it using this format. It seemed like a challenge, almost impossible to do, and the concept is what sparked my interest. During the casting process, I was in a long-distance relationship where our only contact was through Skype, so that definitely aided in the audition process and drew me to this as a unique way to tell a story."

Renee Olstead, known for her co-starring role on the critically acclaimed coming-of-age series The Secret Life of the American Teenager, landed the role of the lovable-but-dim-witted Jess. Renee Olstead shares what intrigued her the most about being part of the film: 'What I love about this movie is that we flesh out every possible scenario. Initially, something scary happens, and in every other scary movie, the audience would say: -Well, why don't they just shut off their computer?' That's something we show right off the bat, exactly what happens when someone tries to leave the conversation. The filmmakers did their homework and created something that's authentically scary."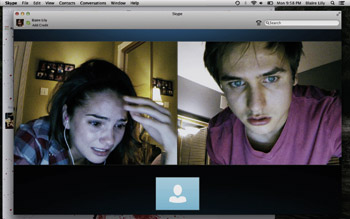 For the role of tech-savvy Ken, who is arguably the biggest joker in the group, the team selected actor/comedian Jacob Wysocki. Much to the friends' terror, Ken finds out firsthand what happens when you disobey Billie. On what attracted him to the project, Wysocki gives: 'The concept was something that had never been attempted. In the audition process, they said there was room for improv"and I come from a background in that"so it was tantalizing to be part of something that was pitched as a play that never cuts."

The actor shares that he drew inspiration from one of film's most recognizable hacker characters. He divulges: 'My inspiration for the character of Ken was Samuel L. Jackson's Ray Arnold in Jurassic Park."

Actor Will Peltz, who recently starred in Men, Women & Children, was selected for the role of the crass, hard-partying Adam. Will Peltz, too, felt the relevance of the film and was intrigued with the manner in which the script put a twist on a contemporary topic. The actor shares his experience: 'Auditioning over Skype is something I've never done before. Using Skype in that way helped inform my character because it gave me a real-life experience that I could draw on during production. Almost everything we shot was done at our own little stations, except for a few select scenes."

For the role of Val, the production chose actress Courtney Halverson, who will next be seen on HBO's groundbreaking series True Detective. Courtney Halverson shares: 'Val is that friend you have in your circle that you don't necessarily like hanging out with, but you have such a history together that it's hard to get rid of her. She's bossy, opinionated and can be a bit abrasive."

Much like the others, Courntey Halverson was excited about the new take on the horror genre. She shares: 'When I came back in for a callback, we were each placed in separate rooms, given laptops and asked to improv a scene. I loved being able to play around in the audition process because it can get a bit stale having to deliver the same lines. This felt very fresh and new."

Rounding out the cast in the role of Laura Barns, a fellow classmate who committed suicide after she was ridiculed over an embarrassing video of her passed out at a party, is Heather Sossaman (TV's Days of Our Lives).

Mastering Improv: Pushing Their Limits

With the six cast members locked-in and ready to go, the Unfriended director and producers realised that the script, as written, wasn't taking on the life that they needed and translating on screen. Therefore, they decided to push it further toward what they wanted it to be: a bunch of friends chatting on Skype and being terrorized by some otherworldly entity in the form of a cyberbully. To do that, they needed to tap deeper into the cast's improvisation skills.

Before principal photography began, the cast rehearsed at Timur Bekmambetov's Bazelevs production offices, sitting in a circle and going through the script. As it became the norm with this production, the cast, Nelson Greaves and Leo Gabriadze began noting where they could truly improvise.

Will Peltz shares: 'The shape of everything changed so much during the process of rehearsals, as well as during filming. Being able to create these moments on-the-fly became an exciting journey. It's cool to see this era that we live in come to life in a dark, twisted way."

The way the film was shot, the cast members were completely separate from one another, each operating from a desktop in a separate room in a house in Santa Clarita, California. Still, they had to react to each other as though they were in the same space, which meant that each take was a little different. It was a bit like filming a live play, and each had only one camera pointed at him or her. As there weren't clear cuts, some takes went on for almost an hour and a half. Adam Sidman, who also served as director of photography, created a special network for the crew and actors to interact and film with their GoPros.

Nelson Greaves walks us through his process: 'The script is structured like an 85-minute play, so we did long takes, including a few that were the full length of the movie. We have these actors who are trapped in separate rooms for this period of time, not speaking to anyone"except into the GoPro. You get to a place of truth that is so beyond what you could get if we did it in multiple takes and breaks. At the end of 85 minutes, the cast is seeing these things happen and they're so in the moment that these reactions couldn't have happened otherwise."

Shelley Hennig describes the moment in which she suggested an attempt at filming the entire movie in one sitting: 'Once we began shooting, I was becoming confused as to why we weren't running the script from start to finish, since all of our rooms were well-lit for it. I ultimately suggested it to Nelson Greaves and Leo, and they loved the idea. I wasn't sure what I'd gotten myself and the rest of the cast into, but it wound up being one of the most satisfying experiences of my career. I have to give major credit to rest of the cast"I don't think it would have worked if everyone involved weren't great improvisers, including Leo and Nelson, who played -Laura' for us, on earpieces, as we shot in real-time."

In addition to the lengthy takes, another innovative aspect of the filmmaking process was that each cast member had an ear piece in his or her ear, for Nelson reaves and Gabriadze to communicate line changes or offer suggestions for certain reactions as the scenes unfolded.

Halverson discusses this process: 'During filming, each of us had headphones in, with Nelson and Leo giving live notes and instructions for different ways to play the scenes. I would get little sentences in my headphones like -Try to pick a fight with Jess,' or -Act like you can't stand being online with the rest of them,' and I had to try to implement them live."

Every time Gabriadze and his team would change their minds on a scene or certain dialogue, it wasn't because they were uncertain of themselves; it was because they were inspired by a particular actor's movement or reaction to something that had just occurred. Storm elaborates: 'The filmmakers kept us in the dark about a lot of elements of the movie because it was somewhat improv-based, so we were all finding out the information at the same time the audience is."

The only contact that the cast had with the outside production was via the actual desktop and the earpiece. A result was that they would sometimes forget they were on a movie set, which allowed them to embrace the organic nature of the project. Halverson explains: 'You're alone in a room filming all day, but it was kind of cool because you start to believe you're this character and this is your room, but you also have people in your ear telling you things in real time, so concentration was key."

Even though each cast member was secluded in a different room, whenever they took breaks, they would reconvene and discuss what to do differently. Even during filming, any time there'd be a small break, the cast would stay plugged in on their computers, which allowed them to get to know each other. Peltz shares: 'We'd show up to set every day and have breakfast together and then we all went to our separate rooms, talking to each other over the computer.

That's where we really got to connect, because we'd be spending nearly 10 hours a day in front of the computer. Then, we'd all come back together in reality over lunch. Then it was back up to the computers."

Throughout the filming, the cast understood and embraced that cooperation, from all aspects of production, was key. Wysocki gives: 'The best part was the collaboration. Nelson and Leo listened to our thoughts and ideas, and it was a supportive environment. They were down with bold choices."

Trapped Inside: Editing, Locations and Design

The production assembled a stellar below-the-line team to bring this vision to life. Production designer Heidi Koleto crafted varying looks for each room, while director of photography Sidman was tasked with making sure each camera captured intricate moments for editors Parker Laramie and Andrew Wesman to assemble.

Editing

The filming of Unfriended is unconventional in that each cast member was his or her own camera operator. Each was individually recorded by the GoPro attached to his or her computer. The key to bringing the vision of Unfriended to the screen was in the editing hands of Laramie and Wesman.

This began with Laramie's unrivaled skills working with AVID, a digital nonlinear editing system. Greaves shares: 'This is a very unusual movie in that you can look at it as one giant animation. We gave up trying to do it ourselves and brought Parker on board. He designed the most complicated AVID timeline that we have ever seen; it blew everyone away. He designed a functionality for making this movie that is so intensely intuitive. It could've never happened without that. It's a strange movie in that, because of the layering, you make the majority of it in postproduction."

With the unique filming style, video footage was used in a way that few other productions could. Any video glitching or nonsynching sounds would be a disaster anywhere else, but with the subject matter of Unfriended, the filmmakers were able to use all 'mistakes" to their advantage.

Laramie shares how he joined the project: 'They had a rough cut before I came on, which was basically a six-screen split of just the webcams. The naked performances were so raw and casual; I could tell Leo and the cast really got it. They understood what this needed to be. It reminded me of the first act of Alien, the way everybody talked to each other with such familiarity and ease."

The editors weeded through six video layers from the GoPros, with Blaire's desktop as an additional layer. The audience sees the film primarily through Blaire's perspective, so it was important that everything be timed perfectly. Laramie and Wesman ended up mixing and matching from different takes to ensure the tension was maintained.

Wesman provides why the work was so incredibly meticulous: 'The film is essentially one big 90-minute visual-effects shot, which is difficult because no nonlinear editing software is designed for that task. On the other hand, it was liberating how much control I had in postproduction to craft new moments from on-the-spot computer-screen captures, which allowed us to think up additional moments or plot elements and have them quickly visualized."

With all the challenges presented in bringing the film to life, there were also many good surprises with the manner in which the film was shot. Wesman, for one, was surprised by how much character a computer mouse can actually have. He shares: 'The -performance' of the mouse could determine one's entire reaction to a scene, in the most subtle of ways. Things like how long the mouse hovered over a certain word or the speed with which the mouse moved from one button to the next can tell an intimate story in a way that is totally unique to this medium.

'A good story features an active character constantly making decisions," he continues, 'and this film lets the viewer become a voyeur into Blaire's decision-making process. Every time she types a word or deletes it, you not only read what she types, but also the subtext of what she deleted, which fascinated me. Initially, it was challenging to create a sense of dread and horror on a computer screen, but I soon realized that the experience of using a computer is so relatable and so personal that it connects readily with our everyday fears of exposure or the unknown."

Describing his process of working with Nelson Greaves, Timur Bekmambetov and Levan Gabriadze, Laramie shares: 'These three are patient, tenacious and talented. The vision they had for such an off-the-wall film still baffles me. From day one, they were all so inviting and earnest. They have such a profound and passionate relationship with the creative process. Nelson Greaves has a great eye for the bizarre and off-kilter, and yet never forgets everything you need to get from A to B. Leo treats everything so delicately. A film with this much detail would never have gotten done without it. Timur Bekmambetov is on a different wavelength. He was always seeing things we couldn't, which unlocked the movie for us."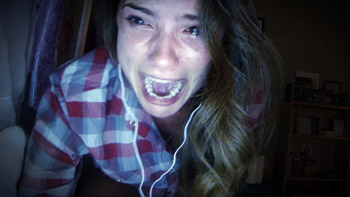 Locations and Design

For a film taking place in various rooms in the homes of six teenagers, utilizing one location was the most reasonable way to shoot the movie.

The house, located in Santa Clarita, California, is an actual residence. During their search, Nelson Greaves and Levan Gabriadze knew they had to have a place that could accommodate the crew, as well as have separate rooms for each cast member. To create the illusion that each room was in a different location in the teens' fictitious town, these rooms needed to be designed differently. As the production's man of many talents, Sidman worked with production designer Koleto to take the lead on locations and find the perfect house.

Koleto explains her process of designing for the feature: 'I focused on dressing the walls, since that was the bulk of scenery in the shots with the GoPros. I approached the design by breaking down each of the characters and creating a personality for their rooms. I also worked with Adam and Leo to get a feel of how they saw each character. Once you figure out what a character likes, it's easy to start to picture what they would fill their room with or how messy or neat they would be."

As were all aspects of production, this process was not without its complexities. Filming in only one location, the issues were aplenty. Nelson Greaves explains: 'The challenges were cabling and sound…and us. We had to have video village somewhere. So, for most of the shoot, we were actually in the living room with Will Peltz, hanging big sheets of duvetyn and hiding behind them. But, what was nice about being in one location was the ease of production. We would never have gotten the level of truthful performances had that not been the case, because moving around from location to location gets actors out of character and the headspace we needed."

Still, the challenges only strengthened the cast and crew. Levan Gabriadze shares: 'Filming in one location made us all feel as a family and helped the cast to open up and act freely without burdens. We were lucky to get to know each other closely and bring deep emotions into the movie, as well as have the ability for the cast to incorporate improv."

Koleto also worked to hide the basic architectural elements of the house to ensure that each room looked like a different location. Additionally, the production designer and another team member had to provide all of the lighting in the room through practical lighting. Because the 360-degree shots would show the entire room, stage lighting couldn't be used.

The house, which became home base for Shelley Hennig, Moses Storm, Renee Ostead, Will Peltz and Courtney Halverson, had five rooms to accommodate each person. But Wysocki wasn't as fortunate.

He divulges: 'Everyone else was in the air-conditioned, gorgeous house. My room was in a shed in the backyard, which we called -the sweat box.' In addition, there was a nest of birds that was living in the shed that I could not disturb because there were baby birds in it. So, I definitely got the short end of the stick."

Nelson Greaves pauses, then laughs: 'I'm glad he has forgiven us."
Unfriended
Release Date: April 30th, 2015