PEGG BEAMS UP INTO HOLLYWOOD
EXCLUSIVE Simon Pegg, Run Fat Boy Run, Star Trek Interview by Paul Fischer.
Simon Pegg would be the first to admit that his newfound Hollywood and international fame is nothing short of a miracle. "You know, when we made Shawn of the Dead, we didn't sit there thinking, 'All right, let's take America'; we just wanted to make a zombie film, and we wanted to make it as truthfully and as well as we could," Simon Pegg says, talking from a Los Angeles hotel room where he's busy promoting the very funny British comedy, Run Fat Boy Run, which finally opens in the US. "Fortunately, our endeavours were rewarded with doing very well over here and that, obviously, opened up doors for us and you just go through each one as they open. I think if someone went back in time and told me where I'd be sitting now, I'd be utterly crazy, and probably faint, but you take this stuff in its stride as it happens, and you just mutate and survive. So I'm really surprised, but also, I've enjoyed it." What's not to enjoy. After all, audiences will soon be hearing Simon Pegg don a Scottish accent as the iconic Scottie, no less, in JJ Abrams rebooting of the Star Trek franchise. But more on that later.
The British comic is more grounded than the USS Enterprise, a clear visionary confirmed by his ability to take what was an American story in Run Fat Boy Run and e-adapt it into a British comedy tailor made for his comedy. "I read Michael Ian Black's original screenplay and thought, 'Okay, maybe I'm going to play it as an American in New York, which might be a challenge, and it'd be fun to film there.' Then the funding was such that it was necessary that it be made in the UK. So that kind of made things easier and I took it on as a writing project, and had the chance to adapt it a little bit. I really liked the idea of doing a romantic comedy, and not undermining it, actually trying to produce a genuine romantic comedy, rather than anything that perhaps made comment on the genre, or made fun of it. I thought the real challenge would be to produce a serviceable and funny, engaging romantic comedy, because there's a certain criteria you have to fill with those things."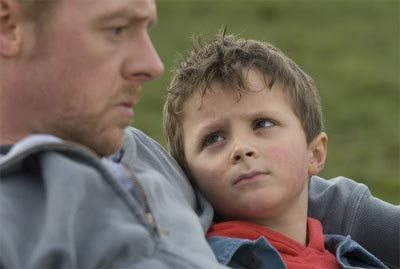 In the film, directed by David Schwimmer, Simon Pegg stars as Dennis, a clueless and slightly overweight guy, who left his pregnant fiancée Libby [Thandie Newton] five years earlier. Every day, Dennis tries to persuade the woman he loves to accept him back into his life, but everyday he fails. When he discovers that has found a partner in the form of American Whit, frustration grows, and Dennis vows, that for once in his life, he will finish something. This something ends up being a Nike River-run in London. With his friends Gordon and Mr. Ghoshdashtidar by his side, Dennis begins training for the marathon he must finish. Simon Pegg says he didn't base the character on himself, "but you're still going to try to bring something of yourself into the performance, which you can't really help. So -once it's on the page, you sort of try and channel as much of you into the actual character. But Dennis is a pathological self-doubter, and has no ambition, no drive, and no faith in himself. And I'm not like that, because I'm more driven, so it was fun to play him, and a challenge to create a character that jilted his pregnant wife, and yet remained likable. I mean, for me, that was the biggest challenge and I liked those odds. It's like, how are we going have the audience be on his side after he does the most heinous thing to his beautiful, beautiful girlfriend." Not just any girlfriend but Thandie Newton no less. "Tell me about it. I just thought it was less believable than some fantasy movies that involve dragons."Simon Pegg is optimistic that the film will easily translate to American audiences. "I think we have a very similar sense of humour across the world."
While Simon Pegg is best known as the comic star of Shaun of the Dead and Hot Fuzz, there is clearly an actor waiting to prove his diversity. Simon Pegg's casting may have surprised star Trek fans as Scottie in the new Star Trek film, but seems genuinely nonplussed about taking on such an iconic character. "I was very excited about it, really and the idea, to me, was extremely appealing," Simon Pegg explains. "I wanted to approach it in the same way that James Doohan did, in that I looked at the page and thought, 'Okay, this guy is a physics whiz kid, he's an engineer, he likes to drink, and a fight every now and again and he's from Linlithgow, in Scotland'. I didn't want to say, 'Okay, I'm going to do James Doohan', but I wanted to do what James did, which was to approach the character fresh. James had already done Scottie, and that is eternal and he's made that character his own. All I can do is sort of try to come up with something comparable to what he did." Pressed about how different Simon Pegg's interpretation of the character is, "I can't really say, so I guess we'll have to wait and see. I tried not to watch Star Trek, as much as I love it, and the other series as well. I didn't have it on my DVD player all the time while I was making the film, because I think it would be dangerous to do an impression of James Doohan, because it might be construed as lampooning him, rather than actually just playing the part. I think everybody had to take the character breakdown of these characters, and address them, rather than look at the actors who played them before."
But the normally down-to-earth actor did admit that it was incredible that this young actor from London was on a soundstage doubling for the Enterprise. "I went to the studios the other day to do my EPK interviews and we went off to a corner of the Paramount lot to do them, and was told halfway through the shoot, and the interview, that we were actually on the sound stage where the original show Enterprise had stood. That was amazing and also to find myself in familiar environments on the new film was always enormously exciting, to sort of look around, and go 'How did I get here?' It's incredible." Simon Pegg confirms that he has signed on to do another two Trek films assuming this one will be a success. "I'm sure it will happens, because I think this film's going to be massive, but the basic ritual is that you sign on folks for that."
Before we see Simon Pegg on the Enterprise, he'll hit the big screen later this year in How to Lose Friends & Alienate People. "I play a character based on the journalist Toby Young. It's more of a caper film, in a way, because the character that I play is such a complete buffoon, he goes to New York to try and work for a Vanity Fair-style magazine, and ends up just making a complete ass of himself. That was a great experience, because I got to work with some fantastic actors, and just felt very privileged to get to do scenes with Jeff Bridges and Kirsten Dunst, who is an inspirational actress, and only 25 years own. You know, you see Jeff, who's been in the business for a long time, and you get something from him which is incredibly inspirational and then you meet somebody who has been working since she was three, and is still working, and is equally as inspiring."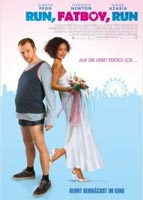 Simon Pegg has also completed a script with his Hot Fuzz co-star Nick Frost. "I can't really talk about it, because it has a central premise which will give it all away. But we're really excited about it. I don't think I've ever been more happy or proud of a first draft than with this one." Simon Pegg expects to start shooting in September and hopes to announce a director soon. All he will say is it's a road movie across America. After that, he hopes to write a third script with Edgar Wright. Fans of the actor Simon Pegg will also be able to catch him in this July's Comic Con. "I think we're due out there this year, for a Star Trek panel and I think we're promoting the release of Spaced on Region One DVD, I hear, as well, in America." All of this is a far cry from the actor's humble beginnings and he's clearly having a ball.