Welcome to Rates To Go! - the fast and secure service offering great savings on your last minute hotel reservations - up to 20 days in advance.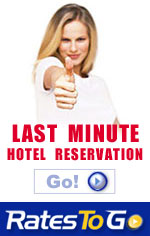 A World Leader In On-Line Hotel Reservations

Rates To Go, a division of Flairview Travel, is a world-leading provider of online hotel reservation services, offering great service and exceptional discount rates. Our mission is to provide our customers with the most competitive hotel room rates. We offer 'last minute' access to hotel rooms through a 'real time' booking engine. Our hotel partners literally use our system as an extension of their own sales and reservations departments, each able to change their rates daily on our website so as to sell rooms that may otherwise be left unsold. This ensures that we offer you the best room rates available on any day, up to 20 days in advance.