Dr Dain Heer 5 Unconventional Ways to Spend Valentine's Day Interview
'For a great relationship, skip the roses and chocolates" says love expert

Valentine's Day may be touted as the day of romance and courtly love but, these days, it also seems to be the day of overpriced roses, booked-out restaurants and themed chocolates. In fact, in Australia, nearly $800 million is spent each year on the Valentine's Day basics: flowers, dinners and sweet treats.

Dr Dain Heer is a best-selling author and international speaker with unique and refreshing views on the concepts of love, sex and relationships. He maintains that couples don't have to follow the crowd to celebrate their love. In fact, he says, your relationship could benefit more if you turn your back on tradition, and choose to do things your way.

'If you want to create a truly great relationship, you have to find out what's true for you", Dr Heer advises. 'Buying chocolates or flowers on Valentine's Day, just because it's the accepted thing, will not add value to your relationship. Instead, ask yourself, -if I had no past and had no points of view about Valentine's Day, how would I like to honour and celebrate my relationship right now?'"

For those tired of conformity, Dr Heer suggests the following activities that will truly help couples connect, celebrate and enjoy Valentine's Day:

Spend the day before Valentine's Day apart ... and Valentine's together: Absence makes the heart grow fonder, or so they say. So prepare for your day or evening together with some "you time" away from your partner, to whet your appetite and be even more grateful for them and ready for the festivities of Valentine's. And if you're going to communicate with your partner during the time away, those texts are only about love, lust, or romance. No texts about who has to feed the dog! Handle that BEFORE your day away.

Give back, together: Spend the day contributing to others, together, like volunteering at a food bank as a couple. The act of giving will improve your outlook on life and bring you closer together.

Get raunchy: Valentine's Day is traditionally about romance and roses, but getting sexy with your partner does wonders for your relationship. Try what Dr Heer calls the "50 Shades of Grey Experiment." (This occurs in the bedroom if that wasn't obvious.) Set the timer on your phone for 10 minutes. For the first ten, she's in charge and can ask anything of him and do anything with him she desires. For the next ten he's in charge. Then repeat as many times as is fun for both of you, for a truly memorable experience.

Practice gratitude: Spend time on Valentine's Day writing down a list of everything you're grateful for about your partner. A sincere list of gratitude is worth more than expensive (and meaningless) dinners or gifts.

Lose your mind (and focus on your body!): When you actively choose to do something that is fun and nurturing for you and your body, not only will you feel better; you will also have more energy for the other things, and people, in your life. Rejuvenate your relationship by making your body a priority on Valentine's Day. What does your body love to do? Swim? Run? Maybe it's Pilates or Yoga. Maybe it's going for a walk in nature or taking a bubble bath.

According to Dr Heer, the most important thing to remember on Valentine's Day – or any day – is that your relationship is unique and the way you celebrate your love should be, too. 'If you want to have a relationship, you should have a great and phenomenal one! Why settle for something just because other people find it valuable? Why settle for something that doesn't truly make your heart sing?" he remarks.



Interview with Dr Dain Heer
Dr Dain Heer is an internationally renowned author, speaker and facilitator of consciousness, and change and for the last 14 years has been inviting people to embrace their true greatness. His book, Being You, Changing the World - Is Now the Time? is published in seven languages. For more information visit www.drdainheer.com


Question: Why do so many couples put so much pressure on Valentine's Day?

Dr Dain Heer: There are a lot of expectations around Valentine's Day. The media, movies, books all play into the idea of the perfect relationship, the fairy tale romance, the fantasies and insanities of how things are supposed to be and when we buy into these ideas, we are left feeling the pressure of 'getting it right" which usually leads to unmet expectations and disappointment.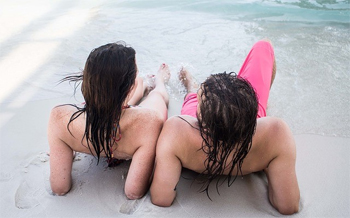 Question: How can we show we truly appreciate our loved one, this Valentine's Day, without going over-board?

Dr Dain Heer: If you want to create a truly great relationship, you have to find out what's true for you. Buying candy or flowers at Valentine's Day, just because it's the accepted thing, will not add value to your relationship. Instead, ask yourself, -If I had no past and had no points of view about Valentine's Day, how would I like to honour and celebrate my relationship right now?'


Question: What are your top gift tips for this Valentine's Day?

Dr Dain Heer: My top tip gift tip for Valentine's Day is to honour the gift of you. To some people that sound's selfish and wrong. We have this idea that we are supposed to sacrifice and make everything about the other person but reality is, the more you nurture and care for you, the more you continue to do the things that are fun for you, the more fun and playful energy you bring back to the relationship.

One way to honour the gift of you is make your body a priority. Rejuvenate your relationship by making your body a priority on Valentine's Day. What does your body love to do? Swim? Run? Maybe it's Pilates or Yoga. Maybe it's going for a walk in nature or taking a bubble bath.


Question: Why would an experience be better for a relationship than a gift, this Valentine's Day?

Dr Dain Heer: Experience? Gift? One is not better than the other. The question is what works for you and your partner? Rather than looking at what's conventional, what others say about how Valentine's Day should be, how YOU should be, look at what would be fun for you. If you really want to be unconventional, find a way to give back to others on Valentine's Day. Spend the day contributing to others, together, like volunteering at a food bank as a couple. The act of giving will improve your outlook on life and bring you closer together.


Question: What are the relationship phases that are more important than saying 'I love you"?

Dr Dain Heer: This might be surprising but, the relationship phases that are the most important have nothing to do with your partner. It's all about you. In the relationship phase where things are new and exciting, so many couple immediately start to give up themselves. They stop doing the things they love. They stop hanging out with the people that are fun, nurturing and caring. They make everything about the relationship. The most important thing in every phase of any relationship is to never give up you – NEVER. You are the most valuable ingredient in your relationship. Your partner fell in love with you. Keep all of you. Don't judge you or your partner. This is the only way relationships work.


Question: What is the main reason for relationship break downs and how can couples repair this?

Dr Dain Heer: Judgment is the biggest relationship killer. Often in relationship, it's the little things which build up over time that lead to resentment and conflict. We build a wall of judgment, separate ourselves and keep everyone out. Gratitude is the anecdote that will break down that wall.

Choose gratitude! What are you grateful for with the people in your life? The people you work with? The people you live with? What about them would you like to say, 'Thank you" for?

Judgment kills relationship. Gratitude eliminates judgment. When you choose gratitude, the energy of the relationship changes and new possibilities show up. Ones you may have never yet considered.


Question: Can you share with us the five habits that ruin a relationship?

Dr Dain Heer: 1. Comparing Your Relationship to Others
2. Giving Up Things You Enjoy
3. Cutting Off the People Who Are Kind and Caring to You
4. Looking for Answers. Rather than Staying Curious and Asking Questions
5. Putting Your Relationship on Auto Pilot.


Question: How can a woman overcome trust issues caused from a previous relationship?

Dr Dain Heer: Trust starts with you. It's not about blind faith and trust that people will do what you think they should do. It's about being aware of what someone is choosing and trusting that they will choose what they choose. If someone is a liar for example, they've done you a favour. You know they are a liar and you can trust that they will always lie to you.

Rather than focusing on trusting someone else, choose to trust you. Trust that you will honour you. Trust that you will follow what you know and choose what works for you. Trust that you won't cut off pieces of you. Trust that you won't divorce you. Trust that in any relationship you are in, you will keep YOU in the relationship.


Interview by Brooke Hunter