JASON BATEMAN ADDS LAUGHS TO A KINGDOM.
by Paul Fischer.
Jason Bateman is makimg the transition from child actor to fully fledged adult, as he re-established himself on TV's Arrested Development. Before graduating to play attractive, conniving adults, actor Jason Bateman first established himself by playing attractive, but conniving juveniles. Often cast as a comic counterpoint to charming leads, Jason Bateman provided a welcome shot of vinegar to the sugary sweet "Silver Spoons" from 1982-87 as Derek Taylor, the best friend of rich kid, Ricky Stratton (Ricky Schroeder). Bateman played Derek for three seasons before he was spun-off into a series of his own. Over the next two decades, the actor - brother of "Family Ties" star Justine Bateman - literally grew up before the cameras, staying consistently employed in a number of short-lived sitcoms. Among his most notable roles was that of eldest son, David Hogan on the long-running smash hit comedy "Valerie" - ultimately re-named "The Hogan Family" - from 1986 to 1991. Making a seamless transition from teen actor to adult, Jason Bateman continued his career on the small screen as a likeable straight man on a number of other sitcoms - most notably with his comeback in the dysfunctional family comedy "Arrested Development" (Fox, 2003-06).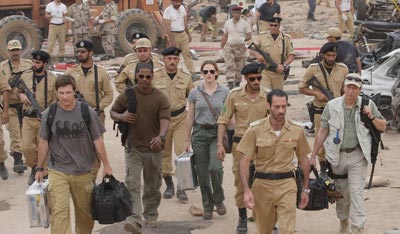 Born in New York on Jan. 14, 1969, Jason Kent Bateman was the son of Hollywood producer Kent Bateman and the younger brother of actress Justine Bateman. Jason Bateman began acting at the age of 10 as the star of an educational film, which led to several TV commercials and ultimately, series work. In 1981, the 12-year-old Jason Bateman scored a recurring role as James Cooper Ingalls, an orphan adopted by Michael Landon's character, on the long-running "Little House on the Prairie". Bateman's big break, however, came when he was cast as Derek Taylor on "Silver Spoons."
Not remaining idle for long, Jason Bateman promptly resurfaced in 1984 as the star of his own show, "It's Your Move". In it, Jason Bateman starred as Matt Burton, an outwardly angelic 14-year-old, who meets his match in his mother's new boyfriend, Norman Lamb (David Garrison). After the cancellation of "It's Your Move," Jason Bateman kept busy in a string of guest shots and TV movies.
In 1986, Jason Bateman landed the role of Valerie Harper's eldest son, David Hogan, on the family sitcom "Valerie" - a.k.a. "Valerie's Family," a.k.a. "The Hogan Family". He distinguished himself during the series run by directing three episodes, becoming the DGA's youngest-ever inducted member at age 18. Less memorable TV-movies and guest shots followed the demise of "The Hogan Family." Jason Bateman made an inauspicious feature debut replacing Michael J. Fox in the sequel, "Teen Wolf Too" (1987). Produced by his father, Kent Bateman, the film was panned mercilessly by critics - revealing at the end of the day, that Jason Bateman's low-key charm was best served on television. In one of his rare, serious roles, he played the brother of real-life older sister, Justine Bateman in the well-received telefilm, "Can You Feel Me Dancing?" (NBC, 1986). Also produced by their father, the film told the affecting story of a resourceful blind teen smothered by the attentions of her well-meaning family.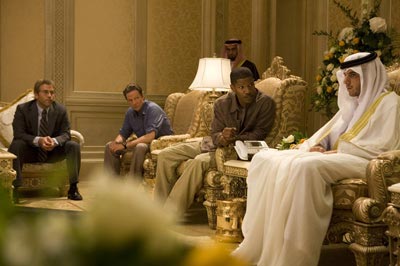 Coming into adulthood, the adult Jason Bateman popped up next in the short-lived sitcom "Simon" (WB, 1995-96), The young TV veteran next landed a lead on "Chicago Sons" another sitcom about brotherly love. It, too, had a short shelf life. Displaying his trademark hearty resilience, Jason Bateman quickly rebounded, playing the son of Bob Newhart's character on "George and Leo" (1997-98) but was cancelled after just one season. The actor had even worse luck with his next show, "Some of My Best Friends" (CBS, 2001), in which he played a gay writer in Greenwich Village who takes in an unsuspecting roommate. Not surprisingly, that show was cancelled after just eight airings.
In 2003, Jason Bateman landed his best role to date and the part that brought him back to the forefront of comic TV actors. As Michael Bluth, the good son born into a vain and supremely dysfunctional family on the much beloved Ron Howard creation, "Arrested Development," Jason Bateman provided the only voice of reason in the eccentric household, populated with such scene-stealers as Will Arnett, Portia de Rossi and Jeffrey Tambor. Despite all its accolades, however, "Arrested Development" simply could not survive its low ratings. After much back-and-forth between the show's producers and the network, the fast-paced sitcom was finally canceled in 2006. .
Meanwhile, Jason Bateman continued to thrive as a favored supporting player in big-screen comedies, including deft turns as a sleazy mob lawyer in "Starsky & Hutch" (2004) and as a sports commentator in "Dodgeball" (2004). Due to his onscreen pairing with Vince Vaughn in the latter, he subsequently gave a fine comic performance in Vaughn's feature film creation, "The Break-Up" (2006), playing a real estate agent refusing to waive his commission on a condo sold to a couple (Vince Vaughn and Jennifer Aniston) going through a bitter break-up. Jason Bateman followed this up with a supporting role in another romantic comedy, "The Ex" (2007) directed by Jesse Peretz, starring Zack Braff and Amanda Peet.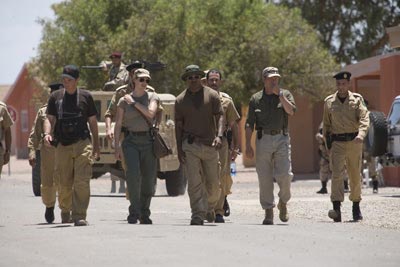 Jason Bateman displays both comedy and drama in the terrorist-themed procedural thriller The Kingdom, in which Jason Bateman plays an FBI agent, part of a team, who goes to Saudi Arabia to investigate a mass murder at the hands of extremists. He spoke to Paul Fischer.
Paul Fischer
: You provide much of the humour in this movie. Is it hard for you to balance between
Jason Bateman
: Being kidnapped and being funny?
Paul Fischer
: Ayes, was it hard for you to find the comedy? Was it very instinctual? And how much improv did you end up getting to do?
Jason Bateman
: Well, Peter Berg and I did a few scenes, in Smoking Aces, a Joe Carnahan movie. Joe wrote this great monologue and after doing it for a few hours, he basically said, I want you to start to get a little looser with the lines, and make up some stuff. I started to make Peter Berg laugh a lot that day, so I guess he saw that I could sort of talk on my feet, or improvise, and I guess he figured that would be perfect for this part. So he said to make up a lot of stuff. There were a handful of lines written for the character in the movie, but none of them were particularly funny. I didn't think the character was supposed to be funny. But he figured that a character that could bring some levity would be helpful in this. And so I did have to sort of, every day, kind of be on my toes and find moments to crack wise, but I had to be mindful of the fact that this is a drama, with Jamie on one side, and Chris on the other side you know, with a couple of Oscars. So there's this jeopardy that they're trying to maintain in the movie, this tone and so, let's not be an idiot. So I tried to pick and choose, but I couldn't phone in any days. I couldn't come to the set and just say, "Oh, well, I've got this dialogue to memorise, and I'll just say that dialogue when we get to my scene." It's like, every scene I had to be ready to perhaps put something in. So it was a little bit more work than one would think, with the limited amount of dialogue that was scripted for me.
Paul Fischer
: Jason, you seem to be having this career resurgence, where you've redefined yourself. You started out as a juvenile. How does it feel this time around with it? How do you feel about acting, about celebrity, about work?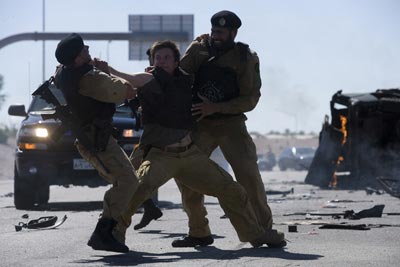 Jason Bateman
: It feels lucky. Not a lot of people get a second chance and I think for a while there, my name kind of got in my way a bit, based on all of the television I was fortunate enough to do. But after a while, you sort of wear out your welcome in that genre, in that medium and then, you know, multi-camera was atrophying, and single camera was coming up. And no one wants a multi-camera guy in a single camera show, so then I was really screwed. I was very surprised to get a reading for Arrested Development, because it really seemed to be the opposite of that which I was known for doing. Fortunately, I guessed right on that day in the audition room, you know, as far as what they wanted from a character and they ended up giving me that part. Not a lot of people in America were watching the show, but the people here in LA were. So I've kind of been able to hit the reset button a little bit on who I am, and what people think of when they hear my name. A lot of that goes to your hirability. It has less and less to do with your talent, and I don't mean to sound cynical. But a big part of being hired is what you add or detract from the project as far as pedigree goes and that show was very well-received. So I'm just trying to take the good roles that are coming my way, try to perpetuate that level of whatever it is and try to get another few years of employment out of this tough town.
Paul Fischer
: Were there any injuries during some of your more physical moments in The Kingdom?
Jason Bateman
: I don't think so. I mean, I threw up one day on the set when it was really hot. That was about it, but it's sort of common for us pansy SAG people. No, there weren't any real injuries on my part. The stunt people were extremely professional, and our second unit director and stunt coordinator were amazing. I'm kind of awed by these action movies. I saw Bourne Ultimatum the other day, and just felt bad that I was able to just drive away from that after two hours and say, "Boy, that was a great movie." There's just so much work that goes into it and this one I'm doing now, you know, with Peter Berg again is about this super-hero. So there's flying and special effects, and things are blowing up, and trains are getting tossed.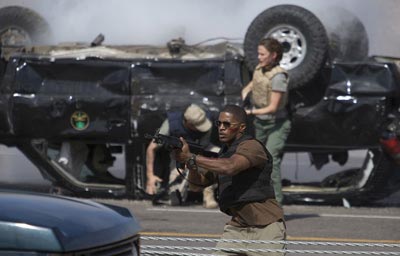 Paul Fischer
: Who are you in that?
Jason Bateman
: I am a guy that Will Smith saves in the first, kind of like, ten pages of the film. And then to pay him back, I tell him I'm gonna help him revamp his public image. Because he's persona non grata, because he's a drunk and when he solves crime he creates a lot of collateral damage because he's banging into buildings and landing on cars instead of a sidewalk. And so they don't like him. So as I'm teaching him how to navigate those waters, and be more polite in press conferences. And I've gotta - you know, get him a little outfit and a cape, and everything -
Paul Fischer
: You're a publicist.?
Jason Bateman
: Basically. Yeah, I'm a corporate PR guy. Then he starts making moves on my wife, Charlize Theron, so there's this sort of this weird dark love triangle. iI's this gigantic Sony movie that I'm just so sort of fortunate to have this great seat to watch.
Paul Fischer
: Talk a little about the Kingdom in terms of how it deals with the very real political situation, yet it's kind of an entertaining action movie.
Jason Bateman
: I would not start talking about politics. I'm just not that smart about it. But it seems to me that the action genre is a genre we all enjoy, and one looks for new and fresh arenas to couch action. And this is certainly a relevant, topical situation. And, why not throw it in that situation? I don't - I think that they very successfully navigate the waters of, let's not be too didactic, and let's not - you know, hammer some precious little theme or message at the end. I think they touch just enough on perhaps what you could gather from this film, without saying, "Hey, this is what you must walk with." Again, you should speak to somebody smarter than me about that. But. The bits that I did learn about the situation over there, I appreciate it. We had a great political consultant on it, this guy Rich Klein, that just answered any question that I had, and I've retained a bit of it. But, you know, I have to watch Charlie Rose and brush up on it every once in a while.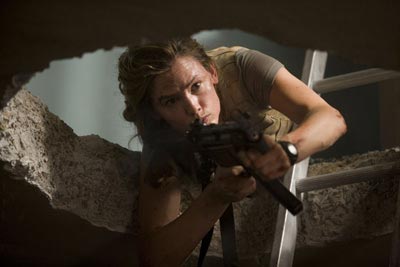 Paul Fischer
: How's your sister?
Jason Bateman
: She's great, she's got a couple of beautiful little kids that are five and, I think, two and a half. And - not that she's done raising them by any stretch, but the heavy lifting is sort of subsiding for a little while, and I think that she's making a little bit more of a proactive effort to get back into the business. And you may see her here soon.
Paul Fischer
: So, she retired, but she's ready to go back to work now?
Jason Bateman
: I don't think she officially sort of retired. But she certainly wasn't as ambitious as she was before, and just really enjoyed her kids. And her husband works really very hard, and is a very successful real estate guy. And so she wanted to stay home with them, and do that thing. And having a ten-month-old myself, I get it.
Paul Fischer
: Is it awkward at all between the two of you, that you're so busy, and have got this resurgence going?
Jason Bateman
: No. She's been in the business almost as long as I have. She gets that - you know, it's up, it's down. You know, when she was on top of the world of Family Ties, I certainly wasn't sticking pins in a - you know, sister doll. But - you know, it comes and it goes. And - you know, if she had been on Arrested Development and I wasn't, then the shoe would be on the other foot. So she gets that. And consequently is out there every pilot season looking for something great.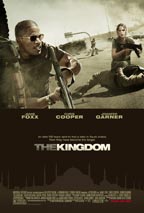 The Kingdom
Starring
: Jamie Foxx, Jennifer Garner, Chris Cooper, Jason Bateman, Jeremy Piven, Danny Huston
Director
: Peter Berg
Academy Award winner Jamie Foxx leads an all-star ensemble in a timely thriller that tracks a powder-keg criminal investigation shared by two cultures chasing a deadly enemy ready to strike again in The Kingdom.
When a terrorist bomb detonates inside a Western housing compound in Riyadh, Saudi Arabia, an international incident is ignited. While diplomats slowly debate equations of territorialism, FBI Special Agent Ronald Fleury (Foxx) quickly assembles an elite team (Oscar winner Chris Cooper and Golden Globe winners Jennifer Garner and Jason Bateman) and negotiates a secret five-day trip into Saudi Arabia to locate the madman behind the bombing.
Upon landing in the desert kingdom, however, Fleury and his team discover Saudi authorities suspicious and unwelcoming of American interlopers into what they consider a local matter. Hamstrung by protocol....and with the clock ticking on their five days....the FBI agents find their expertise worthless without the trust of their Saudi counterparts, who want to locate the terrorist in their homeland on their own terms.
Fleury's crew finds a like-minded partner in Saudi Colonel Al-Ghazi (Ashraf Barhoum), who helps them navigate royal politics and unlock the secrets of the crime scene and the workings of an extremist cell bent on further destruction. With these unlikely allies sharing a propulsive commitment to crack the case, the team is led to the killer's front door in a blistering do-or-die confrontation. Now in a fight for their own lives, strangers united by one mission won't stop until justice is found in The Kingdom.