JAVIER BARDEM PHILOSOPHICAL ON POST-OSCAR EUPHORIA.
Javier Bardem, Vicki, Christina, Barcelona Interview.
Javier Bardem may not exactly enjoy doing press, but there was no evidence of any such disdain as the gregarious and cheerful Spanish Oscar winner chatted about his starring role in the latest woody Allen, Barcelona-shot romantic comedy/drama, Vicki, Christina, Barcelona. The actor's first major film since his Oscar-winning turns in No Country for Old Men. It's been quite the rollercoaster ride for the actor, including months of self-promotion in the hope of capturing cinema's ultimate prize. Looking back, Javier Bardem is prsgmatically philosophical. "I've said that it was nine months of tension," Javier Bardem says laughingly in a Beverly Hills hotel room. "I mean it was pleasurable, and I feel truly thankful and honoured, really thankful and grateful for the recognition, but I guess when you come to the Oscar night, you come with a lot of things on your back," the actor recalls. "It was a month of tension - of promoting - of being eight of nine months out of your home, speaking a foreign language, being in No Man's Land, in the sense of, 'Where am I?' So you are like out in space and then everything comes to that very night and when it happens, you feel like a lot of things come to an end. That's why people get so emotional and that's why the value of the statue itself is so big, because it represents a lot of things," Javier Bardem exclaims, sighing deeply. "Six months later you have that golden bald man there, you look at it and what I feel is like, thankful, grateful and lucky that I truly won the lottery, that it was my name and not another actor's name that was in that envelope because it can't measure any kind of talent, because the talent of all of those actors there is un-measurable. But I won the lottery," he says smilingly.
Yet there is a practical reason why anyone would go through the exhaustion of the awards season: it all has to do with future offers and a growing career. "I guess that's why you do it and when you decide to go and move forward with it and ask yourself if you want to make the campaign and you go for it. It's not because you feel a need to be recognized. F--k that. That's absurd. It's because you realize that this is a job that you're doing, you're hired for doing a job and if you are lucky enough, you need to be hired to keep on doing jobs. After that I have more offers, some of them are more interesting, but you keep on doing more or less what you've been doing so far which is choosing carefully and when you choose something, it's because you want to tell that story not because you need to do it in order to achieve something else."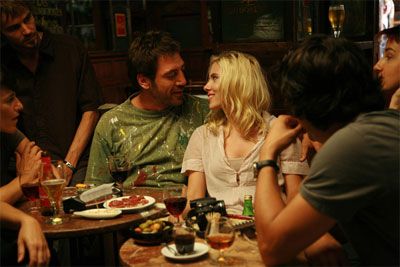 Yet, Javier Bardem turned down the lead role in Rob Marshal's star-studded film adaptation of the musical Nine, but he says the offer came on the heels of the exhaustive Oscar campaign. "First of all, I think Nine is spectacular material and a spectacular script by Anthony Minghella. I think Rob Marshall can't be nicer, he's really multi-talented, one of the nicest people I've ever met and it's going to be a unique and extraordinary work. However it came to me in a moment when I was really involved, and really broken. I was tired and he perfectly understood that respected that, but I know it's going to be a fantastic, unique experience."
Javier Bardem had no problem, however, eventually saying yes to iconic director Woody Allen, who was casting his latest film to be shot in Spain's Barcelona. Though a portrait of three angst-ridden women, Javier Bardem was more than intrigued by his character, a seemingly chauvinistic womaniser whose first scene has him trying to pick up American tourists Scarlett Johansson and Rebecca Hall. "When I read the script, I felt, the first scene where he approaches those two women was like, 'Okay, that's funny, all the clichés are there, one after another with the American tourist coming to a romantic place in Spain and finding Don Juan; okay - what's all this about?" Then I keep on reading and realize how brilliant it was because I think what the movie does, and what the script did to me, is that he places all of the clichés one after the other, then, first of all, makes fun of them. Second, he destroys them and third of all, he makes us see what's behind those stereotypes and clichés, which is, people are sharing the same fear, need, dependence, and also the same quest about the meaning of love," explains the actor, adding that he liked Allen's script "because at the very end it's a kind of a drama. Everything and everybody's harmed, by that quest, by that search and what it looks like, at the beginning, to be one thing, is totally the opposite because I think my character at the end is a poor man, so dependent on protection that he can't be alone for even five seconds when he's pretending to be this easy man where everything flows and he doesn't belong to anyone - or nobody belongs to him."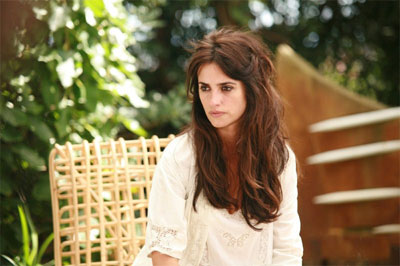 Asked whether Javier Bardem could identify with this character, the actor pauses. "When you're working with a person who really knows how to write dialogue, you realize that you don't have the do very much because he's in there. It's like you have jewels and Woody Allen is really telling you where to go. That's what the classics do and when you are doing a classic, you realize that you don't have to put a lot of yourself in there rather than try to put your ego away and add it to those words, because those words are like bridges that are taking you to the next step by their own."
An actor for nearly two decades, Javier Bardem found considerable success in his native Spain appearing in such Spanish hits as Jamón, jamón, La Madre, Boca a boca, Perdita Durango and 2000's Before Night Falls. International success came relatively late to the actor who recalls being drawn to acting even as a child at a time when he felt "very lost", but was not encouraged to perform by his actress mother. "Like any kid of 12, 13 years old and you don't know what to do, you then go to the theatre to see your mother performing, you see the theatre from the inside and go, 'This is crazy.' I mean, my mother was shaking and nervous because it was the night of the opening, here, then she's dressed like a queen and suddenly she's on stage being the queen of Spain or portraying one of the queens of Spain and you go, 'What happened in the middle? This is crazy.' But there's something there that you smell that you go, 'Wow, there's something there that's important.' You don't know what important is, but you realize later it's important to yourself, because you're really put in some plays where it's not common, some place where you have to really look inside of you in order to pull a lot of triggers. It's like here I am a human being, here, I am a character and it happens in two and that is kind of crazy but it's very rich for one personality to go through that process."
Watching his mother transform herself instilled in a young Javier Bardem that desire to perform. "I saw all of that since I was little and wanted to do it, but I also saw the bad times."
Javier Bardem still calls Madrid home and for him, the bad times are well behind him. Now an Oscar winner, the actor can take his time to pick and choose roles in either his native Spain or Hollywood. "I would like to do that but in the end, it doesn't depend on you, but if good material comes to you on both sides. It's been a long time since I received something that really drives me crazy in Spain and I haven't worked in my own language - except for those little scenes in this movie - since 2003 in The Sea Inside. So there's something really inside of me that needs, wants, to work in my own language, but it doesn't depend on me because I don't have the talent to write or direct or otherwise I would."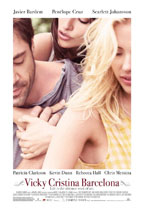 Vicky Cristina Barcelona
Starring: Scarlett Johansson, Penélope Cruz, Rebecca Hall, Javier Bardem, Chris Messina
Director: Woody Allen
Genre: Comedies
Two young Americans girls Vicky and Cristina spend a summer in Spain and meet a flamboyant artist (Javier Bardem) and his beautiful but insane ex-wife (Penelope Cruz). Vicky (Rebecca Hall) is straight-laced and about to be married. Cristina (Scarlett Johansson) is a sexually adventurous free spirit. When they all become amorously entangled, the results are both hilarious and harrowing.
Vicky Cristina Barcelona Interviews
Scarlett Johansson -
www.girl.com.au/scarlett-johansson-vicky-cristina-barcelona-interview.htm
Penelope Cruz -
www.femail.com.au/penelope-cruz-vicki-cristina-barcelona-interview.htm
Javier Bardem
www.girl.com.au/javier-bardem-vicki-christina-barcelona-interview.htm
Woody Allen -
www.femail.com.au/woody-allen-vicky-cristina-barcelona-interview.htm