CARREY TAKES ON ICONIC CHARACTERS
Jim Carrey Interview by Paul Fischer
Jim Carrey is in his element, relaxed in a t-shirt and jeans promoting his latest film, Horton Hears a Who. Despite an often-irreverent performer on screen, off screen Jim Carrey is often quietly reflective, an actor who genuinely dismisses the almost iconic status he has attained over the years. The Canadian-born comic seems almost uncomfortable discussing his own fame and symbol as an American comic icon. "Well, you know, it's hard to have a perspective on it from inside myself," Jim Carrey says from a Beverly Hills hotel room. "I just kind of feel like I could be working in a factory again in a month, or something like that, loading trucks, which is kind of where I started out," Jim Carey recalls with genuine modesty. "Honestly, I don't have perspective on it, as it's just kind of, one thing to the next, trying to do work, and trying to have fun with what's in front of me. I mean, even today I think to myself, you get that - 'Ugh, it's a junket,' kind of thing and then I have to go to that place of, 'I'm gonna try to enjoy every person who's in front of me in that moment, and try and live that way, which is what I do.' So I don't really think about iconic anything, but I just try to do work and have fun doing it and hopefully that translates."
Jim Carrey was not always the multi-million dollar movie star of today. Now divorced and dating Jenny McCarthy, Jim Carrey remains ferociously guarded about a past that included living out of his car at one point while trying to make it as a comic in both his native Toronto and Los Angeles. He alludes to a past that once tore him apart while talking about, of all, Charles Dickens' A Christmas Carol, the latest film version of which he is shooting for director Robert Zemeckis. In the latest Zemeckis-helmed green screen film, Jim Carrey not lonely plays Ebenezer Scrooge, but all of the ghosts, and says how much he identified with the Dickens world of past regret and future optimism. "You know, if you're lucky, at some point in your life, you have that kind of Christmas Carol moment, and I certainly have, where things were kind of going south, and I had the opportunity to see how horrible things could have gotten, without them actually going there. I can't get into specifics, but I had my ghost of Christmas Future at a certain point in my life, that I went, like, 'Oh, wow. Okay, I gotta really start caring about the right things here,' and it's just a fantastic story," Jim Carrey says, wistfully.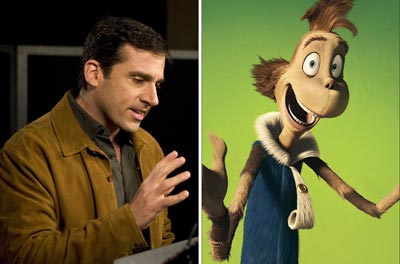 Jim Carrey's career of course turned out for the best, beginning with Ace Ventura, before hitting it big with The Mask. The $20m a movie actor has the life most of us dream of and one can tell in the moments he talks to the press that he is genuinely happy. This has culminated in his decision to turn animated, voicing Horton the elephant in the film adaptation of the Dr Seuss children's classic, Horton Hears a Who, which is receiving early enthusiasm from kids and adults alike.
Jim Carrey agrees that Seuss transcends age and demographics, and is clearly impassioned about the messages that Seuss delivers to his readers. "I think as far as kids go, the thing that attracts them to this is not the deeper concepts involved, but really just the fact that Seuss's creativity was so incredible. He was such an original and if you give a kid a character that he's never seen before, in a world he's never seen before, they're able to completely lose themselves in an imaginary space. Yet at the same time, they're getting all those wonderful lessons. I've always been drawn to things that are different, because I felt odd anyway, as a child, so anything odd, I go, 'Oh, those are my people,' and that's what draws kids." Pressed as to what made Jim Carrey odd as a child, he laughs slightly. "I was the baby of the family and I guess my father was funny and strange. So I looked at him and went, 'Wow, everybody's looking at my Dad, and everybody's laughing at my Dad,' and I just immediately kind of wanted to be that. So I locked myself in my room when all the other kids were outside playing, and was devising ways to make myself appear to be somehow different."
That difference remains exemplified in Jim Carrey's work, whether playing Scrooge or an animated elephant, but it's the latter that he clearly relishes, not just the character but the process of bringing an animated character to life. "What they do is, they come to your house and they say, 'This is going to be the simplest process in the world,' and completely lie to you, so anybody who they're doing that to in the future might want to take note. It is hard work," Jim Carrey says laughingly. "And you sit in a room, you jam, you come up with ideas, and lines. It's an amazing process, because you think, 'How is this ever gonna get to the end and make sense? " And of course you also have to use your imagination and get into the mindset of an elephant. "Well, myself, I thought of peanuts and peanuts on my breath. I figured I have the sweet smell of peanuts on my breath all the time. I wanted to be the type of elephant that didn't realize that he was enormous and bulky. He was light as a feather, as he puts it, like a dancer. He's not bigger than anybody else, which is kind of where I wanted to come with that character, is that maybe it's an inferiority complex, but he doesn't feel like he's bigger and he feels equal to everybody."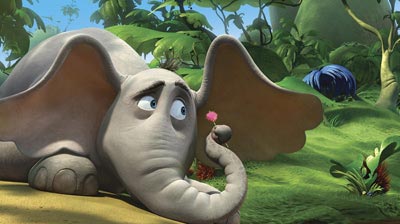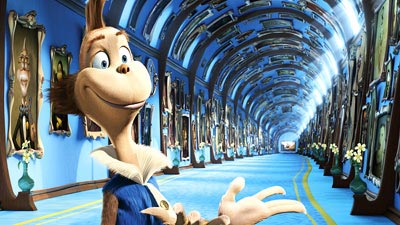 One of the more interesting themes of Horton is this notion that we are all specks in relation to the universe. Whoville is actually a speck that Horton protects from a more ferocious world caving in on it. Jim Carrey believes that like the diminutive citizens of Whoville, we are all specks. "There's no question about it and that's how I feel. I mean, I'm an interesting speck, but I think that's how I've always thought, in those terms. I mean, how can you look at the sky at night and not feel that you're a speck somewhere? I saw a picture on Discovery Channel one time of Earth from the Mars perspective and you could hardly find it. It was a speck, so we truly are a speck."
And yet, Jim Carrey is the kind of speck who continues to have a profound impact on the world as seen through his indomitable eyes. Jim Carrey is continuing to work on Christmas Carol and is up to the challenge of further diversifying his gallery of characters. "Ebenezer is such a great thing for me, because again, I get to play all kinds of different roles in the film and first of all, the process is so fascinating. You're literally in an empty warehouse with cameras around you and you have maybe a frame of a fireplace, or something like that, then you rehearse, and they go, 'Can we take this away?' And you're sitting on a chair. And you have to create the entire world in your head. Not only that, but you're working with other actors, and you're in this ridiculous mo-cap suit with balls all over it, and a hat with pincers that come down, with cameras in your face right here. So the real work of it is transcending all of this - the lack of stimuli, and this stimuli that's right in your face and create the reality of the piece. Also, it's kind of a classical version of A Christmas Carol, so I'm playing Ebenezer Scrooge at four different ages. all with English accents. So there's a lot of really wonderful work and challenge in it, in it." Jim Carrey's one hope for this latest Carol is "I want it to fly in the UK, I want it to be good, and I want them to go, like, 'Yeah, that's for real.' " But it seems that for Jim Carrey, keeping it real has always been his life's work.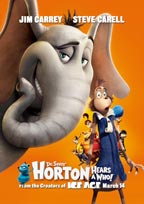 Dr. Suess' Horton Hears a Who
Starring: Jim Carrey, Steve Carell
Director: Jimmy Hayward
Genre: Childrens
Rated: G
Runtime: 1 hr 50 mins
On the fifteenth of May, in the jungle of Nool, in the heat of the day, in the cool of the pool. He was splashing...enjoying the jungle's great joys...When Horton the elephant heard a small noise. With his signature evocative and rhyming text, writer and cartoonist Dr. Seuss, an American treasure whose books have delighted generations of young people, opens one of his most beloved tales, Horton Hears a Who!
Now, over fifty years since Seuss, whose real name was Theodor Seuss Geisel, published this perennial favorite, the makers of ICE AGE and comedy giants Jim Carrey and Steve Carell, bring it to life in a way never before experienced. For the first time, a motion picture transports audiences into Dr. Seuss' incredible imagination, through state-of-the-art CG animation. DR. SEUSS' HORTON HEARS A WHO! (TM) is Seuss as you want to experience his work at the movies - and as it was meant to be seen.
The film, like Seuss' book, presents an imaginative elephant named Horton (Carrey) who hears a faint cry for help coming from a tiny speck of dust floating through the air. Although Horton doesn't know it yet, that speck houses an entire city named Who-ville, inhabited by the microscopic Whos, led by the Mayor (Steve Carell). Despite being ridiculed and threatened by his neighbors, who think he has lost his mind, Horton is determined to save the particle...because "a person's a person, no matter how small."
Horton's eight-word explanation for his actions embodies an idea both simple and profound, and which means so much, to so many. The film provides more food for thought, having Horton explains to his skeptical friends: "If you were way out in space, and you looked down at where we live, we would look like a speck." Then there's Horton's code...his motto... that, "an elephant's faithful 100 percent" - pointing to his honesty and determination to never abandon his mission to find a new home for the speck that houses the incredible world of Who-ville.
These philosophical declarations point to Seuss' unique ability to take complex issues and boil them down into understandable thoughts that anybody, at any age, could understand. It all comes together through the vision of a master storyteller, the magic of computer animation, and the special alchemy of three generations of comedy stars - Jim Carrey and Steve Carell are joined by the legendary Carol Burnett, as well as cutting-edge talents Will Arnett, Isla Fisher, Amy Poehler , Seth Rogen and Jonah Hill - to create an all-audience comedy event.