Have you ever wondered what kind of thoughts and opinions race through the male mind when it relates to 'girly' topics? Well wonder no more! Girl.com.au brings you 'My Boy', where we ask the questions in the hope of gaining an insight into the male mind.This month's celebrity 'My Boy' is one of Australia's leading personal trainers - Dean Piazza. A former Australian triathlon champion with more than forty international triathlon victories under his belt, Dean was placed in the hot seat where we grilled him on stuff that really matters!PROFILE - DEAN PIAZZA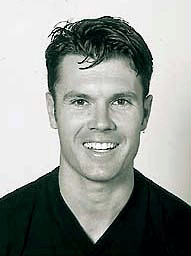 Age:
33 yrs
Star Sign:
Cancer
Resides:
Surrey Hills, Sydney
Occupation:
Personal Trainer
http://www.getfit.com.au
Hobbies/Interests:
Investments, Internet, and Triathlons
Likes:
Motivated, friendly, down-to-earth people
Dislikes:
People who are late for appointments
Person you would most like to meet:
Lance Armstrong - Tour De France Winner
Fave Food:
Thai
Fave Band:
Savage Garden
Fave Film:
Gladiator
Best Feature:
My butt
Worst Feature:
My Toes
Best Advice Given To You:
To never give up and follow your dream.
______________________________________________________________
Girl: Now, do you prefer brains or beauty?Dean:
I prefer brains and athletic beauty.
Girl: What is the worst pick-up line you have heard?Dean:
Let's go and compare muscles!!
Girl: So what turns you on?Dean:
Legs, legs, legs!
Girl: What turns you off?Dean:
Rude and lazy people turn me off.
Girl: Who is your ideal woman? Dean:
My ideal woman is someone, who is successful, switched on, athletic and has a good personality.
Girl: What song best describes you?Dean:
I'll Do It My Way!
Girl: Big boobs or big heart?Dean:
Definitely a big heart.
Girl: Are you a boxers or jocks guy?Dean:
Calvin Klein only!
Girl: What was the most memorable moment about your first date?Dean:
Having to talk for thirty minutes to her mother while my date was still getting ready.
Girl: Do you hog the remote control?Dean:
No I don't because I don't watch television.
Girl: Are you a speedos or board shorts kind of guy?Dean:
Speedos
(from my lifeguard days).
Girl: What is under-rated in this world?Dean:
Happiness.
Girl: What is over-rated in this world?Dean:
Marriage is over-rated.
Girl: What is your idea of a romantic date?Dean:
My idea of a romantic date is a nice restaurant, exceptional wine and a flash bar for a drink afterwards.
Girl: Are girls obsessed with their body image, more so than guys are?Dean:
I think it is starting to change as guys are starting to have more pressure placed on them to look good.
Girl: Do you believe in love at first sight?Dean:
No.
Girl: Are you a cat or a dog lover?Dean:
I love dogs.
Girl: If you were told you had a minute to live, what would you do?Dean:
I would call my girlfriend and check my emails.
Girl: Who is the bigger flirt? Guys or Girls?Dean:
I would say that guys are the bigger flirts.
Girl: Does vanity exist in males?Dean:
It definitely exists.
Girl: Do you believe in astrology?Dean:
No.
Girl: Do you believe in fate?Dean:
Yes I do.
Girl: Who gossips more? Guys or Girls?Dean:
Girls definitely gossip more than guys do.
Girl: How far would you go to win a girl's heart?Dean:
Not very far as I am way too busy and believe that if it is meant to happen, it will happen.
Girl: If you could bring only three items with you to a deserted island, what would you bring?Dean:
My laptop, mobile phone and chocolate!
Girl: Do girls who have been around the block too many times put guys off?Dean:
No they don't, as they can be more experienced and confident.
Girl: And a question that we girls have always wanted to know the answer to - what do guys talk about in the toilet?Dean:
Nothing - I am straight in and straight out of there!
<<If you would like to know more information about Dean Piazza visit
http://www.getfit.com.au
>>Girls if you have a question you would like featured in 'My Boy', please email
boy@girl.com.au
or any boys reading this; email us with your thoughts, opinions or issues relating to the girls in your life!
- Annemarie Failla