Have you ever wondered what kind of thoughts and opinions race through the male mind when it relates to 'girly' topics? Well wonder no more! GIRL brings you 'My Boy', where we ask the questions in the hope of gaining an insight into the male mind.This month we invited KYLE SANDILANDS - host and "bad-boy"of the very successful radio program Hot30.com (heard on all major radio stations throughout Australia on the Austereo network) to take part in the often-frightening MY BOY challenge. His on-air antics and shock value keep his listeners coming back for more night after night and Kyle wouldn't have it any other way! GIRL couldn't think of a more suitable candidate to sit in the hot seat and be grilled, than the very cheeky, witty and fun - KYLE! PROFILE

Star Sign:
Gemini
Fave Food:
Any meat products
Fave Film:
Coyote Ugly
Fave Act:
Vanessa Amorosi
Describe yourself in 3 words:
Loud, Obnoxious but there is a nice little soft side too!
Describe your co-host Jackie O' in 3 words:
Beautiful, a Princess and everyone's friend.
Best Feature:
Sense of humour
Worst Feature:
Stomach
Best Aspect of Job:
Meeting great people who have done amazing things with their life.
Worst Aspect of Job:
Getting home late at night bursting with energy and life after being on air and everyone else is in bed. So I'd say the lack of regulated sleep.
Person you would most like to meet:
Bill Clinton because that whole sex scandal proved that he is just one of the boys!
Hobbies/Interests:
Water skiing
First Job:
Pumping fuel at a service station, aged 15.
A talent you wish you had:
To be able to sing
The best advice given to you:
To be patient
If you were told you had a minute to live, what would you do?
I would ring everybody I had pretended to like and tell them that I really hated them!
Where do you see yourself in 5 years time?
Hosting a breakfast show in one of the major cities.
Girl: Do you prefer girl's with/without makeup? Kyle:
I prefer girls that wear makeup.
Girl: Now, do you prefer brains or beauty?Kyle:
How unfair! (laughs) A combination of both I think.
Girl: What is the worst pick-up line you have heard?Kyle:
My friend and I are Government Agents so it would be in your best interest to sleep with us! (laughs)
Girl: So what turns you on?Kyle:
Romantic evenings turn me on!
Girl: What turns you off?Kyle:
Red Lingerie!
Girl: Who is your ideal woman? Kyle:
My ideal woman is
Kylie Minogue.
Girl: What song best describes you?Kyle:
Better the Devil You Know!
Girl: Big boobs or big heart?Kyle:
I'd have to say a big heart.
Girl: Are you a boxers or jocks guy?Kyle:
A jocks guy.
Girl: What was the most memorable moment about your first date?Kyle:
The most memorable moment about my first date was that I slept with a girl in her parent's mower shed! (laughs)
Girl: Do you hog the remote control?Kyle:
Yes I do.
Girl: What is under-rated in this world?Kyle:
Male dominance!
Girl: What is over-rated in this world?Kyle:
Women's Lib!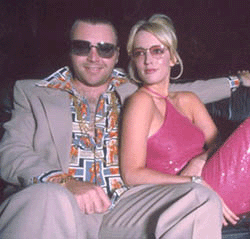 Girl: Do guys like girls in glasses?Kyle:
Yeah they look fantastic.
Girl: What is your idea of a romantic date?Kyle:
It starts and finishes in the bedroom!
Girl: Are girls obsessed with their body image, more so than guys are?Kyle:
Yes, although when you get down to Bondi Beach, it's quite hard to tell the difference as everyone is into their image down there.
Girl: Do you believe in love at first sight?Kyle:
Yes I do.
Girl: Are you a cat or a dog lover?Kyle:
I'm a dog lover.
Girl: Who is the bigger flirt? Guys or Girls?Kyle:
Guys are the bigger flirt.
Girl: Does vanity exist in males?Kyle:
It absolutely exists!
Girl: Do you believe in astrology?Kyle:
Yes.
Girl: Do you believe in fate?Kyle:
Yes I do.
Girl: Who gossips more? Guys or Girls?Kyle:
Guys gossip more.
Girl: How far would you go to win a girl's heart?Kyle:
Let's just say that
I'd draw the line at spending my last cent.
Girl: Why are many guys so reluctant to say I love you?Kyle:
Because they're always expecting something better to walk around the corner.
Girl: Do you like girls who play hard to get?Kyle:
A little bit of playing hard to get is good but when it's coming up to six months, you've got draw the line at some stage.
Girl: If you could bring only three items with you to a deserted island, what would you bring?Kyle:
Foxtel, toilet paper and a jet ski.
Girl: Do girls who have been around the block too many times put guys off?Kyle:
I think they'd put some guys off.
Girl: And a question that we girls have always wanted to know the answer to - what do guys talk about in the toilet?Kyle:
It's pathetic in the toilet and the worst place to have a conversation because you really want to get in there, do what you have to do and get out. The male toilet consists of piss-trough chatter!
>> Check out Kyle on the
www.hot30.com
website <<
Girls if you have a question you would like featured in 'My Boy', please email
boy@girl.com.au
or any boys reading this; email us with your thoughts, opinions or issues relating to the girls in your life!
- Annemarie Failla