Have you ever wondered what kind of thoughts and opinions race through the male mind when it relates to 'girly' topics? Well wonder no more! GIRL brings you MY BOY, where we ask the questions in the hope of gaining an insight into the male mind.

> > - MATT TILLEY - < <

This month Girl got to ask all those up close and personal questions of Melbourne Radio Funny man, Matt Tilley, from FOX FM. Not only has Matt made his presence felt on our radio airwaves, and currently hosts FOX FM's breakfast show with Tracey Bartrum, but he has recently hosted tv shows such as the "GREAT CHASE" and been seen in episodes of comedy shows: "Fast Forward" & "The Late Report!" Now Girl puts Matt in the Hot-seat...?GIRL'S 60 SECOND QUIZ

Full Name: Matthew Vernon Thomson
Nickname(s): "V" (for Vernon)
Star Sign: Pisces

Fave Food: Vegetable pastie
Fave Film: Caddy Shack
Fave Artist: Tracey Bartrum - A great BullS@#t artist.
Describe yourself in 3 words: Romantic, Bungy, Hairy
Best Feature: My Shaved legs.
Worst Feature: Chubby Cheeks
Height: 5 foot 9 inches
Your Ideal Woman: My wife
Hobbies/Interests: Cycling
First Job: Playing Santa aged 14
A talent you wish you had: An elite athlete
The best advice given to you: From Mum - Don't answer me back
What cartoon character best describes you? Elmer FudGirl: Do you prefer girl's with/without makeup?
MATT: Without Makeup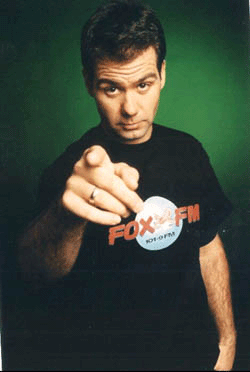 Girl: Now, do you prefer brains or beauty?
MATT: Brains
Girl: What is the worst pick-up line you have heard?
MATT: Haven't really heard one.
Girl: So what turns you on?
MATT: Laughing
Girl: What turns you off?
MATT: Self - centredness
Girl: What song best describes you?
MATT: U2 - the sweetest thing
Girl: Big boobs or big heart?
MATT: Bigger Boobs and a big heart - Both
Girl: Are you a boxers or jocks guy?
MATT: Jocks
Girl: What was the most memorable moment about your first date?
MATT: Her sister came along as a chaperone!
Girl: Do you hog the remote control?
MATT: Yes!
Girl: What is under-rated in this world?
MATT: Humility
Girl: What is over-rated in this world?
MATT: Arrogance
Girl: Do guys like girls in glasses?
MATT: yes!
Girl: What is your idea of a romantic date?
MATT: I'm too soppy! (Girl - soppy is good!)
Overlooking the water!
Girl: Are girls obsessed with their body image, more so than guys are?
MATT: Not in my case
Girl: Do you believe in love at first sight?
MATT: yes
Girl: Are you a cat or a dog lover?
MATT: Dogs
Girl: Who is the bigger flirt? Guys or Girls?
MATT: Girls
Girl: Does vanity exist in males?
MATT: Yes
Girl: Do you believe in astrology?
MATT: Only when it's right.
Girl: Who gossips more? Guys or Girls?
MATT: Girls
Girl: How far would you go to win a girl's heart?
MATT: Down to the milkbar and back (if she wanted chocolate!)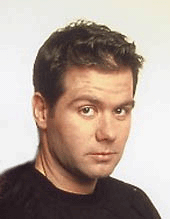 Girl: Why are many guys so reluctant to say I love you?
MATT: Cos their mates might be listening
Girl: Do you like girls who play hard to get?
MATT: no!
Girl: If you could bring only three items with you to a deserted island, what would you bring?
MATT: The telly, beanbag and my wife.
Girl: Do Girl's who have been around the block too many times, put Guys off?
MATT: Ah, yes, I think they do.
Girl: And a question that we girls have always wanted to know the answer to - what do guys talk about in the toilet?
MATT: How much they've had to drink! Sorry to disappoint you!
Girls if you have a question you would like featured in 'My Boy', please email boy@girl.com.au or any boys reading this; email us with your thoughts, opinions or issues relating to the girls in your life!
- Michelle Palmer (
michelle@girl.com.au
)