BARBIE™ A FASHION FAIRYTALE
BARBIE™ TAKES TO THE RUNWAY IN AN ALL-NEW MODERN FAIRYTALE!

For the first time ever, the world's most iconic fashion doll, Barbie®, stars in a contemporary princess tale in Barbie™ A Fashion Fairytale, releasing in Australia and New Zealand on DVD September 1, 2010 from Universal Studios Home Entertainment. A tale filled with fashion, friends and fun, Barbie™ returns to her fashion roots and embarks on a modern day fairytale where she discovers that magic happens when she believes in herself! A stylish addition to any Barbie™ collection, the DVD includes engaging outtakes from the film and a music video featuring "Life is a Fairytale" by Tiffany Giardina. Another special addition exclusive to Australia and New Zealand; Every copy of the DVD will include a fabulous Barbie™ A Fashion Fairytale postcard in pack.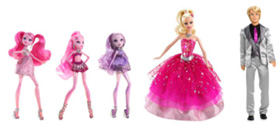 A dream come true for longtime Barbie® fans and newcomers alike, Barbie™ A Fashion Fairytale is loaded with excitement and family-friendly entertainment. Featuring a story that demonstrates the power of teamwork, courage and creativity, girls are in for a magical and fashionable adventure they'll want to watch again and again.

Barbie™ in a Fashion Fairytale doll and her friends are each sold separately and available from retailers nationally from September.

SYNOPSIS:
Discover your inner sparkle! Join Barbie™ in a colourful, modern-day fairytale filled with fashion, friends and fun! Barbie™ and her dog Sequin™ jet off to visit her Aunt's amazing fashion house in Paris, and much to her surprise it's about to be shut down forever. After she discovers three enchanting Flairies™ with sparkle-magic powers, Barbie™ comes up with a brilliant idea to save the business. She even inspires Alice, a shy fashion designer, and together they create a dazzling runway fashion show. Barbie™ shows that magic happens when you believe in yourself.

BONUS FEATURES:
· Outtakes
· Two music videos, including the never-before-seen "Life is a Fairytale"
· Featurette: I Can Be . . . A Fashion Designer!
· And more!

Barbie A Fashion Fairytale
Rating: G
Running Time: 97 minutes


Ten Top Tips for Hosting a Super Fun Fashion Swap Party!
Fashion Swap Parties are where you get all of your friends together and ask everyone to bring along the clothes that they once loved but that they don't need anymore. Then everyone swaps their old clothes for new ones. One girl's trash is another's treasure!

Here are ten top tips for hosting the coolest fashion swap party ever! Get ready to have a wardrobe full of amazing new goodies - and all for free!

1. Pick a date that works for all your trendiest friends and make some pretty invitations to send out
2. Tell everyone to bring along any clothes and accessories that they no longer want and are happy to swap. This could be clothing, shoes, bags, accessories or jewellery
3. Fashion can be hard work so make sure you have lots of snacks on hand for when your friends get hungry
4. Have a great mix of music that will set the mood for the party. Pick the right tunes and your fashion swap party could become a dance party too
5. Once everyone arrives with their clothes you could set them all out like your favourite shop! Put the clothes into sections and sizes, dresses in one spot, tops in another etc. You can hang them around the room so your besties can browse through all the cute stuff on offer
6. Set up an area where your friends can try everything on, play around and dress up!
7. If you have a fantastic flair for creativity you can set up a catwalk in the room and put on a fashion show, with your friends acting as the fashion models
8. Everyone should take turns in swapping their items to avoid upsetting anyone. Put numbers in to a hat and each take turns picking out a number and then a favourite fashion item
9. Make sure you have a camera ready to take pics of your friends and their awesome new outfits. Go crazy and take some fun and silly photos to share with everyone after the party
10. Make plans to hold another fashion swap party in the future so you will have even more new and fun clothes in your wardrobe without spending a cent!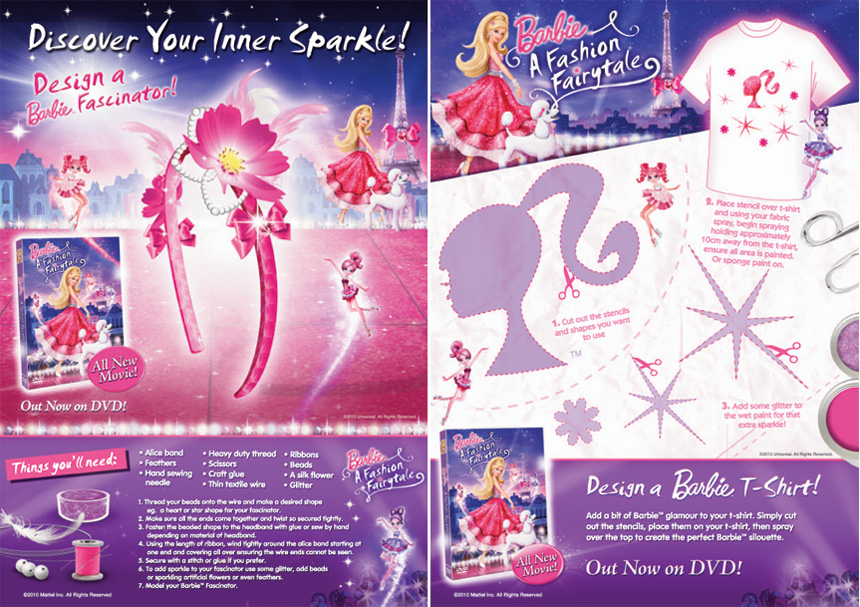 Copyright: BARBIE and associated trademarks and trade dress are owned by, and used under license from, Mattel, Inc. © 2010 Mattel, Inc. All Rights Reserved.