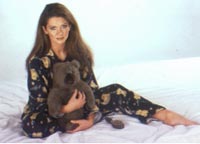 by Lucy Stewart


Could you share your guy?
Struggle to share the space in a communal change room? How would you go sharing your man? I recently took the plunge and committed to a years contract with Foxtel. Oohh Foxtel, a sweet luxury that I have already come to love during its short stay. With just under 100 channels at my disposal, I can watch anything from Sex and the City and Family Guy, to the 2000 AFL Grand Final. Now, I know what you're thinking. Why on earth would she want to watch some stupid Grand Final? And the truth is, I don't, but all I'm saying is that if I wanted too, I totally could.

One particular series has taken my interest, Girls of the Playboy Mansion. The show follows the lives of Hugh Heffner's three girlfriends; Holly Madison, Kendra Wilkinson and Bridgette Marquardt. Viewers are taken behind the gates of the world's most famous English Tudor and are given just a glimpse into the lives of girls that live, play and party with the man himself. We are invited to watch extravagant parties, lavish photo shoots and lazy summer days around the pool. Though this may not be everyone's cup of tea, it's right down my alley, as for some unknown reason I just can't get enough of trashy reality television.

Throughout the show I watch in disbelief as the girls are intimate with the 81yrs old Playboy mogul. However there is one thing I find even more astonishing than this. Every episode I attempt to grasp the idea of sharing your man. Not since the evolution of Crocs have I struggled with such a concept. Learning to share

Now I won't lie. I do have a reputation for being the jealous type. At home, my sister and I like to participate in the occasional 'call 0ff', in which we place our puppy in the middle of the room and each furiously call her. Whoever the dog runs to is supposedly the one she likes better. 'Call off's' do occasionally end in me sulking off and ignoring the dog, and my sister, for the day. Plus, I'm not really one to share. If I've just bought one of the latest magazines I won't share it with anyone until I've read every page. I like my magazines as virgins, thank you very much. However, as jealous and as selfish as I am, I'm sure most girls would agree that they don't want to share their partner with anyone. It is for this very reason that I simply can't comprehend how Holly, Kendra and Bridgette do it.

It appears that these girls are not alone in the structure of their personal relationships. In the modern world there are little restrictions on the types of relationships people can have. In 2001 same sex marriages were first legalized in the Netherlands, with six other jurisdictions quickly following suit. Earlier this year Ontario's highest court gave legal parental status to the lesbian partner of a biological mother, essentially giving a young boy three legal parents. It seems that the traditional idea of an intimate relationship has completely gone out the window. Whilst the girls of the playboy mansion simply date the same man, some people take this a step further.

Polygamy refers to the practice or condition of having more than one spouse at one time, and it is not restricted to the lives of the famous. In 2006, HBO television series "Big Love" was released. "Big Love" follows the life of modern polygamist Bill Henrickson (Bill Paxton) and watches him tackle issues within his three-house suburban home, as well as outside of it. The series revolves around Bill, his three wives; Barb (Jeanne Tripplehorn), Nicki (Chloe Sevigny) and Margene (Gennifer Goodwin), and the family's seven children. It attempts to offer the viewer an unbiased portrayal of polygamy in America. The show has set off nation wide debate across America, as to whether or not polygamy should be legalized. The season finale of "Big Love" averaged 4.5 million viewers, so it is clear that many have a strong interest in the idea of 'man-sharing', or can simply relate to the show. The polygamy trend appears to be catching on around the world. In Chechnya, the Deputy Prime Minister believes that legalizing polygamy is essential for the country. Chechnya has been devastated by war, and as a result the female population greatly outweighs the male population. Women are being forced to share guys in what appears a man drought.


Real life man-sharing
Could the belief that it is impossible to find a man, let alone a good one, really be the driving force of 'man-sharing'? Earlier this year Kate, 20yrs, met a man that she instantly fell for. "I met him at a club when I was out with some of the girls. He was gorgeous, smart and true gentlemen." After various failed relationships Kate thought she'd hit the jackpot. The only problem was that her sexy bachelor Brian, had eyes for not just Kate, but another woman he'd met a month earlier. Brian was desperate to learn more about Kate, even though he was seeing another girl. "He told me straight up that he'd recently been on dates with Claire, to be honest I didn't think much of it. It wasn't like he had a girlfriend or anything, and I'd been in so many crappy relationships that I thought it was worth a shot." For the next month Kate and Brian had various dinner dates and he was even lucky enough to meet the parents. "I hadn't told mum and dad that he was seeing another girl, but it's not like he was my boyfriend, so to be honest I didn't think it mattered." Just over a month later Claire moved interstate and was then completely out of the picture. However, Kate and Brian's relationship remained unchanged. "I'll admit that initially I had thoughts about us making our relationship official but then I questioned the effect this would have on my life." Kate practically works full time and attends university so she felt that there was little point in becoming a full time girlfriend. "I came to the realization that my relationship with Brian was working perfectly just the way it was. At that point in my life I couldn't handle a boyfriend, but a friend with benefits suited me just fine"

Though Kate's story is not as extreme as the polygamists living in Utah, or the girls at the playboy mansion, her relationship with Brian is still not what you would call traditional. It appears that 'man-sharing' is all around us. Is the idea of a traditional relationship becoming a thing of the past?


The Reality of it All
Sex therapist, and author of Riding the Sexual Frontier, Jo-Anne Baker, does not agree that traditional relationships are becoming a thing of the past. She does however believe that nowadays people have less commitment to working relationship issues out. "They simply aren't equipped with the tools to keep developing intimacy." Could this be the reason couples are choosing to add more people to the equation? Jo-Anne believes that even if a couple believes in monogamy, it's still something that they need to work at. Relationships involving late teens and early 20 something's require particular effort, as this is the most common age for sexual experimentation. In the case of a relationship involving more than two people Jo-Anne does not believe that this is sustainable. "In my experience, couples find it hard enough with one partner, let alone two." She believes that adding more people into a relationship will cause a breakdown in the main relationship, and various trust issues will develop from this. Not so in the case of the playboy girls. Hefner's number one girlfriend, Holly Madison claims; "I don't get jealous of other girls, because I was... raised in a cloning lab to be the perfect woman for Hugh M. Hefner." You're not fooling anyone sweetheart.

It appears that though 'man-sharing' is becoming more and more acceptable, it's not all its cracked up to be. Whilst many young couples are experimenting with different types of relationships, the stability of such is questionable. Still, there could be much worse than having to share Hugh Hefner. Imagine having to live the life of any one of the guests on Fox 8's Jerry Springer show. I don't care how attractive she finds him; it's her brother for God's sake!


'Man-sharing' all around us:
For years Simone Warne has shared her husband Shane, though for most of it she was blissfully unaware. Following her discovery of betrayal Simone and Shane continued to live together whilst they both saw other people.

American pornographic actress Nina Hartley was in a relationship with her husband Dave and 'wife' Bobby Lilly for 20 years. The relationship fell apart with Hartley saying "I was too immature and he was too possessive. It didn't work... It ended up ending because it was the wrong three people involved."

On the American hit Grey's Anatomy, key characters Meredith Grey and Addison Montgomery are forced to share McDreamy, aka, Derek Shepherd. The tables turn when McDreamy is forced to share Meredith.