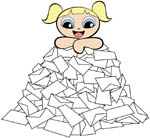 Do you have a question? Or concern? Then look no further because Dear GIRL is here for you. Each month she will endeavour to give you the answers to all those questions you've wanted to ask!
So what are you waiting for girls?
Please note: questions can not be answered personally.
Submit your burning questions to:


Dear Girl is here to help! GO TO > Dear Girl
Dear Girl,

For four years now, this guy and I have had an on-off relationship. A lot of the off bits were because I called it off. Now I have realised that I love this guy and want him back but I am almost positive that he doesn't want me back. I REALLY love him and I don't know what to do about it. Help!!

Signed Regretful
Dear Regretful,
'Absence makes the heart grow fonder'. Yes, I hear you sigh. Now this is what you can do, girlfriend. Talk to him. YES, I said have 'THE' talk. Sit him down and chat openly about your feelings for him. However hard it may be on your 'ego', confrontation is sometimes the only way to find out if you have a future with this guy, in the romantic sense, anyway. Put yourself out of this misery right NOW. The least he can do, given your shared history, is listen to what you have to say. If he doesn't, well there are a few possible reasons as to why. Firstly, his pride may rule his heart and he may need time to 'come around'. Secondly, he may simply be a 'Loser'! And thirdly, he may have legitimately moved on, and nothing can stop him. If it is the latter, you too should move on, and remember, there are plenty more where this guy came from - Mars (oops, I meant to say, Bars)!