Going Where No Brick Has Gone Before…
Cast: Will Arnett, Chris Pratt, Jonah Hill, Elizabeth Banks, Channing Tatum, Alison Brie, Nick Offerman, Stephanie Beatriz, Tiffany Haddish
Director: Mike Mitchell
Genre: Action, Adventure

Synopsis: The much-anticipated sequel to the critically acclaimed, global box office phenomenon that started it all, "The LEGO® Movie 2" reunites the heroes of Bricksburg in an all new action-packed adventure to save their beloved city. It's been five years since everything was awesome and the citizens are now facing a huge new threat: LEGO DUPLO® invaders from outer space, wrecking everything faster than it can be rebuilt.

The battle to defeat the invaders and restore harmony to the LEGO universe will take Emmet, Lucy, Batman and their friends to faraway, unexplored worlds, including a galaxy filled with fantastic planets, strange characters and catchy new songs. It will test their courage, creativity and Master Building skills, and reveal just how special they really are.

The LEGO Movie 2
Release Date: March 21st, 2019


About The Production
Not long ago in a town called Bricksburg, a super-friendly, upbeat and endlessly optimistic guy named Emmet rose from a most ordinary life to become The Special in the mega-hit animated adventure "The LEGO Movie." Overcoming his doubts and an apparent lack of any notable skills or experience, this LEGO minifigure in the bright orange vest bravely followed his destiny to become a Master Builder and"with the help of his friends"saved the city, won Lucy's heart and helped make "Everything is Awesome" an irresistible dance-party singalong the world over.

Yeah. You're singing it right now, aren't you?

Now, five years after that fateful day, Emmet still has a spring in his step, a smile on his bright, shiny face and 25 sugars pumping up his coffee every morning. But everything else has fallen to pieces. The surprise DUPLO invasion that threatened destruction just behind the first movie's happy ending has reduced Bricksburg to a wasteland of rubble known to its battle-weary (but still quite witty) citizens as Apocalypseburg.

"Everyone has grown more mature, grittier, harder, tougher," says Christopher Miller, one of the original architects of the inventive LEGO movie franchise, who returns, alongside creative partner Phil Lord, as screenwriters and producers of the latest chapter. "Everyone except for Emmet, of course. He's still the same gee-whiz, aww-shucks, naïve guy he ever was."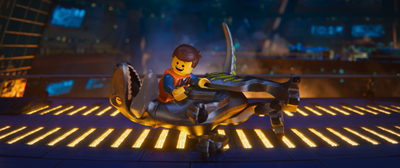 "He's the only person in this world that dust doesn't seem to stick to," adds Lord.

But all that is about to change, as the shocking capture of his best friends and his beloved Lucy forces Emmet back into hero mode with all the grit he can muster and sends him on a perilous journey to the outer limits of the universe to save them…in typical Emmet fashion. Meaning, director Mike Mitchell offers, "There's a lot of crazy action and one-of-a-kind characters, and the same irreverent, out-of-bounds comedy you expect from Chris and Phil that resonates with all ages. Emmet sets off with courage and total commitment but not any real idea where he's going. It's everything you loved about the first movie and more!"

Although a fully standalone adventure, this sequel builds on the existing narrative from the original "The LEGO Movie," happily reuniting the eclectic gang of LEGO minifigures with maxi personalities that fans everywhere have embraced: the duo of tender-hearted but stalwart Emmet and hard-charging Lucy; hilariously full-of-himself Batman; unpredictable, glitter-crazy Unikitty; half pirate, half utility knife, Metal Beard; and the spaciest spaceman ever, Benny; played by returning stars Chris Pratt, Elizabeth Banks, Will Arnett, Alison Brie, Nick Offerman and Charlie Day.

The continuing tale also introduces intriguing new characters to challenge our old favorites and lead them to fresh discoveries. They include the wickedly funny, shapeshifting Queen Watevra Wa'Nabi (say it slowly…), played by Tiffany Haddish; her formidable female lieutenant General Mayhem"aka Sweet Mayhem"played by Stephanie Beatriz; and the enigmatic space cowboy Rex Dangervest, also voiced by Pratt. Together, this reassembled LEGO crew will take audiences on a unique intergalactic journey to worlds never seen before, that lie beyond the forbidding Stairgate.

"The LEGO Movie 2" explodes with color, whimsical design and music with a party vibe. In addition to the irrepressible "Everything is Awesome" that echoes through the action in different versions, Lord says, "We're using lots of songs and musical numbers to help tell the story in a fun, playful way." The film includes a number of original songs written by Jon Lajoie, as well as "Super Cool," written and performed by Beck, featuring Robyn, with a rap written and performed by The Lonely Island, that plays over the end credits to send audiences off with a smile.

At the same time, the filmmakers honor the core values that have been the hallmark of these films as well as the trusted LEGO brand itself for 60 years: creativity, teamwork, and the value of play"no matter who you are, where you are, or how old you are. In this story, especially, with so many characters starting at cross purposes, cooperation takes the spotlight.

"There are themes about coming together and working together that are really relevant," says Chris Pratt, a longtime LEGO fan who now builds with his son. "There's also a through-line about not losing that childlike sense of wonder and the willingness to use your imagination." Producer Dan Lin emphasizes, "We always want people to feel joy, we want them to laugh, but we also want to surprise them with meaning and emotion and to remind them, you don't have to lose the magic of being a child just because you grow up."

Lin, who initiated this crowd-pleasing franchise, goes on to explain how this latest excursion fits into a larger arc. "With the LEGO movies, we always want to surprise the audience and bring something fresh to each film. The first movie was about subverting the action/adventure genre, and then we took on the superhero and martial arts genres. The progression that leads us to 'The LEGO Movie 2' is much like how a kid might change through the years"starting with basic playsets, then expanding with the awareness of other elements and influences, all of which gets incorporated, and then the introduction of friends or siblings, and all of that affects the way the play evolves."

In this case, it might be the intrusion of an imaginative sibling who wants to join the fun with her DUPLO and minidoll characters and her own ideas, including two powerful new female characters in the form of a Queen and her General, who are every bit as fierce and independent as returning leads Lucy and Unikitty. "We didn't want this story to have just one dynamic female character," notes "LEGO Batman Movie" alumnus Trisha Gum, who served alongside Mitchell as animation director on the new movie. "We wanted many and for each of them to be unique, with different goals, emotions, strengths and interests."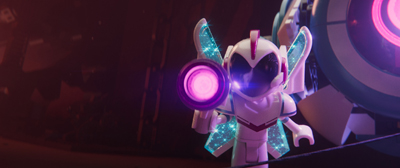 As their clashes fuel the battle and raise the stakes for everyone, their failure to cooperate may mean disaster for Emmet, Lucy and the LEGO universe.

Of course, battles waged and distances traveled often reflect what heroes like Emmet and Lucy learn about themselves along the way. "Emmet tries to be as tough as he can because that's what he thinks it's going to take to save the day and win Lucy's respect," Lin suggests, "but his inner journey throughout the movie leads to the realization that he should just be who he is and therein lies his true strength."

Likewise, Elizabeth Banks reveals, "Lucy has her own evolution over a part of her nature that she's been hiding from her friends and herself."

Meanwhile, underlying everything is the idea that LEGO play speaks to everyone, girls and boys alike, and can be approached at multiple levels, from a toddler's first DUPLO set to sophisticated stop-motion/digital films produced by adult fans of LEGO (AFOL) and full-scale Master Building contests. "It's a toy that doesn't require batteries and the possibilities are endless. It certainly inspired our animation team," says Mitchell.

Such is the universal appeal of LEGO building. "There are rules if you want to build with a blueprint and that's great too," says Tiffany Haddish, "but what's special about LEGO play and stories like this is the way they celebrate creativity. You can turn a house into a rocket ship and lay out a whole universe in your bedroom."

"The LEGO Movie 2" employs the same distinctive technique created for the first film, where every character, set, structure or vehicle is digitally constructed, brick by virtual brick, as if human hands were snapping physical pieces together. Again, the filmmakers worked closely with creative colleagues at renowned animation studio Animal Logic, and with the phenomenal design team at LEGO headquarters in Billund, Denmark, led by Matthew Ashton, to help design and execute their precise vision.

"I think people are still amazed to see these figures come to life, not only through the brilliant vocal performances, but how engaging they are in their own way, from a visual and tactile standpoint," states Gum. "The more the animators lean into the characters' physical limitations the more charm and emotion you get out of them."

As the former Bricksburgers size up their off-world antagonists and navigate uncharted lands, and as the Queen's forces meet them head on at every twist and turn, it's a little like what you might expect from kids playing on opposite sides and struggling for common ground.

"I have two kids and when they don't get along it's the worst, but when they do, it's magical," Mitchell reflects. "I think we all come to understand in time that it's so much better to play with someone or work with someone because the creativity and the fun grow exponentially, and your world expands. Working with animators and storyboard artists and designers is a much richer experience for me than locking myself in an office and storyboarding a whole movie alone, because working with others is a special thing. That idea is central to our story, in terms of understanding and cooperation.

"No pun intended," he adds with a smile, "but this is a movie about connecting."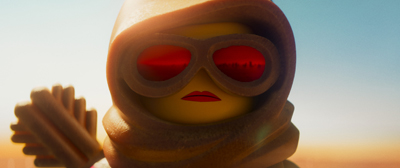 Old Friends, New Challenges

Emmet & Lucy…4 EVA?

More of a two-hander than the first outing, much of the action revolves around this power couple who famously clicked despite vastly different personalities and skill sets in "The LEGO Movie." What keeps them together is that amazing history and their real affection for each other. But, what threatens to separate them now is Lucy's concern that Emmet isn't tough enough for this harsh new reality…and Emmet's fear that he's going to lose her if he doesn't do something about it, making "The LEGO Movie 2" an exploration of their parallel journeys.

"A lot of this movie is about empathy," says Miller. "It's about asking, how do I grow up and become a new person without losing my kindness and sweetness and imagination?"

"Lucy pushes Emmet to be something that's not natural to him," notes Elizabeth Banks, returning as the resourceful warrior with the blue-and-fuchsia 'do. "It's not who he is and maybe it's a mistake for her to expect that. I think that's a life lesson everyone can relate to. You can't change people. You just have to love them for who they are."

"Lucy has always been battle-ready," Mitchell explains. "As Bricksburg became a dystopian wasteland, she locked in. This is her world now, where she can kick butt and take names. She's totally in her zone battling space aliens. Emmet on the other hand is still skipping through town like he doesn't see how dangerous everything is, and that's a problem for her. She tells him to grow up, toughen up, change with the times if he expects to survive."

Naturally, she does it from love, and Emmet tries, poor guy. But brooding and looking grim just doesn't work for him. Not when there are shooting stars to wish on, pink valentine hearts that declare "I love you" in tiny, sugary voices, and a cozy little dream home to build for their future, with a double-decker porch swing, trampolines, and a room just for eating waffles.

"Look, a shooting star," Emmet exclaims, bounding hopefully toward an object that suddenly appears in the sky. But wait, as Lucy quickly realizes"that's not a shooting star. It's an enemy spacecraft! Those cute little hearts? Grenades. And that lovely little house-for-two is now a pile of bricks. Even worse, because of his gosh-darn trusting nature, Emmet might just be a little bit responsible for getting Lucy, Batman, Unikitty, MetalBeard and Benny kidnapped and whisked off to some scary unknown corner of the LEGO universe...leaving him alone to figure out a way to rescue them.

"The whole time he's questioning himself, 'Am I good enough, am I strong enough?,'" says Pratt, "and he learns through the course of this adventure many things about himself. I'm proud of what this story has to say in regard to this relationship, with all its doubts and expectations, and how all of that gets flipped on its head in such a funny and touching way." "They see sides of each other they didn't know existed," Banks adds.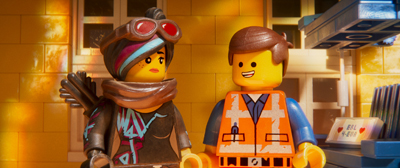 Batman

If change is an issue, the last place anyone would look would be in Batman's direction. As he himself would surely attest, this is one rock-steady dude who does his own thing and doesn't change for anyone. He doesn't even alter his color palette. It's strictly black, and sometimes very, very dark gray. But oh, Batman fans, there are some incredible plot twists ahead for this beloved minifigure, as the filmmakers continue to delight in messing with him.

Reprising his popular role as the gravelly-voiced icon, Will Arnett says, "Batman comes with a rich tradition and we try to adhere to that, but I put my own spin on it, as do Phil and Chris. Our Batman takes himself so seriously that it's almost absurd. It's been so satisfying taking this iconic character and kind of bending the rules on him. They keep feeding LEGO Batman real-life experiences to see how he deals with it, because he so ill-equipped to handle relationship-based situations, and I'm excited for audiences to see where we take him in this movie. There are some big leaps and swings."

This diminutive Dark Knight starts off, as usual, assuming he's going to be the leader and the big hero and save the day, and instead gets himself immediately kidnapped. Not only is he suddenly not in control, but he finds himself in a world full of color and joyous music, which would be Batman's worst nightmare on a good day, so it's a different adventure for him in many ways, both emotional and physical.

Unikitty/Ultrakatty

Another returning fan favorite is Unikitty, that placid-on-the-outside, boiling-on-the-inside brick-built character who looks like a cross between a starry-eyed kitten and a pink unicorn. She adores all things sweet, fluffy and sparkly but, despite her high sugar content, Unikitty has always had a little bit of an anger issue and present circumstances have only added fuel to that fire. Tick her off now and she really gets her claws out"morphing into alter ego Ultrakatty, a larger, scarier, steampunk version of herself complete with spiny armor and a spiked tail.

"She tries to stay positive and happy, but when someone crosses her she unleashes a totally different cat, if you know what I mean," says Alison Brie, reprising the role. "She has two sides to her personality and in this sequel, we get to see a lot more of the second side. The cool thing about that is they can weaponize her. She can become a vehicle and shoot glitter flares, so she really thrives and excels in this post-apocalyptic world."

Getting herself into fighting form, Brie laughingly reveals, was spontaneous. "I never rehearsed Ultrakatty. I just reached down into the bowels of my being, screamed and unleashed the fury. Doing animation, you use all these different elements of your voice that you'd never use for on-camera acting."

MetalBeard and Benny

Two of the best sidekicks to take on any journey would be MetalBeard and Benny, played by returning stars Nick Offerman and Charlie Day. Though they're as different as a galleon to a rocket ship, the bottom line is, these guys just want to get the job done and help their friends.

"MetalBeard is a pirate whose body was lost in battle and who managed to cobble together a new one out of spare parts that he's constantly replacing," says Offerman of his character, who resembles not only a pirate but a pirate ship, with a fair amount of Swiss Army knife thrown in. "That makes him the ultimate mechanic and very handy in a crisis when an object needs to be put together. Hopefully, MetalBeard is around to launch a shark or a cannonball out of his arm." Considering what additional tools the old salt might find useful, Offerman suggests, "I wouldn't mind if he could slap on a charcoal grill and cook up some burgers for the gang."

Having worked successfully side by side in "The LEGO Movie," MetalBeard and Benny the Spaceman have become something of a duo, with Benny often helping his pal re-attach his head and various limbs that tend to go astray.

The vintage minifigure Benny, moviegoers will remember, is a loopy astronaut with a cracked helmet. A great and loyal friend, he's always on board whenever and wherever an adventure takes the gang, but above all, Benny is known for one defining trait. "He loves spaceships!" Day declares. If he's not piloting or building them, it's guaranteed he's talking about them or just thinking about them.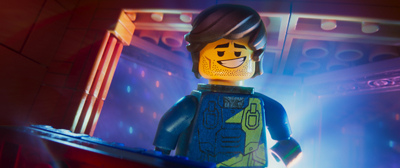 Queen Watevra Wa'Nabi

This tight-knit group of friends who went through so much and prevailed in the first LEGO movie thought they could handle anything together. But that was before they met Queen Watevra Wa'Nabi, Empress of the Systar System, the mercurial ruler of a far-off galaxy of planets that are distinctly different from one another and are all pretty weird. It's the Queen's proclamation that her subjects far and wide can be whatever they want to be, a philosophy for which she absolutely leads by example.

"Much like Tiffany Haddish herself," Mitchell states, "the Queen is full of energy and very funny, and a super creative character. That's her theme and the theme of the Systar System that she rules, that you can change into whatever you like and as many times as you like. Yet, it's clear that she is also a good, capable leader and she really cares."

"It's hard to keep up with her," adds Miller.

"Queen Watevra Wa'Nabi is constantly on the move, thinking and planning," says Haddish. "She has a whole solar system to rule and she always has to be ten steps ahead to keep everyone happy and everything together. So, her physical form changes all the time to keep pace with her ideas. You never know what she's really up to, or what she's going to look like next."

An ever-changing mass of multi-colored bricks that assume any configuration she desires, from big to small, from cute and familiar to strange and intimidating, the queen seems to revel in her ability to take people by surprise. And though she's no shrinking violet when it comes to getting exactly what she wants, sometimes when she really needs to get her point across, she breaks into song. She thinks it makes her more…persuasive.

General Mayhem

The Queen's enforcer is a helmeted minidoll known by her proper military title as General Mayhem, Intergalactic Naval Commander of the Systar System. Or, as Lord and Miller like to call her, "Darth Vader with sparkly wings."

Stephanie Beatriz, who stars as Mayhem says, "She's got on a superhero suit, she flies her own ship, and she dons that classic sci-fi movie voice-altering helmet. It's interesting to see a superhero imagined from what would likely be the eyes of a preteen kid and see what qualities are important to her. And what you see in Mayhem is strength and honesty…or at least someone who is trying to find her way toward honesty. Plus, she's second only to the Queen so she has a lot of power.

"In the same way that Emmet could be an extension of kids like Finn, Mayhem is an extension of his sister," Beatriz continues. "She's the hero Bianca imagines herself to be and maybe also the hero she might think other people want her to be, so she represents all of that for this girl who is exploring the LEGO world and trying to see what she can do with it." In Mayhem, Lucy truly meets her match as neither woman is the type to back away from a confrontation"with surprising results.

Says Gum, "She's another fun character, our ultimate royal sidekick who's initially just tough and cool and then turns out to be much more. She and Lucy spar with each other but then start to see eye-to-eye and join their two worlds to come up with something truly special and powerful."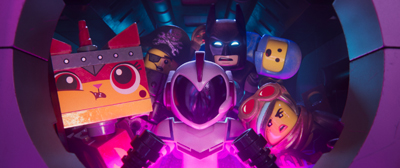 Rex Dangervest

Another wild card in this deck is rock'n'roll Rex Dangervest, space pilot of the Rexcelsior and a self-described galaxy-defending archeologist, cowboy and raptor trainer who appears out of nowhere when Emmet needs a hand. The quintessential super-cool tough guy, complete with swagger and just the right amount of chin stubble, Rex is a Master Builder with some unexpected skills in his repertoire.

Chris Pratt, already the unmistakable voice of Emmet, shifts gears to take on the additional role, noting, "Rex is the man Emmet thinks he should be. More importantly, he's the man Emmet thinks Lucy wants him to be."

In striving for a vocal counterpoint between the two, Pratt says, "There were moments when I made Rex low and grumbly, but that was tricky because I didn't want to step on Will Arnett's Batman. It came down to a couple of things to reach for. Emmet is cheerful and optimistic, in a higher register. Rex is tougher, and more flip and indifferent, with a touch of John Wayne, and half the time he's laughing because he doesn't care what people think of him."

"All these actors bring so much to every role," Mitchell enthusiastically attests. "Each one of them is a double threat, not only great actors but some of the funniest people I've ever met. The most satisfying part of making this movie was collaborating with them and seeing what they bring to their characters."

The roster of returning characters includes Superman, Wonder Woman, Green Lantern and Aquaman, Surfer Dave (now Chainsaw Dave), Sherry the Cat Lady, and Abraham Lincoln. Among those making their big-screen debut is the charming vampire Balthazar; Banarnar, a clumsy banana that can't get out of the way of his own peel; and Ice Cream Cone, the Queen's efficient but impatient party planner; as well as many surprise cameos.

From Apocalypseburg To The Systar System

After more than three million digital LEGO bricks were created from scratch for "The LEGO Movie," all individually rendered, shaded and lighted, each subsequent film has added more bricks, accessories and colors to this digital warehouse. Many bear the personalization of smudges and scratches that would likely occur in normal play, adding to their authenticity. This time, owing to Apocalypseburg's extremes, our leads appear slightly more weathered, and even Emmet's suspenders allow signs of wear even if his buoyant personality doesn't.

The latest batch of bricks includes the 2019 debut of the new color Vibrant Coral. And LEGO minidolls, most notably in the form of Sweet Mayhem, take their place among the claw-handed minifigures and brick-built characters for the first time in a feature film.

Just as "The LEGO Batman Movie" introduced natural elements like steam and fire to its animation palette and "The LEGO NINJAGO Movie" included grass and soil, "The LEGO Movie 2" incorporates objects such as stickers and scraps of fabric, as would suit a child's ingenuity because, as Dan Lin points out, "We want kids to feel like this is a world they can build themselves."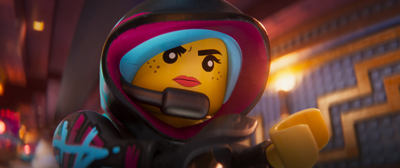 More expansive than the first, "The LEGO Movie 2" begins in the reimagined home base of Apocalypseburg, a surreal, Mad Max-inspired landscape traversed by mean armored vehicles with rugged tires that tear up the road, trailing smoke and flames. Its most striking feature is Batman's massive citadel, built inside the remains of a toppled Statue of Liberty"another delicious cinephile reference. From here, it blasts through outer space to the mysterious Systar System"a galaxy comprised of 11 diverse planets and environments. They include Harmony Town, where everyone is 100% agreeable all the time and everything is clean and pretty, except for its primeval jungle populated by strange and fast-moving hungry plants; and Planet DUPLO, where immense piles of brightly colored bricks are sorted.

Says Mitchell, "I was a huge fan of the first film, and what was fascinating for me was to step into this LEGO universe, which is unlike anything else we're ever seen on the big screen, and really experience it, because it's vast."

Say That With Music

Queen Watevra Wa'Nabi holds court in one of the film's most impressive structures, vaulted and multi-leveled, with grand corridors like a fantasy castle. From here, Lucy and her friends travel to a planet of crystal and ice, housing the Palace of Infinite Self-Reflection, a spa and "re-education celebrity center" run by the vampire Balthazar and his beguiling staff. There, while Metal Beard gets the barnacles scrubbed off his hull and Batman tends to his pecs and lats, the gang is treated to music therapy in the form of a ridiculously danceable pop earworm called "Catchy Song." Because, after the "Everything is Awesome" phenomenon, why not just admit it outright? As the lyrics teasingly suggest, "This song is gonna get stuck inside your head."

In addition to the buoyant score by famed composer Mark Mothersbaugh, there are lots of original songs complementing the action throughout, including "Welcome to the Systar System," and a couple of family-friendly but mischievous numbers performed by Tiffany Haddish as Queen Watevra Wa'Nabi. One, seasoned with plenty of flair, jokes and double meanings that should delight adults in the audience is a duet with Bat-rapping Will Arnett, that lets the Queen put Batman on notice that she's "just not into Gotham City guys."

Another, entitled "Not Evil," is meant to disarm the Queen's guests with repeated declarations of exactly how bad she is not, although it's kind of disconcerting the way she gets "sinister" confused with "sincere" and says "terrifying" when she means "terrific."

"The LEGO Movie 2" also features two reimagined versions of "Everything is Awesome," tailored to the new storyline, including one performed by the LEGO cast.


Brick Stats & Fun Facts

● The number of sugars Emmet takes in his coffee: 25. With "just a touch" of cream.
● The number of sugars Lucy takes in her coffee: Zero. Lucy takes her coffee black.
● Emmet and Lucy's dream house has a TV room, trampoline room, fireman's pole, waterslide, climbing bars, double-decker porch swing, and a room just for eating waffles.
● This is LEGO Batman's third time starring on the big screen, voiced by Will Arnett. Batman previously appeared in "The LEGO Movie" and "The LEGO Batman Movie."
● New character Rex Dangervest named himself in honor of Emmet, because Emmet was his hero and always wears a vest.
● Chris Pratt, who continues to star as the voice of Emmet, does double duty on "The LEGO Movie 2" by also voicing Rex Dangervest.
● "The LEGO Movie 2" marks the first time that LEGO minidolls appear in a theatrical film and the first time minidolls appear in a film or video alongside LEGO minifigures.
● In 1997, writer/producers Phil Lord and Christopher Miller met director Mike Mitchell when they moved into an office he had just vacated. When Mitchell returned to collect some of his things"which Phil recalls as being a boom box and a Hank Williams CD"they started talking and discovered how much they had in common creatively.
● Stephanie Beatriz (General Mayhem) has a tiny scar on her eyebrow from falling in her room, as a child, to avoid stepping on a LEGO environment she had built on the floor.
● The new movie's collection of songs include two different versions of the original hit "Everything is Awesome."
● The shapeshifting Queen Watevra Wa'Nabi changes into 40 distinctly different looks.
● The film's color palette uses 76 official LEGO colors, including unique materials such as transparent and glitter bricks.
● There's a new LEGO color for 2019 that appears in the movie, called Vibrant Coral.
● Total number of unique characters in the film: 523
● Unique props seen in the film: 1011
● Unique LEGO brick types used in the film: 3433
● Unique LEGO models used to create the film: 6530
● Biggest LEGO character (largest number of bricks): MetalBeard, 251
● Biggest Single LEGO model: Megabash, approximately 9 feet by 9 feet by 18
● Biggest LEGO landscape: wasteland: citadel freeway, approximately 476 feet by 182 feet
● Biggest number of polygons in a shot: 1,248,968,392,251
● Biggest number of lights in a shot: 42,315
● Biggest number of bricks in a shot: 161,737,777
● Most elements in 1 set: combined worlds (5201 items)
● Total number of LEGO bricks to bring the film's unique characters to life at once. If they were all lined up in a row, this is how many bricks you'd be looking at: 2672
● Number of glitter pieces in Sweet Mayhem's wings: 835
● Number of glitter pieces in Balthazar's cape: 3,993
● Number of glitter pieces in Balthazar's hair: 1,107
● Number of hairs on Unikitty's boa: 143,109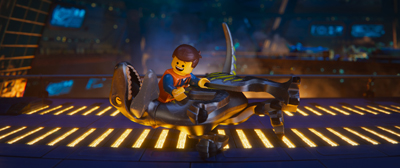 ● Total grains of sand in Apocalypseburg: 49,496,833
● The size of the Apocalypseburg wasteland: 238,353 feet long and 114,5669 feet wide
● Largest brick explosion in the film: 1.5 million bricks
● The asteroids that Rex and Emmet fly through are all randomly generated and made of bricks. On some film frames there are more than 400 asteroids and 20 million bricks.
● The largest piece of fabric used in the movie: 39 feet. This is used as water surrounding General Mayhem's landing of her ship, the Formidaball, at the Queen's palace.
● The opening shot of Bricksburg includes 120,884 pedestrians, 1,438 vehicles, a jet, a biplane and a helicopter. Combined, that's the entire population of Fargo, North Dakota.
● Height of the Queen's giant cake: 11.7 feet
● Total number of LEGO bricks at the DUPLO Sorting Site: 11.7 million. Its total diameter is nearly 260 feet, or the size of an average baseball field.
● Total number of brick piles: 134
● Number of sorting bins: 106
● Largest single pile: 15.4 feet, more than the average height of a building floor
● Number of ships in the armada at the end of the film: 36

The LEGO Movie 2
Release Date: March 21st, 2019