"We lost, all of us. We lost friends. We lost family. We lost part of ourselves. This is the fight of our lives." "Steve Rogers/Captain America
Cast: Josh Brolin, Chris Evans, Gwyneth Paltrow, Brie Larson, Jeremy Renner, Evangeline Lilly, Sebastian Stan, Jon Favreau, Karen Gillan, Terry Notary, Robert Downey Jnr, Katherine Langford
Director: Anthony Russo, Joe Russo
Genre: Action, Adventure
Rated: M
Running Time: 181 minutes

Synopsis: F rom Marvel Studios comes the most highly anticipated film ever in the Marvel Cinematic Universe""Avengers: Endgame," the 22nd Marvel Studios film to date and the climactic conclusion to the cataclysmic events that unfolded in the top-grossing film of 2018, "Avengers: Infinity War."

The Avengers franchise has had an unprecedented cinematic journey, spanning several galaxies over the Marvel Cinematic Universe's 11 years. Now the newest entry, "Avengers: Endgame," brings to the big screen the highest stakes and deadliest showdown ever between the Avengers and the universe's most powerful and deadliest villain, Thanos.

"Avengers: Endgame" picks up with the Avengers having been soundly defeated by Thanos, who, after collecting the six Infinity Stones, imposed his twisted will on all of humanity and randomly wiped out half of the world's population, including many of the Avengers. In the aftermath of the destruction, the remaining Avengers are faced with their biggest challenge yet"finding the resolve within themselves to get off the mat and find a way to defeat Thanos once and for all.

Marvel Studios' "Avengers: Endgame" is the most anticipated superhero film of all time and stars Robert Downey Jr. as Iron Man, Chris Evans as Captain America, Mark Ruffalo as Bruce Banner, Chris Hemsworth as Thor, Scarlett Johansson as Black Widow, Jeremy Renner as Hawkeye, Brie Larson as Captain Marvel, Paul Rudd as Ant-Man, Don Cheadle as War Machine, Karen Gillan as Nebula, Danai Gurira as Okoye and Bradley Cooper as Rocket.

Avengers: Endgame
Release Date: April 24th, 2019


About The Production
The Marvel Cinematic Universe: Record-Breaking Success

On May 2, 2008, the Marvel Cinematic Universe began with the release of "Iron Man." The film was a worldwide blockbuster hit with fans and critics and would serve for years as the cornerstone from which Marvel Studios would build an empire that has since produced many of the top-grossing films of all time.

In the 11 years since the film's release, Marvel Studios has opened six films that have each grossed over $1 billion, with a collective total of over $19 billion for all 21 films at the worldwide box office. Marvel Cinematic Universe films have also achieved critical success throughout the years, and in 2019 Marvel Studios garnered Academy Award® nominations for "Avengers: Infinity War" and "Black Panther," which became the first superhero film to be nominated in the best picture category and won three Academy Awards for best costume design, best production design and best original music score.

In late April of 2018, "Avengers: Infinity War" set the box office on fire by breaking the record for the biggest opening weekend of all time at $620 million. The film was beloved by critics and fans alike and went on to set many box-office records, including the highest grossing superhero film of all time, on its way to becoming the fourth-highest grossing film of all time at over $2.048 billion. The film's end-tag scene set the table for launching the MCU's first female Super Hero franchise, "Captain Marvel," in March of 2019. The film opened #1 around the world, grossing $455 million worldwide in its opening weekend and is on its way to becoming the 7th Marvel film to gross over $1 billion at the worldwide box office.

In February of 2018, Marvel Studios' "Black Panther" became a massive cultural phenomenon as well as a financial success, recording the fifth-biggest opening weekend of all time with $202 million. The film has grossed over $1.2 billion worldwide at the box office. For Marvel Studios co-president and executive producer Louis D'Esposito, part of the continued success of the MCU has been its fluidity and ability to shift with the changes in the cultural zeitgeist, and to have its films populated with characters and stories that are congruent with the diversity and inclusive nature of the real world we live in.

"At Marvel, we've always tried our best to have characters in our films that all of the general movie audience can identify with and relate to," says Louis D'Esposito. "We have had strong female characters in our films, starting with Black Widow on the big screen in 'Iron Man 2,' and 'Agent Carter' was our first Super Hero television show that featured a female lead character. In 'Ant-Man and The Wasp' we had the shared title, and now with the overwhelming box-office success of 'Captain Marvel,' it once and for all debunks the misconception that a female lead in a superhero film is not as financially viable."

D'Esposito continues, "If we can tell interesting stories with women, men, people of color, all races, all creeds and religions, we're going to. The world is diverse, and we strive to make films that portray society as it is in real life. People enjoy coming to movies like that. We proved that with 'Black Panther.' It gives us great satisfaction to break through those barriers, and there's no more ceiling above us. We have shattered through it, and we're excited to explore Super Heroes from all different backgrounds in the future. With 'Infinity War' and 'Endgame,' you really get to see what a diverse and broad swath of characters populates the Marvel Cinematic Universe. There is something for everyone, and it's all connected together in a way that feels authentic and real."

"As with everything at Marvel Studios, the road map and the guide points are there in publishing," adds Kevin Feige. "There's a reason Marvel Publishing is celebrating their eightieth anniversary, because the stories evolve and the stories change. And the characters within those stories change and evolve masterfully through the decades."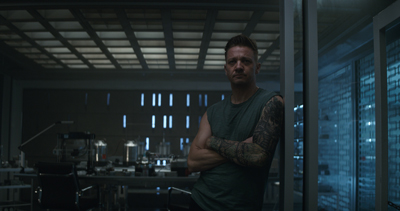 Wrapping up, Feige explains what he has enjoyed the most in guiding the films and overall vision and direction of the MCU since he joined Marvel in 2000. "It's been my dream job. I feel like it's only been a short period of time and not almost twenty years, because it's so much fun to bring these characters to life and try to do justice to Stan Lee and Steve Ditko and Jack Kirby and all the artists and writers who have created these characters.

"But ultimately it comes down to the people, the team we have at Marvel Studios, the cast that's assembled, the filmmakers and production crew that we've worked with; that's what makes it the most fun. There is no doubt that there is a certain amount of pressure with films of this size, but it comes down to being able to work with great people, with the shared goal of providing something unique to an audience and surpassing the very high expectations of that audience," Feige concludes.

The Directors: Leading The Way

Two of the most successful and respected directors over the last decade, Anthony and Joe Russo return to helm their fourth Marvel Cinematic Universe film and second "Avengers" film in the franchise. The directors' first Marvel Studios' film, "Captain America: The Winter Soldier," was a seminal moment in the MCU. The film's '70s political-thriller style and visceral action redefined Steve Rogers, and to the delight of fans and critics alike, brought the franchise into the modern world, forever altering the direction and tone of the MCU.

With their continued record-breaking commercial success and critical acclaim for "Captain America: Civil War" and "Avengers: Infinity War," filmmakers and cast explain why the Russo brothers have become the gold standard when it comes to story-driven blockbuster films"films with deeply layered characters, heart, emotion and humor mixed with breathtaking action, scope and scale that keep audiences on the edge of their seats.

"Anthony and Joe Russo are true visionaries," says Kevin Feige. "They are bold filmmakers who have immaculate taste and are not afraid to push the boundaries of what an audience is expecting from films like this. You saw it in 'Civil War.' You saw it in 'The Winter Soldier,' certainly in 'Infinity War,' and now with 'Endgame,' which I believe is their master work."

Continuing, he adds, "They're artistic storytellers who understand how to fulfill and subvert audience expectations in ways that are exceedingly risky. They had the foresight and vision to end 'Infinity War' with the heroes losing in such a way that it captured the global imagination and incited a cultural event."

"I've had the privilege to work with Joe and Anthony since 'Captain America: The Winter Soldier,' and I was able to continue along with them on 'Civil War,'" says executive producer Trinh Tran. "They were born to direct these two 'Avengers' films as they love these characters and know them inside out. They're so passionate about what they do and truly love the MCU, and it shows on the big screen. 'Endgame' is the biggest film that Marvel Studios has ever made with a mindblowing scope and size, but the Russo brothers are able to really understand all the characters at a deep level and infuse the film with emotion, heart, humor and masterful storytelling. They are the best at their craft and are supremely talented and deft at integrating all of these characters and arcs together into a seamless and cohesive story."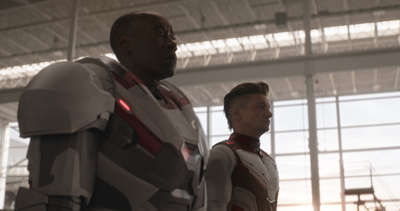 For the cast of the film, working with the Russo brothers was a positive collaborative experience. Chris Evans says, "Anthony and Joe Russo are such true cinephiles and really know so much about movies. Their directing style is really connected to that knowledge because they can reference other things in a way that I've not seen other directors do.

"Right away you can understand what they're looking to convey with the scene. They're also incredibly personable guys, and their attitude breeds this sort of lightness on set, which makes everyone feel like it's an open and collaborative team environment," concludes Evans.

"They are so invested in these characters, and I don't know how it's possible that they have the mental capacity to manage and track the arcs of so many characters," says Karen Gillan, who plays Nebula, the role she originated in Marvel Studios' "Guardians of the Galaxy." "They're just so collaborative about story and are so ready to dive into that because they cherish those character moments. There are so many of those in this film because the Russos give the space and invest the time to create them with the actors."

For directors Anthony and Joe Russo, working with producer Kevin Feige has been an invaluable opportunity and experience. "Kevin is brilliant. He's a singularly historic producer and a maverick who, through sheer force of will, reinvented storytelling on a global scale," says Joe Russo.

"He's created, designed and overseen every atom of the most successful slate in movie history. With 'Endgame,' he brings to close the first phase of his critically acclaimed narrative experiment that has spanned more than a decade."

'Infinity War': The Beginning Of The End

Audiences around the world embraced the culmination of 10 years of filmmaking, propelling "Avengers: Infinity War" to the largest worldwide opening of all time. For screenwriter Stephen McFeely, the box-office records the film broke were a great validation for the many years of hard work in the Marvel Cinematic Universe.

"It was one of the highlights of my career and was a big win," says McFeely. "I got choked up and really emotional for a minute and then danced around my bedroom. That weekend we went out to different theaters and watched it with a regular audience, and I was so thrilled to hear people quoting lines from the movie as we were walking out of the theater. It was also such a surreal experience to see the film become part of the cultural zeitgeist as everyone was talking about it and the ending."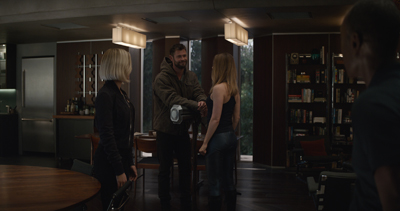 About that ending…

The Russo brothers went the unconventional route with an ending to "Avengers: Infinity War" that was a true water-cooler moment. Executive producer Louis D'Esposito explains: "In this genre, how often does the villain win in such a resounding way that you lose approximately half of your Super Heroes and half of the living creatures in the universe? We weren't quite sure, and we thought audiences might revolt on us. It really was a mixed bag, because some people hated and loved it at the same time. But regardless of how they felt, the common denominator through it all was that everyone was really moved emotionally by it. We went in a completely different direction. The villain wins. The heroes lose. And now, what happens?"

"Somebody told me a story at the premiere of 'Infinity War' about their guest crying at the end of the film, and at first they felt like, 'Why are they embarrassing me?' And then the person looked around, and everybody was crying," adds Kevin Feige. "I know as a film fan myself, there's a sense when you get emotionally involved that you appreciate the fact that you've been sucked into this storyline. I also heard stories that people had to point out to their kids or friends who were very upset about the ending that they've already announced another movie. It's been a journey for our fans and for people who enjoy going to the movies. The reaction was indicative of how emotionally connected the world has gotten to these characters, and that is the highest compliment you can receive."

For the filmmakers, choosing which characters would face their demise was not an easy task, as executive producer Trinh Tran explains. "We knew we had to be meticulous about who we chose to be blipped out," informs Tran. "It was a very conscientious choice for each of the characters and who was left standing, but it also was a little scary making those decisions on characters who have been with us for several films."

Tran continues, "This is the first time that Marvel has ever made a movie where our villain actually wins at the end, and it was very exciting to actually take that leap and do something different. It is bittersweet and overwhelming in the sense that this is the first time our heroes are defeated, but in a good way it was a complete change that no one saw coming. People were upset but they also embraced and enjoyed that we actually took that chance."

For the actors in the film, seeing "Avengers: Infinity War" for the first time at the premiere was also exhilarating and set the table for what would be the most anticipated film in the Marvel Cinematic Universe.

"The last eight minutes of 'Infinity War' are maybe the best eight minutes in the entire history of the MCU," exclaims Robert Downey Jr. "Seeing every character involved in different scenarios was just so much fun to watch. I was just delighted."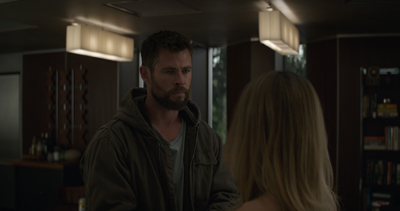 "I was really blown away by how culturally powerful it was," adds Mark Ruffalo. "I saw it with my son and a bunch of his friends in a little post-industrial town up in mid-Connecticut. I have never seen a reaction like that after a movie. People were screaming and yelling. A kid took off his shirt and jumped up on the chairs screaming 'This is bullshit!' People were arguing about what the ending meant. People were crying. It was profound, and I just think it's such a great thing to be part of because it's not often that you get to be part of something that moves the needle with fans like this."

For Scarlett Johansson, the conclusion was just as dramatic on set for the actress and her castmates. "The devastation that was felt in the theater was just as palpable on set, which is why I think it felt the way it did," says the actress. "When you watch it on screen, you could feel the weight and importance of it, not just the storyline, but also the importance of this chapter of all of our lives kind of culminating in a way like the film."

For director Anthony Russo, it was a high-risk reward. "We knew that it was our big gamble in the movie and that it was a difficult ending," says Russo. "We knew in order to keep surprising ourselves and push the characters to places that audiences wouldn't anticipate that we had to make some bold decisions and take a leap of faith with the story. We were not certain that audiences would be able to process it. Thankfully, audiences found the value and meaning in that ending that we were hoping for. On one level, it was surprising for us, because you can never be sure that it will be received the way you would like, but on another level, it wasn't surprising that everyone was having the same type of reaction that we were."

The only small glimmer of hope for fans could be found in the film's end tag, which opened the door for Captain Marvel to join the Avengers in "Avengers: Endgame" and gave audiences a very brief reprieve from their angst. "When we first started testing the film, it did not have the endcredit tag and it was really hard to digest," says Louis D'Esposito. "It was just too much to leave the theater in silence without any glimmer of hope for the Avengers after being defeated by Thanos and the complete devastation caused by him. It also was a great way to segue into 'Captain Marvel,' where the tag is paid off in a really great way and sets the table for 'Endgame.'"

'Endgame': Part Of The Journey Is The End

While audiences regrouped and processed the fact that half of their beloved Marvel Cinematic Universe characters were gone, the filmmakers were carving out the highly anticipated next installment of the Avengers""Avengers: Endgame." From its inception, the filmmakers made the decision to keep the two films and stories independent of each other.

"We determined very early on that we didn't want to make one long movie and cut it in half," says Feige. "We wanted to make two very different types of films with unique stories unto themselves, and that's why we took off the 'part one' and 'part two' that we had initially announced when we dated the films. We wanted to give audiences a complete experience with both films. Some may argue that 'Infinity War' is a cliffhanger because you care about these characters and you know a film is coming in a year. We certainly understood that, but we didn't look at it that way."

Feige explains, "We looked at it as a closed story in which Thanos won, which is why the last images of that movie are not the Avengers standing defeated and Cap saying, 'Oh, God.' The last image of the movie is a content Thanos having gone through hell but achieving his goal. That is a complete story of Thanos' journey."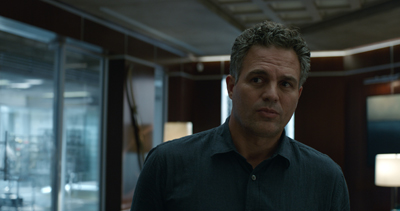 "Kevin Feige was really adamant that these two films should feel like two separate films in story and tone," echoes executive producer Trinh Tran. "I think partly because not everyone really knows the comic storylines, and we don't do the comics exactly anyway. We didn't want to have a story and pick a halfway point to stop, so for 'Infinity War' and 'Endgame' we definitely wanted them related, but to also feel different. 'Infinity War' was a very fast-paced, smash-and-grab heist movie with really heightened emotions and a big, tragic ending. So, with 'Endgame' we wanted it to feel tonally like a different genre movie."

While there were two distinctive beginnings and endings for the two films, one of the biggest challenges for the filmmakers was that they had to develop and shoot "Avengers: Endgame" months before "Avengers: Infinity War" would be completed and in theaters.

"Normally we complete a film and then we turn our thoughts to how to move forward having digested what that film is, which in turn really informs our movement forward," explains Anthony Russo. "This was very, very different. We basically had to conceive both films at the same time concurrently with one another. While we always thought about them as two distinct movies, in the bigger picture they were also sort of one coherent expression in our brains. I would say that all the MCU films share an interconnection, and for us there's continuity from 'The Winter Soldier' to 'Civil War,' which is also interconnected to 'Infinity War.'"

He continues, "Making the two movies at once was a tall order and a complicated order. Only a seasoned team like the ones we have at Marvel and on our production allowed us to pull something like this off, because the stories are so complex and the scale of production is so large that it took a very well-tuned machine to be able to handle two films at the same time."

For Joe Russo, flying blind in regard to how audiences would take in the film was one of the biggest hurdles in pulling off the film. "One of the biggest challenges for us was that we did not have the opportunity to feel how 'Infinity War' was experienced by fans before we shot 90 percent of 'Endgame,'" says Joe Russo. "So, while it did inform some of our decisions about how we tweak the story, it was already fully formed and complete before we had that perspective. The one thing I don't think we anticipated was how deeply it would affect people."

He recalls, "One memory that stuck with me was in the Q&A after the first screening. The first question was from this ten-year-old boy who had tears in his eyes and asked us why we killed Spider-Man. That reaction wasn't exclusive to ten-year-olds, so we knew the stakes for 'Endgame' would be like no other film in the MCU."

The challenge of writing "Avengers: Endgame" fell into the seasoned hands of Christopher Markus and Stephen McFeely, whose long history with Marvel Studios and the Russo brothers helped them streamline the process for the script and story.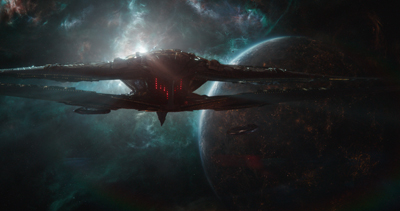 "We have been working on these two films over the past four years," notes Kevin Feige. "Christopher Markus, Stephen McFeely, Joe Russo, Anthony Russo and Trinh Tran were in a conference room in Atlanta discussing these films while we were filming 'Civil War.' It continued all the way through the year between 'Civil War' being released and the beginning of production for 'Infinity War.' That time and the creative crucible of that room is the most fun I've had in my time at Marvel Studios because it was really about paying off the twenty films in this unprecedented series with people who had done so much work for us. Christopher and Stephen go back to the first 'Captain America' film; Joe and Anthony Russo go back to the second 'Captain America' film. They are people who love these stories and aren't afraid of taking risks with these stories."

"Our years of experience in the trenches with Markus and McFeely proved invaluable," says Anthony Russo. "We're like a finely tuned band that's been playing together for years, and we can just pick up new ideas and throw them back to one another really easily now. That is the key to the process of working together. We had all been steeped in these characters and in these stories for so many years now. All the history comes to fruition with 'Endgame.' So, all the creative work and exploration that we've done throughout the years on the various films that didn't make their way into those films, still had great resonance for how we realized this story. So, we drew on a very deep well of creative thought and exploration that's been going on since 2012."

"Markus and McFeely have been incredible collaborators for all four of our films, and they've written more films than anyone else in the Marvel Cinematic Universe," adds Joe Russo. "They have an encyclopedic knowledge of the characters. As you progress through films in the MCU, your job as directors gets bigger and bigger. There's the adage that you have to fly at forty thousand feet to get perspective on the bigger picture, and by the time we got to 'Endgame' we were flying at seventy thousand feet, and you really have to have an incredible production team of collaborators that allow you to focus on the big picture. By having Markus and McFeely and the rest of the deeply talented team around us, it allows us to focus on the bigger picture and receive information from all sides of the Marvel Cinematic Universe."

For screenwriter Stephen McFeely, the story-creating process has been a great collaboration with the Russo brothers for many years. "Joe and Anthony are just great guys," says McFeely. "We enjoy different things about them. Joe is like the Energizer Bunny and he does not stop, and he always has another idea. Anthony is much more methodical and deliberate in a lot of his choices.

In our meetings, the conversations have a similar pattern of a push from Joe on one side, and there's a resistance from Anthony on the other side. Chris Markus and I fall into similar camps, too, where Chris is more like Anthony, and I'm a little more like Joe, but ultimately it really just comes down to the best idea wins, whoever's that may be. We always have lots of ideas, but we always end up in the place we need to be, and it's worked really well like that since we met in 2012."

In finding the jumping-off point and storyline for "Avengers: Endgame," screenwriter Christopher Markus had one ace in the hole that they used as their north star. "We had the benefit of knowing from very early on that 'Infinity War' was going to end with the snap and a very definitive close, which would give 'Endgame' a little more of its own space to develop, because it wasn't a direct continuation of what happened. It was the aftermath. We didn't want a straight-up two-parter, and when the story of two films evolved it began to be very clear that 'Endgame' was very different structurally and tonally."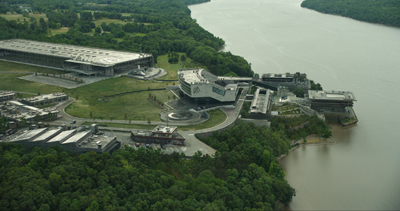 The screenwriter continues, "'Infinity War' was very much Thanos' movie. It's structured around his arc and his success at the end of the movie. In 'Endgame' it swings back to the Avengers, and we get more inside them and their point of view and dealing with the emotions of the aftermath. Structurally 'Endgame' is much more circuitous, and I don't want to go so far as to say philosophical, but it is less driven by that looming threat from Thanos that was hanging over their heads throughout the last film, which gives it a little more room to breathe."

With half the world's population wiped out, Thanos has achieved his mission and done the unthinkable, but it comes with a price for the master villain. "We wanted to give Thanos a logical argument within reason for committing mass genocide," says Joe Russo. "But we also wanted to give it an emotional sensor. 'Infinity War' was structured in way where he's the hero of the movie, and heroes have to go through trials and tests and sacrifice to get what they want. When he has to kill Gamora, the only person in the universe he loves, to get what he wants, even though everyone knows he's a bad guy, you can't help but feel for that choice of having to kill his own daughter. You feel bad for him. That's partly why he's become a top-tier villain. It's because he doesn't think he's a villain."

In "Avengers: Endgame" the remaining Avengers who did not blip out are in complete despair and must grapple with and process their defeat. "Thanos has achieved what he wanted to achieve, which is one of the reasons why we don't consider 'Infinity War' a cliffhanger," says Kevin Feige. "The end of the movie is Thanos sitting there on a planet and looking out over a shockingly idyllic environment. He's succeeded, and he is content with what he's achieved. I don't think he's worried about the remaining Avengers or that they're going to have much luck doing anything about it."

"The reason why we kept specific characters at the end of 'Infinity War' and why they survived is because we wanted the original Avengers in this film to really cope and deal with what has happened," adds Trinh Tran. "These are the original Avengers that have gone through the journey with us for the last ten years, and we wanted to really explore their state of mind after what Thanos did to them."

As "Avengers: Endgame" begins, the remaining Avengers who are still on Earth find themselves back together again, trying to wrap their heads around what they are witnessing. "There's no way for the Avengers to rationalize what happened, and it's a situation where all of the things that made these characters worthy, their superpowers, their determination, their resolve, are all useless, and they can't do anything about what happened," explains Christopher Markus. "So, it is a fascinating place to pick up these characters. That's the most truthful place to start a story and lets us explore the characters in ways that we have not seen before."

"I think all of the remaining heroes deal with the events of the end of 'Infinity War' differently," remarks Kevin Feige. "All of them are used to trauma of one kind or another, but none of them has experienced being defeated so thoroughly by a single antagonist. So, they must come together with the team they have left and decide what they can still do to be of service to the world."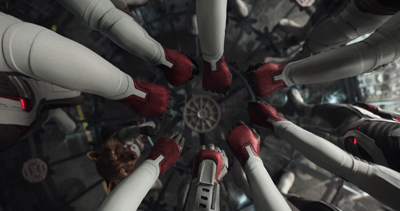 The Cast: Taking The Last Stand

While the remaining Avengers are at the compound regrouping, Tony Stark (Robert Downey Jr.) has his own issues on Titan to deal with and is also grappling with a vision of destruction that has been looming in the shadows for a long time.

"Tony Stark has been worried about a cataclysmic event since the first 'Avengers' film," says Kevin Feige. "He was suffering through PTSD in 'Infinity War.' He talked about putting a suit of armor around the world in 'Age of Ultron,' which unfortunately is what led him down a path to the creation of Ultron. Tony Stark is a futurist. He prepares for the future. He sees what other people don't, and he saw something terrible happening and he couldn't do anything to stop Thanos. It is a devastating blow to him."

"After everything goes down, Tony is still on Titan, so for him it becomes all about whether he can get home and how," informs Robert Downey Jr. "The last real trauma for Tony came when the portal was opened in 'The Avengers.' So, a defeat at the hands of Thanos, which resulted in Peter Parker turning to dust in his arms, was a real gut punch. Even though he's not all that touchy-feely, he's pretty crazy about this kid and he appreciates the crucible that he went through in 'Spider-Man: Homecoming' and 'Infinity War.'"

Downey adds, "If somebody believes you're a mentor or a figure to them of some projection, you kind of ultimately are, and it can be a good thing, because it can make you strive to be a better person. So for Tony, in his reaction, there is a lot of contemplation and not wanting to run the risk of trying to change a thing because he was one of the lucky ones who made it out. He is feeling that sense of obligation to somehow find a solution in the aftermath of destruction." "Tony Stark is the most complicated character in the Marvel Cinematic Universe," says Joe Russo.

"I think it's because he's the most flawed character, which to us makes him the most interesting. We like characters who are human and express their humanity through complicated choices that we have to make."

Sharing his thoughts on filming "Avengers: Endgame," Downey says, "Having a safe sandbox to play in is imperative, especially when you are shooting back-to-back films. For both films, I really enjoyed every moment. I think after many years of working together, we all felt how truly lucky and grateful that we were in the position we are and being able to collectively have this experience and support for the last ten-plus years."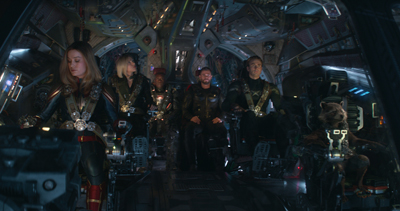 While Tony is in space trying to find a way back to Earth, Steve Rogers (Chris Evans) is holding down the fort at the Avengers compound and trying to wrap his head around and make sense of what has happened.

"At the beginning of this film we see a lot of broken people," says Chris Evans.

"That's what Marvel's great at doing. They've truly leveled us, not just literally, but morally and emotionally. The good thing is, it's always easier to build people back up after they've been broken down, but you just have a lot of incomplete characters. Steve still has his back turned on things as a result of 'Civil War,' but after Thanos snaps and we lose all these people, he's really trying to jumpstart that optimism and rediscover that loyalty to conventions bigger than himself to somehow stay afloat. Otherwise, it's so easy to just give up, but that's not in his nature. I think he knows that, so it's just a matter of how, in the face of the worst possible outcome, do you still be a leader?"

Anthony Russo notes, "The one thing from when we began working with the Captain America character is that he is such a tough character. His moral code is so strong, and you have to work really hard to find his vulnerabilities. You have to beat on the character really hard to get to where he is vulnerable. So, it was great in this movie to start him from a place of real vulnerability."

"We have a lot invested in the Captain America character," adds Joe Russo. "We also have a lot emotionally invested in Chris as a friend and a collaborator. So, it's a proud moment to be able to sit back and look with perspective at the journey that the character's gone through because, while I think Tony is one of the most complicated characters in the MCU, Captain America has had the most interesting arc. 'The Winter Soldier' was not only a touchstone moment for the MCU, it shifted the tone of the films and started disrupting the Marvel Cinematic Universe. So, Steve Rogers had to question his very identity and go against the country that had given him his identity. That is a really rich theme, and I think that Steve carries with him the most profound thematic."

"Steve Rogers' journey through the MCU has been an amazing one," adds Kevin Feige. "There was a lot of skepticism early on when we first announced we were doing a Captain America film and that it would be something for only Americans or it would be a jingoistic character. Thankfully, Chris Evans agreed to do the part and has embodied this icon in a way that has fleshed him out and made him both this noble mythological icon and this very humanistic threedimensional character."

Feige continues, "Captain America has some very memorable moments in 'Infinity War,' but ultimately took a back seat to some of the other characters. In 'Endgame,' he's very much in the forefront, which was exciting for us because a lot of fans said they wished there was more Cap in the last film."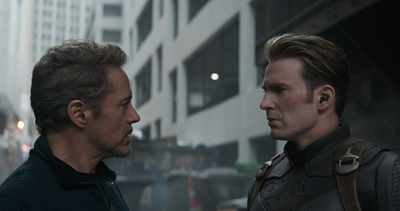 In contrast with Steve Rogers, Thor (Chris Hemsworth) had one of the most memorable turns in "Infinity War." "Thor had one of the best arcs in the last film compared to the others, because he had gone on a journey to Nidavellir and he gets to meet up with the Guardians for the first time, so it was really interesting to see," says executive producer Trinh Tran. "It is one of the best moments ever when Thor lands in Wakanda with Stormbreaker, and with Groot and Rocket by his side, ready to kill Thanos. He gets his chance but fails, and it really takes its toll on him. He is devastated. He feels like he's failed his people. He failed himself, and he failed to really save the universe when he didn't defeat Thanos."

For Chris Hemsworth, playing the character over the years has afforded him the opportunity to flex the range of his acting chops a bit. "'Thor: Ragnarok' was Thor at his wackiest, 'Infinity War' was Thor at his best and most heroic and 'Endgame' is probably Thor at his worst," says Hemsworth.

"Mentally, emotionally, physically, every aspect of Thor is broken. He is lost and uncertain. So, it is a whole new journey, and it felt like I was playing a completely different character. I felt freer than I've ever felt before because there were no rules at this point. It was a real opportunity to just kind of swing for the fences, and if I had been given this character two or three years earlier, I think I would've dropped the ball in a big way. It sort of happened at a perfect time in terms of my development as a human being and as an actor. I was able to tap into some interesting things that I hadn't looked at before. And that was great. I loved it."

"When we started thinking about Thor and how he would move forward into this film, we took into consideration that he has suffered tremendous loss," explains Joe Russo. "More so than any other character, in the sense that Asgard has been destroyed and now he has to suffer the loss to Thanos. It inspired us to think about how a person like that, who has suffered two devastating losses, moves forward? He's carrying more pain than anybody else is. And how would he process that? That tension and inner light that he still carries ends up growing throughout the film in a very rousing way and is perhaps the most entertaining part of the film for Joe and myself."

Like Chris Hemsworth, Scarlett Johansson has been able to grow her character throughout the years, going all the way back to Black Widow's introduction in 2010's "Iron Man 2." "When we shot 'Iron Man 2,' I didn't know if the fans and the audience would accept my interpretation of the character," recalls Johansson. "I knew there were many different dramatic directions that we could go, but it was just an introduction to the character as an idea, and it wasn't until the first 'Avengers' that I got to really work on this characterization and develop the depth of this character's back story in what we wanted to be her truth."

"You can track Black Widow's arc from 'The Winter Soldier' to 'Endgame' very easily," says Anthony Russo. "She's an isolated character and has a lot of trust issues. Captain America doesn't know whether he can trust her or not, so she is not part of the family per se, because she's never been taught to rely on anyone other than herself. She has a view of the world that is skeptical and cynical, and she says that truth is relative. As she grows over the course of these films and along the way, Steve Rogers teaches her some things and she teaches him some things, and she slowly learns to trust. And it's in that moment in 'The Winter Soldier' that she starts to realise that the Avengers are her family. And in 'Civil War' she makes a choice to try to preserve the family and realizes that maybe she made the wrong choice and that maybe she has to let go in order for the family to not destroy itself. And in 'Endgame' she wants to bring it all back, because she feels like it is the strongest emotional connection that she's ever had in her life."

For director Joe Russo, the character has always been a stabilizing force for Steve Rogers and the team. "I think Natasha is a little bit different than your kind of average superhero in the sense that she has a different sort of moral compass than some of the other characters," explains Joe Russo. "She understands that there's a balance between dark and light in the world, and the sacrifice you have to make on either end in order to have a kind of balance. And that might not be a reality that some of the other characters are really willing to swallow, but I don't think she has to have the same mindset as Steve Rogers in order to work alongside him. She just looks at the world in a different way, and she doesn't really take things personally. She just thinks of things in a very strategic way. She's just very pragmatic."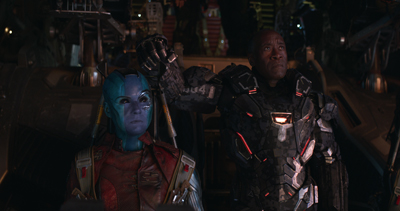 For Johansson, the methodical nature of her character fit well into the structure of the film. "There's a lot of space in this film for the characters to reflect," says Johansson. "You see the reasoning behind the decisions that we make, and it's just unusual in this genre to have all of these really meaningful moments given the space that they deserve while still moving the story along. It's just a monumental feat of editing and storytelling that I think is sort of unprecedented."

For Louis D'Esposito, the clandestine nature of the character is something he has always found interesting. "There's always been a mystery about Black Widow because you never can tell exactly what side she's on," says D'Esposito.

"Scarlett's portrayal of Black Widow has evolved so much from when we first met her in 'Iron Man 2,'" says Feige. "What Joss was able to do with the character in 'Avengers,' with her internal conflict of overcoming her traumatic past that was forced upon her in the red room and working in the spy game in ways that she's not proud of, was great. In 'Infinity War,' you see her standing up against bad guys much more powerful than her and not giving up, which is something that I think all the Avengers share in common. As we meet her in 'Endgame,' it's about trying to pick up the pieces and moving on when you seemingly have lost almost everything, and the effect that has on her is very much the focus of the beginning of the film."

For Johansson, having the opportunity to revisit the characters many times over the last 10 years is very gratifying. "It's been an incredible opportunity for me to be able to continue to come back to a character that I love so much and be part of the Marvel Cinematic Universe for the last eleven years," says Johansson. "It's very rare that you get the opportunity to peel back the layers of a character over an extended period of time that in many ways reflects myself and reflects my own growth and my own challenges. I really feel it's been an incredible gift as an actor to be able to have that experience. And with this film, it really feels like we're doing something extraordinary."

Johansson continues, "On this film, we would often look around the set and we would get that great feeling like the original gang is back together. We did a lot of reminiscing about the beginning of the journey and all the different experiences we have all been through together. We've all shared so many changes in the last ten years in our careers and personally in our lives. The 'Avengers' films have always felt like coming home for the holidays and seeing your family again and picking up where you left off. We're all close with one another because we have spent so much time together and gone through so much together, and that dynamic really does bleed into the films in so many ways."

Johansson's assessment is shared by Mark Ruffalo, who returns in the role of Bruce Banner. "What I enjoy the most about doing these films, honestly, is the people," says Ruffalo. "An actor's essential journey is really kind of like a vagabond. It's transient. You're alone. You don't see people very often. This has been totally different than that. We made this beautiful family together. I'm actually really moved about it. We've all sort of grown up together and had this wonderful experience together. We've started families or got married or got divorced, and the whole time the common thread is coming back to this group of people who are all wildly different personalities, different backgrounds and different interests. We're as much like the Avengers as what you see on screen because we're as different from one another in so many ways, but together we are a beautiful single organism."

Ruffalo explains why he has enjoyed returning to the character again and again over the years. "Part of why I became an actor is because it's always changing and I don't have to do the same thing over and over again," he says. "Luckily Banner has had this crazy kind of trajectory. People grow over the course of ten years, and I think it's cool that the character has as well." Ruffalo continues, "It's also great playing a character that makes science seem cool for kids. It's amazing the impact that these movies have had culturally. They're the good guys, and they fight for what's good. They use science, and they use reason and they are nerds. It's been great to turn young people on to the idea of science."

"The Banner we see in 'Infinity War' was exciting for us and exciting for Mark to do because it is a very different Banner than we've seen in the other films," says Kevin Feige. "It was interesting, because he lost twice. The Hulk loses against Thanos at the beginning of the movie, and then Banner in the Hulkbuster suit loses against Thanos at the end. It's great to see how he handles that and rebounds and rises up from it as he moves into 'Endgame.'"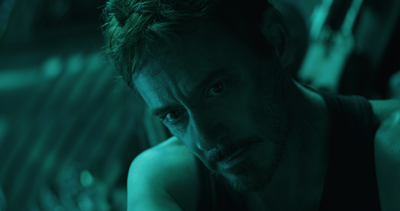 Returning to the Avengers team after sitting out "Avengers: Infinity War" is sharpshooter Hawkeye, who has made a complete character transformation. Actor Jeremy Renner explains where we find the character at the outset of the film.

"Following the defeat to Thanos, the Avengers have had some really interesting changes and shifts," says Renner. "For Clint, we catch up with him in this beautifully shot, big fight sequence in Tokyo, which ends with a reveal of the character. He is met by Black Widow, and it is very epic but still very intimate, subtle, painful and beautiful. And, yeah, it is just badass, too. It's just a really cool and unique reintroduction to the character. If you're wondering what's been going on with Clint all this time, it explains itself pretty quickly and then kind of moves forward to the storytelling from there on out."

"Thanos snapped his fingers and irrevocably changed the destiny of all of our characters," says Joe Russo. "We wanted to really push the audience into an uncomfortable place and really think about what would happen to these characters when catastrophic loss of life came about. How would they respond emotionally, psychologically?"

For Renner, getting to play a completely new side of his character this deep into the franchise was a real treat. "It was really exciting, and it was something I always kind of dreamed of for a long time. There were a lot of physical challenges and there were many more emotional challenges in this one than there were in past ones. I think it's a great way to end this kind of journey thus far for the character where he's kind of transgressed, grown and formed relationships within the team."

The actor continues and speaks to his character's close relationship and long history with Black Widow. "There's a big connection with his storyline and history with Black Widow," says Renner. In 'Endgame,' it continues to deepen, which was really wonderful, because that's kind of where their relationship started. The Hawkeye/Widow relationship is one of the most important among the Avengers for Clint. There's a lot of humanity to Clint in general, just because he's a boots-onthe-ground kind of guy and doesn't have any superpowers. He just has a very strong will and a high skill set. And there's a wonderful grounding relationship with Black Widow that finally gets expressed, and it's really quite beautiful."

One of the original members of the Marvel Cinematic Universe, James "Rhodey" Rhodes (Don Cheadle) has been an important part of the Avengers. Cheadle talks about how he has enjoyed how the character has evolved over the years. "As an actor, we always want to see our characters do more sometimes than we get the opportunity to do, but I think in 'Endgame' we really get to see a lot of the different dimensions of Rhodey," explains Cheadle. "In this film you can see clearly through the trials and tribulations and everything that he's been through of him getting back on his feet literally, emotionally and physically. It really creates a nice arc in this character run, and it's been a lot of fun."

Another beloved MCU character throughout the years is Pepper Potts, the anchor and heart and soul for Tony Stark. Gwyneth Paltrow speaks to the character's evolution since "Iron Man." "Pepper and I have taken a very similar parallel journey in a lot of ways," says Paltrow. "In the first 'Iron Man,' she was in a much different place in her life. She really came into her own as a leader throughout the course of the films. In some ways, I caught up to her, and in some ways, she caught up to me. I hold Pepper very close to my heart. She's certainly the longest character that has been in my life for over ten years. I think she's an incredible person. I really actually have a lot of love for Pepper."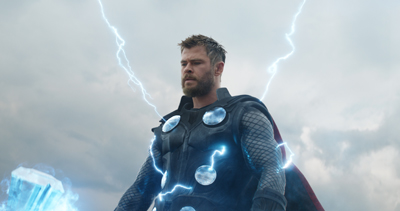 Another aspect of the character that has resonated so deeply with film audiences is the 10-year on-screen relationship between Pepper Potts and Tony Stark. "I think one of the things that's most endearing about it is how their relationship has evolved through the films and through the years," says Anthony Russo. "They've gone through an incredible journey together, both individually and as romantic partners. Seeing them grow and change over the years is the most thrilling thing for audiences to watch. It's very rare that audiences get to see on the big screen characters go through that kind of life arc with one another. From the opportunity of meeting, to working through the complexities of their relationship, to where we're going in 'Endgame.' It's an incredible life arc that we're tracking with these two characters."

"Robert is my co-star, both whether we're on set together or off," says Paltrow. "He is so surprising, and you never know what he's going to do. He makes the day really fun and very dynamic. He's just incredible to work with. I was thinking back to the first 'Iron Man' movie where we did a lot of improvising. He did the whole thing basically on the spot. He really taught me a lot about improvisation. He's so unique and so brilliant. And to work with him really keeps you on your toes and keeps the creative spirit alive."

"Gwyneth is obviously a national treasure as an actress," says Downey. "She has done her version of Pepper that is something really industrious, smart, very cool and thoughtful. I know she is the queen of e-commerce now, but she really is the best side of Tony and makes the dynamic between them so relatable and humanized."

"They really lean upon that very special chemistry they have with one another in the way that they perform," adds Joe Russo. "It's a very special tool to have when you're trying to create meaningful stories for people. Robert and Gwyneth are just amazing actors, and they have that intangible quality that pops when you see them together on film."

When Thanos' devastation ensues, Scott Lang (Paul Rudd) is not affected. Paul Rudd explains how Ant-Man avoided the wrath of Marvel's most sinister villain. "In the time period of 'Infinity War,' Scott Lang is in the Quantum Realm," explains Rudd. "So, when he comes out of it, he begins to learn what has happened. He's trying to play catch-up, so he goes to seek out Natasha and Captain America to see if there is anything he can do to help."

For the actor, his second superhero mashup film was a very smooth experience all the way around. "The way that Marvel makes their films is unlike any place I've ever worked or seen," says Rudd. "They really take a concerted effort to try and make the films inventive and emotional. The way they go about doing this is different and is a process that I have learned to trust. I feel as if I understand the machine behind it all a little bit more, and my relationship with the studio and Marvel has grown. It's very exciting to work this way."

Rudd adds, "The same can be said with my relationships with the other Avengers. Because when we shot 'Civil War,' I had already filmed 'Ant-Man,' but this was the first time I was around them and I was like, 'Oh, God, there they all are.' But in shooting 'Endgame,' it felt more like I was sent an invitation as opposed to having to sneak in. So, that felt good."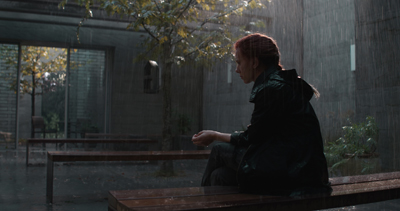 While Thanos has succeeded in defeating the Avengers, it came at a steep price, as he had to kill Gamora, thus creating a deeper rift with Nebula (Karen Gillan). Explaining where the character is after the events of "Avengers: Infinity War," Gillan says, "Nebula's always had a very turbulent relationship with Thanos. It's something that's very complicated, because it's essentially an abusive relationship with her father. It's a mixture of absolute fury and hate and resentment but also the absolute desire to please him and get his approval. That's a really strange mix of emotions that she is constantly dealing with, and I think she's torn in different directions at times."

Gillan continues, "Coming out of the last film and starting 'Endgame,' Nebula is not in the best place emotionally. She had just started to form a connection with her sister, which is something she had wanted her whole life. The beginning of it was finally happening, and then her sister was taken away from her by Thanos. It was her only real family, so she is feeling alone and completely lost and helpless."

For Gillan, that character has been one of her favorites to play despite the very long hair and makeup process to transform into Nebula. "It's incredibly satisfying to be able to explore and uncover parts of this character through multiple films and franchises," says Gillan. "Usually you would have that kind of arc in one movie. But with Nebula, it's just over many movies now, and that just keeps it really interesting for me as an actor, because she's changing every time and I never feel like I'm repeating myself. It's like we're learning something new about her every single time. I feel like she started off as this stone-cold character. And we're starting to learn just how vulnerable she really is and how much she yearns to have family in her life."

For the Russo brothers, having Nebula plays a bigger role in "Endgame" seemed like a logical step in the character's evolution. "When we dig into the characters in these films, it is myself, Anthony and Markus and McFeely sitting in a room with every character's photo attached to a board. We literally just start talking about how they could potentially interact with what the villain wants in the film. It's an arduous process that takes months. But when you're dealing with characters like Nebula, a child of Thanos, it is impossible not to make her integral to the 'A' story or have an emotional connection to it."

Answering the emergency page of Nick Fury, Captain Marvel (Brie Larson) appears at the Avengers compound. "At the very end of 'Infinity War,' after the credits, we find the tag with Maria Hill and Nick Fury, who does something he's never done before"he looks scared and nervous when Maria Hill disappears in front of him," says Kevin Feige. "People who know the cinematic universe and know the comics recognise it as Captain Marvel's logo, and that's what the Captain Marvel movie is about. We learn in the 'Captain Marvel' film about this amazing woman's journey and how she got to be the most powerful character in the cinematic universe."

For the filmmakers, the challenge was that they would have to write the story of "Avengers: Endgame" to include Captain Marvel before a single frame of "Captain Marvel" was shot. "We did something similar with Black Panther and with Spider-Man in 'Civil War' where we got to introduce them," explains Stephen McFeely. "But in this case, we had to write for her and shoot that movie before they shot and released her movie. So, we had to make her fit for our movie, but also make sure that we gave them enough room to create the character and the back story they wanted in their movie."

For Larson, meeting the Avengers was an adventure of its own. "I was prepping for 'Captain Marvel,' and the whole thing became clear to me once I walked on the set of 'Avengers: Endgame,'" says Larson. "I kept finding myself looking around the room and still not believing I was in the film. It was my first day in the MCU, and I was with the Avengers. We were all doing a scene together. I thought, 'This is like the world's largest theatre company.'"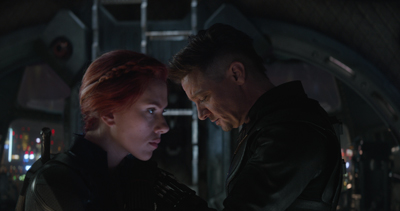 Making 'Endgame': Setting The Stage

While there were many practical locations in the production schedule, most of the film's production was done at Pinewood Atlanta Studios, which also served as the film's production base.

"With the size and scope, having the entire production for both 'Infinity War' and 'Endgame' located on the same lot at Pinewood Atlanta Studios was a tremendous asset and gave us the ability to shoot one film while we were prepping the other," says Joe Russo. "It created a fluidity for the crew and for us in respect to being able to move from stage to stage, pick up shots that we missed, or shots that we discovered we needed or wanted refined as we were editing. Having stages, editing rooms and our production offices and all of our crew under one roof is really the only way to make two movies like this back-to-back. I can't imagine doing it any other way. It is a great facility and great partner to have."

The first scenes for "Avengers: Endgame" were actually shot overseas in the United Kingdom during the overseas "Avengers: Infinity War" production schedule. After the production schedule on "Avengers: Infinity War" wrapped its schedule in Edinburgh, the production headed south to shoot scenes for "Avengers: Endgame" at St. Abbs, on the southern coast of Scotland, and in Durham, England, at the Durham Cathedral.

"The Durham Cathedral is one of the more spectacular cathedrals in Europe," says Joe Russo. "It's stunning. We're really fortunate to be able to shoot here because it gives the scene such an incredible scale without much CGI, because most of which you see on the screen is the actual cathedral. So, when you're actually able to walk into a location of this scale and really grasp how you could execute and shoot it, as a director it's invaluable, because it really makes the job a lot more specific. It lends a realism to the performances, because actors aren't working against a green screen. It's tactile."

Andrew Tremlett, Dean of Durham Cathedral, offers background on the cathedral. "It took about thirty or forty years to build, so these things didn't happen overnight," says Tremlett. "The remarkable thing about Durham is that the main body of the cathedral, which is in the film, actually has been changed very little since it was built, as all the enormous pillars that were crafted by hand are all original. The gothic style of architecture has this dark, brooding and very luminous quality about it. It really has a very powerful feel to it the way it was lit by the production. Everyone who works here, and our children, thought it looked really cool."

Enhancing the look of the cathedral was production designer Charles Wood, who built walls and structures within the cathedral to complete the look of the set. "It takes someone as talented as Charles Wood, who could look at a space like this and figure out what we can use and what we can't," says Anthony Russo. "He figured out what architectural details to cover up that sort of aren't truthful to the mythology and what to put on top of the existing structure. It's a very complex process."

"Walking into the cathedral and trying to figure out how it would actually play for what we needed in the film was a bit daunting," says Wood. "The thing about Durham, which is unusual as a cathedral, is that it has a more monastic feeling than it does an ecclesiastical feeling. So, what we tried to do is separate out the areas where we could do set extensions."

Wood continues, "The walls of the cathedral have very sophisticated finishes, and we spent a lot of time looking at it all and making sure that what we did was seamless, because in a space like this with this much history in it, if it doesn't work, the enhancements would really look obvious. We simply just wanted to come up with an environment which was meaningful that had a palette that was very soft as well, and the colors chosen adhered to that. We were not trying to load and heighten this place up at all. In fact, we were trying to sort of calm it down a bit and give it a nice presence. I think it's one of the finest cathedrals in the world, and it was a real privilege to be able to work in a place like this."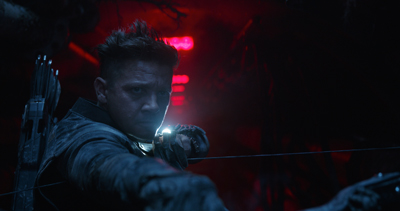 Wood's work on the set was so detailed that people associated with the cathedral could not tell what was real and original and what was not. Wood and his team took actual molds from the surface stones, then they went to the local stonemason's yard to see the technique the masons use to do necessary restorations. So, when they built the set there was a texture to the moldings that blended perfectly.

"Charles Wood, our production designer, has been more valuable on this production in terms of storytelling and scale than anyone else," says Joe Russo. "He's done a spectacular job of bringing many different locations, styles, tones and universes together and blending them into a cohesive whole. I think creating a look that hasn't been seen much on film before in terms of the sprawl and the amount of locations and the uniqueness of the locations. It's fantastic. It's really brilliant."

Another practical location production designer Charles Wood and his team would transform was turning a downtown street into Tokyo for the dramatic return of Hawkeye. "Hawkeye, in his Ronin disguise, is wreaking havoc in Japan under the guise of keeping order," explains Stephen McFeely.

"It's an aggressive sequence, which I like, because I think it's going to grab the audience," adds Joe Russo. "How intense it was wasn't clear until we started shooting, and that really surprised me the most, but I think it really represents the pain that Clint feels."

Adding to the intensity of the scene was Hawkeye's new look, which enhanced his darker side. Costume designer Judianna Makovsky describes the look and evolution. "The Ronin costume is definitely out of the comics," says Makovsky. "I worked very closely with Ryan Meinerding to keep that Ronin feeling. However, the Ronin costume originally was not user-friendly, so it went through many variations. But the concept of it never changed because it is such a specific image that we wanted to keep it."

Makovsky adds, "Of all the characters in the film, Hawkeye has the biggest change in personality, and his costume reflects that. It becomes a whole new simpler costume underneath and has that sort of ninja feel. He comes out of nowhere and fights, so it had to be very comfortable, which was not easy. The construction of the costume by my team was brilliant."

"I'm in awe of Judianna," says Anthony Russo. "She is as talented and capable as anybody Joe and I have ever encountered in our entire careers. These costumes are extremely hard to design and construct. She finds ways to bring balance in terms of how fantastical the costumes feel and yet makes them feel like they actually could be in the real world. That's a balance that Joe and I really appreciate and strive for in these films. It's an incredibly fun and energizing process that we go through leading to the design of the costumes."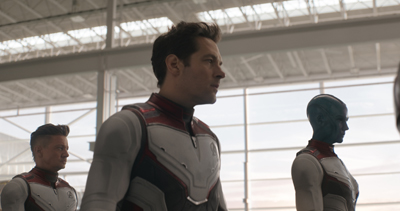 Further adding to the energy of Ronin's introduction is the look and feel of a post-apocalyptic Japan created by Charles Wood and his team. Director Joe Russo was in awe of it the first time he walked onto the set. "Charles Wood really outdid himself with the design of the set, which also amplified the intensity of the scene," says Joe Russo. "It's the level of detail. It's not just Tokyo. It's Tokyo after a major cataclysm has happened on Earth. It's a very unique expression of Tokyo. It's grounded in reality but also goes off into the realm of fantasy as well, and Charles and his team just brought those elements together so well."

Another element that heightened the sequence was the casting of Hiroyuki Sanada, who brought his years of martial-arts experience to the table. "It was so incredibly important to have someone in the sequence who was as accomplished with a sword as Hiro," says Joe Russo. "You can't tell the story in one single shot unless you have an actor of his acumen who can actually keep up with one of the best stunt players in the world take after take. We did ten takes with Hiro fighting in the street for well over a minute with a lot of choreography, in the rain in the middle of the night. And he kept getting better and better with every take."

"Joe and I are very performer-orientated," says Anthony Russo. "So while we love action, and we spend a lot of time on our own conceiving and detailing the action and emotion, we also maximize the gifts that each specific performer has brought to the table. It's our job to pull the best out of every actor, whether that be emotion or action. And when we hit the set, we look for how we can use those gifts to tell the story, to heighten the conflict and thrill audiences. That's a big part of the process that you execute a scene in these films."

Coordinating the riveting action and battles on "Avengers: Endgame" was no small task with the stakes as high as they are in the story. The responsibility fell into the capable hands of stunt coordinator Monique Ganderton, who was promoted from assistant stunt coordinator on "Avengers: Infinity War" when longtime MCU staple Sam Hargrave took on the challenge of directing the film's second-unit action and fight sequences.

For Ganderton, the reaction of her fellow crew members left her feeling inspired. "On set, both men and women would come up to me and express that they were happy to see a woman doing this job. It made me feel proud to be there and potentially pave the way for other women. It also was great when both women on the crew would say that they thought it was great and maybe one day their daughter will do that. But I don't think about me being a woman stunt coordinator, because I'm just doing my job."

"Our relationship with Monique has developed over several movies," says Anthony Russo. "This is how you really get to know and trust creative collaborators. Over time, you start to feel a symmetry in your sensibilities in terms of how you like to work and what you're trying to achieve on a creative level. We had that depth of experience with Monique, and she is a very good stunt coordinator, which is a very difficult position because you have to balance a lot of different concerns."

Elaborating, he adds, "You have to take what the director is looking for and figure out how you coordinate that with what stunt performers are capable of. That's a very difficult balance, because sometimes we tend to dream up things that aren't achievable in the way that we wanted to originally execute them. Monique has the great ability to be very calm and focused and figure out how to realize these ideas."

Flashback To The Start: Iron Man & Robert Downey Jr.

The Marvel Cinematic Universe has expanded in scope and size to include nine current franchises, which will hit twelve in 2020, but it all can be traced back to its origin with "Iron Man" and its dynamic star, Robert Downey Jr.

"We take a lot of pride with casting our films, and Robert Downey Jr. was probably the most important casting decision we've ever made," says executive producer Louis D'Esposito. "Not only is he a brilliant actor, but he told the world that we are serious about who we hire to play these iconic roles. His success in the role allowed for all of the other great actors to come into our universe knowing that if Robert Downey Jr. is doing this, they could do it, too."

"There are no two ways about it: if there were no Robert Downey Jr., there would be no MCU," states Kevin Feige. "That is fact. Robert breathed life into the studio, helped found the studio with Jon Favreau in the tonality of 'Iron Man' and what he brought to the character. He had a belief as he was fighting to get the role that he could add something, not just to the film but to how big we could go in the universe, which at that point was only a pipe dream. He really saw the bigger picture and what he could bring to cinema and audiences in terms of surpassing and subverting the expectations for what a hero can be. Forevermore, everybody stepping into an iconic role will be in the shadow of what RDJ was able to do with Tony Stark."

Downey's co-stars speak to what makes the actor the unequivocal "godfather" of the MCU. "It's not hard to have a great dynamic on and off screen with Robert Downey Jr.," says Chris Evans. "He's a very affable guy, and I think he really understood the weight of the responsibility with these films. He understood that when one person succeeds, we all succeed. So, he really went out of his way to help us find our footing, not just in the 'Avengers' films but in our own individual franchise as well. Even when he wasn't on set, I still felt his support. During my first 'Captain America' film, that was really critical for me. I would have struggled quite a bit without his support on that film. When you meet him, he's just got a real energy about him."

The actor continues, "There's a real gravity that he brings. As a result, in the early days, he really took a lot of people like myself and Chris Hemsworth"who had done things before, but nothing of this scale"and he put everyone on his back and made sure we were all swimming in the same direction. And before you knew it, it was just like a crew team with everyone rowing in rhythm, and we were off to the races."

"Robert has led the way like a true leader and champion," adds Chris Hemsworth. "He has always been there with such great encouragement and constant feedback to what we're doing. He's always observing, always watching, doesn't miss a beat. He's always the first person to tell you, 'That was fantastic and really works.' When I first started in this franchise, hearing that validation was like having the tick of approval and being let into the club. But to me what really resonates the most is, even through all the success eleven years later, he still has that same attitude. That is the true test of his of humility and his love for the franchise and all these characters. He's beyond aware of what it's given him. On 'Endgame' I was very thankful that we had so much time together on and off set."

Robert Downey Jr., reflecting on what he has enjoyed over the last 11 years playing the iconic Tony Stark character, says, "I really treasure all of the memories of my co-workers, and all the moments and days we've shared on and off set during production," says Downey. "I still remember Tony landing in the high desert in the eastern Sierras when he escapes the cave. I was buried up to my neck in sand in the midst of a massive sandstorm coming in. We only had a couple minutes to get this take, and it was like God's grace just came in and gave us the take that was in the movie."

He adds, "Stan Lee's iteration of Tony Stark, which was rooted in my generation, that Vietnam kind of anti-establishment, but also hearkening to the kind of Howard Hughes, eccentricbillionaire thing, was just so cool."

As a final thought, Downey adds, "My own values have affected and been affected by the content of these films. I've attempted to infuse them with a sense of my own process. And we're talking about a decade. Life is fleeting, and a decade really sometimes feels like a lifetime."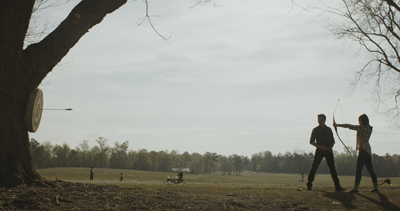 'Endgame': The End Is A New Beginning

For the cast and filmmakers, being part of the process of making "Avengers: Endgame" was a great journey they shared together, and they are all excited for fans to see the film. Robert Downey Jr. expresses the sentiment best when he says, "I'm really looking forward to seeing how people lose their marbles over this, because it is the only film I've ever participated in where I guarantee there is no way anyone could guess what's going to happen."

He adds, "The reason I love movies is because I love being taken on an unexpected journey. I love being surprised, thrilled and delighted and maybe sometimes being taught just a little something about myself. I feel confident that this film will deliver all of that and more for audiences."

Executive producer Trinh Tran chimes in, "When Tony utters the words, 'It's all been leading to this,' it is true. This is the big, epic showdown of all showdowns, and audiences are going to experience the full gambit of emotions as this film checks all the boxes."

"At the end of the day, all meaningful storytelling has to include stakes," concludes Joe Russo. "'Avengers: Endgame' is the final chapter in an unprecedented narrative mosaic spanning eleven years and nine franchises. Audiences should prepare themselves for an exciting, powerful and emotional conclusion to the most successful run of films in cinematic history."

"Avengers: Endgame" marks the end of an exciting, emotional, action-filled journey, but what lies ahead for fans of the Marvel Cinematic Universe?

Producer Kevin Feige offers, "We have just closed the first decade at Marvel Studios, and we want to follow that example by not just evolving and growing the characters we've already introduced but bringing new heroes to the screen and new types of heroes to the screen and providing a level of representation that people haven't seen up to this point. We've already seen it in all of our films, but in terms of title characters with 'Black Panther' and most recently with 'Captain Marvel.' And that's going to continue through and past 'Avengers: Endgame,' so that the films are a mirror of the world and the types of heroes around the globe."

Avengers: Endgame
Release Date: April 24th, 2019