"Human touch … we need that touch from the one we love almost as much as the air we breathe. I never understood that until I couldn't have it. "
~ Stella
Cast: Haley Lu Richardson, Moises Arias, Cole Sprouse
Director: Justin Baldoni
Genre: Drama, Romance
Rated: M
Running Time: 116 minutes

Synopsis: Sometimes the greatest loves are the ones everyone says never had a shot from the start. In Justin Baldoni's Five Feet Apart, two teenagers face the most insanely maddening series of roadblocks to falling in love"they are forbidden even one touch, definitely can't kiss, have to avoid at all costs getting close enough to even whisper in the other's ear. Could Stella and Will's stars be any more absurdly crossed-up? Yet, nothing can stop them from finding courage, empowerment and the sheer thrill of being alive in one another. As they refuse to give up on being together, Stella and Will shatter the impossible distance between them with a defiant quest for raw connection and hope.

Haley Lu Richardson (The Edge of Seventeen) and Cole Sprouse (Riverdale) bring to life the indelible Stella and Will whose romance flouts the odds, then momentarily stops the world. They might share having cystic fibrosis (CF) but really, they couldn't be more opposite. Stella is a vibrant vlogging star who likes to be the master of her universe. Meanwhile, Will is everything she meticulously avoids: a disorderly rebel and rulebreaker who doesn't seem to take even his own future seriously. Stella is everything Will is skeptical of: a high achiever with a wide-eyed enthusiasm despite her hard knocks. In fact, when they first meet, the two are more than happy to keep to their doctor's strict decree of remaining six feet apart at all times to avoid Will giving Stella a dangerous bacteria.

But in a series of events at once funny and stirring, Stella is about to give Will a reason to fight and Will is about to give Stella a jolt of spontaneous freedom. And both will upend the rules as they dare to steal back the space that divides them"even if it's one foot of electrifying emotions at a time.

The creativity-sparking lengths that Stella and Will must go to keep their fire for each other burning" and the questions it raises about all the different ways love can be expressed"instantly hooked both lead actors. Says Sprouse: "I like that the story asks of the audience: what does love have to look like? So much of what we think of as love is about all those physical sensations. It's easy for us to take that for granted; but does love always have to be physical? And can the things we expect from falling in love, like touch and proximity, be replaced with something else?"

Adds Richardson: "The circumstances that Stella and Will face force you to explore the story of two people falling in love in a different way. They can't touch each other, they can't even get close to one another, so it makes the connection they have feel so pure. They are truly attracted to one another on a real and emotional level as opposed to this physical lust that we see a lot in movies.

Both adored how it is Stella's unbreakable spirit and decision to rescue Will from cynicism that drives this risky relationship to places neither saw coming. "What's really cool is that in the beginning Will is a very, very guarded person who is afraid of trying harder because he's afraid of failing and it's Stella who breaks down all his walls. She helps him to take life more seriously because he takes her seriously and suddenly life becomes more exciting than he ever expected," sums up Sprouse.

Five Feet Apart
Release Date: March 28th, 2019


Justin Baldoni's Unexpected, Unconventionally Romantic Idea
The concept for Five Feet Apart came to Justin Baldoni a lot like love hits: as a bolt from the blue. It all goes back to Baldoni's uplifting 2012 series My Last Days, which gave voice to a variety of young people living with tough illnesses while vigorously chasing the same hopes and dreams most take for granted. Moving but full of real-life surprises, My Last Days became the most-watched digital documentary series of all time which in turn led to the CW picking up two more seasons. Baldoni then switched gears, becoming a popular actor, renown for portraying Rafael Solano on the hit show Jane The Virgin. But as an emerging filmmaker, he still had an irresistible attraction to telling the kind of stories he's always wanted to see more of: stories of everyday human courage that often go unseen.

It was while shooting an episode about CF that Baldoni l got to know the late Claire Wineland, an infectiously enthusiastic leader in the CF community. She was the one who told him about the hard facts of love and CF. "One day I asked Claire if she'd ever dated anybody with CF. Claire kind of looked at me like I was stupid. She said, 'of course not' and I said, 'wait, why not?' That's when she explained that people living with CF can't get closer than six feet because they could pass on dangerous bacteria to people with CF. Once she said that, I had so many reactions," he recalls.

Baldoni continues: "I was blown away and immediately started thinking about how incredibly lucky I am to be able to kiss my wife and hug my children. But then I thought: What if CF was the backdrop of a starcrossed love story. Forget about Romeo, Juliet and the Capulets, what greater obstacle could there be for two people as they fall for one another? And what better story for the present day, when there's so much pressure surrounding social relationships? I felt like this story could be a fresh take on the power of love and human connection to overcome anything. But there was also a challenge: could we share a story where the main characters don't physically touch and yet audiences feel as if they were touching the whole time?"

Baldoni found a champion of his idea in Academy Award®-winning producer Cathy Schulman, who brought her own share of insights as the President Emerita of Women in Film and her work on such films as Best Picture winner Crash. "When Cathy came aboard we were off to the races," Baldoni says. "She really has an eye for sincere, character-driven storytelling."

Schulman says she was drawn to the empowered female lead and to the story of two people going after something others say is impossible with everything they've got. "I felt a gripping sense of responsibility to tell this story of young people trying to live very normal lives under very abnormal circumstances," she says.

"It's a new twist on the classic story where love triumphs over a huge barrier, only the barrier between Stella and Will is touch itself. It's space. It's time. It's all these stark realities of life that can't be overcome by anything other than the human heart. It reminds us of the importance of touch in our lives, but also reminds us that touch doesn't have to mean skin to skin."

The two worked closely with screenwriters Mikki Daughtry and Tobias Iaconis to hone an original script so appealing it has gone on to be the basis for a best-selling YA novel of the same name (by Rachel Lippincott).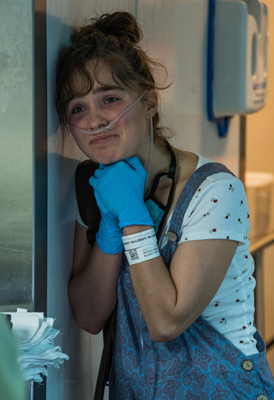 "Mikki and Tobias were were instrumental in taking my idea to the next level. I'm so grateful for how open they were in putting their hearts on the page and breathing life into Stella and Will," says Baldoni. Schulman especially loves how the script captures the way teens connect today"as much through devices as face-to-face. "The kids in our movie are not so much living in the hospital as living on digital screens," she observes. "It's a story that takes place on phones and iPads and computer screens, realistically reflecting all the many ways we now interact."

Meanwhile, Schulman was excited for another reason: she loves watching new directors go all-in on their first projects. "I've worked with over 10 first-time directors," notes Schulman, "and it's incredibly enjoyable because that's often when a director's at their freest. With Justin, he was able to bring his experience as an actor but also the passion that comes from his philanthropic work, from something he really knows and is excited to share with others. You can feel that energy at work."

Baldoni hopes the characters in Five Feet Apart reveal something about how much we share with those living with differences. But he also sees the film as just the story of two people who find a way to re-invent the basics of dating and discover a sense of their own power in the process.

"In this inter-connected world we're often distracted by what's superficial and immediate. I hope Stella and Will inspire audiences to take a breath and see that true love can look many different ways.

Throughout their journey, these special teens give another something we often don't value enough in society: a sense of purpose and being seen for who you are."

Searching For Stella

The crux of the production was clear from the minute Baldoni and Schulman began casting: finding a Stella who could rock Will's world. She had to be candid and quirky enough to be a teen with an expanding YouTube following yet powerful enough to blast Will out of his stubborn loner stance.

"We went through hundreds of auditions to find someone who shines from the inside out, who could show you she's been through a lot in life yet also reveal an inner strength anyone can relate to and admire," recalls Schulman. "But I think Justin always knew Haley Lu Richardson was our Stella."

Rapidly ascending, Richardson came to the fore as Hailee Steinfeld's best friend in the critically acclaimed Edge of Seventeen and also starred in this year's much-admired Support The Girls. Baldoni has been friends with Richardson for years, but remembers suddenly one day he looked at her and it came to him: "That is Stella, someone so full of life like Haley. I got goosebumps when I had that thought. It was that feeling you get sometimes in life where you just know something's right."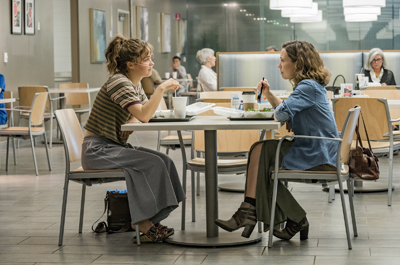 When Richardson read for the role, there was no doubt. "I am so excited to have audiences see all the layers Haley brings to Stella," Baldoni says. "Her incredible spirit disarms you even in the most intense scenes, yet Haley's also very real and approachable."

For Richardson, the script was love-at-first-read. She might have never experienced anything like Stella's physical challenges but she couldn't help but relate to how Stella struggles to tame her perfectionism and neat-freak compulsions from getting in her way. "I love that the hardest thing for Stella is really not CF. Instead, it's all the pressure she puts on herself, the feeling that she has to do right by all the people who love her and therefore has to control everything," observes Richardson.

Her respect for Stella only amped up as Richardson undertook her own research journey into CF, talking with others like Stella about their daily routines, anxieties, dreams and how they live in the moment. "I wanted to know everything," she says. I wanted to know as much as possible. Representing a rare and very real disease like this, you feel a responsibility to do it justice." she says. "I wanted to know all the physical and medical realities, of course, but I wanted to know just as much about how you deal emotionally with this day to day. Meeting people that have lived their whole life with CF and having open and honest conversations with them helped me understand that- and how it affects the person that you become The more I learned, the more I began to understand why Stella craves control, because being so careful and organized has actually kind of saved her up to this point."

There is another factor hiding in Stella's past that has made her extra cautious: the loss of Abby, her only sister, a risk-taking adventurer who thrived on the unknown. "I don't have siblings," Richardson notes, "but I can't imagine anything harder than losing a sister, especially if you're Stella. Abby was Stella's rock. Throughout the story Stella learns to let go of the guilt she has attached to Abby's death so she can move forward, and really live herself."

Stella does no small amount of inspiring of her own. She fully possesses that post-millennial gift for speaking her truth into a camera lens, the kind that can galvanize, which she uses on her YouTube channel so others like her might feel less alone. For Richardson, shooting Stella's vlogs was a highlight. ""I feel like in another life I could have been a YouTuber," she muses. "I had so much fun recording all those vlog things! A lot of the videos you see people making on YouTube are very superficial and blend together in this mind numbing way. But Stella is sharing her experiences and really inspiring people. I think the more open and true to ourselves we are on those types of platforms, the better. '"

Though she's hardly sentimental, Stella is definitely not opposed to falling in love, but she is quite clear in her mind that she is never going to fall for someone like her"what would be the point? Yet, somehow Will sneaks past all her carefully honed defenses. Richardson enjoyed that far from setting off sparks, Stella's first organic reaction to Will is a major eye roll.

"The funny thing is that Stella becomes so set on not giving Will any of her time and energy that she winds up thinking about him constantly," Richardson laughs. "When Stella and Will first meet they couldn't be more opposite" Richardson laughs. "The fact that he doesn't seem to care about his treatments or being responsible really starts to eat her up inside. I think they are attracted to what is deferent about the other person because they know deep down that they can learn from one another."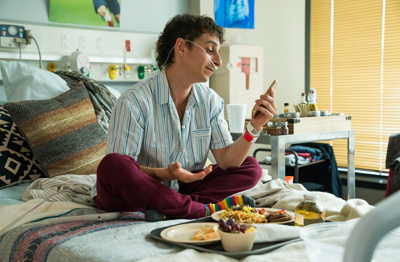 Much to Stella's shock, she's the one who comes up with the audacious, rule-breaking idea of taking back just one of the six feet that is supposed to separate them. "Stella reaches a point where she is determined to find a way to make keeping their distance and being together work," explains Richardson. "She finds a fivefoot-long pool cue and makes it part of their first date. It's her way of accepting that if they have to be apart physically, they can still make a conscious decision to be bold and move forward"

Making the moment when Stella and Will get closer than they have ever before feel visceral and charged was especially important to Richardson. "The huge challenge for me and Cole was to have this unconventional moment feel truly romantic," she says. "I hope you entirely forget where Stella and Will are and just get caught up in all the excitement and newness of falling in love."

Will He Or Won't He?

Searching for the film's Will was no easier a quest. The hunt was on for an actor who could open up a window into a young man dueling with himself internally: who could nail that breezily irreverent wit of a rebel and satirical cartoonist, while harboring the underlying openness and longing that allows Stella to have a chance at saving him from his path of going it alone.

Will is in a category of cystic fibrosis patients no one wants to be in: those who carry the bacteria strain Burkholderia cepacia, or B. cepacia for short. While harmless to most people, B. cepacia can pose serious problems and lessen the chances for a lung transplant. Making matters even trickier, B. cepacia is easily spread by casual contact"hence the rule that patients must stay six feet apart, the distance that germs can easily travel through thin air.

Taking the role is Cole Sprouse, who has drawn a major following for his portrait of the sharp-tongued Jughead Jones on the CW's popular Riverdale based on the characters from the Archie comics. He's also known for working with his twin brother Dylan since the two were toddlers, together starring in the Adam Sandler comedy Big Daddy and in the Disney Channel's The Suite Life of Zack & Cody. But there's a whole other side to Sprouse that also draw the filmmakers: an intelligence and curiosity that led him to take a break from acting to study archeology and photography at NYU.

Says Schulman: "I had known about Cole from his earlier work, but then I saw him again on Riverdale and there is something about him that is so magnetic that I mentioned to Justin that maybe he should take a look at him. And of course, when he got to know him, Justin was blown away. We all believe Cole is an enormous star in the making. He is dynamic, committed and the camera loves him."

Adds Baldoni: "What drew me to was that he's smart, witty, and understands what it means to be an artist. Cole's an amazing photographer and I knew he'd really connect with Will's love of drawing. As Cole and I became closer friends, I kept seeing more and more parallels between him and Will."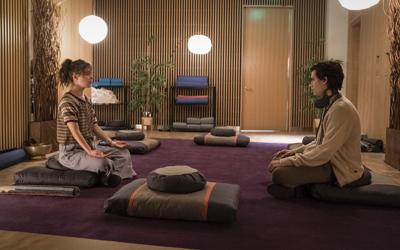 When Sprouse met Richardson, there was no doubt this was going to be a special experience. "The big concern for everyone was if Haley and I were going to be able to conjure that spark between Stella and Will, all while never touching," he says. "But it came so naturally with Haley. She's not only incredibly talented, she embodies all of Stella's charms and we had chemistry from the start."

Says Richardson of Sprouse: "Like Will, Cole is eloquent and deep. It was super easy to connect with him and he's so insightful. He has a way of seeing through you like Will does."

Sprouse, too, poured himself into research"focusing on how young people with CF deal with all the dilemmas raised by dating and desire. "It's incredibly challenging, there's really no other way to put it," he says of what he learned. "It makes you realize how much we all take for granted just in being able to go through the usual complications of falling in love."

He also came to understand why someone like Will might armor himself against hope. "Experiencing failure after failure from a young age is emotionally taxing," observes Sprouse. "Will has become averse to social interaction because he never gets to make lasting friendships anyway. He's just used to things not working out. But that's why Stella really shakes up his view of the world."

While Will is a master at dismissing people, his method simply doesn't work with Stella. "I think what finally gets to Will is that Stella actually bothers to pester him enough to start breaking down his walls," Sprouse laughs. "No one ever pestered him that much before."

It helps that Stella is all over social media, which gives him a way to observe her safely from afar at first. "He's intrigued by the mystery of why she gets under his skin," Sprouse describes. "Luckily, he's able to learn a lot by watching her vlogs. And the more he gets to know her, the more he starts to come to terms with being honest to himself, because he wants to be honest with Stella."

Sprouse could also relate to Will using all the humor and depth he doesn't normally let anyone see in his cartoons and sketches. "I see cartooning as this piece of Will's childhood that he could take with him into every hospital room along his way," says Sprouse. "No matter where he is, he can always shut the door, close the blinds and express how he personally sees the world."

To fully embody Will, Sprouse lost about 30 pounds, working with the film's nutritionist to do so safely. Ultimately, Sprouse came to find the process a revelation. "CF is an illness that makes maintaining weight incredibly difficult. As a result, many patients are quite thin. It was a challenge but it also gave me a deeper insight into Will," Sprouse reflects. " I don't think it's something that should be glorified, but it's something that felt necessary to represent Will authentically."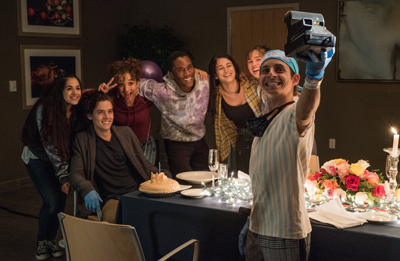 There For Each Other: Stella And Poe

There is one person who has been through it all with Stella: her beyond-trustworthy confidante, Poe. Poe always keeps things witty and light, but he, too, stands at a personal crossroads. A first-generation American about to turn 18, Poe dreams of going after love, fulfillment and the life of a globe-hopping chef, but can't manage to commit to any boyfriend when the very idea of tomorrow is so up in the air. Taking the role is Moises Arias, another childhood star who first came to the fore as Rico on The Hannah Montana Show and has been seen in The Kings of Summer and Ender's Game. The filmmakers immediately saw a match between his naturally funny, high-spirited energy and Poe. "Moises marches to the beat of his own drum," describes Baldoni, "which is why we all love him so much. He's the kind of person who walks into a room and all eyes go to him. He's just 100 percent his authentic self all the time. And that was something that I so wanted for Poe."

Arias sees Five Feet Apart as celebrating friendship as much as romance. He loves that Stella and Poe have already found their own way to be inseparable even while playing by the rules. "The dynamic between Stella and Poe as friends is incredibly unique," he says. "They've shared the most difficult times in their lives and they can talk about absolutely anything with each other and yet they can't even sit next to each other! The way they overcome that without it being a big deal is beautiful. I think Stella and Poe prove how close you can get just by sticking together."

He also felt a strong affinity for Poe's unbreakably bright-side-of-life outlook. "Poe is just an eccentric, happy guy," he observes. "He embraces all life's challenges and always looks for the good in people. He puts everything into his friendships, his love for cooking, his love for boys, his love of life. I think that a lot of people will relate to Poe or know someone a lot like him."

Arias could also understand why Poe doesn't let any of his boyfriends get as close as Stella. "It's his way of defending himself emotionally as well as trying to protect the people he loves," he explains. "He knows in any long-term relationship there would be hard times and something could happen to him. I think that's why he devotes himself to just being as happy as he can in the moment."

Caretakers And Rule Enforcers

Surrounding Stella, Will and Poe are people fighting to do the best for them"even if that sometimes means coming between them and some of their most fun ideas. Playing Barb, the respiratory therapist who administers the six-foot-rule with an iron fist, is Kimberly Hébert Gregory, known for such recent television work as Better Call Saul and HBO's Vice Principals. Gregory found the modern bite of the writing set the film apart.

"I like that it's a love story that has a touch of surreal magic to it"yet it doesn't feel sentimental or precious," she says. "It feels real and human to me."


But Barb is not so thrilled seeing Stella begin to fall for Will. "Barb likes Will, but she is concerned about where things are going because she has seen kids like them falling in love lead to trouble before," Gregory explains. Stella's life-long physician, Dr. Hamid, is also a major uplifting presence in their lives. Taking the role is Parminder Nagra, known for the hit comedy Bend It Like Beckham as well as roles in ER and Blacklist. Says Nagra, "What I like about Dr. Hamid is that she has a lot of optimism and she's all in for her patients." The doctor's admiration for Stella, who she has watched grow into an advocate for others, came easily to Nagra. "Haley is such a funny, generous person with such infectious energy, it was easy for me to see how a doctor might become close with Stella over the years."

Another long-time friend of Stella's is Julie, a nurse who is now expecting. Justin Baldoni's wife Emily, seen in the sci-fi thriller Coherence, takes the role. Watching the film grow from Justin's tiny seed of an idea into a living, breathing reality, Emily Baldoni thought a lot about what it would be like to be deprived of touching the person you most need to touch. "I so strongly remember that amazing moment when my daughter touched me for the first time," she reflects. "It was like an immediate download of all that touch really means to us. It was electric. It was magic. So I found it a remarkable thing to see how two people try to create that same feeling while five feet apart. That is a beautiful gesture of love."

Rounding out the cast and providing a parent's perspective are Claire Forlani as Cole's mother, Meredith, and Gary Weeks and Cynthia Evans as Stella's parents.

Hallways & Lobbies Become A Wonderland: The Design

Five Feet Apart might unfold mainly in a hospital, but the idea was to turn anything you might expect from that setting upside down. For Baldoni, the key to the design was to immerse audiences in the way Stella and Will experience this moment that is so heightened for them"from their POV, they are moving through a light-filled, dream-like wonderland.

Says Baldoni: "One thing I learned through my friends with chronic illnesses is that for them, a hospital is often a happy place. It's where they go to feel good again. So I wanted the hospital where Stella and Will meet to be like a character in the film: to be fun, likeable and a place we really care about. I approached it more like a high school because this is where Stella and Will hang out. It's just that they visit the newborns in the NICU to get away when they need to take a break."

It's also a place where Stella, Will and Poe have forged short-cuts and secrets, like teens would in any neighborhood. Says Cathy Schulman: "They get the lay of the land and know every trick for getting things done. They know when they can skateboard down the hallways, how to get into the pool when it's closed, or how to make their way into the kitchen to cook up something special."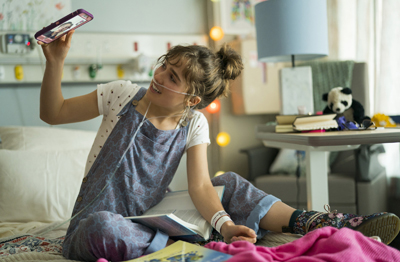 To create a subtly enchanted universe in a place few would expect it, the filmmakers recruited a team led by director of photography Frankie G. De Marco (All Is Lost) and production designer Anthony T. Fanning, an Emmy® award-winner for his work creating the Washington D.C. of The West Wing.

"Frank and I really wracked our brains to figure out every little thing we could to increase the romantic feeling," says Baldoni. "One thing we thought a lot about is that Stella and Will fall in love with each other through their imperfections. Their flaws are what make them so beautiful to each other. So taking that as a cue, we went for a more imperfect look visually, with more grain and more natural lighting, so you feel that you're inside this slightly messy, but still amazing world with them."

Fanning has worked on projects ranging from War of the Worlds, Amistad and Spider Man to television's acclaimed Better Call Saul. But what he saw in Five Feet Apart was a chance to break the mold. "At first I wasn't sure I wanted to do a film set in a hospital. But what got me hooked," he explains, "was realising the design of the film could take you on this beautiful journey with the characters that is all about their connection."

Baldoni always envisioned a wintry atmosphere for the story, setting it during those days full of promise between Thanksgiving and Christmas, though it was actually shot in the hothouse ambience of a New Orleans summer. "It was a challenge shooting in 110-degree days but I understood why Justin felt it should be winter," says Fanning. "There's so much beauty to the season, and it's harder to breathe in the cold, which adds to the risk of going to see the Christmas lights."

In New Orleans, the filmmakers found a brand new VA facility that would become the primary set, replete with the needed indoor swimming pool, which becomes as romantic an idyll as a tropical beach for Stella and Will. "The VA gave us a great foundation because it has the feeling of a pristine, modern hospital but it's more stylish," says Fanning, "and then we brought in even more color."

The rooms of Stella, Will and Poe were each individually crafted to reflect their obsessions and tastes, like any teen bedroom. "It's almost like a dorm situation," notes Fanning. "In Stella's room, you see things that reflect her dreams and her family. Will of course refuses to put any effort into his decor. And Poe's room is full of Poe's passions for fashion, sports, skateboarding and cooking."

A favorite sequence for many is the seductive "treasure hunt" Stella creates for Will, guiding him through the hospital via hidden messages. Fanning also loved creating the luminous balloon sculpture in the hospital atrium. "My inspiration was an art installation I saw in a European train station that used large-scale balloons to basically create a kind of light-shifting cloud. I thought it could be a great but realistic way to evoke that feeling of lightness that overtakes Stella and Will."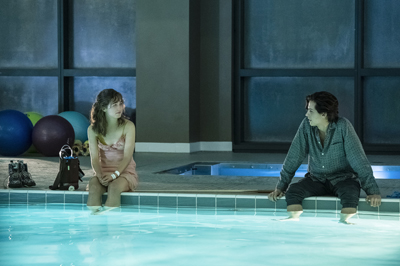 The Art Of The Matter

Sparks of friction might fly from their first encounter, but Stella and Will soon discover they share in common something more than CF: a love of art, which is what leads to Stella's deal to let Will sketch her. Stella's sister Abby was, like Will, also a gifted artist, and Stella has plastered her walls with Abby's transporting pieces, which work a kind of magic on her whenever she's in search of peace. Baldoni knew he wanted the joy in both Will and Abby's artworks to be woven through the film's fabric. To create Abby's art, the filmmakers utilized the talents of Grace Kelsey, daughter of the film's set designer, Dave Kelsey. "In the works that Grace created for Abby you see the longing to reach out for the stars, which becomes a strong theme in the movie," says Fanning.

For Will's sketches, the filmmakers recruited a local New Orleans cartoonist, Caesar Meadows, known for his comic strips Mumbeaux Gumbo and Qomix. Says Baldoni: "I wanted it to be clear that Will's drawing is more than a hobby and if he wanted to make a career out of it, he could. Caesar brought that level of skill and was also just the sweetest guy possible. He got along great with Cole."

Adds Fanning, "Caesar's sketches feel original and authentic to Will's persona and then Dave Kelsey stepped in to do the serious sketches that Will does of Stella. They were a great combination." Meadows found Will a compelling character and loved tapping into his "edgy, cynical" side on paper.

"Of course I love that he uses comics as his means of expression," says Meadows. "What I also love is that Will's drawing breaks the ice, because when Stella sees this exaggerated version of her that Will created, it makes her laugh and that's when they start to let down their guards."

Baldoni says Dave Kelsey's sketches then show Will at his most exposed. "You can see that Will's secret sketches are the drawings from his heart, the things he has kept inside because it would have been too much of his soul to show," says the director. "And that profoundly impacts Stella."

As editor Angela M. Catanzaro (The Foreigner) worked with Baldoni to carve the final shape of the film, another vital layer was added via award-winning composer Brian Tyler's score. Tyler is generally considered a go-to guy for action blockbuster scores, with such credits as Iron Man 3 and Avengers: Age Of Ultron, but this was a chance to head into fresh territory.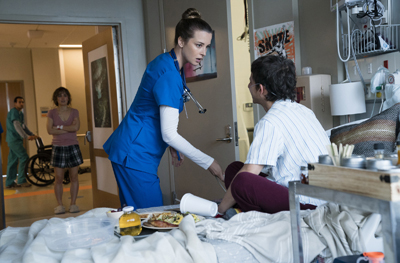 "I loved Brian's recent score for Crazy Rich Asians and he's never done a score like this, so I took a chance that he might be interested," Baldoni explains. "I actually messaged him on Instagram and that's how Brian came to our movie. I knew he usually did big films, but I told him we're a little film with lots of heart. Then I screened the movie for him, and he had a visceral reaction"he just took off creatively. The score he wrote weaves together elements you'd never expect would work together and it brings so much pace and emotion to the film. He truly brought all his heart and soul to it."

That was the common denominator throughout Five Feet Apart, each person bringing their passion and skill to each element of the film. "That's what I most wanted," says Baldoni of his debut. "I just wanted everyone involved, from the actors to the crew, to bring their souls and that's what made the whole experience something special. It was all of us expressing our sense of gratitude."

Gratitude might be the last thing most people think about when they're going through the allconsuming fever of first love. But that's also part of what sets Five Feet Apart as a modern love story. "I believe gratitude leads directly to happiness," says Baldoni. "Maybe you're reminded watching Stella and Will that if you have the amazing chance to touch or kiss the person you love, you should thank your lucky stars."

A Quick Intro To Life With CF

Cystic fibrosis (or "CF") is a life-threatening genetic disease that makes the body produce thick, sticky mucus in the lungs, pancreas, and other organs. This mucus makes it very difficult for people with CF to breathe and leads to life-threatening infections and other complications. Approximately 30,000 people in the U.S., and 70,000 people worldwide, have CF.

In the 1950s, children with CF rarely lived long enough to attend elementary school. Today, due to advances in treatments and care, most people with CF are living to adulthood and reaching milestones that were previously impossible – like graduating from college, starting families, and beginning careers. With research and promising new therapies advancing, there is more hope than ever before. Despite this progress, many people with CF still die far too young and struggle with significant physical, emotional, and financial burdens.

"A disease like cystic fibrosis can have a kind of power over you, so that's part of why we really wanted to see Stella reclaim her power by deciding to date Will," says Baldoni.

Growing up with CF means that on top of trying to figure out school, friendships, and your own identity you also must stay on top of a time-consuming, complex daily care routine. Daily life with CF typically means hours of airway clearance therapy (like the chest-vibrating vests seen in the film), caloric maintenance (which requires fistfuls of pills to aid in digestion, and may involve a G-tube (feeding tube, which both Stella and Will have), and other medications to prevent or fight infections. People who have advanced CF may consider a lung transplant and be put on a waiting list for new lungs, like Stella. Some people with CF are also eligible for newer medications that help correct the underlying cause of CF, and may participate in clinical trials such as the one Will is trying.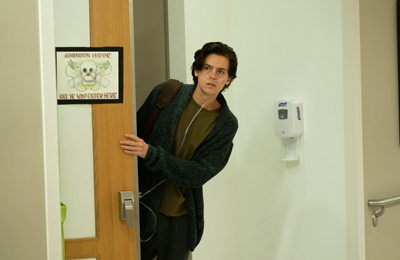 Lung transplants don't cure CF (it continues to affect the sinuses, pancreas and intestines; and newly transplanted lungs remain vulnerable to infections), but they can enhance and extend life for people who have end-stage lung disease. Lung transplant is a complex procedure that requires a lot of planning, preparation, and discipline, and people with CF carefully weigh the risks and benefits when considering a transplant. Approximately 250 people with CF receive a transplant each year.

It's very unusual for cystic fibrosis patients to be seen in books or movies"let alone a love story"so Baldoni felt an extra responsibility to tell this story honestly, yet also to spotlight how much upbeat news there is on the horizon. Michael Boyle, M.D., has treated people with CF for more than 20 years. Today he is a senior vice president at the Cystic Fibrosis Foundation (an organization dedicated to curing cystic fibrosis and to providing all people with the disease the opportunity to lead full lives) and has reflected on what that visibility means for people with CF.

"Five Feet Apart has started a national dialogue about cystic fibrosis, which is a real opportunity for people with CF to have honest conversations about what it's like to live with this disease. One thing that's hard for many people with CF is they often look healthy, but must spend hours each day managing complex treatments and sometimes can experience sudden, severe symptoms. While every person with CF is unique, the movie is a window into the challenges that people with CF face every day and highlights the emotional toll that CF and other chronic diseases can have – particularly for young adults and their friends and families."

He added, "I hope that everyone who sees the film comes away with an understanding that, while this disease is extremely difficult to live with, people with CF are fighters who are not defined by their illness. Thanks to the progress we have made in research and care, more and more people with CF are living full lives, and we have never had more hope for the future. We are committed to advancing new treatments – and someday, a cure – so that every person with CF can live a life free of illness."

Five Feet Apart
Release Date: March 28th, 2019