The Exciting Tale Of The Charming Street Rat Aladdin
Cast: Will Smith, Billy Magnussen, Naomi Scott, Marwan Kenzari, Navid Negahban, Mena Massoud, Nasim Pedrad
Director: Guy Ritchie
Genre: Adventure, Family
Rated: PG
Running Time: 128 minutes

Synopsis: Disney's "Aladdin" is a thrilling and vibrant live-action adaptation of the studio's animated classic, which is the exciting tale of charming street rat Aladdin, the courageous and self-determined Princess Jasmine and the Genie who may be the key to their future.

Aladdin
Release Date: May 23rd, 2019


The Magical Story
The streets of Agrabah are home to Aladdin (Mena Massoud), a lovable street rat who is eager to leave his life of petty thievery behind, believing he is destined for greater things. Across town, the Sultan's daughter, Princess Jasmine (Naomi Scott), harbors dreams of her own. She longs to experience life beyond the palace walls and use her title to better serve the people of Agrabah, but her father is overprotective and her handmaiden, Dalia (Nasim Pedrad), keeps close tabs on her. The Sultan (Navid Negahban) is preoccupied with finding a suitable husband for his daughter, while Jafar (Marwan Kenzari), his loyal and trusted advisor and a powerful sorcerer, is frustrated with the Sultan's passive stance on Agrabah's future and is devising a plan to assume the throne himself.

Aladdin comes to Jasmine's rescue when she visits the marketplace disguised as a commoner and is immediately struck by her beauty and fiery spirit, having no idea as to her true identity. Following her back to the palace, he gets caught up in Jafar's evil scheme and comes into possession of a magic oil lamp intended for Jafar and accidentally conjures up the Genie (Will Smith) inside. A colorful and larger-than-life presence, the Genie grants Aladdin's wish to become someone worthy of Jasmine's love and the Sultan's respect: Prince Ali. As Aladdin and the Genie become friends, Jasmine too, succumbs to his charms, and together they embark on a dangerous and exciting adventure that will test their faith in themselves and their love for one another.

A Whole New World

Producer Jonathan Eirich has loved Disney's animated classic "Aladdin" since he was a child, and over the years has entertained the idea of bringing it to life as a live-action movie on the big screen. Eirich shared the idea with Dan Lin, the founder and CEO of Rideback, the production company where Eirich serves as president, who agreed there was a unique opportunity to update the original 1992 film.

"It's a great love story, but it's also a great friendship movie and a great buddy movie," says Lin. "So on one hand you have a classic romance between Aladdin and Jasmine, and then you have this growing friendship between Genie and Aladdin."

Loosely based on a Middle Eastern folktale from "One Thousand and One Arabian Nights," "Aladdin" is a timeless story, and, as luck would have it, was one Disney was looking to revive as well. The year was 2015, and, while there was obviously much to discuss in terms of how to reinvent the Oscar®-winning box-office hit, the question they kept coming back to was, why? "It is so beautifully structured and the music is so incredible that we realized there isn't anything we would ever want to fundamentally change here," says Eirich. "The challenge then became, how do we make it as fresh as possible to ensure we are still giving audiences something new, while delivering on what they love?"

"Aladdin" is an everyman's story with a classic narrative and universal themes that appeal to multiple age groups and demographics, and as producers they were sensitive to keeping one foot in the past, in the familiar, and the other foot in the future and the unfamiliar.

Lin and Eirich envisioned the film as a big event film but also knew that it needed to have positive portrayals of Middle Eastern culture grounded in an authentic Arab context. "We had this amazing blueprint in the 1992 film that we already knew worked," says Lin, whose credits as a producer include "The Lego Movie" and "Sherlock Holmes." "We just needed to find ways to further enhance and contemporize it."

The next several months were spent refining the narrative and determining what it was about this particular story that would bring audiences back into theaters, and John August ("Dark Shadows," "Big Fish") soon delivered a screenplay that was a more modern retelling of the story. When Guy Ritchie added his signature touch to the script and signed on to direct, things began to fall into place.

The director behind such films as "Sherlock Holmes" and "Lock, Stock and Two Smoking Barrels" has a singular filmmaking style and a flair for fast-paced, gritty, visceral action, which was just what the film needed. He knew instinctively how to bring the character of Aladdin to life. Many of his films feature various incarnations of street culture and street hustlers, and the character of Aladdin is, at his essence, a thief struggling to survive.

"I saw this as a sort of clash between two worlds. It's a story about a street kid dealing with his insecurities in a Disney environment. The Disney environment gave me a new space in which to discover and experience a world familiar to me that I already feel confident in," says Ritchie. "I like embarking on new, creative challenges, and this certainly was one."

While "Aladdin" is one of the definitive tales about a hustler who ultimately makes good, it is also a full-fledged musical, something Ritchie found appealing. "I was interested in doing a musical," he says. "I've got five kids, so that does influence the decisions that you make, and my house was all about Disney at the time."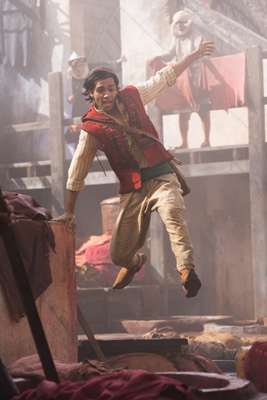 Assembling the Cast

One of the biggest challenges for the studio and the film"but a huge opportunity as well"was the casting process. They wanted to see fresh faces in the roles of Aladdin and Jasmine, faces that represent the diversity of the Middle East and the greater region, and launched a massive casting search in 2016 to find them. Over the next 12 months they saw 2,000 actors from London to Egypt to Abu Dhabi to India. (The film turned out to be the most diversely cast Disney film in history.) "We really wanted to find people who were culturally true to the part, either someone of Arab descent or from the Middle East and the surrounding region," explains producer Jonathan Eirich.

For Aladdin, they were looking for someone charming and self-deprecating who audiences could root for and who could sing and dance and execute the substantial amount of stunt work the role required. Mena Massoud was cast in the title role and received the call informing him of the good news on the set of "Tom Clancy's Jack Ryan," just three weeks before principal photography was scheduled to begin.

The Egyptian-born actor raised in Toronto was drawn to the role for a number of reasons. "Guy wanted to shoot the film in a very real, gritty, fantastical kind of way while still focusing on the friendships and growth of the main characters," says Massoud. "Guy has a very specific vision in his head of what he wants to do and how he wants to get to it, but he lets the actors play with it as well. I really appreciated the fact that he trusted us to bring his vision to life, which is such an amazing responsibility to be given."

Aladdin's journey of self-discovery is the backbone of the story. As someone who lost his parents at an early age and has been on his own for most of his life, Aladdin wants to find his place in the world. "He has big aspirations," says Massoud. "He sees a future for himself that's greater than what's been set out for him at the present moment. He doesn't know exactly what it is or how he's going to get there, but he knows it is out there."

"The thing that's so universal and endearing about Aladdin is that he's a good-hearted person who can't help but look to others for validation. He chooses to become a prince but still feels that he will never be good enough," says Eirich. "Even though he has this amazing connection with Jasmine early on just by being himself, and even though we see him as funny and charming and capable of anything, what's so relatable is that he just doesn't realise it yet."

Massoud participated in physical training, vocal lessons, juggling lessons, dance training and dive training while the film was shooting, but the filmmakers were careful to not make Aladdin appear too slick or polished. "If every jump he makes is perfect, you stop liking the guy because all of a sudden he's a little too perfect for who we think a street rat should be," says Ritchie. "You need a few stumbles to make the audience feel like, 'Okay, this guy is one of us.'"

"Aladdin is a good soul," adds Massoud. "He's very selfless and usually does things for other people, but as he falls in love he loses himself a little bit and starts to become someone that he's not. But he's a good person with good intentions and has good people surrounding him who lead him back to where he's supposed to be."

With Jasmine, the Sultan's beautiful and headstrong daughter, the filmmakers were hoping to create a more contemporary interpretation of who a modern princess could be and give her layers to help better establish who she is and what she wants from life…and there was a multitude of talented actresses eager to be considered for the role.

According to Guy Ritchie, "All the girls we saw had magnificent voices, they all looked spectacular, they had tremendous charisma and they were all wonderful actresses…all the prerequisites an audience and a director could desire. But there was something about Naomi Scott and her enthusiasm and her boundless generosity of spirit."

Naomi Scott ("Power Rangers"), a singer/actress of South Asian descent who grew up in London, has always related to Jasmine and was thrilled to have the chance to bring the princess to life on screen. Many different cultures saw themselves represented in the animated film, which is something the studio wanted to embrace. It was common for arranged marriages to take place between countries as a way of forming alliances, and in the film, Jasmine's deceased mother comes from the South Asian kingdom of Shehrabad so Jasmine is half South Asian and half Arab (and her mother's influence is visible in her clothing, which is inspired by South Asian design).

Scott saw the princess as someone who yearns to lead the people of Agrabah and has an opinion and a perspective on how that should be done. "I see Jasmine as resilient and independent. She's a leader who wants to feel connected to the people of her kingdom and do right by them," says Scott. "She's not just fighting for her own choices, she's fighting for the choices of others and she's fighting to make other peoples' lives better. She's more ambitious and is looking out for the kingdom as a whole and for everyone's well-being."

"Naomi is perfect as a more contemporary princess," says producer Dan Lin. "She's a very modern thinker who has strong opinions about some things but manages to balance that with a natural, warm demeanor and great sense of humor."

Lin continues, "Jasmine wants to be her own person and she wants to be independent, and we all loved the idea of a strong, female character who knows what she wants, but at the same time is completely selfless because she is there to look out for the people of Agrabah."

Jasmine and Aladdin come from two different worlds. She spends all her time in a magnificent palace and Aladdin gets a chance to show her a world she's never seen before. And like Aladdin, Jasmine can't escape the life she was born into, and both are stuck in situations where they cannot be themselves. "The Sultan is over-protective and wants to keep her in the palace and separated from everyone," Scott explains. "Jasmine wants to know what goes on in her kingdom and reconcile the distance that has been created, and Aladdin gives her the courage to do just that."

Finding the right actor to play the Genie, the shape-shifting blue entity confined to an oil lamp, was crucial, and the bar had been set high with Robin Williams. The first real celebrity performance of an animated character, and possibly one of the best ever, Williams' work was universally acclaimed, but the filmmakers were not looking to recreate his iconic performance. It was the energy of the performance that needed to be different, but who could bring an energy that would feel akin to the spirit of the original yet be distinctly his own?

They needed an actor with tremendous range…someone who could play funny and dramatic, who could be emotional, who could sing and entertain…someone like Will Smith, who it turns out was interested. The actor, producer, comedian and rapper with credits that include "Ali," "Men in Black" and "Independence Day" – and who has been nominated for five Golden Globe® Awards and two Oscars®, along with winning four GRAMMY® Awards – liked the idea of reinventing the character and making it his own. But it wasn't until he met with Guy Ritchie that the prospect became real.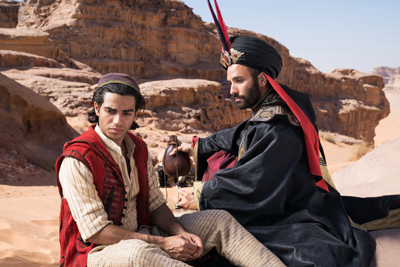 "Once we sat down and he explained that he wanted to make the story more authentic and put it in more of a realistic space and bring in occasional pop culture references, I was in," says Smith. "Guy's style is somewhere between action and music, and he wanted to concentrate on aspects of the characters that were different from what you would expect in a Disney film and were unique, clever and fun."

"Will is a tremendously generous artist in every sense," says Ritchie. "A lot of my job was encouraging Will to just be Will, but he was also very open to new ideas. We would riff on different ideas and found a rhythm between us where it quickly became apparent which ideas were going to float and which ones would sink."

They both shared the same vision for the Genie character. "The Genie is both a trickster and a mentor, and he is trying to guide Aladdin to the truth of the greatness that's already within him," says Smith, "and I love that idea…to be yourself. For me at this point in my life, I love playing a character that is trying to help a young boy become a man."

Smith continues, "Robin Williams did an absolutely brilliant job on the film, and it's such a memorable performance, and for me, when I'm looking at a role"especially one that has nostalgic value to it"I ask myself, 'Is there any meat left on the bone? What is it that I could add to the role?' One of the major aspects was going from animation to live action and the idea of being able to pay homage to the original character and to honor Robin, while at the same time giving a new voice to modernize the Genie…there was the potential to create something that did both of those things."

"This was the first project since 'The Fresh Prince of Bel-Air' that has used so many of the things that I like to do," says Smith. "In this film I get to sing and dance and rap and perform and do comedy and drama, so it was a great opportunity to use myself fully as an artist."

While working for Aladdin, the Genie begins to care for him. Serving as his conscience more or less, he encourages Aladdin to be himself and convinces him that wealth and a title are not necessary in love.

"The repartee between the Genie and Aladdin showcases Smith at his finest, moving at the same velocity and equally as entertaining," says Eirich.

To help give the newly emboldened Jasmine more dimension, the screenwriters created a new character, Dalia. A second female lead with her own story arc and personality, Dalia is the princess's handmaiden, who has a strong and supportive relationship with Jasmine and is the girlfriend she confides in. Through their conversations, the audience is given an insight into what the princess is really thinking.

Funny, sassy and carefree by nature, Dalia is played by Iranian American actress Nasim Pedrad, best known for her five-season run on "Saturday Night Live." Pedrad was a big fan of the animated film growing up, and says, "There weren't many portrayals of Middle Eastern culture in Hollywood at the time, so to see that as an Iranian American girl and identify with it was hugely impactful."

"Jasmine is strong, and in the face of tradition can be a bit of a rebel, so Dalia is always trying to keep her out of trouble," says Pedrad. "She's been by Jasmine's side for years and really looks out for her. I have a younger sister who I'm very close with, and it reminded me a lot of that dynamic."

In addition to giving the princess more depth, the character of Dalia also enhances the Genie's character. Smith explains, "This was a nice, delicate addition to the story that more humanized the Genie, and there's a beautiful comedic naiveté in Nasim's performance…it will be fun to see how audiences react to it."

Dutch Tunisian actor Marwan Kenzari ("Murder on the Orient Express") is Jafar, the Sultan's loyal and trusted advisor and a cunning and powerful sorcerer who wields a snake-head scepter with mysterious powers. "We created a back story for Jafar to give the audience a glimpse of the person he was before he came to the palace," says Eirich, "and it turns out he is, like Aladdin, an orphan, who rose up off the streets and worked his way up to become second in command to the Sultan."

As a result, Jafar is now a villain the audience can better identify with. "Marwan really grounded the character," says Lin. "Now you understand why he's so bad, and I think that's what makes him such a good villain. He's been the Sultan's Number Two for a long time, and it's really wearing thin on him. And Jafar just wants the power…and he's not patient."

Navid Negahban ("Legion") is the Sultan, the ruler of the kingdom of Agrabah in search of a husband for his daughter. A wise and respected leader, he is also a loving and devoted father, but the two roles are often in conflict with one another. Billy Magnussen ("Maniac") is Prince Anders, the handsome and arrogant but bumbling and dim-witted suitor from Skånland who hopes to wed the princess. Turkish-German actor Numan Acar ("Homeland") plays Hakim, Jafar's right-hand man, who oversees the palace guards.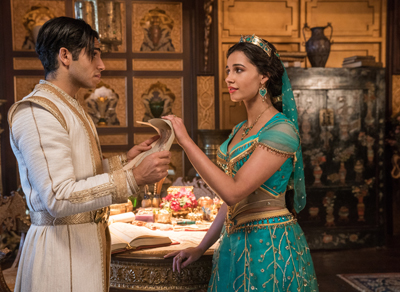 Ritchie's humor and easygoing attitude made for a fun and productive atmosphere when filming. "Guy leads a relaxed set and lets everyone have creative input; in fact, he encourages it," says Eirich. "He listens to the actors to get their take on the character's point of view, and as a result everyone has a sense of joy in what they do, which comes across on screen."

"Guy brings a tremendous kinetic energy to everything" adds Lin. "He has a twinkle in his eye and a little bit of mischief about him. He's not afraid to be bold and to try new ways of doing things."

The cast and crew were equally effusive in their praise for the director. "As actors, we felt really supported, and with the confidence of everyone involved with the project we felt comfortable to take chances and experiment," says Smith. "So it was a spectacular experience."

Agrabah: A City of Beauty and Enchantment

Principal photography on "Aladdin" took place August 2017 through January 2018 on practical stages at Longcross Studios and Arborfield Studios in the U.K. and on location in Jordan. The talented creative team supporting director Guy Ritchie was comprised of: director of photography Alan Stewart, production designer Gemma Jackson, editor James Herbert, costume designer Michael Wilkinson, choreographer Jamal Sims and visual effects supervisor Chas Jarrett.

"Aladdin" is set in Arabia and the fictitious port city of Agrabah, a trading city on the Silk Road, which is the trade crossroads between the East and the West. The responsibility of bringing Agrabah to life lay in the hands of production designer Gemma Jackson ("Finding Neverland"), whose Emmy® Award winning work on "Game of Thrones" is visually similar to what the filmmakers wanted for the bustling city.

They envisioned Agrabah as a multicultural gateway to the Eastern world that is international in its feel and scope, and heavily influenced by Arabia and Arab culture. "We made a decision early on to root this world in some expression of Middle Eastern culture that, simultaneously, had elements of a contemporary multi-cultural universe," says Ritchie. "The challenge was getting the balance right so it felt authentic."

Jackson has always been fascinated by the Middle East and Persia and set out to infuse Agrabah with a vibrant array of colors, cultures and sounds. Drawing inspiration from Moroccan, Persian and Turkish architecture, her designs incorporated elements of Arab culture and the general region in a beautiful and exciting way.

The massive Agrabah set was built at Longcross Studios on a tarmac the size of two football fields in just 15 weeks. Everything about the layout – from the Marrakesh pink walls, the courtyard and market stalls to the narrow alleys and cluttered rooftops – was designed to accommodate filming of the musical numbers "One Jump Ahead" and "Prince Ali." Says Lin, "There was a logic behind every single building placement, the direction each street turned and the way each house was oriented because of the intricately designed musical numbers and action scenes."

Eirich agrees, and adds, "When you walked around that set you could bask in the textures and the colors and experience all the different types of people and languages and animals…it was just a magical world."

Set decoration for Agrabah included a multitude of fabrics, textiles, colorful woods, metals, fruits, vegetables and a 1,000-year-old olive tree. "There was an entire marketplace, a bazaar, someone making Turkish Delights, someone selling lamps and someone making scarves…it was insane," says Mena Massoud.

The Agrabah set was also used as the main parade ground in front of the gates to the Sultan's palace, where the musical number "Prince Ali" is set. The sequence is a lavish, carnival-infused, circus-like parade for Prince Ali when he arrives at the palace. He makes his entrance on a 30-foot high camel made of 37,000 flower heads, which took 15 model makers three weeks to build.

The biggest production number in the film, featuring 250 dancers and 200 extras, "Prince Ali" was shot over five days, with director of photography Alan Stewart ("Sherlock Holmes") and team using seven cameras to capture all the action.

For the "One Jump Ahead" sequence, which also takes place on the streets of Agrabah, Stewart attached a GoPro camera to Mena Massoud's waist to capture footage from Aladdin's POV as he runs and jumps through the narrow alleys and rooftops.

The sequence was shot in both slow and fast motion to make the action feel new and fresh. "There is no real time within it," Ritchie explains. "We shot some of it at 36 frames [slow motion] and some at 18 frames [fast motion], then Mena had to sing in sync with the playback, which made it look like it's in slow motion and vice versa." A film is normally shot at 24 frames.

The Sultan's colossal palace is located on the outskirts of town and it was important to Jackson that there be a stark contrast between it and Agrabah. To help illuminate the two different worlds, she created a color and texture palette for each setting. "I didn't want to get stuck with some statutory castle," Jackson says, "and because I was given the opportunity to reinvent this world as it were, it is extremely opulent and represents the wonders of the East."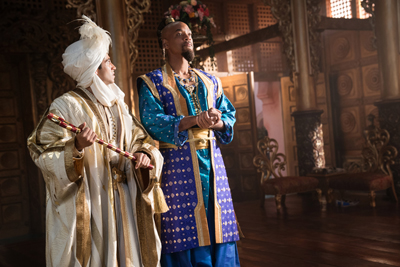 The palace interiors, including the massive Great Hall and the sumptuous throne room, feature magnificent marble floors, beautiful archways, ornate wooden carvings and massive tapestries. Actual fabrics, doors and tiles accumulated from Jackson's scouting are visible throughout the palace as set decoration.

Jasmine's feminine yet scholarly enclave and bedroom were designed to exemplify the intelligence and strength of her character and were dressed with books, maps, lavish tapestries and pieces of art. The bed was doubled in size, as it needed to accommodate both the princess and her tiger, Rajah. The bedspread was hand-embroidered in Pakistan to honor Jasmine's late mother's kingdom of Shehrabad, which is based in South Asia.

The Costumes: A Stunning Array of Fabrics, Textures and Colors

Oscar®-nominated costume designer Michael Wilkinson ("American Hustle") sat down with the filmmakers and studio early on in pre-production to review the wardrobe themes for each of the principal characters. It was important to everyone involved behind the scenes that the clothing be authentic to the characters' ethnicity and the geographical area they come from. To colorfully saturate the world they were creating on screen, Wilkinson scouted locations in Africa, the Middle East, Turkey and Pakistan in search of beautifully colored and richly woven fabrics and textiles.

While the majority of women in Agrabah dress in traditional Arab fashion (big, bold prints and Arabesque floral motifs), Jasmine's wardrobe was South Asian inspired (silks, paisley prints, beads and embroidery) to honor her late mother, who came from the neighboring kingdom of Shehrabad. Naomi Scott is South Asian herself, and the connection between the character and her own cultural heritage is something Scott feels very strongly about.

Wilkinson designed nine outfits for the princess, all of which incorporate fantastically strong colors to signify her strong personality and passion for life. "She has as many beautiful outfits as she needs, but all she really wants to do is go out and see the people," explains Naomi Scott. "It's a great juxtaposition having her restricted in these very opulent gowns, because that's not really what she wants and that's not really who she is. She has her duties and things she must do because she's a princess, but when she's out in the market or with Aladdin she prefers wearing trousers or harem pants."

Some of her most eye-catching ensembles include a formal orange dress with an embroidered veil and sheer sleeves, which she wears to greet Prince Ali at the palace. "It is more South Asian in style, but you can see influences of Arabic culture like the high-waistcoat bodice and the jewelry," says Wilkinson.

When introduced to Prince Anders in the palace, Jasmine wears a sleeveless magenta gown with turquoise accents and a 10-foot train, which suggests the formality of the environment. Highly decorative with lavish coin trimming and beautiful jewels that sparkle, the skirt, which is split in the front, is worn over turquoise silk trousers to give it a slightly modern feel.

The turquoise two-piece outfit Jasmine wears when she dances with Aladdin as Prince Ali at the Harvest Festival is hand-embroidered and embellished with crystals, gold trim and colored stones. "It has wonderfully, huge, flowing turquoise harem trousers with a peacock feather and refers directly to her costume from the animated film," says Wilkinson.

Designing looks for the Genie character was a different kind of creative challenge for Wilkinson. He is a CG-rendered being for part of the film, so while he wanted to honor Will Smith by creating a wardrobe akin to his personality, it also needed to be somewhat recognisable to audiences. "Will was so fun to work with; he's so bold and can pull off anything," says Wilkinson. "We decided his character would be quite mercurial, so every time you see him he is making tweaks and adjustments to his outfit."

Wilkinson played around with a number of different styles before deciding to create his own, which he crafted by layering hundreds of meters of beautiful, strong, blue fabrics. His hats become the character's signature look, and blue his signature color.

"Prince Ali" was an enormous undertaking for Wilkinson and his department, due to the sheer size and scope of the staging and the number of actors and extras involved. More than 200 costumes were created from scratch specifically for these scenes, and each individual had their own unique look that encompassed wardrobe, hair and make-up.

Like the film's production design, there is a marked contrast between the two very different worlds: the clothing worn by the people of Agrabah and the world of the royal family and its luxurious life in the palace, something the costume designer had fun playing with.

The transformation Aladdin undergoes was equally fun to create. "We get to see his amazing transformation from a lowly, street kid to a majestic prince," says Wilkinson. "We played around with different silhouettes and decided that his costumes as Prince Ali should slightly overwhelm him."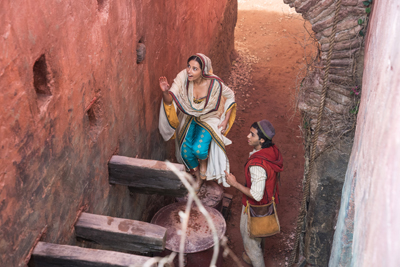 The Breathtaking Landscape of Jordan

The production moved to the Hashemite Kingdom of Jordan in late November, filming on the stunning desert vistas of Wadi Rum and Wadi Disi. "It's always great to film on location because it really puts you in that space and provides another layer of authenticity to the performances," says Will Smith. "And I think the contrast of the raw land and the visual effects will be really special."

"I was born in Cairo, and I've been back there a few times to see the desert and the pyramids," says Mena Massoud, "and there's something really incredible about going back to a place you feel rooted in."

The Royal Film Commission of Jordan provided invaluable support during filming, including comprehensive production services, assistance in facilitating logistics with local authorities, securing film permits and the hiring of 150 locals to supplement the existing U.K. crew.

"Jordan did not only provide the amazing landscape needed for such a beautiful story, but also all the support needed to make it a success," says Princess Rym al-Ali, managing director by interim of the Royal Film Commission – Jordan. "The Royal Film Commission is committed to helping good stories materialize on screen. And this goes beyond offering production services. Local professional crew are available. We care about training as well as building an audience appreciative of quality movies."

Dan Lin, Jonathan Eirich, Guy Ritchie and executive producer Kevin De La Noy looked at a number of different countries in the Middle East and North Africa before deciding on Jordan. It was the region's aesthetic beauty and the benefits afforded the production through the Royal Film Commission that had the biggest influence on their decision. "Jordan was just beautiful, and we had a spectacular welcome from the Royal Family," says Smith. "So many wonderful and historical things happened in those desserts…you could just feel them in the textures of the light and the rocks."

"You feel a sense of the epic, and I think the word epic is more applicable to film language than any other language," says Ritchie, "and if anywhere is epic, it's got to be there. The cornerstone of epics is 'Lawrence of Arabia,' and we tread in those footsteps."

The Treasured Music

While director Guy Ritchie had never helmed a musical prior to "Aladdin," his films are heavily influenced by music. "This is a musical in its purest traditional form," he says, "and I liked the challenge. I didn't try to be too ambitious or try to reinvent the wheel in terms of a musical, but I did want it to feel like it was fresh enough while still keeping the original tone of the first film."

The score and songs by eight-time Academy Award® winning composer Alan Menken and Oscar®-winning lyricists Howard Ashman and Tim Rice from the 1992 film are perfect as is, but Ritchie wanted to make them feel more contemporary, both lyrically and musically…an idea that Menken embraced wholeheartedly. The songs in the animated film were embedded in the music of the Arab world with flourishes of jazz here and there. Menken's new arrangements incorporate pop elements and showcase the musical talents of Will Smith.

The lyrics for "Prince Ali," the film's biggest song-and-dance production number, were tailored to better fit the actor's persona. Says Smith, "'Aladdin' is a rare combination of cinematic tools. Very few films have singing, dancing, drama, comedy, action and special effects…all those elements in a single movie, and we have it in a single scene."

"Guy really wanted to take chances with the music but at the same time he was deeply respectful of the original songs," continues Smith. "He knew how he wanted it to sound and how he wanted it to feel but gave me the freedom to use my hip-hop background and bring a fresh vibe to it."

The live-action score is very symphonic and resonant of old Hollywood in many aspects. "Most of the time Guy likes things to be very spare, but there are times when the score just explodes," says Menken. "It is obviously pulled from the themes of the songs, almost exclusively, but it is much more live action in its textures and its tone."

"Arabian Nights" is now a complete musical number that serves as an introduction to the story and its enchanted setting. Menken worked with Oscar®-and Tony Award®-winning songwriters Benj Pasek and Justin Paul ("La La Land," "Dear Evan Hansen," "The Greatest Showman") to create new lyrics. "The job really was to be following along with the camera as it soars through Agrabah, setting up this world for the audience," says Menken. "We rewrote some of the lyrics to go with the visuals that Guy had in mind, introducing Jafar and basically setting the stage for the rest of the film. It's a much bigger, much more ambitious number than it was originally."

For Pasek and Paul, working with the legendary composer was the opportunity of a lifetime. "Alan and Howard were our childhood heroes…they wrote the songs that made us want to be songwriters," says Pasek. "We think the reason our generation is so in love with musical theatre and the reason this resurgence is happening right now is because of Howard and Alan. We grew up loving musicals and musical theatre storytelling and that's because of what these guys wrote."

"When we were first starting out and someone would ask us what we wanted to do or who we wanted to be, it was always, 'We want to be Alan Menken, Howard Ashman. We want to write for Disney, like for a Disney animated musical…that's our dream,'" says Paul.

And the admiration is mutual. "Benj and Justin are like my progeny, so to speak; they are wonderful," says Menken. "I'm tough on writers, but these guys are really, really good. I wanted this to be a real collaboration between Justin and Benj and me, not just, 'Oh, Alan Menken and the next collaborators or whatever,' that wasn't the point. The song is a collaboration of our styles, as it should be."

"Speechless" is an original new song written by Menken and Pasek and Paul, performed by Jasmine, who is ready to find her voice. "It starts with a solo piano, very intimate, and really gets into the soul of Jasmine," explains Menken. "And then as it builds, it builds in the arrangement and the intensity and then at the end comes back full circle to that intimate piano with her voice reaching out over it. It has a beautiful arc to it, but the sound is orchestral and pianistic."

"This is Jasmine's big breakout song where she decides she is going to stand up for what she believes in," says executive producer Marc Platt ("Mary Poppins Returns"), who worked with Pasek and Paul on "La La Land." "The song parallels her arc in the story, sung timidly by Jasmine early on and then as a big empowering moment later in the film. Jafar has seized power as her father stands by helpless, and she finally has the strength to tell him what she envisions for her future."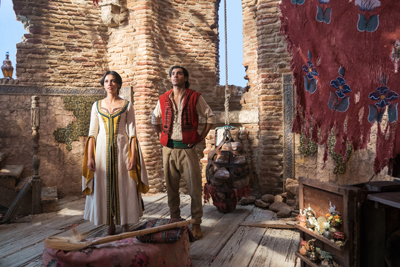 "As the script was developing, it became clear that this Jasmine was going to be more powerful and outspoken than ever and that it was time for her to have a big number," says Paul. "Her character was emerging as someone who would have this moment to really stand up and say, 'I do have a voice, and I will not remain speechless.'"

"This is a woman who is being told who she has to be and how she has to live in the world, and then she doesn't have a voice," adds Pasek. "So it made a lot of sense for this really strong woman that so many girls have grown up loving to talk about reclaiming her own power."

The choreography designed by Jamal Sims ("Hairspray," "Step Up") was somewhat contemporized as well. Both "Prince Ali" and "Friend Like Me" feature break-dancing moves, giving them a modern feel and sense of authenticity, too. "These are both big performance pieces," says producer Dan Lin. "It was both the Genie's time to shine and the perfect opportunity for Will to show how multitalented he is-he has to act, sing and dance in the iconic set piece."

For "One Jump Ahead" performed by Aladdin as he and Jasmine are being chased through the streets of Agrabah, the choreographed moves were fast-paced, athletic and more appropriate for a Guy Ritchie film. "We never intended for Aladdin to dance in that song," Sims says. "It is more of a stylized action sequence. There is a lot of movement, but the moves belong more in the stunt category."

The Visual Effects

Bringing this story to life on screen required the latest in state-of-the-art technology. The filmmakers enlisted the support of visual effects powerhouse Industrial Light & Magic under the guidance of visual effects supervisor Chas Jarrett ("Poseidon," "Troy"). While it was exciting for the filmmakers to create a fully immersive, cinematic experience from a world that previously existed only in animated form, it was a laborious undertaking.

Many types of VFX work are utilized in the film, including character animation, performance capture, set extensions, digital environments and FX simulations. The one directive from Guy Ritchie was that everything look as real as possible. "Guy was clear from that outset that the film had to take place in a viably real world that felt tangible and authentic," says Jarrett. "For us this meant that while there's a strong fantasy element to the story, the world needed to feel grounded with environments and characters that were plausible, so our environments were inspired by real locations and the characters leaned towards naturalism, rather than caricature."

Ritchie has always been open to trying new technical methodologies in his films, and Jarrett's team certainly pushed those boundaries with "Aladdin," but working on practical sets and on location is the director's preference. For the times when digital sets and extensions were necessary, Jarrett's team used scans and plates of locations in Morocco and Jordan to make sure they stayed grounded in reality.

Jarrett is a fan of filming on location, as it offers real sun and daylight, and the production was fortunate to have production designer Gemma Jackson's Agrabah streets on the backlot at Longcross on which to film. Unfortunately, the weather in London is somewhat erratic, even in summer, and the production was constantly at its mercy.

As a result, some sets were built on interior stages to give the production more reliable weather cover. "In these cases we created digital extensions and skies to offer the shots more depth," explains Jarrett. "As with all the VFX on 'Aladdin,' we were very careful to use textures and color palettes which supported the set and stayed true to Gemma's designs."

The scenes taking place in the Cave of Wonders were created via a combination of practical sets and VFX work. The vast interiors were built on soundstages at Longcross Studios and included an enormous lion's head at the cave's entrance and artificial rock formations covered with miscellaneous treasures. Set decorator Tina Jones sourced jewels from across the region as they are quite colorful, sparkling and bright. Some were recast in rubber and placed on the floor of the cave so the cast and crew could walk comfortably.

When Aladdin takes Jasmine on a magic carpet ride in the "A Whole New World" musical number, it is a crucial moment in the story. Aladdin is offering Jasmine an escape and a chance to feel free for the first time in a long time, and the filmmakers wanted to make it as easy as possible for the actors to feel comfortable and to capture that in their performances.

The magic carpet Jarrett and his team created was built on top of a six-axis hydraulic platform controlled by a hand-operated input device that moved hundreds of metallic pins up and down and from side to side. The rig was placed in front of pre-filmed backgrounds on blue screen with the camera filming from a Technocrane.

"Funnily enough, it was pretty uncomfortable," says Naomi Scott. "We were kneeling on this foam mat which had lots of prods in it, and we were surrounded by a blue screen and were basically tied in. There was supposed to be this sense of a gentle, smooth ride, but really it wasn't. The magic comes with the music when you're singing it and feeling it…that's when it all came together."

Several on-screen characters were realized completely with VFX, most significantly the blue Genie. The visual effects team worked closely with costume designer Michael Wilkinson, as elements of the Genie's costume created for Will Smith had to also be created within the digital world for the CG version of the character.

Others, like Abu the monkey (who was based on a capuchin monkey), Carpet, Iago the parrot and Rajah the tiger, were also entirely digital, and during principal photography, puppeteers stood in as proxies to give the actors something to interact with and to react to. "I had to basically create Abu from my imagination," explains Mena Massoud. "I worked with the puppeteers for weeks, just seeing what the weight would be like on my shoulders, how I would put him down, how I would pick him up, how he would interact with me…just his physical nature. But then when we were shooting I had to take all that information I had gathered and just imagine Abu was there."

Flying into Theaters

Director Guy Ritchie's visual panache and contemporary sensibility are perfectly suited to "Aladdin." With a live-action format he was able to bring a stylized look and feel to the breathtaking and visually-stunning world on screen while adding more depth to the story and characters.

"'Aladdin' is a visual spectacle of people, places and events that audiences don't see in everyday life," says producer Dan Lin. "You see this amazing palace, the huge Cave of Wonders with stunning jewels and gems, a Genie who shape-shifts at the snap of his fingers, and Aladdin and Jasmine flying on a magic carpet. These are things you want to see cinematically on the big screen."

Will Smith was honored to be a part of "Aladdin," saying, "The images that we portrayed in this movie are going to affect an entire generation of children, and for me, that's part of what I love about the ideas of 'Aladdin'; it's about helping to grant wishes, it's about friendship, it's about being yourself."

Aladdin
Release Date: May 23rd, 2019