Love of Many Lifetimes
Cast: Josh Gad, Dennis Quaid, Marg Helgenberger, Daniela Barbosa, Betty Gilpin, Abby Ryder Fortson, Kathryn Prescott, Henry Lau
Director: Gail Mancuso
Genre: Family


Synopsis: Some friendships transcend lifetimes. In A Dog's Journey, the sequel to the heartwarming global hit A Dog's Purpose, beloved dog Bailey finds his new destiny and forms an unbreakable bond that will lead him, and the people he loves, to places they never imagined.

Bailey (voiced by Josh Gad, Frozen) is living the good life on the Michigan farm of his "boy," Ethan (Dennis Quaid, The Special Relationship) and Ethan's wife, Hannah (Marg Helgenberger, CSI: Crime Scene Investigation). He even has a new playmate: Ethan and Hannah's baby granddaughter, CJ. The problem is that CJ's mom, Gloria (Betty Gilpin, Netflix's Glow), decides to take CJ away. As Bailey's soul prepares to leave this life for a new one, he makes a promise to Ethan to find CJ and protect her at any cost.

Thus begins Bailey's adventure through multiple lives filled with love, friendship and devotion as he, CJ (Kathryn Prescott, 24: Legacy) and CJ's best friend, Trent (Henry Lau, Oh My Venus), experience joy and heartbreak, music and laughter, and a few really good belly rubs.

A Dog's Journey
Release Date: August 15th, 2019
The Backstory
Love of Many Lifetimes
Cameron's Journey Begins

In 2017, audiences of the hit film A Dog's Purpose were transfixed by the heartwarming story of hopelessly devoted dog Bailey, who happened upon the meaning of life. Through his own reincarnation, within the bodies of multiple canines over the course of many years, Bailey found his purpose in helping his beloved confused boy become a complete man. But the tale of one human and his constant best friend began several years prior, on an unexpected drive up the West Coast.

Novelist W. Bruce Cameron's narrative is based upon a tale he wove for the woman who would become his wife: Cathryn Michon. Before the couple were married"and not long after Michon had lost her cherished canine companion"Cameron and Michon were driving up the California coast. Michon was heartbroken and seeking any meaning within loss, and Cameron began to tell her a vivid story. "I was hurting for her," he says. "Out of nowhere, as if I downloaded it off the Internet, this tale came into my head about a dog who doesn't actually die, but is reborn again and again and again, and develops the sense that there might be some purpose why this is happening."

Michon was transfixed. "On our way to San Francisco, we stopped to get a latte and when I came back to the car, Bruce said, 'I have a story to tell you,'" Michon recalls. "He started telling me the story for 90 minutes straight as he drove. I was crying so much, but through my tears I told him, 'This story will really help people; you're going to have to write that as a book.'"

That narrative would soon become the first of a series of worldwide best-selling books by Cameron, as well as the basis for Universal Picture's film of the same name. Michon would become not only his wife, but also his fellow A Dog's Purpose and A Dog's Journey screenwriter. Through Cameron's moving fable, millions of fans saw themselves and animals they had loved over their own lifetimes. They were drawn to the inspirational journeys of love and loss we experience with a beloved pet, one who gives us unconditional support and brings a greater sense to our own humanity.

Prior to penning the novel A Dog's Purpose and the smash follow-up A Dog's Journey, Cameron came to fame as the writer of the best-selling humor tome "8 Simple Rules for Dating My Teenage Daughter." The book was adapted into a hugely popular ABC sitcom, which starred the late John Ritter and Katey Sagal and introduced the world to the comedic force of nature that is The Big Bang Theory's Kaley Cuoco. But it would be his saga of Bailey and his boy Ethan that would skyrocket Cameron to the top of many a best-sellers' list.

After a great deal of persistence (animals being reincarnated was not exactly at the top of publishers' wish lists at the time), Cameron saw A Dog's Purpose published in 2010, where it spent 63 weeks on The New York Times Best Sellers list. Remaining an international bestseller, it has since been translated into 33 languages and published in 36 different countries worldwide.

The novel's sequel, A Dog's Journey, was published in 2012, and together the two books have sold more than five million copies in the United States alone. Based on the first story, the first film was vaulted to more than $200 million worldwide.

At the request of Michon and Cameron, Gavin Polone"whose decades of experience as a producer resulted in hits from Panic Room to Zombieland"read the book while it was still in galley form. He then shepherded the series through the development process, where it drew the attention of Amblin Partners.

"We wanted to find a producer to take the book to the next step and Gavin has such a great reputation for protecting writers, so we sent the book to him," Cameron says. "The first book came out in 2010, and the movie came out in 2017; Gavin has been fighting for it the entire time."

The author appreciated having a producer who was such a fierce advocate of his vision. "To a novelist adapting his own work, moviemaking is like they're off assembling a Ferrari in the dark," Cameron says. "You see nothing until the moment the thing drives out of the front door."

Polone, a longtime animal-welfare supporter and dog lover, understands that the long journey has been deeply worth it. Just as it had with his longtime friend, Michon, the adventure began the moment Polone heard Bailey's tale. "When Cathryn told me about the first book way back when, I didn't want to get involved because I knew the subject matter would get me emotional"which at the time I didn't think was the best way to make a movie," Polone says, laughing. "But she was persistent, telling me over and over again that I was the right producer for Bruce's book."

Shepherd through the Process
A Dog's Journey Launches

After the success of the first movie, Polone was able to maneuver A Dog's Journey through the development process far more quickly. Relying on Cameron and Michon"as well as A Dog's Purpose's fellow returning screenwriters Maya Forbes and Wally Wolodarsky"the producer knew he wanted this film to stand on its own and not merely be an echo of their last hit movie.

In Cameron's second chapter, we meet a Bailey who is finally home safe with his "boy," Ethan (Dennis Quaid) and who believes he's fulfilled his many lives' purpose. But Bailey soon discovers there's a different journey in store for him; his mission is no longer to look after just one person. Ethan will forever be his boy, and what his boy wishes remains Bailey's command.

Bailey (voiced again by Josh Gad) is still at the farmhouse with Ethan and Hannah (Marg Helgenberger), joined in the loving home by their widowed daughter-in-law, Gloria (Betty Gilpin), and her two-year-old toddler, CJ, whom Bailey watches over. Bailey considers toddler CJ (Emma Volk) as an extension of Ethan; thus, his duties are clear when Ethan requests his help.

An aspiring singer who has grown weary of the influence of CJ's "perfect" grandparents on her child, Gloria decides she wants to make it on her own and takes CJ with her for good. Devastated, Hannah, Ethan and a distraught Bailey watch helplessly as she drives CJ off the farm and out of their lives, seemingly forever. As Bailey prepares to depart his final days in this incarnation"as the Great Pyrenees Bernese Mountain dog Ethan first met as "Buddy""Ethan looks into his eyes and makes Bailey promise: "Come back for her. Help her. Protect her. Love her."

We travel forward almost a decade, and CJ is now 11 years old. The girl (Abby Ryder Fortson) and her best friend, Trent (Ian Chen), encounter a Beaglier puppy that has an unusual, and immediate, attachment to her. CJ doesn't know it yet, but this young pup, Molly, is the reincarnation of the soul of Bailey and instinctively remembers her from when she was a toddler. As Molly, CJ's puppy immediately knows her mission is to take care of her, and throughout CJ's teen years does just that. When it is Bailey's time to depart this mortal coil as Molly, he knows he will be back again, and he'll never stop looking after the human to whom Ethan entrusted him.

As CJ (Kathryn Prescott) grows into adulthood, a curious new dog Max, a tiny Yorkshire terrier, enters her life. Quick to snap at anyone who crosses his path, Max is virtually unadoptable. Turns out he's just saving himself for his real human! Just as Bailey and Molly before him, Max is there to watch over CJ as she navigates life apart from her family. He's there for her burgeoning career as a musician and helps her to realize the next stage of her lifelong relationship with best friend Trent (Henry Lau). No matter his or her current name, Bailey is CJ's guardian angel"albeit one with four legs and who is addicted to bacon"and is always watching over her.

"The first movie was about our dog going from person to person to get back to Ethan," states Polone. "But with this movie, our dog is on a mission to protect one person: a girl who becomes a woman. Of course, the dynamics of issues with young girls and their mothers is a different perspective."

Because of that, the idea of recruiting a female filmmaker"in particular one who had a great deal of experience with comedy"became Polone's focus. "I had worked with Gail Mancuso on Gilmore Girls, and there are things tonally and comedically that are reminiscent of that show with this movie," he says.

Amblin Partners was already in business with Mancuso on another project that didn't get to the starting line, and the choice for director was soon clear. "I loved the first movie and when the opportunity arose for me to direct this one it was a blessing," says Mancuso. "I have five dogs myself and truly love animals."

The director feels that Cameron's approach to storytelling is refreshing in its honesty. "Bruce is such a talented writer, and he definitely strikes a harmonious chord between the dog's point of view and the human one," Mancuso says. "Mixing that together so elegantly is such a talent."

As a fan of the first film, the director wanted to continue to respect the audience's connection to Bailey"and by proxy their own pets"in the new chapter. "In our movie, it's not as if the dog's mouth moves or he speaks; you hear the thoughts. If you are a dog lover, you tend to talk to your dogs and like to answer back for them. Some dogs are so human that you hope their thoughts are in congress to what you're thinking."

Even though Bailey makes it his mission to honor the wishes of his boy, as he grows attached to CJ, he further expands his understanding of what it is to be human. That spoke to the filmmaker. "This story is a bit more female-centric than the first movie," says Mancuso. "I was drawn to it because of CJ's character. As we follow one human all the way through"as well as the dogs that accompany her on her journey"that is a thread that keeps the movie together. I'm a mother and felt that I could bring a lot to the movie in terms of raising kids and being a woman."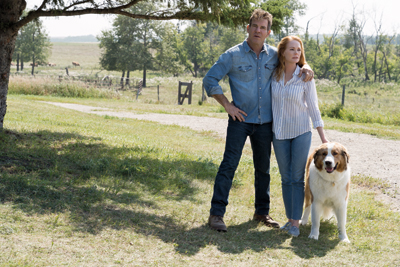 The Characters

Ethan
Dennis Quaid

For Dennis Quaid, it was an easy decision to return to the character of Ethan Montgomery, whose life is forever changed by the reincarnating spirit of Bailey, whom he always calls "Boss Dog," that Ethan first bonded with as a boy. "There's a reason why Dennis Quaid is beloved, and why his body of work has sustained over such a long period of time," Polone says. It was also refreshing for the producer to see his star tackle a different style for the character this time around. Amidst the angst, there is much joy. "In the second movie, Ethan is a lot funnier and that's due to Dennis. He knows where the jokes are, and audiences won't be expecting that."

Although the second chapter begins shortly after the last one ends, Quaid explains that we find Ethan at a very different point in his existence. "Ethan has now married the love of his life," Quaid says. "He was a very lonely figure before, one who liked solitude and felt alienated from the world. He's grown a lot and is much happier than he was before."

Quaid appreciates that Ethan and Bailey's story now extends beyond just the two of them, to a new generation of Ethan's family. "Bailey's present within the family circle now," the actor says. "The bond is stronger."

A self-admitted animal lover, whose dog Peaches is a close member of the Quaid family, Quaid has long understood just what these special animals bring to their humans. "I've always been a dog person," Quaid says, "and each one I have had has meant a lot to me. They're a member of the family, as well as a sponge that can take on your personality. When they go, it's usually the first time that children learn about death in their life. That's what's so beautiful about these movies, with Bailey's reincarnation and coming back as this same spirit."

Due to the characters' arcs and new filmmakers, the energy on set was much more feminine this go-around, and Quaid appreciated the delineation. "Many women have a nurturing instinct, and that's present in this film," he says. "Ethan still doesn't quite know how to handle the conflict between Gloria and the rest of the family. He just wants peace in the house. So, it gives me something to really play off of, because Ethan is surrounded by women, except for Bailey, who goes everywhere with him."

To capture that essence, Quaid agrees with Polone that director Mancuso was the ideal choice. "The first movie was whimsical and magical, and then Gail comes on board to this one and she brings her own magic," Quaid says. "She really knows how to find the comedy. This movie is actually funnier."

Bailey
Josh Gad

Although this is the first time that Quaid and Mancuso have collaborated, the director had worked with Josh Gad, who returns as the voice of Bailey, on the TV show 1600 Penn several years prior. "That's the first time we met, so it was wonderful to reconnect with him after all these years," Mancuso says. "It was like we picked up where we left off. Josh is so funny and adds such heart to Bailey. Not only is his performance comedic, it's so heartfelt. He's just perfect for it."

Even though he embodies the voice and spirit of Bailey, Gad admits he wasn't prepared for how he would react to the sequel's screenplay. "I kept promising myself that there was no way I was going to allow myself to cry when I sat down to read the script for A Dog's Journey," he says. "Of course, immediately I was sobbing again. But what's so incredible about the script and the movie"much like the first one"is although there are cathartic tears along the way, there's also so much excitement. There's so much adventure and laughter on this journey. I was blown away because I felt that the writers not only lived up to the first film, but in many ways set the bar even higher."

When it came to filming the follow-up, Gad admits he naturally had trepidations. "There's always hesitation when the opportunity arises to do a sequel, because you want to make sure that it's for the right reasons," he says. "Seeing the unbelievable amount of respect being paid to every single detail"from the filmmaking process to the script"has allowed me to lower my guard and realise that everybody wants to raise the bar; we all want to exceed what has already been established."

Much like Quaid, Gad is an avowed dog lover who lights up when he speaks about his rescue Dede, whom he calls a "mutt of craziness" and who serves as an integral part of his home. As the voice of Bailey, Gad appreciates the opportunity he has to help audiences move through feelings they have toward their pets…and their humanity.

"I can't tell you how many times kids come up to me and say how unbelievably cathartic this movie was for them," Gad says, "whether it's losing a pet or losing a person in their lives. The greatest gift of being a part of this franchise is that these movies, while they are entertaining, are more than that. They offer, especially kids, an opportunity to deal with loss and to understand that the potential for a journey goes on long after our pets or loved ones leave this world."

Hannah
Marg Helgenberger

Brought aboard to play Hannah is star of stage and screen Marg Helgenberger, who not only was moved by the screenplay but also felt that her character echoed family members from her home state. "I, along with billions of other people on this planet, am a dog owner and lover," Helgenberger says. "I liked the sweetness of Hannah and found her to be a very strong woman, but also one who would give people the benefit of the doubt. I kept certain people in mind when I was learning and saying my dialogue, like my sister-in-law back in Nebraska. She's very strong but also one of the sweetest and most dependable people you will ever meet."

A Dog's Journey marks the second film in which Helgenberger has starred on screen alongside Quaid. "That was another reason that I was intrigued about doing this movie," she says, "because I had such a wonderful time working with Dennis on In Good Company. Obviously, we have history and chemistry, and I bump into him from time to time around the neighborhood or at events. It seems like we picked up where we left off, and it's even easier this time. The more you work with somebody, and if you enjoy each other's company, you're going to continue to be more and more comfortable with one another."

Although Hannah was a supporting player in the first chapter, in A Dog's Journey, much of the plot revolves around the fact that Gloria, Hannah's daughter-in-law"and the widow Hannah's son left behind after a fatal car crash"feels she can't live up to perceived expectations. The script's deftness and feminine energy spoke to Helgenberger, who was thrilled that Mancuso would be taking the reins.

"I couldn't be happier that this film has a woman director, and that it's Gail," Helgenberger says. "She is just a lovely person who cares so much about the story and the actors." Helgenberger also appreciated the volume of feedback her director solicited. "From the moment my deal was done, Gail was the first person on the phone with me asking for my input. That continued throughout the filmmaking process."

Gloria
Betty Gilpin

As Gloria's decision to leave Hannah and Ethan's farm with CJ starts the wheels in motion, both Helgenberger and Mancuso were intrigued to expand Hannah's voice in the narrative. "When Gail became attached to the project, she also was very instrumental in beefing up Hannah's role," Helgenberger explains. "She saw that the story is very much dominated by female energy. Both Gail and I are mothers, so we understand it on an instinctual level. It makes sense that the two of us would want to share whatever insight and wisdom that we can."

To that end, the character of CJ's mother presented the director with her biggest challenge. Frustrated with a stalled career and feeling that she always comes up short to Hannah, Gloria drives off with her baby for good. Of course, that would prove a challenge for the character and narrative. "We were worried about Gloria not being liked by the audience because she has a number of not very admirable qualities," says Mancuso.

Cast as Gloria was Betty Gilpin, most recently known for her work on Netflix's GLOW. The actress wants to make one thing clear: She is nothing like the immature mom we meet at the beginning of our story. "Gloria does not like dogs, and to me that's the No. 1 red flag with a person," Gilpin says. "I love dogs, and I want to move in with one of the Beagliers. When Gail called 'Cut!' I immediately went back to the dog and apologized for yelling at it. I'd try and snuggle with her, but the dog doesn't understand." She laughs. "It looked like: 'I'm going to snuggle with someone else.'"

Mancuso says Gilpin managed to make Gloria understandable, even if the audience doesn't always approve of her choices. "Betty found a way to play Gloria that gave the character that vulnerability," the director says. "She showed the complications that come with trying to be a strong parent in not the easiest of circumstances that life dealt her. It's a very hard character to play, but she pulled it off brilliantly."

CJ
Kathryn Prescott

Because her mother, Gloria, was at times an indifferent and distracted parent, CJ looks to dogs for the unconditional love she should be receiving from her mom. "CJ doesn't know what being loved in the right way feels like," says Kathryn Prescott, who plays teen and adult CJ. "Not romantically, just in general, so her best friend Trent and the dogs in her life are her life."

Because CJ lost her father before she was born, it was the special connection that Ethan has with Bailey that is passed on to Ethan's granddaughter. "When CJ is a little girl, Ethan and Hannah realize that Gloria is too wrapped up in her own unhappiness and sadness to be a mother to her little girl," Prescott says. "She also cuts Ethan and Hannah out of her life. So, Ethan tells Bailey to follow CJ and watch over her, like Bailey watched over Ethan during his own life."

Prescott's character is an aspiring singer, so the actress took an intensive two months learning to play the guitar (the chords she needed for the songs), as well as vocal lessons. "CJ is a songwriter who has been developing these songs her whole life," says Prescott. "Eventually, she has the courage to sing them on stage." She laughs. "For me, the singing was more a matter of being able to hit a note and not scare people."

Bouncing from town to town, never certain where she fits in, CJ comes to rely on Trent and his family as the only humans who give her unselfish love. "Throughout her childhood, Trent is CJ's rock," Prescott says. "But I think that having a mother as hot and cold as Gloria, combined with having lost a parent, has made it really hard for CJ to trust that the people she loves will always be around for her. Breaking ties with Trent is a defense mechanism against ever having to lose another person that she loves."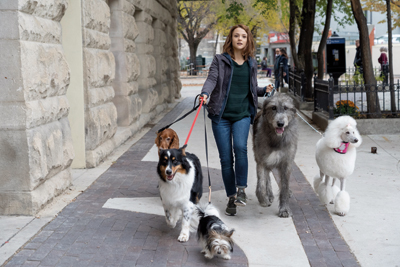 Trent
Henry Lau

Toronto native Henry Lau plays Trent from 17 into adulthood. Lau was impressed by the level with which the director asked him to develop his character. The actor, who got his start in the K-Pop scene as part of the world-renowned Super Junior-M, has gone on to a solo career that includes such work as Final Recipe, a Pan-Asia drama in which he starred opposite Michelle Yeoh. "From our first meeting, Gail and I started talking about our ideas for the character," Lau says. "Because Trent is Chinese-American, Gail was open about my interpretation of how the character should be; we made Trent together."

Lau discovered while working with Prescott that their characters on-screen became mirror images of their connection offscreen. "We fell into this comfortable friendship quite quickly," he says, "which was a nice surprise because we had never met before. Kat prepped for scenes by listening to music, but occasionally she would get right in my face before we started shooting. She'd smile really big and say, 'Do I have anything in my teeth?' Sometimes I would say, 'Yes,' just to tease her."

The Dogs

Four Dogs, One Spirit
Unleashing a Canine Cast

Inarguably, the biggest stars of A Dog's Journey are the enchanting dogs that were on set throughout production. It was impossible for the cast and crew of obsessed pooch lovers not to play with, coddle, dote upon and love the pups throughout the shoot. Because they were the biggest names on set, they got well-deserved diva treatment. "They did have the biggest trailers," Lau says, laughing. "I'm not kidding! Their trailers were bigger than any other actor's."

As the narrative begins soon after where A Dog's Purpose ends (that shoot wrapped in 2016), it was up to the production's animal coordinator and lead trainer Bonnie Judd to find and train a new Bailey"Buddy in the final scenes of the first film and the opening ones of this one"for this chapter, as well as four other hero dogs for the film.

Judd worked previously with Polone on A Dog's Way Home, and the producer raves about her. "The bond I saw that she created and maintained with the animals was extraordinary," Polone says. "I knew it could only be Bonnie and her team."

The owner of five dogs, Mancuso discovered that even crew members who professed not to care about dogs one way or the other had a change of heart after only a couple weeks on set. "Once people came into our temporary family, I could see we converted a lot of people to 'dog lovers,'" she says. "When everyone saw how Bonnie related to and treated those amazing dogs"and how safe the environment was for them"the only question was: 'Can I adopt one of them?'"

Bailey/Buddy
Breed: Great Pyrenees Bernese Mountain Dog

Judd sought out Great Pyrenees Bernese Mountain dogs to match the last Boss Dog (Buddy) from A Dog's Purpose. She eventually located three dogs who would serve as our hero. One was for close-ups, another for action scenes and the third for casual, lying-around sequences (lucky dog). Together, those three personalities created the character of Bailey/Buddy. "There are a number of quality breeders out there, so it was simply a matter of finding the dog that looked closest to the initial dog in the first movie," says Judd.

Molly
Breed: Beaglier

The next dog to inherit the soul of Bailey is Beaglier Molly, a beagle crossed with a Cavalier King Charles Spaniel. "They're a little softer in the face, and the eyes have longer lashes than a standard beagle," Judd says. "The actors just melt when they're around them."

On purpose, each iteration of Bailey is in direct opposition to the size of the actor playing CJ throughout her life. Young Emma Volk (2-year-old CJ), is paired with Buddy, a Great Pyrenees Bernese Mountain dog; Abby Ryder Fortson (11-year-old CJ) is with Molly, the Beaglier, and Prescott (adult CJ) receives teeny Max: a Yorkshire terrier who has more screen time than the other dogs.

Max
Breed: Yorkshire Terrier

For the character of scrappy Max, the filmmakers selected little Belle after a casting call in Vancouver, BC, with approximately 500 dogs. "She's brilliant and super active and constantly wants to be doing something," Judd says. Belle, however, was not so terrific at being held and staying still, so a double was also selected. Her counterpart, Bree, exceled at staying calm and quiet while the actors were delivering their lines.

Judd was most moved by a scene between Prescott and Max (Belle). "Belle was supposed to be lying down while Kat was crying," Judd says. "But Belle felt the pain in Kat and instead snuggled into her torso to comfort her"even though I was asking her to lie down. It was amazing to witness how empathetic she was to Kat."

Big Dog
Breed: African Boerboel

While we only meet Big Dog for a brief scene"when CJ stops at Joe's Roadside gas station"the African Boerboel is another incarnation of Bailey. Showing that no barrier is too high to keep him from his beloved CJ, Bailey as Big Dog instinctively knows that he belongs with CJ from the moment he sees her. When she disappears from his life just as quickly as she enters it, Big Dog spends his remaining days saddened by her vanishing"but taking heart that he'll soon see her again.

Ms. Thing
Breed: Hairless Chinese Crested

Last, but not least is Liesl's (Daniela Barbosa) prissy white dog, Ms. Thing, a hairless Chinese Crested. A constant source of annoyance to Max, until they inevitably become friends"who doesn't love Bailey Boy, no matter what shape or form he takes?"Ms. Thing is pushed about in a baby carriage around the streets of Manhattan. She's Liesl's prized possession, and it looks like there's only room in Trent's girlfriend's heart for one of them…

The Production Design

From Manitoba to Manhattan
Seeing the World through Canine Eyes

With the human and canine casts assembled, production began in August 2018 in Winnipeg, Manitoba. The farm set location from the first movie was still there"and the second chapter opens at this location"so Mancuso and Polone were more than happy to utilize the region for a three-day shoot. It resides three hours west of Winnipeg (specifically, Minnedosa, Manitoba)…so off they went.

Production designer Eric Fraser (Midnight Sun), gives a nod to the look of the first movie in this sequel. "It was a huge advantage in terms of time, as well as knowing what works, in having the farmhouse set in this movie as well," Fraser says.

Still, when shooting more than two years later, the team couldn't get everything it wanted. "Ethan's farmhouse from A Dog's Purpose saturated the film and delivered so much charm; we just had to go back," Fraser continues. "Logistics were against us, so we compromised by building the interiors and going to a more convenient barn."

Mancuso was insistent that the design err on the side of a friendly and pleasant space for the animals. "Gail wanted the friendliness of the dogs' environment tied to the script," says the production designer. "The only time we explore the grittier-looking things is when we see CJ down and out in New York City and she's struggling."

Winnipeg's historic Exchange District, with many of the buildings more than 100 years old, was able to stand in nicely for areas of Manhattan. Therefore, many exterior street scenes were shot throughout the region. Wee Johnny's restaurant and bar served as the nightclub where CJ gets up the nerve to perform her music. Later that day, the company moved three streets over to the Saddlery on Market restaurant, where it utilised the outdoor seating area for the rapprochement between adult CJ and Gloria.

To double as Chicago suburbs for scenes depicting CJ as a teenager, the production headed to Selkirk, Manitoba. There, the cast and crew were able to gain control of the downtown streets at night for all key driving sequences.

Still, there's no substitute for the real thing. Production wrapped on October 17 with a shoot in New York City in and around Washington Square Park"near the famous arch and fountain. There, the team shot Max's sequence when he senses that CJ is close by, escaping from the dog adoption fair and racing to find her.

"There's nothing like New York City," says Mancuso. "While Winnipeg provided us what we needed for nearly the entire movie, you simply can't fake the wide-scope shots of New York. That plays into both CJ and Max defying the odds in such a large place. She's trying to create a life for herself, and Max is dashing through the city trying to reunite with her."

"I love shooting in New York," the filmmaker continues. "I've shot there a lot, and we always get such great support from the film commission and from the police department. I always say that when you shoot in New York, you're getting another character. It's just life; it's wonderful, busy, beautiful and America."

Fraser admits that re-creating New York City and Chicago settings were the biggest challenges, and it was exciting to be able to blend Canada and the States together seamlessly. "The New York City moments required Manhattan, so we carefully combined shooting in Washington Square Park and on Fifth Avenue with areas of Winnipeg that could be dressed to play as New York," he says. "Winnipeg has areas that look sufficiently similar to Chicago, so that the residential needs were met. Working with Gail was a real joy, particularly in evolving the design for our biggest set: CJ and Trent's apartment. Defining the needs was effortless."

With so much of the movie coming from the dog's perspective, it necessitated a different way of thinking for the camera, wardrobe and art departments. "You can't hang a piece of art six inches above the baseboard," muses Fraser. "All that really lives down that low are electrical receptacles. But I certainly could never take what was down there for granted, like on a typical movie where the camera rarely gets down that low."

The Cinematography

From Childhood to Adulthood
Creating the Warmth of Lives Lived

Mancuso partnered with accomplished director of photography Rogier Stoffers to shoot A Dog's Journey. The Dutch cinematographer, known for work in films from School of Rock and The Secret Life of Bees to The House with a Clock in Its Walls and Quills, opted to lens this chapter with anamorphic lenses, providing a closeness to the characters one doesn't always get with conventional focal length.

Always a challenge, this style can be particularly fussy when shooting Winnipeg as New York City. With anamorphic's wider frame, Stoffers had to be on top of it more. If not, he would be forced to long lens in a way that shot sequences in a more unflattering light.

The collaboration among Mancuso, Stoffers and Fraser resulted in their considering a color palette that took its own journey throughout the film. Fraser says: "At the top of the film, when we see the farmhouse in happy times, CJ was a happy baby. We established a warm, inviting family envelope there. We deconstructed it as we went through Chicago, and as we went through CJ's journey into New York. It then came full circle. Within, say, CJ's apartment, where we have five years of time passing, it started off with a very neutral palette. Through her influence, it slowly progresses to becoming a warming, inviting one, reminiscent of back to where the farm was."

  The Editing

It Takes More than Two
Matching Canine and Human Moments

Jobs and The X-Files' editor Robert Komatsu discusses that his work with Mancuso was a true partnership. He notes that being on location with her was crucial. "Gail and I had the opportunity to keep the scene fluid, coming up with additional shots or ideas to further enhance the scene before wrapping that particular set. At a moment's notice, she could pop up to the cutting room, or I could walk down to the set to discuss an idea or inspiration. Sometimes, it even involved 'acting' out an idea or gesticulating to emphasize a camera angle or move"something you couldn't do by cutting remotely in Los Angeles. It was Gail's generosity that allowed me to pitch any idea to her throughout the shoot, and into post."

Although the legendary W.C. Fields famously quipped, "Never work with animals or children," Komatsu laughs that there is no fun in his craft without tackling creatively challenging issues head on. "Our kids and dogs were fantastic, but no matter the age of the actor, or even the species, you're going to run into challenges."

"There would be times where the dogs had a certain expression or reaction that was perfect, even if the take hadn't started yet, or was from a different take of the human action. In order for us to have our cake and eat it too, we would sometimes combine the human action from one take and the dog action from another take"to create a whole new shot."

"Previewing this film for an audience screening became one my most cherished editing experiences," he says. "For six months, Gail and I debated choices, and we could only follow our instincts to guess whether or not those were the right ones. We'd get feedback from my assistant editors, and we'd receive great notes from Gavin, who could help us see the forest for the trees. But it was all still very insular until we presented the film to 350 strangers. And they loved it. Watching them laugh at the jokes or cry at the dramatic moments validated every creative decision we made."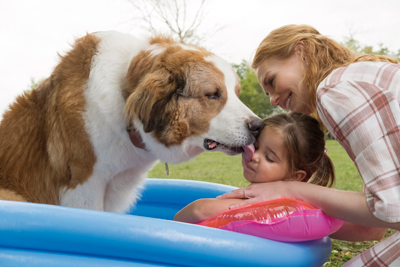 The Costume Design

If the Shoe Fits
Designing from Dog Level

Costume designer Patti Henderson, who served as an assistant costume designer on A Dog's Purpose, returned to this set with a great deal of institutional knowledge about the series. She introduces us to a bit of the challenges she faced: "The first film was period, and this one begins in '85. Still, we had to strive to make sure that everything looked timeless so that you couldn't pinpoint an era to match Ethan's age."

While on many television shows, the costumer doesn't have to worry about the lower thirds of his or her characters, with a film told from the dog's perspective, the designer had to have a completely different outlook. "My job started from the shoes up on this movie," Henderson says, echoing Fraser. "Then I went to the socks, then the hem of the pants…because we see so much from that perspective. It's a different way of working for sure."

As Ethan is an aging farmer, prosthetics had to be applied, but he still never changes the way he dresses. "We had to make sure that the clothes were a little bit tighter to make him look a bit gaunt and older," says Henderson. "I know he's wearing plaid shirts and jeans, but there are still different cuts and styles. We had to try different things on Dennis to make sure that we aged him appropriately but kept him in character."

For the female characters of the story, Henderson dressed Helgenberger as Hannah in outfits she describes as "ethereal styles with linen, flowing and beautiful," while Gilpin as Gloria started out in fishnets, leather and high heels and progressively aged to chicer garb. Finally, CJ's character transforms from girlish pinks and purples to an edgier New York City look…replete with hoodies and designer sneakers.

When it came to collaborating with her director, Henderson is effusive. "If I could work on everything Gail does, I would," Henderson says. "This story is female-centric, and Gail brings a lot to the table regarding the characters and how she wanted to see them progress through their years"from their wardrobe to their character design. It's not often that I get to work with a female director, but I would do it over and over and over again." She laughs. "Sorry guys, but she was fabulous. I'm just over the moon with her."

The Music

Tear to Your Eye
Sounds of A Dog's Journey

For Academy Award® nominee Mark Isham, known for his prolific work on films such as A River Runs Through It and 42, as well as television series including Once Upon a Time and Cloak & Dagger, tackling the compositions for the second chapter in Bailey's journey offered challenges as fascinating as they were unique.

Echoing fellow cast and crew, Isham relates to the spirit and energy that Cameron's stories capture, and wanted to honor the connection we have with the four-legged members of our homes. "Dogs have a very similar relationship within our family as the one that unfolds in this story," says Isham. "Our dog, Lucy, has been with us for a while and is part of the fabric of our family. She is always around the house, and when I take a lunch break, she comes in to sit with me. That gave me common ground to the story of Bailey; she's very much a part of my life in the same way."

Drawing musical inspiration from Rachel Portman's work on A Dog's Purpose, Isham offers that, as he began on A Dog's Journey, he looked to how the primary score behaved in its structure and style. "I thought Rachel's work on the first film was tremendous, and her beautifully constructed themes helped set certain boundaries and choices that I made," he says. "As this is the sequel, there will be a quote or theme here or there that audiences will recognise"one that pops its head up from time to time. Hopefully, for people who know and love the first film, it will bring a smile to their face when they hear that."

That acknowledged, it was crucial to Isham, Mancuso and Polone that the score for A Dog's Journey stood wholly on its own. That trust began with the connection he instantly had with his director. "It's been such a pleasure to be part of the process of telling this story, and I adore Gail," Isham says. "We got along from the first moment we met, and the relationship has flourished since. She has been very communicative in music in ways that I found so helpful, and we've been on the same page since the beginning."

After meeting with his fellow filmmakers, Isham went away to compose a sense of what the score would be. When he returned, he had several themes to define the movie, including the opening sequence and the closing, as well as multiple transitions among the core dogs that Bailey's spirit inhabits"ones Isham jokingly calls "puppy childhoods."

It's impossible for any composer to choose a favorite child, but the opening theme does bump for Isham. "What I think the audience will come away with"and hopefully whistle as they leave the theater"is the main theme introduced at the beginning of A Dog's Journey. It's a simple and direct theme over Ethan and Bailey, but it establishes the sound and theme of this score and travels the entire distance with CJ"as well as their journey with the various dogs. It's overarching and signifies that Bailey is with this family for the duration…in whatever form he takes."

Modern technology allowed the composer to make succinct demos of the music he was writing, so there was no confusion with how the sounds would be used in the picture. It also provided Mancuso and Polone an opportunity to get a sense of the final score Isham would create.

Of note, Isham appreciated how his and Mancuso's working relationship was akin to director/performer. "Gail was upfront about what she knew and what she didn't, and she asked to speak to me like I was an actor," the composer says. "She would talk about marks, and what to deliver in the first part of a scene vs. the middle and the end of it. Direction like this is priceless for a composer, as it helps to shape the form of the composition."

As Isham created this rich and thematic score, he leaned into the more feminine energy felt throughout this production and chapter. "Much of this is Ethan's grand-daughter's story, and Gail champions that on the screen. I've done my best to capture the film's distinct vibe in the score as it relates to CJ, who is a musician trying to battle her demons and bring her music to the public." He pauses. "That's an interesting aspect of the story for a composer to underline."

CJ isn't the only young woman who infused the narrative, and Mancuso and Isham were thrilled to welcome 17-year-old pianist/composer/ songwriter Emily Bear to the production's score. "I met Emily about a year ago and was very impressed by her talent," commends Isham. "I've been looking for something to involve her in ever since. This project came forward as a piano-featured score, and it seemed like a great opportunity to bring Emily in and be the principal voice of this score. I'm in awe of her prodigious virtuosity."

A mandate from Isham was to consciously steer away from any preconceived musical notions that audiences expect from a story that grapples with love and loss. "I understand there might be an expectation to get melodramatic about scoring the types of themes in a film like this, but that's something I've veered away from my entire career," Isham states. "Gail wanted to tread that line thoughtfully: to give the audience a very authentic emotional experience without making them feel manipulated or pushed through the story."

To that end, Isham admits that his passion for the project is intertwined with how lovingly this chapter is told. "The film is so beautifully made and heartfelt in a non-manipulative way," he concludes. "There were several times late at night as I finished a cue"when I was all alone in a dark room and I played it for myself"that I know I did it right when a tear came to my eye. If that can happen to me, then I know the audience will really enjoy it."

The Meaning

The Power of Movies
The Love of Animals

Production wrapped, the filmmakers reflect on what the series has come to mean to so many. "Promoting animal welfare and respect for animals is my purpose in life," says Polone, who has lived with these stories for many years and who has proudly watched them grow from galley books to blockbuster novels and hit films. "Thinking about animals differently goes back to my childhood, and a lot of that comes from watching movies and shows like Born Free, Gentle Ben and Flipper. You start to think about the animals as characters. That leads you to believe and understand that they are truly sentient. If I can make a movie and portray animals as such, then more people will be compassionate toward animals. That will lead to a better world."

Mancuso states that the spirit Polone describes infused the set, and she believes that ascribing humanity to our fellow mammals is one of myriad reasons she was proud to be a part of this production. "There's something to be said about dog behavior," she says. "I know if I'm sad at home, my dogs know it and they'll put their head on my lap. They just know and are very in tune to any kind of emotional things that I'm going through. They're just trying to help." When it comes to the possibility of Cameron's hypothesis having validity," the director pauses. "Who's to say? Maybe it's true…"

A Dog's Journey
Release Date: August 15th, 2019