Enemies Become Frenemies
Cast: Jason Sudeikis, Josh Gad, Leslie Jones, Bill Hader, Rachel Bloom, Awkwafina, Sterling K. Brown, Eugenio Derbez, Danny McBride, Peter Dinklage, Zach Woods, Pete Davidson, Dove Cameron, Lil Rel Howery, Beck Bennett, Nicki Minaj and Brooklynn Prince
Director: Thurop Van Orman
Rated: PG
Running Time: 96 minutes

Synopsis: In the CG animated comedy The Angry Birds Movie 2, three flightless angry birds and the scheming green piggies take their beef to the next level.

When a new threat emerges that puts both Bird Island and Piggy Island in danger, Red (Jason Sudeikis), Chuck (Josh Gad), Bomb (Danny McBride), and Mighty Eagle (Peter Dinklage) recruit Chuck's sister Silver (Rachel Bloom) and team up with pigs Leonard (Bill Hader), his assistant Courtney (Awkwafina), and techpig Garry (Sterling K. Brown) to forge an unsteady truce and form an unlikely superteam to save their homes.

Featuring an all-star voice cast that also includes Leslie Jones, Eugenio Derbez, Pete Davidson, Zach Woods, Dove Cameron, Lil Rel Howery, Tony Hale, Beck Bennett, Nicki Minaj, Brooklynn Prince and JoJo Siwa. The Sony Pictures Animation presentation in association with Rovio Entertainment is directed by Thurop Van Orman and produced by John Cohen. The screenplay is by Peter Ackerman and Eyal Podell & Jonathon E. Stewart.

The Angry Birds Movie 2
Release Date: September 12th, 2019
About The Production
Based upon Rovio's phenomenally successful gaming experience, which has seen over four billion downloads to date, The Angry Birds Movie became a global box-office hit. With delightful and always surprising characters, inventive physical humor, a high-gloss and richly colorful look, and an abundance of puns, the film appealed to kids, their parents, and all ages in-between.

The filmmakers were eager to explore a new chapter in the saga of the flightless birds. "We were so excited that The Angry Birds Movie took the world by storm and created a worldwide fanbase," says producer John Cohen. "Audiences enjoyed seeing the recognizable characters from the game come to life on the big screen, and we couldn't wait to jump on the opportunity to expand the universe."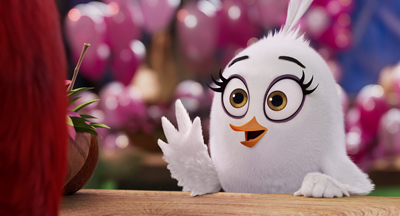 In the first film, Red (Jason Sudeikis) was the angriest of the angry birds – an alwaysaggravated outcast on the otherwise tranquil Bird Island. But Red was the only one with the courage to discover and take on the threat of a team of pigs, led by Leonard (Bill Hader), who were determined to steal the birds' precious eggs. Red, aided by his best pals, Chuck (Josh Gad), a quick-witted and fleet-footed canary with the need for speed, and Bomb (Danny McBride), a sweet but occasionally explosive guy, led the birds to victory in their battle against the thieving pigs.

Now, in this new adventure, Red is a hero beloved by all on Bird Island. Meanwhile, the bird-pig conflict has devolved into a war of pranks. That all changes when gigantic ice balls begin falling from the sky, onto both Bird Island and Piggy Island. A new and ice-cold threat has emerged from a mysterious third island, and things get even more confusing when Leonard pays a covert visit to Red, suggesting that their respective communities join forces against their common enemy. This is now a bird AND pig problem, Leonard insists, and if they can't work together, both islands will be destroyed.

"We wanted a big idea – in fact, several big ideas – so we introduced an island that the birds and pigs didn't even know existed, leaving them no choice but to team up," notes Cohen.

Red is distrustful, but sees he has no choice. Says Jason Sudeikis: "All of a sudden, the pigs want a truce? Why? Because there's another island that's hurling unidentified flying objects – some kind of ice bombs – into their respective neighborhoods. So, the pigs have to pair up with the birds, which kinda bums Red out a little bit. He's not sure he can maintain his hero status, but he's gotta do what he's gotta do, right?"

The enemies must become frenemies, and form a superteam comprised of Red, Chuck, Bomb, Leonard, the majestic but deeply flawed Mighty Eagle (Peter Dinklage) and new recruits, Silver (Rachel Bloom), Chuck's savvy sister, and an engineer with all the answers; Courtney (Awkwafina), Leonard's cute and sassy assistant; and Garry, a grumpy porcine scientist who provides all of Piggy Island's high tech.

The new motley crew discovers that winter is coming to their islands via the icy projectiles being fired from Eagle Island, over which Zeta (Leslie Jones) reigns with the help of chief scientist Glenn (Eugenio Derbez). Tired of the frozen conditions of her world, Zeta decides to seize Bird and Piggy Islands to create a new paradise – for herself.

Facing a final countdown, our bird and pig all-stars must travel undetected to Eagle Island, infiltrate Zeta's lair, and neutralize her super-weapon. As the heroes race to save their homes, a parallel adventure is unfolding, as the beloved and mega-cute Hatchlings (young baby birds) introduced in The Angry Birds Movie, are up to their old tricks, via a role-playing-game-gone-wrong – proving that no hatchling is too small to dream big!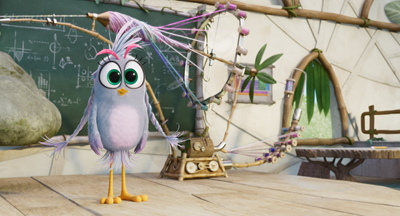 Frenemies
Frenemy.

It's an evocative word indicating a person with whom one is friendly despite a fundamental dislike or rivalry. And it's a perfectly succinct description of the idea hatched by the filmmakers to bring the world of Angry Birds to a new level. "We started with that idea, knowing there'd be so much comedy and conflict to be mined from the two enemy factions – the birds and pigs – being forced to work together," Cohen explains. "That would lead to trust issues, clashes of egos, a lot of friction, and more character-based comedy. We wanted to surprise audiences with a new energy and comedy 'motor.'"

Cohen further characterises the new film as a "mission movie" about a core team of characters coming together to pull off a daunting task, which in turn, says Cohen, provides "opportunities for action and adventure different from what audiences experienced in the first film." Bringing a fresh take on the characters and their mission is director Thurop Van Orman, making his big-screen directorial debut after helming the popular Cartoon Network series The Marvelous Misadventures of Flapjack and Adventure Time with Finn & Jake.

Says Van Orman: "With The Angry Birds Movie 2, I was always looking to maximize the visual humor, which translates to every age, region and background."

The Returning Heroes

Back to anchor the all-new adventure are our three angry birds: Red, Chuck, and Bomb. But having experienced a heroic adventure in the first film, the flightless trio have undergone some changes. "Each character brings something unique to the table to help get the job done," says Cohen.

Following the events of the first film, Red, voiced by Jason Sudeikis, has achieved "hero status" on Bird Island, a badge of honor he wears proudly. He's now dedicated his life to keeping the population of Bird Island safe from all outside forces. But don't let the heroic exterior fool you: Red still lacks some of the basic social skills needed to fully connect with other birds and has some deep-seated insecurities.

So, there's still some room for Red to work on himself – as a hero and as an "angry bird." "We wanted this film to be a new type of hero story and to focus on the next stage of Red's development," Cohen adds. "Red doesn't yet fully understand that trust and teamwork can get you a lot farther than you can go on your own, and he's a little reluctant to embark on the journey to Eagle Island because he's worried about losing everything he's built since he led the battle against the pigs."

Like all the returning cast members, Sudeikis had a deep emotional investment in his character, which, says Van Orman, adds significantly to Red's appeal and fun. "Jason and all our actors were eager to explore new facets of their roles.Jason now knows Red backwards and forwards, and came in ready to hit the ground running."

"What I love about Red is how he slowly transforms as this adventure unfolds," Sudeikis reveals. "As a parent of two kids, myself, and just as a person currently on planet Earth, the film's themes of working together and trying to empathize with your fellow man – or bird – are timely and important."

Super-speedster Chuck remains by his best buddy Red's side and is the catalyst for Red's emotional journey. As brought to life by Josh Gad, Chuck thinks and talks fast – and moves even faster. Despite his frenetic energy and lack of a filter when speaking, Chuck's speed proves to be a vital tool in the mission to Eagle Island. But the addition of Chuck's brainy sister Silver propels the character to new heights. "Josh Gad couldn't wait to push Chuck even further, and have him be even more hyperactive and manically funny," says Van Orman. "It was fun to experience with Josh how much more 'pushed' Chuck could be."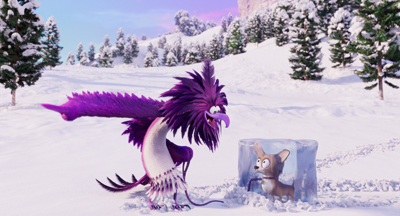 The original big three is rounded out by Bomb, who's a bit of a dim bulb with a big heart. His larger-than-life personality and size make the superteam anything but subtle – but Bomb's willingness to try anything will help the squad in a time of need. Popular comic actor Danny McBride reprises the role, which Van Orman notes is a perfect match of character and artist.

"Danny is one of the funniest people I've ever worked with," he enthuses. "I'd keel over laughing during his voice recording sessions."

Then, there's the return of Mighty Eagle, who was once a legend of mythical proportions in the bird community. The flock grew up with songs and tales of his amazing adventures, and because of Mighty Eagle's giant majestic wings, he is the only bird capable of flight. But his once-awestruck neighbors eventually learned he had some serious wings of clay and was revealed to have been hiding on Bird Island for years, clearly afraid of facing his past. This time, "We learn why Mighty Bird has been in hiding, from whom he was hiding, and his connection to Eagle Island," teases Cohen.

Peter Dinklage again brings his unique talents to the voice of Mighty Eagle, but the actor's participation in The Angry Birds Movie 2 required some rather soaring feats of scheduling to accommodate his concurrent work on the final season of Game of Thrones. "Peter has so much fun with this goofball, Mighty Eagle, which couldn't have been easy for him, as he was also playing a dark chapter in the life of his Thrones character, Tyrion," says Van Orman.

Still, Dinklage says he was more than ready to take flight once again as Mighty Eagle. "When I heard that a second Angry Birds movie was in the works, my first thought was, what took you so long? I've been waiting!" He also sparked to Mighty Eagle's long-held secret, which adds memorable twists and revelations to his – and everyone's – journey.

"Mighty Eagle has some knowledge of Eagle Island, and that makes him perfect to help the team infiltrate the island," Dinklage hints. "But you may remember that Mighty Eagle isn't always at his mightiest, so that will also have an impact on their adventure."

The uneasy and hilarious détente forged between Red and Leonard is captured by Sudeikis and Bill Hader, who returns as the leader of Piggy Island. When Leonard arrives at Red's doorstep with a story about a third island whose leader is planning to destroy both their islands, Red has no choice but to (reluctantly) trust him. Still, Leonard remains narcissistic and manipulative, as he and Red jockey for control of the superteam of frenemies they've assembled. Bill Hader, who recently finished the second season of HBO series "Barry" and will soon be seen in It: Chapter Two, is back as the officious pig, bringing his formidable comedic skills to the role. "Bill is supersmart and super-funny – and always knows when he nails a scene," marvels Van Orman.

New Friends And Foes

Central to building upon the adventure, comedy and fun of the first film was the creation of new characters – allies, foes and frenemies. A key new asset to the team of heroes is Silver, a grad student at Avian Academy, where she is earning her degree in engineering. Silver also happens to be Chuck's younger sister, sharing his cheerful, outgoing, and energetic personality. Silver is blessed with a gift for speed, but it's her brain that's extra-quick. Combine that with her energetic, outgoing personality, and there's bound to be friction – and all kinds of sparks – with Red.

"We wanted Silver to be funny, smart and quick like her brother Chuck," Cohen explains. "But the most impressive aspect of Silver is that she thinks fast, which is her superpower."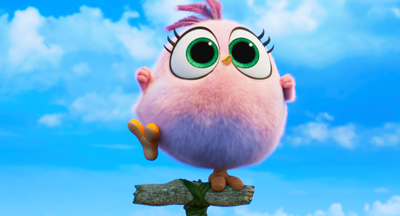 Silver's quicksilver brain doesn't initially endear her to Red, who's constantly being challenged by the team's rising star. "Red and Silver are at odds with each other," confirms Rachel Bloom, who voices Silver. "Red is threated by Silver because she sees through him and understands immediately that he's angry because he's scared. Red doesn't appreciate that kind of insight."

Bloom enjoyed exploring the character's other facets, particularly Silver's off-the-charts emotional I.Q. "Silver is not only a literal genius, she's also great with other birds," Bloom says.

"Sometimes intellectually gifted characters are awkward about interacting with others, but Silver is always empathetic; she's in touch with who she is and knows how to work with others."

Cohen and Van Orman note that Bloom brings more to the role than even they had envisioned.

"Rachel, as a writer and actor, had everything we wanted for the character," says Cohen. "She added so many wonderful qualities to Silver."

Adds Van Orman: "I'd been a fan of Rachel's television series, 'Crazy Ex-Girlfriend' and was thrilled when she came aboard and brought so much of herself to Silver. We really needed her perspective. More than anything, she brought an incredible realness to the role."

A very different kind of perspective is provided by "Saturday Night Live" legend Leslie Jones, who voices the villainous eagle Zeta – her first lead role in an animated feature film. Zeta is the frustrated and gangly ice queen of Eagle Island, who years ago, suffered a loss that has left her as cold as her frigid surroundings. Tired of living (and shivering) on a frozen island of snow and ice, she dreams of sipping piña coladas on the warm, tropical beaches of Bird Island and Piggy Island. She's sarcastic and selfish, and just conceited enough to believe she can take the two other islands for herself.

Jones seems destined to play the ultimate bad-bird. "During the casting process, we happened to see Leslie on a late-night talk show, where she revealed that it was her dream to play a villain," remembers Van Orman. "So, we grabbed that opportunity and to no one's surprise, Leslie was perfect as Zeta. She gives you everything you want in a villain; Zeta is big and over the top, but Leslie makes you understand her plight. Zeta's not going about solving her problems the right way, but you still feel for her."

[One eagle definitely feeling Zeta's pain is Debbie, the queen's doting but super-clumsy righthand-eagle. Debbie worships Zeta; there's nothing she wouldn't do for her queen / pal, including planning her schedule, organizing her personal life, or even doubling as a psychologist when Zeta has no one else to talk to.

Zeta also relies heavily on Glenn, her chief scientist and the architect of a comedic superweapon, which the intrepid pig / bird superteam must destroy to save their respective islands. Glenn is understandably nervous, knowing that his predecessors didn't keep their jobs long enough to see the weapon come to fruition. He's equally anxious about the fact that the weapon is not being used in the way Glenn had envisioned and has doubts about its repurposing.

Voicing Glenn is noted international actor / filmmaker Eugenio Derbez (Instructions Not Included) – the first time he's created a role in an English-language film. Says Cohen: "Eugenio is an incredibly gifted comedian, actor, filmmaker and writer, and brings unexpected dimensions to the character."

"Eugenio takes Glenn in directions even we couldn't have anticipated," confirms Van Orman. "He really internalizes Glenn's behavior; he makes us understand that Glenn is the smartest guy in any room, which he conveys by constantly mumbling under his breath. It's very funny and revealing about the character."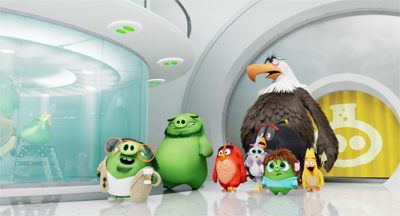 Back with (Super)Team Frenemies, we meet another tech-wiz, or more specifically, tech-pig, Garry, the mastermind behind the cool gadgets the guys use to sneak onto Eagle Island and attempt to disarm Zeta's mega-weapon. Garry is highly intelligent, super confident, and somewhat arrogant. Every team of agents needs their quartermaster, inventor of secret gadgets to ease the way out of any scrape – except that Garry's inventions aren't that great. He is based inside the high-tech Piggy Lab, working closely with his less-than-skilled team of guinea pigs.

But when Garry is recruited to join the heist team, he's going to have to check his ego at the door and attempt to work well with others.

With Garry, the filmmakers cast somewhat against type, with the role going to Sterling K. Brown, the acclaimed star of the dramas "This is Us" and "The People v. O.J. Simpson." But Cohen says Brown was an easy pick. "Not many people realize how hysterically funny he is. Sterling created a voice and personality for Garry that is both pompous and nerdy."

"Garry was written as being affected and egotistical, but who's really not as good as he thinks he is," adds Van Orman. "It was fun to watch Sterling become Garry, because the character, who always has a bad attitude, is Sterling's polar opposite."

"Garry is a bit of a nerd – and a little bit inept at his job, but he always does his best," confesses Brown. "For example, he makes this 'InvisiSpray' that will turn you invisible. Unfortunately, there's no way to make you visible again."

Brown also gives the Garry a British accent, paying homage to another fictional tech wizard audiences may recognise, and the mastermind behind the arsenal of wondrous gadgetry wielded by 007. "We played around with a few different voices for Garry before we landed on this kind of silly British accent," says Brown. "Brits – please don't get mad at me; you guys do American accents all the time," he adds with a laugh.

Another key member of the unexpected alliance is Courtney, Leonard's new piggy assistant. Even though she spends more time texting and listening to music than actually working, Courtney is probably the most competent and skilled assistant Leonard has ever had, which isn't saying much. And when Leonard barks orders, like asking her to actually work, Courtney takes it all in stride – but she occasionally dishes out some wicked retorts when Leonard underestimates her.

Actor / rapper Awkwafina, who shot to superstardom last year with starring roles in Crazy Rich Asians and Ocean's 8, voices Courtney. Cohen notes that he was a fan of the young star well before her high-profile big-screen triumphs. "I'd been following Awkwafina's music and YouTube videos for years. She has such a distinctive comic voice, through which her personality really shines through," he explains.

Van Oman adds that he, too, was fan of Awkwafina's web videos, and lauds the unexpected traits she gives Courtney. "The character wears her heart on her sleeve, and Awkwafina really brings that to life. Courtney is funny and quick, and Awkwafina gave her some fun, off-the-cuff grumblings that really painted a picture of the character's challenges on the mission."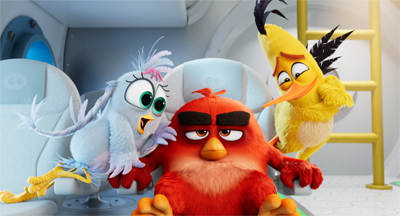 Meet "Harvey"

Once the Team arrives at Eagle Island, they must make their way to the super-weapon and then somehow disarm this heavily-guarded, ice bomb-spewing threat. So, they hatch an intricate plan: Chuck, Bomb, Courtney, Leonard, and Garry collectively don the costume of an eagle / security guard, "Harvey." As the eagles are several times the size of the birds and pigs it takes all five of them working inside the suit, not always in unison, to nab a security pass from another guard…who's taking care of business at a urinal. Rich with intricate choreography and broad physical comedy, the sequence was conceived by story artist Erica Jones.

"Harvey's" odyssey is inadvertently abetted by Jerry and Carl (Pete Davidson, Zach Woods), two dim-witted eagle security guards with a passion for pumping iron and reading trashy novels on the job. They are responsible for keeping the impenetrable super-weapon locked down at all times. Sort of.

Hatch(L)Ing Another Mission

While the pigs and birds are joining forces to save their islands, another adventure is unfolding, courtesy of three adorable hatchlings. The trio of baby birds – Zoe (pink), Vivi (green) and SamSam (beige) – are re-enacting the events of The Angry Birds Movie as they honor their new hero, Red. When an outside force endangers some eggs, the youngsters find themselves embarking on an epic quest to rescue them. The Hatchlings are voiced by The Florida Project's Brooklynn Prince, YouTube sensation JoJo Siwa, and a flock of young talents making their acting debuts.

"Playing 'pigs' and 'birds', they realize they rocks they've been using to stand in for the eggs don't cut it," Cohen elaborates. "So they borrow Zoe's still unhatched baby sisters from the crib, only to see a wave yank the eggs away."

With their big screen debut in the first film, the adorable hatchlings stole the hearts of audiences around the world, and the filmmakers knew they was much more humor, adventure and ubercuteness to be explored with their antics in the new story.

"In this film, they provide a different flavor of comedy relief from the comically intense scenes of the team infiltrating Eagle Island," says Van Orman. "Theirs is a big adventure in its own right, which ultimately dovetails into the main story. They are a big part of the movie."

Ice, Ice, Baby

Two of the chief architects of The Angry Bird Movie 2's unique and vibrant looks are production designer Pete Oswald and character art director Francesca Natale. Together, "they created unforgettable and distinct characters, as well as beautiful locations," says Cohen.

Having highlighted the exotic, sub-tropical islands of the birds and pigs in the first film, the filmmakers now wanted to create new visual elements, which led to the frozen climes of Eagle Island, an angry volcano, and a superweapon of incalculable power. "We wanted to create a new world for our characters, that felt different from Bird Island and Piggy Island," Cohen adds.

Eagle Island's icy environs also provide important character motivations. "Its climate is the driving force of Zeta's story and quest, and gives Zeta a relatable issue to solve – something I understand, having grown up experiencing Michigan's freezing winters," Cohen adds with a laugh.

Van Orman and his design teams worked to expand the color palette to push the fantastical elements. "Ice refracts light, so we got to play with a lot of colors, and we could also pull a lot out of the lava, and play with the temperatures and lights shining through it, to facilitate a spectrum of colors, and not just a fiery orange," he explains.

The colors, textures, designs, and character work come together to create a big, broadaudience animated event. "Audiences will love the comedy and characters," comments Jason Sudeikis. "We're coming at you a million miles per hour with this film." "First and foremost, The Angry Birds Movie 2 is a comedy," says Cohen. "But we're also proud of its message about the importance of teamwork, and that there's always a way to find common ground or a shared purpose."

"The film's sweet spot is that it's an hilarious and emotional rollercoaster ride, and will give audiences a special kind of adventure," Van Orman concludes.


The Angry Birds Movie 2
Release Date: September 12th, 2019