Don't Laugh...
Cast: Harrison Ford, Kevin Hart, Eric Stonestreet, Garth Jennings, Jenny Slate, Tiffany Haddish, Nick Kroll, Patton Oswalt, Hannibal Buress, Dana Carvey, Ellie Kemper, Pete Holmes, Bobby Moynihan
Directors: Chris Renaud, Jonathan Del Val
Genre: Adventure, Animation

Synopsis: Illumination's tenth animated feature, The Secret Life of Pets 2, is the highly anticipated sequel to the 2016 comedic blockbuster that had the biggest opening weekend ever for an original film, animated or otherwise.

Packed with Illumination's signature irreverence and subversive humor, this new chapter explores the emotional lives of our pets, the deep bond between them and the families that love them, and answers the question that has long intrigued every pet owner: What are your pets really doing when you're not at home?

Terrier Max (Patton Oswalt) is coping with some major life changes. His owner (Ellie Kemper) is now married and has a toddler, Liam. Max is so worried about protecting the boy that he develops a nervous tic. On a family trip to a farm, Max and mutt Duke (Eric Stonestreet) encounter canine-intolerant cows, hostile foxes and a terrifying turkey, all of which only elevates Max's anxiety. Luckily, Max gets some guidance from veteran farm dog Rooster (Harrison Ford, making his animated-film debut), who pushes Max to ditch his neuroses, find his inner alpha, and give Liam a little more freedom.

Meanwhile, while her owner is away, plucky Pomeranian Gidget (Jenny Slate) tries to rescue Max's favorite toy from a cat-packed apartment with a little help from her feline friend, Chloe (Lake Bell), who has discovered the joys of catnip.

And crazy-but-cute bunny Snowball (Kevin Hart) gets delusions of grandeur that he's an actual superhero after his owner Molly starts dressing him in superhero pajamas. But when Daisy (Tiffany Haddish), a fearless Shih Tzu, shows up to ask for Snowball's help on a dangerous mission, he'll have to summon the courage to become the hero he's only been pretending to be.

Can Max, Snowball, Gidget and the rest of the gang find the inner courage to face their biggest fears?

The Secret Life of Pets 2
Release Date: June 20th, 2019


The Characters
As with the first Pets film in 2016, Pets 2 features some of the most extraordinary comedic talents alive today. The actors are encouraged to ad lib during their recording sessions, and to contribute their own ideas, but it falls to returning director Chris Renaud and returning screenwriter Brian Lynch to harness and shape all that creative energy and make sure that it enhances the film. "In addition to the comedic actors coming up with ad libs, Brian, our writer, always throws out great ideas to me while we are in the session," Renaud says. "It's sort of my job to navigate all of this input in an attempt to get the best material, thinking on my feet about what works and what doesn't. Sometimes, what plays funny in the recording booth doesn't land in the movie. Either it's too long or we don't have the actor's facial expressions and body language to support the joke. That said, there are definitely a few ad libs that become our favorite lines in the movie!"

Pets 2 finds all our favorite characters, and a few new ones, facing new challenges that will test their courage, determination and their ability to trust themselves, no matter what life may throw at them.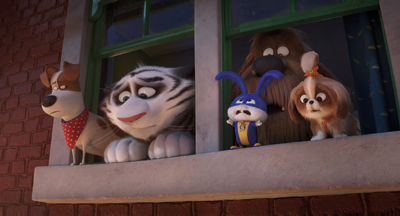 Snowball
Kevin Hart
At the end of Pets, crazy-but-cute bunny Snowball walked away from his life as an underground warrior for abandoned pets when he was adopted by a little girl named Molly. Now happily domesticated, Snowball, played again by Kevin Hart, spends his days in adorable outfits that Molly dresses him in. Snowball's favorite costume is a pair of superhero pajamas. He dubs himself Captain Snowball and begins to believe his own hype, even though he's never actually rescued anyone or done anything particularly heroic.

"Being a superhero means everything to Snowball," Kevin Hart says. "His biggest challenge is realising that his belief that he's a superhero doesn't match up with the physical reality of being one. But he's got an ability to make even his mistakes look intentional. When he gets oohs and aahs for accidentally achieving something, like landing on the back of truck only because his cape got caught on a clothesline, he believes he did it on purpose. it just reinforces his idea of himself."

Snowball's idea of himself is challenged, however, when a fearless Shih Tzu named Daisy (Tiffany Haddish), having heard the legend of Captain Snowball, shows up in his apartment to recruit him for a dangerous mission: to rescue a white tiger cub from a cruel circus owner named Sergei (Nick Kroll). Faced with the prospect of real danger, Snowball panics (just a little) and tries to avoid the mission. Once he gives in, though, he quickly discovers that Daisy is one brave little dog, and he's going to have to seriously up his game.

"Snowball doesn't have a big group around him to make him feel like the head honcho, like he did in the first film," Hart says. "He's forced to realize that sometimes other people have better ideas than he does, and he has to follow rather than lead. That's humbling, and it's part of his growth in this movie. It's also really funny. To see someone like Snowball realise that the world outside doesn't match the one inside his head, that everything isn't the way he wants it to be, that's funny to me."

Snowball had been the breakout star of the first Pets, so the filmmakers were eager to provide Snowball with new challenges, and Hart with new comedic opportunities. "It was clear that audiences loved Snowball after the first film, so it was easy to put him front and center again," Renaud says. "Kevin had a specific spin on his character and added certain things to make Snowball his own. Snowball is bigger than life. Once he puts on the superhero costume, he's really bigger than life. There's a naïve, childlike sensibility about Snowball that audiences fell in love with."

For Hart, the decision to return to Snowball again wasn't a hard one, in part because the process of creating him is so fulfilling. "There's always a high level of discovery, playing Snowball, and I credit the creators, the director and the writers for letting me bring as much to the character as I possibly can," Hart says. "To date, when I get in that recording booth, there has never been a hand in front of me telling me to stop or to not push or to be more creative. When you have people around you like that, you're constantly evolving."

Over the two films Hart has developed a pretty solid sense of Snowball's inner life. "I love Snowball's ability to backpedal and ramble his way out of things," Hart says. "If he says, 'Look everybody, we're going to go out at noon,' and then someone says, 'Why? That's stupid,' he immediately goes, 'Well, I knew 11:30 was better anyway!'" He laughs. "What's amazing is that he does stuff like that in such a prideful manner, and with such bravado, that no one ever thinks he's a coward or that he isn't capable. No matter what, he always makes sure he seems real and tough, even when he isn't."

As much as he loves playing Snowball, though, Hart wouldn't recommend relying on him in a crisis. "If I were in danger, If I would not look to Captain Snowball to be my savior," Hart says, laughing. "I would much rather have somebody capable of dealing with whatever the circumstances are. There is something contagious about Snowball's spirit, his belief in himself, though, that makes you want to rally behind him, whether his accomplishments are real or not."

Hart's co-stars are a little more confident in Snowball's abilities. Sort of. "Captain Snowball is pretty great," says Bobby Moynihan, who voices always-hungry pug, Mel. "In theory I would hire Captain Snowball to save me," he adds, "but it would depend on how much money we're talking. I'm pretty light on cash right now."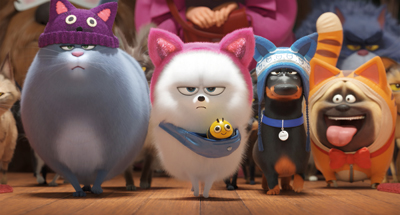 Duke
Eric Stonestreet
Since we last saw them, roommates Duke (Eric Stonestreet) and Max (Patton Oswalt) have been grappling with some life changes. Their owner, Katie (Ellie Kemper) has a new husband (Pete Holmes) and a toddler son named Liam. "Duke and Max, we consider Liam our kid," says Eric Stonestreet. "We want him to look up to us, and we want to set good examples for him. It's such a sweet relationship, and one that I think a lot of parents are going to see themselves in. So many of us are so worried about life and dangers for our kids, but kids have got to find a little danger to learn lessons in life."

Duke and Max look out for Liam, but Duke is handling it better than Max, whose anxieties have about all the dangers that could befall Liam have turned him into a nervous wreck. "Duke's more comfortable now," Stonestreet says. "In the first movie he didn't really know where his place in the world was, and now he clearly has a home. He and Max are best friends, and now with Liam in their world, Duke's a more confident dog because he knows he's got a place to live and to be."

When Katie and her husband take Liam and the dogs to a family farm for a little getaway, Max sees danger everywhere, while Duke embraces the joys of country life. "The farm means so much to Duke," Stonestreet says. "First of all, it's got so many smells! I can relate to that. When I go home, to the most rural part of Kansas City, I love all the smells of fresh-cut alfalfa, even the smell of cow manure. As a kid you think you don't like that smell, but when you grow up and leave it, you can't wait to get back and just smell the cow poop! It smells like home. So first and foremost, Duke is most excited about getting out to the country, smelling all those smells, and then settling down, changing tempo, changing pace. To go from the big city to the farm, it's nice. You're not in a hurry anymore. Duke appreciates that."

As Max freaks out and Duke revels in the new adventure, they meet a veteran no-nonsense farm dog named Rooster (Harrison Ford), who teaches them the ways of the farm, with some solid life advice thrown in for good measure. "Duke thinks Rooster is the coolest dog he's ever met," Stonestreet says. "How could you not? Rooster lives and sleeps in an old 1930s truck. He wears a cool neckerchief like a real cowboy. I mean, you've got to be a strong personality and have a lot of confidence to pull off a neckerchief, right? Just his name, Rooster, signifies a lot. I'm scared to death of roosters personally. Roosters tormented me as a kid. Anyway, Duke think Rooster is awesome."

For Stonestreet, Duke represents what is best and pure about dogs, and our relationships with them. "My favorite quality of Duke's is his earnestness and his immediate trust in people," Stonestreet says. "That's what's so great about dogs in general. Dogs are born wanting to trust you and love you. It's innate, and its only when something tragic happens in their lives that that trust is lost. So, I think of Duke as a bit of an innocent, and I love that about him."

Duke also can surprise you every once in a while. "Duke runs that perfect fine line between smart and not-smart," he says. "You can think of him as kind of a doof, but then occasionally he says some pretty smart things."

Coming back to this character, and this franchise, for a second film was an easy decision for Stonestreet. "I have a blast doing the recording sessions," he says. "I love it. Well before Modern Family I took animation and voice-over classes. I always aspired to get into this world, so it's a dream come true to be able to do it. It's freeing. It's expressive. It's fun. I couldn't think of a better job."

Plus, it has some unexpected perks. "Where we do the recording sessions is only about four minutes from my house, which you can't overestimate the value of in Los Angeles," Stonestreet says. "You're so much happier when you get to work! You just roll in, do some vocal warm ups, say 'hi' to everybody, look at pictures from the film and character designs. One of my favorite memories from the first movie was the day they put the film art out on music stands for me to look at for the first time. It was so inspiring, and it really helped me get into the feel of it."

The Secret Life of Pets 2
Release Date: June 20th, 2019