Introducing The One, The Only"Dumbo, The Flying Elephant
Cast: Colin Farrell, Michael Keaton, Danny DeVito
Director: Tim Burton
Genre: Adventure, Family, Fantasy
Rated: PG
Running Time: 118 minutes

Synopsis: From Disney and visionary director Tim Burton, the all-new grand live-action adventure "Dumbo" expands on the beloved classic story where differences are celebrated, family is cherished and dreams take flight. "The idea of running away to join the circus is a feeling that has always stuck with me," says Burton. "I never really liked the circus with the captive animals, the clowns, the uncomfortable death-defying acts and"did I mention?"the clowns! But I understood the idea of it, joining a weird family of outcasts who don't fit in with normal society"people who are treated differently. That's what 'Dumbo' is about."

The story emerged more than seven decades ago, catching the eye of Walt Disney, who eventually turned it into the Walt Disney Studios' fourth feature film release. The original animated version of "Dumbo" flew into theaters on Oct. 23, 1941; it was one of the first films completed after Disney opened its new Burbank studio lot. The film was revered by both audiences and critics, winning an Academy Award® for best music, scoring of a musical picture (Frank Churchill, Oliver Wallace). The heartfelt and memorable song "Baby Mine" was also nominated for an Oscar®. That endearing relationship between mother and son so beautifully illustrated in "Baby Mine" is one of many reasons audiences have been drawn to the story for generations. "The image of Dumbo is an iconic one throughout the world," says producer Derek Frey. "People instantly know the baby elephant with the big ears. They may not remember every beat of the story, but they remember the tender moments as well as certain realities of the world that weren't expected in an animated movie. It's the kind of story that became a part of your soul as a child."

Frey, who's headed Tim Burton Productions since 2001, first considered the idea of turning "Dumbo" into a live-action feature nearly five years ago when a script penned by Ehren Kruger landed on his desk. "When I read it, it instantly touched something in me," he says. "I thought it was something fresh and new, but maintained what we love about the original."

Says Kruger, who's also one of the producers, "Dumbo resonates with us because we're all flawed in some way, yet Dumbo shows us that sometimes those flaws are what make us special."

While Kruger was determined to maintain the heart of the original film, he knew that in order to make a live-action feature, he'd have to expand the story. "I wondered if Dumbo were a real flying elephant in an actual circus in the golden age of circuses, how would he affect the people existing in that world?" says Kruger. "I wanted to explore how the people of the circus world would relate to Dumbo's journey."

Adds producer Justin Springer, "We really wanted to explore the human side of his story and give it historical context. In the animated feature, Dumbo flies for the world at the end of the film. We wanted to find out how the world reacts when people learn that this elephant can fly."

Circus owner Max Medici enlists former circus star Holt Farrier and his children, Milly and Joe, to care for a newborn elephant whose oversized ears make him a laughingstock in an already struggling circus. But when they discover that Dumbo can fly, the circus makes an incredible comeback, attracting persuasive entrepreneur V.A. Vandevere, who recruits the peculiar pachyderm for his newest, larger-than-life entertainment venture, Dreamland. Dumbo soars to new heights alongside a charming and spectacular aerial artist, Colette Marchant, until Holt learns that, beneath its shiny veneer, Dreamland is full of dark secrets.

Dumbo
Release Date: March 26th, 2019


About The Production
"You've seen a horse fly. You've seen a dragonfly. You've even seen a housefly. But you haven't seen anything until you've seen an elephant fly!"
- Baritone Bates, "Dumbo"

All-New Cast of Human Characters Join the Beloved Elephant on the Big Screen

The story of "Dumbo" dates back to 1939 as a planned novelty item called a Roll-A-Book"a box with little knobs that readers turned to read the story through a window. Authors Helen Aberson and Harold Pearl wrote the story "Dumbo the Flying Elephant." Whether the Roll-A-Book was ever produced is a mystery"none have been located"but when Walt Disney purchased the rights to the story, he published about 1,430 copies of a book-version of the story.

Originally, the story was to be turned into a short film. But the filmmakers, headed by Walt Disney himself, kept expanding the film till they ended up with a 64-minute feature film starring a charming little elephant named Dumbo.

The animated film is told through the eyes of Dumbo; the humans in the story were background characters"villains in many ways. Tim Burton's all-new live-action reimagining not only expands the plot, its human characters are central to the narrative"serving to interpret the baby elephant's journey in a way that's wholly relatable. "It's a very sweet story," says Burton. "The idea of a flying elephant is such a simple story. I think that's why it's quite popular and affected people so much, because of how primal and basic it is."

According to producer Katterli Frauenfelder, the filmmakers were keenly aware of the original film's station in the hearts of people worldwide. "You're coming up in a modern world with children, their parents and their grandparents, who are all very aware of 'Dumbo.' Tim's creating a new version. For Tim, it was a challenge to lay a new foundation"and one that might be as beloved"and elicit an equivalent emotional response from an audience of today."

Ehren Kruger's script paid homage to the original film, while taking it in a new direction. Says Burton, "I thought it offered a way to tell that story in a framework that expanded it, but without redoing the original. I just liked the take on it. It was simple, with an emotional simplicity, and didn't interfere with what the basic through line of the original is about."

Character Lineup:

DUMBO, a newborn elephant with a sweet disposition and oversized ears, is the newest addition to Max Medici's run-down circus. His differences initially alarm Medici, who'd been banking on a cute baby to attract huge audiences–until Dumbo discovers he can use those ears to fly. Dumbo finds it hard to celebrate though, when his beloved mother is taken from him, leaving him lost and afraid"and the star attraction in a state-of-the-art amusement park called Dreamland.

"I think we can all relate to Dumbo," says producer Justin Springer. "He's this strange little creature who is made fun of because of how he looks. But his ears ultimately become his greatest gift. It's a classic outsider story. You can't help but root for him."

Though he may be the star of the film, Dumbo doesn't speak. "When I first approached this as a live-action version of the 'Dumbo' story," says screenwriter/producer Ehren Kruger, "it was important to me that we make the world feel as real as possible. So, we made the decision that there weren't going to be any talking animals. So, Dumbo doesn't talk, but he's never talked. The only animals who speak in the animated film are the stork, the chorus of elephants, Timothy the mouse and the crows.

"So, once we eliminated the talking animals, we were left with a Charlie Chaplinesque character of Dumbo, who is somewhat of a silent-film actor in both the animated film and in our film," continues Kruger. "We wanted to populate a human world with characters for whom Dumbo's story would give cause to reflect on their own situations."

Visual effects supervisor Richard Stammers oversaw efforts behind bringing Dumbo to life on the big screen. "Dumbo is fully CG created, as is his mom, Mrs. Jumbo," he says. "As our hero character, Dumbo's emotional journey"the subtlety of his eyes and facial expressions and his ability to interact with the actors"was so important. We had to find the right balance between the character we remember and an updated, realistic, live-action version"seamlessly integrating Dumbo and all of the other animals into what is essentially a live-action movie."

Before the film even entered its pre-production phase, Burton tapped character designer Michael Kutsche to explore the design of the title character. "The challenge on 'Dumbo' was pretty clear," says Kutsche. "How [can we] take this beloved character, which is a very stylized 'toon, and bring him to life in a live-action film?"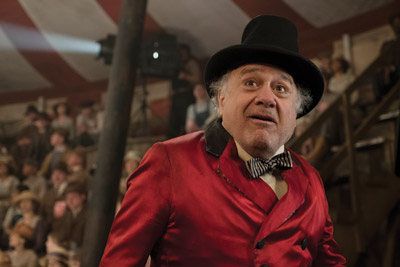 The end result was a hybrid of sorts, embracing the charm of the animated character while taking him into a live-action role. "The DNA of the original design is still embedded in ours," says Kutsche. "We looked at the original model sheets from the Disney films for inspiration. The problem is, you can't just take a realistic baby elephant and make his ears huge; it just feels wrong. We had to inject a little magic, so to speak, to sell the idea of a flying elephant. It's similar to designing unicorns. They aren't just horses with horns; they have a slightly different and unique anatomy. So, in a way, what we have arrived at is a 'heightened memory' of the image of a baby elephant instead of a photo-realistic copy."

Burton continued to refine Kutsche's design throughout filming and post-production"but the look, with a bigger head and eyes to make room for those iconic ears, was the starting point for the Dumbo that eventually takes flight in the film.

Despite the fact that Dumbo was created in CG, the production called for something practical on set. Enter David White, whose background in prosthetic makeup design translated into crafting creatures to address a variety of needs"from establishing spatial awareness to giving actors something to react to. Says White, "They often wanted to see an elephant in camera that's as close to what it'll eventually be, so that it can be lit and they can see in real time all of the colors and textures. So, we set about making a Dumbo."

Six different versions of Dumbo were created to test before production kicked off. "We lined them all up," says White. "They were all different color"A, B, C, D, E, F"they had different color eyes, different amounts of hair, different textures. Everyone went away to figure out which tone worked best"it's not gray, it's not brown. In the end, it proved to be so useful because the colors reflect against costumes, backgrounds."

The life-size maquette had built-in flexibility. "We made sure that the head and the ears were all detachable," says White. "So that when you're on set and they need reference, but don't want to hold the full Dumbo, you can just grab the head"with or without ears."

According to Stammers, sometimes a scene called for a more dynamic version of Dumbo. "We engaged a performer to represent Dumbo," he says. "Edd Osmond dressed in a green suit to represent where Dumbo would be, but also to provide a guide to performance that Tim could direct that would inform our animation later. Edd was key"not just providing an eyeline, but also an interactive reference for contact, so when the kids needed to touch Dumbo, Edd was there physically."

Stammers says that Osmond was equipped with a number of different suits. "Quite often, he'd wear what we lovingly referred to as his 'ant man' costume," says Stammers. "It's a skinny version of Dumbo with a smaller head, but eyes in the right place. Actors could look him in the eyes and touch the top of the head. The general footprint was in the ballpark for what we'd need, but since it was smaller, we wouldn't have to paint out as much later."

How do you make an elephant fly? First, he has to look the part. "When you look at the size and weight of our baby elephant versus the size of its ears, it's completely implausible that he can fly," says Stammers. "So, we had to figure out how to suspend that disbelief."

Character designers actually enhanced the anatomy of a typical elephant to make Dumbo's ears look capable of lifting his weight. They also rotated the ears slightly when he took flight. According to Stammers, gliding and soaring movements proved really successful. "We tried to find those sweet spots. When Dumbo flies with Colette in the Colosseum, they start on a huge pedestal and they fall into a dive and soar, which was really beautiful."

"OK, little guy. Let's put on a show."
- Holt Farrier, "Dumbo"

Holt Farrier is a former circus star who finds his life turned upside down when he returns from World War I. He has lost his wife and his circus act, and struggles to connect with his two children, Milly and Joe. When he is asked by the circus owner to care for a newborn elephant whose oversized ears make him a laughingstock, Holt doesn't exactly jump at the opportunity"but his children do, which opens the door to a future bond he never saw coming.

"The central human relationship in the movie parallels the elephant relationship," says producer Justin Springer. "As this baby elephant tries to reconnect with his mother, Holt and his children are trying to put the pieces of their family back together to find a happy life."

Colin Farrell portrays Holt. "He was half of a double act with his wife before he went off to fight in the First World War," says Farrell of his character. "They had a horse act where they would do roping tricks and trick riding, but he was sent off to fight and left his wife and two children behind. By the time he comes back, his wife has passed away and his children were raised by the circus. He's also lost his left arm in battle, so he is both physically and psychologically wounded. He comes back to a life he doesn't recognize. He doesn't know how to deal with the grief of having lost his wife."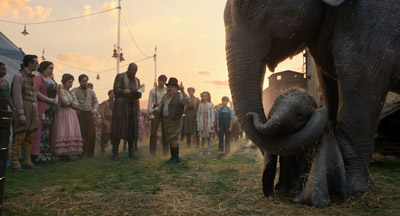 Farrell's casting marks the first time he's worked with director Tim Burton, who says the actor instantly found the heart of the character. "[Holt is] war-damaged, he's missing an arm, he used to be a star, he hasn't seen his kids and he doesn't really know how to talk to them," says Burton. "To try and do that subtly and emotionally takes a certain type of person, somebody who understands drama and comedy and emotion, all mixed together. It's a subtle part, and those are sometimes the hardest ones to do. Colin's great because he did it, he really understood the mixture of all of those things. Plus, he can ride a horse one-armed, and you can't say that about everybody. He was a real collaborator, and really fun to work with."

Farrell is no stranger to horses, having appeared in several films that required extensive horse riding ("Alexander," "Winter's Tale," among others). "Any of the times I've ridden horses in films, there's always a specific reason or scene that will demand a certain new skill set," says the actor-slash-equestrian. "So, I've been doing a little bit of roping on this film that I hadn't really ever done before, and that's been tricky. But I've had some great guys working with me. Rowley [Irlam], who's the stunt coordinator I worked with on 'Alexander,' and Luis Miguel [Arranz], who's a Spanish horse trainer and rider, are kind of genius. So, it's been fun. It's a huge part of Holt's life, so it was fairly important that I at least seem to have a sense of comfort."

According to costume designer Colleen Atwood, Holt's background as a performer and horseman influences his wardrobe. "He was a cowboy performer who was flashy when he was a circus star," she says. "His costumes still have a southwestern flavor within the parameters of the period.

"It's a journey about a man becoming whole again," Atwood continues. "It's him finding himself again, and Colin and I worked together to find the right look for Holt. He comes back in a uniform, and he has a couple show outfits, but mainly he's in work clothes, so it's a very humble sort of costuming, which is a big contrast to the glamorous show costumes on the other side of the coin."

"Rule number one – always have a big finish!"
Max Medici, "Dumbo"

Max Medici, the owner of the struggling Medici Bros. Circus, purchases an expectant mother elephant in hopes that her adorable offspring will bring in the crowds. But when the baby is born with giant ears, Medici's hopes are dashed–until he discovers that Dumbo can fly. Things are looking up, literally, for Medici and his circus"especially when an entrepreneur with money to spend makes him an offer he can't refuse.

"Medici is a good guy," says producer Derek Frey. "He is proud of his circus, and he cares deeply for the people who occupy it. But when we join the circus at the beginning of our story, they are struggling. There are certain things that he has to do about the bottom line simply to keep the circus afloat. Drastic times lead to drastic measures."

Danny DeVito portrays Maximillian Medici, as well as a fake twin brother called Giuseppe Medici who Max feels adds intrigue to the circus. DeVito has stepped under the big top with director Tim Burton before. "Well, this is our circus trilogy, Tim and I," says DeVito. "I had a circus troupe in 'Batman Returns.' Then we did 'Big Fish' along the way, and I was the circus ringmaster in that. Now this is a completion of the circle. Not to say we won't do other circuses together, but this feels like we're making it whole!"

Burton clearly has an affinity for DeVito. "He's an artist and he does lots of different things," says the director. "He's directed, acted, produced; he's done so much. He's also a great person to be around"fun and open. He's just the kind of personality everybody really likes. It was great working with him again."

DeVito was drawn to the film in part because of his relationship with the source material. "I watched it when I was a kid, and I've got three kids, so I've watched it many times over the years," he says. "It always gives you a tear in your eye, with Mrs. Jumbo"she's so left out at the beginning, the stork is not bringing her babies. She's so sad and then finally Dumbo comes and of course he comes with an added attraction: he's got these big, blanket ears that just go on forever, but it's unconditional love. That's what we have for our kids and that's what this movie is all about. There is such artistry in that movie, and if anybody can remake it, Tim can."

Medici's look changes over the course of the film, beginning with modest ringmaster attire"a red coat with tails and striped trousers that, according to costume designer Colleen Atwood, are faded and aged to reflect the struggling circus. "He wears a topper, but it's quite unique," says Atwood. "He's worn a top hat before in a movie with me, so I didn't want to do the same thing again. And he wore one in 'Batman,' so I really wanted to avoid the typical top hat. He has a derby version of a topper."

According to Atwood, Medici's look gets an upgrade of sorts once after Dumbo's arrival. "He becomes the impresario extraordinaire," she says. "He gets what I call his 'Purple Rain' suit. It's a rather loud purple checked suit. I wouldn't say he's a man of discriminating taste. It's a little bit tacky but in a loving way."

Hair and makeup designer Paul Gooch ensured that DeVito's hair reflected the level of strife in Medici's world. "It was good to use the madness of his own hair alongside his stained vest and collapsed hat," says Gooch. "It all seemed to work quite well together. Once his circus has been bought out by V.A. Vandevere's wealthy circus, we gave him a shave and a tidier hairdo, which he then keeps for the rest of the film."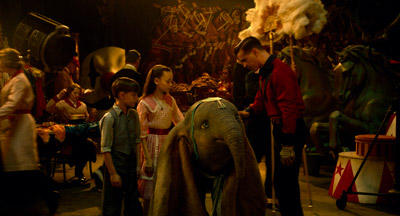 "Who's been dreaming like I've been dreaming?"
-V.A. Vandevere, "Dumbo"

V.A. Vandevere is a persuasive entrepreneur who sets his sights on Max Medici's circus and its newest, miraculous member"a flying elephant. Yet all Vandevere can see are dollar signs. He plans to make Dumbo a big star in his state-of-the-art amusement utopia, Dreamland, by pairing him with a stunning aerial artist named Colette. With Vandevere's eye on the prize"nothing and nobody can stop him.

"V.A. Vandevere is a guy who's coming in to buy the circus," says producer Justin Springer. "He's making a great offer, and what he's selling sounds great. 'I can take you to a better, brighter place,' he says. He makes a really convincing argument and he plays into Medici's desire to take care of his circus family."

When Tim Burton first approached Michael Keaton about the movie, he anchored the story in a simple, relatable theme. "He told me it's about family," says Keaton. "One reason Vandevere, my character, behaves the way he behaves, which is not too nice, is he never really had a family, and deep inside, that ate him up"although he would never let you know that. And there's this little circus family that's not a mom-dad-and-two-kids situation. The father, played by Colin Farrell, is trying to hold this little family together. Enter this really cute little flying elephant. You've got forces who want to grow that and enjoy that and make that a wonderful thing. Then there are some people who want to exploit it for their own personal profit. Unfortunately, I'm that guy."

Burton had, of course, worked with Keaton before. "I hadn't seen him for many years," says the director. "[Vandevere] reminded me of his energy from 'Beetlejuice'"that intensity that he has. You don't know whether he's being friendly or wants to kill you. It's really a lot of fun to work with him, and having him and Danny together again"that was great."

Hair and makeup designer Paul Gooch first met with Keaton in New York where he shared his thoughts on Vandevere's hairstyle. "We'd decided to try a full white wig"an evangelist, presidential-type thing with that iconic little flip. But Michael said he wanted it to look like he was wearing a toupee. So, we can see his own hair, and there are moments when he adjusts it himself."

Costume designer Colleen Atwood turned to their reference to dress Vandevere. "These entertainment guys that created circuses at that time were entrepreneurs, they were showmen with big personalities," she says. "We wanted to go for that without it being too 'in your face.' The clothes are pretty classic clothes from the time. He wears a cravat. We had a lot of fun with the character."

"I'm one of the many gems he wears to reflect the light back onto him."
- Colette Marchant, "Dumbo"

Colette Marchant is a French-born performer, accomplished aerialist, high-flying star and the sparkling presence on V.A. Vandevere's arm when he recruits Dumbo for his state-of-the-art amusement park called Dreamland. Much to Colette's surprise, Vandevere casts her in a new act alongside the flying elephant. But teaming up with Dumbo and the family who cares for him reveals more to Colette about show business"and herself"than she ever imagined.

Producer Derek Frey says, "Colette's relationship with V.A. Vandevere harkens back to the heyday of Hollywood when moguls and moneyed men walked around with a young starlet on their arm."

Eva Green was cast to portray the high-flying circus star. But there was a small problem. "I was absolutely terrified of heights," says Green. "It was a real phobia, and I told Tim [Burton] at the beginning, 'I don't know if I will be able to do my stunts.' But I trained with Katharine Arnold, who is the most amazing aerialist, and Fran Jaynes, who is the choreographer, and they really helped me to gain confidence and find the physicality of the character. It's unbelievable to swing up really high and spin and do some weird choreography. It was a real challenge, and I'm quite proud of myself on that one."

Before Green could take flight, however, she committed to an intense training regimen. "I had to train for four or five months to build a bit of muscle, because you have to be very strong as an aerialist," says Green. "Your arms have to be quite strong, and you need strong abs as well. It's like dancing in the air. You try to find the right posture and the right gestures."

According to Arnold, Green made her fears clear in the beginning. "We put her in the chandelier, which is one of the props that we use in the film," says Arnold. "I just took her for a little walk and she was not having it: 'I don't like it. Stop, stop, stop.' Fair enough. It's not for everybody. But we kept working, and she was amazing. She worked really hard, developed lots of core strength, lots of upper-body strength"I think that made her feel much more confident. Now, she's really happy in the air"she's fantastic."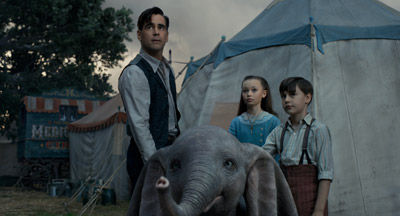 Says Green, "I had the most amazing teachers: real circus people. That really helped me to get into the circus mood. Now I am an aerialist for real!"

For the shots in which Colette flies with Dumbo, visual effects, special effects and stunt teams worked in tandem to make it possible. "We used a motion base"essentially a hydraulic round gimbal rig, which you might see as part of some theme park rides," says visual effects supervisor Richard Stammers. "Hydraulic pistons underneath allow the whole rig to move and soar, which simulates the flying of Dumbo. Separate actuators allow the head to bob up and down, separate from the body, and it also has moving ears so that as the ears flap up and down there's actually some lighting interactions casting shadows on her as they fly."

As Queen of the Heavens in Vandevere's show, Colette Marchant needed to look the part. "I took more of a silent-movie-star approach to her costumes," says costume designer Colleen Atwood. "She's circus glamorous, yet still set a bit apart from that world."

When Colette is not performing, she has a brown bob, but when under the big top, she has a very vibrant auburn red wig with waves.

"First rule of science. You have to have interest. Otherwise you don't deserve to know."
- Milly Farrier, "Dumbo"

Milly Farrier is the curious and confident daughter of Holt Farrier, a wounded war veteran and former circus star who is struggling to adjust to life after the war. More interested in science than the circus, Milly can't help but adore the newest member of their circus family"a newborn elephant whose oversized ears make him a misfit. When her newfound friend takes flight, Milly's natural curiosity soars right along with him.

Nico Parker was cast to make her big-screen debut as Milly. Although her character isn't into the circus, Parker found that she was. "The Medici Circus is amazing," she says. "There are some incredibly talented people: contortionists and knife-throwers and jugglers"people who have balls on their heads and just dance around. There's such a vast palette of talents throughout the whole circus, and it really is incredible to see how they do everything."

Milly and her brother form a serious bond with Dumbo, stepping in, in many ways, as Timothy Q. Mouse from Disney's animated classic. "Milly and Joe show him that they're always there for him, even when he doesn't believe in himself," says Parker. "They're so immensely proud of him. Even when he isn't proud of himself, they make sure he knows he's incredible. Also, they know what it's like to lose a mother, so they constantly sympathize with what he's going through."

According to producer Derek Frey, while both Nico and Finley Hobbins, who plays Joe, are truly talented, it's the combination that makes magic. "When we got Finley and Nico together, it was very clear that the two of them could create the emotional core of the story, which really revolves around the two of them and their relationship to Dumbo."

"But he was this far off the ground!"
- Joe Farrier, "Dumbo"

Joe Farrier, the rambunctious young son of Holt Farrier, heartily embraces the circus life. He'd love nothing more than to have his own act"but his acrobatic abilities, juggling talent and just about every other imaginable circus skill are not quite up to standards. When Dumbo is born, however, Joe's enthusiasm and pure heart seem to meet their match.

Finley Hobbins makes his feature film debut as Joe. "For my first audition, I had to perform a scene with a fake Dumbo, which was actually [casting director] Susie Figgis' dog, because we didn't actually have a model of Dumbo," says Hobbins. "Every few seconds the dog would jiggle around and we'd have a laugh. I had to do the scene where Dumbo is just sitting around, feeling quite sad and lonely, so me and Nico go to comfort him."

Hobbins says he's enjoyed being among the circus performers. "I like the clowns, who are quite freaky and funny," he says. "And the contortionists are amazing. I just think to myself, 'Wow, what if I could do that?'"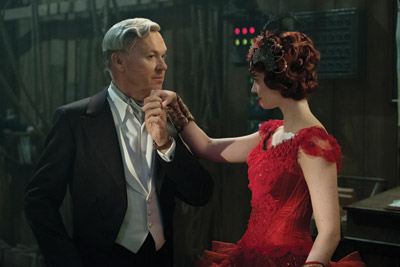 "When I was young, we believed."
- Pramesh Singh, "Dumbo"

Pramesh Singh is a snake charmer from India who performs alongside his nieces and nephews. Pramesh is somewhat attached to his work"carrying his 10-foot-long Indian rock python most everywhere he goes.

"He's very heavy," says Roshan Seth of his co-star. "He was very comfortable winding himself around my torso. You've got to be careful, though. If you had him around your neck, after a while he started to squeeze."

Seth, a veteran Indian actor who appeared in films like "Gandhi" and "Indiana Jones and the Temple of Doom," says the production often substituted a rubber version for the python, and any choreography required of the snake was handled in post-production CG.

"One last time to see him fly."
- Rongo, "Dumbo"

Rongo The Strongo is the strongman in the Medici Bros. Circus. He's also Max's right-hand man and his accountant.

DeObia Oparei was called on to fill Rongo's shoes. "I think that in working with Tim [Burton]"he's such an actor's director and such a great storyteller"so, as an actor, you go, 'Okay, this is going to be interesting,'" says Oparei. "Then once we started talking about the character and what he was looking for in Rongo, I really liked where he was going. It's very easy to take a character like that, the strongman, and to play it very big and stereotypically. But I didn't want to do that, and Tim didn't want to see that. And that was perfect. I love the fact that my character is this long-suffering, really loyal worker in this troupe of misfits and oddballs."

Oparei strived for authenticity in the role, researching strongman techniques so that he could lift 20-pound dumbbells in a way that appeared harder and heavier than it was. He also learned to play drums and the trumpet for the film.

"Return me to the vast abyss! My destiny, the sea!"
- Miss Atlantis, "Dumbo"

Miss Atlantis is the Medici Bros. Circus' resident mermaid who spends much of her time isolated in a tank.

Sharon Rooney was cast to portray the lonely mermaid. "When you first see [Miss Atlantis], she's not the happiest member of the circus family," says Rooney. "She's on her own quite a lot and keeps herself apart, like a sad little fish. But as the story grows, so does she, and she starts to come into her own and become part of the family."

Rooney was tapped to sing the iconic song "Baby Mine" in the film. "It's such a powerful moment," says Rooney. "Separating a new mom from her baby is just so awful, and I think the troupe all feel it in their hearts. We made up a backstory for Miss Atlantis"I think as an actress, it's really important to know why she's singing what she's singing. It's such a powerful song."

Miss Atlantis' costume consisted of more than 100 overlapping scales, which were hand stitched. Alternating rows of black and turquoise, the scales were constructed from three to four layers of fabric with sequin borders to give each scale a reflective quality.

"Best take a step back, Elephant Man."
- Neils Skellig, "Dumbo"

Neils Skellig is a hunter who hails from South Africa. He is summoned by V.A. Vandevere to take care of a certain mother elephant who he fears will distract Dumbo from performing at his very best.

Joseph Gatt was enlisted to play the hard-nosed hunter, but he didn't want to overdo the performance. "It would be very easy to play him that way," says Gatt. "That's not my personal style of how I like to work, and I was really pleased when I met Tim [Burton] and one of the first things he said to me was, 'You know, you're going to be frightening enough just by doing nothing, by being.' I said, 'Oh. I think that's a compliment.' So, everything is just played very real, very down to earth."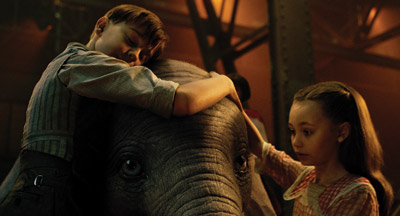 "We want some of that magic dust! I want magic dust!"
- J. Griffin Remington, "Dumbo"

J. Griffin Remington is the proprietor of the Atlas Forge Bank"the bank that V.A. Vandevere hopes will fund his ambitious ventures, including Dreamland.

Alan Arkin portrays Remington. According to producer Derek Frey, Arkin was the perfect person to out-intimidate Vandevere. "[Remington] has the characteristics of someone who is inherently powerful, who you feel could have control over someone else that's very controlling, like Vandevere."

The Circus Is Coming To Town

The Medici Bros. Circus wouldn't be complete without a supporting troupe of performers.

Filmmakers felt strongly about featuring real circus performers to infuse a sense of authenticity to their circus. Fourth-generation circus performer Kristian Kristof from Hungary was hired to share not only his extensive knowledge of the circus, but also his international circus connections. "I was born and raised in the circus," says Kristof. "My parents, grandparents and their parents were all part of the circus. My grandfather was a Second World War veteran who bought an elephant after the war and performed with it for many years."

But in the circus world, certainly, the possibilities were endless. So, Kristof worked with U.K.-based Leila Jones to identify a wide variety of acts to present to director Tim Burton, who ultimately selected a multicultural array of performers, including jugglers, clowns, knife-throwers, contortionists, a dog trainer and more. "They're a very interesting bunch," says Kristof. "Probably some of the best troupes and people on the market."

I Love A Parade

When V.A. Vandevere takes over the Medici Bros. Circus, the introduction to his over-the-top amusement park is aptly over the top. The parade down the center of Dreamland is led by circus choreographer Kristian Kristof and features Vandevere, Colette Marchant, Max Medici, Holt and his children all decked out in a convertible Rolls-Royce, plus Dumbo in his chariot. "It's Dumbo's entrance into Dreamland," says producer Derek Frey. "The parade brings us into the world of Dreamland for the first time"so we had to pull it off on a huge scale. We have clowns. We have dancers. We have horseback riders. We have a Dixieland band that serenades everyone as they move through, and we have hundreds of people watching the parade as it approaches the entrance of our Dreamland Colosseum. It was a spectacle to see on set and will be a spectacle to see on the big screen."

Costume designer Colleen Atwood's team created or sourced more than 200 costumes for the performers, plus an additional 500 for the crowd characters.

Having Your Cake

To illustrate the larger-than-life aspects of Dreamland, filmmakers assembled a human layer cake of sorts, featuring 54 dancers, spectacular costuming and intricate choreography.

Choreographer Kristian Kristof teamed up with a fellow choreographer in Kiev, Ukraine, to create a two-layer cake consisting of about 20 dancers. "We ended up with one minute of sample choreography that I showed to Tim [Burton]," says Kristoff. "He loved it. He said, 'Exactly what I want, just make it bigger.' I said, 'Bigger how?' He said, 'Just add a layer.' 'But Tim,' I said, 'that's 30 or 40 more girls.' And he was fine with that!"

Costume designer Colleen Atwood had to create costumes that were both visually stunning and comfortable enough to dance in. Says Atwood, who always works with performers during the design phase to ensure they're happy with the end result, "The sequence featured dancing and acrobatics, so the costumes had to have a lot of flexibility. They're boned costumes with stretch elements. Their legs are alternating colors to complement the choreography, and it played well in the overhead shots."

According to executive producer Nigel Gostelow, the sequence harkens back to Busby Berkeley's iconic choreography. "When you see it from above looking down, it's as if you're looking through a kaleidoscope," says Gostelow. "They were absolutely perfect. Their timing with their heads, their arms, their legs, everything, was so perfect. In fact, several of us said, 'Well, we're going to have to use visual effects to introduce imperfections so it actually looks human.'"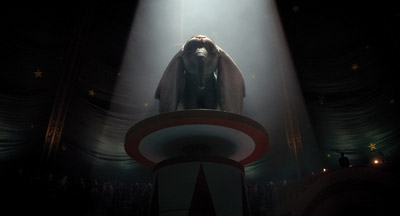 The Elephants In The Room

Dumbo isn't the only character in the film who's created in CG. Mrs. Jumbo, Dumbo's loving mother, is among a host of circus stars in the film born in the computer. Says visual effects supervisor Richard Stammers, "In terms of other animals, we have Barrymore, a capuchin monkey that's part of Medici's circus, who has a side show of being a Shakespearean performer, but not a very good one. He's basically a cheeky monkey and a bit of comic relief. Within Medici's domain, we also do a digital version of Pramesh's python, some cobras and mice"Milly and Joe have a mouse circus. There are also several CG animals on Nightmare Island in Dreamland"a lion, grizzly bear, crocodile and a wolf."

Extra Extra

"Dumbo" called for hundreds of background characters"the largest in a single day was 850. Says producer Katterli Frauenfelder, "'Dumbo' was and interesting and fun film for the background artists, because they were able to watch the Medici circus performance, as well as the Dreamland parade and Dreamland shows and to participate by being members of the audience."

According to Frauenfelder, director Tim Burton takes his background characters seriously. "For Tim, extras are as important as any piece of fabric of the film," she says. "They are the living backdrop which supports the world."

Atwood was responsible for dressing all of the extras, which for "Dumbo" was no easy feat. "We had 500 people a day to dress for a month," she says. "And that doesn't count performers."

Setting The Stage
From Struggling Circus to Epic Amusement Venture" "Dumbo" Promises to Wow Audiences

Director Tim Burton takes the beloved classic film "Dumbo" from the imaginative and expansive world of animation to a live-action adventure set in 1919 with practical sets, props, special effects and visual effects. "The original 'Dumbo' has a simplicity to it and a storybook, fable quality," says Burton, who incorporates animated animals into his live-action approach. "You always try to pull in the two in a way that works. A lot of it is the general concept of making animation as a live-action work."

Production designer Rick Heinrichs, who's worked with Burton on a host of films including "Sleepy Hollow," "Planet of the Apes," "Dark Shadows" and "Frankenweenie," was called on to help achieve Burton's vision for "Dumbo." Says Heinrichs, "When Tim brought up the idea of working on 'Dumbo,' I already had heard that there was going to be a live-action version and thought that would be really cool to be able to do"it's one of my favorite films from the Disney vault. It's short, it's sweet, it's a simple story" essentially a retelling of 'The Ugly Duckling.' So, the idea that Tim is directing this story about this elephant scorned by society who somehow manages to redeem himself and bring everybody along with him was just so appealing."

According to Heinrichs, one of the tricks was showcasing the era while letting the heart of the story shine. "The script actually has one of our main characters Holt, played by Colin Farrell, arriving home from World War I," he says. "So, it provided a very specific period, but at the same time, having worked with Tim many times in the past, I know that he's a little less interested in giving a history lesson as he is in the emotional story being told."

While the team heavily researched the period, incorporating cars, colors and costumes that would invoke that feeling of time and place, their top priority was supporting the story's emotional journey. Although the Medici Bros. Circus and Dreamland technically exist in the same era, it was important to showcase the contrast between Medici's heartland"the innocent arena where Dumbo is introduced"and Dreamland, which is futuristic and lacks the warmth of Dumbo's former home.

Just as important as the research of the practical elements were artistic interpretations of painters from those periods. Says Heinrichs, "We were very influenced by Edward Hopper, for instance, and his reductive process of looking at environments and reducing it to its essence. We sought to do the same thing, uncluttering our visual environments to keep things simple and straightforward."

One of the other anchors for Heinrichs and the production design was the little elephant himself. "Dumbo is a computer-generated character who inhabits a live-action world," says Heinrichs. "So, you've almost got to push the reality"the live action"a bit into the storybook world. We certainly make the baby elephant look believable, but we've also stylized our world, pushing it into an expressive direction with all of the lighting, costumes, props and environments."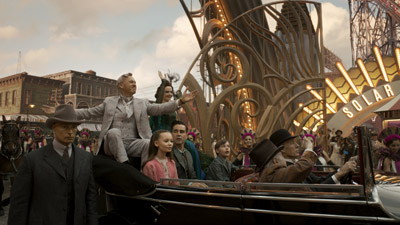 After scouting a number of locations and taking the film's demands into consideration, Burton decided to shoot entirely on soundstages. "For this kind of movie, shooting all indoors obviously helps with weather concerns and all those things," he says. "It's one movie where we're not sitting around, talking about the weather all day long."

And considering that most of the action at a circus in those days took place at sunrise, when they were setting up"and sunset, when it was showtime, the ability to control the light was welcomed.

Production kicked off in June 2017 at Pinewood Studios, located just outside London, England. The Dreamland sequences"due to the sheer size of the entertainment venture"were filmed in a massive hangar at Cardington Studios, located in Bedfordshire, England.

Medici Bros. Circus

The Medici Bros. Circus is a traveling circus that has seen better days. Long past its heyday, the circus is well worn"but at the same time, well loved. The characters here are family and it was important to director Tim Burton that the sets emulate this feeling. Says production designer Rick Heinrichs, "From the beginning, Tim said he wanted a grand intimacy for the film. It sounds like an oxymoron, but you can imagine the idea of the Medici circus as not necessarily huge but having a richness of texture and warmth and a grandness, all within an intimate scale.

"When we're in the Medici world, we want the audience to feel imbued by the warmth of the characters, even though there are other things going on," continues Heinrichs. "Ben Davis [director of photography] is a genius at lighting through canvas, creating beautiful tones. That way the colors are not primary circus colors; they're a little more worn and somewhat distressed."

In addition to color, filmmakers used texture and shape to help convey this warm but run-down feeling of the Medici circus. Says Heinrichs, "Tents are very expressive objects, and we addressed the feel of the Medici big top early in the design process. It had to visually put across the sense of optimism from the past, and yet something a little sad at the same time"it's making the effort to stand tall, but it's a little asymmetrical and slumped over. The circus is a bit hard on its luck, but it's certainly trying to put on a good show."

Ushering Medici's circus from place to place is the Casey Junior train. Utilizing the design of the train in the animated film "Dumbo," filmmakers constructed a full-scale Casey Junior train for the film. However, since the Medici Bros. Circus is far from new and shiny, the train had to be aged with chipped paint and wear and tear to aptly reflect the state of the circus.

According to producer Derek Frey, the feeling captured at Medici's circus is endearing. "Even though they're on the rocks, even though everything is a little dusty, even though everything needs a fresh coat of paint"when we go to Dreamland, you find yourself hoping you were back in Medici's world because it's an intimate, warm, inviting space."

Dreamland

In stark contrast to Medici Bros. Circus, Dreamland pushes boundaries in almost every way. Says production designer Rick Heinrichs, "It's supposed to be the most spectacular circus or fair environment that the world has ever seen, and certainly Vandevere's posters put out a vision of Dreamland as nothing short of an astonishing, life-changing experience, so we've tried to make it as enticing, as beautifully lit and as mind-blowing as possible."

According to producer Derek Frey, Dreamland represents the future of live entertainment. "Up until this point in history, circuses had been the entertainment that traveled to the audience around the country. Now, V.A. Vandevere has created a world in which people travel to him"he's ahead of his time in that way. He has a lot of pressure on him to make sure that Dreamland is a success, and he sees a flying elephant as something that could be a cornerstone to that success."

Reminiscent of Coney Island with architecture from World's Fairs of the 1930s, Dreamland is made up of a host of attractions"from traditional circus performances to exotic animals and rides. Says Heinrichs, "We've had to basically invent Dreamland, which was a huge challenge. Our priority was the boulevard"where the parade takes place"and beyond that, we made up these different lands where Dumbo flies.

"We built our main boulevard," continues Heinrichs. "What's interesting about it is it's a contiguous set from the New York street through the gates all the way to the Colosseum, with various attractions, a Wonders of Science building and a rocket-ride building. And you can go off in different directions, to different lands."

V.A. Vandevere's over-the-top big top, is so big, even screenwriter and producer Ehren Kruger was surprised to see it come to fruition. "I didn't believe them when they said we're going to build a full-sized Dreamland Colosseum, and they went and built a full-sized Dreamland Colosseum in a giant hangar."

Adds Heinrichs, "It's opulent and big and colossal and spectacular and amazing. And yet there's a kind of a hollowness to it. It's much colder with more primary colors; it's all about the glitter and the glamor and the spectacle."

Getting The Right Effect

The combination of practical sets with CG animals called for extraordinary creativity to bring it all together. Special effects supervisor Hayley Williams headed the team of innovators. "In one of our first sets, we had a huge scene in which elephants were unloaded from their train carriage as they arrived to the circus," says Williams. "When an elephant unloads down a wooden ramp, you would expect the ramp to move and bend because of the weight of the elephant. But since the elephants were produced in post, we had to build a ramp that flexed and then put a hydraulic rig underneath it to pull it down. We programmed a control system and worked with the animators, who could tell us if they wanted the elephant to step a bit faster or slower, or if we wanted the steps to be a bit further apart."

Later, when Mrs. Jumbo is loaded into a truck, filmmakers knew she'd fill the entire truck. "There was no way we could just load her into a truck in the CG world and not do anything to the truck, because she should basically almost bring the truck down to the ground with her weight," says Williams. "So, we rebuilt the chassis of the truck and added three hydraulic ramps so that as she was loading, we had the ramp flexing as per the carriage. We also had the entire back of the truck moving as per her footsteps, so the back sunk as she went in first, and then the front came down as she got further in. That was pretty cool on set watching: there was no elephant, but you could envisage it, because the whole truck was moving."

Williams' team also helped facilitate an iconic circus scene that audiences will recognize from the animated version. "Dumbo is at the top of the platform in front of the burning apartment; he's in jeopardy," says Williams. "Then Milly climbs up to save him. That set piece was quite a big rig for us, because it was 30 feet high. I wanted to give Tim [Burton] the flexibility to have fire in all of the windows, too. It was a huge installation of gas and electronic ignition on the gas: there was a shot where they turn it all off, so that Dumbo is safe, but then the clowns are all fooling around at the bottom of the set, and the fire returns at a much higher level. So that was all on a button"we could ignite everything on Tim's cue. It was kind of a fun set to work on."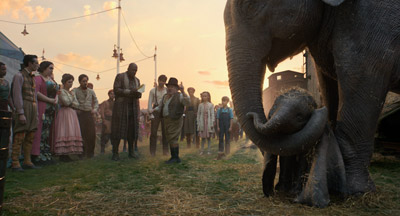 Music To My Ears
Tim Burton Teams with Composer Danny Elfman for 17th Feature Together

Of all the decisions director Tim Burton made during the making of "Dumbo," choosing the composer was perhaps the easiest. Says composer Danny Elfman, "It's our 17th film together. It's just one of those chemistry things."

According to Elfman, Burton has a similar approach to the music in all of his films. "It's finding the tone," says Elfman. "Every one of Tim's films has been unique for me in that way. Whether it's 'Big Fish' or 'Alice in Wonderland' or 'Beetlejuice'"it's all about finding the tone of the world he's creating.

"'Dumbo' is a very heartfelt story," continues Elfman. "The baby elephant has so much expression coming from his baby elephant eyes. That just makes it really fun to get into and play those emotions. We knew we would have to find a musical identity for Dumbo that was purely Dumbo. Tim wanted me to find a very simple theme because he feels it's a simple story."

The orchestral score features a low flute in Dumbo's sadder moments, as well as occasional Indian flavor. Elfman also celebrates the circus within the score"he even wrote themed music that plays in the background during the circus in the film. But the composer says his main focus was the cast of characters and what they experience. "Dumbo definitely has a theme," says Elfman. "It's very simple, which is what Tim wanted, and it's used throughout the entire score."

There is also a theme for Max Medici, and V.A. Vandevere has what Elfman describes as "a bit of a wicked thing."

The Original
Disney's original animated classic "Dumbo" hit theaters in 1941 featuring a score by Frank Churchill and Oliver Wallace, who later won the Oscar® for best scoring of a musical picture. While Elfman didn't want to revive the original score, he felt it deserved a cameo. "I tried to pay homage here and there with bits from the original. There is a nod to Casey Junior as well as Pink Elephants on Parade with a twist."

Baby Mine
Perhaps the most memorable moment in the 1941 classic film was the scene featuring the iconic lullaby "Baby Mine." Serenading the emotional moment between mother and son, the song featured music by Churchill and lyrics by Ned Washington. "Baby Mine" was nominated for an Oscar® for best original song.

Nearly eight decades later, the song remains in hearts worldwide. Sharon Rooney, who plays Miss Atlantis, was tapped to sing "Baby Mine" in the film. "It's a song that, even before I was cast in this movie, was quite special to me," says Rooney. "My gran used to sing it to me when I was little, so I've always had quite an emotional connection to this song."

Rooney also had to play the ukulele for the scene"she'd never picked up the instrument before. "I just said, 'Okay, sure. Brilliant,'" says Rooney. "I don't know how to play any instruments, so I worked really hard. I was getting more and more nervous"we'd send videos to Tim, and he just kept saying, 'It'll be good.' And then the day came to shoot it and it was one of the best days of my life. The set looked amazing. It was so quiet and calm and there was a campfire and Tim said, 'Okay, let me hear it.' It felt like a dream."

Arcade Fire Tapped to Sing End-Credit Version of "Baby Mine"
Arcade Fire recorded a new version of "Baby Mine" for the end credits. According to Mitchell Leib, president, music & soundtracks for Walt Disney Studios, he and the filmmakers wanted to create a version of song that was as artistic and interesting as the film itself. "Not an easy ambition to accomplish," says Leib. "Arcade Fire is an artist I'd pursued over the years"but this time I had Tim Burton! I pitched the idea to Tim and his producer Derek Frey, and it turned out Arcade Fire is one of Tim's all-time favorite artists. The rest is history."

Leib says the end result was perfect. "A brilliant, new, interesting, artistic and very original version of 'Baby Mine' now resides at the end of our new live-action 'Dumbo.'"

Arcade Fire's Win Butler has a very personal connection with the animated film. "There is a scene with a locomotive in the original 'Dumbo' that uses an instrument called the Sonovox that my grandpa Alvino Rey made famous in the 1930s," says Butler. "Every time I saw the film I thought it was him. When we were asked to do the [end credit version of 'Baby Mine'], I immediately got all of my grandfather's old guitars and wanted to play them in the song. My mom plays the harp on the track, my brother the theremin, my wife [Régine Chassagne] sings and plays drums, and our son even plays the triangle, as well as the rest of our 'family' in Arcade Fire. I will forever relate to the song thinking about the people I hold so dear that are 'so precious to me.' Listen for the cameo of my grandpa Alvino's famous Sonovox at the end."

Arcade Fire's Régine Chassagne says the song and the movie are just as relevant today as they were nearly eight decades ago. "It's a story we need to tell again," she says. "A lot has changed since 1941, and we are still on that quest to allow for all people to accept and celebrate who they are on this planet."

The digital version of the "Dumbo" original motion picture soundtrack will also be available from Walt Disney Records March 29, and the physical CD is set for release on April 5.

Dumbo
Release Date: March 26th, 2019