Enter The Spider-Man Film Universe
Cast: Jake Gyllenhaal, Michael Keaton, Samuel L. Jackson, Cobie Smulders, Marisa Tomei, Jon Favreau, Tony Revolori, Tom Holland, Angourie Rice, Zendaya
Director: Jon Watts
Genre: Action, Adventure
Rated: M
Running Time: 129 minutes

Synopsis: In Spider-Man™: Far From Home, Tom Holland returns as our friendly neighborhood Super Hero who, following the events of Avengers: Endgame, must step up to take on new threats in a world that has changed forever. The film expands the Spider-Man film universe, taking Peter Parker out of his comfort zone and his home in Queens, New York City, and hurling him across Europe during what was supposed to be a school vacation – but which becomes his greatest challenge and most epic adventure ever.

In the aftermath of a monumental battle between good and evil, which has brought Peter Parker and his friends – and billions of others – back to life, Peter continues to mourn the death of his mentor, Tony Stark / Iron Man, whose heroic sacrifice made Peter's return possible. Everywhere he looks, Peter sees tributes to the fallen Avenger, which adds to his sense of loss, even as his own turbo-charged heroics leave everyone wondering if he's the next Iron Man.

Peter is comforted, somewhat, by the kind words of Tony's friend, Happy Hogan, who reassures him that, "I don't think Tony would have done what he did if he didn't know you were going to be here after he was gone." But Happy bears another message that Peter definitely doesn't want to deal with: Nick Fury is looking for Spider-Man. Determined to leave his super heroics behind for a few weeks, Peter ducks Fury's calls – despite Hogan's warnings that, "You can't ghost Nick Fury!" – and heads off with his friends Ned, MJ and the rest of the gang on a European vacation.

But Fury won't be denied, and he and his associate Maria Hill track Peter down in Venice. The former S.H.I.E.L.D. head tells Peter that he needs Spider-Man to deal with a new threat: massive Elemental Creatures, each representing one of the four elements: Earth, Air, Water and Fire. The monstrous beings have emerged through a 3 hole torn in the universe … another aftershock from the events of Avengers: Infinity War and Avengers: Endgame.

Peter then meets Quentin Beck, a Super Hero who comes from an alternate Earth and is determined to stop the Elemental Creatures. Fury and Beck, who's also known as Mysterio, want Spider-Man to join the battle, but this is way out of Peter's comfort zone, and he pleads with Fury to bring in one of the other Avengers to deal with it. Unfortunately for Peter, they're all unavailable, so he must join forces with Beck in an epic clash with consequences he can't yet imagine.

Far from home, Peter must protect his friends, save the world, rise to a challenge only he can meet, and come to terms with his destiny as Spider-Man.

Spider-Man: Far From Home
Release Date: July 1st, 2019


A New World … A New Spider-Man?
Spider-Man: Far from Home brings together humor, heart, scale, and everything you love about Spider-Man and the MARVEL Cinematic Universe (MCU). Says director Jon Watts, who previously helmed the blockbuster Spider-Man: Homecoming and, before that, the acclaimed independent drama Cop Car: "We were always looking for a way to deal with some very emotional themes while remaining true to the tone we set in SpiderMan: Homecoming."

"This next Spider-Man adventure takes place soon after and fits right in to the events of Avengers: Endgame," says producer Kevin Feige. "Peter and the world are dealing with the loss of Iron Man, and Peter just wants to take a break to be a regular teenager. But Spider-Man can't be a regular teenager – he has responsibilities toward the world, especially now. So when Nick Fury tracks him down on his summer vacation to deal with a new threat, that's what Peter will have to face – is he ready to step up?"

Tom Holland notes that "Far From Home is even more fun than our first film, but at the same time the stakes are higher and it's more personal. With this film, we're going bigger, but there's always a character or story-based reason for the heightened scale and stakes. It's bigger and better in every way possible."

Holland's heartfelt words aren't surprising to Amy Pascal, who produces, along with Kevin Feige. "Tom inhabits the character in a unique way," she explains. "He's brilliant, emotional and funny. Tom loves playing Spider-Man – he's not only a wonderful artist, he's a true super-fan of the character and its world."

Peter's journey is one of critical growth, but it doesn't come easily for him. As Watts points out: "In the previous film, Spider-Man: Homecoming, Peter wanted the life of an adult, but now he wants to hang onto his youth. This film is about the world telling him, 'It's time for you to step up.' Everyone is looking for a new Super Hero and savior – the 5 next Tony Stark. Tony seemed to have chosen Peter, but the world doesn't realise he's a 16-year-old." "Peter definitely wants to be a regular teenager again," Holland confirms. "He can't wait to take a break and go on a vacation with his friends. But he soon realises what deep down he always knew – that, no matter where Peter finds himself, he belongs in the Spider-Man suit."

That process of discovery is defined, at least in part, by the world Peter now lives in. "It's a very different place from what we experienced in Homecoming," says Pascal, whose previous credits include Spider-Man: Homecoming and the acclaimed, blockbuster animated feature Spider-Man: Into the Spider-Verse. "Thanos' snap, which had turned half the universe to dust, has been reversed. Tony Stark saved billions of lives, including Peter Parker's. That's a heavy burden for Peter because he's now in a new world without the person who believed in him the most. Now, Peter must take Tony's mantle and be the Super Hero he needs to be."

Executive producer Rachel O'Connor adds that, initially, "Peter really wants to stay in his corner, continue to be the friendly, neighborhood Spider-Man, and enjoy an exciting vacation. The film is about Peter's internal struggle to become an Avengers-level hero, like Tony."

Hell Hath No Fury

One of the principal forces shaping Peter's destiny is Nick Fury. The former director of S.H.I.E.L.D. is relentless in his pursuit of the young man, who Fury wants to join in the battle against the Elemental Creatures. In fact, Nick tracks Peter all the way to Venice – giving him little choice in the matter.

"Fury doesn't take no for answer, as we know so well from the other MCU films," says Holland. "He expects Peter to take on the full responsibility of being Spider-Man."

That doesn't mean the über-demanding Fury is totally convinced that Peter is up to the task. "Fury has serious doubts about him," says Samuel L. Jackson, who takes on the role for the twelfth time. For one thing, he still sees Parker as being a kid. Also, Fury is still trying to figure out why Tony Stark chose Parker to follow in Iron Man's footsteps. Stark gave him a gift, but is Parker worth it?"

Watts notes that, "Fury doesn't care that all Peter wants to do is clear his head and deal with the things Peter had left behind for the five years he'd been away. Fury is more pragmatic; he built the Avengers and now, years later, he's rebuilding everything from scratch. His job is keeping the world safe, and Peter is a key figure in that goal."

Watts and screenwriters Chris McKenna and Erik Sommers also explore some unexpected dimensions of Fury who, like so many, is coping with the consequences of Thanos' snap and its undoing. "Fury, too, has been gone five years, having been erased with the snap," says Watts. "He's always been the guy who's on top of everything, and now he's seeing a very different world. It's a situation we've not seen Fury in before. He's no longer the guy who's in total control."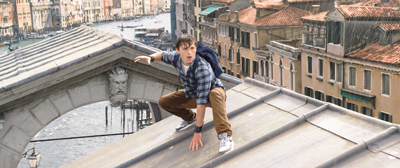 Joining Fury in his quest to bring Peter into the fold – and into battle against the Elemental Creatures – is Maria Hill, a former deputy director of S.H.I.E.L.D. Like her boss, Hill is also trying to figure out how she fits into this post-snap world. "Maria is a little overwhelmed because, she, like Fury and Peter, was turned to dust and disappeared for five years," says Cobie Smulders, who returns in the role she has portrayed in six MCU films, beginning with The Avengers. "So now she's playing catchup … with everything."

At the same time, Hill's relationship with Fury is expanding – a result of their global trek to deal with the emerging threat of the Elemental Creatures, their new alliance with Quentin Beck / Mysterio, and attempts to recruit Peter Parker to join the team. "Because 7 Fury and Maria are on the road and in close quarters, there's an intimacy between them we've not seen before," notes Smulders.

A Mysterious New Super Hero

But Fury and Hill's "road trip" is much more than a bonding exercise; they've experienced the enormity of the dangers posed by the Elemental Creatures, as well as the emergence of a new Super Hero, Quentin Beck / Mysterio, who is singularly equipped to deal with the creatures.

Watts says he wanted to bring the iconic character from the comics into the film in a way audiences weren't expecting. "Mysterio is a fascinating villain in the comics, so depicting him here as a hero is definitely something we haven't seen before. The idea of Spider-Man, Mysterio, and Nick Fury teaming up to take on this global menace was really exciting to us."

Academy Award®-nominated actor Jake Gyllenhaal portrays Mysterio, who his character explains is from an Earth that exists in a dimension parallel to ours. "It was incredibly important to us to bring an actor of Jake's intelligence, who carries wit and depth, to the role," says Pascal. "As much as we talked about Mysterio in a practical way – like how his powers would work in the movie – when Jake got involved, he brought a new level of humanity, unpredictability, and humor to the character. There's always a desire to bring actors we all love from other films into this world, and Jake's a great example of the kind of character an actor of his caliber can bring to life."

Watts adds: "We needed someone who could easily slip into the role of a Super Hero and, possibly, the world's next lead Avenger. We knew Jake could carry that weighty responsibility."

"I wanted to create a character that you won't forget," Gyllenhaal says. "Beck encompasses all the things I love as an actor."

In true Super Hero style, Mysterio is not only willing, but eager to bring down the Elemental Creatures. "Beck insists on it," says Gyllenhaal. "He sees their arrival on Earth as being tied his, so in Beck's view they're his responsibility."

Gyllenhaal was equally intrigued by the burgeoning relationship between Peter and Beck, who's not a mentor, like Stark was, but a friend who understands what Peter is going through. Still, Mysterio prods him to accept the challenge awaiting them both. "Beck empathizes with Peter's reluctance to enter the fray, but points out that the task, no matter what the danger, comes with being a Super Hero," he says.

Watts adds that he wanted to depict Beck as a friend and a "cool uncle" to Peter. "Beck, who feels like a stranger in a strange land, sees Peter as a potential ally and teammate. At the same time, Beck realises that Peter is also a dorky teen who'd rather be on this big field trip and vacation than save the world."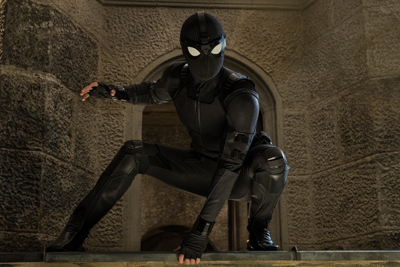 Happy Days

Another key adult figure in Peter's life is Happy Hogan, Tony's Stark's head of security and best friend. Happy is once again portrayed by actor-filmmaker Jon Favreau, who has been an instrumental force in the MCU since setting its template by directing the franchise's first film, Iron Man. He also made cameo appearances as Happy in the first two Iron Man movies, before taking a co-starring role in Iron Man 3 and then SpiderMan: Homecoming. "It's weird to watch something I was so intimately involved with take on its own life," says Favreau of his varied capacities in the MCU. "I feel like a proud grandparent."

Watts was thrilled to once again collaborate with Favreau, noting that, "There's nothing better than directing another director. They know exactly what you're going through and they never stop being a director. It was always nice to have Jon around, and I knew I could always lean on him."

In Homecoming, Favreau's Happy, along with Tony Stark, advised Peter about the life and responsibilities of a Super Hero, and in this film, Happy expands upon that role. In the wake of Stark's passing, Watts says that Happy helps Peter, and himself, explore the idea of "trying to find your place in the world if your center of that world – Tony – is gone. Happy is a great secondary emotional entry point into the story, and Jon really gets to show what he can do as an actor."

"The relationship between Peter and Happy is probably the most important one in the movie," Pascal elaborates. "He encourages Peter while sharing the loss of Stark, who was instrumental in the lives of both." Adds Holland: "Happy is one of my favorite characters in the MCU, and I love the energy that Jon brings to all the films, especially this one. He's really one of the godfathers of this entire universe. As Happy, he helps Peter in ways he could never have imagined."

Peter is not so thrilled about Happy's interest in his aunt, May. Their romantic sparks may be as unnerving for Peter as battling creatures from another dimension. "That romance is fun because it keeps Peter off-balance," notes Favreau. "The Happy-May story is fertile ground for inter-generational comedy."

Academy Award® winner Marisa Tomei returns as May Parker, a role she first took on in Spider-Man: Homecoming. It was a no-brainer for her to reprise the character. "I am so impressed with this film's global feel and, at the same time, its hometown heart," she explains.

Unlike previous iterations of the character, Tomei's May is fully aware of Peter's secret identity. Moreover, says Pascal, "She's a social warrior who puts her nephew's powers to work for the greater good."

Tomei sees May as both an activist and as a positive influence on Peter. "She feels like she's raised him well; Peter keeps his head on straight and maintains his integrity. May 10 is as proud of him as any parent would be. And now his good values are being put into action in the world."

Friendship and First Love

Peter's fateful decision to embark on an exciting vacation with his friends from school is, initially, all about having fun and adventure in locations far from their homes in Queens. It's also about some of them – Peter, MJ, Ned and Flash – coming to terms with having been snapped out of existence for five years, while other classmates remained and grew older. It's fertile territory for bonding, romance, surprises, and way-too-close encounters with inter-dimensional creatures.

Zendaya returns as MJ, Peter's whip-smart classmate, friend and, now, possible love interest. In addition, she figures out a major piece of the Peter Parker puzzle – that he's Spider-Man – further complicating a new romance that's not going as smoothly as Peter would like.

Zendaya, who graduated from her work in the popular sitcom Shake It Up to starring roles in Spider-Man: Homecoming, in which she first played MJ, and the blockbuster musical The Greatest Showman, says it came as no surprise to her that MJ figures out Peter's secret. "She watches everything and knows everything, so it's inevitable MJ comes to that conclusion," Zendaya explains. "And it helps that Spider-Man is now showing up all over Europe, where they happen to be on vacation."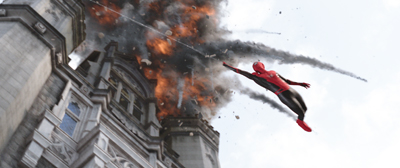 The actress also embraced MJ's vulnerability, noting that, "We get to know her better in this film and how she responds to situations that make MJ a little more vulnerable." Zendaya similarly appreciated MJ's quirkiness and the fact that "Peter likes her for exactly who she is, including all the little weird things that make her MJ. I think it proves that if you're meant to be with someone, well, you're meant to be with them!"

But does MJ love Peter as Peter – or as Spider-Man? "It's a little bit of a tragedy for Peter, who's hoping that MJ likes him as Peter, but suspects that she's really into Spider-Man," Watts suggests.

Love is also in the air for Peter's best friend Ned, once again played by Jacob Batalon. Ned is falling for classmate Betty Brant, played by Angourie Rice. "That romance has also triggered an evolution in the friendship between Ned and Peter," says Batalon. "In Spider-Man: Homecoming, Ned was Peter's sidekick. This time, he's found love and sees what that's all about. He's really happy to make an instant connection with Betty."

Also returning is Tony Revolori, as Flash Thompson, who's a self-styled Vlogger, as well as a huge fan of Spider-Man – while being a complete jerk to Peter. "I loved exploring that dichotomy of him loving Spider-Man and always ridiculing Peter," says Revolori.

While Peter, MJ, Ned and Flash are dealing with their new post-snap life, their classmate Brad Davis, played by Remy Hii, escaped Thanos' universe-changing action, and has transitioned from the uncool dweeb he was five years ago, to a heartthrob and popular student whom Peter sees as a rival for MJ's attentions. "Before, Brad was the kid who always got nosebleeds and cried all the time. But he's all grown up, while the others haven't aged because they were snapped," Hii explains. "Now, Brad has his sights set on MJ."

All the young actors bring their roles to life in unique ways, but Watts notes that the characters share some important qualities: "They're all really resilient and dealing with what had happened to them in those five years. But at the same time, they also have their eyes on the future and are ready to move on."

Going Global

Spider-Man is closely tied to his home in Queens, New York, but Spider-Man: Far From Home expands the webbed hero's world, taking him to exotic settings all over Europe, including Venice, Berlin, Prague and London. "The goal was always to shoot as much as possible on location," says Watts. "That helped give this film a scale beyond anything possible we would have created on a stage."

Adding color as well as scale, the locations always service the story and characters. "It was important that we place Peter in new environments, but never at the expense of what makes these characters so special," says Pascal.

Production was based at the expansive Warner Bros. Leavesden Studios, near London. There, Venice was recreated on one of the studio's backlots, as were locations in Berlin, rural Mexico, and several New York City spots. Holland notes that shooting near his home in London "was really special for me because Spider-Man is such a big part of my life, and London is even bigger. It's nice to share the two." He also appreciated the irony of filming a picture called Far From Home close to his residence – while Holland's previous film as Spider-Man, Homecoming, was filmed in the U.S., thousands of miles away.

Holland and the rest of the cast were especially impressed with sets built for a massive action sequence set in Venice, including half of the storied Rialto Bridge and a fish market, as well as a series of massive water manipulations that simulated tidal waves crashing into Peter as he battles the Elementals.

Holland also cites one of his favorite action scenes, where Spider-Man runs across a series of poles to which boats are anchored. "Our stunt coordinator recommended that I wear shin guards, in case I fell," Holland remembers. "But I chose not to – which I regretted!"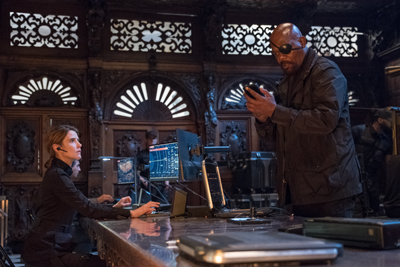 Production then moved to the Czech Republic, for sequences set in Prague. The team captured some romantic moments between Peter and MJ on the city's iconic Charles 13 Bridge, as well as a sequence at The State Opera Building, where Spider-Man tries to maneuver undetected through a gala event. In Liberec, they filmed a spectacular action scene involving a carousel and Ferris wheel that are demolished.

Then, on to Venice, which, says Watts, provided "a unique visual to see Spider-Man swing along the canals" – all captured by director of photography Matthew J. Lloyd and his team. Key scenes set in New York City were also filmed on location.

Spider-Man's New Look

To the character's legions of fans, Spider-Man's classic red and blue suit is an integral part of what makes him immediately identifiable. While audiences will once again experience him doing "whatever a Spider-Man can" in the beloved garb, SpiderMan: Far From Home costume designer Anna B. Sheppard and costume supervisor Graham Churchyard mix things up with some new offerings.

In addition to the classic suit, Spider-Man wears the Iron Spider costume, a gift from Tony Stark, as seen in Avengers: Infinity War and Avengers: Endgame. In addition, Nick Fury gives Peter an all-black "stealth" suit, designed to let Spider-Man operate under the radar during his European adventures. The stealth suit was influenced by the costumes worn by several other MCU characters, including Black Widow, Captain America, and Hawkeye.

The suit is striking – "It looks pretty badass," enthuses Holland – apart from its goofy, flip-up goggles, designed, per Watts' instructions, to be the polar opposite of Iron Man's high-tech vision wear, and inspired by the flip-up glasses that were so ubiquitous in the 1980s. As O'Connor notes: "The black suit has a globetrotting spy movie feel, but with those glasses it can't be too cool."

A fourth suit, designed in the film by Peter, himself, is red and black and symbolises the young Super Hero's evolution, from his reluctance to battle the new global menace, to 14 stepping up and being his own man. "The suit is Peter's vision for Spider-Man," says Sheppard. "He's no longer trying to be Iron Man." With his new suit, Spider-Man can, for the first time, fire his webbing from multiple locations on the costume, because his webshooters are now much smaller and enhanced. Further, the spider emblem on the front has been updated.

Holland is fan of all of the costumes and refuses to name a favorite. "Each is a work of art," he insists.

Jake Gyllenhaal might have had even more fun than Holland in donning Super Hero regalia. His Mysterio suit pays homage to its comic book roots, as well as to other MCU characters, including Iron Man, Vision, Doctor Strange and Thor. Then there's Mysterio's "goldfish bowl" helmet, which was built for visual effects reference and added digitally in post-production. Gyllenhaal makes special note of the costume's forearm armor, known as vambraces, as well as the grid patterns that were also faithful to the comics' iteration.

Still, the armor wasn't without its challenges. "I'd try and make a sweeping gesture," says Gyllenhaal, "but my arms would stop short, and the movement would feel like that of a T-Rex!"

"Look Out, Here Comes The Spider-Man"

The new costumes are one of several details that blend old and new elements of the Spider-Man mythology and of the even bigger MCU universe, which brings together heartfelt drama, humor and epic action. "At its heart, it's all very human and gives audiences an opportunity to feel like they belong in this world, as they watch these extraordinary heroes do their thing," says Samuel L. Jackson.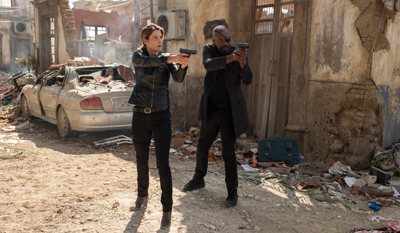 This film's titular hero is still your friendly neighborhood Super Hero, but with a new global perspective, maturity, and heightened feelings of loss, love and responsibility. 15 "Spider-Man: Far From Home is about coming to terms with what you must do – and that moment in life where you choose the person you're going to be," says Pascal. "It's funny, joyful, epic and emotional – a gigantic action movie where you experience Peter doing things you've never before seen in a Spider-Man movie. It's the complete package."

Watts adds that he and everyone connected with the film felt a huge responsibility to do right by the character of Spider-Man and to the entire MARVEL Cinematic Universe. "We hope we've delivered something that's fun, exciting and moving and gives audiences something they haven't experienced before."

Just as this film opens up a new universe of responsibilities and adventure for Peter Parker, Tom Holland's journey with the character has been equally life-changing for him. "It's been an incredible experience that's expanded my life in the real world and in the MARVEL Cinematic Universe," he notes. "It's been, literally, a dream come true."

That dream was shared by Watts, who notes that he and Holland "are growing together through doing these films. Spider-Man: Homecoming was about Peter showing the world what he could do, and that's how Tom and I felt about our work on it. Spider-Man: From Home is about the world asking Spider-Man, 'What's next?' and to have him step up and prove himself, just like Tom and I knew we had to step up and deliver with the film."

Spider-Man: Far From Home
Release Date: July 1st, 2019