If You Want to Save the World"Say the Magic Word!
Cast: Djimon Hounsou, Zachary Levi, Jack Dylan Grazer, Asher Angel, Grace Fulton, Cooper Andrews, Ian Chen
Director: David F. Sandberg
Genre: Action, Adventure

Synopsis: We all have a superhero inside us, it just takes a bit of magic to bring it out. In Billy Batson's case, by shouting out one word"SHAZAM!"this streetwise 14-year-old foster kid can turn into the adult Super Hero Shazam, courtesy of an ancient wizard. Still a kid at heart"inside a ripped, godlike body"Shazam revels in this adult version of himself by doing what any teen would do with superpowers: have fun with them! Can he fly? Does he have X-ray vision? Can he shoot lightning out of his hands (yes!)? Can he skip class?

With the help of superhero enthusiast friend Freddy, Shazam sets out to test the limits of his abilities with the joyful recklessness of the child he is inside. But he'll need to master them quickly to fight the deadly forces of evil controlled by Dr. Thaddeus Sivana, who's got his eye on Shazam's powers and wants them for himself.

SHAZAM!
Release Date: April 4th, 2019


About The Production
"Every kid dreams about being a superhero," says "SHAZAM!" director David F. Sandberg. "In the world of our story, where Superman and Batman exist, Billy Batson is a kid who basically gets that wish." But for Billy, there's a twist"he doesn't just get the superpowers, he becomes an adult"on the outside, at least"with a power-laden name: SHAZAM stands for Solomon, Hercules, Atlas, Zeus, Achilles, and Mercury.

Inside, the Super Hero Shazam starts out as a cynical foster kid struggling to find his place in the world, who knows nothing about such heroes, let alone how to be one. It's a unique aspect of the character, Sandberg allows, adding another: "His power comes from magic. He's just a kid, but because he's pure of heart and strong in spirit, he's the chosen one. He's the champion. That was really interesting to me."

S

tar Zachary Levi says it's the combination of all aspects of the story that he found so compelling. "Yes, it's about Billy Batson becoming Earth's mightiest mortal and defender just in time to meet some serious supernatural evil that he needs to learn how to defend against, but really it's a great coming of age story within a family story within an action story."

For Levi, starring in "SHAZAM!""a movie about wish fulfillment"is truly life imitating art…or possibly the other way around. It's hard to say whose dreams are really coming true, Shazam's or his own. "More often than not, you've got a character who is begrudgingly pulled into the superhero thing, and they have these powers and everybody needs them and they're thinking, 'Oh great, I have to save the world again?'" Levi explains. "But Billy Batson is stoked, making Shazam one of the few superhero characters in all the comic universes that's genuinely thrilled to be a superhero. I knew that would make my job as an actor infinitely easier, because I wouldn't have to hide any of my excitement to be bringing Shazam to life."

"SHAZAM!" marks producer Peter Safran's second foray into the superhero genre, after last year's enormously successful "Aquaman." While he acknowledges there are similarities in that both characters struggle to find their place in their respective worlds, Safran says, "Each of the DC properties can"and should"have a different tone. They all live in different worlds, and for Shazam we loved the idea of combining the big action movie with all the wonderful comedic character elements. What I've personally always loved about 'SHAZAM!' is the wish fulfillment element, the idea that anybody can become a superhero. Your dad doesn't have to be a billionaire, you don't have to come from the planet Krypton. So that, combined with the family story that was always intrinsic to the Billy Batson/Shazam storyline, were the things that really drew me to this project."

Safran was also pleased to work with Sandberg, a fellow horror expert entering the DC universe. "David's a guy that became known very swiftly for his horror background," Safran continues. "'Lights Out,' 'Annabelle: Creation'"two movies that were both critically acclaimed as well as commercially successful. What people will realize with 'SHAZAM!' is his tremendous dexterity with comedy."

Henry Gayden penned the uniquely action-packed and lighthearted script from a story he and Darren Lemke adapted from the comics. "I read the Geoff Johns New 52 comic book," Gayden recalls, "and then I read The Power of Shazam! from Jerry Ordway, from the 1990s, and a couple of the early books. I instantly saw the appeal of the story and the characters and really honed-in on so many things that I love to write about, all in one package. I enjoyed writing it from the perspective of a kid, channeling the logic of a 14-year-old who suddenly has all these powers and who's not thinking, 'How can I save the world,' but, 'What cool stuff can I do?'"

Levi attests that when the "SHAZAM!" screenplay came his way, " I couldn't put it down! I read it, just flipping pages, going yeah, yes, yes, yes, yes, yes, more yes, all the yesses. It spoke to the hero's story, it spoke to the kid's story, to the family's story…and baked in the DNA of it was the humor and the heart."


In addition to Levi, the filmmakers cast an engaging group of actors"adults and kids"to fill the major roles, from esteemed veterans like Mark Strong as Super-Villain Dr. Thaddeus and Djimon Hounsou as the magic-gifting Wizard, to familiar faces Asher Angel as Billy Batson and Jack Dylan Grazer as Freddy Freeman, along with Faithe Herman, Grace Fulton, Ian Chen and Jovan Armand filling out the roster of fosters.

Shooting almost entirely in Toronto"inside and very often outside in the chilly Canadian winter"Sandberg surrounded himself with an excellent behind-the-scenes team with whom he already had a shorthand, including DP Maxime Alexandre, production designer Jennifer Spence, and costume designer Leah Butler. Sandberg relates, "We were very lucky to get some of the best crews, both locally from Toronto and from the 'Aquaman' stunt team who came straight from Australia, a first AD who's done a lot of big-scale movies… We really had the A-team working with us."

The Cast

"Billy Batson, I choose you as Champion!"

Sandberg says Levi's passion and youthful nature were vital in his casting. "It was important to find someone who could feel like a kid in a grownup's body. I think a mistake a lot of people make when grownups try to play kids is that they just sort of lower the IQ, just play it dumber. And kids aren't dumber, they're just inexperienced, and more enthusiastic about life. And they don't have the filter that a lot of adults have. So that's what we were looking for and what we absolutely found in Zachary Levi."

Levi was thrilled with the opportunity to tap into the 14-year-old in him. "I don't want to say I'm a man-child," he jokes, "but I happen to be an enthusiastic, hopeful, energy-filled type of person. So, to show up on set and get to play this character, Shazam, and fly around and fight bad guys? I was totally in! I was so eager to shoot every scene of this film, to be able to bring not just a really badass Super Hero to life, but one who has so much heart and charm and humor."

The actor surmises that growing up reading comic books and playing video games probably set him on a particular trajectory, but still, "the scene where the Wizard first transforms Billy into Shazam and he hears his voice for the first time"and it's my voice! I couldn't wait for that moment, I knew it was going to be so much fun." Or, to act out the moments "when he sees his reflection for the first time, the whole montage of him learning what his powers are…" Levi adds. So, really, everything.

Levi says that to play a boy in a grown man's body was really about straddling the two sides of himself. "Kids don't get bogged down with life the way adults do. They're not dealing with 401ks or mortgages; they're just going to school and thinking, 'I really do n't wanna go to math right now.' They haven't built the catalogue of experiences in their journey to adult wisdom yet to understand why things are the way they are.

"But even as an adult, and especially as an actor," he continues, "I've always tried to maintain a lust for life, along with enthusiasm and sincerity, which I think is what most kids just exude naturally. Up to a point, they have a purity of heart, and I think that's what's so great about this story and what's unique about Billy specifically. He is pure of heart, and that's why the Wizard endows him with this power. And that's a big gamble"giving this 14-year-old kid the power of the gods."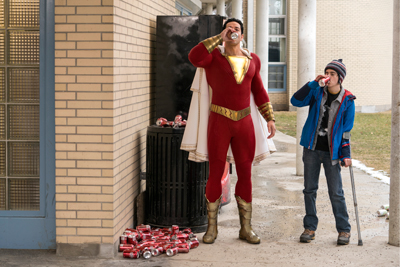 Along with the wisdom of Solomon, the strength of Hercules, the endurance of Atlas, the power of Zeus, the fighting abilities of Achilles, and the speed of Mercury, "He's also got the ability to wield lightning, which is very much in tune with his Zeusitude, if I can be so bold as to call it Zeusitude . I'm coining that phrase right now," Levi quips.

On set, the actor had as much fun with the discovery of Shazam's powers as the character did. "One of the moments that just delighted me was the scene when he's stopping the robbery, and he figures out he has bullet immunity. Basically, he just starts giggling because the bullets literally tickle him." Long before production began, just reading the scene, Levi confesses, "I just lost it, I started laughing out loud, legitimately LOL-ing by myself in my living room. Because it's the joy of that moment. You don't get to see Batman or Superman being tickled by their abilities. Those guys are dudes who've had a lot on their shoulders for a long time, while Billy's just stepping into this world. You get to experience his delight, and I just loved it."

Speaking of Shazam's fellow Super Heroes' attributes, director Sandberg offers, "Shazam has the best secret identity of all. He becomes a totally different person, a young boy. So, if he needs to blend in or get away, he can say 'Shazam!' and turn into Billy, just a normal kid."

That normal kid is Philadelphia teen Billy Batson, who, long before he's granted any superpowers or a Super identity, has run from foster homes in six Pennsylvania counties, convinced he doesn't need anyone but his real mom. He's been searching for her since they were separated in a crowded carnival years ago and finding her, his only family, is Billy's sole focus and greatest wish.

Peter Safran relates, "Billy Batson is a kid whose mother disappeared when he was three years old, so he has grown up in the system, bouncing around from foster home to foster home. He's always run away in search of his mother. And in our story, he's finally placed with the Vasquez family and the other foster children that they are raising."

The staunchly self-reliant Billy is played by Asher Angel, who had not heard of the character nor his counterpart before reading for the role. But the young teen quickly did his homework, stating, "As soon as I got the part I rushed to the comics store with my parents, reading more and more and realising how great this character was. I just thought, 'This is crazy! I'm gonna be in this movie and be a part of the DC family now.' It's incredible, especially for my first movie!"

In addition to admiring the hero his character would become, Angel found a lot about Billy to appreciate. "Billy's had a hard life but he's a smart, street-savvy kid. And yeah, he's a little sneaky, too, but he's had to be. He's been his own guardian, he's had no one, which has kind of been his choice because he just wants to find his mom. So, he's had to do everything for himself in order to stay alive and look for her."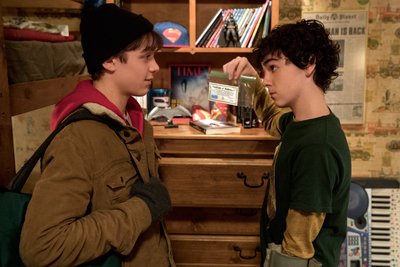 As they are two sides of the same character, Angel and Levi naturally never shared the screen. However, they did spend a little time together and with Sandberg hashing out some general mannerisms that they could share in their portrayals.

"We needed to find some common ground to give both performances a similar essence. Billy has a sarcastic streak, and we both picked right up on that," Levi smiles.

"It was important for us to figure out each other's mannerisms and do some things the same so the audience will always understand it's the same person on screen," Angel agrees. The pair first met at a premiere for another film, where, Angel says, "Zac just said, 'What's up, Billy?' and was so energetic and so much fun, and just a sweet, humble guy."

Because he's been so laser-focused on finding his mother, Billy is unable to see the opportunity for a loving family when he arrives at the Vasquez home. Instead, it's just another stopgap to escape from as soon as he has a chance. But before such a moment even arrives, he's transported not to another home, but another realm.

Angel details, "Billy's on the subway one minute, and the next he's in this crazy place called the Rock of Eternity, where he runs into this Wizard who's looking for someone and sees something in Billy. He picks Billy Batson as the chosen one and tells him to just say his name."

Clueless as to what's going on, and responding more to the Wizard's insistent tone than out of any wish to go along with the rantings of some crazy old magician, Billy complies… "SHAZAM!"

Freaked out by what's just happened and who"or what"he's become, Billy has no idea what to do. But he knows who will know: his new foster home bunkmate, Freddy.

With nowhere else to turn, he hightails it back to the Vasquez house to ask Freddy for help, because if anyone can figure out this superhero thing, it's the superhero super nerd . Sandberg feels a lot of the funniest moments in the movie come from our superhero just hanging out with the ultimate fanboy. "Freddy is just the expert that Shazam needs."

Jack Dylan Grazer plays the role of Freddy Freeman, who has clearly had a tough young life but who definitely hasn't lost his sense of humor…or mischief. "Freddy lives at the foster home, and he lives with a disability that has to do with his leg and his spine and his foot, so he walks with a crutch. He gets bullied for it, but he doesn't really let it affect him. He lets it roll off his back and, rather than feeling sorry for himself, he laughs about it and makes fun of himself. He's confident, which I really admire."

Freddy may exhibit a fair amount of bravado, but he's not invulnerable…he just hides it well. What he doesn't attempt to hide is his collection of superhero memorabilia or the fact that, as Grazer notes, "He's a total superhero fanatic, like extraordinaire. He knows everything. So, when he finds out that Billy is a superhero, it blows his mind. This is a dream come true. At first, I don't think it even crosses his mind to think, 'I wish I could be in his shoes.' I think he's just so caught up in being in the presence of a real superhero. And he knows exactly what to do."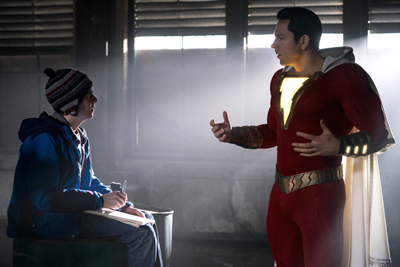 "Freddy has to act as Shazam's how-to manual," Sandberg offers. "He immediately knows what to test for: super strength, invisibility, super speed, and so on. So, we get to see the two of them having a lot of fun with that but also really discovering the abilities Shazam has. Of course, because they're kids, they're going to film it and put it on YouTube."

Grazer says he found the story "empowering, because usually it's grownup superheroes fighting crime or bad guys. But this time it's a kid; at least on the inside he's still a kid. And he's scared, but he still wants to help save the day. And Freddy is another kid who, by being friends with Billy, gets to help in his own way."

Though Levi didn't have the opportunity to act with Angel, he and Grazer spe nd the better part of the movie together. "Jack was awesome, the dynamic was great," he says. "And I think story- wise, their friendship really helps to sell the idea of an adult who's a kid on the inside, because if you don't have that other kid to bounce back and forth with, you'd just have an adult pretending to be a kid in a bubble. You need that exchange to make it work."

When Freddy isn't mentoring/managing Shazam, he's often with the hero's true self, Billy. The relationship between those characters, though at first a prickly one, was equally important to conveying the story. Just as they both did with Levi, Angel and Grazer hit if off right away. "Jack was exactly how I imagined Freddy," Angel states. "He's such a cool guy and loves what he does, and I knew he would be perfect and that we'd have a lot of fun."

"Freddy is really the proxy for the superhero fans in the audience," Sandberg says. "And the way Jack plays him"this fast-talking, funny kid who walks with a crutch and seems to be as far from a superhero as you can be"just proves what I like about this movie: that everyone can be a hero."

Five additional kids fill up the group home where Billy comes to live. Mary Bromfield, the eldest of the foster children who, when we meet her, is applying for college, is played by Grace Fulton. The youngest, Darla Dudley, is played by Faithe Herman. Darla's excited to have a new kid join their family"a little too excited for Billy, as evidenced by his reaction to her bear hugging him when he walks in the door. Her fervor is offset by gamer Eugene Choi's lack of acknowledgement, followed by Pedro Peña's barely audible grunt as they pass on the stairs, played by Ian Chen and Jovan Armand, respectively.

The younger actors got along well and hung out off-screen, which paid off in an authentic family dynamic onscreen, complemented well by the foster parents Victor and Rosa Vasquez, portrayed warmly by Cooper Andrews and Marta Milans.

Sandberg explains, "Victor and Rosa are former foster kids themselves, so they know what it's like and they want to create the best environment for these children. They will take on any kid, even someone no one else wants. So, they have a very different bunch with all kinds of personalities, all trying to get along under the same roof. And they do. It's a bit of a chaotic home, but it's a very loving home that Billy comes into."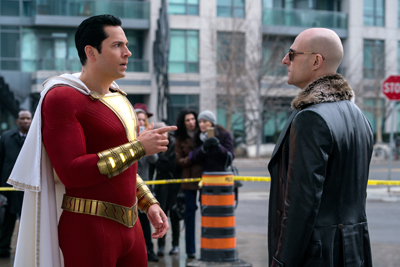 Though their meeting is brief, perhaps the adult who has the most significant impact on Billy is the ages-old Wizard. The magical entity"the last of his kind"resides in an ethereal place called the Rock of Eternity, where he reigns over the Seven Deadly Sins : soulless depravities held captive in stone, eager to escape their bonds.

Djimon Hounsou plays the otherworldly being with a combination of gravitas and weariness, as befits his increasingly perilous circumstances. "The Wizard represents those attributes that are profoundly humane, and he is the keeper of all that is good," Hounsou states.

The actor notes that his character is the last of seven wizards to survive, and though he is growing weaker, "he must hold on to find the one, true champion. The Wizard believes he exists out there, and has faith that the gifted child will eventually come, though some cannot be steered away from the temptation of the Sins."

But the Wizard sees something in Billy Batson that makes him believe this boy could be the hero he's been seeking. "My character sizes him up and realizes, 'Wow, he is my champion. He is the one,'" Hounsou adds.

And just in time. Shazam's newfound nemesis, Dr. Thaddeus Sivana, has arrived on the scene. Safran notes, "We first encounter the Wizard through the eyes of a young Thaddeus Sivana, who's a boy at the time, eight years old. We come back when the Wizard, who has been fighting evil for thousands of years, desperately needs to find a successor now that he is frail and obligated to pass along his powers."

Portrayed with measured arrogance by Mark Strong, Sivana sees matters very differently from…well…everyone. "He's a heat-seeking, ballistic piece of evil," Strong observes. "A hero is only as good as his villain, so if your villain isn't terrifying, the stakes aren't high enough. He's got to be scary."

Strong and Sandberg discussed early on how to portray Sivana. "Dr. Sivana is a very interesting Super-Villain," says Sandberg. "We can sympathize with him because this was a kid who almost got the chance to be a superhero, but failed."

Strong also believes good villains work better if they're understood, even if we don't like them. "The superheroes often get their young lives sketched in so that we can understand where they've come from," he says. "And in this movie, you're shown a young Thaddeus being bullied by his brother, and being sidelined and misunderstood by his family."

The lack of a nurturing family has played just as important a role in shaping Thaddeus Sivana as it has in shaping Billy. However, the rejection that pushes young Thaddeus over the edge follows him for the rest of his life, festering and feeding an obsession. Therefore, Strong says, "When he has another chance, he's had a lifetime of thinking about how he was belittled, so consequently he chooses the dark side."


A Magic 8 Ball that was young Sivana's favorite toy serves as a reminder of the magic he desires, that's slipped through his fingers. "This is something he keeps with him throughout the movie," explains Sandberg. "From the beginning, his brother teased him about it. But it remains an important talisman to him."

Also key to Sivana's treachery are the Seven Deadly Sins: Greed, Sloth, Wrath, Lust, Gluttony, Pride and Envy. Ideal allies for a man who has spent decades believing that everything wrong in his life was due to the failures of the people around him, rather than his own shortcomings. "The Sins can be frighteningly real and a pretty phenomenal force to be reckoned with," Strong asserts, "and while Sivana would argue he is in control of them, they would probably argue that they are in control of him."

Sandberg offers, "They've been kept at bay for years, but now… Let's just say that both Shazam and Dr. Sivana are pretty much invincible to anything we have on Earth, except for magic, which means only one of them can defeat the other."

"Heroes Fly!"
Costumes & Training

To create the Shazam look for a modern audience, Sandberg turned to his frequent collaborator, costume designer Leah Butler. Butler says that, for her, "A superhero costume begins with research and design. All iterations of Shazam! comics since the 1940s were researched, then illustrations began to start work on the movie version. Once the actor is cast, then the detail work begins to meld the illustration with the attributes of the actor. We get them in for a full body scan and that starts our development process with the actor's physique. Every muscle is put into a computer program so that we can digitize the information. On this film, we worked with Film Illusions, and they took all of Zac's dimensions and did the sculpt, and we created a mold from there."

Butler worked with Sandberg and, of course, referenced the comics, to determine the look of the hero suit. Safran relates, "We embraced the classic look "the red suit, white cape, boots and lightning bolt. But David had a very specific vision of how he wanted to make it more current, from the designs and patterns to the fabrics used. I think fans will see all their favorite elements from the classic Shazam costume, and also appreciate what we did with it to make it feel like 2019."

The lightning bolt presented the biggest challenge for Butler and her team. "We really wanted it to be a practical lighting piece, rather than a visual effect, so that we would see the reflection on the body and the muscles and the face. And that's also important for the director of photography, so he can key off of that."

"It's a pretty awesome suit," Sandberg smiles. "The fact that Leah was actually able to make the bolt light up, practically, was great because it's really a signal of his magic. And when he's using his powers, it lights up even more, responding to when he's shooting lightning from his hands, for example."

As with many practical effects, to get the bolt to function properly took some effort. Nevertheless, Sandberg says, "When you get some of those cool shots where Shazam is coming out of smoke and the first thing you see is that lightning bolt shining through? It's like, okay, yes, it was worth it to go through all of this!"

Of course, with the super suit come the superpowers, and the need to know just what his abilities are. Freddy helps Shazam figure out his powers by staging a series of wholly unscientific tests, with sidesplitting results. Plus, being teenage boys, they can't resist showing off. As Sandberg says, "They're kids so they make all these hilarious videos that are kind of a superpowered version of 'Jackass.'"


Special effects supervisor Cameron Waldbauer says he and Sandberg "talked about the gags in the film, especially when Freddy and Shazam are devising all these crazy tests, and how we could make them funny and over the top"add an extra gag to it here and there, so it advances the story but is also just a good laugh."

And because superheroes fly"as Shazam and Freddy will eventually discover"the production turned to the best means of achieving that effect: the tuning fork rig. Stunt coordinator Kyle Gardiner, who joined the crew straight off of "Aquaman," says, "What you can achieve with the actor is really more access, more control, and the ability to accomplish certain movements convincingly, especially with our ground base system, so we often have no need for wires. Among other things, it gave us the ability to fly Zac through a real mall, where you don't have the infrastructure to rig."

Gardiner says that Levi was a dream to work with. "Our goal is to get everything right so all the actor has to worry about on the day is acting, and Zac worked with us to have it down to a T from day one. He was comfortable enough to perform all the intricate actions and still maintain the comical elements that are part of the character."

Flying"especially via tuning fork"requires a good deal of core strength. As Butler indicated, Levi's dedication began right on the heels of winning the role. Levi turned to Grant Roberts at Granite Gym in Los Angeles to get him into fighting form.

Starting at a weight of approximately 200 pounds, Levi packed on over 20 pounds of muscle by, among other things, lifting weights five or six days a week, often twice per day. Grant placed him on a strict diet as well: for five days each week, he consumed between 3,000 and 4,000 calories a day. On the other two days each week, Levi was able to carbo-load, fueling his next five days and his consistently lean gains.

While many actors might consider such a regimen punishing and the trainer a super-villain of sorts, Levi did not. "Grant Roberts was incredible," he says. "He's a former body builder and a sweetheart of a guy. For five days a week, we just pushed as much weight as I could possibly bear, and I ate an insane number of calories. But as far as I was concerned, I wanted to use the opportunity to get in the best shape of my life. Of course, I was also doing it for the fans, 'cause I want to be this guy, the Shazam they expect."

Levi wasn't the only one getting into fighting shape. Across the pond, Mark Strong also worked hard to make sure he was ready for battle. Gardiner recalls, "Mark showed up on set ready . He'd done everything we'd asked with his trainer in England and his core strength was beyond belief. He got in the tuning fork and mastered it within an hour, and that made our life a lot easier. He picked up the choreography really quickly and is very athletic, a complete pro."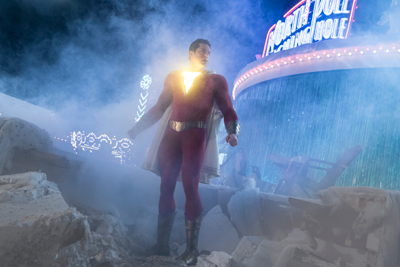 Not only did Strong want to be able to meet the physical challenges of the role, he was eager to look the part. "All good super-villains have a good outfit, don't they? If Shazam's costume is the incarnation of a superhero in the mind of a 14-year-old boy"brighter, louder, bigger than a grown up might imagine"then presumably Sivana is a scientist's version of what a badass scientist would look like."

"Mark's got a great, statuesque frame and an air of elegance about him," Butler notes. "We took fabrics that would appear almost royal"cooler tones, a beautiful purple and a dark royal blue, with velvets and leather trims. He also has a shirt in muted gold silk, and a long leather coat, of course."

"We need a lair!"
Locations & Production Design

Though the story takes place primarily in Philadelphia, Pennsylvania, "SHAZAM!" was shot on location and on soundstages in Toronto, Canada. Production designer Jennifer Spence notes, "David Sandberg and I have worked together quite a bit, which makes for an easy transition. We did his first film together, 'Lights Out,' and then 'Annabelle : Creation' and now 'SHAZAM!' It's lovely because we know each other very well, he's such an easygoing guy, and I understand where he's coming from creatively."

Spence was a particularly apt choice for the film because not only do she and Sandberg have a shorthand, she has a personal understanding of certain elements of the story. "The story about all these foster kids really touched me because I have a history of working in group homes before I was in the film industry. So, designing and building a foster home truly meant something to me. "When I was thinking about the foster home," she continues, "not only was I thinking about the Shazam story and where Billy Batson comes into it, but also Freddy, the rest of the kids, and the parents and what they might be like. Their characters are all an influential part of the design. Rosa is a Latina mom and Victor is from Hawaii, and I wanted it to feel like there was history there and culture. Their history as individuals and then as a couple is present in the home. These things are important to the parents. I think the reason kids do well in this house is because of the connection they have with the parents, which often isn't the case; it is often just a place to stay. I think that when Billy arrives he starts to sense that there's something different about this house and these parents and these kids that he hasn't yet experienced in any of his previous foster homes."

Spence designed the Vasquez house, where a good deal of the story takes place over the course of the film, to be "very colorful with a lot of open space." She also had to devise a means of sharing the soundstage space with another enormous set"the Rock of Eternity"so she built up, rather than out. "The only way I could construct the house, which is two floors, was to set it up as two floors, which is not that common. I accommodated it by making it a bit bigger than a normal house so that we wouldn't have to move walls in order to have enough room for the crew. It turned out nicely because when you move through the house, you're able to see into all the rooms from various points, which helps the storytelling feel authentic."

In choosing her color palette, wallpaper and furnishings, Spence strove to further emphasize the Vasquez's history. "Not all the furniture matches; it's not of a certain era but from every era, because I felt like they would have collected things from yard sales and so forth. They're not wealthy and they're housing six kids. But they've created a loving environment. So much of what you will see was created by the incredible team work of so many artists who strove to help me create the look and feel of this film, too many incredible artists to name, but I couldn't have done it without their creative input, and that's what this movie is about…teamwork."

Spence and her team also allowed for the kids' personal touches, none more so than Freddy, whose room is reflective of his passion for all things superhero. In fact, one of the first things Billy notices when he arrives is Freddy's Batarang, and Freddy wastes no time in showing Billy his collectible Superman bullet.

The designer herself dove into the comic books in order to envision the immense Rock of Eternity set. "That was a complicated one," she reveals. "In the comics, all seven statues of the Sins were on the left-hand side of the main floor. There was no sense of balance that we designers like to create. There was a lot of debate about whether or not to change it up, to put three on one side or make the space round… Ultimately, David was adamant that we keep it the same as in the book, so we worked out the layout and the square footage, the size of each statue, and so on. He wanted them to be imposing and for you to get a sense of the vastness of the place when you step into it."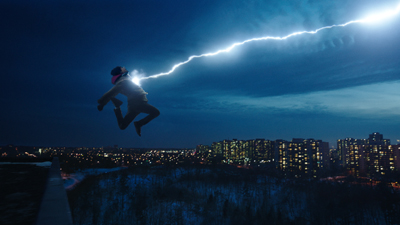 Researching caves around the world aided in her designs. "One of my favorites was in Vietnam, another was in New Zealand, and there are really beautiful rock formations in Arizona. I worked from portions of each to connect the space to our planet, because even though it's a comic book story, it takes place in a real city, Philadelphia, so I wanted to ground this magical locale with a sense of realism, too. We also used some Egyptian-style artwork to make it feel like there's an ancient history to the place."

Spence worked with creature designer Neville Page to devise the look of the Sins and their functionality. Sandberg says, "It had all these rooms and portals to other dimensions, and was a very enchanted place. It was something I had looked forward to, walking in there and seeing the Sins, and it was just as awesome as I had imagined."

As in the New 52 comic that inspired the screenwriters' adaptation, the story is set at the height of the holiday season. "We loved the idea of a movie set at Christmas," Safran says. "I don't think there's any time of year that is more family-oriented, and no time of year when, if you lack a family, you would feel it more. For Billy Batson, joining a family just before Christmas made for a wonderful juxtaposition between his desire to be on his own and his real chance at belonging somewhere."

"Christmas is about family"you go back and see your family, you all hang out together"so it felt very right for this story but also added an interesting visual element for us," Sandberg observes. Among those elements is a full-blown Christmas carnival, where Billy's story begins and where, years later, he returns"as Shazam"to face off against Dr. Sivana. Spence confirms, "It was a fully operating carnival and we rented all the rides and booths. Though we did buy the Ferris wheel"sourced by my set decorator Shane Vieau"because we had to drop it, it gets destroyed. We break it, we buy it."

To capture all the action, director of photography Maxime Alexandre "another Sandberg vet"utilized a range of light and lenses. "There was a big contrast between, say, the Rock of Eternity and the real-world settings," he states. "Lens-wise, I decided to go with Master Prime. We worked a lot on light design, using LED lights from ARRI that gave us control of every single bulb. And we came up with beautiful lights for diffusion"soft lights for a long distance of 20, 40, even 60 feet from one single source, which we nicknamed THE SHAZAM."

Sandberg says, "It's a comic book movie, a comedy, and a monster movie with the Seven Sins, but it's also got these more emotional scenes, and I think Jen's sets and Maxime's work both make for a good 'real-world' contrast and make it all come together."

For the film's final element, music, Sandberg worked once again with composer Benjamin Wallfisch. "Ben is the only composer I've worked with so far, and the guy is amazing," says Sandberg. "Something we talked about is that I wanted it to feel very much like a classic superhero score, because Shazam is a Golden Age Super Hero, and I wanted to honor that history."

"David and our cast and crew have threaded a beautiful, heartwarming story through the action and comedy," Safran comments, "and I think the hardcore DC fans are going to get what they want, and moviegoers are going to get the big screen experience they go to the theater for." Levi concurs, adding, "This is a movie that 100 percent taps into a family audience, a fan audience, and the in-between audience. The entire family can go and enjoy it together, and, speaking as a fanboy and sometimes-adult myself, the fanboys and fangirls, and adults in general, are going to see a kickass superhero movie with 'SHAZAM!'"

Sandberg states, "We set out to tell Billy Batson's story"that family is not always about blood, but bond; that you can find a home even if it's not where you were looking for it. And because it's Shazam, we also get to experience what it would be like if every kid's wish to be a superhero came true in the biggest, most comical, exciting, action-filled and magical way."

SHAZAM!
Release Date: April 4th, 2019