The World's Not Going To Save Itself
Cast: Liam Neeson, Chris Hemsworth, Emma Thompson, Rafe Spall, Tessa Thompson, Kumail Nanjiani
Director: F. Gary Gray
Genre: Action, Comedy
Running Time: 115 minutes

Synopsis: The Men in Black have expanded to cover the globe, but so have the scum of the universe. And to keep us safe, decorated Agent H (Chris Hemsworth) and determined rookie M (Tessa Thompson) are partnered – an unlikely pairing that just might work. As they face a new alien threat that can take the form of anyone, including MIB agents, they must join forces on a globetrotting adventure to save the agency and ultimately the world.

Building upon the idea that there are aliens from other worlds living among us, MIB: International introduces new agents, weapons, aliens and locations, while bringing together some of today's most in-demand and talented actors, including Chris Hemsworth and Tessa Thompson as the titular heroes, Agents H and M, with Emma Thompson reprising her role as the head of MIB, and Liam Neeson, Rebecca Ferguson, Kumail Nanjiani also taking on key roles.

Men In Black International
Release Date: June 13th, 2019


About The Production
Meet The Men – And Women – In Black

As the series' worldwide legions of fans know, the Men in Black is a government agency started to establish contact with beings not of our world. MIB licenses, monitors and polices alien activity on Earth, protecting the planet in ways its citizens can't imagine and will never know, as well as processing the alien arrivals as immigrant refugees. Armed with high-tech weaponry, built the help of otherworldly technology, their most useful tool is the Neuralyzer, a pen-like device that emits a beam of light that wipes the memories of those who've had contact with aliens, maintaining the MIB's secret existence as a rumor, recognized only as déjà vu, and dismissed just as quickly.

While that mythology is critical to the new film, the MIB: International filmmakers expand upon it while adding new elements. "We are very much in the same universe as the previous films, but we're no longer bound by the environments of New York City, where the first three stories were set," notes Parkes. "We have a new international flavor, a new set of characters and are following a fresh recruit to MIB, known as M (Tessa Thompson) as she joins a top agent on the organization's biggest and most challenging mission."

We meet M as a young girl named Molly, who, along with her parents, has had a close encounter with some visitors from another world. Having evaded the MIB's memorywiping Neuralyzer, Molly is determined – obsessed – to discover the truth about aliens on Earth and the mysterious black-suited men who visited her home shortly after the life-changing meet-and-greet. She spends all her available time seeking answers, and years later discovers MIB headquarters in New York. Impressed with Molly's smarts and detective skills, which led her to become the only person to ever breach the headquarters uninvited, Agent O (Emma Thompson) makes her an agent, assigning her a new identity: M.

Eager to climb the MIB career ladder, M engineers a partnership with H (Chris Hemsworth), a legendary agent with a serious swagger, who once famously saved the world armed with just his wits – and his De-Atomizer. The duo's first assignment is to meet with alien royalty, Vungus, and show him a good time during his visit to Earth. But within moments of their arrival at a posh nightclub, Vungus is assassinated, and H and M discover he was concealing a weapon capable of obliterating entire galaxies. Now, an infamous, hyper-aggressive species known as The Hive, fronted by two villainous and incredibly acrobatic assassins, have gathered on Earth to take possession of its powers.


Struggling to understand how Vungus' location could have been known by the assassins, H and M suspect someone within the MIB organization is behind the breach of classified information. They must find the murderer and expose the mole, before the weapon finds its way into the wrong hands. Their journey takes them from London to Morocco, Italy and Paris, on a mission to save the world.

They are the Men – and Women – In Black.

Chris Hemsworth is Agent H, who is widely admired among the MIB for his skills – and his incredible good looks. Years earlier, H and another operative, High T (Liam Neeson), saved the planet from an alien threat. H has since been resting on those laurels, and to some he's become a little lax and overconfident. "H now feels 5 empowered and entitled to operate under his own banner," notes Hemsworth. "He has an over-abundance of self-confidence, as well as a sense of humor, and prefers to avoid doing things by the book. This rubs his fellow agents the wrong way, so there's a bit of friction within MIB London. H has gotten away with that for a long time, so he's due for a wake-up."

Parkes notes that H is "effortlessly charming and gets by with a wink and a smile, even as he wields the MIB's signature weapon, the Series 7 De-atomizer. In some ways, he's lost his way, and the story is how he and M ignite each other to be their best." "Chris is the perfect fit for H and really embodies the character," Laurie MacDonald adds. "He's charismatic, self-deprecating and funny, and not many can carry off all three. He also has effortless charm, strong comedy instincts and, as with all great stars, an extraordinary understanding of who he is as a screen persona."

Hemsworth embraced the opportunity to continue a blockbuster and venerated franchise while expanding upon it, making it fresh, and revealing new elements of that world. "This film has a more global feel," he confirms, "moving from London to Marrakech, Italy and Paris. There's a bigger scope in its interweaving of action, science fiction and humor. Few films have managed to do that as successfully and with as much fun as Men in Black."

The Avengers star credits the vision of director F. Gary Gray with giving the film an ambitious scale while never losing sight of the series' signature comedic and character moments. "Gary has done it all, and he really opened up the MIB world and let us run with it," says Hemsworth. "Men in Black: International is absolutely a continuation of a legacy that so many love, but it also stands on it own as an epic science fiction comedy."

Another draw for Hemsworth was the opportunity to reunite with Tessa Thompson, with whom he had recently starred in Thor: Ragnarok and Avengers: Endgame. "Tessa 6 picked up right where we left off," he says. "Her character, M, brings intelligence and intrigue to the relationship between the two agents."

Thompson's M is in many ways the yin to H's yang. "They're as different as night and day; it's a head versus heart thing," she explains. "She's cerebral and he operates from the gut. So, they have some fundamentally different approaches and priorities." Notes screenwriter Art Marcum: "H and M complement each other and ultimately find a rhythm and begin working like clockwork as they take on the forces threatening the planet."

We meet M before she was M – as Molly, a six-year-old whose run-in with a wayward alien leaves an indelible impact that would lead her to becoming an MIB agent. "Molly is obsessed with the memory of that close encounter, which opens up a new world to her," Thompson says. "She is literally the only person outside of the MIB who knows that aliens exist among us, and lives her life in pursuit of this mysterious organisation she experienced as a child. Molly knows it's the only place where she'll have a strong sense of belonging."

It seems the universe has led her to the place she was always supposed to be, at the moment she was supposed to be there. "I love that it's a reversal of how Will Smith's character, J, was selected to be an agent in the first film," Thompson continues. "Instead, Molly finds them. She does the unthinkable: tracking down the organisation that is supposed to untraceable. It's her destiny to be one of the black-suited agents."

As she tells Agent O, who runs the MIB and still has doubts about the woman who's infiltrated her mega-secretive organization: "It took me 20 years to find you – the bestkept secret in the universe. Which makes me perfect for this job."

What made Thompson perfect for the job of playing M was, says Parkes, her "particular strength. You see it in Tessa's eyes – that natural power. I saw it in her role as the superhero / warrior Valkyrie in Thor: Ragnarok and Avengers: Endgame; there was 7 irony under her every move, and Men in Black: International requires the same from Tessa in every frame."

Like Hemsworth, Thompson embraced the fun and surprises, as well as the scale and action, that Gray brought to the film. "Gary doesn't miss a beat," she says. "His attention to detail and sense of scope and scale is incredible. Gary was always able to balance the legacy of the franchise with fresh ideas and a unique vision."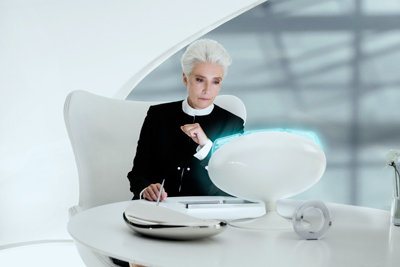 Molly realises her dream when she is enlisted by Agent O, the worldwide head of MIB. O strips Molly of her identity and renames her M, and has her fitted with the iconic black suit. Agent O is portrayed by Emma Thompson, who reprises the role she originated in Men in Black 3. "This woman, M, seems to have wandered into MIB headquarters, but it's actually been the culmination of her longtime journey," Thompson notes. "It's then that O realises there is something special about Molly and decides she should be on the team. In fact, I think Molly reminds O of herself; they're both obsessed with space and aliens."

The newly minted Agent M is assigned to work in MIB London, under the paternal command of High T (Liam Neeson), where she'll join the near-mythic Agent H in pursuit of the mole. High T ascended to the position of the head of the London branch after teaming with H years earlier to rescue the Earth from an alien threat. Now, High T is preparing to retire, but before he does he must oversee the efforts to bring the planetthreatening infiltrator to justice.

Neeson's larger-than-life screen presence, honed as an action hero in the Taken films, among others, as well as his unheralded facility for comedy, served him well as High T. "We had already cast Chris Hemsworth, who's pretty imposing looking, so we were looking for an actor who could match that," remembers executive producer E. Bennett Walsh. "Audiences are going to understand and enjoy that pairing right away."

Pointing to Neeson's less-known qualities, Parkes adds that, "Much like with Tommy Lee Jones as Agent K in original films, we wanted to cast actors who could do comedy, as opposed to casting comic actors. Liam is a consummate actor with big comedy chops."

Hemsworth appreciated what Neeson brought to the dynamic between H and High T. "High T is the father figure H never had, so they have a very close bond. Liam made sure that the father-son relationship and mentorship was clear. It's at the heart of the film."

After the assassination that triggers the hunt for the mole and for the weapon of incalculable destructive power, H and M, under High T's supervision, embark upon a mission that takes them to an antique shop in Marrakech, Morocco. There, they join forces with a diminutive alien named Pawny, who's part of a civilization that disguises itself as chess pieces. The entire population lives on a chessboard, which is its makeshift home on Earth. "As you can guess from his name, Pawny's job is protect his Queen," explains Kumail Nanjiani, who performs the CG character. "But when assassins kill the rest of his race, Pawny becomes its lone survivor."

With the death of his Queen, Pawny pledges his allegiance to…Agent M. Armed with a laser gun and grappling hook, he becomes her protector, joining M and H on their adventure. "It's the first time he's able to experience the world outside of the antique shop that housed the chessboard," says Nanjiani. "He kind of knew what was out there because he'd read or heard about it, but he never got to live it, until now."

A longtime fan of the MIB films, Nanjiani enjoyed the chance to jump into its world of action, science fiction and laughs, and a character that's partially defined by extremes. "Pawny was a lot of fun to play because he's snarky and innocent; cynical and enthusiastic; and intellectually mature and emotionally childlike," he explains. "He's such a tiny figure that it was fun to go bigger with him."

Thompson admits that Pawny became her favorite character. "Pawny is deliciously funny and sweet," she says, "and I personally begged Kumail to take the part, even though I didn't know him that well. I knew he would be perfect. The character is CG but Kumail flew out to join us on set to read the scenes with us, which added so much to the characters' dynamics."

To retrieve the ultimate weapon of destruction, H realises he must visit an old flame, Riza (Rebecca Ferguson), an arms dealer living on her own exotic island. She's suave, graceful, rich, powerful … and an alien who possesses a third arm, which takes her fights – including a brawl with her ex – to new levels. "Riza is slightly unhinged; maybe that was part of the attraction between her and H," says Hemsworth, with a laugh. "But now she just wants to beat the hell out of him."

Riza's loyalties are only to herself, and she always sells to the highest bidder. "I don't want to say Riza is evil, but she is certainly at least a bit wicked," admits Ferguson, who starred alongside Tom Cruise in the two most recent Mission: Impossible films, as the deadly British operative, Ilsa.

Riza is very good at her amoral pursuits, and her private island is an oasis replete with her favorite companions – what Ferguson calls "flying, crawly, creepy alien creatures that she loves to death."

Ferguson was suggested for the role by the film's second unit director / stunt coordinator, Wade Eastwood, who had served in that capacity on the Mission: Impossible films that had showcased Ferguson's athleticism. "When I got the call from Wade asking if I wanted to play a three-armed, weapons-dealing alien who basically kicks butt, I said, 'Where and when do you want me?'" Ferguson had given birth just ten weeks earlier, but showed up for makeup tests a few days after her conversation with Eastwood, as well as a fitting for a wig of Riza's wild hairdo.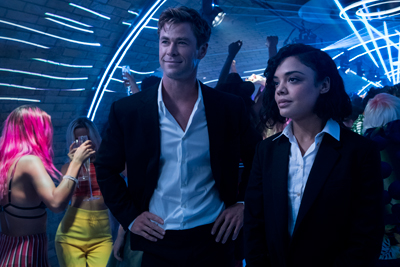 While Riza is certainly a shady figure, the film's true villains are identical twins – graceful assassins from another planet determined to stop H and M from saving Earth. Taking on the roles are acclaimed dancers / choreographers Laurent Bourgeois and Larry Bourgeois, twins whose YouTube videos have been seen by millions around the world, and who have performed with Beyoncé and Jay-Z.

It was Gray's idea to cast Laurent and Larry as the principal antagonists. He had met with them several years earlier about a different project, and thought the duo's incredible dance movements would give MIB: International a distinctive and unforgettable pair of bad guys. "It's one of those times where the artists truly define the characters," says Parkes, who goes on to describe how Larry and Laurent were cast: "Gary Gray was in our offices and showed us a video of two extraordinary dancers. Laurie [MacDonald] and I were so impressed by their incredible movements. The piece was called 'Rug Dealers' and I was certain I was watching a special effect; the way these two men could dance looked like they were enhanced digitally, but they weren't. They're at the pinnacle of street dance."

"During filming I watched Laurent and Larry in awe," adds Hemsworth. "There is something so impressive and also unnerving about the way they move in synchronicity. They even finish each other's thoughts, physically as well as verbally. It's amazing to watch."

For Larry and Laurent, performing in a Men in Black movie was a new pinnacle in their already impressive careers. "We loved the MIB films going up, and like everybody else, we were and still are huge Will Smith fans," Laurent points out. "And now we're a part of the history of this amazing franchise."

The twins brought a unique approach to their work. As Larry notes, "We prefer to dance than to talk. In fact, the best way for us to communicate is through dance, and we have created our own style since childhood. We're perfectionists and crazy connected to one 11 another, so it's incredible how F. Gary Gray took our dance and energy and created the perfect villain for us to portray in the new MIB."

A more down-to-Earth figure is a high-ranking MIB London operative, Agent C, portrayed by British actor Rafe Spall (Shaun of the Dead, Jurassic World: Fallen Kingdom). Vying for High T's job, C is a corporate climber and is suspicious of H, whom C sees as a fraud. "C thinks he has H's number," says Spall, "and he enjoys giving him a hard time." But C is also an equal opportunity office jerk. "It's fun to play a character who is horrible to everyone, all the time," he laughs. "It's quite freeing. We spend so much of our lives pretending to be nice, so it's great to not have to do that and get paid for it, as well!"

Vungus, a big-tentacled alien and old friend of Agent H, visits Earth every few years because he likes to party hearty at a particular nightclub. As performed by Kayvan Novak (What We Do in the Shadows), Vungus now has larger concerns, as he possesses the most powerful weapon ever created. "It's like this super-compressed black hole," describes screenwriter Matt Holloway. "It can create a new Grand Canyon in the middle of the desert."

Some familiar alien faces from the franchise's brilliant menagerie of alien creatures also appear, including the worm aliens – still manning the MIB headquarters coffee station. They, and the new visitors from other worlds, get to the heart of what's special in the Men in Black films: the juxtaposition of the bizarre and the comical.

Designing The Worlds Of MIB: International

Production designer Charles Wood, who has designed the worlds of several of the blockbuster films of the Marvel Cinematic Universe, including Avengers: Endgame, Doctor Strange and Guardians of the Galaxy, faced a unique challenge with Men in Black: International: honor the look of the original films while moving forward in bold new directions with, as the title indicates, a more international flavor.

To that end, the filmmakers went for additional color and expanding beyond the New York City locales of the first three films. The Men in Black exist throughout the world, which means that aliens are everywhere. "The most natural way to achieve this," Wood explains, "was through the locations our characters visit. We travel from MIB headquarters in New York City to its offices in London, then onto to the deserts of Morocco and the blue waters of the Mediterranean."

Parkes expands upon Men in Black: International's new look: "The design of the previous pictures was based on the early-1960s modernism that began in the U.S. with the World's Fair in New York City. For this film, we leaned into classical British architecture in the wonderful 1930s/40s Art Deco tradition – a modernity that has a certain grandeur, as well. It's a more textured look than the U.S.-based stark whites of Men in Black. This one has a slightly more classic, elegant and historical feel."

According to Wood, that new look also gives the Men in Black an impressive history. "We wanted to say that the organisation existed from the turn of the twentieth century. So in a way we're nudging back in time, design-wise."

The production was based in the UK at Warner Bros Leavesden Studios, which housed many of the interior sets, including: the Men In Black London set, with High T's cylindrical office; the interior of Riza's Mediterranean private domain; Molly's childhood house; the MIB interrogation room; O's egg-shaped office; the Eiffel Tower portal room; and the Moroccan antiques shop.


At the antiques shop, the alien twins enter through what Wood calls "a kinetic door, that flips around on itself and opens up. They walk through and into the back room, where we meet Pawny. It was a mad world to create but great fun because of all the attention to detail."

Wood's Eiffel Tower set bookends the movie. He explains its place in the story and his vision for the elaborate set: "If you look at the very top of the real Eiffel Tower in Paris, you can see the observation deck, which is the highest point of the Tower. In the film, the Eiffel Tower serves as a space ladder with portals to other solar systems and a ladder that takes you down to the streets of Paris. We've based the interior on an Ellis Island idea that aliens would arrive from other universes and go through immigration, although it hasn't been used for many decades. It has three great big doors through which you can pass from one dimension to another."

The nightclub where we meet the twin assassins was captured on location in Central London, in Billingsgate – the old Fish Market of London dating back to 17th century.

Other UK locations included The Blackfriar Pub, whose exterior served as the undercover entrance to MIB London; and Ludgate Hill, where the production captured a scene in which M and H face the force of the alien twins, battling them with an arsenal of hidden gadgets within Agent H's classic Jaguar.

In Marrakech, the production filmed amongst the atmospheric and often chaotic hubbub of the city's bustling marketplace, the Souk. Scenes filmed in Marrakech included the alien chop shop, where Agents M and H borrow a galactic hoverbike – a kind of flying motorcycle – to escape the twins; the exterior of the Moroccan Antique Shop, where the assassins slay the chess board civilization, with only Pawny surviving; and a sequence in which H and M find themselves in the Kasbah surrounded by other MIB agents. The company also filmed in the Merzouga Desert and Tangier.

Ischia, a volcanic island in the Tyrrhenian Sea, off the coast of Naples, doubled as Riza's private island domain. There, the production captured the agents' arrival at Riza's home, where they meet Luca, her imposing guard.

Cast and crew also visited the home of the original trilogy – New York City, specifically the Fent Room in Factory Park – where Wood recreated the "lobby" of the MIB's 14 headquarters – where the lone security guard we first met in Men in Black remains stationed, still reading a magazine.

Suit Up!

A key element of the Men in Black iconography are the black suits. Parkes explains their origin: "Men in Black agents have the ultimate conundrum: they perform heroic acts every day but they can never be acknowledged. The anonymity is essential and it starts with the black suits. It's all about disappearing. What's fascinating about the Men in Black suit is that you want it to be utterly forgettable, but at the same time you have movie stars wearing it, so the suit has to look good. The actors have to feel powerful in it."

Costume designer Penny Rose, working with Paul Smith, one of Britain's foremost designers, created custom pieces and a unique take on the famous suits. "When you think of Men in Black, you assume it is a black suit and you can stop there. Penny Rose didn't," says Parkes. "She and Paul Smith created an English style Men in Black suit because the New York suits from the first films were very specific to that area and era. We reinvented the suit."

The cast was more than excited to don the outfit. "The suits are really powerful and provide a sense of gravitas and force," says Tessa Thompson. "Yet, they're still elegant – and suitable for a powerful and empowered woman. "They make you feel like you're in that world."

Hemsworth says he appreciated that "each of the suits has a little flair – a personal detail. Mine has a unique lining." Hemsworth similarly enjoyed H's non-regulation socks, also designed by Smith. "And when you put the glasses on, it all comes together."

Rose gave Liam Neeson's High T a special accoutrement: a waistcoat. "He's the head of MIB London, so we thought High T should have something no one else does," she 15 points out. All the suits have what Rose calls a "fabric with a special stretch technology, so it won't crease when traveling.

"Everyone looks hot in a Paul Smith suit," Rose continues – and Rafe Spall couldn't agree more. But the garment resonated with Spall for reasons beyond their style and fit; he also has a sentimental attachment to the garment. "Paul's work holds a place in my heart because during my childhood, each Christmas my dad would buy us clothing designed by Paul," he remembers.

Rose enjoyed creating alien versions of the black suit for the otherworldly employees of MIB London. "They wear a reinvented and alien version of the black suit," she explains. "For example, their glove jackets are literally made out of gloves and the suit is made from seat belts."

The heroic garb worn by the protagonists provides a stark contrast to the outfits taken on by the alien assassins. Rose explains: "The twins are absolutely delightful and very difficult to contain because they have this incredible energy level. For their costume, we were looking for a kind of alien-landing-on-Earth / homeless / street-cred style."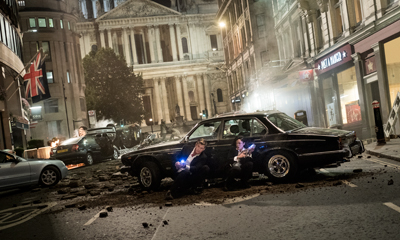 Tools Of The Trade

Given the film's science fiction elements, it's no surprise that it features a mix of hightech gear and transportation. While it was important to honor the MIB tools of the trade from the first films, the filmmakers here again embraced some bold and unexpected directions.

One of the MIB's signature instruments is the pen-like Neuralyzer, which by isolating electronic impulses in the brain of a target or witness, wipes their memory, putting them under a hypnotic state and susceptible to the implantation of false memories. It helps keep the agency's existence and the presence of aliens on Earth unknown to the public.

"The Neuralyzer is to MIB what the lightsaber is to Star Wars," Parkes summarises.

Under the supervision of Wood and HOD prop modeler Pierre Bohanna, who served in that capacity on several Star Wars, Harry Potter and James Bond films, the production modernised the Neuralyzer, while retaining the device's essential and familiar feel. "It's iconic, so we didn't change it too much," Bohanna explains. "We added a bit more animation to its mechanism – providing a little different feel with how it opens and moves – but its design remains unchanged from the version audiences loved from the first films."

Wood was also responsible for the design of some of the film's key vehicles. While Will Smith and Tommy Lee Jones drove a Ford LTD Crown Victoria, Chris Hemsworth's H and Tessa Thompson's M get some big upgrades: a classic Jaguar SJ6 and a Lexus RC F. The Jaguar is nothing less than an arsenal on wheels, housing in its nooks and crannies a variety of high-tech weaponry. Reach for the door handle and you'll find a gun. Pull the gas cap, and you'll discover an even larger gun. Hidden in the window is a rack of five different handguns. From the rear bumper, the agents can pull a Gatling gun – the hub cab is its barrel of bullets. And the exhaust pipe is nothing less than a rocket launcher.

Also ready for its close-up is the Lexus RC F. In a fan-pleasing nod to the 1980s Ford LTD Crown Victoria in the first Men in Black movie, the RC F can also fly at the press of a big red button.

Another vehicle that takes to the skies in the movie is the alien hoverbike. "That was a fun one," says Wood. "For the scene set in Marrakech, we wanted a vehicle and shape as far removed from that world as possible. We gave the hoverbike a big front end with a huge vent and we made sure to add some crazy flames coming out the back of the whistling turbine. It also had to be agile enough to squeeze down the city's narrow streets. We came up with around 30 different designs until we settled on a shape everyone was happy with. Then we built four of them."

The new film also features upgraded versions – Series 7 – of the standard-issue Men in Black high-tech weaponry, known as the De-Atomizers.

The gadgets, weapons, creatures and costumes are all part of the impressive worldbuilding for which the Men in Black films are so beloved. But behind it all, you'll find some even more impressive magic. Notes Walter Parkes: "Men in Black: International takes you on a journey into an exciting hidden world that's available if you just look hard enough. We hope that in addition to being entertained, you'll come out of the film and look at your own world with fresh eyes."

Men In Black International
Release Date: June 13th, 2019