If you want to break into acting, you could always try what Anne Hathaway did. She fell off a stool during her audition for The Princess Diaries. Director Gary Marshall was so impressed with her klutzy behaviour she got the part. It also didn't hurt that Marshall's kids thought Hathaway had 'nice hair'. Luckily for her, the family friendly film did well at the box office and she was given another opportunity to prove she was more than un-coordinated, and well groomed. Roles in Ella Enchanted and Princess Diaries 2 soon followed but the novelty of wearing a tiara everyday was wearing thin. Hathaway decided it was time to distance herself from G Rated family fare. In 2005 she appeared topless in Havoc, and had a rather steamy sex scene. She followed that up with THE film of last year; the multi Academy Award winning Brokeback Mountain. Now that she's proved she really can act, Hathaway returns to what she knows best, comedy. In The Devil Wears Prada, she stars as Andy, a recent journalism graduate who unfortunately ends up working as an assistant for Miranda Priestley (Meryl Streep)the demanding, ruthless editor of top fashion magazine Runway.
Hathaway was at the recent Venice International Film Festival where Gaynor Flynn caught up with the busy young actress.
Gaynor Flynn In the film, your character Andy doesn't know anything about fashion, what about you?
Anne Hathaway
: I do like fashion a lot. I like it onother people but fashion for me means what's cleanthat day so I do the best I can.
Gaynor Flynn
: Did you relate to Andy's struggle tosucceed?
Anne Hathaway
: Oh yeah absolutely. I love my job andI love trying to find a way to marry art and commerceand I think that's very similar to the struggle thatAndy has and there's really no preparation that anyonecan tell you. Everyone reaches success at differentages everyone has different climbs. I've already hadswings and I'm only 23 and that's very rare to havehad quite a few highs and lows so early on and I thinkultimately all you can do hope that you live withoutregret. And what keeps you from regretting thesacrifices, is making sure that you love the job so Ithink I have that in common with Andy. So now when Ihave to make choices that involve sacrifices I want tomake sure that I really believe in them and I thinkonce Andy realised what was required for her tosucceed quickly she chose to step back. And I thinkthat I've done that myself. I didn't try to go off andjust have a career by wearing a tiara for 30 years. Idecided to step back and decide what was going to makeme happy. What was going to make me a better actor.
Gaynor Flynn
: How did you get into the headspace ofthe character?
Anne Hathaway
: Well something that always helps me isthe shoes because once you get their shoes you canfigure out how they walk. But it was really helpfulto have the costumes tell the story visually and thatwas just wonderful because then you can just trust thewhole package. You can trust the way they're shootingand supporting the genesis of the character as well asthe look of it visually with the clothes.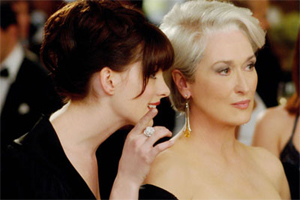 Gaynor Flynn
: What was the main challenge in thispart?
Anne Hathaway
: Working with Meryl Streep and notgiggling through every scene because I couldn'tbelieve what I was doing. The audacity of me workingwith Meryl Streep and I think getting comfortableenough to get over the fact that I felt so beneath herlevel as an actress. Realising how much experienceshe has over me and there was just this moment when Iwas freaking out going how am I going to do it? Andone of my favourite actresses is Uma Thurman and I sawPrime and I thought it was a really charming movie andas a New Yorker I really got it. I think Uma Thurmanis one of the most beautiful, brilliant adorablewatchable actresses out there and yet when she had ascene with Meryl I didn't care, she could have beenanybody. I was on Meryl and I realised that's thepower of her. And I realised you know what, they'renot even going to watch me (laughs) when I'm doingscenes with her. So I calmed down quite a bit afterthat.
Gaynor Flynn
: In the film, much is made of yourcharacters weight. Are you under a lot of pressure tolose weight?
Anne Hathaway
: Honestly I suppose there's pressure butI really don't care. If I lose or gain weight its fora character its not really for me and I've done it.Like once I dropped 15 pounds for a character and forthis one I dropped 5 pounds, and you kind of do what'srequired. I think people take it a little bit tooseriously and I think a lot of actresses put thepressure on themselves and I think one of the reasonwe put that pressure on ourselves is that we're askedthat question in every interview.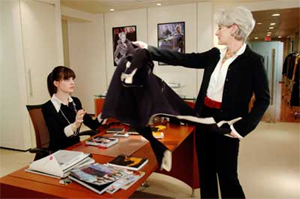 Gaynor Flynn
: What do you think the difference isbetween Andy Sachs and Jane Austen your upcoming role?
Anne Hathaway
: Well the societies in which theylived. Its impossible to compare the charactersbecause they're just two different characters but thefact that Andy said to her parents that she wanted tobe a writer and they said great here's money to go offto do that. And Jane Austen said she wanted to be awriter and her parents said go find a husband. That Isuppose is the huge difference between the two ofthem.
Gaynor Flynn
: You're main fan base at the moment isteenage girls. Do you think that girls who go see thismovie might come out and think oh I have to have thoseclothes and shoes and buy into that whole message?
Anne Hathaway
: I really don't know I think its up tothem. I think that certain ones will get the wholepackage and certain ones won't and there's nothingthat I can do about that. Somebody asked me earlieron if I was worried about girls who starve themselvesto fit into size 2 jeans or that there are girls outthere who are going without food to buy these fashionitems and I was just like okay they should probablydirect their gaze outwards and get happy withthemselves and then if they're fortunate enoughthey'll get the handbag as well. You know I thinkthere's nothing wrong with wanting nice things, andwanting designer labels but I think you have tomaintain a healthy respect for the fact that they'renot the be all and end all of life so I just hopeparents raise their kinds right because then the kidswill automatically know that.
Gaynor Flynn
: What's your favourite fashion item?
Anne Hathaway
: Shoes are it for me. I'm not reallymuch of a jewellery girl. I'm very simple.
Gaynor Flynn
: Any particular designer in shoes?
Anne Hathaway
: Its funny with clothes designer Iwill always love Channel. Anything Channel makes, Ithink is absolutely brilliant. I'm irrational when itcomes to Channel. I'll look at a dress and I won'tlike it and then I'll hear its Channel and I do likeit and it's the only designer I can say I've been likethat with. I'm just in love with it. But with shoesits different. A designer can have 12 completelydifferent pairs of shoes within a season so you reallyjust need to go by the individual shoe but I do loveMarc Jacobs for shoes a lot.
Gaynor Flynn
: Was it your influence who got Channelto come on board in the film?
Anne Hathaway
: Well when I told Pat (costume designerPatricia Field from Sex and the City) that I lovedChannel and I've had a really good relationship withthem for a few years, Pat called them and they werereally chuffed to be a part of the film and be used somuch.
Gaynor Flynn
: After working with Pat on the film didyour personal style change, how much influence didbeing in a film about fashion have on you?
Anne Hathaway
: Well it definitely made one of my NewYears resolutions be to try harder. Pat taught me howto make fashion accessible for me because it wasalways something that I viewed with a certain sense oftrepidation and almost with a sense of insecurity. Like I'd think, oh I can't really do that or wear thator I'll never be able to pull that off and what shemade me realise and so many women have said it beforebut I never really got it before, you have to be theone to wear the dress. And she said if you're notgoing to be the one to wear the dress then take offthe dress. It doesn't matter how beautiful it is findsomething that you're going to be in control of andthen make it work for you and so she taught me how tomake fashion work for me as opposed to the other wayaround.
Gaynor Flynn
: Did you get to keep any clothes?
Anne Hathaway
: We actually auctioned off the clothesfor charity.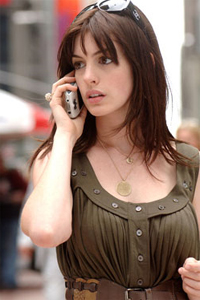 Gaynor Flynn
: Did you keep anything?
Anne Hathaway
: I got one shirt, a Marc Jacobs topwhich is amazing and I wear all the time and Iactually bought one of the coats from the auction.
Gaynor Flynn
: Which one?
Anne Hathaway
: The vintage green one with the leopard cuffs andnormally I would never wear fur but oh Jesus who caresits gorgeous.
Gaynor Flynn
: Who designed that one?
Anne Hathaway
: It was vintage.
Gaynor Flynn
: How much did you pay for the coat atauction?
Anne Hathaway
: I'm going to keep that one to myself.It's really honestly unconscionable so I'm not goingto mention it.
Gaynor Flynn
: What are you wearing today?
Anne Hathaway
: I'm wearing a lovely pair of vintageChannel pants that I just had for years and years thatthey gave to me oh my god and I'm wearing a Temperleyjacket that I don't' think they will give to me. That's the kind of the thing when you're an actressyou can never really fall in love with an outfitbecause if you do you'll have to buy it and god whocan afford that? So its really cool when you really,really, really fall in love with something and theysay 'oh just keep it'.
Gaynor Flynn
: Is there a danger in the magazineswhere they say oh she wore that before. Do you everthink about that when you're out at a premier and thensix months later you're wearing the same thing again?
Anne Hathaway
: People don't realise that I rotate thesame three shoes to premiers all the time and nobody'sever called me on it. I have a pair of black Prada's,a pair of black open toed Marc Jacobs and a pair ofgold Manolo Blahniks and I've literally worn the sameshoes for the last five years and no ones' notice andnow the secret's out but I wont' stop and I knowthere's certain dresses I've been photographed in thatI can't wear to events but I'll wear them in mypersonal life. Not that there's anything bad about itbut I guess there's a certain aspect of selling theoutfit that you're in and I don't know why itsimportant its just considered not very good to be seenin the same thing twice.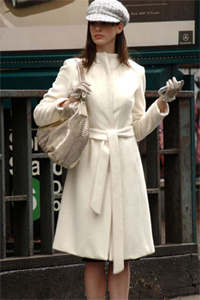 Gaynor Flynn
: When were you least content with theway you looked?
Anne Hathaway
: I think when I was an adolescent. Imean I've never met an adolescent who liked the waythey looked so that was probably the hardest time forme dealing with all that and then I grew up andrealised there are more important things in life thanthe size of your hips.
Gaynor Flynn
: Who do you really look up to stylewise?
Anne Hathaway
: You know no one ever gets this becauseshe's never been known for her style but Kate Winslet. I love the way she dresses its always just so down toearth but also really, really chic. I love EmilyBlunts' style to be perfectly honest. She would justcome on to set and look great and individual. KateMoss is always the ideal and no one else can reallypull it off. I also think Catherine Zeta Jones isalso a great dresser. Catherine Zeta Jones issomebody I really look up to because we're similarlybuilt so its great to look at her choices over thelast decade and see the way she's brought glamour backand made it okay.
Gaynor Flynn
: Do you think this movie will have abigger impact on your career or Brokeback?
Anne Hathaway
: They're both so different you know. I mean America could ignore this one as well. But thething that was so wonderful about Brokeback was Ithink I'd been, and probably rightfully so, labelled aone trick pony, and I kept assuring people that no,no, no there's more to me than just the tiara I swear. And finally with Brokeback Ang Lee helped me give aperformance that proved that and it was the mostextraordinary experience and I hope I'm able to do itagain because you don't know how cool it is wheneverybody thinks they know you and you're able tocompletely surprise them. It's the most rewardingthing as an actress.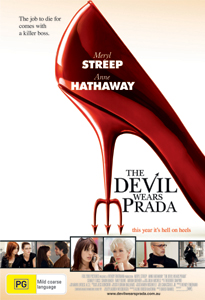 Gaynor Flynn at Venice International Film Festival