You would have to agree that gazing up at the stars at night is so much more appealing than looking up at the ceiling of your hotel room! Our love affair with caravan and camping holidays is as strong as ever with over 25 million* overnight stays in caravan parks or commercial camping grounds from April 2005 to March 2006.
So what is it about the humble outdoor holiday that has aussies hitting the road in droves? Family Parks share their secrets on why getting back to nature is on many of our holiday priority lists:
Family time: Quality caravan parks have loads of facilities including swimming pools, tennis courts, games rooms, barbecues, playgrounds and mini supermarkets. There are also plenty of activities for the kids to get involved in, with scores of like-minded families around to keep your tribe amused, allowing you to sit back, relax and enjoy your holiday.
Pet friendly: Dread leaving Fido in a kennel? Fair enough, he deserves a holiday too! Some caravan parks will allow you to take your much loved pooch with you. Family Parks is now the most pet friendly caravan park chain in Australia, with 105 of its 163 caravan parks allowing you to bring your pet with you.
Penny pinching: A caravanning and camping holiday is a very affordable alternative to the high cost of hotel rooms. Travel during shoulder or low season and receive great savings - and a great tip for senior travelers is that many parks will offer you further discounts, allowing you to stay even longer!
You choose: Whether you are after a road trip down south, a beach holiday in Queensland, or an outback adventure, there are fun-filled destinations that everyone will enjoy. You have the freedom to choose your style of accommodation from luxury self contained cabins for romantic rendezvous, powered sites for tourist caravans to tent sites for camping enthusiasts.
No worries: There are no flights to catch, no security concerns or long lines for lost luggage. And enjoy the comfort of your own car onsite, keeping you mobile to see all the sites and escape on scenic drives.
Bare essentials: Never pay excess baggage charges again! Pack up the boogie boards, surf boards, fishing rods, bicycles and those must have gadgets and never worry again about having to carry it all up three flights of stairs to your hotel room.
And don't forget to make the most of Go Camp 08!
*Source: Tourism Research Australia (2006), Travel by Australians, March Quarter 2006, Tourism Australia, Canberra.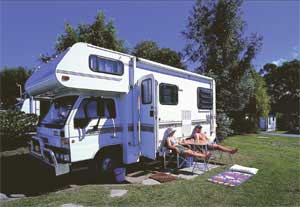 Family Parks - Go Camp 07
About: Come join in a weekend of festivities with Family Parks for 'Australia and New Zealand's biggest ever FREE camp-out!'
When: Friday 23 & Saturday 24 March 2007
Bookings: Bookings are free for the entire weekend for powered and non-powered sites across all Family Parks in Australia and New Zealand, for further information visit
www.familyparks.com.au