Cast
: Logan Lerman, Brandon T. Jackson, Alexandra Daddario, Sean Bean, Pierce Brosnan, Steve Coogan, Rosario Dawson, Catherine Keener, Kevin McKidd, Joe Pantoliano, Uma Thurman, Ray Winstone
Director
: Chris Columbus
Synopsis
:It's the 21st century, but the gods of Mount Olympus and assorted monsters have walked out of the pages of high school student Percy Jackson's Greek mythology texts and into his life. And they're not happy: Zeus' lightning bolt has been stolen, and Percy is the prime suspect. Even more troubling is the sudden disappearance of Percy's mother. As Percy adapts to his newly discovered status as a demi-god (his father is Poseidon), he finds himself caught between the battling titans of Mt. Olympus. He and his friends embark on a cross-country adventure to catch the true lightning thief, save Percy's mom, and unravel a mystery more powerful than the gods themselves.
Twentieth Century Fox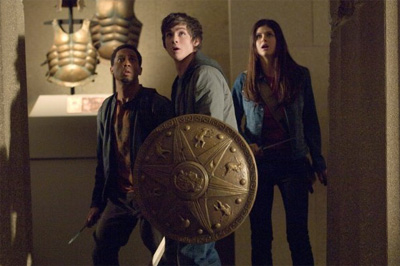 Alexandra Daddario Percy Jackson and The Lightening Thief Interview
by Jenny CooneyQuestion
: You made a striking appearance in the film.
Alexandra Daddario
: Thank you very much.
Question
: Did you know about Athena when you were growing up? When you were in school?
Alexandra Daddario
: Yes. I had a sort of general knowledge of Greek mythology from studying it in middle school. And I studied The Odyssey a little bit. But with school you get distracted by other subjects, and this was a really wonderful excuse to go back and learn more about Greek mythology. When you're portraying a character with such strong characteristics like Athena, you have to learn as much about her as possible.
Question
: We spoke to Logan and he said he's very shy with the girls and instead of breaking the ice, he's making the ice thick. Is that really true? And what about you? Are you good with the boys or do you need a sword to battle them out?
Alexandra Daddario
: (Laughs). I'll start with the second question first... I'm very shy. I don't really approach boys. Logan, he's a fantastic actor. He's wonderful to work with. He is very charming... I think he has more charm than he thinks he does.
Question
: Tell us about how you got into this business? When did you become interested in acting?
Alexandra Daddario
: I think I've been interested in acting my whole life. I am lucky to have grown up in New York, because you have opportunities that you wouldn't have elsewhere. It was sort of an organic thing, I think. I just took acting lessons and loved it. And I accidentally got an agent. Someone approached me and I did commercials for a long time. And then I got sent out to audition for a soap opera, and I ended up booking the soap opera.
Question
: Which one?
Alexandra Daddario
: All My Children. I was on it for a year. And it had never occurred to me prior to that acting was a career. That it was something you could do with your life. And it was then that I said, this is awesome, this is what I want to do. And I've been pursuing it ever since then.
Question
: So what have you done previously?
Alexandra Daddario
: Well, it's a difficult business. It took a very long time to get here. Since the soap, I've done a lot of episodic, a lot of Law and Order in New York and little parts in movies. I had a lead in a small horror film. And it's all steps to get to the next point. Each time you do something, you learn something new, you get a little bit more fearless and I'm very lucky to have this opportunity. I'm very excited to be doing what I love.
Question
: How old are you? How old were you when you got your TV show?
Alexandra Daddario
: I'm 23, now. I first booked All My Children when I was 16, so I was on it till I was 17. The first moment that I knew I wanted to be an actress and that I loved it more than a hobby was in acting class. I was doing a scene or a monologue, and I just got so sort of lost in the character. I really felt alive in a sense, it's very exciting to explore different emotions and different people. That was one moment, and also when I was a kid, just being on set and feeling that energy and being a part of something so exciting. You know there's nothing better than the film business.
Question
: When is your birthday?
Alexandra Daddario
: March 16.
Question
: You've been in movies, Nurse Jackie, Law and Order plus also Damages.
Alexandra Daddario
: Yes.
Question
: Have you had the chance to act together with Glenn Close and Edie Falco? Did they teach you anything that you use now in film?
Alexandra Daddario
: I had very small parts in those shows. I didn't have that much of an opportunity to work and to interact with them, exactly. Glenn Close was completely lovely, Edie Falco was as well. The one thing is that they both give.... here is little me, an actress with one or two lines but they give you the space & opportunity to do that... it's very respectful. On this film 'Percy Jackson & The Lightning Thief', working with actors that I've admired my whole life it's amazing to interact with them, because they're so fearless and they take such amazing chances. They create an environment that's so real, it's very easy to get lost in that and just completely become your character. And I think there's a lot to learn from that.
Question
: Your character is kind of tomboyish. Were you one when you were a kid?
Alexandra Daddario
: I think I'm a little bit tomboyish, but also, girly. I think I'm a balance of the two. I think the character is very strong. But she has her sensitivities and weaknesses, like anybody else. And that was one of the really wonderful things about playing this character she is a very real character. There was a lot to work with, there was depth to her, it wasn't just a one-note character. And nobody is just strong, weak or even just one way. People are combinations of different things and she's a very, very strong, tough girl, but she also has her sensitivities like anyone else, and I think that's a good message too. You can be strong despite your weaknesses and you can overcome your obstacles, no matter what.
Question
: There are a lot of fights in this movie. How did you prepare?
Alexandra Daddario
: Well, I do work out a little bit. Not as much as I should, probably. But when I booked the role.... I was booked a little bit after the boys and I had about three weeks to get into shape. So we had three weeks of boot camp. And it wasn't only getting into shape. It was also sword fighting choreography and learning the technique and not looking awkward and... I took archery lessons. That was all part of it. I think that also contributed to the character, getting up at 8 every morning and sword fighting, is a good way to feel like you're a lot tougher than you are. So it helped develop the character.
ALEXANDRA DADDARIO
(Annabeth, daughter of Athena) began her career in 2002 with her role of the victimized teen Laurie Lewis on almost four dozen episodes of the long running daytime soap "All My Children."
After winning the signature role, the 16year-old switched high schools, opting for PCS (Professional Childrens School), which afforded her the opportunity to continue doing series television and pursue her education at the same time.
After leaving the daytime series in 2003, the New York City native began dividing her time between the small screen and feature films. She made her motion picture debut in a featured role in Noah Baumbach's acclaimed drama "The Squid and the Whale," and appeared in the thriller "Bereavement." In between, she has appeared in such films as Ethan Hawke's "The Hottest State," Mary Lambert's "The Attic," "The Babysitters" and Ian Gelfand's award-winning short film "Pitch," which screened at the 2005 Cannes Film Festival. She was seen in a featured role in "Jonas Brothers: The 3D Concert Experience."
Her series guest roles include "The Sopranos," two episodes each of "Law and Order: Criminal Intent" and "Law & Order," "White Collar," "Conviction," "Damages" and "Life on Mars." She also appeared opposite Edie Falco in the pilot episode of Showtime's acclaimed new series, "Nurse Jackie."