Miguel's Family History
Cast: Anthony Gonzalez, Gael García Bernal, Benjamin Bratt
Directors: Lee Unkrich, Adrian Molina
Genre: Animation
Running Time: 127 minutes

Synopsis: Despite his family's baffling generations-old ban on music, Miguel (voice of newcomer Anthony Gonzalez) dreams of becoming an accomplished musician like his idol, Ernesto de la Cruz (voice of Benjamin Bratt). Desperate to prove his talent, Miguel finds himself in the stunning and colourful Land of the Dead following a mysterious chain of events. Along the way, he meets charming trickster Hector (voice of Gael Garc¡a Bernal), and together, they set off on an extraordinary journey to unlock the real story behind Miguel's family history.

Coco
Release Date: December 26th, 2017
Trailer


About The Production
Off The Beaten Track
Coco Team Finds Their Story In Mexico

Pixar Animation Studios explores a wide range of worlds in its films"from Paris to the Great Barrier Reef, space to Monstropolis. Research is the cornerstone in creating these fantastical, yet believable worlds and the characters who inhabit them"whether that means deconstructing classic toys or figuring out how many balloons it would take to lift a house off of the ground.

For Coco, filmmakers wanted to immerse the audience in the culture that would anchor their story. They approached their research from many directions"enlisting consultants and experts, studying Mexican art, film and music, and traveling throughout Mexico to experience the traditions, meet the people and see firsthand where their characters would live.

Cultural Consultants

Filmmakers collaborated with a team of cultural consultants, including political cartoonist Lalo Alcaraz, playwright Octavio Solis and heritage and arts author, independent producer and advocate Marcela Davison Avilés. The consultants, whose families all hail from Mexico, weighed in on everything from character wardrobe and sets décor to the color palette and even dialogue"encouraging a fluid blend of Spanish and English within the script in a way that required no translation. 'That reflects our upbringing," says Octavio Solis. 'We grew up in bilingual households. We spoke Spanish and English in the schoolyard interchangeably."

Octavio Solis, who's worked in the Bay Area arts arena for three decades, says filmmakers welcomed his honest opinions. 'I don't always toe the party line," he says. I'm aware of what people in my culture desire in order to grow and become more involved in the fabric of the American experience."

Octavio Solis encouraged filmmakers not to take the characters in the Land of the Dead too seriously. 'Our approach to honoring our ancestors is lighthearted"if someone was a real pill in life, she's probably a pill in death, too. I think the film captures that very well."

Lalo Alcaraz, the nationally syndicated editorial cartoonist behind the comic strip La Cucaracha, supported the filmmakers' efforts to lean into the family theme. 'Latinos have strong family structure"family is number one," he says. 'That's what I love about Coco."

'It's a universal story about a family's enduring love for each other," adds Marcela Davison Avilés. 'While there is a profound cultural homage taking place during Día de Muertos"it's important to understand the celebratory aspects of the holiday and that the children in the film are happily taking part in the celebration."

'People are going to understand this culture"these traditions"a lot more after they see this film, because Pixar has done its research," says Lalo Alcaraz.

According to Marcela Davison Avilés, who also curates and produces Mexican heritage cultural arts programming, the most important thing filmmakers did in their quest for an accurate and respectful representation of the Mexican culture in Coco was awareness that it needed to happen. 'Then they acted on that awareness," she says. 'They took the time to try to understand. They listened to experts from many different fields"archeologists, musicians, cultural advocates. And they embarked on numerous research trips. It was all done with utmost sincerity, respect and humbleness."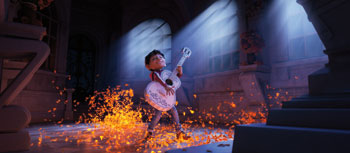 Research

'As soon as we decided that we wanted to tell a story that takes place in Mexico, we immediately booked our first research trip," says director Lee Unkrich. 'Over the course of three years, we visited museums, markets, plazas, workshops, churches, haciendas and cemeteries throughout Mexico," says Lee Unkrich. 'Families welcomed us into their homes and taught us about the foods they enjoy, the music they listen to, their livelihoods and their traditions. Most importantly, we witnessed the importance they place on family."

That, according to Lee Unkrich, is what ultimately sparked the story audiences will see on the big screen this Thanksgiving. 'We really wanted to explore the family bonds that tie us to the generations that came before us," he says. 'This story is about celebrating our past"even as we look to the future."

2011

Lee Unkrich traveled with producer Darla K. Anderson, production designer Harley Jessup and story supervisor Jason Katz to Mexico City in 2011. The team visited Mexico City's Museo Dolores Olmedo to see the altar dedicated to Pedro Linares, the local artist who created the papier-mâché figurines named alebrijes in the late 1930s following a bizarre fever dream. The filmmakers were so enamored of the vibrant figurines that they vowed to include them in the film one way or another.

The trip also included time spent in Oaxaca, where they visited Santo Domingo church and cultural center, as well as the Tlacolula Market and El Árbol del Tule, an enormous Montezuma cypress tree estimated to be as old as 3000 years. Filmmakers toured the village Teotitlán del Valle and also saw alebrije artist Jacobo Angeles' studio. A highlight was Monte Albán, where they saw ruins of great plazas, pyramids and tombs, which served as reference for the vertical design of the Land of the Dead.

While in Morelia, the team saw Plaza Morelos, Tarascas Fountain and the Aqueduct Morelia, which would later serve as reference for the film's impressive marigold bridge that spans between the Land of the Living and the Land of the Dead. They visited the Palacio de Gobierno and Cathedral in Guadalajara's historic center. On Día de Muertos, they went from Pátzcuaro to Santa Fe de la Laguna to visit 'Casa del Muerto del Año." A local family welcomed them into their home for dinner, and they spent time in the beautifully decorated cemeteries at Tzintzuntzán.

Though the film was still in its infancy, the pictures taken proved valuable years later. 'We were so inspired," says Harley Jessup. 'It was early in the process and we just soaked it all up, capturing images we knew we'd use in any version of the story. The Mexican skies, the cobblestone streets, the gorgeous embroidered fabrics, the food on the ofrendas"we brought all those images back."

2012

Lee Unkrich, Darla K. Anderson and Harley Jessup were joined by director of photography-lighting Danielle Feinberg and sets art director Nat McLaughlin, among others, in Mexico City, Oaxaca, Tlacolula, Tlalixtac, Abasolo, Guanajuato and Santa María del Tule. 'We focused more on Oaxaca and Guanajuato on our second trip," says Darla K. Anderson, whose favorite parts of the trip were spending time with families. 'They welcomed us into their homes," she says. 'They are the least guarded and most generous people I've ever met. We were treated like any other villager or a member of the family. -Come in. Eat with us. Laugh with us.' They made tamales and traditional soup called pozole. It was truly lovely."

The team took in more altars, markets, haciendas, gardens, churches and plazas"which inspired the film's fictional city of Santa Cecilia. They saw mariachis performing at Salón Tenampa in Mexico City, and stumbled upon a comparsa"or parade"in Oaxaca. On Día de Muertos, they visited the San Juanito, San Felipe del Agua and Atzompa cemeteries. They found the crowds to be lively and filled with music; they fell in love with Xolo dogs.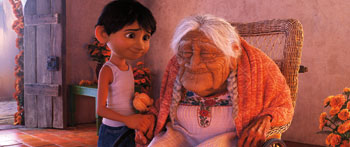 2013

Danielle Feinberg returned to Mexico in 2013, along with co-director and screenwriter Adrian Molina, character art director Daniel Arriaga, director of photography-camera Matt Aspbury, story artists Manny Hernandez and Octavio Rodriguez and story lead Dean Kelly, among others. This trip was focused mainly in Oaxaca, where the filmmakers returned to some favorite spots and found new treasures, including a chocolate mill. The team visited a huarache (shoe) workshop to garner reference for the Rivera family shoemaking business.

A Tale Of Two Worlds
From The Land Of The Living To The Land Of The Dead:
Coco Features Contrasting Worlds And Colorful Characters

Coco is set in Mexico in two distinct, but parallel worlds: the Land of the Living and the Land of the Dead. Pixar Animation Studios' artists were deeply inspired by their research trips. 'Mexico is a designer's dream," says production designer Harley Jessup. 'I knew we would feature the rich color and textures that we saw everywhere."

But the designers would have to create two complete worlds. For most of the year, these two worlds exist separately but harmoniously side by side. And every year, for one day, they come together in a magical way. 'Día de Muertos is like a big family reunion that spans the divide between the living and the dead," says director Lee Unkrich. 'But it isn't about grieving; it's a celebration. It's about remembering those family members and loved ones who've passed, and keeping them close."

Although these worlds were designed in direct contrast to each other, co-director and screenwriter Adrian Molina says they actually share key characteristics. 'They're both filled with color, music and joy," he says. 'The characters"whether living or dead"are optimistic and completely devoted to their families."

Producer Darla K. Anderson has long been an admirer of the team's work to populate these worlds. 'Somewhere along the line, these characters became real to me," she says. 'They're unique and are imbued with these very specific personalities. It would be impossible not to fall in love with them. We set out to create characters that are believable and empathetic, transcendent and interesting. They're larger than life"real, yet utterly fantastical."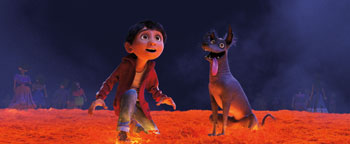 Opposites Attract

'We knew that we wanted to have as much contrast between the Land of the Living and the Land of the Dead as possible," says Lee Unkrich. 'We looked at ways we could differentiate the worlds. One was time of day"most of the action in Santa Cecilia happens during the day, while it's nighttime in the Land of the Dead.

'Another way we separated the worlds was through color," continues Lee Unkrich. 'Given the holiday and the iconography, we knew the Land of the Dead had to be a visually vibrant and colorful place, so we deliberately designed Santa Cecilia to be more muted. It's certainly not depressing or devoid of color, especially since the holiday is happening, and we knew from the beginning that we would embrace Día de Muertos and everything that goes with it."

The characters who live in the worlds of Coco all share one goal: to be remembered.

The Land Of The Living

'Santa Cecilia is inspired by real villages in Mexico," says production designer Harley Jessup. 'We stayed grounded in reality in the Land of the Living. It's sun-bleached and dusty, but the color palette is accented by the brightly colored decorations for Día de Muertos. There's a town square where people gather, the Rivera compound where Miguel's great-great-grandmother built the family's shoe business, and the local cemetery is prominently featured."

Named after the patroness of music, Santa Cecilia is home to Miguel and the entire Rivera family. While it may be small, it has a major claim to fame, says co-director Adrian Molina. 'The most famous musician in all of Mexico was a son of this town," says Adrian Molina. 'He started right there in their little plaza. Many years ago, Ernesto de la Cruz rose to stardom and became beloved by the world. As a result, musicians from all over Mexico also come to Santa Cecilia to pay homage to the icon, who remains revered long after his tragic death."

Harley Jessup and his team were transformed into city planners. They created a layout for the village of Santa Cecilia reflective of a typical rural Mexican town. According to sets supervisor Chris Bernardi, Santa Cecilia is a good example of how story drives the look of the film. 'It had to be a small town because there's a sense that Miguel feels a little confined," says Chris Bernardi. 'And he longs to follow in his idol's footsteps, who made it out into the bigger world."

Artists knew that Santa Cecilia had been around a long time"Miguel's family has lived there for generations. 'It's not a brand-new subdivision," says Chris Bernardi. 'There are adobe buildings and stucco that have been plastered over"they've chipped and been repaired a hundred times. You can see the previous two paint jobs showing through. The streets are cobblestone. Nothing is perfect or precise, but it's clearly well cared for"well loved."

Adds shading art director Bert Berry, 'We wanted to play up the beautiful patina of the older architecture. Our hope was to depict Santa Cecilia as an older charming city, and we used aged building materials such as chipping plaster, hand-painted tile and signage, and cobblestones to accentuate the history and appeal of the town."

According to director of photography-lighting Danielle Feinberg, filmmakers wanted to contrast Santa Cecilia from the vibrant Land of the Dead without pulling the color from Miguel's hometown. 'We landed on a look that's more hot and dusty," she says. 'Instead of turning the color down, we let it be colorful paint that over time has been bleached by the sun and aged. We didn't want to accidentally make things look bleak, it still needed to look like an awesome, appealing town."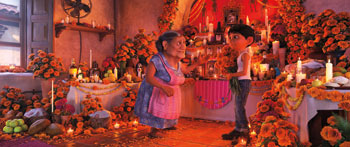 The layout is largely flat with one- and two-story buildings, which influenced the way the scenes there were shot, says director of photography-camera Matt Aspbury. 'In general, our camera treatment for Santa Cecilia was simpler and restrained compared with how we shot sequences in the Land of the Dead," he says. 'With the exception of some crane shots that we used to reveal a few of the key locations"such as the town plaza and the cemetery"we mostly stuck to more grounded and intimate staging with Miguel and his family in Santa Cecilia."

Each set that appears on screen had to be designed from scratch, including architectural details, furnishings and props. But the look isn't complete until lighting and effects are added, creating the desired look and feel for each scene.

Miguel's home is adorned for Día de Muertos, including an elaborate ofrenda that holds several framed pictures, flowers, some favorite foods and shoes.

The Rivera shoe workshop was designed to feel oppressive and confined, reflecting Miguel's feelings about working in the family business. Filled with assorted tools and"of course"shoes, the workshop also makes room for the family to gather.

'Miguel created a hideout in the attic of one of the buildings in a far-flung corner of the family compound where he keeps his collection of records, posters and figurines celebrating his idol, Ernesto de la Cruz," says director Lee Unkrich.

The hideout is stocked with items filmmakers theorize Miguel has collected over many months, recycling much of it from the trash. He pieced together a makeshift guitar and with a little help from a black marker, decked it out like Ernesto's signature skull guitar. A battered black-and-white TV and VCR are at the ready, allowing Miguel to watch old video snippets of his idol. 'He actually learned to play the guitar by watching those tapes over and over," says Unkrich, who adds that Miguel's guitar playing is technically accurate. 'Every bit of music that's performed on screen is authentic," says Lee Unkrich. 'We videotaped musicians playing each song or melody and strapped GoPros on their guitars so we could give the animators tons of reference footage for how their fingers move and play."

Matt Aspbury says they treated the scene with care. 'We wanted very elegant, lyrical camera moves for this intimate moment with Miguel up in his hideout," he says. 'We used gentle drifts and slow arcing moves around Miguel as he plays his guitar with very shallow depth of field to enhance the beauty of the soft-focus foreground candles."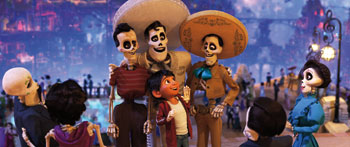 As the locals prepare for Día de Muertos, the Santa Cecilia cemetery is filled with the brilliantly colored marigolds and celosia blossoms, as well as handmade decorations and hundreds of candles. 'What we saw in Mexico for the holiday really redefines the idea of a cemetery," says Danielle Feinberg. 'It's not dark and sad; it's festive. Thousands of candles put off this beautiful orange glow, which creates a wonderful mood"romantic, warm and interesting. I've never seen anything like it."

Ernesto de la Cruz's mausoleum is fit for a king. 'He's obviously the most famous person the town has ever known," says Chris Bernardi. 'While the other graves are varying levels of humble, Ernesto's mausoleum is made of stone and white marble. It's five times bigger than anything in the vicinity. And his famous guitar hangs there."

The Plaza is the hub of the town where a statue of the legendary musician stands, along with a placard: Seize Your Moment. 'Santa Cecilia is where Ernesto rose to stardom," says co-director and screenwriter Adrian Molina. 'As a result, the town attracts musicians from around the world."

According to Paul Mendoza, crowds supervisor, even the people who congregate in the Plaza reflect the film's Mexican setting. 'In the U.S., we tend to like more distance between us," he says. 'But there's a lot of hugging in Mexico. So we made sure to create that feeling of togetherness."

Danielle Feinberg, who traveled to Mexico to garner inspiration for the overall lighting, says that while the candlelight was magical, it was an unexpected light that really caught her eye. 'Everywhere we went, we saw these fluorescent lights," she says. 'It might now sound as appealing at first"fluorescent light can even be foreboding at times"but to me it has a magical, romantic quality that I just adored and felt very Mexico to me.

'We have a scene that happens right after the sun goes down," Danielle Feinberg continues. 'It's really lovely with bits of orange, pink and purple. And then in the kitchen there's a green fluorescent light. I wanted to fold that into the scene but wasn't sure I could get anyone to buy into it, but it looked so good, we had to show it to Lee Unkrich, who just loved it."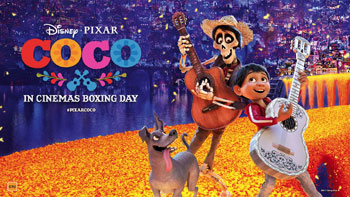 Who's Who In The Land Of The Living

The characters in the Land of the Living are largely inspired by people the filmmakers met during their travels. 'Miguel is surrounded by family members," says character art director Daniel Arriaga. 'He has aunts and uncles, cousins, plus both a grandmother and great-grandmother. So we took that into consideration for our character design to help the audience instantly recognise them as family."

Miguel is a 12-year-old who struggles against his family's generations-old ban on music. 'Miguel secretly nurtures this love of music," says director Lee Unkrich. 'He's constructed a guitar and designed it to mimic Ernesto's iconic skull guitar. And he's taught himself to play."

Anthony Gonzalez lends his voice to Miguel. 'Anthony Gonzalez's just a dream," says producer Darla K. Anderson. "He's been playing mariachi music since he was 4 years old, so he really understands Miguel's love of music and his desire to perform."

Adds Lee Unkrich, 'At our very first recording session, Anthony Gonzalez asked if he could sing for us. He just busted out and sang a cappella. It was beautiful; he has an amazing voice."

'Miguel and I are alike in many different ways," says Anthony Gonzalez. 'We both are 12 years old, we both love our family, and we both love music. I relate to Miguel a lot because we are both very determined and perseverant, we both share the passion for music, and we never give up."

According to co-director Adrian Molina, Miguel is a relatable character to everyone. 'Everyone has dreams," says Adrian Molina. 'And with those dreams often comes a question mark: Can I really do this? And Miguel has the added pressure of going against his family's wishes."

Adds story supervisor Jason Katz, 'Miguel is a good kid who desperately wants to respect his family"he recognizes that they are a big part of him. But this other side of him, the one who loves music, can't help but pursue this dream."

Miguel soon discovers that Ernesto de la Cruz is actually part of his family. And when a magical mishap lands Miguel in the Land of the Dead, he learns that the iconic star is the only one who can help him get back to his family in the Land of the Living. Miguel's journey through the Land of the Dead reveals a lot about his family"and a lot about himself.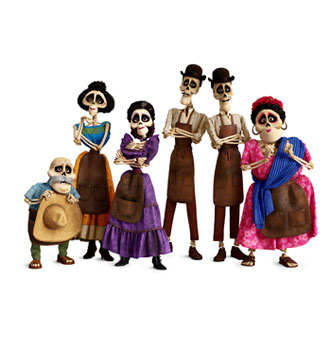 Miguel's cherished great-grandmother Mamá Coco is very old and fragile, but that doesn't stop Miguel from sharing his daily adventures with her. According to Lee Unkrich, filmmakers were touched by so many of the Mexican homes they visited in which multiple generations lived under the same roof. 'Babies were at home alongside their great-grandmothers," says Lee Unkrich. 'We wanted to embrace that. Even as her own memory is slipping away, Mamá Coco will always be surrounded by people who love her."

One of her biggest fans is Miguel. 'It feels like they have a real relationship from the beginning," says editor Steve Bloom. 'It's very sweet. It's clear that he really cares about her"whether she can respond to him or not. It's unconditional love and it is really special."

Mamá Coco, who filmmakers estimate is about 97 years old, had to look her age. With several generations living in the Rivera family compound, artists and technicians had to find a way to clearly distinguish Mamá Coco from her daughter, and Miguel's grandmother, Abuelita. But the great-grandmother wears her wrinkles proudly. 'All of the detail in her face isn't actually modeled," says character supervisor Christian Hoffman, whose team used special software to design a separate layer of detail that was added to Mamá Coco's face through the shader.

According to Arriaga, Mamá Coco's age also shows in her movement"or lack thereof. 'She moves slowly and doesn't look directly at who she's speaking to or who's speaking to her. And we kept her wardrobe more traditional. She wears a mandil"or apron"with a dress underneath and sandals."

Ana Ofelia Murguía provides the voice of Mamá Coco. With a film career spanning more than 50 years, she is an actress esteemed as a national treasure of Mexico. 'She embodies matriarchal feistiness," says Anderson. 'She's like the Katharine Hepburn of Mexico."

Abuelita is Miguel's grandmother and the ultimate enforcer of the Rivera family rules. She loves her family very much and will do anything to protect them. But when she gets angry, she wields a mean slipper. 'Abuelita is the torchbearer when it comes to the family's rule where music is concerned," says Lee Unkrich. 'She can be warm and loving one moment and sharp-tongued and strict the next. That's what's so entertaining about her"you never know what you're going to get."

Molina sees a bit of his mother in the character. 'She's doting and loving, but she'll keep you in line."

Filmmakers called on Renée Victor to provide the authoritative voice of Abuelita, and though she doesn't see herself in the character"she found her relatable nonetheless. 'I certainly see my 108-year-old mother, Miss Vicki, in her," says Renée Victor. 'Her orders and rules were to be obeyed or else! But she cared. Oh, how she cared!

'I naturally connect to the themes of Coco as I was raised in a very cohesive and musical family," continues Renée Victor. 'In fact, I've never known my family with less than four or five living generations. I gleefully remember lots of gatherings, lots of visitors and above all, lots of music. Pianists, guitarists and so many glorious singing voices seemed ubiquitous"especially on Sundays after mass at my grandparents' house. The visuals of a living room filled with family"children lovingly held in the protective arms of adults"while music and song filled not only our house, but quite possibly our neighborhood, remain firmly etched in the archives of my memory."


The Rivera family also includes Papá, Miguel's supportive father, who hopes that someday Miguel will join him in the family shoemaking business. After all, a Rivera is a shoemaker through and through.

Jaime Camil was tapped to voice Papá. 'Like any other Pixar project, Coco has a beautiful message and a deep and heartfelt connection to family and family values," says Jaime Camil. 'But what I really love about this particular project is how accurately they depict the heritage and history of one of the most important celebrations in Mexican culture, El Día de los Muertos. It is evident that Lee Unkrich, Adrian Molina, Darla K. Anderson and everybody involved in this film did deep and thorough research about what it means and how important it is for our culture. This is no caricature, this shows the real Día de los Muertos, and that will make all of us very proud."

Miguel's loving Mamá gently encourages her son to embrace their family's traditions. She and Papá are expecting a new little brother or sister for Miguel.

Mamá is voiced by Sofía Espinosa. 'For me, the Day of the Dead (Día de los Muertos), is the most beautiful and significant celebration in Mexico. I grew up making ofrendas and going to the graveyard with my grandparents to visit the family that is already gone. There we put flowers and candles on their graves, and it was a celebration, it wasn't something sad, but the contrary"the place was full of music, and we heard all kinds of stories of the past. I really think that keeping this tradition is a very important thing for Mexicans, and sharing it with the rest of the world makes people understand dead in a different way, by honoring and remembering those who are not with us anymore."

Dante is a Xolo dog"short for Xoloitzcuintli"the national dog of Mexico. Nearly hairless, Dante has trouble keeping his tongue in his mouth due to his missing teeth"but he's a loyal companion to Miguel. 'Dante is Miguel's confidant, the only character he shares his music with," says screenwriter Matthew Aldrich.

'We actually invited some Xolo dogs to visit the studio," says Arriaga. 'We had a lot of fun designing Dante. We gave him patchy skin, he has a broken ear, he's walleyed and his tongue is always hanging out."

Dante's tongue has a life of its own, says Hoffman. 'As we learned what kind of performance Lee [Unkrich] wanted from Dante, we knew we'd have to do something special for the tongue. We had just created a tentacle rig for Hank in -Finding Dory' and we felt like that would be perfect for Dante's tongue, which is long and stretchy. Hank's rig is really robust and provided animation with a lot of flexibility and control."

Dante's skin, however, proved more challenging. 'He's a hairless dog," says Hoffman, 'so we couldn't use fur to hide any inconsistencies. Xolo dogs also have a lot of wrinkles, so we made Dante's model a higher resolution model in order to dial in those wrinkles. Because he's a street dog, he's a little emaciated, so we had to make sure we could get a sense of his rib cage."

Referenced as far back as 3,500 years, the breed was named for the Aztec god Xolotl, plus the Aztec word for dog, Itzcuintli. Thought to safeguard the home from evil spirits and intruders, the Xolo dog is said to have healing powers. Says supervising animator Mike Venturini, 'Sometimes the strange and awkward ends up being strangely appealing, which I think is the case with Dante. We found a lot of opportunity to show Dante's rather uncoordinated tendencies"and he always seems to have a big grin on his face."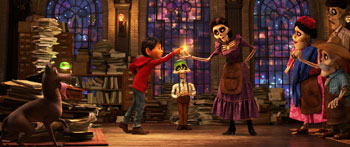 The Marigold Bridge

As filmmakers created the two worlds of 'Coco," they knew they'd need to connect the worlds in a very magical way. Their research trips sparked something spectacular. 'When we were invited to take part in Día de Muertos in Mexico," says director Lee Unkrich, 'we saw paths made of marigold petals that started out in the streets and ended at ofrendas"altars with family pictures, favorite foods and special objects. We learned that it was all done to help guide the spirit of a family's loved one home."

The marigold petals made such an impression on the filmmakers they decided to build a bridge out of the brilliant orange petals. 'It's elegant and magical," says production designer Harley Jessup. 'Its shape recalls the ancient aqueducts we saw in Mexico, and its brilliant orange color symbolizes connection to family."

Danielle Feinberg, director of photography-lighting, had mixed feelings about the bridge of magical marigold petals. 'It's one of those things when you know it's going to be crazy hard, but quite possibly the coolest thing ever," she says, adding that the petals were actually light sources. 'We have a new kind of light called a particle light that can have many, many points in it. Our special effects team gave us a way that we can automatically know which petals a person is stepping on as they cross the bridge and control the glow the petals emit creating little spots of light as someone walks through."

'It was a huge technical challenge for us," says effects supervisor Michael K. O'Brien, whose team studied video reference they found online of big volumes of rose petals. 'It is so visually exciting with petals dripping from it; it was a massive artistic undertaking. We wanted it to glow"to feel alive.

'We thought of the surface as leaves," Michael K. O'Brien continues. 'If you were to walk through the petals, your feet will kick them up."

Michael K. O'Brien and his team added a trough of petals in the paths of the characters walking across the bridge to best achieve the look of displaced petals. 'And then we track a light that sits underneath the petals that adds the glow as a character steps down."

According to Michael K. O'Brien, the outer portion of the bridge includes petals that rain down. A set of lights and shading signals pulse on and off throughout the bridge"all done to make the bridge feel alive.

'On top of all of that, we have these hero moments," says Michael K. O'Brien. 'Miguel actually scoops up a handful of petals from the bridge, and Héctor "in an attempt to get into the Land of the Living even though nobody has his photo on an ofrenda"runs onto the bridge, only to sink into the petals."

Those hero moments were given extra-special art direction, plus additional effects to achieve the looks"all of which required a lot more time and precision.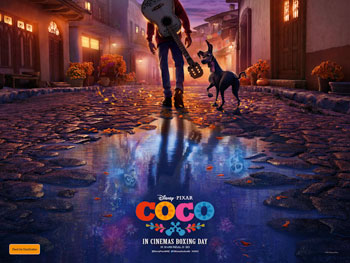 The Land Of The Dead

For the Land of the Living and Santa Cecilia, filmmakers were able to find inspiration in the vibrant towns they visited in Mexico. But when it came time to create the Land of the Dead, the rules were much less defined. 'I didn't want to have just a free-for-all, wacky world," says director Lee Unkrich. 'There needed to be some logic to it. We realized that it would need to be ever-expanding because new residents would arrive regularly, if you think about it. So we asked ourselves, -What would a world look like that was being added onto constantly?'"

Filmmakers looked to Mexico City's ancient history. The city was originally built on the site of the Aztec city of Tenochtitlán, which was surrounded by water. And while that water has mostly disappeared, artists found the idea very compelling"a city literally sprung from the water. 'That lent itself to this idea of towers," says Lee Unkrich. 'Almost like coral growing up and out representing layers of history."

Adds production designer Harley Jessup, 'Mesoamerican pyramids are at the base with Spanish colonial architecture built on top. And it just keeps going"period by period, layer by layer, as people continue to arrive. There are even construction cranes at the ready to prepare for future residents."

The vertical layout, nighttime setting and water base proved a brilliant canvas for the palette. 'When Miguel arrives in this fantastical new world, we wanted it to be a vibrant explosion of color," Jessup says. 'For the Land of the Dead, Lee Unkrich described a vertical world of towers, contrasting with the flatness of Santa Cecilia. The lights and reflections are dazzling and there's a crazy transportation system that connects it all. The costume colors are much more vibrant than in the Land of the Living, where we tried to stay grounded in reality. We really went all out in the Land of the Dead to make it a reflection of the holiday."

According to director of photography-lighting Danielle Feinberg, the first glimpse of the Land of the Dead was the first the team tackled. 'There's so much geometry on screen at once that it's pretty staggering," she says. 'On top of that, we added street lights, lights for the plazas, architectural lighting on bigger buildings, blue lights along the trolley tracks, pinlights that outline the edges of many buildings, headlights on the moving vehicles, lights on the construction cranes and more. There is a lot going on."

Supervising technical director David Ryu explains how they were able to render the millions of lights the scene called for. 'We figured out a way to introduce a single light"but give it a million points," he says. 'The renderer sees it as one light, but we see a million lights."

David Ryu's team also found a way to embed lights in buildings, as well as automating the process so that the computer would add the lights to the buildings in predetermined color combinations.

As the technology began to fall into place, Danielle Feinberg and her team realized they needed to figure out how best to showcase that the Land of the Dead goes on forever, but allow it to fade into the distance. By mixing color with fog from the effects team, they were able to create stunning dimension and a sense of scope and depth.

For director of photography-camera Matt Aspbury, the Land of the Dead inspired more dramatic cinematography. 'The Land of the Dead's verticality contrasts sharply with the more horizontal layout of Santa Cecilia," he says. 'It's made up of enormous city towers that go on indefinitely and it's populated with all sorts of flying creatures (alebrijes), gondolas and trolleys traveling among them. To capture the scope of it all, we used lots of wide lenses, big crane moves and dynamic aerial shots."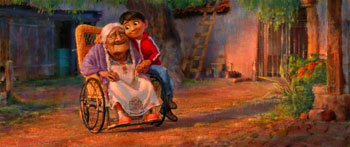 With narrow, cobblestone streets (some of the pavers are shaped like bones) winding up and around the tower structures, and trolleys and gondolas adding motion to the vibrant world, the Land of the Dead is bustling and beautiful, home to a host of dynamic locations.

Marigold Grand Central Station is a bustling transportation hub. Filmmakers designed the expansive hub with an advanced transportation system that includes trolleys and gondolas. 'The whole complex is inspired by the Palacio de Correos"the main post office in Mexico City," says Harley Jessup. 'It's a beautiful turn-of-the-century building with a gilded cast-iron structure. The Mercado Hidalgo in Guanajuato and the Bradbury Building in L.A. were also big influences"that whole Victorian period of cast-iron architecture was exciting to embrace.

'We looked a lot to José Guadalupe Posada, who created wonderful engravings that parody the Victorian society in Mexico," continues Jessup. 'His take on early 20th century Mexican culture was an inspiration for a lot of our Victorian characters."

According to crowds technical supervisor Jane Yen, Pixar pushed the number of background characters that it could create for scenes like the Marigold Grand Central Station and others. It also pushed the quality of characters it could create. 'We basically use the assets that are delivered from characters and simulation," says Jane Yen. 'We take those assets and make them more flexible for our crowd system. We cache out a lot of that geometry into what we call model clips that allows us to quickly and easily manipulate thousands of characters at a time."

Located within Marigold Grand Central Station is the Department of Family Reunions, where all of the family records are kept. According to Harley Jessup, the space is designed in the spirit of a 'Victorian DMV," with skull and skeleton motifs incorporated into the architecture.

Families come to the Department of Family Reunions if they're having problems with crossing over to the Land of the Living. Employed here is a clerk, who assists Miguel and his family in his cluttered, but cozy office.

Miguel and Héctor go to a shanty town in search of a guitar from Héctor's friend Chicharrón so they can enter a talent show and win admission to Ernesto de la Cruz's 'Sunrise Spectacular" party. 'Chicharrón is a bit of a hoarder who's surrounded by his belongings," says Harley Jessup.

While the color in Chicharrón's shack is somewhat limited to reflect his situation, filmmakers gave the shanty town a loving feel. 'There are boardwalks over water with patches of fog, and moonlight and firelight dancing on the water," says Danielle Feinberg.

Ernesto de la Cruz's mansion in the Land of the Dead showcases his fans' love for him. Says sets supervisor Chris Bernardi, 'He has an ofrenda room, where there are giant spirals of musical instruments, as well as food and other items people around the world have offered him on their altars. It's beautiful.

'The whole mansion features really intricate architectural work," continues Chris Bernardi. 'We were inspired by grand estates like Hearst Castle"with acres and acres of gardens, terraces, pools and dozens of ornate interior rooms. Ernesto has his own polo field, so his world within the Land of the Dead is quite lavish."

'Ernesto's mansion is inspired by the movie palaces of the 1930s," says Harley Jessup. 'It's an eclectic mix of Spanish, Moorish and Art Deco, built in a massive scale to match his personality."

Ernesto de la Cruz throws a party each Día de los Muertos. 'It's by invitation only," says co-director Adrian Molina. 'It's a huge celebration held at the top of his tower."

According to Bernardi, Ernesto's tower is easy to spot. 'There are giant party lights coming off the top," he says. 'It's almost like a movie premiere."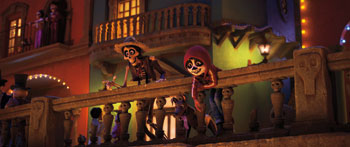 'The party is completely over the top," adds Danielle Feinberg. 'It is crazy chaos. We crank up the color."

As for the attendees, Ernesto's party is a high-end affair"guests are dressed to the nines. 'Everyone is very fancy, wearing gowns, holding drinks," says crowds supervisor Paul Mendoza.

Rendering supervisor Susan Fong played a critical role in making it possible to render a crowd that size. 'Cloth is one of the heaviest things to render because you need a lot of detail"a lot of points"to achieve the right drape," says Fong, whose team figured out a way to reduce the number of points in a cloth render for background characters that were farther away.

Who's Who In The Land Of The Dead

Inhabiting the Land of the Dead is a rich and vibrant community. But these characters had to be built without many of the usual traits because they are all skeletons. 'We had to figure out how to give them personality without skin, muscles, noses or even lips," says character art director Daniel Arriaga. 'We played with shapes and did a lot of paintings. We sculpted and studied skulls from every angle to figure out where we could add appeal and charm."

Global technology supervisor J.D. Northrup came on board early in the production to address potential issues for Coco"and creating skeletons certainly qualified. 'The skeletons can detach their bones and do little gags. Even their vertebrae comes apart," says J.D. Northrup. 'Each piece had to be independent so the complexity of the rig and the stress that it puts on the pipeline were something like we've never seen before."

Alongside the characters team who built the skeleton rigs, Northrup's team was tasked with finding ways to simplify the elements"for example, collapsing all of the independent bones into one batch following animation and lighting"to make the final rendering of crowds possible.

According to character modeling and articulation lead Michael Honsel, the process of creating appealing skeletons involved several additional controls. 'They need to move in ways that humans don't, so we added controls in new places to allow animators to jiggle them, move their rib cages around and bow the bones.

'The faces were challenging because bone is rigid," Michael Honsel continues, 'so we had to think of smart ways to make our characters emote. The goal was to find appealing mouth and face shapes that could get feeling across, but still feel like bone."

Artists played with plane changes and jaw movement"allowing the entire jawbone to drop in some cases"and added controls around the eyes and sockets to mimic brow movement. 'There was a lot of back-and-forth with animation to get it right," says Michael Honsel. 'But we ultimately found really cool ways to move our skeleton characters."

According to supervising animator Gini Santos, rules were established early in production that guided the skeletons' movement. 'We always like to go a little scientific before we start our animation," she says. 'We realised that without any of the organs, muscles and skin, the character would only be about 20 percent of the original weight. So our rules with regard to animation timing definitely changed. And we wanted to bend, pull and push them in ways that we normally wouldn't because they're not bound by the limitations of skin."

Adds supervising animator Michael Venturini, 'They're held together with a life force and the strength of that force depends on how well remembered they are," he says. 'It's like a rubber band"the more remembered someone is, the more taut the rubber band. And the closer to being forgotten someone is, the looser the rubber band. Each skeleton is animated with a different level of separation between bones based on how well remembered they are."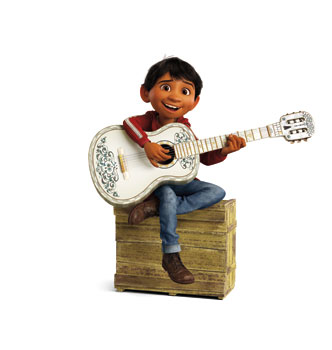 The luster of their bones also illustrates the level of remembrance. According to character supervisor Christian Hoffman, the team developed a skeleton shader. 'The skeletons range from Ernesto de la Cruz, who is the most remembered and the most pristine, to Héctor and Chicharrón who are the most forgotten," he says. 'The skeleton shader helped artists dial in the levels of being remembered. The better someone is remembered, the more present their face paint looks, and their bones are clean and bright. On the flip side, those characters who aren't so well remembered have yellowing, dingier, more battered bones and face paint that's been chipped away. The shader gave us a lot of flexibility."

Héctor, a charming trickster in the Land of the Dead, enlists Miguel's help to visit the Land of the Living. 'He desperately wants to cross the bridge of marigolds on Día de los Muertos," says co-director Adrian Molina. 'But there's a rule that if no one in the Land of the Living is actively remembering you"if no one has put your photo up on an ofrenda"then there's no one in the Land of the Living to receive you and you cannot cross over."

Unfortunately, Héctor is not well remembered and it's taking a toll on him. 'He's in pretty bad shape," says director Lee Unkrich. 'He walks with a limp, his bones are yellowing and loose and jangly. One of his ribs is cracked and he wears a bandage around his left tibia. Even when he walks down the street, he tends to drop his limbs"his hand might fall off unexpectedly and he has to pick it up and stick it back on."

Eager to improve his condition, Héctor promises to help Miguel find Ernesto de la Cruz, and in return, Miguel agrees to take Héctor's photo back to his family's ofrenda. But their journey through the Land of the Dead isn't exactly easy. Says Molina, 'Miguel is a living boy, so he draws a lot of attention in the Land of the Dead. And Ernesto de la Cruz is still a big star, which makes things very complicated."

Gael García Bernal lends his voice to Héctor. 'We've long been fans of Gael García Bernal," says Lee Unkrich. 'He's been in some incredible films. And when we saw his him on -Mozart in the Jungle,' we knew we'd found our Héctor. He's funny and so incredibly charming. Everything about him is intoxicating."

'I have two little kids, so I see these films all the time," says Gael García Bernal. 'I dreamt of working with Pixar, but to do a project that is such a complex and transversal story, which also happens to take place in Mexico where I'm from, was just amazing. Everything appealed to me: the music, the color, the story, the characters"everything."

Gael García Bernal likens his character to another"Baloo from 'The Jungle Book." 'When I was a kid, I was struck by Baloo's laid-back philosophy on life. And I feel that in many ways, Héctor doesn't hold onto frustrations, prejudices or resentment. Héctor may be a little on the thin side, but he's very funny."

Gael García Bernal delivers a very dynamic performance, showcasing the character's big personality. Says Honsel, 'Héctor has a lot of range in his performance, which called for more tricked-out controls over his face. We even added controls to move his wig around"it can slide around on his skull with or without his hat, which was a real challenge."

That hat and the rest of Héctor's wardrobe weren't easy, says cloth and simulation supervisor Christine Waggoner. 'He has so many simulated elements," she says. 'He has a neckerchief and simulated suspenders. He has a satchel and ropes around his waist. He has holes in his clothing, plus his hair and hat on top of that."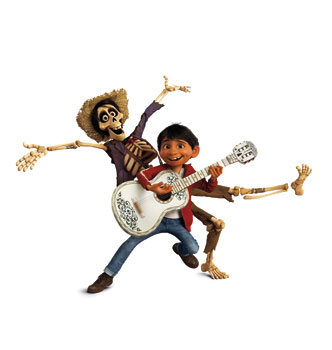 According to Christine Waggoner, the layers are difficult to achieve in computer animation. Added to that is the unusual structure of the character. 'We don't want him to read like he's emaciated, but like a skeleton," she says. 'It's a tough balance to achieve."

Supervising technical director David Ryu agrees. 'We have pushed that next level of technology in cloth at Pixar," he says. 'Putting cloth on a skeleton is difficult from a visual artistic perspective. We didn't want them to look like regular people with skeleton hands once the clothing was placed"we had to see that they were skeletons beneath the clothing."

According to David Ryu, there was a lot of trial and error. 'In early tests, cloth would get stuck between the bones," he says. 'The tools we'd traditionally used to combat that took away from that bony feel."

The end result was an improved process that enhanced all cloth simulation, allowing the digital tailors more freedom moving forward to layer garments.

Miguel's idol Ernesto de la Cruz, is the most famous musician in the history of Mexico. Revered by fans worldwide until his untimely death, the charming and charismatic musician is even more beloved in the Land of the Dead. 'Ernesto de la Cruz's catchphrase was -Seize your moment,'" says Lee Unkrich. 'And Miguel takes that to heart."

Adds story supervisor Jason Katz, 'Ernesto is a symbol of someone who faced adversity, yet found success through music. Miguel holds onto that in hopes that he can follow a similar path."

The star of stage and screen"revered for his silky-smooth voice, good looks, unmatched charisma and unforgettable lyrics"plays an iconic guitar with a skull motif and a mother-of-pearl inlay. With more than 20 songs, six albums and seven feature films highlighting his illustrious career, Ernesto is best known for his hit song 'Remember Me."

To support Miguel's adoration of Ernesto, filmmakers realised they would need to build the career of the fictional performer. Molina teamed up with songwriter/composer Germaine Franco to write some of the songs in Ernesto's repertoire. 'Music is important to Miguel and it anchors Ernesto's character," says Molina. 'So we wanted to write a few songs that would demonstrate the kind of performer that Ernesto was and maybe show what makes him so popular."

According to Arriaga, Ernesto's design was influenced by a host of Mexican celebrities. 'Number one would be a really famous singer and actor from Mexico from the 1930s and '40s. We also looked at an actor during the Golden Age of Mexican film, and"a more modern reference"Vicente Fernández, who's still winning Grammys®. They gave us ideas in terms of costumes, hair, his pencil-thin mustache, confidence, body type and posture."

The character is introduced through Miguel's posters, record albums and videotapes"but he's long since passed onto the Land of the Dead. Says Arriaga, 'We were able to carry over many of his traits, even the cleft chin, but had to figure out a way to do it without skin and muscles. It was important that he be immediately recognised when we see him in the Land of the Dead."

The trick, says Arriaga, was making a skeleton appear charismatic and appealing. 'We did a lot of paint-overs in Photoshop," he says. 'We sculpted clay skeleton heads so that we could see it in three dimensions, which really helped. We could take pictures of the sculptures from every angle and paint on top of them in the computer."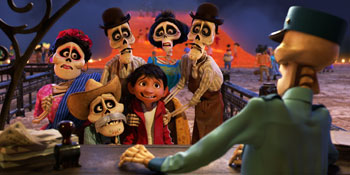 According to Harley Jessup, it was important that Ernesto stood out in a crowd. 'He's the star wherever he goes," says the production designer. 'So he's the only character in the Land of the Dead dressed in all white."

Shading art director Bert Berry says the wardrobe for Ernesto matched his upscale persona. 'He wears a suede mariachi-like jacket with sequins, jewels and gold stitching," says Bert Berry. 'Adding that kind of detail in modeling can make the garment extremely heavy geometrically, and it can also be difficult to shade convincingly. The tailoring and characters departments did an amazing job creating a richly detailed costume for Ernesto."

Benjamin Bratt provides the voice of Ernesto de la Cruz. 'We needed someone who could be completely lovable and winsome with a sparkling personality," says Molina. 'Benjamin Bratt has this presence"especially when he gets into character and puffs out his chest. He has this swagger and this smile and a sparkle in his eye. He's buoyant and charming and completely accessible. Even though we're only using his voice, his performance inspired the animators and the character."

"Part of my inspiration for Ernesto was my father," says Benjamin Bratt. 'He was the kind of man that commanded attention whatever room he was in. Though not nearly as suave as de la Cruz, my pops had that big personality that could win anybody over.

'De la Cruz himself is a complex character," continues Benjamin Bratt, 'arguably even more famous in the Land of the Dead than he was while alive. And of course, like any great star, he eats the attention up; he's come to rely on it."

The actor found the film's key theme relatable. "As a boy growing up, family was the center of my universe," he says. 'My mother constantly reminded us of the sacrifice her grandmother made to bring her to the U.S. as a teen in pursuit of the dream for a better life, as well as the pain of leaving so many dear relatives behind. Our abuelos, tíos, and primos back in the homeland"grandparents, aunts, uncles and cousins we had yet to meet"emerged as characters in the stories she would share with us, unmet family members we felt we knew simply from my mother's fond remembrance of them. This idea of being -connected' to those we love, no matter the space, time or geography, resonates deeply for me, and I imagine, for most of us in the world. This is what makes Coco so special, that it not only focuses on this connectivity, but celebrates it."

Mamá Imelda, Miguel's great-great-grandmother, is the matriarch of the Rivera family and the founder of their successful shoemaking business. Miguel meets Mamá Imelda in the Land of the Dead and discovers she really does not share his passion for music. 'Imelda is the source of the family's ban on music," says Lee Unkrich. 'Long ago, she was married to a musician, but she found that he had very different priorities in life. She wanted to raise a family, but he couldn't let go of his love of music."

Alanna Ubach, who provides the voice of Mamá Imelda, says that her experience as a young person pursuing a career in the arts is different from Miguel's in the movie. 'Following one's dreams resonates with me and my upbringing," she says. 'My mother and father were passionate advocates of the arts, which had a profound influence on me and my decision to act professionally."

In order to return to the Land of the Living, Miguel needs a magic marigold petal and the blessing of a family member. The magic required collaboration between effects, lighting and art to achieve the director's vision. According to effects supervisor Michael K. O'Brien, the team was tasked with giving the petal an increasingly brighter glow. 'There's no reference for something like that," he says. 'We wanted something dynamic that fits into this world."

Unfortunately, Mamá Imelda insists on adding a key condition to her blessing. 'She's desperately trying to keep Miguel from making the same mistakes her husband did," says Katz. 'She makes for a much more interesting antagonistic force when you realise that there's a lot of love behind her actions."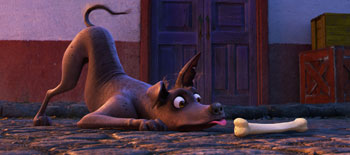 Pepita is an alebrije who fills the role of Mamá Imelda's spirit guide. Brightly colored and fiercely loyal, Pepita is a formidable presence in the Land of the Dead. An imposing wildcat with eagle talons and impressive wings, Pepita is an alebrije brought-to-life. 'Alebrijes are traditional brightly colored and handcrafted Mexican folk art," says Katz. 'They're dreamlike animals"lizards with rabbit ears, elephants with butterfly wings"beautifully rendered with striking colors, and we knew from the moment we saw them that they needed to have a place in our story."

According to character modeling and articulation lead Michael Honsel, Pepita called for a feather rig. Fortunately, one had been created for 'Finding Dory," which gave the team a starting point, though helping the massive alebrije take flight proved challenging due to her weight and body structure. The character was designed to dazzle, so Honsel's team had to trick her out. 'We wanted to make sure that animation had enough controls to make her look impressive. We gave her cool characteristics like retractable claws and a menacing roar, and a cool rig for her tongue allows it to be shaped in an organic way."

Inspired by the vibrant alebrijes they saw in Mexico, artists wanted to make sure Pepita had a brilliant and bold design, reflecting that of the folk art. But her furry exterior made it challenging to give her elaborate patterns. 'We tested different designs with different lengths of fur before we landed on the right look for Pepita," says character supervisor Christian Hoffman.

Effects supervisor Michael K. O'Brien and his team were called on to add magic to her movements. 'Pepita is larger than life," he says. 'We wanted her magical powers to reflect her power, but still fit the story point of Pepita being a tracker."

Miguel's ancestors also include his late aunt Tía Rosita, voiced by Selene Luna; his great-grandfather Papá Julio, voiced by Alfonso Arau; and his identical twin uncles Tío Oscar and Tío Felipe, who are voiced by Herbert Siguenza.

Chicharrón is a curmudgeonly friend of Héctor's who is sadly being forgotten"an unfortunate condition in the Land of the Dead. Says Darla K. Anderson, 'Chicharrón is a lonely guy who surrounds himself with all the things he loves, including a guitar."

According to Hoffman, artists wanted to differentiate Chicharrón from his Land of the Dead counterparts. 'The character is literally falling apart"his femur has been replaced with a pipe," says Hoffman. 'We had to show that he is the most forgotten character of anybody in the film. He has a lot more chips and grooves in his face. In order to get that detail, we did a high-res sculpting pass on him that allowed us to add age to his cheeks, his jawline, mouth and eyebrows. By pushing that displacement, it shows that he's been around a long time."

Chicharrón is voiced by Edward James Olmos.

Also featured in the Land of the Dead are an Arrival Agent in Marigold Grand Central Station, voiced by playwright Octavio Solis; the Head Clerk in the Department of Family Reunions, voiced by Gabriel Iglesias; a Corrections Officer, voiced by Cheech Marin; and the Emcee of a colorful talent show, voiced by Blanca Araceli.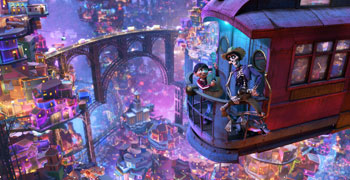 The Magic Of Music
Coco Features Original Songs, A Memorable Score
And Traditional Mexican Sounds

Coco is about family, connecting with loved ones and pursuing your dreams. And according to director Lee Unkrich, it's all rooted in music. 'Coco has music in its DNA," says Lee Unkrich. 'Music shapes the film. Some characters are musicians, while others want nothing to do with it."

Co-director Adrian Molina says that the Rivera family's ban on music did not deter the Coco filmmakers. 'Our main character, Miguel, is so passionate about music and he is really talented," says Adrian Molina. 'So his journey to pursue his dream is naturally filled with music. We have traditional Mexican music, original songs written for the film and a beautiful score by Michael Giacchino."

According to Unkrich, the filmmakers wanted the film to honor its setting, but with an unexpected quality. 'We encouraged the team to be true to traditional Mexican music, but gave them the freedom to embrace new sounds," he says.

'Our main goal is for the audience to walk away from the film feeling like they visited Santa Cecilia and spent time in the Land of the Dead," adds Tom MacDougall, executive vice president of music at Disney. 'If we can give them an authentic musical experience, it will help them make a lasting connection to the film."

Score

Coco features an original score from composer Michael Giacchino, who wrote the Oscar®-winning score for Disney•Pixar's 2009 film 'Up." The composer says he selects his projects based on his initial reaction to the story. 'I want to feel something that I can translate into music," says Michael Giacchino. 'When I saw Coco, a mosaic of emotions came over me. It made me think about my family and my connections to relatives back in Italy. This film speaks to everyone."

Michael Giacchino's relationship with world music began as a child, listening to records in his family's basement. 'When I was 9 years old, I found an album with music of Mexico," he says. 'I listened to it over and over. I loved it because it was so melodic and lyrical. It was emotional"almost like listening to poetry."

Although Michael Giacchino would later study Mexican music as part of his education, he says the opportunity to work on Coco opened up a world of exploration. 'We wanted the score to feel like it was born out of the world," he says. 'That meant making sure that we were using indigenous instruments and pushing for authenticity in every way."

Michael Giacchino worked with Germaine Franco, who composed the score for 2015's Dope, to realise an engaging and specific sound. 'She illuminated the complex richness of Mexican music so well," said Michael Giacchino. 'The collaboration between all the musicians on this film has been a beautiful experience."

Franco is Mexican American and grew up on the border of Mexico and Texas listening to all kinds of Mexican music. She explored a wide array of Mexican instrumentation in the score, including a guitarrón, folkloric harp, quijada, sousaphone, charchetas, jaranas, requintos, marimba, trumpets and violins.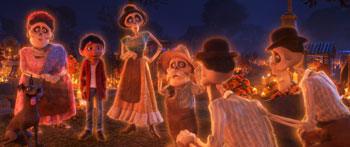 According to Michael Giacchino, key characters in the film inspired special themes. For Miguel, the composer wanted to find a theme befitting the character's age. 'I wanted it to feel like this young kid who has aspirations," says Michael Giacchino. 'He knows where he wants to go, but doesn't know how to get there.

'I wanted the music to feel jubilant to represent Miguel's desire to be an artist," continues Michael Giacchino. 'I wrote it on the piano, but as soon as we heard it on the guitar"Miguel's instrument of choice"I thought, -THAT'S the sound we are looking for!'"

For Héctor, Michael Giacchino wanted to capture the character's trickster tendencies. 'He has a quirky little waltz," says the composer. 'I looked at Héctor as a vacuum salesman. He's friendly and helpful, but in the back of your mind, you know he's selling something."

Michael Giacchino created two themes to represent the idea of family, aptly reflecting the core of the story itself. 'One theme embodies the history of the family, while the other represents home"safe, warm, secure."

The score was recorded in August featuring an 83-piece orchestra.

Source Music

Coco also features traditional Mexican songs as source music, to bring to life Miguel's town of Santa Cecilia. 'Even though music isn't allowed in his home, Miguel finds inspiration in the musicians who perform in his hometown plaza," says co-director and screenwriter Adrian Molina. 'Santa Cecilia"home of superstar Ernesto de la Cruz"is so full of music, it inspires Miguel to want to be a musician."

Source music can be heard in the Plaza"played by mariachis, a jarocho group on the bandstand and guitar players Miguel approaches in his quest to prove his talent. A mix of traditional and contemporary Mexican music gives ambiance several scenes.

Franco and musical consultant Camilo Lara of the music project Mexican Institute of Sound were called on to help create the soundscape of Miguel's world, along with the assistance of cultural consultants Benjamín Juárez Echenque and Marcela Davison Avilés. Lara joined the music team early, helping filmmakers navigate various moments from the film through the spectrum of Mexican music"from cumbia to mariachi music. Said Lara, 'From day one, the whole idea was to be as authentic as possible. We listened to a lot of music"from sophisticated to street. I think we managed to present a beautiful mosaic of the vast diversity of our music.

'I was also responsible for a magical session in Mexico City," continues Camilo Lara. 'We recorded a wide range of top Mexican musicians of many genres"banda, marimba, mariachi and son jarocho. We had top Mexican maestros. It was a mind-blowing experience."

The roster of musicians includes Banda Tierra Mojada, Marimba Nandayapa and Mono Blanco, among others. Filmmakers recorded a host of musical styles and instruments, including guitarrón jarocho.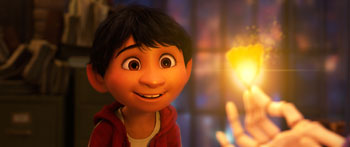 Original Songs – 'Remember Me"

To help bring Miguel's passion to life, filmmakers enlisted the talents of notable songwriters, including the Oscar®-winning team behind Walt Disney Animation Studios' 2013 feature 'Frozen," Kristen Anderson-Lopez and Robert Lopez. For Coco, they penned the thematic song 'Remember Me," which is the signature song for beloved performer Ernesto de la Cruz in the movie, and is heard multiple times throughout the film. 'The song is from the point of view of a person hoping to be remembered by a loved one," said Kristen Anderson-Lopez. 'But the lyric can be interpreted a few different ways depending on the tempo and tone of the music."

End Credit Version

Grammy®-winning singers Miguel and Natalia Lafourcade teamed up to record the end-credit version of Remember Me, which Miguel and Steve Mostyn produced. 'The song is special because it is about family and remembering where we come from," says Miguel. 'It's a reminder to be appreciative of the love and sacrifice that those before us had to make in order for us to be who we are. I think the message in the song is powerful enough to connect with everyone, but we're adding another layer of depth and soul to the emotion of the song in this version."

Miguel, whose father hails from Mexico's Zamora, Michoacán, won his first Grammy® for best R&B song for the lead single 'Adorn" in 2013. Written and produced by Miguel, the song became the longest running No. 1 single in the history of the Billboard R&B/Hip-Hop Airplay chart. He made his acting debut this year in Ben Affleck's Prohibition-era drama 'Live by Night."


Mexican singer-songwriter Lafourcade signed with Sony Music at age 17. Since then she has received eight Latin Grammy® awards, among them best rock album for 'Casa" (2005), best alternative album for 'Mujer Divina - Homenaje a Agustín Lara" (2013) and five for the breakthrough 'Hasta La Raíz" (2015), which also won a 2016 Grammy for best Latin, rock, urban or alternative album. Her latest project 'Musas" (2017), focusing on folk traditions, is 'an emotional and graceful homage to Latin American music," according to Billboard. 'I feel very excited to be part of a Pixar movie because I have loved those films ever since I was little," says Lafourcade. 'I really enjoyed singing a song that gives life, color and joy to our Mexican traditions, as the Day of the Dead is one of my favorite traditions and celebrations of our culture."

Original Songs – 'Un Poco Loco," 'Everyone Knows Juanita," 'The World Es Mi Familia," 'Proud Corazón"

Franco teamed up with Molina to write several original songs for the film, including 'Un Poco Loco," a song in the son jarocho style of Mexican music performed by Miguel and Héctor on stage in the Land of the Dead. Says Franco, 'I felt this was a chance for me to share my love of Latin music, specifically Mexican music, as well as celebrate my own personal culture. We really wanted to marry this idea of original music with elements of Mexican music to create a unique balance of sound, harmony and rhythm."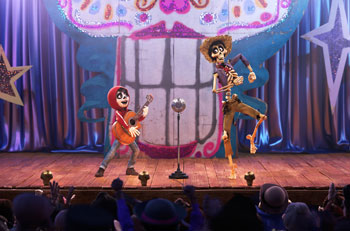 For a scene featuring Chicharrón, an old friend of Héctor's, Molina also wrote 'Everyone Knows Juanita" with Franco. 'Chicharrón is on the verge of being forgotten, so he requests one last song," says Molina. 'I wrote the lyrics to the song"it's a lullaby that skirts the edge of sentimental, but is also very tongue-in-cheek. We wanted it to play both the humor and emotion of the scene."

In an effort to get Ernesto de la Cruz's attention, Miguel sings 'The World Es Mi Familia" late in the film. 'I wrote the song with the idea that it's one that Ernesto sang in one of his movies," says Molina. 'It's a proclamation: -Music is my language. It connects me to the broader world.' I think it's an aspirational sentiment."

'Proud Corazón" was penned for the final scene in the movie. 'The lyrics in this song are probably the most personal to me," says Molina. 'It's about filling your heart with the pride you have for your family, where you come from and who you're connected to. [It] speaks to this connection across generations"between the Land of the Living and the Land of the Dead. Our thoughts, the memories in our hearts make it possible that our loved ones are always with us."


Coco
Release Date: December 26th, 2017
Trailer