Bradley Cooper Aloha
Cast: Emma Stone, Bradley Cooper, Bill Murray, Alec Baldwin, Rachel McAdams, Ivana Milicevic
Director: Cameron Crowe
Genre: Comedy, Drama
Rated: PG

Synopsis:
In Aloha, a celebrated military contractor (Bradley Cooper) returns to the site of his greatest career triumphs – the US Space program in Honolulu, Hawaii – and reconnects with a long-ago love (Rachel McAdams) while unexpectedly falling for the hard-charging Air Force watchdog (Emma Stone) assigned to him. From Academy Award®-winner Cameron Crowe, the writer-director behind such films as Jerry Maguire and Almost Famous, Aloha also stars Bill Murray, John Krasinski, Danny McBride, and Alec Baldwin.

Aloha
Release Date: June 4th, 2015


About the Production
'Aloha is a movie about second chances at life," says Cameron Crowe. After creating a finely tuned signature style in such films as Jerry Maguire, Almost Famous, and Say Anything…, Cameron Crowe turns his eye to Hawaii, bringing his unique talent for creating unforgettable characters and his extraordinary ear for dialogue to the story of Brian Gilcrest (Bradley Cooper), a man who finds himself caught between a woman he thought he had moved beyond, and a woman who represents all of the possibilities yet to come.

In Cameron Crowe's film, those romances stand in for the larger question of the ways that Gilcrest is stuck between where he's been and where he's headed. 'I wanted to tell the story of the lure of the past and the promise of the future," says Cameron Crowe. 'It's always easy to look backwards, to remember all of the good moments that happened, and to long for those moments. It's scarier to look at the future and try to create a future that's as rich – and even more rich – than the past. I wanted to tell the story of a guy who's been looking over his shoulder with a certain amount of regret, who learns to look forward. That was the dream of what a story set in Hawaii could be."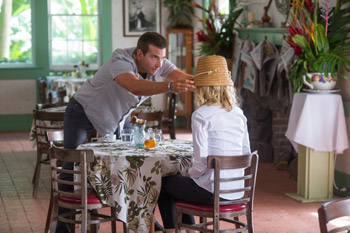 That is a story that fits neatly into Cameron Crowe's filmography – and, like his previous work, Aloha is a highly personal film that unflinchingly captures the great, life-changing moments of our lives with humor and charm and without cynicism. 'Ultimately, this is a film in the continuing story that I've always been trying to make – what is it to be an adult, what is it like to grow older, who are your friends, who are the people that matter, who sticks by you, who doesn't, how do you shape your life as you continue to live it," says Cameron Crowe. 'This movie has a bittersweet quality, but it also has a real kick of hope."

Cameron Crowe says that Aloha, as much as any film he's made, is about the unpredictability of life and being ready to go into a bright, but uncertain future with optimism and verve. 'I like my movies to have the promise that anything can happen," he says. 'This one ended up taking a place with the others that I'm really proud of – it's a snapshot of a feeling and the way I felt when I made it and a dream I had to tell this story with the backdrop of Hawaii."

Taking the lead role of Aloha as Brian Gilcrest is four-time Oscar® nominee Bradley Cooper. In his performances in Silver Linings Playbook, American Hustle, and most recently, American Sniper, Bradley Cooper has shown the versatility to move seamlessly between comedy and drama, often hitting the poignant tone that defines so much of Cameron Crowe's work.

In Aloha, a new assignment brings Gilcrest back to his old stomping grounds of Hawaii. It's a place where he left a few loose ends dangling, and now, those loose ends have begun to unravel his entire life.

'Gilcrest, played by Bradley Cooper, is a very complex character," says Cameron Crowe. 'He's gone from being an idealist as a younger man to being a compromised person. In the movie, he receives another chance in life to reclaim the thing that powered all of his original idealism when he was a younger person. The question is: is he able to take the best of the past and move forward?"

In Cameron Crowe's film, a second chance to get on better terms with Tracy – a former girlfriend who has moved on and made a family in the many years since their parting – coincides with a second chance to remake a career that has reached a breaking point. Once the most talented and in-demand military contractor in the business, he's stinging from a recent failure and only now is getting the opportunity to show that he's still got what it takes to lead a mission. It is at this moment that Gilcrest starts to fall for Allison Ng (Emma Stone), the hard-charging Air Force pilot assigned to babysit him.

Bradley Cooper says that as an actor in films, television, and Broadway, he loves storytelling. 'I really love the puzzle-like nature of storytelling through cinema, and capturing all these moments and then putting them together and fulfilling the vision that a writer and director has," he says. 'Cameron Crowe treats all his characters as the stars of the film, so it really felt like each one of their storylines became the epicenter of the story while we were shooting it. So it was almost like all these little stories, all these little movies in one."

Emma Stone stars as Senior Captain/Major Select Allison Ng, an overly efficient, no-nonsense Air Force F-22 pilot who, as part of her career broadening, is assigned to be Gilcrest's official handler during his mission. Known among her fellow airmen as a 'fast burner," Ng – who is one-quarter Hawaiian – has a firecracker personality and a fierce spirit for life that quickly makes an impact.

Having the chance to act out Cameron Crowe's words was one of the main reasons Emma Stone was attracted to the film. 'I've loved Cameron Crowe's movies," says the actress, who recently received her first Oscar® nomination, for her role in Birdman. 'They're so infused with authenticity. I trusted his vision and his ability to tell a story, his unique tempo and rhythm. I just wanted to be part of that process."

Although she confesses she would have played any role in the film to have the chance to work with the director, the character of Captain Ng thrilled her. 'Ng is this beautiful, powerful, funny, dynamic character," she explains. 'There are so many facets to what's happening with her, it was like finding a gold mine. She's a great example for women – she's a fighter pilot, she's sensitive, and is in love for the first time."

Cameron Crowe says that if Rachel McAdams' character is about the past, then 'Emma's character is about the future," he says. 'Emma Stone plays a captain in the military, a fighter pilot who is streaking across the sky. She has lived on the elixir of idealism and ambition, and she's going come across what happens when you fall in love with a guy who's living in the gray area. What can you bring to him, and what can he bring to you?"

Emma Stone enjoyed the collaborative process of working with a director who is also the writer. 'With Cameron Crowe, so much is already on the page. He is such a wordsmith – the lines are perfectly crafted," she says. But, she notes, he was open to working with the cast to flesh out the written words. 'So we were always digging, always exploring, and excavating, and diving deeper," she adds.

One of her fondest experiences was getting to meet and work closely with members of the U.S. military. 'They were just so warm and welcoming; they were really excited that we were shooting on their base," she says. 'I got to know some members of the Air Force and it was incredibly inspiring. They're also the best people to be in a scene with – they go from zero to sixty in a second and back again. It was incredible to see that kind of discipline."

Prior to production, Emma Stone trained with several advisors to execute the multitude of tasks her character has to perform in the film – from hula dancing to guitar playing to learning the proper protocols and cadence of an F-22 pilot. She also trained with a local flight school instructor to learn to manipulate the controls of the twin-engine propeller plane, a Piper PA-44 Seminole, her character uses to shuttle herself and Gilcrest from Oahu to the Big Island.

Playing a fighter pilot offered the actress a unique experience. As a special concession permitted to the filmmakers, Stone became the first person who was not an official pilot or mechanic to be permitted in the cockpit of an F-22. The filmmakers even had to make a special G-suit for Emma Stone to wear since she was smaller than most of the pilots. 'I was the first civilian to ever get to sit in an F-22 Raptor plane, which is basically the most stealth and deadly weapon the US military has," Emma Stone states proudly.

'I think Emma Stone provides the audience with a strong character to emulate," says the film's military advisor, Master Sergeant Chris Stagner. 'Emma Stone is playing a female F-22 pilot in a typically male-dominated environment." As the Air Force does have female fighter pilots, Chris Stagner says he hopes that young women watching the film realise that they can do anything they want to do. 'I hope it inspires them to know that nothing is out of their reach."

Emma Stone also performs in a musical scene at a luau, and for this, the filmmakers again went to the experts: Emma Stone took guitar lessons with legendary Hawaiian slack-key guitarist Ledward Kaapana, and performs alongside him in the film.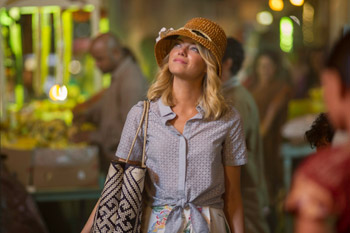 Gilcrest's relationship with Ng will only move forward if he can reach a closure on his past – including his ex, Tracy, played by Rachel McAdams. It's not that he carries a torch for her, though their chemistry is still there; rather, it's only clear once they get together that all of the reasons they broke up haven't gone away, mostly because Gilcrest has never faced the music.

When Rachel McAdams first read the script, she instantly recognised that the character of Tracy was like nothing she'd ever come across before. 'She was a complicated, interesting woman with lots on her plate, at a very important time in her life," she says. 'It was just a very rich and colorful character, and I love how Cameron Crowe writes women. I knew Tracy had been in his head a long time, so there was a little bit of pressure to get where he saw her going, but at the same time it was a wonderful challenge."

'Tracy, Rachel McAdams' character, represents an unfinished love," says Cameron Crowe. 'Rachel McAdams brings such soul and depth and humanity, wondering about a great lost love, Gilcrest, and wondering about the choice that she made and the man that she ultimately married. Rachel McAdams is one of the very few actors that would give you that feeling of all of the real complexities that we have in thinking about the past, lost love, future love, and all the opportunities that are either lost or still ahead of you. She questions whether she married the right guy; she questions how that relationship with Gilcrest fell apart. She represents a question about the past that needs to be resolved."

Having also worked with Bradley Cooper ten years ago on the smash comedy Wedding Crashers, Rachel McAdams says, 'It was such a wonderful thing to come to work with Bradley Cooper every day because he has so much passion not just for the character, but the whole film and the whole process. He just comes at everything with energy, enthusiasm and generosity."

Tracy is now married to Woody, a calm and soft-spoken Air Force C-17 pilot – in fact, he's so soft-spoken that he's often silent. Together, they have two kids: a 12-year-old daughter Grace, and 10-year-old son, Mitchell. Woody is played by John Krasinski, best known for his role as Jim Halpert on the popular long-running NBC series 'The Office." 'There's something really calm and timeless in a 1940s/50s way about this guy," he says. Like many men, he says, he takes his responsibilities as a husband and father very seriously – and those responsibilities can be a joy, but also a burden. 'Being a dad is one of the big weights on him, but also the big draw for why he gets up every single day."

'You think of John as such a fun and outgoing guy, but he has this other really sweet, stoic, heroic side to him, too," praises his co-star, Rachel McAdams. 'He was such a great presence on set, always making everybody laugh and keeping it light, but he also has that still-waters-running-deep quality that's such an integral part of Woody."

To prepare for the role, John Krasinski attended C-17 flight simulator training sessions with US Air Force Major Chris Ross, a C-17 pilot with the Pacific Air Forces based at Joint Base Pearl Harbor-Hickam, while he was conducting routine training sessions. 'It was one of the coolest things I've ever done," John Krasinski says. 'It's an incredibly immersive experience and I was terrified through the entire process, because it feels like you're flying a real plane. All the weight distribution, all the turns, all the controls, everything feels very real, and you feel that you have a responsibility to land everybody safely, despite the fact that it's basically a video game. I loved it."

Cameron Crowe loosely based the film's Woodside Family on a real-life military family he met in 2006 during the initial conception stage. That family – Woody, Tracy, Grace and Mitchell Woodrow – were referred to him at the time by then-Air Force entertainment liaison Steve Clutter, with whom he was consulting. At the time, the Woodrows were living at Hickam Air Force Base in Honolulu, where Woody was a C-17 pilot.

One day, Steve Clutter asked the family if they would like to meet Cameron Crowe. As they were fans of his films, they quickly agreed. 'One day I came home, opened the back door, and there was Cameron Crowe sitting on our ottoman talking to Woody," Tracy Woodrow recalls. 'We ended up having dinner with him. We talked and he recorded us and took pictures. He's very observant – I could see him mentally taking notes. But he's so nice, and smart, he put us at ease so fast." They recall that Cameron Crowe expressed the most interest in what it was like living on base and the military lifestyle, rather than the professional aspect of their jobs or their personal relationships.

As a tip of the pen to the family, Cameron Crowe named his characters after the family members and gave them similar jobs and ages. However, it should be noted, the characters are entirely fictional and the relationships between them are Cameron Crowe's creation and not based on the Woodrows.

For the role of the billionaire industrialist Carson Welch, whose faux-Zen koans belie his true intentions, Cameron Crowe turned to one of his idols: the legendary, often unpredictable funnyman Bill Murray. Usually accompanied by a small entourage of assistants as well as a personal biographer, Welch is Brian Gilcrest's boss, a big-money visionary and eccentric billionaire, but also a man who never shows all of his cards at once.

Comedic actor Danny McBride plays Colonel 'Fingers" Lacy, the second-in-command at Hickam Air Force base, who earned his nickname from his peculiar habit of compulsively flexing his fingers. In landing the role of the Air Force commander, life imitated art when Danny McBride first met with Cameron Crowe. The actor, who recently completed a defining role as the ego-inflated baseball pitcher Kenny Powers on HBO's 'Eastbound & Down, recalls, 'When Cameron Crowe called me in to meet about this film, he brought up a line from the third season from -Eastbound': Kenny found himself in this life changing moment, there was cool music playing, and of course Kenny equated that to being in a Cameron Crowe film."

Danny McBride says he's always been a big fan of Cameron Crowe. 'I love the heart that he has in his movies, so when he wanted me to be a part of this, I thought it would be really cool to be involved in the project."

Danny McBride says that Fingers is – naturally – a man who always talks with his hands. 'I had to develop that," McBride recalls about his character's signature tic. 'I had to practice it so much that in my life now I catch myself doing it. It's very soothing to sit there and just let your fingers roll."

Rounding out the lead cast as Air Force General Dixon, the extremely self-confident four-star head of the Pacific Air Command and top guy at Hickam Air Force base, is the multifaceted film, television and stage actor Alec Baldwin.

Alec Baldwin was thrilled with the opportunity to reunite with Cameron Crowe, having previously played a role in Cameron Crowe's film Elizabethtown. Baldwin cites Crowe's talents as a writer and director: 'He's the best interpreter of his own material," Alec Baldwin states, noting that Cameron Crowe reminds him of both Woody Allen and John Hughes. 'Cameron Crowe is smart and funny, but warm at the same time, which is quite rare."

As General Dixon, Alec Baldwin allows that his character does a lot of yelling. 'It's not an easy thing to do, especially with actors you admire like Bradley Cooper," Alec Baldwin says. 'When you work with people like that, you want to bond with them and have some camaraderie, but when you have to play that negative value in a piece, straightening everybody out and pounding away at them, it's really tough."

'Being screamed at by Alec Baldwin was definitely one of the highlights of being involved with this film. A lifelong goal of mine was finally achieved," says Danny McBride. 'For two days, Bradley Cooper and I sat on a couch while Alec Baldwin screamed at us. I think at one point he screams at me to -just shut my mouth' – I've always wanted to hear those words from him directed at me. I felt like I was in Glengarry Glen Ross, being screamed at about leads. It was great."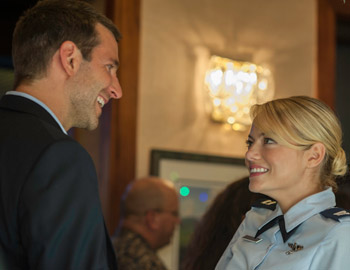 For one major supporting role, Cameron Crowe sought to cast the spiritual and political leader of the indigenous Hawaiian movement, with whom Gilcrest must negotiate a key deal. In the film, Cameron Crowe juxtaposes the rigor of the island's military presence against the soulful and peaceful qualities represented by the indigenous people of Hawaii. As these groups are coexisting in a delicate peace in the film, it is up to Gilcrest to reach a deal with the Hawaiians.

Before writing and creating the role of the group's leader, Cameron Crowe did his research, interviewing (and staying friendly with) Hawaiian independence movement leader Dennis 'Bumpy" Kanahele. In these early interviews, Danny Kanahele shared the history of his movement and their ongoing struggles in the face of the rampant redevelopment of the Hawaiian Islands that threaten their historic culture. A folk hero to his people, Kanahele – an eighth-generation descendant of Hawaii's legendary King Kamehameha – is well respected across the Hawaiian Islands and the Head of State of the Nation of Hawaii, the independence and National Sovereignty movement based out of the village Pu'uhonua O Waimanalo, which is featured as 'The Kingdom" in the film.

Danny Kanahele notes that he had met many producers who had come to the island to gather information from him, but none had shown the interest that Cameron Crowe did. 'They were all going to make films," he says, 'so when Cameron Crowe came in, it was just one of those meetings. But his heart sold me – just being who he was. I got close to him instantly. When I told him about the native situation, he really responded to that. Other Hollywood people had not taken it that seriously. At that point, he had done some research and said, -You know, you are a great man.' And he kept that all the way. Cameron Crowe was different: he was a friend, not a movie producer."

In the end, after a lengthy search, Cameron Crowe came to the decision for Danny Kanahele to play himself in the film. 'We'd auditioned some very fine Hawaiian actors, but we just kept getting drawn back to the charisma of the man himself," Crowe explains. 'When Eric Gautier, Bradley Cooper, Emma Stone and I went up to look at Bumpy's property, we looked at each other and asked, -Why can't it just be Bumpy?' There's nobody who's going to be that guy. He's like Brando – he's elemental."

Danny Kanahele had never acted in a feature film before, but recalls that the decision was made when he and Cameron Crowe went up to the top of a hill in his village and shared stories. 'I told him, -Let's go up there so my kupunas [elders] can hear what we're talking about. They can make judgment.'" On the way down from the hill, Cameron Crowe confided that he was having a hard time finding someone to play the character. Danny Kanahele continues, 'He said he wanted to come back and talk with me about it. So that night I texted him and said, -I'll try it. You're not going to find someone like me!'"

Emma Stone also sought out Danny Kanahele's wisdom to help inform her part-Hawaiian character. She asked him what the most important thing was she should remember. ''Your roots,'" he said. She recalls his saying that as a Hawaiian, '-You're always walking on the bones of your ancestors. That's something you feel in the Hawaiian people, that feeling of deep rootedness, knowing who your family is, and whose legacy you are part of. It's all so deeply meaningful and respected, and aloha encompasses all of that."

Danny Kanahele – who discovered that acting came naturally to him – notes that every moment in every scene was special to him. 'The first time I met and started rehearsing with Bradley Cooper, it was intimidating," he admits. 'First, I was mesmerised by his looks – because he has those piercing eyes. It was also intimidating because this guy is a star and has such stature. But he helped me – -Just be yourself,' he said to me."

Filming In Hawaii

'Everybody has a very easy, simple perception of Hawaii, but it's so much more complex and deep and magical, loving, real, and passionate, and filled with secrets, than most people can even imagine," says Cameron Crowe. That's why the writer-director chose to set the film in the Aloha State. 'The story is so truly about Hawaii, and what Hawaii does to you, and how it fulfills you. It doesn't exist without Hawaii. Hawaii represented the constant surprise of life and humanity and what happens to people over time. I wanted to create a group of characters living there who are both influenced by their environment and influence their environment at the same time."

'Filming in Hawaii affected all of us," says Bradley Cooper. 'It's so specific; the energy's different. The people, the climate, the feeling, the isolation – it's really wonderful. There's beauty everywhere."

'The spirit of Hawaii is unlike any place I've ever been," adds Emma Stone. 'You're in the middle of the Pacific Ocean and there are ghosts, there's mana, there's the Menehune, there are the Night Marchers. When you're on the island, you feel completely immersed in its power and spirit."

'Before I went to Hawaii, a friend told me, -Hawaii comes to you – you don't have to force it, it comes to you,'" adds Bill Murray. 'I do like the magic of this place; the power of it gets to you. It's in the land and the ocean and the wind – it all passes through you."

Once Cameron Crowe had written the screenplay, Production Designer Clay Griffith was charged with finding the suitable Hawaii locations. Clay Griffith has been working with Cameron Crowe for 25 years, first as the director's assistant on Say Anything, then as a set decorator on Singles and Jerry Maguire, and, finally, as production designer on Almost Famous, Elizabethtown, We Bought a Zoo, and now Aloha.

'As the years and films have gone by, Cameron Crowe and I have fewer conversations about set details, because I just know what he likes," says Clay Griffith. 'We have the kind of relationship where I just know what he's thinking – for example, the moment in the film between Gilcrest and Woody where they don't verbally say anything to each other, but both understand what the other means. The way Cameron Crowe writes, I can just visualise it so simply in my head. We share the same images."

Clay Griffith arrived in Honolulu three months before filming began and immediately set off on daily location scouts with supervising location manager John Panzarella to find places to show Cameron Crowe and director of photography Eric Gautier. 'Honolulu was amazingly adaptable," Clay Griffith says. 'It was a tapestry of locations. I didn't expect to find so many different looks here that fit so well into the story. From Diamond Head Crater to Chinatown, it turned out to be a treasure trove and has so much history."

Because so much of the film is about the apposition between the military presence in Hawaii and the state's spiritual side, Clay Griffith sought locations that would suit the story but also play up the contrast.

With this in mind, the filmmakers collaborated with the Department of Defense and the Air Force to obtain permission to shoot at Hickam Field, the 2,850-acre military base that is headquarters for the Pacific Air Forces, Thirteenth Air Force and the 15th Wing. In the end, nearly half of the film's production would shoot at the base. The production was also able to use an F-22 Raptor fighter jet and a C-17 cargo plane, though only in stationary, non-active duty.

Clay Griffith notes that the Air Force opened the doors to the filmmakers. 'All the property at Hickam – the C-17s, the F-22, the Officers Club, General Carlisle's office, the flight line – they were great about it all," he says. 'General Carlisle and Colonel Roscoe were very open to us and very positive. Usually films shot at Hickam involve monsters attacking the city, but this was real life – we were filming a movie that is in some ways about the Air Force and everyday life in the Air Force, and I think they were happy to be a part of that."

The film's military advisor, Chris Stagner, agrees. 'So many of the films we are traditionally asked to supports are -boys, toys and noise' movies, war movies. This movie shows another side – we are warfighters, but we are also humanitarians and we have families."

The traditional military family neighborhood where the Woodside family resides was filmed at Hickam Field's historic Fort Kamehameha housing development. The neighborhood, featuring approximately two-dozen Craftsman-styled houses situated on two tree-lined streets adjacent to the water, was originally built as Navy housing in 1916, but was fully vacated by 2008. As the neighborhood was entirely abandoned and many of the old homes boarded up, the film's art and greens department began a two-month long restoration of the neighborhood, bringing many of the lawns and trees back to life, and transforming the primary Woodside house into top shape.

Assistant art director Angela Stauffer was assigned to oversee the renovation of the derelict neighborhood and creating Woody Woodside's elaborately decorated lawn, which required the combined efforts of the art department, greens, set decorating team, and construction crew. 'The whole place was dead," she recalls of her first impression. 'There wasn't a single blade of grass there. It took a lot of work; we were also aware that as we fixed up the ground, we could come across bones of Hawaiian ancestors, so we had an archaeologist come and watch our work as we upgraded the grass and trees in case we uncovered sacred remains in the process – it was important to us to do this with respect. It took two months of growing new grass to get in proper shape for filming. For the Woodside house, we needed an historical architect to oversee whenever we did any construction on the house, including replacing cabinetry or screwing in new screws."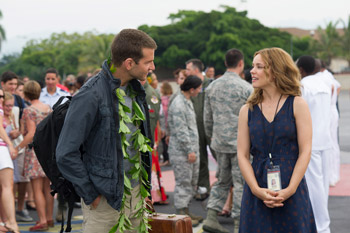 For their work, Air Force Col. Johnny Roscoe, the Commander, 15th Wing, Joint Base Pearl Harbor-Hickam, commended the filmmakers for their efforts in restoring the Fort Kamehameha neighborhood to its former glory and reminding people of its rich history. 'What Cameron Crowe and everybody with the movie has done is given us a small glimpse into a not so distant past," praises Colonel Roscoe. 'There were families that lived there, and they were a big part of the long history that has evolved at Hickam Field. It allows us to think that we really are connected in this long heritage."

The office of Alec Baldwin's character, General Dixon, was filmed in the actual PACAF Headquarters office of General Herbert 'Hawk" Carlisle, the Commander of Pacific Air Forces and highest-ranked officer at Hickam, including the General's own decor.

Filming at the WWII era base gave Cameron Crowe a chance to show a side of military life not often seen in film, and with that in mind, Cameron Crowe sets scenes (including the holiday party) at Hickam's historic Officers' Club and Koa Lounge, where high-level base personnel drink, socialize and play the billiards-derived game Crud, popular in the Air Force, Navy and Marine Corps.

Naturally, obtaining the use of the C-17 and the F-22 was not simple – and getting Emma Stone aboard the F-22 was a request that went all the way up to the office of the Secretary of Defense. For national security reasons, the filmmakers took every precaution necessary, including laying a black cover over everything in the cockpit. 'I was excited we could do it, as the F-22 fifth-generation fighter is one of the most dynamic aircraft in the entire world," says Chris Stagner. Before boarding the F-22, Stone received egress training, which showed her how to get in and out of the aircraft utilizing proper Air Force protocol.

Over the course of filming at Hickam Field, extras casting director Rich King held multiple open casting calls on the base to secure several hundred background performers. These inactive or off-duty personnel, as well as their spouses and kids, populated many scenes. 'Creatively, these people don't need to be directed; this is what they do every day. They know how to stand at attention. They know how to salute. They understand the customs and courtesies and protocols in acting as a service member."

Against the military base, Cameron Crowe presents the natural, unspoiled beauty of parts of the islands, and thanks in no small part to Cameron Crowe's relationship with Bumpy Kanahele, the filmmakers were lucky enough to gain access to the village of Pu'uhonua O Waimanalo.

The 45-acre village is the land base for the development of a sovereign and independent Hawaiian Nation. Following a 15-month beach occupation in 1994, the State of Hawaii deeded Bumpy Kanahele and his movement a 55-year lease on the land, upon which they built the homestead. It houses many different ethnicities in support of their right as Hawaiians to live a life of safety and sustenance and to be able to exercise their national right to live communally.

Aloha marks the first time that the village and Kanahele have approved the village's participation in a film. 'When we first got to the island, we knew that the character was based on Bumpy. We'd been driving around the island, scouting for locations that looked like what Cameron Crowe wrote. One day, Cameron Crowe said, -You have to get in touch with Bumpy.' We called Bumpy and we came up to the village – we all stood at the top of the hill and said, -Wow, this is what Cameron Crowe wrote!'"

At first, the filmmakers were reluctant to film in the village, as it is a working, living community – one that could be disrupted by a large film crew. Bumpy himself assuaged that anxiety. 'He said, -If you want to shoot here, here are the keys – it's all yours,'" Clay Griffith recalls.

'The first thing that made everything happen was the friendship between me and Cameron Crowe," says Kanahele. 'That was the first thing before any contract. That was the green light before I signed anything. I believe in Cameron. Everything is based on trust with him."

The filmmakers shot the village as it is, with a minimum of set decoration. The only addition made was to erect a pavilion at the top of the hill, to accommodate the crew and shoot the scenes of an island cookout scene with musicians.

Danny Kanahele reflects that having a major motion picture film at his village created a very positive impact on the village. 'Everyone in the village was so happy," Danny Kanahele remarks. 'What Cameron loves about it is the innocence of everything. My people were so excited; this was all new to them. There are a lot of innocent hearts and minds up here – from the kids on up."

Roughly 100 people currently live in the homestead of wood and corrugated steel homes. On the terraced Makai Plateau, Hawaiian ancestral bones are interred on a sacred burial ground alongside the agricultural crops – primarily cocoa, tea leaves, taro and sweet potatoes – grown on the property. The entire homestead sits just below the Ko'olau mountain range, surrounded by eucalyptus trees.

The art department built the new pavilion at the top of the plateau, near the sacred burial ground. Throughout the process, the filmmakers consulted with Kanahele to ensure that the art design and set decoration at the sanctuary was consistent with Hawaiian culture. Local villagers appeared in the scene as extras, alongside master slack-key guitarist and falsetto singer Ledward Kaapana and his collaborator, 12-string guitarist and singer Mike Kaawa. They play traditional Hawaiian music, including the classic 'Waimanalo Blues," a Hawaiian folk protest song, accompanied by Emma Stone.

Although the base and the village were the two primary locations, the filmmakers were able to find every location they needed in Hawaii – with even Diamond Head Crater substituting for a few brief scenes in Afghanistan. (Panzarella recalls that the filmmakers were dubious until a National Guard major vouched for the fact that the location looks exactly like the real place.) Other Hawaii locations included Battery Birkhimer, a former military fortress and now headquarters for Hawaii's State Civil Defense National Emergency Response Center; the Breakers Hotel, which was transformed into the film's Royal Aloha, where Gilcrest and Ng stay during Gilcrest's assignment; the historic Wai'oli Tea Room; and Punchbowl Cemetery, aka the National Memorial Cemetery of the Pacific, among many more.

About The Writer/Director

Working with Cameron Crowe isn't quite like working with any other director. His films are personal and heartfelt, comedic and dramatic, refusing to be pigeonholed into any one particular genre, difficult to describe succinctly but impossible to forget. For these reasons, the actors were all inspired to join the film by the chance to work with the writer-director.

As a fan of Cameron Crowe's previous work, Bradley Cooper was thrilled with the opportunity to be in one of his films. 'The idea of doing this movie, you knew it was going to be a personal story, one with a unique voice," he says. 'I also loved the idea of taking on the task of speaking Cameron Crowe's dialogue, which is so musical and specific, heightened but real, and challenging."

Still, Bradley Cooper says, from that script, Cameron Crowe encourages his actors to bring their interpretations to the characters. 'Cameron Crowe is very open to the experience of discovering or expanding the characters," he says. 'That it can be malleable, while at the same time very structured, is a very exciting thing."

Danny Krasinski says that getting to work with Cameron Crowe and in a place as unique and exotic as Hawaii was a special honor for him. 'I learned so much being on the set and observing how he works and the enthusiasm he shows every single moment," he says. 'Cameron Crowe creates a world, he sets a tone, he brings certain characters to life that you don't normally get a chance to experience. There's something incredibly special about it. He knows that there's always more to find – things that were unexpected and things that were expected – and he's completely united with your understanding of the character. It's uniquely a Cameron Crowe movie, and I was lucky to be a member of a cast like this."

About The Music

'Hawaii is a musical environment in almost every way. There's always music playing," says Cameron Crowe, whose film sets are famous for being the same way. Cameron Crowe's encyclopedic knowledge of music is well-known – dating from his days as a teenage journalist at Rolling Stone – as is his habit of using music to inspire a scene and set the tone for his films. During filming, Cameron Crowe will play music prior to and even during the action, to set the tone for individual scenes. Emma Stone says that it helped the actors find the emotion in a scene.

'There was always music on set," Emma Stone recalls. 'He wasn't afraid to pump a song through the speakers when your character is feeling something, while he would narrate what's happening in the sequence. It was a really beautiful way of doing things."

Utilising his vast and eclectic iTunes playlist, Cameron Crowe plays scene-specific song selections that can be cued up and dropped in and out during filming, while making sure not to play over the dialogue. On this film, Cameron Crowe played selections ranging from Hawaiian slack-key guitar music to 1960s space electronica to classic and contemporary rock and R&B.

'We were using the camera, the music, and the incredible power of these actors to come together and close the story with these small, emotional moments that are huge in all of our lives," says Cameron Crowe. 'I remember playing -Harvest Moon,' the Neil Young song, which Rachel McAdams really connects to, and also -Hunger Strike,' the Temple of the Dog song that Bradley Cooper connects to. We were using music and emotions, and it's incredibly powerful. Actually, one of the reasons why all of those actors came to be in the movie is that they were all, music lovers."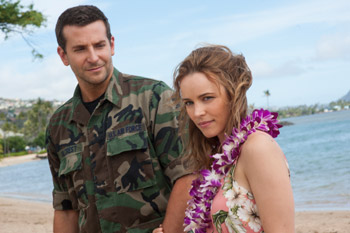 A memorable moment in the film comes as Emma Stone and Bill Murray dance to the Hall and Oates classic 'I Can't Go for That (No Can Do)." 'I was looking forward to that scene like a giddy schoolchild," says Cameron Crowe, 'but at the same time, I didn't want to overthink it. It was clear that we weren't going to choreograph it. Bill Murray studied the Hawaiian dancers and asked them if it was okay if he used some of their moves – he quietly filled his arsenal with traditional Hawaiian hula dance moves, and he handled it so perfectly, with such great respect. Emma Stone is a great dancer, and they have chemistry from having worked together before. We shot it like a documentary, with handheld cameras."

Cameron Crowe flirted with the idea of creating a slack-key cover of 'I Can't Go for That," then actually had discussions to have Daryl Hall and his band perform live at the Offer's Club – Hall's filming schedule of his TV show 'Live at Daryl's House" made that an impossibility – before ultimately using the classic original recording.

Of course, given the setting, several scenes feature Hawaiian slack-key music. But it's not simply underscore – Cameron Crowe has involved some of the music's key figures in the scenes themselves. 'Ledward Kaapana is one of my favorite guitarists ever, so I was pinching myself the whole time – I was so excited that he and Mike Kaawa were part of the movie."

Of filming the scene, he says, 'There was an atmosphere that night, in Bumpy's world, that was beautiful. The actors were so comfortably kind of engrained with the music and the culture. People throw around the word -magical' a lot, but that was magical. The cameras were tucked away, not too close to anyone but capturing the feeling and the joy that Emma Stone has for Hawaiian music and guitar playing. It's an important part of the story – that's when Gilcrest starts to really realize this girl is a warrior for idealism. Getting past her is going to be a tougher job than he imagined – and he might even fall in love, which I think he starts to do on that night."

It's that style of music, Cameron Crowe explains, that would inspire the film's score. However, as he retells, it was a journey for the director. 'It starts with open tuning and the way a guitar is played," he explains. 'I always loved the way that David Crosby played guitar, and you can hear it on his solo album, -If I Could Only Remember My Name.' Joni Mitchell plays that way, and Neil Young sometimes. I fell in love with that style of playing – there's a lot of space in it, a lot of room for silence to let chords and harmonics ring out. It feels like you're flying."

'What I didn't know," he continues, 'is that this was a Hawaiian style of playing. It's the Hawaiian slack-key style – same idea, same kind of playing. So I started to fall in love with Hawaiian slack-key music. It's music that breathes and gives you the space to breathe. And I wanted to have that music represented in the film, which it is. And when you think about people who use that kind of space and silence, it's not that far a leap to get to Jónsi & Alex."

So, to compose the film's score, Cameron Crowe tapped Jónsi & Alex, a collaboration between Jónsi Birgisson, who is also the lead singer of the rock band Sigur Rós, and his partner, Alex Sommer. 'If you listen to the music of Sigur Rós and Jónsi's compositions, so many of the songs that he's written live with a silence built in, so you feel things, you breathe with the music. It was pollinating that Hawaiian feeling with a little bit of the California style of open tuning with this Icelandic style of Jónsi and Alex, of the same thing – music that breathes and lives in your heart and isn't selling you anything. It's just wrapping its arms around you. It's environmental music. It makes you feel a certain way. Nobody's telling you how to feel, you just feel it. And that was the sound I wanted for the movie."


Aloha
Release Date: June 4th, 2015