Chris Pratt Guardians of the Galaxy Vol. 2
Cast: Sylvester Stallone, Chris Pratt, Zoe Saldana, Bradley Cooper, Karen Gillan
Directors: James Gunn, Aaron Schwartz
Genre: Action, Sci-Fi
Rated: M
Running Time: 136 minutes

Synopsis: From Marvel Studios, the studio that brought you the cinematic global blockbuster franchises of 'Iron Man," 'Captain America," 'Thor," 'Ant-Man," 'Doctor Strange" and the 'Avengers," comes the highly anticipated sequel, featuring the world's favorite band of intergalactic misfits"the Guardians of the Galaxy.

Picking up where 'Guardians of the Galaxy""2014's highest grossing film of the summer"left off, Marvel Studios' 'Guardians of the Galaxy Vol. 2" continues the action-packed, irreverent, epic space adventures of Peter Quill aka Star-Lord and his gang of eccentric characters as they patrol and protect the universe, doing mercenary work in the wake of the popularity and fame they garnered from saving Xandar.

Set to the backdrop of Awesome Mixtape #2, the story follows the team as they fight to keep their newfound family together while traversing the outer reaches of the cosmos to unravel the mysteries of Peter Quill's true parentage. Old foes become new allies and fan-favorite characters from the classic comics will come to our heroes' aid as the Marvel Cinematic Universe continues to expand.

Guardians of the Galaxy Vol. 2
Release Date: April 25th, 2017



About The Production
From Comic Book To Box-Office Hit

Created by Arnold Drake and Gene Colan, the 'Guardians of the Galaxy" were introduced in 1969 as a team of heroes in the 31st century"each member the last of its kind. With the phase two expansion of the Marvel Cinematic Universe, 'The Guardians of the Galaxy" was the first franchise introduced outside of the core Marvel cornerstone characters. The film was also a dramatic departure in tone and style from any previous Marvel film franchises.

Looking back to the development of the franchise, Kevin Feige acknowledges it wasn't always an easy sell. 'A number of years ago we were saying that we wanted to do a space movie," he says. 'And looking through the books, we realised we had this great group of characters that had been re-formed in publishing recently called the Guardians of the Galaxy and what an outrageous grouping of people it was"most outrageously that one member was a tree and another member was a raccoon."

Continuing, Kevin Feige adds, 'I took a lot of joy in pitching that to people who had never heard of it.

But it took a huge leap forward when we hired James Gunn, who initially wondered what we were talking about, and then drove home and thought about it more and tapped into his love of these kinds of movies, his love of little animals and his love of characters."

When they met again, James Gunn was 100% on board with the project. 'He rewrote the script, did a new outline and added some songs," Kevin Feige recalls. 'And we knew we had something even more special than we were anticipating, and the audience responded to that. The film came out and was the success that it was. It was great because that really proves the point of you don't have to have ever read any of these comics. You don't have to even ever have heard of any of these comics."

Kevin Feige was convinced that 'if we deliver the movie, that's all that matters. We knew even before the film came out that we were feeling very good about it and that the buzz was very good. And we knew the film delivered."

When the uniquely creative and original film was released in the summer of 2014, 'Guardians of the Galaxy" became a worldwide box-office sensation, with audiences warmly embracing the eccentric cast of intergalactic characters.

Writer/director James Gunn recalls his reaction to seeing the characters being propelled into the pop-culture zeitgeist. 'It was truly gratifying and fulfilling that the Guardians' characters spoke so profoundly to so many people all over the world," says James Gunn. 'At the core of the film, the Guardians are a group of outsiders who come together and find a way to make it work. I think that's what speaks to such a wide array of people. It's a great feeling when kids come up and say they loved the film and that their parents and grandparents loved it as well. These characters were able to connect to all generations around the world from Thailand to South America to London."

Creating the Story

Postproduction on the 'Guardians of the Galaxy" helped to provide director James Gunn with the roadmap to find the story in 'Guardians of the Galaxy Vol. 2," particularly when it came to audience reactions during screenings. The way audiences responded to the different elements of the first movie gave filmmakers a leg up in terms of story direction for -Guardians of the Galaxy Vol. 2."

'I knew where I wanted the story to go before the first film was out in theaters," explains writer/director James Gunn. 'I knew what the general shape of the sequel was going to be, but the one thing I had to figure out was if I was going to tell the story of Peter Quill and his father as Volume 2, which I thought was the big reveal or save it for a later time. Ultimately I decided that it was the best story I have in hand right now and went with."

The 'Guardians of the Galaxy" successfully introduced the world to an eccentric group of selfish, self-interested, un-superhero like characters who are thrown together with the task of saving the entire galaxy. For 'Guardians of the Galaxy Vol. 2" director James Gunn was tasked with delivering a story that continued not just their exploits, but their evolutions as characters as well. When James Gunn delivered his initial treatment for the story, it was a hit with his fellow filmmakers.

'What I loved about James Gunn' vision for the film was that it was everything you love about the film"the characters, the humor, the action, the music"but it also evolved the story and franchise in a really interesting way that felt completely organic," says executive producer Jonathan Schwartz. 'Every character is a different person at the end of the story than they are at the beginning. So keeping the characters moving forward keeps the franchise moving forward in a really honest way which is what made it really interesting to us."

'I think one of the big advantages that James had the second time around was that he could write the script specifically for all of the actors' voices," adds executive producer Nikolas Korda. 'On most films you are not sure who is going play what when the script is in the development phase. Going into this film we knew almost all the characters' voices and rhythms, what worked and what didn't in the first film. So that really allowed James to dial the story in very early on and play to the strengths of all the actors in the film."

And now what can fans expect from the highly anticipated sequel's storyline? Producer Kevin Feige gives some hints: 'When we started turning the wheels on a sequel, there were some very obvious clues at the end of the first film where the storyline could go. Peter talks about his father. Glenn Close, Nova Prime, tells us something very ancient, very unusual. Yondu tells us that he purposefully did not deliver Peter to his father. So James went back and started to work on where that would take us in a storyline. And it takes us to a place where we meet the Guardians only a few months after the events of Guardians 1.

'We meet them in the midst of a job, and we introduce some new villains. And more importantly we introduce some new heroes, most importantly Mantis, who is an amazing new addition to the Guardians. Returning characters Yondu and Nebula play surprising new roles in the film, and we continue to deepen the relationship between Peter Quill and Gamora, which we'll see more of.

'Also we further the evolution of Rocket, who is not the nicest raccoon around, but who certainly has a begrudging loyalty to his team. Then we meet a new version of our beloved Groot who has crawled out of the little pot that we saw him dancing in in the first film and now is our new Baby Groot for this film," Kevin Feige concludes.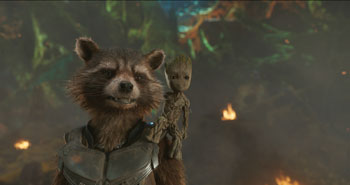 The Cast of Characters Return

As the cast returns to inhabit the colorful, unique, dysfunctional Guardians characters, there is a new dynamic. The first movie was about becoming a family and 'Guardians of the Galaxy Vol. 2" focuses on being a family. As James Gunn explains, 'This movie is about all of the characters being a family. And being a family is a lot more difficult than becoming a family. It's a much more complicated story. In the first movie, a bunch of characters are outsiders. They come together. But where does that leave them?"

And that's exactly what audiences will discover as the characters' relationships unfold, starting with Peter Quill aka Star-Lord, who faces a family issue that he is compelled to resolve"his true parentage. Chris Pratt reprises the role that propelled him into Marvel fandom and leading-man status.

Chris Pratt
Having now saved the galaxy once, the half-human intergalactic adventurer known as Star-Lord is newly famous and keenly aware of it. When the Guardians' newfound notoriety brings Quill's long-lost father back into his life, his bond with the other Guardians will be put to the test.

On casting Chris Pratt as Star-Lord/Peter Quill, James Gunn says, 'When I was auditioning StarLord the first time around I was looking for somebody who'd come in, do everything that was on the page, do it well, do it in a funny way, but also give that a little something extra that made Peter Quill a little bit of a different character. And Chris Pratt came in and did that immediately. Chris Pratt is a very unique movie star in that he is a combination of being a big, masculine guy but also a very vulnerable guy. He has a vulnerability that the classic movie stars hint at, whether it's Humphrey Bogart or Gary Cooper. Chris Pratt really brings that to life on the screen, and I think that's what makes him a truly modern-day movie star."

For Chris Pratt, 'Guardians of the Galaxy" afforded him the vehicle to showcase both his comedic and physical talents in a way that he had not been able to do on film. 'What appealed to me the most about this character was the opportunity to add my own personal brand of humor into it," comments Chris Pratt. 'This was something that I knew I could do that was unique to me, and I had been dying for an opportunity to do that. I wanted to do something that was both comedic and physical. This role is a comfortable space to do that. What is so exciting to me is that I can just do the best version of my best stuff with Star-Lord."

Describing where we find Peter Quill in the new story, James Gunn relates, 'As you know, the first -Guardians of the Galaxy' is about Peter's relationship to his mother and coming to terms with that. The second movie is about Peter Quill's relationship to his father and his other fatherly figures. Yondu is obviously a fatherly figure to him. And then he meets his actual father, Ego, played by Kurt Russell, who is in a lot of ways everything he wanted. He is coming to terms with things. His feelings of abandonment, how he feels about his real father's life, which is very different from his own, etc."

Chris Pratt offers insight on the importance of Peter's quest to find his true parentage. 'Quill is desperate to know who his dad is and dreamed his whole life that his dad was somebody special, somebody important, somebody cool," says Chris Pratt. 'So when Quill finally meets his bigger-than-life father, who's been searching for him, it fills this giant void that he's had in his heart his whole life."

In the course of the film, Quill finds himself reexamining his relationship with Yondu as well. 'Of course, he's always looked at Yondu, who abducted him, as being the guy who threatened to eat him or was hard on him," Chris Pratt says. 'But he learns through the course of this film that the relationship is more of a father/son dynamic than he could've ever expected to get from anyone else."

And what can audiences expect from the evolving relationship between Quill and Gamora? Chris Pratt hints, 'There is chemistry there and an attraction and this second movie doesn't ignore that. It picks up where it left off. We realize that there is something more going on between Quill and Gamora than any of the other Guardians know, or any of the audience has ever known."

He adds, 'Gamora's not the most vulnerable person and not super open to being vulnerable. So Quill is trying to get her to emote and to express her feelings. Through the course of this movie, that happens, and we get to see that relationship come together in an amazing way."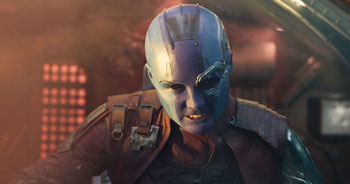 Zoe Saldana
Reformed assassin Gamora hopes that her heroic deeds with the Guardians will help her atone for the sins of her past. Gamora must grapple with her own demons and the consequences of her flight from Thanos' employ when confronted by her adoptive sister Nebula.

Zoe Saldana returns to the role of the deadly, green-skinned assassin Gamora, another character dealing with family issues related to the fact that her adoptive father is Thanos and her sister is Nebula. 'In the first film, it seemed like Gamora was a good person and Nebula was a bad person and almost a villain of sorts," explains executive producer Louis D Esposito. 'In this movie we learn it's a much more complex relationship than that. Gamora's beginning to come to terms with her own sins, her own fears, and her own way of pushing people away, which is really what this movie's about."

'Gamora is surrounded by these idiots, the Guardians of the Galaxy, who are making her life very difficult," adds James Gunn. 'She loves them. She knows she loves them. She's aware of that. But then she has one guy, Peter Quill, who's saying he's in love with her, which she's not that comfortable with. The boys are fighting constantly, and they're all a pain. She doesn't have any female companionship. She's in a spot, since it's only a couple months after the first movie, where they're all having growing pains and sophomoric moments in their relationships. Then she comes face-to-face with her sister Nebula at the beginning of the movie. For Gamora there's an emotional part of this. She has a fair amount of spite for her sister and on the other hand her sister says she just wants to kill her. And that is where we start Gamora's story."

Zoe Saldana explains her character's arc in the new film. 'In the first -Guardians' she's on a mission to be free or die because she's over it. There's a selfish essence to her, and it makes prerogative very personal. Versus like in this one, she's on a path of redemption, so she wants to be very present in trying to do good. And that also means, on a very personal and uncomfortable level, that she has to try to just let go of whatever animosity existed between her and her sister."

'The challenging part of Gamora's evolution is getting to that place as an older sibling of accepting and being the one to let that younger sibling know their true powers," adds Zoe Saldana. 'So that's part of her arc in trying to make peace with her sister is a part of her redemption because she is starting to realize that she is the only family member she'll ever know, and she's worth the sacrifice, work and the pain."

Dave Bautista
Having taken his revenge on Ronan for the death of his family, the taciturn warrior Drax is now a stalwart member of the Guardians. While Drax's friendship is never in doubt, his literalminded nature can make him a less-than-ideal teammate. Drax still has a lot of learning to do, even as the desire for more vengeance burns within him yet.

Dave Bautista is back as the physically intimidating, tattoo-covered Drax. Drax is a complex character who is as menacing as he is lovable and is blissfully unaware of his extreme literal nature in perceiving the world around him. 'I think that we know very clearly that Drax is not very good at picking up on social cues," reminds James Gunn. 'He doesn't quite understand what everyone around him is talking about all the time. He finds amusement in things that he should not find amusement in. But I think at the beginning of the movie, in a lot of ways, Drax is the happiest member of the Guardians of the Galaxy. He finds everything funny but he can be a little bit mean-spirited."

Dave Bautista explains where we find Drax now and what to expect from him this time around. 'We pick up not too long after where the last movie left off, says the actor. 'So it's not too far in the future. But in this one you definitely get to know Drax a little bit more. He's more visible in this film and has a lot more of the witty dialogue.

He adds, 'It's so great because Drax is the vehicle for James Gunn's twisted, witty sense of humor. I love when I'm shooting and delivering stuff that I can hear James off in the distance laughing because I know that it is what he wanted. That it is what he was expecting out of the dialogue that he wrote. That in itself makes me feel really good because I love giving him what he wants."

In the film, Drax develops a friendship with a new character, Mantis, played by Pom Klementieff. 'It's hard to think that Drax would have some innocence to him but he really does, and it comes out in this film," Bautista relates. 'That's in the connection he has with Mantis. There's a lot of innocence in both characters. They're almost like two kids who find each other and become playmates. They just connect on a certain level that they can't connect with anybody else. They're both suffering from some pain and learning new things and new feelings, new experiences. They're going through that together and that's where the connection is."

According to Bautista, there is much to like about his character. 'What I really love about Drax is he's not what you'd expect from reading the comics," says Dave Bautista. 'Everybody was expecting one thing, and we gave them another. It makes it more interesting. It's easy just to be the big guy who's always growling at people and intimidating people. We've seen it a million times. But when you get the same guy who looks the same way but just says the most ridiculous things that make you laugh, it makes him more interesting. And he's also got that side to him that's just all heart. He's still heartbroken over the loss of his family. And I love that dynamic, man. I love playing with that. It's challenging. It makes it's interesting. It makes the character loveable and it makes people connect to him."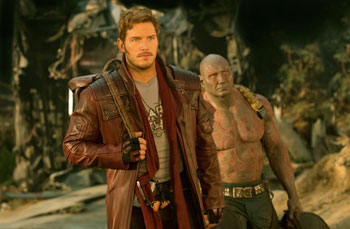 Bradley Cooper (Voice)
The cybernetically and genetically augmented mechanical genius/woodland creature known as Rocket is an invaluable, though sometimes reluctant, member of the Guardians. With his best friend Groot now just a sapling, Rocket is uneasily thrust into the role of caretaker. He may yet prove to be the heart of the Guardians if his less sociable impulses don't drive the team apart first.

When it comes to voices, James Gunn knows Rocket's better than anyone as the director has many times professed that there is a little bit of himself in the character. Rocket, a tortured little beast who's been torn apart and put back together, is still incredibly funny and heartfelt at times, particularly as voiced again by Academy Award® nominee Bradley Cooper.

Four-time Oscar® nominee Bradley Cooper is delighted to be back to voice the frenetic, cybernetic Rocket in Marvel Studios' 'Guardians of the Galaxy Vol. 2." 'Initially, the thing that got me excited about the movie was completely James Gunn," Cooper says. 'We talked about it, and he had this idea for who Rocket could be. And it was his excitement and his vision that really inspired me and continued to. I'm so happy that we're doing a second one."

Cooper acknowledges that both he and the filmmakers learned a lot about Rocket from doing the first movie and following the character's journey. 'We have a better understanding of who Rocket is," Bradley Cooper says. 'With the technology evolving, I think also the character has evolved. That's been a fun process to be a part of. I'm just a small part of Rocket"so many people go into who Rocket is."

Explaining where we find Rocket in the new film, Bradley Cooper says, 'Rocket is the forever martyr. But he has a pack now. It's not just Groot and him. So he's got other people to contend with and harmonize with and battle with. I think at the end of the first one you just can't wait to see how this dynamic is going to play itself out."

'Of all the Guardians, Rocket has the furthest to go in terms of personal development," explains executive producer Jonathan Schwartz. 'Over the course of movie he learns that being a jerk all the time may not be the best thing for him. So in that way, Rocket has the most emotional maturation to go through over the course of the film. This is embodied by his relationship with Groot as he is now Groot's caretaker even though he's not great at it."

Vin Diesel (Voice)
After Groot made the ultimate sacrifice, Baby Groot was born from his splinters. Although completely adorable, he struggles with anger issues and has a love/hate relationship with the other Guardians. He may need to grow up quickly to prove his worth.

A scene stealer in 'Guardians of the Galaxy" with only the same three words of -I am Groot,' was the wise, old, talking humanoid tree creature Groot, voiced by Vin Diesel. Despite his unique appearance and extremely limited communication skills, Groot embedded himself in the heart of audiences around world with just those three little words. A valuable ally and a loyal friend to Rocket and the Guardians, the character makes the ultimate sacrifice and returns in the sequel as a baby Groot.

Voiced again by Vin Diesel, the little Groot is a totally different character. 'He doesn't have the memories of adult Groot and he is a baby," explains James Gunn. 'He's completely adorable, but has a lot more anger issues than adult Groot did. All of the other characters react to Baby Groot in different ways. Drax doesn't like him. Rocket yells at him a lot, but he is okay with him. Gamora definitely has motherly instincts towards him, and Quill barely acknowledges his existence." The director continues, 'They all have different reactions to what is basically a child in their midst and how they deal with that. Baby Groot wants to prove himself and be part of the group. He tries to learn how to do that throughout the process of the movie."

Describing Groot in the new story, Vin Diesel says, 'We're seeing Groot's transformation. Just to be a character that could regenerate is already cool but to be able to chart that over multiple pictures is super cool. I don't think we have seen the full-fledged Groot yet. But to see this resurrection and watch this character regenerate itself and go through the various stages of development is fun for us to watch as an audience. It's going to be a real fun ride with Baby Groot. It's such a cool thing to be able to breathe life into such a unique character like Groot and through his story audiences can see the different stages of this character. This film represents the toddler stage of this incredible and fascinating character Groot."

All of the Guardians watch out for Baby Groot but Rocket is definitely his primary protector. 'That's what's so endearing about Rocket and Groot's relationship," Vin Diesel says. 'I think their relationship is one of the best combos we've seen on film. And I think Bradley Cooper does such a great job voicing Rocket."

According to producer Kevin Feige, the ending of the first film came from the comic books where Groot is implanted in a little pot and is a little version of Groot, so making Rocket his caretaker and protector was a natural fit. 'We always thought that if we got to do another one of these movies, it would be funny to flip it," the producer says. 'Rocket is tiny compared to Groot in the first film. He sits on Groot's shoulder when he fires the machine gun. Groot is very protective of him. How fun would it be to flip that in the next film? We talked about that on the first movie a little bit and when James Gunn went off and came back with an amazing, very lengthy treatment for this movie, he nailed it in terms of Baby Groot and in terms of that new dynamic between Rocket and Groot."

For Zoe Saldana and her cast mates, seeing how cute and adorable the diminutive Baby Groot is, made it easy to see how the character's popularity will continue to rise. 'I can already hear the audiences say -aww' every time Groot comes on the screen," laughs Zoe Saldana. 'I can just hear the -awws' like 70 times during the movie. Mark my words. We can bet money."

As to what audiences can expect in the sequel, Diesel offers, 'James Gunn was really successful in taking this off-planet comic world and creating this family of misfits in a really great way. And I think he delves deeper into that this time. We learn a lot more about Peter Quill. There are strong father/son themes that are played out in this story as well as sisterhood themes that are played out."

Michael Rooker
Since being outfoxed by Peter Quill, the unscrupulous Yondu Udonta's control of his band of marauding Ravagers is tenuous at best. After one concession too many, Yondu must fend off a mutinous challenge to his leadership and fight alongside the Guardians of the Galaxy to reclaim his Ravager honor.

While 'Guardians of the Galaxy Vol. 2" chronicles the journey of Peter Quill following the discovery of his biological father Ego, it also is the story of his adopted father Yondu, played by Michael Rooker.

'The character of Yondu is an extremely important one and we laid a lot of track in the first film in terms of who Yondu was," explains James Gunn. 'I have a fascination with multifaceted characters who are good in certain ways and bad in other ways. Michael Rooker is the best at playing that type of character because you don't know if he's going to punch you or if he's going to hug you and that's a beautiful thing. He brings that dynamic to life in Yondu, who is crazy, but also has quite a soul, which we saw at the end of the first movie when he was ripped off by Peter Quill, but he was proud of him. In a lot of ways, Peter Quill and Yondu's friendship is the central relationship of this movie."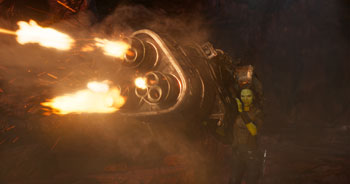 Explaining where we find Yondu at the beginning of the film, Michael Rooker says, 'Yondu has his hands in everything! His whole career has been set on making money and growing his Yondu Empire, so to speak. But, we as viewers come to find out that some of the things Yondu has done are coming back to haunt him. Star-Lord's real father, who we see is back in the picture, may pose an issue to Yondu in the future."

As fans of the franchise know, the relationship between Yondu and Quill is very complex. 'It's somewhat of a father/son relationship, where we don't agree on things," offers Michael Rooker. 'When the movie opens, we haven't seen each other in a few months, so our relationship is very intense and conflicted, to say the least. They are constantly at each other's throats. Of course, we find that there are deep-rooted feelings for one another that exist and eventually that comes out in our storyline. You discover that Yondu truly cares about this kid."

With Yondu's expanded role in the film the character is much more defined and explored, which was something Michael Rooker was pleased about. 'In this one, James [Gunn] wanted people to experience more in-depth what Yondu was thinking and how he's feeling"a more serious Yondu. There are things from Yondu's past that audiences find are much darker and more sinister; those feelings and emotions are rearing their heads and affecting Yondu."

When work on 'Guardians of the Galaxy Vol. 2" came to an end, Michael Rooker admits it was a 'real downer." 'I really had such an amazing time with everybody' he says. 'It was one of those movies that you wish would go on forever. I loved going into work and couldn't wait to get on set. I couldn't wait to get in, put on the Yondu makeup, see my friends, work on the movie, and make it great."

Karen Gillan Last seen fleeing from the battle over Xandar, the galactic fugitive and cybernetic warrior known as Nebula still harbors a deeply-seeded grudge against her adoptive sister Gamora. When the two cross paths once again, Nebula sets out to extract revenge.

Another character with a much bigger role in the film is Gamora's adversarial sister Nebula, played by Karen Gillan. A supreme bad-ass, Nebula will not rest until she has destroyed Gamora and anyone or anything that gets in her way.

Director James Gunn speaks on the character's evolution from the first to second film. 'At the end of the first movie, we see Nebula very distinctly decide that everyone around her is crazy, says Gunn. 'This is her own reaction to knowing other people. She decides Gamora's crazy, Ronan's crazy, Thanos is crazy. We know she hates Thanos. We know she wants to kill Thanos in the first movie. And she just detaches herself from it all. We pick it up when we find her a few months later and life has not been good to her."

Continuing, he adds, 'She has a crappy claw hand, in replacement of her hand that she had before. She's in tatters, her clothes are bad, and she's been caught trying to steal some batteries for money. So she hasn't done too well for herself. In a way she's like somebody who's just moving away from home for the first time and doesn't have their support base anymore. There was always something about Nebula that's been like the 13-year-old Goth girl at heart. She's rebellious and unnecessarily surly at times."

For Karen Gillan, playing Nebula in the first 'Guardians of the Galaxy" film was rewarding as she got to explore the characters intense dark side and villainous ways. When she received the script for the second installment she was pleased with the development of her character. 'When I read the script, I was just so excited because she has a much bigger role, and we get to understand her much more," Karen Gillan says. 'She's just become a more layered, interesting character."

There is no doubt in that Nebula was a bad guy in the first 'Guardians of the Galaxy" film, but Karen Gillan admits, 'That's what I love about her, to be honest. I love that she has this real dark side, and I get to explore that, which is really cool. In terms of the second film, she's still a bad guy. But we're going to get to understand her motivations for being a bad guy a little bit more."

Elaborating, she adds, 'I feel like Nebula's a little misunderstood, like a lot of villains. She's a bad guy, but she has a real valid reason for it and it's because of an even bigger bad guy, Thanos. She has so much pent-up anger and so much sibling rivalry inside of her that is just bursting out. I just feel really sorry for her, actually. Whenever you're playing a villain, you have to become their lawyer and understand why they did the things that they did and sort of justify it. And through doing that, I really began to care about her. I think she's a great interesting character."

During the production of the film, when asked which actor is the most different from the character they play, the immediate response from the cast and crew is Karen Gillan. Upbeat, jovial, silly and periodically clumsy off the set, Karen Gillan is able to flip the switch and turn into one the fiercest characters in the Marvel Universe. 'In the first one, Karen had a few lines and a couple little funny things she had to do, and that was it for Nebula," says James Gunn. 'In this movie she has an incredibly key role. It is as much Nebula's story as it is Gamora's story. So, I needed to make sure Karen would be fully Nebula in this one. And she brought it. She really, really brought it. She's an exceptional actress. In real life, Karen Gillan is a total goofball. I say -Hello Kitty' off screen, but Clint Eastwood on. When she transforms, it's instant; she just goes there instantly. It's a cool thing to see."

Kurt Russell Peter Quill's long-lost father Ego is a celestial being and intergalactic explorer. Finally reunited, Ego forms an instant fatherly bond with his son and begins making up for lost time by recruiting Peter for his most important mission yet.

Kevin Feige and Marvel Studios' approached the casting of 'Guardians of the Galaxy Vol. 2" by following their unique style. 'Casting for us is never about just name value or marquee value. It's about who we think could bring something fresh and unique to the Marvel Cinematic Universe. Who could embody this character?" explains Kevin Feige.

And that thinking led them to Kurt Russell to play Ego, Peter Quill's long-lost father. 'In the case of Ego, Quill's father, it's a very unique character," Kevin Feige says. 'You want the audience to have the same sort of rush as Peter does when he learns who it is. So when you have Disney legend, film icon Kurt Russell step out of that ship and announce himself to Peter, even when it was just a green screen on a small set on a sound stage, it was a chill-inducing moment. And that's why you get Kurt Russell."

For veteran actor Kurt Russell, the decision to join the cast of Marvel Studios' 'Guardians of the Galaxy Vol. 2" was a process that he enjoyed. 'After I read the script, I watched the first movie," Russell says. 'I remember that six or seven minutes into the movie, Chris Pratt is walking along. Then the music starts up, and he kicks off one of those alien rats or whatever they were. And I immediately liked the movie. I liked the atmosphere. And I liked his character." He continues, 'I began to see things that reminded me of some things in the past that related to things that I had been involved with and characters I had played. Then as I watched it unfold, I got it. I read the script again and began to look at it and understand what was being asked. I started looking forward to it because I thought it was going to be an interesting project. There was a father/son relationship here that I thought was very relatable and very interesting that 20, 30 or even 40 years from now will sustain more than just the entertainment value of what the viewer is watching."

The casting of Kurt Russell to play Ego was exciting for Chris Pratt, who says, 'When I found out that Kurt Russell was playing Quill's father, I was just thrilled. It was like sitting at the poker table with a great hand and then getting another ace dealt to you. It was just perfect casting and it couldn't have worked out better. On top of the fact that he's an exceptional actor, he's also a really great guy."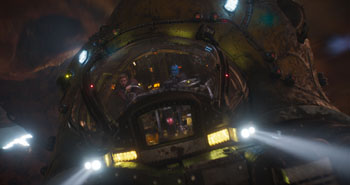 James Gunn explains the character's backstory. 'Ego is an intergalactic adventurer in his own way who has gone to many different worlds and many different planets and had his own kind of adventures, not dissimilar to what the Guardians have gone thorough. He also has been looking for his son for a very long time and he wants a relationship with him in the same way that Peter wants a relationship with his father because it fills this giant void that he's had in his heart his whole life. Since he was a child, Peter has carried around a photograph in his pocket of David Hasselhoff, which he told the other kids at school was his dad. Yondu of course was supposed to deliver Quill to Ego and didn't for some reason and audiences are going to see the reveal behind that mystery."

Working with writer/director James Gunn was a positive experience for Russell, who says, 'It's always fun when you're working with somebody who is the writer of it, who really understands it better than anyone ever will. I have been fortunate, as I have had many opportunities to do that with directors/writers/filmmakers who were creating their stories. And James Gunn is that guy. He knows it completely. You can always ask. You can always question. You can always create with him, corroborate, collaborate, do all of those things. But the reason you can do it comfortably is because he's the father of it. It's his baby. And it's fun to be a part of the world that James Gunn is creating here. It's really cool."

Pom Klementieff A strange insect-like alien, Mantis was raised alone on Ego's planet. Mantis' empathic abilities help ingratiate her with the Guardians, who may not be the best examples of refinement and socialization.

To cast the role of Mantis, the filmmakers auditioned many actresses and ultimately decided on Pom Klementieff, who takes on her biggest role to date. 'We auditioned a lot of actresses for that role," James Gunn says. 'We had four actresses screen test and each of them was completely amazing. Pom Klementieff just happened to be the best in terms of being very emotional, which the character has to be. That by her nature is her super power, so to speak. She is an empath."

Gunn explains why he decided to have the popular comic book character cross over into the Marvel Cinematic Universe. 'I like the character Mantis quite a bit in the comics. I always thought she was an interesting character, the celestial Madonna. The act of creating Mantis was a great one as I felt that character quite a bit. I wanted to add a female character who as goofy and silly and strange as the other male characters, namely Drax and Rocket and Groot, who are all just goofballs. I wanted to have a female character that had that same oddness as those other characters."

For Pom Klementieff, getting the part of Mantis in Marvel Studios' 'Guardians of the Galaxy Vol. 2" was the beginning of an exciting experience. 'When I had the audition, I had no idea how big the character would be and that it would be a really fun and moving and special character," the actress says. 'She makes me think of a kid who had a difficult and lonely upbringing and then meets people who open a new world to her. It's a beautiful arc for the character."

Describing Mantis, Pom Klementieff says, 'Mantis is an alien; she has some insect elements in her. She grew up pretty much on her own and hasn't had much interaction with people."

But over the course of the movie, Mantis develops a friendship with Drax, played by Dave Bautista. 'I think they get along because they both have a weird sense of things, and they don't really have the same sense of humor that everyone else has," the actress comments. 'I think what is interesting is that they're just friends. There is nothing romantic about it. They just get along."

Mantis is an empath and in the first scene that Pom Klementieff shot with Drax, a moment is shared that impacts Mantis. As Pom Klementieff explains, 'When they talk and when she touches him, she sees what he went through in his life and the people that he lost. She feels all that, and she is really moved by it. It just changes her perception of the world when she understands how someone can love someone else."

On set, Pom Klementieff worked closely with Kurt Russell, who plays Ego, and she found that working relationship to be very rewarding. 'Kurt Russell's amazing and really funny," says Klementieff. 'He's generous, down-to-earth, and really easy to work with. We had a great time. It's amazing to work with a legend. We hung out when we were not working, and he taught me how to play Pétanque, which is a French game. It's inspiring to work with people like that who are amazing actors and who are also good people."

Elizabeth Debicki
The high priestess of a genetically perfect and singularly arrogant alien race known as the Sovereign, Ayesha hires the expendable Guardians to protect her planet and citizens from an interdimensional menace"a decision that very quickly backfires.

For the part of Ayesha, the filmmakers chose the stunning and beautiful Australian actress Elizabeth Debicki, whose 6'3" frame was perfect for the leader of a planet of beautiful beings. James Gunn explains why Elizabeth Debicki was the obvious chose to the play the role. 'When I first wrote the role, I was very specific in the way that Ayesha was written," says the director. 'Our casting director, Sarah Finn, read the role and suggested Elizabeth Debicki. I didn't know who she was but when I looked up pictures I thought she looked great. Elizabeth Debicki came in for an audition and I knew right away that she was the one. I'm usually not like that but she was Ayesha."

Elizabeth Debicki admits that she was 'ecstatic" when she learned that she was tapped for the role of Ayesha. 'I completely didn't expect it," Elizabeth Debicki says. 'I loved the first movie. I thought it was hilarious and clever and heartwarming. And I loved the characters. I had spoken to James Gunn a few times. He's a lovely man and a brilliant director, so I was just so happy to be involved."

Describing her character, Elizabeth Debicki says, 'Ayesha is the high priestess of the Sovereign planet. She's a very powerful woman within this planet. She runs everything with an iron fist. Her people are a genetically engineered race of aliens, and they're all gold and perfect and wanting to be physically and mentally impeccable. Ayesha has hired the Guardians to protect the planet's precious batteries from an interdimensional beast."

The contrast between the perfection of the Sovereign people and the rag-tag Guardians creates an interesting dynamic between peter Quill and Ayesha. Elizabeth Debicki explains, 'Because the Sovereign think they are so superior, they're highly judgmental of anyone. Everybody, as far as they're concerned, is sort of inbred and disgusting and filthy and sort of scraping the barrel. The great thing about the interchange with Quill is that Ayesha's intrigued by him, but she's repulsed by him at the same time. Even though she feels that they're inferior and disgusting, she still thinks he's really good looking. That leads to an interesting exchange."

Ravagers

In 'Guardians of the Galaxy Vol. 2," the apocalyptic, cutthroat world of the Ravagers comes front and center. Writer/director James Gunn explains why he decided to explore the dynamic and memorable characters more extensively in the film. 'I thought there were so many things about the Ravagers in the first film that we left untouched and on the cutting room floor," reveals James Gunn. 'The Ravagers are a pretty worked out universe that includes hundreds of factions that are very different from each other. It's a different sort of culture and they are pretty cutthroat and place a high value on strength over any sort compassion or weakness of any type."

While Yondu is one of the most feared and respected Ravagers, his right hand man is Kraglin, a loyal and lifelong Ravager. 'Kraglin is Yondu's first mate," says Sean Gunn, who plays Kraglin. 'In the first film he did a lot of just saying yes and being at Yondu's side, but in this movie things take a little bit of a different turn as Kraglin has a little bit of a crisis of conscience and has to decide whether he's going to stick with Yondu or join forces with the growing faction of mutineers."

For Kraglin and the other Ravagers, the driving force leading the uprising against Yondu is Taserface, a physically menacing character who is mean and nasty to the core. The filmmakers looked at many talented actors before casting actor Chris Sullivan.

Sullivan gives his take on the character: 'Taserface is one of Yondu's enforcers and space bounty hunters. He is one of the many in his army who don't like the way that things are going and decides to take it upon himself to lead a little mutiny against Yondu. He has a growing legion of followers who want to make the money and do the job they've been sent to do in delivering Peter Quill and collecting the bounty."

In addition to the new character of Taserface, writer/director James Gunn has introduced other new Ravagers into the fold. 'We have a lot of new Ravagers and we get to see a much more of them and their universe this time around," explains James Gunn. 'We have Tullk who's played by Tommy Flanagan. Tullk and Kraglin are Yondu's right hand men and closest friends."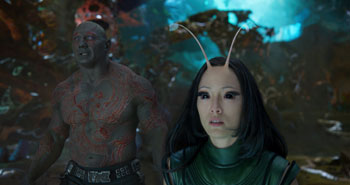 For screen veteran Tommy Flanagan, landing a role in the film was thrilling for the actor and Marvel fan. 'I'm a big Marvel fan and the first -Guardians' was definitely my favorite because of the humor and the fact that they're not Super Heroes," explains Flanagan. 'Tullk is a cool character and as far as Ravagers go, he's a good guy and loyal to Yondu."

Another addition Ravagers is Stakar, played by Academy Award® nominee and legendary screen actor and director Sylvester Stallone. A much anticipated addition to the cast of 'Guardians of the Galaxy Vol. 2," the filmmakers were thrilled to have the beloved Hollywood icon as part of the film.

'Having Sylvester Stallone in the film was a little daunting," admits James Gunn. 'He was an iconic part of my childhood and I used to run around in my back yard pretending I was Johnny Rambo. I must have watched -Rocky' fifty times."

For Stallone, working in the Marvel Cinematic Universe was a whole new world that he was impressed by the minute he walked onto the set at Pinewood Studios. 'I loved the first -Guardians' film and thought it was a breakthrough because it was a real cross-pollination of all kinds of humor and physical activity and unusual sci-fi characters," says the actor. 'I was really excited to be part of this film and my first scene was shot on the most fascinating set I've ever seen. It's certainly the most entertaining set I have been on in long time, I didn't even go back to my trailer between set ups, I was just sitting around and looking in amazement at all these different creatures and characters."

A lifelong respected Ravager, Stakar isn't fond of Yondu. Sylvester Stallone offers the character's back story: 'Stakar had banished Yondu many years earlier for doing something wrong and he finally sees him almost twenty years later at this particular establishment called the Iron Lotus where all of the Ravagers go to blow off steam. And then we have a confrontation which is pretty intense and it's kind of a father/son type of thing and now he's going to have to pay the piper. His karma has come back ten-fold."

Putting the Ravagers together was especially fun for Gunn who also wound up casting his friends to play parts. 'It's fun because all my friends are playing Ravagers," says Gunn. 'Jimmy Urine plays Halfnut. He is one of my best friends who I hang out with all the time. Steve Agee, who plays Gef, is one of my best friends in the world. Stevie Blackehart, who plays Brahl, is actually my best friend in the world. And my friend Evan Jones plays Retch."

Gunn adds, 'So it really is a group of people I've known for a long time who've stepped into these roles and I think it's really important that we have this big group of Ravagers. But within that group there are many characters who stand out with just with a line or a look and that was important to me because I went in to this film with the credo that every character matters and there are no throwaway roles or moments in the film."

Talented Laura Haddock rounds out the cast as she returns to play Peter Quill's mother, Meredith Quill. And last, but not least, director James Gunn's dog has a cameo. Again.

Creating The World

While the first 'Guardians of the Galaxy" was shot entirely in the United Kingdom, the filmmakers shifted the production base to Pinewood Atlanta Studios, in Fayetteville, Georgia, for the sequel. The studio, with its 18 stages, has become the largest studio complex in the United States outside of Hollywood.

'We shot the first Guardians in England, but because Pinewood Atlanta has so much soundstage space, we were able to have the entire production base on the lot," says James Gunn. 'For -Guardians of the Galaxy Vol. 2' we needed very big soundstages because our sets are very large, even though a lot of the film is CGI. I like to have as many practical sets as we can and make the environments as real as possible so it balances out the CGI elements. Pinewood Atlanta is a fantastic facility and it was a great advantage for the production to be able to house everything under one roof."

For Chris Pratt, shooting in Atlanta has become old hat as he has shot three films on the studio lot in the past two years. 'Atlanta's where it's at," says Pratt. 'Everybody's been really nice. I'm totally seduced by the southern charm. The hospitality really speaks to me. I love the people. And I love the outdoor activities that you can do on your days off, whether it's golfing or fishing or getting out in the wilderness. Pinewood is amazing. These facilities are brand-new, state-ofthe-art."

Director James Gunn had a vision for the look of 'Guardians of the Galaxy Vol. 2" and wanted to infuse the film with as many practical sets as possible. 'I came into the first Guardians film with a very clear idea of exactly what the visuals would be and I did the same thing for this film," he explains. 'I really wanted it to be inspired by the look of early pulp novels, 1950s and 1960s, science fiction, old pulp stuff, old Wally Wood art and both the original Flash Gordon and the 1980s Flash Gordon. That's the heart of where my inspiration came from."

The director continues, '-Guardians of the Galaxy Vol. 2' is a little more difficult production design-wise than the first movie because we actually have more sets, but fewer places we visit. So with the places and planets we get to see, it's been about giving them more specifics and details. I also came into this with a vision of where I wanted to go with the color palette, where I wanted to go with the photography and how I wanted it to look a bit different from the first movie."

Elaborating on the color palette, Gunn says, 'It has a very broad color palette, but I think we're a little bit more contained and a little bit more controlled than we were in the first film. We made more distinct choices regarding the different locations and exactly what colors we're using. I also think we're taking more advantage of the grand space-scapes that we have. We're taking our time with some of these things more than we did on the first movie and we're soaking in the beauty of it. It was very important to me that this time around we make a more elegant film, a more beautiful film, where we really got to enjoy these space-scapes and our characters within them."

Fans will be happy to know that there are new worlds to explore in 'Guardians of the Galaxy Vol. 2." 'We either have brand-new worlds or we get to know some of the worlds that we didn't get to know much about in the first movie," says Gunn. 'We get to know the society of the Sovereign"where they come from, what they're like, what they believe in, what their truths are. We also get to see new worlds like the uninhabited world they crash land on. And of course we get to know Ego's planet, quite intimately."

Continuing, Gunn adds, 'In the first movie, I had to be very careful about not knocking people off-balance, and I'm still very careful of that. I don't want things to be disorienting. But because we now have these grounded characters we know and love, it does allow us to explore some more outlandish places than we did in the first film."


For production designer Scott Chambliss one of the first challenges was creating the lair of the high priestess, Ayesha, the ruler of Sovereign planet. 'The Sovereign planet is a very stark, graphic sort of a 1950s pulp fiction variation on 1930s art deco design aesthetic," explains Chambliss. 'James Gunn wanted a very pulpy feel to this sequence in particular, but it also needed to be quite beautiful because they are a perfect race. In the 1930s there's a great version of the Cleopatra story that Cecil B. DeMille made, so I looked at that. So we started with a 1930s feeling to the design process and then just pushed it further and further into 1950s pulp and somehow landed somewhere in the 1970s in Las Vegas. Because the color palette is so limited with the gold, it also feels kind of comic book-like, which is something we were going for too. This perfect race that creates everything beautiful is really superficial and they take themselves really seriously, which in itself is ridiculous and beautiful."

One of the treats for the audience this time around is that they will get to see a much more expanded Ravager universe, which includes their ship, the Eclector. The Eclector set is the biggest set and is 100% practical, with a 360-degree view in any direction. The set was built so that different sections have the ability to detach off, reconfigure and become another part of the Eclector. Filmmakers can reuse the different pieces like a giant jigsaw puzzle to create different versions of the ship.

For production designer Scott Chambliss, the Ravagers Eclector set was a great example of director James Gunn mantra of creating practical environments despite the fact that the film is taking place in space and other universes. 'James and I both wanted to have as much real space for actors to work in as we can because it allows for better performance since they have something to interact with and believe in," says Chambliss. 'I've been really impressed at how much James let us build on this one. All of the Eclector sets are very large, 360 degree environments. We also built the interiors of spaceships that are 360 degree full sets. I know from experience how hard it can be for an actor to do a big dramatic scene on a stage in a blue void or a green void."

He adds, 'The one thing I have really enjoyed about designing this film is that all of the worlds are so different from each other and I have been afforded the opportunity by James to create as many practical elements as I can to contrast the visual effects which is really exciting." Another key element in creating the world of the Ravagers is the Iron Lotus located on the planet of Contraxia. 'Contraxia is kind of this pleasure planet for the Ravagers," explains Jonathan Schwartz. 'It's this kind of neon jungle in its own way and covered in ice and snow. The Ravagers come here to unwind, drink and blow off steam, which is why there are so many neon bars like the Iron Lotus."

When faced with making the Ravager hangout a reality, Chambliss asked himself some questions: 'If you're going to make a playground for space pirates, who designed it? What's it made of? And what are they comfortable in?"

Continuing, he says, 'The first thing that came to mind to me was a whole yard of repurposed junk where old spaceships are cast away and industrial materials that aren't of use anymore are just left to rot. And my thought was that these guys or their friends made it themselves. Like somebody who was enterprising realized there was no good place to hang out anywhere. So he just looked at what was around and started cobbling it together. You can think of how Times Square used to be back in the 1970s and '80s or various European districts that are all about people gathering and interacting."

For the cast and crew of 'Guardians of the Galaxy Vol. 2," the Iron Lotus set, which took almost five months to construct, was one of their favorites and the final result was something that looked like it could be in the post-apocalyptic Lower East Side of Manhattan.

'That set of the Iron Lotus was super cool," says Sean Gunn. 'There was all this fake snow on the ground. I loved the days we shot on the set when there was a lot of background around with the Ravagers and Love Bots who are there for friendships and relationships. The set was so colorful even though it's a little bit darker, which makes it not quite so dreary and super herodark and futuristic. It also gave us a great practical environment to work in, which always makes for better performances."

'The Iron Lotus was one of my favorite sets I have ever seen and so different from what I am used to working on," says Sylvester Stallone. 'It's a great backdrop for Stakar and the Ravager world. I really enjoyed working on that set with Michael Rooker and it's been educational for me. I really enjoyed the craftsmanship of the sets."

Jonathan Schwartz sums up, 'Scott did a great job of making all of those different planets and environments come to life. It was so important to make sure that that we built practically because it grounds the actors and helps the movie feel more real and not like we're in a world that's solely made up for the purposes of science fiction. There's a grittiness to the life of the Guardians that makes it fly off the screen."

Costume Design

For Marvel filmmakers, the look of a character begins with concept design. Andy Park, visual development supervisor, and his team of artists are at the forefront of the moviemaking process. 'It usually begins with us and the script," Park says. 'But very often we are designing before a finalized script is in place. Once our designs are approved, the costume designer takes that and figures out how to best accomplish that look."

He adds, 'Very often it is taken literally down to the stitching, but very often as well, the costume designer will have to make adjustments to make the design a reality. Our department and the costume department work very closely together throughout the process. They help us and we help them in making the character's visuals the best it can be. It's a fun collaboration of seeing the transition of our painted 2-dimensional design illustration become a reality on an actor."

Research is a necessity for the visual development team when designing characters for the Marvel Cinematic Universe. 'Each character, and even their costume, needs to be a story in itself," explains Park. 'It should tell the audience something about who the character is. The overall design choices, materials, textures and even colors should all tell the story. The audience might not know that fact, and they don't need to, but if it's done correctly it should feel right. That's the art of character design."

Park and his artists created the concept designs for Star-Lord's initial look, Gamora's overall look, Nebula's initial look as well as her new hand, and Mantis' look and costume. They also did many different takes on what Ego could look like but, according to Park, 'It was an amazing design that Jackson Sze did that James Gunn liked the most."

Three-time Academy Award®-nominated costume designer Judianna Makovsky's work on 'Guardians of the Galaxy Vol. 2" began with a discussion with James Gunn to understand his vision. 'When I first met James, we talked about the look from the first -Guardians.' He said his vision for this film was to have the characters not be so outrageous, to be a little more rock and roll, rock-star like, because now they're the rock stars of the universe. So we tried to find a way, keeping with the look of the first film, to incorporate that. We toned down the colors a little bit, and the garments they wear are a little bit more normal."

Although Chris Pratt as Peter Quill has basically the same look he had in the first film, he does sport sexy pants, a new coat, and different tee shirts to give him more of a rock-star appearance. Coming up with a tee-shirt with something clever on it was a challenge for Makovksy, who enlisted her graphic artist to help. 'We must've done maybe 300 different logos until we found the one. And it's like, what would it say? And what would the language be? Luckily they developed a different language on the first movie. So we found a way to use that language, and it actually says -gearshift' in this alien language. It's a candy. So, it actually does say something on the shirt, and it means something."

For Zoe Saldana, Gamora's look is a more grounded, punk-rock vibe, with a cut-up tee shirt leather pants and a vest. She does have a special coat with a 1980s flair that was designed by Makovsky and her team. 'I wanted something that was a simple coat, not something so outrageous," says the costume designer. 'But it's just in the stitching and the seaming and it looks a little '80s. James just loves that coat."

When it came to designing the extravagant, gold gown for Ayesha, played by Elizabeth Debicki, picking the right shade of color the high priestess' look was a critical factor in the design. 'We really wanted the dress to be gold because in the comic it is gold," says Makovsky, 'But we were terrified that it was going to look like a Las Vegas show showgirl, so we had to be very careful what type gold we picked. It couldn't be sequined or shiny gold and James thought that this civilization was an older one so we went with very old golds and there is a bit of simple shine to everything as well."

Makovsky details the process for designing Ayesha's signature look. 'The first designs I received were some sketches done by Marvel, but they were too renaissance, which is not James' world. He's very rooted in the 1980s, so we pulled it back a little to give it a more modern feel and made it very simple. By adding touches of bronze and navy blue it took it away from that theatrical look."

Another challenge for Makovsky and her team in designing the signature look for the character was the height of the character. 'Elizabeth Debicki is 6'3" and James wanted me to make her even taller so she would tower over Chris Pratt. So she ended up being 6'7" by the time we were done with her platform shoes. Getting the proportion correct was one of the most important things because if she didn't look stunningly beautiful, you wouldn't buy her as the head of this perfect race. We made the dress slightly sexy so we could see her shape. We had to balance the metal with softness and femininity. So that was a bit of a challenge as well as getting the makeup to read the same tone as the clothes and have it all fit because the costume is part of her throne. It really was one of the most collaborative costumes I've ever had to do and had to be coordinated with a lot of departments."

'Ayesha's just this majestic creature," says Elizabeth Debicki. 'It's all about high maintenance with her. Judianna managed to create a look that I've never seen before on screen. I was completely blown away when they were creating it. It's very Elizabethan. Ayesha has these chambermaids since she definitely can't put that outfit on herself. You get the sense in terms of the ritual that they are flitting around her chamber getting her dressed because it's just this enormous beast of a dress. But it lends her this instant kind of status and otherworldliness. Like an Elizabethan queen, she's untouchable in that dress."

For Debicki, the costume also helped inform her performance. 'It's a really interesting thing when costume informs your character so hugely. The restrictions in a costume like that, the corset element of it, the severity of the angles of it and even the weight of it, completely informs how you move because you can't do certain things in it, which then indicates the type of person you are. When you think of the logic of that character, you wonder why she wears something like that. But it's because she's informing her people the type of queen she is. It completely changes your physicality, though. I didn't really feel like Ayesha in a way until I put that dress on and then sat on that throne. Then I really knew what she was all about."

'One of the biggest wins of the film was Judianna designing Ayesha's costume, and she just completely nailed it," praises Gunn. 'In pre-production, I had very specific ideas about how I wanted to create a majestic high priestess gold gown that was also a part of this massive throne and she and my production designer, Scott Chambliss, worked together to create these amazing elements that set the tone early on for how ambitious both the costumes and the production design are going to be in this film."

A Look At Special-Effect Make-Up

Another ambitious collaboration between Chambliss and Makovsky was creating the expanded world of the Ravagers that writer/director James Gunn had created for the film. 'The Ravagers have a different sort of culture where everything is based on touch," explains James Gunn. 'They basically have a muscle car culture and like the feel of things. All of their stuff has buttons on it and things where you wave and something happens."

'I think the hardest thing to accomplish on this film was the costumes for the Ravagers," says Makovsky. 'In the first film there was only a very small amount of Ravagers and in this film we had so many. The clothes we made are beautifully made with so much detail. We ended up making over 400 garments for the 200 Ravagers."

For Makovsky another challenge in the film was coming up with the look and designing the new characters of Ego and Mantis played by Kurt Russell and Pom Klementieff. 'Mantis was a collaboration with Marvel's visual development team," says Makovsky. 'They generated the first sketches, but they were a little bit flat so we had to find some technique to open it up a bit and make it more interesting with some texture. We also didn't want Mantis to look like a creature and have her costume look like a version of clothes. I showed Dale Wiven, my cutter/fitter, a piece of research on the technique of open weaving leather and he went, -Let's try that.' He's a genius and presented me with a sample that blew me away and really took the costume in a whole different direction. That was interesting because we were weaving two different colors of leather into the skirt and it was just the detail we wanted to make it pop on screen."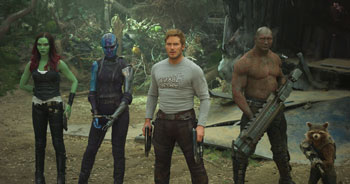 Describing her costume, Klementieff says, 'It's beautifully made. The color is green, but it's a little bit shiny but not too much, and it seems to change color. It makes me think of an insect. Like a beetle."

Regarding Ego, played by Kurt Russell, costume designer Makovsky describes the influences in designing the look for the character. 'We wanted something where he was kind of a space frontiersmen mixed with a little bit of western because that's Kurt Russell's style," says Makovsky. 'I didn't want to do a typical, super hero where it's molded and hard. So it's actually all leather, like a frontiersman would be, and we laced it all together. It's layers and layers of different leathers on top of each other that are laser-etched and dyed to make an almost medieval/renaissance detail all over it."

She adds, 'When we first talked about it with Kurt, he looked at some of the sketches and really got it. It's kind of like a space conquistador like Don Quixote. We looked at actually how conquistador clothes were made and we went in that direction, but made his pants and boots very modern."

'Judianna did a fantastic job with the costume design in the film," exclaims James Gunn. 'I couldn't be more impressed. I think that she really elevated so many of the costumes in the film."

While Makovsky produced all of the amazing styling and costume looks in the film, special effects makeup supervisor Brian Sipe and his team gave the characters of Gamora, Drax, Yondu, Nebula, Mantis and all of the Ravagers in 'Guardians of the Galaxy Vol. 2" their physical looks. On the first film, the hair and makeup process for the characters often took anywhere from three to six hours. One of the biggest challenges for Sipe and his Legacy Effects team was coming up with systems to reduce the time the actors were in the hair and makeup chairs. One of the biggest breakthroughs on the film was with the character of Drax as special effects makeup supervisor Brian Sipe explains. 'On the first film Drax's makeup took on average about three and a half hours" says Sipe. 'I think the fastest previous time was two hours and 50 minutes. We were able to get our fastest time getting down to one hour and eighteen minutes. That translates to more sleep for Dave and better turnaround times. Dave Bautista was also pretty happy with being able to see his muscles and definition through the prosthetic. The way the prosthetics are built now he can actually do a little bit of a workout if he wants to in the Drax costume. The thinner design also gives a little bit more rugged look as well, when he moves you will really see all of him moving."

Describing the new process, Sipe says, 'For Dave, we ended up re-sculpting all of his prosthetics, saving the integrity of the design that was done, and then kind of flopped the process. Instead of putting on silicone prosthetics and then painting his body wherever we needed to, we actually paint him first. We switch the prosthetic from silicone to a prosthetic transfer process, which are already pre-painted. Those go down really quickly and there's no thickness to them, so you don't get any buckling or wrinkling or anything that can betray the makeup later on."

The team also developed a new method of getting the makeup off, which required Bautista to go into a sauna-type machine. 'This makeup process, even though it takes half the time to put on, is a little bit harder to take off because it's a different process completely," says Bautista. 'So it's kind of a trade off, but at the end of the day I just want Drax to look as good as possible."

Bautista adds, 'It's really much more like my own skin and you can see more of me and my body. So I had to get into great shape on this one. I wasn't nearly as concerned on the first film because I was covered in in sheets of silicone and you couldn't really see through it so I wasn't training as hard. But on this one I've really busted my butt to get and stay in great shape. When Drax just looks so badass on film, man, it's just all worth it."

For Zoe Saldana, the makeup changes were not as dramatic, but Sipe and his team did shave some time off by re-sculpting her three facial prosthetics into one piece seamless piece. When it came to painting Gamora's green skin, Sipe chose new products that were more actorfriendly. Describing the painting process, Sipe says, 'We airbrush or hand brush the colors. She's got eight layers that get built up to create that color green, so that it saves all its vibrancy and gives it some depth."

Another makeup process Brian Sipe and the Legacy Effects team were able to refine despite some new challenges was Nebula. 'Nebula was another big challenge for all the artists involved," says Brian Sipe. 'For the last film, Karen Gillan shaved her head for the film which made things much easier. For this film, she wanted to see if we could apply the makeup and prosthetics without having to shave her head. Nebula is just layers upon layers of full head and face prosthetics and there is one strip down the center of her face and neck that doesn't have any prosthetics, but then that just creates another challenge in matching color. The face is all geometric shapes that are straight lines, so the artists really have to be precise as they're doing it and still moving quickly."

Karen Gillan describes her transition into this character for 'Guardians of the Galaxy Vol. 2." A typical day getting ready for Nebula would be coming in at about four o'clock in the morning. Then I'll spend an hour having my hair wrapped up, so that I can be bald. Then I will sit in the makeup chair for about two and a half hours while they stick all of Nebula's skin on me. I basically get into her skin, which is kind of creepy, and then I get into costume. Compared to the last film, which took about five hours, we now have it down to about three and a half, so I'm excited by that.

For Gillan the physical transformation also helps the actress become the character. 'I like to think that my personality is a little removed from Nebula's personality, one would hope, but putting on that makeup really does do half of the job for me. I remember a definitive moment on the first film where I looked in the mirror and really saw myself. I went, -Oh my God, I know who this person is now. I know how to move as this person. I know that I want to tilt my head like this because of the way it looks.' I feel like that was the moment I really figured her out. And that was a look thing. It just really does do a lot of the work for me to just be in that costume, to see the way that people look at me, which is slightly different. It just affects everything, and that's all you want as an actor."

For Elizabeth Debicki, who plays Ayesha, the head of the Sovereign, it was a few hours in hair and makeup every day. 'The gold paint is a process," says the actress. 'Also every time we see her, she's got completely different hair, so the wigs shifted around massively. But the other day I bumped into Chris Sullivan, who plays Taserface, and after looking at that makeup, I thought I cannot complain. I cannot open my mouth because I mean as far as -Guardians of the Galaxy' makeup goes I think the Sovereign people had the easiest out. I'm not going to that say playing Ayesha is the height of comfort but it's a wonderful creation to be able to walk into and have all that happen to you as an actor."

Speaking of Taserface, who is a new Ravager, Sipe and the Legacy Effects team had to build the look from scratch. 'There were different design stages that we had to go through for him," explains Sipe. 'We worked off of images of Chris Sullivan, trying to create something that would be interesting, something that wasn't necessarily done before. Of course, we also had input from production as to the direction they wanted to see. Christopher Swift sculpted the first prosthetic and it ended up being really cool. It's almost like this great, big, hulking character with a big, flowing Mohawk and Chris actually brings this great pirate kind of life to it." For Michael Rooker as Yondu, the new look involved re-sculpting the headpieces to accommodate changes to his fin. The blue skin design was also redone, and as Rooker explains, 'There's a base that goes on really quickly and then my makeup team builds everything else from there. They have done an excellent job, as my blue skin looks and feels so real and natural. It actually allows my sweat beads to come through and it doesn't smear or smudge! To test it, I ran around the set. The makeup team and I got it down to about an hour and 15 minutes to apply my makeup. It takes about an hour and a half to take off everything and I'm still getting blue out of my ears two or three days afterwards."

Sipe adds with a laugh, 'Rooker's a whole other thing when it comes to Yondu. He's got a lot of energy and he likes to be really involved. He's there helping clean his beard. He's there helping place the fin. He's very hands on as far as the makeup's concerned."

Groot, Rocket and Mantis Get Real

In 'Guardians of the Galaxy," one of the most beloved characters for audiences was Groot. The character makes the ultimate sacrifice at the end of the film, which results in him reappearing as a seedling about ten inches tall. Bringing the diminutive character to life in a believable way fell squarely on the shoulders of visual effects supervisor Chris Townsend.

'Groot was a very successful character in the first film and James didn't want anything that was too human for Baby Groot," says Townsend. 'He wanted to do something cute, sweet, charming, but definitely alien. He had the idea of the character being two and a half to three years old. So we needed to create a Groot that was cute and adorable for the character and narrative in the film, but also was something that wasn't too much like a small child and something that had a mischievous alien streak to him, so that we'd never ever think of him just as a wooden human. He also gets pretty angry and can get pretty vicious. So that is a real contrast of characteristics that we were trying to encapsulate into this one little design."

Townsend explains the process of bringing the CGI character to the life. 'Legacy Effects created the original sculpt based on artwork created by the Marvel visual development team. Once Legacy had created this practical sculpt that everyone signed off on, we then handed that over to our visual effects companies and said, -Start building this and let's see how his face and the internal vines move. The older Groot had a crusty series of panels of wood that you can use to articulate, but for Baby Groot we've got a young, smooth-barked face. So the challenges are how do you make a smoothed bark face move and animate so it doesn't look like a big stretchy piece of rubber."

Another challenge for Townsend and the filmmakers with the character was its diminutive size compared to its co-stars. 'The way we approached the character on set in terms of blocking scenes was looking at how we should shoot it if Groot was really there," explains Townsend. 'That was a big challenge because Dave Bautista and Chris Part who are both around 6'3 were standing next to this little ten-inch tall character. So the question became how do you actually frame shots so that they feel natural?"

To solve the issue, Townsend and his team used a ten-inch maquette of Baby Groot, which they would put down in the scene, and then Henry Braham, the cinematographer, James Gunn and Townsend would figure out where to place the camera in order to capture the smallness of the little character along with the vastness of the set and human characters. 'We used a lot of special camera rigging to bring the camera down to a low enough height to be able to see Groot or look over his shoulder up at these towering humans," Townsend says. 'But the interesting thing about a film like this is trying to find and use those spatial contrasts to make that point." While Townsend and the filmmakers had to make the special provisions for the CGI character of Baby Groot, they were able to utilize the skills and voice of Sean Gunn to play Rocket on set. Sean Gunn, who also plays the Ravager, Kraglin, gave Rocket life in both 'Guardians of the Galaxy" and 'Guardians of the Galaxy Vol. 2" through movement and expression that was motion-captured for the CGI character, voiced by Bradley Cooper.

'I have worked on a lot of stuff with Sean over the years and he was in my very first movie I ever made," says James Gunn. 'We work exceptionally well together and I think one of the crazy things about the last movie was when Fred Raskin, the editor, turned to me at one point during the edit and said, -It's a shame that some of the best acting is going to be left on the floor because no one will ever see Sean's physical performance as Rocket. So I was really happy that we get to see Sean do his thing as Kraglin, a pivotal character who has quite an emotional arc in the film."

While the CGI characters of Rocket and Groot were complete builds for Townsend and his team, the new character of Mantis required a much subtler approach. 'With the character of Mantis I was fortunate enough just to be able to watch the screen tests of various actresses and Pom Klementieff brought a very specific, subtly alien thing to the performance of the character, which was beautiful," says Townsend.

'She is supposed to be bug-like, so we talked about larger eyes, strange mandibles and various prosthetics. We played around with lots of different ideas from a concept point and again the Marvel visual development team came up with a lot of different looks. We eventually ended up realizing that Pom's performance is so beautiful and so subtle, that all we really needed to do was put the antennae on her head and give her black irises to give her more of a bug feeling." Townsend continues, 'So we ended up working with visual effects companies to create an animation for these antennas that was incredibly subtle because James didn't want the antennae to be a performance enhancer. He felt that the performance was just spot on, so they just needed to exist and be there, in a believable way, so that the audience would not question them and just see this woman with antennae that sometimes glowed when she used her special powers."

Props and Weapons

Prop master Russell Bobbitt's job is to take the concepts that filmmakers come up with and bring them to life by designing, engineering and manufacturing unique outer-space items, including weapons, accessories, furniture and tools.

The first step for Bobbitt was meeting with James Gunn and Scott Chambliss to discuss their vision of the environment and what props would be needed to create the outer space world and enhance it. 'In this case we wanted it to be recognizable. It couldn't be something that you just don't understand," Bobbitt says. 'We had to find that fine line between figuring out what outer space could be"what came from Earth, what came from different universes"and throw it all together and then figure out the look."

High on the list were the many types of weapons that the Guardians and their foes employ. These weapons range from rifles, space pistols, bazookas, knives and swords. Though several weapons could be reused from the first film with slight or no changes, such as Star-Lord's blasters, Gamora's sword and Drax's knives, all others had to be manufactured and aged. Bobbitt explains one example of artistic aging using Nebula's pistol. 'I mixed a bunch of different metallics and then gave the illusion that the pistol's been fired so many times that it heats up. So you sort of get all of that color. It's an artistic way of depicting a weapon that's used all the time but actually we're using it for the first time here."

Bobbitt and his team designed and built four weapons for the Ravagers and 15-20 were made of each design to be distributed among the Ravagers. Some of the weapons were grown on a 3D printer and many different welders and painters were involved in the process. In the film there could be up to 85 to 95 Ravagers in a scene at any given time"and all of them had to wear belts and holsters to hold their weapons. To make belts for the Ravagers, the props team visited the steampunk world and pulled apart computers, radios, cell phones and every kind of electronic device imaginable and then glued the pieces to the belts to make each one a unique piece of art.

'We had fittings with each actor and each stunt man and figured out their size and their look and accommodated that when we made our wild weapons for the Ravagers," Bobbitt informs. 'Very few of the belts were store bought. We mainly cut all the leather ourselves and found buckles and pieces of hardware that could appear to be buckles and sewed them, riveted them, or glued them and then stamped the leather ourselves. We visited many surplus stores who carry aircraft parts, purchased a lot of items that we didn't even know what they were."

The Ravager world is mostly red, so the props team used dyes and different to accomplish the colors and the feel. 'We used different sorts of sandpapers and wire brushes to give the appearance of them being used and old and beaten up, as if the Ravagers had been in battle for many years, when in actuality they're all brand-new belts," says Bobbitt.

The Props Department also had to come up with an edible bug for a scene in the film. First an illustrator drew the insect based on a stinkbug, and then they used a 3D printer to grow it to scale and then put a cool-looking paint job on it. Next molds were made so that edible versions could be made out of chocolate.

When the director wanted one of the legs to fall out of the actor's mouth as he ate the bug, Bobbitt had to come up with how to make that happen. 'So we took the chocolate body and we injected it with honey, black honey, so that when he bit down the honey poured out of his mouth. And when he bit that leg, it fell out onto the ground. We used melted chocolate to glue the legs in."

Another scene involved an actor eating a 'yarrow root," which is an indigenous root that is found in the imaginary space world. Bobbitt and his team had to custom design the root and make it edible. Through a process that involved blowing up pollen by 2000 times and 3D printing, Bobbitt came up with a design that James Gunn liked.

Then they sculpted and made a mold of the body of the plant and bought some real radish roots from the store. The final yarrow root was made from non-dairy white chocolate. And as usual, Bobbitt took a bite first to show the actors to show that the creation is edible.

In a scene early on in the movie, viewers will notice homemade speakers that were made to look like the Guardians put them together. As simple as it looks, it actually took drawings of about 300 different styles of speakers in 45 different colors to finally get to the speaker used in the movie. And then the props team had to construct 15 sets of them!

A vehicle in the film sure to be a hit with fans is the 1979 Ford Cobra. James Gunn chose it to be the automobile Peter Quill's dad, Ego, drives at the very beginning of the movie. The car is painted teal and orange just like the Milano, Peter Quill's space ship. Explaining the choice of vehicle, Gunn says, 'I'm a huge fan of muscle cars. I think the '79, '80, '81 Mustangs are overlooked cars that aren't used much in films. You usually see things from the late '60s, mid- '70s. So using that particular Cobra was like unearthing this little gem that people don't know about."

High-Octane Stunt Action

While writer/director James Gunn infused 'Guardians of the Galaxy Vol. 2" with sharp-witted humor, the film also contains plenty of action as the Guardians patrol the galaxies. For Chris Pratt and the other cast members, that meant getting their hands dirty in many of the great action sequences in the film.

'-Guardians of the Galaxy Vol. 2' has great comedy but it was also pretty stunt heavy with all the action sequences," says Chris Pratt. 'I try to do as many of the stunts as I can and Kurt Russell was right there with me. We were hanging sixty feet in the air, by wires, throwing punches all day long for many days in a row. He's really a pro and also an incredible athlete. So it was pretty cool to see that he is a natural stuntman himself. I learned a lot from working with him in terms of how to throw a punch properly in regard to where the camera is to the person you're punching. I usually would not be mindful of the camera."

The actor continues 'It's always refreshing to work with somebody who doesn't complain and that was certainly the case with Kurt Russell. It was a good reality check because sometimes I caught myself wanting to complain because when you get put in harness, hoisted up on wires and thrown around for a while there's definitely a level of exhaustion that you hit. But Kurt was so great and always did what was asked and embraced it."

For screen actor Kurt Russell, being prepared frees him up to do whatever has to be done. 'As an actor, I've just never been able to not be surprised by the fact that when you learn your lines well, you can do anything. Anything can happen. I can try it a million different ways because I don't think about what the words are going to be. I can just think about how I feel and basically respond to what I'm seeing the other actor do. That also affords me the ability to learn from what I'm watching the other actor do. And I enjoyed that dynamic with Chris."

For Zoe Saldana, 'Guardians of the Galaxy Vol. 2" gave the actress opportunities to mix it up with the stunt team. 'I did many more stunts in this than in the first film," says Saldana. 'The stunts in this film are more jumps, flying in the air and moving a lot more on gimbals. Gamora's quarreling with Nebula feels much more sophisticated. She chases me trying to kill me and I feel like we've stepped it up a notch in the action department."

On such sequence in which Saldana had to step it up in every sense of the word is when in a scene where Gamora is running back to the ship as she barely misses being blown to pieces by an explosion. 'The mortars that were going off were so close," laughs Saldana. 'I was like -this is not what we did in the rehearsal,' which was at least seven feet away from me. During the take they were blowing up so close behind me I could feel the air on my sneakers. But it ended up being great and it looked wonderful."

The chance to work closely with Saldana in action scenes was something Karen Gillan looked forward to. 'I love working with Zoe Saldana," says the actress. 'She's so incredibly experienced in these types of films. She does a lot of action films, so she knows what looks good. She really helps me out with the fight sequences. If you ever see us acting together on set, you will constantly see her tweaking my position. I'm really grateful for that because I want to look cool."

'It's super helpful to be able to get the performance in those action beats out of the actors," says Jonathan Schwartz. 'That's really what you want and when you can actually use your actors and see the action on their faces and learn more about their characters through action, which is sort of the idealized version of those scenes. The way the action works best is when you truly understand what the characters are going through and identifying with them. And that's something that was very easy on this movie because Chris, Kurt, Zoe, Karen, Dave, Michael were able to do so much by themselves."

Cue The Music

'Guardians of the Galaxy Vol. 2" is filled with great action, humor and performances, but it is also infused with a new mixed tape and soundtrack, a dynamic that resonated deeply with audiences in the first film as evidenced by the success of the soundtrack album.

Marvel Music and Hollywood Records' Grammy®-nominated 'Guardians of the Galaxy" soundtrack album reached No. 1 on the U.S. Billboard 200 chart, becoming the first soundtrack album consisting entirely of previously released songs to top the chart. The album was certified Platinum by the R.I.A.A., having sold over 1,000,000 copies, and the album also peaked at No. 1 on iTunes in 60 territories.

Commenting on the music's popularity, Chris Pratt says, 'One of the first things I always hear from fans is how much they loved the music. People just loved the Awesome Mix Volume 1, and at the end of the first movie Quill gets Awesome Mix Volume 2 from his mother, which is a harbinger of things to come."

And, once again, music plays an important role in the telling of the story. As Gunn explains, 'We had Awesome Mix Volume 1 last time, and this time we have Awesome Mix Volume 2. It was so important that it's actually part of the film's title this time around. As most people know, Quill's mom made the first tape for a slightly younger boy, and she made the second type for a slightly older boy. So, in many ways the songs reflect the story."

Continuing, he adds, 'The songs are a little bit deeper in some ways; a little bit less pop in some ways. Some of the choices are a bit more eclectic; some of the choices are a bit more popular. But we have a real amazing group of songs that, like in the first movie, I wrote into the script. They are a part of the storytelling. Each song is very specific to the scene where it's placed." While most films use temp tracks during production and figure out the music in postproduction, James Gunn flips the script for the process of getting music for the film. 'The way the mix tapes come about is by James writing all the songs into the script," says Jonathan Schwartz. 'Every song is in the script for a very specific purpose. Some are meant to be humorous. Some are meant to be an ironic contrast to the action scenes. Some are meant to carve more emotional moments, but each of them has a very specific design and purpose that accentuates sonically what James is trying to do visually."

The music also plays an integral role on set with Gunn playing the actual songs during the scenes on the shooting day. It a process that the actors have come to embrace and enjoy. 'The music that James infuses into the film on shooting day makes the whole process of accessing emotional beats or sense memory much easier," informs Zoe Saldana. 'So when you have a song that fits the tone of what's really going on between two characters who are having a moment with each other, it just takes you there so quickly, and moves you internally to hit those feels more naturally."

'It's really helpful to have the music ahead of time so you can play it sometimes during the scene," adds Chris Pratt. 'If we can't play it out loud during a scene sometimes we'd have it in an earwig, which is like a small, little receiver inside of our ear so we could hear the music. It's important since the movie is going to be cut to that music playing and it also puts everyone on the same page rhythmically."

Pratt continues, 'I've started incorporating music into my performances more and more and that comes from my experience on the first movie with Tyler Bates score. James would play that during Groot's scene when he's sacrificing himself. That allowed you to step out of the way and let the music take the lead. It's a really important thing as an actor to understand that it's okay to do very little in a moment where music is going be filling the empty space."

James Gunn agrees with Pratt on the importance of the score in the film, which often gets overlooked in a film heavy with popular songs. 'The one thing that is underappreciated is how important Tyler Bates' score is to the first film," says the director. 'We still use the score from the first movie while shooting this film and it doesn't get the respect it deserves because it gets so overshadowed by the soundtrack. There's some beautiful score on that first soundtrack, and I know that the music we've written for the second film is even better than what we did for the first film. Tyler Bates has absolutely outdone himself, and we're giving something very special to people with the music in this film, both the pop songs and the actual score."

Gunn and composer Tyler Bates worked on the score during pre-production so that they would have some of the major score themes worked out before the shoot began. This allowed Gunn, the actors and the camera crews to work with the music that will end up being used in the final film. Gunn learned this method from Sergio Leone and his composer, Ennio Morricone. 'It's something that helps us to set the tone," Gunn explains. 'It makes us all feel very emotional. We see the grandness of the scene. And it's a great, great help to the making of the film. It's something that not too many filmmakers do. But this is the third movie that Tyler Bates and I have done this way."

Karen Gillan speaks for the rest of the cast when she sums up, 'Music is so vital to this franchise. It plays such a huge role. It was so important in the first film. That's what people came out of the cinema saying they loved so much. And it's an even bigger role in the second film. Music is more of a subconscious thing; it connects to a different part of the brain than words or pictures do. That's why I think people respond so well to it. There are loads of new songs on the new soundtrack that I've never heard before, so I feel like we're going to introduce some cool, older tracks to a new generation."

Here Come The Guardians

What can audiences expect when the Guardians of the Galaxy blast back into their lives on May 5th?

'What I'm really hoping for is that they'll get all of the different aspects they loved about the first movie but in a completely different way," says Chris Pratt. 'People go the movie theater to have a profound life or mood-changing experience and this film is going to really knock their socks off."

'This film has a ton of laughs, but it also tackles a lot of emotional issues like relationships with fathers, friends, siblings and asks the question what is family to you and how do you grow and evolve as an adult," adds Zoe Saldana. 'I love that about -Guardians of the Galaxy Vol. 2,' because it gives you a very human essence even though it takes place in another galaxy and universe. I think audiences are really going to connect to this film and all of the heart and the great story it tells."

Karen Gillan believes everyone will relate to the family theme of the movie. 'There are so many aspects of that storyline throughout the film" Gillan says. 'Everybody's going to find something in this film that they can connect with and understand. Also, it's so funny. People are going to have a really good time, and they're going to be entertained. And they're going to hear some good music."

Dave Bautista is confident that audiences will connect to the film on a personal level as well. 'The first film was more about people coming together for the greater good," Bautista says. 'And I think this film is more about relationships with people. It is the story of a family. Your family doesn't always have to be blood family. They can be chosen family. So I think this is more of a relationship film, and everyone can relate to that."

Producer Kevin Feige comments, 'What James has done with -Guardians of the Galaxy Vol. 2' is something very unique and very special that continues everything that was unique and special about the first film but really evolves it and takes it to new unexpected surprising places. James said, -Look, the first film was a creative risk. We all decided together to do something very different. We have to do that again.' And that's what he's done. And I can't wait for people to see it."

On that thought, Gunn sums up, 'I hope that we have picked up the mantle of the first film and taken it to another place. I wanted to make the best, most moving story possible. It's about making a story that is worthy of who the Guardians are as characters and making a film that is about those characters that's worthy of them, and I hope that we've done that."


Guardians of the Galaxy Vol. 2
Release Date: April 25th, 2017