Christian Bale and Bradley Cooper American Hustle
Cast: Christian Bale, Bradley Cooper, Amy Adams, Jeremy Renner, Jennifer Lawrence, Louis C.K., Michael Peña, Alessandro Nivola
Director: David O. Russell
Rated: MA
Running Time: 137 minutes

Synopsis: A fictional film set in the alluring world of one of the most extraordinary scandals of the 1970s, American Hustle tells the story of brilliant con man Irving Rosenfeld (Christian Bale), who along with his equally cunning and seductive partner Sydney Prosser (Amy Adams) is forced to work for a wild FBI agent Richie DiMaso (Bradley Cooper). DiMaso pushes them into a world of Jersey powerbrokers and mafia that's as dangerous as it is enchanting. Jeremy Renner is Carmine Polito, the passionate, volatile, New Jersey political operator caught between the con-artists and Feds. Irving's unpredictable wife Rosalyn (Jennifer Lawrence) could be the one to pull the thread that brings the entire world crashing down. Like David O. Russell's two previous films, American Hustle defies genre to tell a story of love, reinvention, and survival.

American Hustle
Release Date: December 12th, 2013



About The Film
American Hustle marks the third part in a three-film evolution for filmmaker David Russell. Beginning with The Fighter, continuing with Silver Linings Playbook, and playing out on a larger canvas than ever before in American Hustle, David Russell centers on characters who are trying to change their lives through a process of reinvention. "These are movies about people whose lives have not gone the way they wanted or intended," he explains. 'There remains something deeply lovable about them, but they're also heartbreaking. They spend the entire film, not just the third act, reckoning with who they are and how they are going to find their way to love life again. These characters have their sense of who they are splintered into pieces, and are wondering not just what they're going to do, but how they're going to care about life again, how they're going to love again. And it is important to me that they are passionate people who do or have truly loved life in some specific ways. This is as important to me as the ordeal of how they persevere, come out the other side, humbled and their love intact or renewed. It is no cliché when it is, as Irving says, lived from the feet up."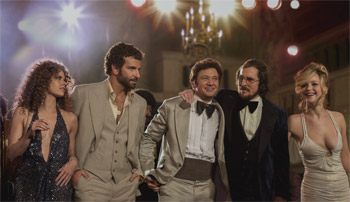 At the heart of American Hustle is a powerful love story between Irving Rosenfeld and Sydney Prosser, soul mates and business partners. 'The love affair between these two gives them a special power that anybody who's ever been in love can attest to," David Russell says. 'When you're in love, you feel that you've become more than the sum of the parts – something divine is happening to you. For me, the first part of the film is communicating how these two fell in love, how special they made each other feel, how much they love their lives – that enchantment was everything. We fall in love with their passion for life. And then trouble comes knocking. They will have to reinvent themselves to survive – and when they do that, what will happen to their love?"

In fact, the film is about romance in many ways. David Russell notes: 'It's about Irving and Sydney's romance for each other, and the romance that happens briefly between Richie and Sydney, and the flickering romance of the dying marriage between Irving and Rosalyn. It's the friendship between Irving and Carmine, and Carmine's marriage to Dolly. And, of course, Irving's art as a hustler is in many ways a romance – he has an ability to enchant, to get people to believe, to want, to dream."

'The idea of hustling informs every aspect of the picture," adds producer Charles Roven. 'Whom are the Irv and Sydney hustling – the guy they're taking money from, or themselves, convincing themselves that what they're doing is okay? Whom are we hustling when we are with somebody – are we with them because we admire them, or because we need them?"

'So much of the movie is about the different ways we hustle each other and ourselves," adds producer Richard Suckle. 'When you're stuck in a job you hate, or a troubled relationship, you convince yourself it's OK, everything's going to be fine. We all have to figure out ways to get by, because that's all we can do. And that's what the characters are doing in the movie."

American Hustle began with screenwriter Eric Warren Singer who approached Charles Roven and Richard Suckle about making a film about the Abscam story for Atlas Entertainment and wrote a script that earned a spot on the Black List. When Charles Roven and Richard Suckle brought the project to David Russell, he suggested a new direction for the project, moving away from the nuts and bolts of the scandal and drawing on personal remembrances, recollections, feelings, and his own imagination to create a fictional character-driven story. 'My own dad was a businessman in the 60s and 70s, and he was very much like the father that the Christian Bale character has in the movie: he's scrupulous and extremely honest, and I saw him get taken advantage of in business. Nice guys get hurt. That had a big impact on my home, and as a result, I related to both sides of the Christian Bale character: the side that admired his father as an honest man, but also the side that is not going to allow that fate to happen to him."

'Eric did an amazing job, writing a very thrilling procedural," notes Charles Roven. 'But David Russell came up with a completely different dynamic. In the end, David Russell was inspired by a real con that was stranger than fiction to create a story that gets at a deeper truth about reinvention and survival." Richard Suckle adds that the film's affectionate, kindhearted tone at first seems counterintuitive to the events that inspired the film, but David Russell's brilliance is in finding the connection between the real story and the story he wanted to tell. 'There's a cynicism to certain aspects of the Abscam story, but that's not the movie that David Russell made," he says. 'David Russell's movies have tremendous heart. In all of his films, the characters face a reckoning in their lives and they are searching for something better."

At the end of the day, David Russell feels that his job as a director is to have the audience love the characters, in spite of their sins. 'Ultimately, I hope the audience just enjoys spending time with the characters," says David Russell. 'More than anything, I want you to fall in love with them. The nicest compliment anybody can give me is when they leave a movie and they say, -I really loved these people – I didn't want to leave them.'"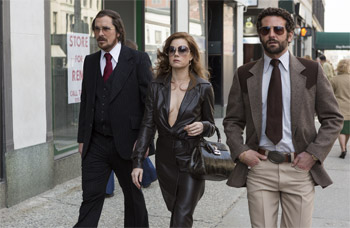 The Abscam Scandal

The real Abscam scandal began as a sting operation by the FBI. Concerned about white-collar crime – and eventually about political corruption – the FBI's John Good and Anthony Amoroso worked with a con artist, Mel Weinberg, to create a sting operation. Mel Weinberg and the FBI created a phony company, headed by a fake Arab sheik, for the purposes of offering bribes to officials in exchange for political favours.

'It didn't take long for us to become convinced of Mel Weinberg's capability," says John Good. 'He dedicated himself to it. I wouldn't even call him an informant; he acted beyond the scope of an informant just furnishing information. He was participating in the undercover operation. He was a con man, but he had a good heart, and there was a streak of integrity in him – and he committed to a legitimate operation and was able to accomplish something on the right side of the law."

Mel Weinberg became the star witness in the FBI's cases against six members of the US House of Representatives and one US Senator, who were convicted of various charges in the scandal. In addition, other local government officials were convicted, including the mayor of Camden, New Jersey.

'I thought the mayor was a really nice guy," says Anthony Amoroso. 'I mean his first interest was helping himself – but he was also looking to help Camden, New Jersey. There was this one time we were in Atlantic City and some drunk walking around the boardwalk happened to approach him. This guy wasn't even a constituent of the mayor's, but he spent ten minutes talking to the guy. That's just the kind of guy the mayor was. In this job, there are guys that you can't wait to lock up and other guys you're sorry to see them go down. The mayor was that kind of guy – sorry to see him go down, but that's my job."

About The Characters

The rich characters that have become the signature of David O. Russell's films are one reason that he has been able to attract top-flight actors who have gone on to receive some of the greatest accolades of their careers in his films. In The Fighter, Amy Adams, Christian Bale and Melissa Leo were nominated for Academy Awards® and Bale and Leo won. In Silver Linings Playbook, four actors – Bradley Cooper, Jennifer Lawrence, Robert De Niro and Jacki Weaver – were nominated for Academy Awards®, the first time in over 30 years that a single film had seen actors nominated in all acting categories, and Lawrence went on to win the Oscar®. In American Hustle, Russell brings together two of these Oscar® winners and two of these Oscar® nominees with Russell first-timer Jeremy Renner, a multiple Oscar® nominee in his own right.

American Hustle centers on Irving Rosenfeld, a small-time hustler who sees a way to change his life when he meets Sydney Prosser, whose seductive, confident manner enchants him. Sydney becomes his business partner and lover and their business booms. But when Irving and Sydney are caught in a con, FBI agent Richie DiMaso forces them to work for him, setting up a sting to capture corrupt government officials, starting with Carmine Polito, a politician trying to remake Atlantic City and bring a new economy to the people he loves, even if it means he has to work with an unusual investor. DiMaso is quickly seduced by the glamour of Irving and Sydney's world and sees his chance to change himself into the man he wants to be as well. Meanwhile, Irving's wife, Rosalyn – a manipulative loose cannon – is the wild card whose emotional ties to Irving could bring them all down.

Notes producer Richard Suckle: 'David Russell's writing has a musicality to it. He knows these characters, he knows their voices, he knows their mannerisms. He works with the actors to create moments and dialogue that are tailored specifically for the actors and the characters – Louis C.K.'s ice fishing story, or Jennifer Lawrence singing -Live and Let Die.' These are memorable and real because they're in the DNA of the characters he created and wrote. But he also writes to allow the actors to do things they haven't done in any other movie – can you believe that Irving Rosenfeld is played by the same man who played Bruce Wayne and Dicky Eklund?"

Adds Bradley Cooper, 'I love working with David Russell. If you can give him your trust, he will lead you to an emotional place that is truthful. The characters and performances become so much more rich and meaningful. It's intense, because you're so vulnerable as an actor, but it's when you're most vulnerable that the truth comes out. The more you know David Russell's process and are familiar with it, the easier it is to dive right in – and you're diving in to a family."

Christian Bale reunites with David Russell to take on the role of Irving Rosenfeld, a hustler and a romantic. 'Christian Bale brought an amazing authenticity – it was like he stepped out of the 70s," says Richard Suckle. 'The way he looked, his mannerisms, the whole Bronx quality. He embodied the character as written on the page. It's unlike any role he's ever played – he brings comedy, charm, vulnerability. When he walked onto the set – even though I knew consciously it was Christian Bale – it was like the living, breathing, flesh-and-blood Irving."

'I never met a more charming character than Christian Bale playing Irving," says Amy Adams, who plays Sydney Prosser. 'You identify with him – I can see how Sydney gets caught up in it. Sydney thinks she's embarking on the greatest love of her life – she doesn't think she's a con artist. Sydney begins as a person who doesn't like who she is, and she creates a world for herself onto which she can project her fantasies of who she wants to be. She finds a man who values her intelligence. And when that's taken away from her, it creates a conflict – her story is about her hustle but in the end, she wants to find the truth of who she is."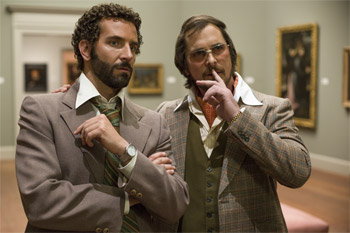 Producer Jon Gordon notes that it was important to David Russell craft the character of Sydney as an equal counterpart to Irving. 'He wanted the women to be very powerful presences in this film – as strong as the male characters," he says. Amy Adams, in turn, embraced her role as the mastermind of the situation: 'She's not manipulating Irving – she loves Irving – she's just not going to let him get away with messing with her. She doesn't think of herself as -the other woman'… when we were shooting, I thought – and I think Sydney thinks this, too, their relationship is the real relationship. She's manipulating Richie – that's the con she's doing."

Richie DiMaso, Bradley Cooper's character, is not exactly the prototypical G-man – and for Richie, that's just the problem. 'He feels like he's idling through his life – that his life should be much more exciting," says Bradley Cooper. 'He even curls his hair like famous ballplayers, just because he wants to be someone else, and he thinks ballplayers are cool. So when he meets Irving and Syd, he's very easily enthralled by their lifestyle. Suddenly, he's hanging with the cool kids. Sydney takes him to a disco, changes the way he dresses – he gets very entrenched in that world."

Jon Gordon notes that Richie's curly hair is another example of the way that director and actor work together to create the character. 'It started with Bradley Cooper – he said, -I think my character should have curly hair.' But then he and David took it to the next step – they tied it into the theme of the movie. What if his hair isn't really curly – what if he curls it? That's another detail about the little hustles we do to survive."

Richard Suckle says that Bradley Cooper also embraced his role as one of the film's executive producers – his energy on-set was infectious and kept the entire production moving forward with a full head of steam. 'Bradley Cooper is our quarterback," he says. 'He and David Russell play off each other in a special way – there's a sort of big brother/younger brother relationship that they have, and it helps drive the train when you're trying to do so much in such little time. They have a shorthand… they can look at each other and they don't even have to say anything – they just know what they need from each other. It's a great thing to watch."

Jennifer Lawrence reunites with David Russell to play Irving's estranged wife Rosalyn, an unstable Long Island housewife who is the opposite of Amy Adams' elegant Sydney. The character's lack of sophistication comes through in every aspect – the scenes and dialogue, the performance, and the costume design. 'Rosalyn is very Long Island – red acrylic nails, huge hair all the time, loves leopard print," Jennifer Lawrence says. 'I imagined her never going out, flipping through the magazines, buying these clothes, imagining that she'd look exactly like the pictures – but she has no idea how to dress for her body. So costume fittings became all about making sure that nothing really looked good – -that's not tacky enough, that's too classic.' I wanted her to look a little awkward."

'Rosalyn is manic – very up or very down," Jennifer Lawrence continues. 'She is so afraid of being alone that she'd rather be unhappily married. It seems like there's a simple solution to her problems – she should get a divorce – but she can't let herself do that.

That's where her desperation comes from. She's in survival mode: the marriage isn't working but she still has expectations for Irv that he can never meet. Her constant state of disappointment causes her to make some incredibly bad decisions that just make everything worse."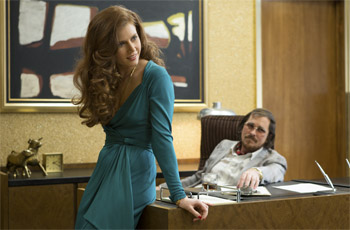 For the target of the sting, David Russell cast Jeremy Renner as Carmine Polito, a New Jersey politician who sees an opportunity to remake the run down, working class region – if he can find the right investor. 'Polito is great at his job," says Jeremey Renner. 'He loves his job, he's principled, he's a family man, a great communicator – just a no-nonsense politician and human being with a Liberace-meets-Tony Curtis hairdo."

Jeremy Renner's character stands out from the others in that he is not wearing any mask – he says he is trying to do the right thing for the people he represents, and he is. 'David and I talked a lot about his motivations," Jeremy Renner says. 'The thing that it boiled down to is that he is well-intentioned in everything he does. Rebuilding the state of New Jersey – that's what drives him. Even if he makes a mistake, every good or bad thing he does, it is always well-intended and he is very sympathetic."

The film also features strong performances by several actors in supporting roles, with Louis C.K. as Cooper's FBI superior, Stoddard Thorsen; Michael Peña as FBI Agent Paco Hernandez, who poses as the fake Sheik Abdullah; Alessandro Nivola as Anthony Amado, Chief U.S. Prosecutor, Special Task Force; Jack Huston as Pete Musane, a mobster with an interest in Atlantic City; and Elisabeth Röhm as Polito's wife, Dolly.

Getting The Shot

When David O. Russell directs a film, he stands just off camera, fine tuning the acting, rewriting and feeding new lines to the actors as the cameras roll, re-blocking scenes, sometimes directing the Steadicam operator with a new idea for the shot. 'Life is unexpected – none of us ever know what's going to happen from moment to moment – and David Russell's scenes feel that way, too," says Jon Gordon. 'It's very unpredictable, but it's also extremely focused – David Russell has an intention behind it all. We light the room, rather than the shot, and we do it on Steadicam, rather than trying to get traditional coverage. David Russell doesn't sit by the monitors. He stays right with his actors, where the movie is. He grabs shots in the moment. He thinks like an editor – he knows all the angles he has. And the result is that when you sit down to watch the movie, you can tell within five minutes that it's a David O. Russell movie – it has that style, the specific language, the camera movement, the feeling of the world."

It was the film's director of photography, Linus Sandgren, who was responsible for capturing the images. 'David Russell used a few key words for the look of the film," Linus Sandgren remembers. 'He wanted the actors to be warm, interesting and sexy, and he wanted us to love being there with the characters. The aim was to make the world of these characters as sexy, cool and appealing as possible – in this crazy world of lies, honesty, conflicts, friendship, cheaters, lovers, good and bad guys, you would always want to be seduced and sucked into this world, hang out with the characters, and love them."

The way a director of photography brings this about is in the way he lights the scene. He explains. 'I wanted the actors to shine the way you think of the enchanting part of the 70s. Everything today is so monochromatic, and I was really intrigued that David Russell wanted the film to be colorful. So, gold was a major color in my lighting palette – and that was often the key light – and I always brought in complementary colors, greens and pinks, to complement the gold and enhance the colorfulness to the scenes."

It was a tremendous challenge for Linus Sandgren to light a scene in which David Russellcould choose to pan to any actor at any time. He solved the issue in a creative way. 'I would stand in the center of an empty set and work with Judy Becker, our production designer, and Heather Loeffler, our set decorator, to put practical light sources in the room, along the backgrounds and among the actors. This made our backgrounds juicy, moody and enchanting. Then, to make sure that any actor we panned to had enough light, my gaffer, Patrick Murray, hung a Chinese lantern from a sound boom, running by the Steadicam; we filled the lantern with dimmable LEDs, which gave us the ability to dial the color temperature from warm to cool. At first, I was worried that the camera would see the light moving in the scenes, but it's impossible to tell, because the camera and the actors are also moving. It was a great solution – we could pre-light the set in a proper way, and then control the light when we had to. It worked out."

Recreating The 70s

David Russell relied on his longtime collaborator, production designer Judy Becker, to bring about the look he desired for the film. Becker was excited by the opportunity. Her research, combined with the screenplay, inspired her to build unique worlds for the characters that expresses who they are. 'That's one of the things that drew me to this project," says David Russell. 'So much of this movie takes place in different worlds: it's the world of the Long Island home of Rosalyn Rosenfeld, it's the world of Sydney Prosser's East Side apartment, its' the world of Richie's Brooklyn apartment, it's the world of the FBI with Stoddard Thorsen, it's the museum with Irving, it's City Hall, it's the home of Carmine Polito with his five children and his wife in Camden, it's the beautiful local restaurant where Carmine takes Irving out to dinner with the wives. So many, many worlds, bringing warmth to the film."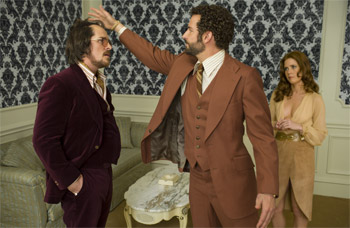 But it wasn't just the chance to re-team with one of her most cherished collaborators that excited her – she was also drawn to the film by the fact that it is set in New York in the 1970s. 'I have been interested in tackling that period for a long time, partly because it's my favorite period in film history," she says. 'The funny thing is, I was surprised by the world I found myself creating – instead of the gritty 1970s New York that influenced me, the movie took a more glamorous point of view."

For a designer, David Russell's concept for the themes of American Hustle added several layers that made the project especially intriguing: because the characters are running a con, the designs would not only show who the characters are, but who they are pretending and aspiring to be. Judy Becker's approach is best seen in the contrast between Sydney's New York apartment and Rosalyn's Long Island home. 'They are really contrasting worlds – what was interesting was that we used similar palettes, textures, and materials, but completely different taste levels for those two sets," says Judy Becker. 'For Rosalyn's house, the character is a stay-at-home mom and housewife, a woman who clearly enjoys decorating and maybe enjoys decorating too much," Judy Becker laughs.

'Everything is based on reality and our research, but it looks a little over-the-top: we made extensive use of foil-patterned wallpaper, different patterns, furniture from the Pace Collection, and custom-made engraved Lucite screens. It may not be tasteful, but it's a feast for the eyes – and tells you immediately who Rosalyn is."

To contrast Rosalyn's home, Judy Becker sought to make Sydney's apartment more sophisticated and stylish. 'She lives on the Upper East Side in a white brick building – common for single girls of that era. For Sydney we created a more minimalist look; where Rosalyn had gold, Sydney has a sunny yellow; where Rosalyn had wallpaper, Sydney has neutral grasscloth," Jusy Becker notes. 'It's sexy, the apartment of a woman who would look cool at Studio 54. When one of my assistants saw the apartment, he walked in and said, -Wow, I wish my girlfriend had an apartment that looked like this' – and that's the feeling that we wanted that apartment to have."

Dressing The Part

With the film set in the 1970s, costume designer Michael Wilkinson had a chance to express the decade's distinctive design through the film's fashion. His designs further expressed the film's theme: characters remaking themselves, transforming themselves into the people they aspire to be. 'Michael constructs each character's personality in the fabrics they like, the colors they like, how they feel when you're around them," says David Russell. 'The cream bathing suits that he put Irving and Sydney in when they meet – this tells you a lot about them – they're stylish, but very much of their period."

Michael Wilkinson explains, 'David Russell's characters are wholly unique and wildly imaginative. With David Russell's script, there were a lot of opportunities to explore different social backgrounds, from the vibrant, racially diverse world of blue-collar New Jersey to ultra-fashionable Upper East Side Manhattan to the sprawling suburbs of Long Island. 1978 – the year the film takes place – is a fascinating year, because it marks the beginning of a transition away from a truly flamboyant, exaggerated lines of the 1970s and into a more streamlined, early 80s vibe."

Clothing plays an important role in definingChristin Bale's and Amy Adams' characters. In fact, each character has over 40 costumes. 'There had to be something about Irv's clothes that was very appealing – you want to trust him, you want to believe him. There's an aspect to his character that wants to fly a little below the radar. It's Sydney who starts helping him find a way to present himself to the world. We played with a lot of beautiful fabrics, some colors that were quite expressive, great combinations of vests and shirts, stripes and plaids.'"

In addition to remaking Irving, Sydney is also remaking herself. 'She's a small-town girl who arrives in New York. She has a natural sense of style – and when she meets Irv, she gets the confidence to explore it. She picks out Diane von Furstenberg dresses, wears Halston, and starts really enjoying this new silhouette, this new freedom – it's super-sophisticated and confident." For Sydney and for all of the characters, Michael Wilkinson worked with real clothes from the period to be as authentic as possible. He also ended up building a lot of clothes from scratch, designing costumes for specific moments in the film.

Amy Adams' character is contrasted against Jennifer Lawrence's character, Rosalyn. Michael Wilkinson says that the designs for Jennifer Lawrence's costumes are meant to underscore the character as another hustler. 'Rosalyn is a master of emotional manipulation – she really knows how to work a person over and she uses her sexuality to push her agenda. At the same time, we had to balance that against the fact that she lives this totally boring existence in the suburbs," Wilkinson explains. "She has wild mood swings, and this is reflected in her clothes, from her frumpy house dresses and muumuus to her -dressed-to-kill' evening wear."

Bradley Cooper's character, the FBI Agent who falls under the spell of the hustlers he lures in, is another character remade through the film. 'He starts off as someone who doesn't care so much about how he looks," Michael Wilkinson says. 'He's doing things like curling his hair, but he doesn't have a very finessed approach to what he's doing. When he comes into contact with Irv and Sydney, it has a huge effect on him. He re-invents himself: he goes from ill-fitting polyester cotton blends to silk shirts and stylish leather jackets."

'For Jeremy Renner's character, David Russell wanted to put him in pale suits," continues Michael Wilkinson. He had a signature way of dressing with a slightly old-school feel to it, a Rat Pack kind of boldness to it. Maybe his clothes aren't the most up-to-date – they hark back to another era, especially when juxtaposed with the finer, sophisticated clothes we see from Irv and Sydney – but he's a very well-dressed man expressing a New Jersey bravado, and that was fun to explore."

About The Music

Music is a very important part of any David O. Russell film, and American Hustle is no exception. With the film set in the 1970s, Russell and his music supervisor, Susan Jacobs, weave in a variety of classic tracks, deep cuts, and new twists on old favourites. 'The music has to feel authentic and not feel like a music video," says Jacobs. 'It's the hardest thing to thread – you want to bring some emotion with it, not just a montage with a song that doesn't add anything to the scene. It can be very difficult to find the right song for a scene in one of David Russell's movies, because the tone is very difficult. He likes songs that are contrasting; the songs have to have a lot of heart, and then something else. They can't just be one thing."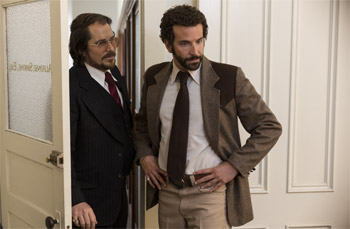 Susan Jacobs adds that David Russell often writes with specific cues in mind – and sometimes, those cues will make their way straight through to the final film. For example, 'Jeep's Blues" – the Duke Ellington track that sparks the connection between Irving and Sydney – was written into the script. Similarly, Steely Dan's 'Dirty Work," which is heard near the very beginning of the film as Irving, Sydney, and Richie walk down the hall at the Plaza Hotel, was a choice made very, very early on. 'I was on set and we were scanning through David Russell's iPod, talking and listening. They shot with that song in mind, and we just couldn't beat it," Susan Jacobs says.

Other song cues are born out of inspiration and character development discussions between David Russell and the actors. For example, in American Hustle, both Christian Bale and Jeremy Renner's duet over Tom Jones' 'Delilah" and Jennifer Lawrence's no-holds-barred belting of Paul McCartney's 'Live and Let Die" began with late night phone calls to Susan Jacobs. 'Those came about very spontaneously," laughs Susan Jacobs.

After these scenes were filmed, SUsan Jacobs sent the completed sequences to the artists and rights holders to obtain the proper permissions. '-Live and Let Die' was a gift of a collaboration," says Susan Jacobs. 'It's owned by Eon – the James Bond company – and Barbara Broccoli was very involved. It's good to be able to show people the scene when you're trying to get a really big song – it makes people more comfortable. So I sent the scene very early on to Paul McCartney and Barbara Broccoli, and asked how they felt. And they both loved it. They were really thrilled that the song could be part of the movie in this way. And it's an iconic moment in the film."

Other music choices happen in the editing room – and, in fact, the single artist whose songs are heard most in the film came about in just that way. 'As we were cutting a scene, we needed some temp score, so I put in an instrumental part of an Electric Light Orchestra song, -10538 Overture.' I temped it in," Susan Jacobs says. 'It's got this Beatles-esque feeling and all these cellos, all this contradiction and beautifulness. Jeff Lynne came to see the movie, and he loved it, and he opened up his treasure chest to us. We ended up with five or six Jeff Lynne songs, many of which have never been heard before. His music fit the film really well, and he ended up with a lot of real estate in the film. We found this great song called -Long Black Road' that ELO had done a long time ago – I think it was released in Japan or something. It's just fantastic. And it all came out of those very early days of needing a piece of temp."

American Hustle
Release Date: December 12th, 2013