Forest Whitaker Lee Daniels' The Butler Interview
Cast: Oprah Winfrey, David Oyelowo, Yaya Alafia, Forest Whitaker, Elijah Kelley, Mariah Carey, John Cusack, Jane Fonda, Cuba Gooding, Jr., Terrence Howard, Elijah Kelley, Minka Kelly, Lenny Kravitz, James Marsden, Alex Pettyfer, Vanessa Redgrave, Alan Rickman, Liev Schreiber, Robin Williams
Director: Lee Daniels
Genre: Biography, Drama
Running Time: 132 minutes

Synopsis: Set against the tumultuous political backdrop of 20th century America, Academy Award® nominated director Lee Daniels' (Precious) epic drama Lee Daniels' The Butler tells the story 'of Cecil Gaines (Forest Whitaker), an African American butler who serves at the White House during seven presidential administrations between 1957 and 1986.

Inspired by Wil Haygood's 2008 Washington Post article 'A Butler Well Served by This Election" about the real life of former White House butler Eugene Allen, Lee Daniels' The Butler traces the dramatic civil rights struggles that ultimately made it possible for an African American to rise to the highest position in the White House with the election of Barack Obama in 2008.

Opening in the fiercely segregated South in 1926, young Cecil Gaines works with his family in the cotton fields of Macon, GA. The tragic death of his father at the hands of his employer opens up unexpected opportunities for a young and impressionable Cecil, who is then taught the duties of a house servant under the critical eye of the plantation's white matriarch. Armed with these new skills and concerned for his own life, Cecil sets out for a better life as a young man.

Struggling outside of the confines of the plantation, an act of desperation introduces Cecil to a much-needed father figure, who provides guidance and a job at a local hotel. Thriving under his tutelage, Cecil is encouraged to move to Washington, DC, to take a position at an elite hotel. Excelling there, Cecil is noticed by a White House administrator, who gives him the chance of a lifetime: a job as a butler at 1600 Pennsylvania Avenue, insuring a comfortable middle-class life for Cecil's wife Gloria (Oscar® nominee Oprah Winfrey) and sons Louis (David Oyelowo) and Charlie (Elijah Kelley), far from the cotton fields of the South.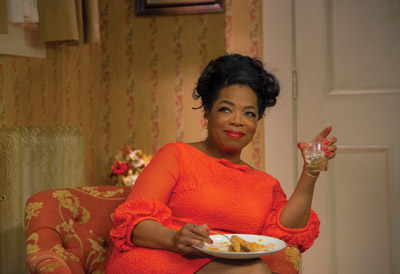 While Presidents come and go, from Eisenhower through Reagan, Cecil and the rest of the butler staff remain, serving in the background as firsthand but silent witnesses to history and the inner workings of the Oval Office while the civil rights movement unfolds. Regardless of his personal opinions, Cecil remains fiercely committed to his duties at the White House, but tensions grow at home as his sons become affected by the social and political upheaval that characterized the 1960s and 70s. Louis chooses to attend college in the South so that he may become an active part of the burgeoning civil rights movement, participating in department store sit-ins and freedom rides - putting him in physical danger and widening his rift with Cecil. Charlie instead elects to work for change from within, enlisting to fight for his country in Vietnam. Facing these disruptions to her family, as well as Cecil's neglect as he tends to his First Family, Gloria turns to alcohol and the embrace of a neighbour. As he grapples with his family's actions and his own conscience, Cecil finds himself at the crossroads of previously unimaginable social change.

Through the eyes and emotions of the Gaines family, Daniels' film follows the changing tides of American politics and race relations; from the assassinations of John F. Kennedy and Martin Luther King, to the Freedom Riders and Black Panther movements, to the war in Vietnam and the Watergate scandal, Cecil experiences the effects of these events as both an insider and a family man. Drawn into conflict with his headstrong sons, eager to forge their own paths in a rapidly transforming world, Cecil's story is as universal as it is extraordinary, speaking to the way each generation attempts to define the American Dream.

With an incredible supporting cast that includes Yaya Alafia, Mariah Carey, John Cusack, Jane Fonda, Cuba Gooding, Jr., Terrence Howard, Elijah Kelley, Minka Kelly, Lenny Kravitz, James Marsden, Alex Pettyfer, Vanessa Redgrave, Alan Rickman, Liev Schreiber and Robin Williams, Lee Daniel' The Butler is a story about the resilience of one man, the growth of a nation, and the power of family.

The Butler
Release Date: October 31st, 2013



Interview with Forest Whitaker
Question: This film simultaneously covers a large span of American history and tells a father-son story, as played by you and David Oyelowo. Tell us a little about that dynamic.

Forest Whitaker: I think what Lee Daniels did with this film is pretty powerful because he dealt with the civil rights movement through the characters of me (Cecil) and my son (Louis). My son's an activist first in college, and then working with Martin Luther King and eventually Malcolm X. It's a broad scope of individuals in that particular movement. At the same time, you see me in the White House during those periods where decisions were being made behind the scenes with Presidents Kennedy, Johnson, Nixon, Reagan, and so forth. They were shaping the face of civil and human rights in the country – and, in effect, the world.

It's also a father-son story. My character represents the old school and the old guard. He is changing opinions by his mere presence in the White House, by his behaviour and his acceptance. In a sense, I humanize the black community because the Presidents and staff have to deal with me on a human level. Then you have my son addressing those same issues in the streets with the civil rights movement, through things like marches and sit-ins. The conflict is between us and our different generations. All I want is my son to be safe and have a good life; that's what I think I'm doing in discouraging his activism. The growth for me is to realise that I deserve certain rights too, and it's through my son that I come to understand that.


Question: As White House butler, Cecil develops personal relationships with Presidents and First Ladies. What positive effect do you think that has in the bigger picture?

Forest Whitaker: We have all these individuals, like Colin Powell and Condoleezza Rice, who were in powerful positions preceding President Obama. I don't think Obama would be president without the movement of those others and people understanding, and accepting, that there were African Americans in positions of power. These individuals shifted the public opinion, even if it was just subconsciously. I believe Obama was destined to take his position and I'm really happy he did. But destiny has its movement and things build up to a moment until, as Malcolm Gladwell would say, a tipping point occurs.

In this sense, I think the character of Cecil is a good example of an individual contributing towards shifting larger opinions on race. In the film, Kennedy's tie and Johnson's clip are the two gifts Cecil gets and keeps. Both of those Presidents shifted policy for civil rights in the country, with Kennedy starting first before being assassinated. Johnson was sometimes called a racist and was vilified for his position on Vietnam, but he also did things that were monumental for human rights in the US and getting laws passed through.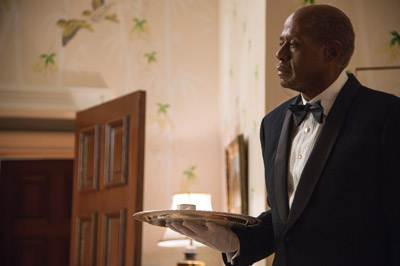 Question: Cecil gets upset when his son says Sidney Poitier is just a black man acting like a white man wants him to. How do you interpret that?

Forest Whitaker: Cecil gets angered because in his mind, Sidney Poitier is an activist and a trailblazer. Movies like A Patch Of Blue and Brother John were impossible for black men to be in before he came along. The roads he paved are still being walked today; the work and access he created were unprecedented. When Cecil's son argues that this man should be disrespected, Cecil wants to be cordial as a father, but it's too much for him to bear.

That said, what Lee does with the film that's really great is that he explores 'Uncle Tom-ism." My character's son, Louis, looks at me in some ways as an Uncle Tom. In fact, he's sometimes embarrassed of me. Martin Luther King tells him my position in the White House is in fact very important. People like Bill 'Bojangles" Robinson and Louis Armstrong were considered for a period of time as Uncle Toms. But before them, African American people didn't perform in certain venues or go into certain rooms because they weren't allowed. They were activists and treading roads that weren't tread before for others to be able to walk through. If you go through a jungle and you're using a machete to get past the vines in front of you, know that the person who chopped the vines down before you paved a road for you to move forward.


Question: Tell us about working with all these other actors who were portraying US Presidents in the film.

Forest Whitaker: It was fantastic because I was sort of the common link. That's the thing about workers in the White House – it's their house in a way. When I spoke with some of the real life butlers who had been employed there, they would say that they were there for years and would see presidents come and go, yet they would stay working behind the scenes.

While filming, it would be a new experience with each new actor playing a president. John Cusack plays a sort of mad Nixon. I was thrilled to work with him, as he's a great actor. The scene where he's in the middle of Watergate, playing the tapes over and over, was exciting to do. James Marsden brought relaxation and comfort to the Kennedy role. I loved working with him. His character is very linked to mine. I'd worked with Robin Williams before. I enjoyed his stillness and simplicity in the role of Eisenhower. It was very delicate. He did a beautiful job of portraying pain and contemplation.


Question: This is Oprah's return to acting. What about this film in particular do you think convinced her to come back?

Forest Whitaker: She had a relationship with Lee of course from producing Precious and trusted him as a filmmaker. She and I have had a long relationship and had wanted to work together for a while. I think mainly though, what the story is telling historically and showing America through those eyes was important to her. I also think she was interested in exploring family and love. One thing that our characters have as husband and wife throughout the film was a deep bond of love through all the strains, through her character's alcoholism, and all else. I think as an artist she must have been intrigued by this character because it's powerful and complex, and she does an amazing job. I'm really happy I got to do the film with her – I can't imagine having done it with anyone else.


The Butler
Release Date: October 31st, 2013