Keith Sutliff Mason Brothers Interview
Cast: Nazo Bravo, Carlotta Montanari, Erica Souza
Director: Keith Sutliff
Genre: Crime, Drama, Thriller
Rated: MA
Running Time: 114 minutes

Synopsis: The film, about a group of outlaws that attempt to reveal their brothers killer from a neighboring gang after being set up during a bank heist, features Brandon Pearson, Matthew Webb, Michael Whelan, Julien Cesario, Chris Park (Sons of Anarchy), Nazo Bravo and Sutliff, who also makes his directorial debut on the Adler & Associates release.

Sutliff's film, the script of which was inspired by Brian De Palma's The Untouchables and Reservoir Dogs, is called "the crime thriller of the year" (Horror Society) and "Hottest Crime Thriller of 2017" (Golden State Haunts) by critics.

Mason Brothers
Release Date: August 2nd, 2017



Interview with Keith Sutliff
Question: What do you want audiences to get out of the film?

Keith Sutliff: That throwback feeling of a classic heist film from the 1990's based in Los Angeles consisting of the music, performances, cinematography, etc.


Question: You've worn a few different hats in your projects but where do you think your strengths lie?

Keith Sutliff: I think directing and producing (aka management). I see myself playing the management role and putting it all together from scratch. Also keeping that project on track from start to finish. As a producer and even a director on a film people are looking at you as the captain of the ship that will lead the team to victory to the finish line. You have to deliver as the actors and people on the film depend on you to get the work completed and out there to be seen.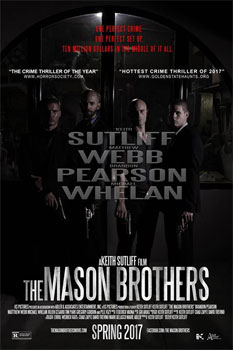 Question: Where does it rank in order of your favourite projects?

Keith Sutliff: This is by far my favourite. However it's not my dream feature film I want to do. My first feature length script I wrote a few years back called 'Suitcase City" I made a short film of which won an award a few years back. That is my ultimate goal and feature I want to make.


Question: What's your favourite bit from it? Anything you're especially proud of?

Keith Sutliff: Just the fact it is a finished feature film and out to the market. The music and cinematography were superb too thanks to my cinematographer Errol Webber and music composer Federico Vaona.


Question: Has the internet, let alone technological advances in filmmaking and all these new platforms, helped your career at all?

Keith Sutliff: Of course. Social media and all the online streaming for films helps out with exposure a ton.


Question: Where can fans find you online?

Keith Sutliff: They can find me on Facebook just by typing in my name or my twitter account of my company 'KS Pictures LLC". Also can google my company name and can find me through my company.


Question: And what about the latest project?

Keith Sutliff: I am currently working in development on my next feature film 'The Refuge" about a group of characters/criminals that all converge into one location all trying to achieve the same goal. I plan to shoot that in the near future.


Interview by Brooke Hunter

Mason Brothers
Release Date: August 2nd, 2017