Levi Miller Red Dog: True Blue
Cast: Justine Clarke, Levi Miller, Jason Isaacs, Bryan Brown, Hanna Mangan Lawrence, Steve Le Marquand
Director: Kriv Stenders
Genre: Comedy, Drama
Rated: PG
Running Time: 89 minutes

Synopsis: The year is 1968. After the tragic loss of his father, eleven year old Mick Carter (Levi Miller) is shipped off by his grieving mother to a vast cattle station owned by his Grandpa (Bryan Brown).

The station is in the Pilbara - a grand, ancient Australian landscape, remote and cut off from city life. At the station, Mick is the only child. The Outback attracts strong men that know the value of silence - but that's not Mick. He's a talker - a talker without anyone to talk to. He's lost and lonely.

The station is filled with a cast of charming misfits – Bill Stemple (Thomas Cocquerel), a bravado-fuelled helicopter pilot returned from Vietnam; Little and Big John (Syd Brisbane and Steve Le Marquand), stockmen with a secret; Jimmy Umbrella (Kee Chan), an eccentric, slightly unhinged cook; and Taylor Pete (Calen Tassone), an Aboriginal jackaroo and budding activist.

When a cyclone hits, water rises and floods the dry land. In the middle of a flooded plane, Mick finds a dog covered with blue mud. Mick rescues him and calls him -Blue'.

Mick and Blue become inseparable. Mick treats Blue as an equal, a companion, but as an Aboriginal elder tells him, Blue is more than a dog; he's a Marlunghu- a trickster spirit. Mick and Blue get into their share of trouble and the boy and his dog become inseparable.

Grandpa is determined that Mick's life is more than just play and is concerned Mick requires a formal education. The subsequent arrival of a beautiful tutor, Betty Marble (Hanna Mangan Lawrence) complicates relationships - not just between Mick and Blue, but between Mick and Bill Stemple.

Betty starts to stir competitive rivalries in Stemple and Mick but, with the world in the throes of change that reach into even this remote landscape, Betty wants more than either of them can offer. Relationships between the Aboriginal community and white folk strain – this is a time of conflict and change not just for Mick, but for an entire country.

When he finds out he has to leave his beloved dog for boarding school in the big smoke, Mick runs away with Blue. Only a few kilometers away, Mick and Blue see a fire coming towards the station and must make a decision – to turn back and face responsibility and the pain of growing up, or escape from the forces pulling them apart.


Red Dog: True Blue
Release Date: December 26th, 201



About The Production
The Birth Of An Origin Story

In 2011, the production team at Woss Group Film Productions introduced Red Dog to audiences. The company had a history with great, iconic Australian stories as it had produced Ned Kelly for Universal Pictures in 2001. Red Dog was another outback tale, focused on a local legend that brought communities together. Red Dog went on to become one of the great successes of modern Australian cinema, striking a chord with audiences right across the country, and giving life to a legend.

On the heels of such success, the creative team behind Red Dog naturally discussed a follow-up film and what form it could take, but director Kriv Stenders, producer Nelson Woss and writer Daniel Taplitz felt that above all, the new film must be a story worth telling in its own right.

In late 2013, Daniel Taplitz called Kriv Stenders and Nelson Woss and pitched an idea. Kriv Stenders recalls: 'We liked the concept that Daniel Taplitz pitched to us. It was such a lovely, beautiful idea and a very clever one. I knew immediately that it would make a great movie."

The journey of Red Dog: True Blue had begun.

The new film would be a prequel rather than a sequel - an origin story.

In Red Dog: True Blue the filmmakers have fictionalised the early origins of the Red Dog story. No one actually knows where the real Red Dog came from and the many stories about him have become both Pilbara myth and Australian legend.

The film would be about a young boy called Mick and his rambunctious yet tender relationship with the dog that would grow up to become this legendary canine, but the period would be key to the backbone of the story. It would be set in 1968, a pivotal year globally – political and social ruptures in Europe, the civil rights movement in the USA, the Apollo space program, women's rights, the sexual revolution - but the film would find particular inspiration in the transformative shifts occurring in Australia.

Kriv Stenders elaborates: 'It was a critical time in Australia. It was the beginning of equal pay; it was the end of the way in which farms operated using Indigenous labour. It's set at a time when mining had just started in the Pilbara– the death of one kind of industry and the birth of another. The film is very much about change; adapting to change and learning from it."

By setting the new film in the past, the filmmakers could look at the present day more objectively. Kriv Stenders explains: 'It's that removal that allows you to still look at today, but through a very different prism. It's not on the nose, things are more in relief. Aboriginal Australians getting the vote, the death of rural industry, the beginning of equal pay – those things had a huge effect on local communities. It's an intense period that would be a great stage to set our story in."

From the time of cracking the concept, the journey to filming would take just over three years. Nelson Woss, Daniel Taplitz and Kriv Stenders had learnt a great deal on Red Dog, and had developed a language to be able to shape the world of Red Dog: True Blue from – a world with its own laws, logic and parameters.

Lrov Stenders explains: 'It was fun to be able to come back into that world and really build on a lot of the templates that we'd built with the first film."

For producer Nelson Woss, it would mean working again with Red Dog investors and corporate partners. 'Screen Australia was involved, as well as ScreenWest, Royalties for Regions, the Pilbara Development Council, and our amazing distributor Roadshow Films. We had a number of corporate sponsors and relationships - Woodside Petroleum, Pedigree and the Mars Group, and most importantly Rio Tinto who supported the first Red Dog and Red Dog: True Blue, these relationships were the key to allowing the films to be made in the Pilbara.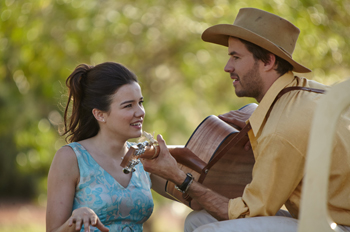 Vital would be Red Dog: True Blue's locations, which the team sought out early in the process - they would help shape Daniel Taplitz's script, the landscape being an important character in almost every scene.

Chris Veerhuis, who had been location manager on Red Dog, remembers 'I'd just gotten a dog and was sitting on the couch with the him when Nelson Woss rang and said, -So what are you up to?' I looked down at the dog and said, -Oh, nothing.' Nelson Woss said, -Good. I'm putting you on a conference call. We are doing a prequel to Red Dog."

The next morning, Nelson Woss and Chris Veerhuis called Jason Brennan from Rio Tinto, and the following Monday, Chris Veerhuis was in the Pilbara scouting locations for the new film.

Karratha Station, about 30 minutes out of the city of Karratha, was chosen as the principal site for Red Dog: True Blue's action. The station reaches east to Karratha, and west all the way to the West Australian coast.

Chris Veerhuis, who was engaged as co-producer on Red Dog: True Blue, says: 'Choosing Karratha Station would mean we'd be able to stay put at the one location for 24 of 26 shoot days in the Pilbara, which would make everybody happy."

The relationships with Aboriginal communities and the traditional landowners of the region would be crucial and necessary for the film on many levels. On the first location scout, Veerhuis met with the Ngarluma Aboriginal Corporation, and later with the Ngarluma Yindjibarndi Foundation.

Chris Veerhuis says: 'These two groups connected us with the traditional owners and elders. We did a couple of location surveys but conversations were mainly about the script, which had a really strong cultural sense to it. They read the script and made notes about things that were culturally significant, mostly language and texture."

Writer Daniel Taplitz would be sent these notes and would incorporate them into new drafts of the script.

Casting

Finding Mick, Blue and the third key role of Mick's Grandpa would be crucial. The dog came first, with casting beginning in early 2014.

Director Kriv Stenders explains: 'We had to start with the dog because it takes a long time to train them up. It was a long process of trial and error trying to find a dog that had the right sensibility – it had to be not only an animal that looked good and had charisma and that -X' factor, but that could also technically do what we needed it to do."

It was difficult to find a replacement for Koko and the production company spent two years scouting for dogs.

Of finding the right actor to portray Mick, Kriv Stenders recalls: 'One day, Christine King, our casting director, sent along a casting tape of Levi Miller and he blew us away. He was the epitome of the character in so many ways – not only visually, but spiritually. Levi Miller has this light in him that was very much the way I saw Mick coming off the page."

Levi Miller's talents had been noticed internationally – he was cast as Peter in Joe Wright's Pan, which shot before Red Dog: True Blue and was released in late 2015.

From the beginning, the team wanted Bryan Brown to play the role of Mick's grandfather. The veteran Australian actor was completing work on Kriv Stenders's previous film, Kill Me Three Times, when the subject of the new role was broached.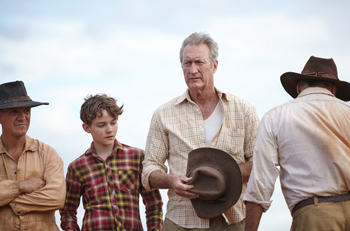 Bryan Brown remembers: 'I must have been doing the ADR for Kill Me Three Times when Kriv Stenders said, -I want to talk to you about the sequel to Red Dog.' We had a chat just before Christmas 2014, Kriv Stenders sent me the script and we talked about it, and that was it."

Said Jason Isaacs, who plays the older version of Levi Miller's character, Mick Carter: 'I love good stories well told and Kriv Stenders and Nelson Woss found gold. This story, the way Australians relate to Red Dog and how it has so much to say about the national character, there is just something special about it and I wanted to jump on board."

The Shoot

Kriv Stenders says of the singular location chosen to create Red Dog: True Blue in: 'Shooting in the Pilbara is, for a filmmaker - and I'm an ex-cinematographer as well - an absolute thrill. It's our Monument Valley. It's so striking, so cinematic, so evocative. It just keeps on giving. Even when the weather changes it transforms so you've always got beautiful light, beautiful texture, beautiful colour. It's a great stage on which to set our story."

Geoffrey Hall would return as Director of Photography for Red Dog: True Blue – having played the same role on Red Dog, and says: 'One of the many aspects that gives this film a great scope is that it's set in a spectacular landscape and Dan did a wonderful job of crafting a story which makes full use of that."

Stenders and Hall would make a conscious decision to depart from the vivid colors and camera style of Red Dog. The decision was made to shoot anamorphic, giving a very narrow depth of field and a classic cinematic look, or what Kriv Stenders describes as 'old fashioned, in a good way." In terms of an authentic colour palette to match this classical approach, the team were able to refer back to personal archival materials.

Geoffrey Hall explains: 'Kriv Stenders had a tremendous series of photographs that one of his family members shot in the 1960s, probably on Kodachrome film stock, on a property up in Queensland. It's very similar country to our location and the colours are true to the landscape and what was in it. Petrol drums weren't bright red, they were a sort of chocolaty red, for example, so we were able to refer to tones from that era from these original, personal images."

Weather, like the landscape, would be another character in the film – one with a huge force of personality. The Red Dog: True Blue script would call for a number of natural disasters, crucial to the narrative drive of the film.

Geoffrey Hall explains: 'The cyclone that happens early in the film is an initiation for Mick into the Outback - where have I landed, what is this world about? Dramatically and cinematically it works very well. We had a big special effects team with wind machines creating the wind, the dust, and enabling the photography to work the best way it can."

The team shot primarily with Arri Alexa and Red Epic cameras, sometimes with two or three cameras operating simultaneously and making use of an array of rigs and cranes. However, with some difficult locations to access, Geoffrey Hall and his camera department needed at time to improvise or invent lightweight, simple solutions.

Geoffrey Hall explains: 'I used a specific gyro stabilising rig called a Ronin that needs a very lightweight camera, so we used an Epic with still camera lenses. That was fun, using this little rig on portable cranes that we made out of scaffold tubing. We had situations where we were on top of a mountain and needed to get a 20 foot crane up there. It wouldn't have been practical to bring in our tonne and a half of crane, so instead we could set up on a light stand that was still cinema quality. It worked incredibly well."

The 2004 Jean-Pierre Jeunet film The Very Long Engagement was one reference that Kriv Stenders showed Geoffrey Hall, who was inspired by its 'very wide lenses, very simple structure in its camera movement where the scene may be just gently pushing in on one character while they're deep in thought. That style seemed to work very well as an idea for Red Dog: True Blue."

'Mick's in this strange place, he's a little bit lost but he's evolving, there are lots of things coming at him, so a lot of the camera movement was designed to help that along, to keep a sort of poetry in the movement."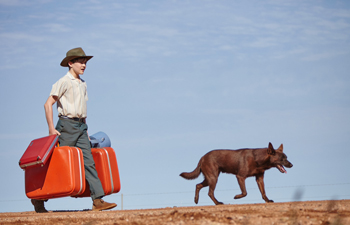 With the key cast and creatives in place, Kriv Stenders and Nelson Woss called on their extensive film crew relationships not just from Red Dog but from other productions. A lot of the Western Australian crew had worked on Red Dog, Ned Kelly and Kill Me Three Times some stepping up from minor roles on the first film to major crew roles on Red Dog: True Blue. Because of this, Producer Nelson Woss says: 'There was a shorthand of communication - we were able to work effectively in an economic way to get the story on screen."

For Stenders, 'it was great working with the team again - with Charles Rotherham, the First AD, who I've worked with on a number of films, Geoffrey Hall behind the camera, and in post working again with editor Jill Bilcock and with Cezary Skubiszewski, our composer."

'I've also got my own company of actors. Bryan Brown, Steve Le Marquand, Syd Brisbane and Hanna Mangan Lawrence – they'd all been in my previous films and I love them dearly. It creates a family atmosphere and for Red Dog: True Blue especially, that was a great energy to have on set."

Steve Le Marquand, who plays Little John, agrees: 'When you've got a lot of people out on location and we're all living in each other's pockets - familiarity can breed contempt, but Kriv and the good people he has around him kept everyone on an even keel, which you can feel in the movie too, I think."

Cast and crew alike were not just awed by the physical beauty of the place, but by something profound in the land they stood on. Actor Kee Chan, who plays Jimmy Umbrella, says: 'It was one of the most spiritual experiences I ever had on a film set. It feels timeless, deeply spiritual. I never wanted it to end - you don't ever want to leave because it's so peaceful."

For at least one member in the cast and crew, the relationship was not just directly to place, but to the legend from which Red Dog: True Blue and Red Dog arose.

Josie Alec, who plays Mrs Abby and whose father was a Ngarluma man, says: 'I don't actually remember it, but my foster parents told me a couple of weeks before we started filming that I used to go to Karratha Station when I was very young, and the owners had a little red Kelpie that I used to play with. My Mum told me that the dog got lost after a cyclone way back when, which I thought was quite uncanny, considering…"

Encountering A Legend

During the location shoot, every member of the cast and crew of Red Dog: True Blue encountered stories about Red Dog – stories they were either hearing for the first time, or that they'd been weaned on since childhood.

Josie Alec continues: 'I've heard one story that he belonged to an old Aboriginal fellow who died, and then Red Dog just kept travelling around. There are many stories, and they all mean the same thing: there was a dog who travelled around in the Pilbara and became a legend."

Calen Tassone, who plays Taylor Pete and is also from a Pilbara community, recalls: 'Every kid in the Pilbara knew about Red Dog. It's just one of those stories that people tell. He used to stop by my hometown a fair bit, coming down south and then going back up again. People would take pictures of him, give him lifts if he was going back up to Karratha. The fact that it's a Pilbara story is something that a lot of people from this area are proud of."

Zelie Bullen, the film's lead animal trainer, says: 'When we arrived in the Pilbara it touched my heart seeing Red Dog signs everywhere. The local soccer club is the Red Dog Soccer Club. We went to the memorial where his statue is and we spoke to Red Dog's veterinarian. That, combined with being there with a lot of the crew that were on Red Dog, the experience became very emotional."

For Bryan Brown: 'Every single person in the region had a relationship with Red Dog. They would come up to us saying -I knew Red Dog when he was little.' You weren't sure whether they'd dreamt it, whether it's real, but everyone's got a story. He was a reality, but he's grown into a myth."

Importantly, because the Red Dog legend meant so much to the local communities, the filmmakers received extensive community support and goodwill throughout both projects.

Nelson Woss acknowledges that 'Neither Red Dog, nor Red Dog: True Blue could have come to fruition without the incredible support and assistance that we received from of all facets of the Pilbara community."

The Characters

Mick Carter – portrayed by Levi Miller
Mick Carter and his journey into the joys of true friendship, the flush of first love and the pain of growing up are at the heart of the tale.

After his father dies, Mick's mentally fragile mother can't properly care for her son and he's sent off to his grandfather's Pilbara cattle station. Mick is someone who needs to connect, who needs to express himself, but the brutality, challenges and, in the end, the incredible connections he finds on the station – canine and human – begin to form the man he'll become.

For young actor Levi Miller, the core elements of research for the role of Mick were about training with the dog and with the bike that transports Mick on his adventures.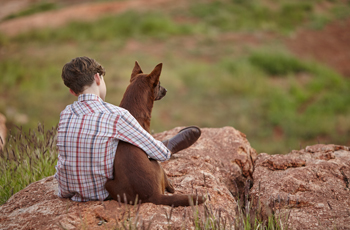 Of the key scene in which Mick finds young Blue, stranded in a tree after a cyclone, Miller says: 'It was an awesome day working with the little puppies. They were so cute, absolutely adorable and very excited - I'm sure they kept the owners up at night playing around!"

'Throughout the weeks before the shoot began I had bike training – it got so I wasn't a pro exactly, but was able to stay on the bike. It was the bike and the dogs, they were the two main things – and learning about the characters, reading through the script again and again to get into the character of Mick."

Nelson Woss said -Levi fell in love with his motorcycle, so the production gave it to him at the end of the shoot. His mother has still not forgiven us."

Grandpa – portrayed by Bryan Brown
Mick's grandfather Ronald is a solitary character, a remote and quiet man in a remote and quiet place. His wife is dead, his daughter is estranged and possibly suffering from mental illness. He oversees a vast cattle station and its many employees, but keeps strictly to himself emotionally, until Mick comes along and challenges the silence of the homestead.

Actor Bryan Brown says the core challenge was: 'trying to make him as real to the story as I could, to play him -honest'. The relationship between the boy and his grandfather, I wanted to make not schmaltzy, not pretentious in any way, but fresh and real."

For Grandpa, the tender relationship between his grandson and the little dog that enters their lives is key to his own transformation.

Brown says: 'Blue becomes very important to Mick. The relationship with the dog is something that gives him a great sense of being and enjoyment. Through that relationship, it helps my character connect with his own child – Mick helps bring me to an understanding of my own daughter.

Nelson Woss said 'Bryan is outstanding in this role. He is an icon of our industry and he nails this part."

Older Mick Carter – portrayed by Jason Isaacs
Jason Isaacs plays the older version of Levi Miller's character, Mick Carter. In the film, he recalls the story of how he crossed paths with Red Dog to his son played by Zen Mcgrath.

'I play a man that I think a lot of people can identify with who is just caught up in business, making a living and just trying to provide for his family," says Isaacs. 'He's slightly lost himself, lost a connection with his kids and in the telling of this story about his relationship with Red Dog when he was a kid he rediscovers who he is and who he is meant to be."

On working with the cast, Isaacs says: 'Acting is easy when the other people are good. Justine Clarke, who most people know from Play School, is fabulous as my wife. I thought she was phenomenal."

Isaacs says, 'The film is incredibly life-affirming. It is about communicating with the people you love, being in the moment and not losing yourself. And it's about dogs! You can't get away from it! Everybody loves dogs; it is just ridiculous how they cut through the rest of that human nonsense."

Taylor Pete – portrayed by Calen Tassone
Taylor Pete is an Aboriginal stockman working on Grandpa's station. He's a hard worker, a focused young man of sixteen, who has a vision for a future that's different than the one he's being presented with. Taylor Pete is fiercely political, a budding activist who eschews the relationship with the white man that his forefathers have had.

At first, Taylor Pete sees Mick as someone who doesn't belong here, a kid encroaching on a man's environment, but slowly he takes the kid under his wing. Mick looks up to Taylor Pete, admiring the respect and knowledge of country the older boy has.

Newcomer Calen Tassone plays Taylor Pete. A factor that brought him to the film was being from the Pilbara region.

Tassone says: 'Christine King, who cast the movie, got in touch with an old mentor of mine, Rick Brayford, who'd helped her cast Rabbit Proof Fence. I'd just moved over to Sydney, and Rick said -get a hold of him, he's from the Pilbara'. I did a couple of interviews and some auditions and got the part!"

Tassone says of playing the activist, in the context of the 1967 Referendum and the push for Indigenous equality: 'It's more than just equal rights and equal pay, a lot more. There's a scene where Grandpa is talking to Taylor Pete about the Aboriginal workers – -They have equal rights, that should be enough' is his perspective. The reason I think Taylor Pete is still not happy is because it's not about equal pay, it's not about equal rights, it's about the land they're working on not being theirs – they want their land back."

Bill Stemple - portrayed by Thomas Cocquerel
Bill Stemple is the station's helicopter pilot, a veteran of the ongoing Vietnam War, who grew up in the Outback and has returned to it after his armed service. Bill is in the good-looking, good-humoured larrikin mould, and isn't bothered much by new kid on the station Mick - until Betty Marble arrives.

Thomas Cocquerel, who plays the role of Mick, says: 'The day they all see Betty is quite an exciting day. I don't think any of them have seen a girl in quite a while, not to mention the fact that she's gorgeous and smart. Mick and Bill go head to head trying to get her affection."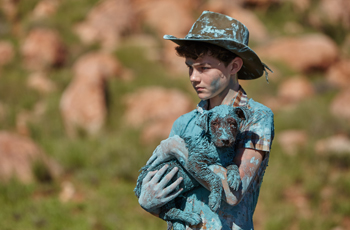 Cocquerel feels that Bill learns more about himself and learns some humility, through the competition. 'Mick's just a cute kid at first, but when Betty arrives there's a surly competition. Bill shouldn't be as threatened as he is by this little boy, but when she comes along it changes the dynamic of the relationship."

In terms of preparation, the camera department could shoot around him not actually flying the helicopter, but Cocquerel did need to learn to passably achieve Bill Stemple's favourite pastime - playing the guitar.

'I played guitar a little bit already, but I had to work on my skills. In terms of the flying, I used to fly a little model helicopter when I was a kid so I understood the basics, and I was given in-depth lessons sitting in the machine of what to do to make it look alright - just a whole lot of yelling up there in the sky mostly!"

Betty Marble - portrayed by Hanna Mangan Lawrence
Betty Marble appears from the big city to the south, Perth, halfway through the film, and quickly stirs things up amongst the male residents of the cattle station. Engaged to be Mick's tutor, quickly there are more than books on the young boy's mind. He falls under her spell, as does Bill Stemple.

Hanna Mangan Lawrence who plays Betty says: 'Straight away there's an attraction between Betty and Bill. On paper they're very different. He's a man of his time. Betty isn't like that, she's different and is ready to challenge notions of what a woman should be, how a woman should act."

Betty talks wistfully about Paris and London and San Francisco – she wants to escape, but Mangan Lawrence sees more than romantic notions in her daydreams.

'Betty wants to go where there's change happening - social change - and where she can be accepted and work and not feel like she has to just get married and become a housewife."

Jimmy Umbrella – portrayed by Kee Chan
Jimmy Umbrella is the madcap Chinese-Australian cook for Grandpa, Mick and the stockmen. A loner, his name derives from the umbrella that serves as his constant protection against the harsh outback sun, as well as all-use tool. Luckily for a cattle station cook, his specialty is beef – served seven days a week, 52 weeks a year, for breakfast, lunch and dinner.

Kee Chan says: 'Jimmy's very self contained, and I hope I have given him an integrity and a dignity. There wasn't much to research because I already understood how cattle stations work, and being born in Singapore, I already understood the British colonial system. I got who he was." The moment that stood out for Kee Chan was when he was filmed on top of the hill behind the homestead, a spectacular Pilbara vista wrapped around him. 'Jimmy Umbrella was doing Tai Chi, which I didn't know before - I studied it on YouTube and I hope I did it justice. It was utterly peaceful up there."

Big John and Little John – portrayed by Syd Brisbane and Steve Le Marquand
The two Johns are an inseparable pair of stockmen, whose names are humorously reversed – Big John being small of stature, Little John towering over him. Kee Chan calls the duo 'the Laurel and Hardy of the film."

Syd Brisbane (Big John) and Steve Le Marquand (Little John) had both worked with Kriv Stenders previously – Brisbane on BOXING DAY (2007) and Le Marquand on Kill Me Three Times (2014).

Brisbane grew up in rural Australia, on a dairy farm, and Le Marquand had even more direct experience: 'I worked on a cattle station once and they are very much a little microcosm of life. You've got all the different characters and the hierarchies in miniature that make up a society." Of the loving relationship between the two, which is revealed in a quiet, understated scene, Le Marquand explains: 'It's noted, and not a big deal made out of it. The whole idea of it is that, -Okay, there's two blokes out there that are very close and let's get on with it', you know?"

For Brisbane, being an actor was the best preparation: 'I think the research for us was the lives we've lived over the years as actors – in thirty years we've done so many different jobs and worked long hours in different jobs for little pay, which is what we'd have been on at the cattle station!"


Durack– portrayed by Kelton Pell
Durack is the head stockman of the station and right-hand man to Grandpa. He represents the diametrical opposite to Taylor Pete in terms of his perception of the position of Aboriginal men and women within the community of the cattle station.

Veteran actor Kelton Pell, who portrays him, feels that 'Durack is like a lot of the old people back in the day. They'd worked on the stations for so long it was a way of life - the stations were a part of them. Taylor Pete being the younger warrior, so to speak, he wants things to change." Blue is one of Durack's cousin's dogs, and it's Durack who recognises Blue as a Marlunghu – a trickster spirit.

Pell says: 'I was fortunate enough to not have to audition. Nelson Woss told me that he wanted me for this role, and I was so honoured and pleased to be given the opportunity to visit that beautiful country and play this crack character."

Mrs Abby - portrayed by Josie Alec
Mrs Abby, Durack's wife, helps look after the men on the station – doing their laundry and similar tasks. Mrs Abby and her husband straddle two worlds – working on the station, but living and eating meals at their camp, Guarala, over the hill from the homestead.

Josie Alec, who portrays Mrs Abby, was a newcomer to film. 'There was a traineeship with the film company that I was going to do to get some experience, something different and out of the ordinary for me. Then the part of Mrs Abby came up, so I went along to a casting. They asked me some questions and from there they called me back and eventually I got the part."

'This is the first movie I've ever done, it is the first time I'd been on a movie set. The experience for me at first was just way out of my league, but I loved it. I felt like I was home - the cast members brought me into their world and I embraced it."

Lang Hancock – portrayed by John Jarrett
Lang Hancock, like Red Dog, is an iconic Western Australian character and briefly appears in Red Dog: True Blue as a guest of Grandpa's at the homestead.

Hancock believes that his old friend is living in the past – Grandpa may have replaced horses and musters with motorbikes and a helicopter, but the future of the region is in iron ore and the best thing to do is sell the property.

Director Kriv Stenders says: 'Lang Hancock actually came to visit Karratha Station, where we filmed, in the late sixties. He's very much a part of the fabric of this world. And with the Red Dog films we've always wanted to be historically accurate and truthful and to shed light on this part of Australian history. Lang is a very important part of that. Like him or hate him, he's an important character in the story of the region."

Actor Bryan Brown had a hand in the casting of the divisive figure.

'When I read the script, I thought John would be perfect. I felt whoever was cast had to be someone who was a contemporary of mine, because in the movie these two blokes have known each other for ages and I've known Jarrett for a long time. Kriv and Nelson said -Terrific idea. Let's get on to him.'"

Working With Blue And Willy The One-Eyed Horse

Phoenix the dog had been cast as Blue but, because of the shooting schedule and shifting ages of the animal, six dogs were on hand for various scenes. A veteran animal trainer for Australian film and television productions, Zelie Bullen was selected to undertake the important and delicate task of Lead Trainer for the dogs and horses appearing in so many key scenes in Red Dog: True Blue.

Zelie Bullen says: 'Training any animal for film is based on the concept of being able to get inside the animal's brain - to be able to think the way they think and to be able to get them to understand what it is that we want of them."

The animal's action in a scene is often a series of small behaviours joined together. Bullen breaks down a sequence in a script and trains every action, before choreographing the separate actions to flow into each other.

Kriv Stenders says of the process: 'Working with the trainers is a long process, it's very methodical, but very important to keep flexible, not be too rigid because that ends up on the screen. I sometimes get ideas as we're shooting – no, the dog should actually do this and then it should do that. And the trainers were equipped for this ad-libbing, because the training and preparation has created a very solid foundation."

A thrill for Kriv Stenders as a director are those moments when the animal performed not only what it's been trained to do, but when it improvised like any actor playing a role. Director of Photography Geoffrey Hall explains: 'Sometimes the animals did unexpected things that worked for the sequence but may not have been scripted – in those moments we often thought -that's interesting, let's work with that.' We had to be ready to think on our feet and try to design coverage that would get the best out of the animals."

Scenes involving Willy the One-Eyed Horse, another oddball resident of the cattle station, turned on the dynamic of the animal being crazy, unpredictable and aggressive.

Bullen explains: 'We trained the aggressive behaviour in the horses to be a trick – to be no different to anything else, so that the animal putting its ears back is a behaviour - they realise it's a game and a trick. It's very important to us that they're not really aggressive. We had to train them to push a gate open and chase the motorbike, Mick and Blue. It's very protective of its paddock, the animal character in this story, so it was a lot of rearing and striking and pawing, and all of that is a trick."

Levi Miller, playing Mick, took on his own responsibility for getting the best out of the animals. 'I also had to help the dogs. We were filming a scene and the puppies were very excited, they weren't going to sleep, and so I learnt a trick – if I stroked right near their eyes they slowly fell asleep."

Bullen was incredibly conscious of the importance of bonding time between the young actor and the animals that would be portraying his confidante and sidekick.

'People think that it's all about the training," she explains, 'but one half of the task is grooming, feeding and being part of their pack. Because we had six dogs doing various scenes, we needed to get enough time between Levi with every individual dog to create the bond that we needed. In the beginning I was a little anxious about it but Levi was so warm and wonderful with the dogs - they took to him very quickly."

Welcome To Country – Working With The Ngarluma Community

Members of the Ngarluma community played vital roles as consultants throughout the process - not just during script development but right through production and post production. Key consultants were traditional landowner Clinton Walker, as well as Patrick Churnside, Tyson Mowarin and Josie Alec, who plays Mrs Abby.

On the Friday before shooting began, the cast and crew experienced an emotional Welcome to Country.

Director Kriv Stenders says: 'Working with the Ngarluma community was a really wonderful relationship. It started on Red Dog and it's been a fusion of two cultures: our culture in terms of being filmmakers trying to tell a story and being respectful and truthful and authentic to theirs."

'Clinton Walker, the traditional owner and our head -spokesperson' was very involved, very protective of us, making sure we filmed the right places, not only because he wanted us to shoot in the most visually spectacular places, but to avoid sacred places. There's a lot of power there – you can feel it. The story goes into that - it talks about the power that country has. I think it's a great story to tell audiences, especially children - to be able to share with audiences the Ngarluma community, their culture, their history."

For actor Calen Tassone (Taylor Pete) as well as for Josie Alec (Mrs Abby), both originally from communities in the region, the return was emotional for different reasons. Tassone says: 'I left when I was 18 to try and become an actor and I hadn't been back ever since. When I found out that there was a spot available on Red Dog: True Blue, being filmed in the Pilbara, I really wanted it. I was so happy because I knew that I would be able to come back home and spend a bit of time in country. It's a place that is very significant to me because it's a strong part of my childhood, my upbringing."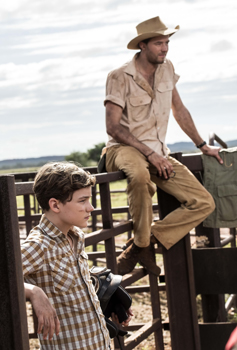 'We were blessed to have people like Patrick Churnside and Clinton Walker on board. They made sure we were doing right by country, because if you do right by country then country will do right by you."

For Alec, the experience and the connection to place was painful but ultimately powerful. 'I was taken away, one of the last stolen generation out of Roebourne. I was given to white fellows and grew up assimilated then came back about 15 years ago. I brought all my kids back and learned my language, learned my culture. The respect that's within the people for this country is amazing. I feel so blessed to be a part of that - I was taken away and I came back, and was able to do this amazing movie. I feel very blessed to have so much experience in my life."

The entire production's dedication to the process of learning about culture and protocols meant a lot to Alec.

'Our culture's strong and can be very dangerous to outsiders. The respect they showed - in my heart I think it's amazing."

Actor Thomas Cocquerel (Bill Stemple) says: 'Being out there with the Ngarluma community was a very, very special experience. I feel very privileged working, to be on camera, but the experience around a film shapes the film itself in many ways, and the experience on Red Dog: True Blue was particularly special. It's something I'm never going to forget."

Working With Levi Miller

Bryan Brown: 'He's an interesting young kid. The first time I was introduced to him, he had this ephemeral look about him. He's one of these young kids who's dealing in the sophisticated world that film is, but he retains an extraordinary innocence - not naivety but a sort of innocence - and it's a delight to see that in a 12 year old boy. He's a lovely, respectful, happy kid having these great opportunities, so good for him."

Thomas Cocquerel: 'Levi's gorgeous, a beautiful young actor, he's really one of the sweetest boys both on and off set. When you're working with him it's just such an easy thing to do because he gives you so much. He has these big blue eyes that you can gaze into and give your best work to."

Kee Chan: 'I have had one scene with Levi Miller and he is the most connected, intelligent, very aware young guy I've ever met on set. He's going to go very far. He's wonderful to work with - he's illuminating."

Kelton Pell: 'Levi is adorable, he's got magic eyes and his presence is outstanding. He's going to go a long, long, long way."

Steve Le Marquand: 'He's amazing. When you meet Levi, when go to shake hands with him, you get stuck in his eyes. He's got a real presence, particularly for one so young - he's got such an old soul."

Working With Bryan Brown

Levi Miller: 'Bryan was very helpful to me and he's a very good actor. It was awesome to work with him."

Thomas Cocquerel: 'Bryan is a master storyteller. Every moment I had free on set I'd sit down with him and listen - he's had such an amazing career both here and internationally. He's got some of the coolest stories and he's a lovely guy apart from that.

Calen Tassone: 'The first person I saw was Bryan Brown and it was a little daunting at first because here's this massive figure in Australian film and this is the first thing that I've ever worked on, but throughout this journey he's been really awesome."

Kelton Pell: 'It was an honour - I'm really pleased that I got to finally work with Bryan Brown. He gives all of his time – I thought he might lock himself in the caravan but he didn't. He loves his audience and I'm so pleased that he opened up his heart to everyone who wanted to meet him."

Kee Chan: 'I'm working with the godfather of Australian film – what else is there, period." Nelson Woss: 'I hope he gets recognised for how well he plays his part."


Red Dog: True Blue
Release Date: December 26th, 2016