Osamah Sami Ali's Wedding
Cast: Osamah Sami, Don Hany, Helana Sawires
Director: Jeffrey Walker
Genre: Comedy, Drama, Romance

Synopsis: A true story. Unfortunately.

Meet Ali, the charming son of a Muslim cleric who despite the best of intentions, just can't seem to make the right life choices.

Ali dreams big – he wants to be with the girl he loves, but he's been promised to another girl at his father's mosque. He wants to be the great doctor that the community expects him to be, but he doesn't get the marks. And above all he wants to make his father proud. Really proud.



So, what will Ali do to live up to the impossible expectations? Fake it. Because as the son of the cleric, he doesn't have a choice. It's one bad decision after another as Ali's wayward quest to please his father spirals out of control, with cataclysmic consequences. Ali's Wedding is an affectionate and entertaining story about family, duty and love in multi-cultural Australia. Depicting the lives of a Muslim family in Melbourne with authenticity and warmth, Ali's family share the same dilemmas as every family. Parents who want the best for their children and children who are trying to work out their place in the world.


Osamah Sami Ali's Wedding
Release Date: August 31st, 2017
About The Production
How The Film Came To Be

One day on the set of Saved, the 2009 telemovie starring Claudia Karvan and newcomer Osamah Sami, the 26-year-old actor Osamah Sami was telling the director, Tony Ayres, a story about his life.

'The more he talked the more unbelievable we thought it was… it was a rom-com", says Tony Ayres of Osamah Sami's story.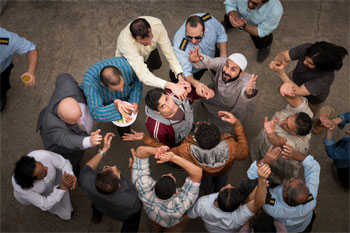 Then Tony Ayres decided to try and pair Osamah Sami with a writer to get the story down. Andrew Knight first met Osamah Sami at Tony Ayres's home in Elwood. Tony Ayres had approached Andrew Knight to co-write a film with a first-time writer, and son of the head cleric of Melbourne's Shiite community.

Andrew Knight describes the evening that Tony Ayers rang him up and said he might have a project of interest by a young writer in the Muslim community. 'I went along to the meeting to say no, but politely. Once I heard Osamah Sami's ridiculous life story, I thought -put me down'."

'His story is so extraordinary and so stupid and such a fantastic insight into that world, and Osamah Sami has a beautiful understanding of that world, and the complexity and nuance of it, and I thought, really all we have to do is get this into a structural form."

Seven years later, this story was turned into the film Ali's Wedding - a film based very strongly on the life of the now 33-year-old. In 2016, the screenplay won the award for Best Original Screenplay at the Australian Writers Guild Awards.

'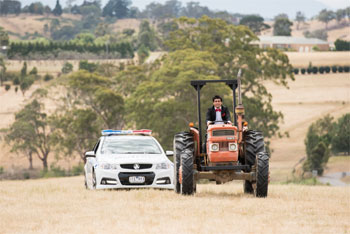 Most of the film, if not all of it, is based on real life", says Osamah Sami. 'Almost every event that you see in the film happened…running away from my arranged wedding, falling in love, faking a university degree, forging my high school results, doing Saddam the Musical, getting deported from America, that all happened…I don't know how, but it did happened."

The Book

Osamah Sami wrote the memoir Good Muslim Boy after writing the screenplay for Ali's Wedding. The memoir chronicles the last trip that Osamah Sami and his father made to Iran, interspersed with memories and anecdotes of growing up in Iran during the Iraq-Iran war and migrating to Australia. Published in 2015 by Hardie Grant, Good Muslim Boy was highly commended by the Victorian Premier's Literary Awards and won the Multicultural NSW Award at the 2016 NSW Premier's Literary Awards.

Good Muslim Boy is an hilarious and heartbreaking memoir of loss, love and family.


Osamah Sami Ali's Wedding
Release Date: August 31st, 2017