Meow
Cast: Rob Lowe, Emmanuelle Chriqui, Brian Cox, Tyler Labine, Jay Chandrasekhar, Lynda Carter
Director: Jay Chandrasekhar
Genre: Comedy, Crime
Running Time: 99 minutes
Rated: MA

Synopsis: Everyone's favorite law enforcement team is back by popular demand with the long anticipated follow up to the cult comedy classic… Super Troopers. When an international border dispute arises between the U.S. and Canada, the Super Troopers- Mac, Thorny, Foster, Rabbit and Farva, are called in to set up a new Highway Patrol station in the disputed area. Unconventional police work follows, and the result is… Super Troopers 2.

Super Troopers 2
Release Date: April 19th, 2018
About The Production
DRIVER: We're from America. We don't speak French.
MAC: Bon vivant bouillabaisse cul de sac laissez-faire chicken cordon bleu.
THORNY: Formidable baton rouge noblesse oblige au bon pain chateau marmont!
MAC: Croque monsieur?
THORNY: Croque madame!
DRIVER: Neither of you speak English?

Fired for their previous shenanigans, disgraced Vermont Highway Patrol officers Thorny (Jay Chandrasekhar ), Farva (Kevin Heffernan), Rabbit (Erik Stolhanske), Foster (Paul Soter) and Mac (Steve Lemme) re-unite when Captain O'Hagan (Brian Cox) and Governor Jessman (Lynda Carter) give the cops a shot at redemption. Their assignment: take over law enforcement in a French-Canadian town transitioning to U.S. sovereignty due to a recently discovered screw-up in border markings.

The Quebec town's ex-hockey player mayor, Guy Le Franc (Rob Lowe), tries to charm the Yankee interlopers at his hockey-themed brothel, while local Canadian Mounties (Will Sasso, Tyler Labine, and Hayes MacArthur) prank the Americans with a little help from a 1,300-pound bear. As they try to overcome their inability to understand the metric system, the Super Troopers eventually uncover a smuggling ring, take revenge on the Mounties and wreak havoc on the good citizens of Canada. Raunchy and outrageous and coming at you this 4/20, Super Troopers 2 continues in the grand tradition of the Broken Lizard comedy group (Super Troopers, Club Dread, Beerfest), serving up R-rated slapstick along with plenty of sex, drugs and rock 'n' roll.

When the Broken Lizard team unleashed Super Troopers on the public in 2002, the five-man group from Colgate University had no idea its smart and occasionally raunchy stoner comedy would become a cult classic. Filmed on a shoestring budget, the movie played the Sundance Film Festival where it was acquired by Fox Searchlight and went on to bring in $23 million worldwide in its theatrical release. In the years that followed, Super Troopers gained a devout fan base through DVD and repeat airings on the Comedy Central network.

So why wait 15 years to make a sequel? 'We made the decision that if we made another Super Troopers movie right away, that's all we'd ever be known for," explains Broken Lizard resident director Jay Chandrasekhar. 'We wanted to make something different. We wanted to make a horror movie."

But Club Dread, released in 2004, wasn't what their audience wanted: 'The audience didn't want a horror movie from us," Jay Chandrasekhar laughs. 'They just wanted more of those damn cops running around."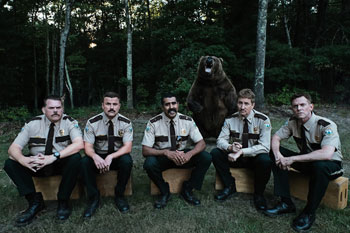 So about three years ago, Jay Chandrasekhar, Kevin Heffernan, Erik Stolhanske, Paul Soter and Steve Lemme began brainstorming new misadventures for their Super Troopers characters. The writer-performers were inspired by an NPR radio report about U.S.-Canada border disputes. 'We heard on the radio that the government tried to confirm that the stone markers, which delineated the U.S. from Canada, were where they thought they were, and in some cases, there were discrepancies," Jay Chandrasekhar recalls. 'We were amused by this idea: imagine if somebody went back and discovered that the border is not where the border should be? You've got all these people who were proudly Canadian who were now being told they have to become American. We felt like that was a fantastic conceit for our film."

Captain O'hagan Rides Again

Expanding the fact-based premise to absurd extremes, the Broken Lizard team collectively wrote 37 drafts of Super Troopers 2, taking pains to cram the script with jokes and sight gags. Then they went to work getting the Super Troopers gang back together. First call: Brian Cox. Acclaimed for his performances in serious dramas including L.I.E. and Golden Globe®-nominated 'Nuremberg," the British actor also had a memorable role in The Bourne Identity and earned plaudits for his title performance in the acclaimed Royal National Theatre production of King Lear.

But for all his achievements, Brian Cox says it's his performance as world-weary Captain Hagan that has earned him the most recognition from strangers on the street. 'About four years after Super Troopers came out, I was eating in a restaurant in Austin when all these University of Texas students came over to my table and started quoting the film," Brian Cox says. 'Literally, the whole film! I couldn't remember any of it. But they told me what my lines were, and I said, -Well if you say so.'"

Although comedy fans adored Super Troopers, some critics disagreed, Brian Cox recalls. 'When Super Troopers first came out, I got the worst reviews of my career," he laughs. 'I remember one of them said, -If Mr. Brian Cox needed the money, surely someone could've lent it to him.' Despite the critics, I survived it reasonably well and went on to do other things, but at the time, being in Super Troopers looked like it might be a great impediment to my career." Despite that, Brian Cox regards his Super Troopers character with immense empathy. 'The Captain is a sweet, rather sad character because he's lumbered with these five idiots," says the actor. 'I think the audience should have immense sympathy for my character but instead they just laugh their heads off."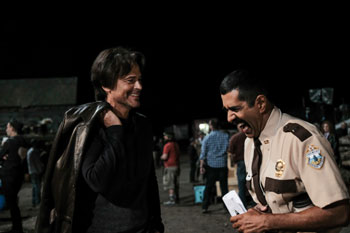 For their part, the members of Broken Lizard regard Cox with awe. 'Brian Cox thinks we're a bunch of monkeys," says Lemme. 'I mean, he's done Shakespeare!" Also returning from the first Super Troopers are Lynda Carter, iconic star of the 1970s 'Wonder Woman" series, and Marisa Coughlan, who reprise their roles as Governor Jessman and Officer Ursula, respectively.

Comedian Jim Gaffigan revisits a fan-favorite 2002 scene that's come to be known as 'The Meow scene." In the original, Soter's Trooper Foster stops the car driven by Gaffigan's character and peppers his interrogation with 'Meow." The nonsensical bit captured viewers' imaginations.

'After all these years, I can't go anywhere without people saying -Meow' to me," notes Soter. 'It's such a ridiculous thing to become memorable. We wanted to revisit that idea by having us pull Jim Gaffigan over and he remembers us as the cops who said -Meow' to him years earlier. It's kind of meta."

Brian Cox jokes that both he and Jim Gaffigan did their best to elude the long reach of the Broken Lizard group when casting began on the sequel, but the filmmakers ultimately prevailed. 'Jim Gaffigan has all these children and he piles them at the door and says -Stop these people from coming in," laughs Brian Cox. In his own case, the British actor remembers shooting a movie in Siberia when he got the invitation. 'There were these sort of Russian secret police who tracked me down and said, -These people from Super Troopers want to make another movie with you.' I said, -Can you just tell them you couldn't find me?' But no, they didn't do that, so the next thing you know, there I was shooting the movie."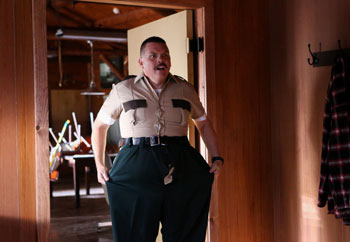 Rob Lowe As 'The Halifax Explosion"

Joining forces with the Super Troopers creators for the first time is Rob Lowe in the role of smarmy hockey star-turned-politician Guy Le Franc. 'We were all fans of the movie Young Blood, where Rob Lowe played a hockey player," says Soter. 'He's also been in great comedies like Wayne's World and Austin Powers. In our movies, we like to celebrate the cinematic touchstones of our youth so it was great fun to get people like Rob Lowe and Lynda Carter into this one."

Stolhanske remembers his wife spotting the famously handsome actor when they visited the set. 'She said, -That guy looks like Rob Lowe.' I said, -That guy is Rob Lowe.' She couldn't believe it." he says. Rob Lowe, coming off his Emmy®-nominated role on 'Parks and Recreation," came up with the idea of nicknaming his character after a 1917 Canadian maritime disaster called the Halifax Explosion. 'I actually brought that idea to Jay because it's part of this crazy obsession I have with the biggest man-made explosion before the invention of the atom bomb," Rob Lowe says. 'When I told Jay Chandrasekhar about this disaster, he became fascinated and the Halifax Explosion became sort of a running joke in the movie."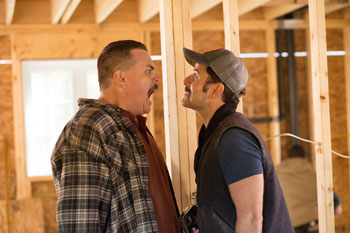 A Fan-Funded Effort

Aware of the original film's dedicated following, Broken Lizard went directly to its fanbase to finance Super Troopers 2's production budget. A campaign on the Indiegogo site raised more than $4.6 million donated directly by Super Troopers devotees eager to see more hijinks. The campaign went on to become the second most successful crowdfunding campaign for a movie ever. 'When we did the crowdfunding thing, we didn't know how it would pan out," Heffernan says. 'It could have been very embarrassing, but luckily the fans came out."

Adds Soter: 'It pushed us into the reality of -We're really making a movie now.' And of course, you want to make the movie great for the fans because they helped finance it for us." As a reward for supporting the movie, four generous Indiegogo backers, Matt Swan, Kim Lovett, Jyoti Patel and Kevin Birtcher were invited to visit the Super Troopers 2 set. 'I really enjoyed the first Super Troopers and a lot of my friends did too," says Patel. 'Getting the chance to actively give money so they could go make another one seemed like really good idea and it was really exciting to feel like you're a part of something you really love."

Lemme says the show of support from Super Troopers 2 online backers meant a lot both emotionally and financially. 'It's really humbling to meet these fans face to face and tell them, -You contributed the first money to the budget of our movie and that really unlocked everything else.'"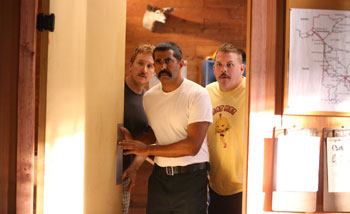 Baiting The Bear

While Super Troopers featured a fake bear sequence, for the sequel the filmmakers upped the ante by hiring an actual 1,300-pound bear named Whopper to terrorize Heffernan's character, Farva. 'The bear was a real diva," jokes Lemme. In Super Troopers 2, the pivotal man-versus-bear scene centers on Farva as he tries to distract the hungry animal ransacking police headquarters in search of food.

'There was a great moment the other day, when I worked with the proper sort of actor, who happened to be a bear who hit his marks," says Brian Cox. 'The bear did what he was told, and was excellent. And we filmed it quicker than any other scene. This bear came in, did this stuff, got out, he was fantastic."

'The bear was a good actor. He hit his mark every time, did it on the first take and then it went back to its trailer," Heffernan recalls. 'He works for meat," added Jay Chandrasekhar.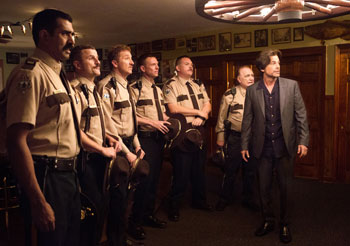 Bad Accents And Naked Mounties

The reinstated Vermont State Highway officers in Super Troopers 2 harbor contempt for all things Canadian, but if their accents are any indication, the three actors co-starring as Canadian Mounties also display casual disregard for authentic north-of-the-border culture. 'My Canadian accent is on a sliding scale, different from scene to scene," Hayes MacArthur says.

'I'll get the Scottish brogue coming in at times." And Labine notes, 'Sometimes a little Russian sneaks in there."

Will Sasso, the burly star of the Emmy-nominated 'MADtv" series, grew up in Canada and a strong French-Canadian dialect. 'My accent was so thick and gravelly, you could roast marshmallows on it," he says. 'I had to smoke cigars in the morning and inhale and walk around the lobby of our hotel just to warm up."

Sasso, MacArthur, and Labine vividly remember the arduous night sequence when their Mountie characters are humiliated by the Americans. 'The second day of the shoot we got dropped off naked in the woods wearing nothing but red, white and blue body paint," MacArthur recalls.

Adds Labine: 'The funny thing about full body paint is that you can't really sit down once they've painted your rear, and you can't wear a robe 'cause the paint will rub off. So, there was a lot of time where we're just hanging out getting bit by random bugs. And we were literally leaving abstract art everywhere we went. You'd sit down and when you got up, it looked like a Jackson Pollock painting on the chair."

Contrived Chaos

Filmed in Massachusetts in August and September 2016 with cinematographer Joe Collins behind the camera, Super Troopers 2 challenged cast members to bring their slapstick Agames. 'I can only describe the mood as contrived chaos," Brian Cox says. 'You learn to ride with it."

For his role as Foster, Soter says it was all about getting laughs. 'I mugged. I said silly things. I did physical comedy. For me, there was not a single ounce of heavy lifting or romantic purpose at all. Erik got it the best and the worst in this movie. He gets the love scenes, and he also got chained to a giant industrial saw."

While each Broken Lizard suffers for his art in Super Troopers 2, Heffernan's Farva had a particularly rough time of it. 'I was the biggest jackass in the first movie, where I had all kind of gunk dropped on me," Heffernan says. 'Now for this one, it's even more: I end up in a portapotty that flips over and blue goop pours all over me."

Stolhanske's character, Rabbit, falls victim to a shaving-cream locker-room scene. The Mounties tell the Americans about a hazing ritual that involves the rookie of the bunch getting handcuffed to a bench and forcibly shaved.

Then there was the sequence that marked a first for Lemme. 'Not only did I do acid in this movie, I also did a full-frontal and rear nude scene at the same time," says the actor, who reportedly underwent rigorous preparation for his nude scene. 'We like to call that the Django scene," jokes Heffernan.

'Steve's goal was to have a dimple on the side of his butt," Heffernan observes. 'For two months, you'd see Steve doing leg lifts all the time."

Lemme elaborates: 'You have to get the buttocks prepared and get yourself in shape and practice cartwheels." As soon as the scene was completed, Lemme gorged on snacks. 'We found Steve at one of the craft service tables just eating, eating, eating," Heffernan says. 'He was gobbling candy," Chandrasekhar adds. Lemme confirms: 'It was decadent. I owned it."

The film shot in Massachusetts locations including Concord, Southborough, Hopkinton, Marlborough and the Quabbin Reservoir. One interior served as both police station and brothel, recalls production designer Cabot McMullen ('Scrubs," 'Supergirl"). 'What started out as a dual- sex strip club in our movie somehow morphed into a hockey-themed bordello that we pretend exists in Canada," Soter says. 'Maybe it does. I don't know."

Between the Mounties' bare-naked debacle, the bordello showdown and the shaving sequence, Super Troopers 2 shows plenty of skin. 'There's more nudity, both female and male, than we've ever had in any of our other movies," says Stolhanske 'We like to give something back to the ladies."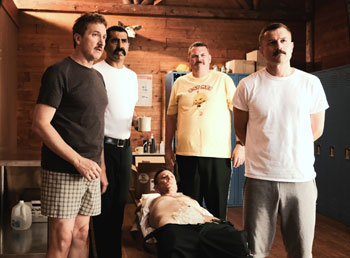 Super Troopers Ride Again

For comedy fans who appreciate goofball antics in the tradition of Animal House and Caddyshack, the anarchy-packed Super Troopers 2 serves up a fresh helping of Broken Lizard's trademark R-rated wackiness. While Super Troopers has become a cult comedy classic, this one stands on its own but has some definite throwbacks to the original. 'It's been fun for us to play the Super Troopers again because we don't really have to discover our characters," says Jay Chandrasekhar: 'We just painted them a little weirder and tried to make as good a movie as we could. Whether it catches on in the same way as the first one, who the hell knows? All I know is that we wrote what we think is a very funny movie and we shot it."

As for Brian Cox, the veteran thespian says he's already looking forward to his fantasy of what a Super Troopers 3 might look like. 'I've played King Lear and I've played Titus Andronicus," Brian Cox says. 'I've done all these major roles up the wazoo, but I always wanted to be Jerry Lewis because, you see, I'm a closet comedian. Hopefully, if there's a Super Troopers 3 Captain O'Hagan will be able to exact his revenge. That's what I'm looking forward to: No night shoots…and exacting my revenge."


Super Troopers 2
Release Date: April 19th, 2018