Ross Mathews Hello Ross Interview
Australian Premiere Saturday, September 7th at 9:30pm AEST – Express From the US

Saturdays on E! will never be the same again, with the arrival of Ross Mathews, who joins the fold with a brand new series celebrating the fan-obsessed world of pop culture. 'Hello Ross" premieres on Saturday, September 7th at 9:30pm AEST only on E!

'Hello Ross" is where the intersections of celebrity gossip and pop culture collide, hosted by the world's biggest super fan himself, Ross Mathews. Universally adored for his appearances on 'The Tonight Show with Jay Leno," 'Chelsea Lately," and E!'s red carpet coverage, Ross will give viewers a fresh take on the latest news from Hollywood.

'Hello Ross" premieres express from the US on Saturday, September 7th at 9:30pm AEST only on E!
E! is available on Foxtel on Channel 121)


Interview with Ross Mathews
Question: Can you tell us about the new show, Hello Ross?

Ross Mathews: The show is so fun! Hello Ross is all about loving pop culture; there are many shows that look at pop culture and think its lame or -isn't she stupid?" I love pop culture and this is the place for us to talk it out, together!


Question: What should audiences expect from Hello Ross?

Ross Mathews: Hello Ross is really interactive; when I have celebrities on set in Hollywood I can go out to the audience and they can ask the celebrity a question but we're also taking questions via video chat from all over the world and there is a chance for people, even in Australia, to be here in Hollywood and be a part of pop culture.

I grew up in a place that is as far away from Hollywood as you can get, here in the States and I want people to know in Australia that Hello Ross is really a chance to be a part of Hollywood because you can absolutely video chat with a celebrity, on the show. I've loved Hollywood, from afar, for so long and I pride myself on being able to bring Hollywood to Australia. Please be a part of Hello Ross, be my co-host; follow us on Twitter: @helloross or go to www.helloross.com


Question: How did Hello Ross, your own show, come about?

Ross Mathews: I've always wanted to be a talk show host, ever since I was a little boy growing up in a farm town, in Washington. I've always loved pop culture and wanted to interview celebrities; I have been working non-stop towards this goal and I knew when I got the chance, I had to do it the way I wanted which is a party where everyone is welcome. Hello Ross is a show for the fans.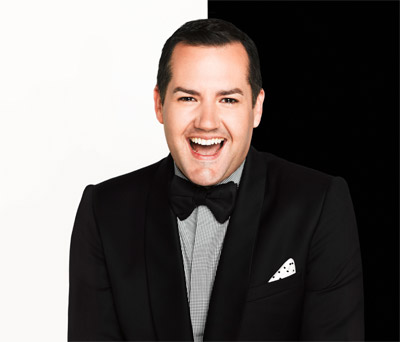 Question: Can you talk about how your approach to celebrity gossip and pop culture is unique?

Ross Mathews: Hello Ross is absolutely unique because I am a super-fan; there are so many people who get to interview celebrities and are so over it and jaded – get out of the way, if you don't want to be there, let me do it, make room for the fans! There is also a spontaneity to Hello Ross because it's always about being fun and when I do some one-on-one stuff with celebrities I always get a different interview because the energy is so different to what they're used to.


Question: What have you enjoyed most about filming Hello Ross?

Ross Mathews: Yesterday I took my whole staff to go see the One Direction Documentary (laughs) because I wanted to talk about it and I wasn't super familiar with One Direction and my staff said 'you have to see it, they're amazing" so I knew we all had to go, right now. We all went and saw the One Direction Documentary and then sat and debated it. That is what Hello Ross is about, people who care enough to buy a ticket and want to talk it out, it was a sweet moment to realise that.


Question: Can you give us an insight to the guest who will be appearing on Hello Ross?

Ross Mathews: We're currently having meetings about that, there are so many people who we're obsessed with who we want to bring on as guests and give access for the super-fans out there. We want the guests to be timely; we want to make sure we bring the people in who have something to talk about, right now. We will announce our first guest, shortly and it's good and very timely!


Question: How does it feel watching yourself, on television?

Ross Mathews: I am my biggest fan (laughs), I'm kidding! I don't really watch a lot of myself on television as I was there, I experienced it; in the early days I would watch and really critique as I knew it would help me get better. When I do see something, if I walk into a bar and it's playing, it's the most rewarding thing because it's validation for the eight year old me who knew what he wanted to do! I want to get into a time machine and go back and tell my eight year old self 'you were totally right"!


Question: Can you tell us about your wardrobe, for the show?

Ross Mathews: My partner, Salvador Camarena is a wardrobe stylist who dresses celebrities and he dresses me because he works on the show! Men's clothing can be so boring, so I always want a pop of colour. Pop of colour could be my street name.


Question: Who is your celebrity style inspiration?

Ross Mathews: I don't have a celebrity style inspiration; any man whose brave enough to wear something other than a black tuxedo! It takes a real man to wear a bright pink tie and I think I'm going to wear a bright pink tie on the first episode because the audience have voted for a bright pink tie! I live part-time in Palm Springs, California which is outside of LA and it was the stars getaway in the 50's and I bring a little bit of that swanky style when I'm hosting.


Question: Overall, do you have a favourite celebrity?

Ross Mathews: I love so many celebrities. Of course I love Chelsea Lately as she is producing the show and she's been so good to me and Jay Leno who has been so great to me, over the years. I've always loved Gwyneth Paltrow and we've become very great friends, she wrote the foreword to my book, Man Up and the book features a chapter about how we became best friends, it's so unbelievable that I asked her to write the foreword for the book so people would know I wasn't lying!


Question: Which celebrity have you met in person who surprised you, the most?

Ross Mathews: I interviewed Michelle Obama recently and she is so comforting, down to earth and very normal and sweet. Michelle Obama is living breathing history so I expected her to be very stiff and guarded and she was anything but!


Interview by Brooke Hunter