Show Dogs
Cast: Will Arnett, Stanley Tucci, Gabriel Iglesias, Alan Cumming, Ludacris ., Shaquille O'Neal
Director: Raja Gosnell
Genre: Comedy
Running Time: 92 minutes
Max, a gruff NYPD K9 unit Rottweiler, inadvertently blows Federal Agent Frank Mosley's cover in an operation to catch the smugglers of a baby panda known as Ling-Li.

However, Max manages to corner one of the henchmen who tell of his ring-leader's plan to sell the panda at the Canini Invitational event in Las Vegas. This prestigious dog show attracts the richest people in the animal world and the 'Best In Show" is worth millions.

Frank takes the assignment but in order to gain access to the coveted event, he must pose as a contestant with a dog. Max, who happens to be a purebred Rottweiler, jumps at the opportunity to take down the evil gang.
Trouble is- Frank is convinced Max has anger issues, Max thinks Frank is stupid and both are entirely clueless about the glamorous world of show dogs.

On arrival in Vegas, Frank makes contact with the FBI's special canine consultant Mattie Smith, a professional dog handler and groomer. Meanwhile, Max tracks down and enlists the help of an old French Papillion by the name of Philippe, once a celebrated show champion. Philippe agrees to tutor Max and vows to turn this smelly street dog into a 'Best In Show" contestant.

First stop is the dazzling Canini Invitational opening party, where Max meets and gets the low down from the other dogs in the show including Daisy, a beautiful Australian Shepherd handled by Mattie; Sprinkles, an excitable chubby pug; Karma, a zen Komondor and Dante, a fancy Yorkshire terrier.

The following day, training begins and Max, the alpha male, has to endure a full body foil wrap, seaweed mud mask, bubble bath and even a bikini wax. If they fail to be accepted into the competition, Frank and Max will be sent back to New York and Ling-Li will be lost forever.

Respect and trust in one another grows when Frank and Max make it through and proceed to use any and all means necessary to win their way up the ranks. However, as the final round approaches they realize that whoever wins will become the most valuable canine in the world. The smugglers plan to steal the prize dog so they can sell it along with Ling-Li and a host of other valuable creatures that have mysteriously gone missing.

With a little help from their new friends, Frank and Max embark on a mission to out-smart the greedy traffickers, track down Ling-Li and rescue the other kidnapped animals, including the new champion of the Annual Canini Invitational.
Fun Facts:


- A Chow puppy doubled for the baby panda in the movie
- Opposite to her character in Show Dogs, the dog playing Daisy is a tom boy and hated any kind of grooming or pampering
- The costume department had to provide Will Arnett with 20 pairs of trousers for the scene in which Max tugs on his pants because they were shredded on each take
- 40 dogs were on set for the Vegas Pool party scene
- There were multiple dogs playing the same character in the film; 3 dogs playing Max, 3 playing Daisy, 3 playing Philippe, 2 playing Sprinkles, 2 playing Dante, 2 playing Karma and 2 playing Lopez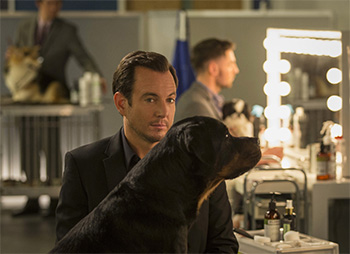 Will Arnett – Frank
When asked what attracted him to the project Will said, 'I tend to do a lot of different shows and projects, and it was one of those movies I told my kids about and I pitched them the idea and they loved it. It's fun for me to be able to do something I feel like they, their friends and people that age will really respond to."

Arnett describes his character as, 'Frank is an FBI agent who susses out that there are some bad guys who are trafficking animals. The investigation leads to a dog show in Las Vegas – Frank has to go there and that's when he gets teamed up with a Rottweiler named Max. Frank begrudgingly takes Max on as his partner and they set off on an adventure to Vegas, to enter the dog show and capture the animal traffickers."

Talking of his co-star Natasha, Arnett was highly complementary. 'Working with Natasha is great. She's a lot of energy in a small package because she's physically quite small but she's got this ferocious personality in the best way. She brings a ton of energy and she's crazy funny. She's one of the funniest, smartest people I know."

Commenting on the unique experience of working on SHOW DOGS, Arnett said, 'Coming to work every day and getting to work with all these great dogs is really, really fun. I'm a dog lover and I have to sometimes stop myself from constantly petting the dogs because I forget they're working. I've got to say, working with these dogs in a lot of ways is better than working with humans. They're much more respectful and their needs are very simple. They just want to eat and make everybody happy. They're constantly smiling, it seems. They're just having a good time."

When asked if he had a favorite dog, Arnett found it tricky to answer. 'I really love a lot of the dogs. The dog that plays Daisy is an Australian Shepherd and she's so beautiful and young. She's only a puppy. She's a really a sweet dog and has so much energy but is smart and eager to get it right. You have Razor who's this little Chihuahua and he's got such a funny temperament. Q is the dog that I spend the most amount of time with on set and I've really grown to love him."

Working with filmmakers was a highly collaborate experience saying, 'Our director, Raja, is just the loveliest guy. He is incredibly inclusive and open to new ideas. He always has a pretty firm shot list but within that framework he's very flexible and I love that part of it. The producers have done a great job of creating an environment where that can exist, giving us the time and the resources. It's been awesome. Deepak, the producer, has got so much experience over so many different projects, and he is a real lover of life. He really wants everybody to be able to reach their fullest potential."

Commenting of the overall appeal of the film, Arnett said, 'I think what audiences will enjoy about this film is they can go as a family and there will be something in it for everybody."

'Some people have described this movie as Miss Congeniality for dogs. It's a really a fun twist on an action film, and a fun adventure film the whole family can enjoy."
Show Dogs
Release Date: July 5th, 2018