Sione's 2: Unfinished Business
Cast
: Oscar Kightley, Robbie Magasiva, Shimpal Lelisi
Director
: Simon Bennett
Genre
: Drama, Comedy
Rated
: M
Running Time
: 92 Minutes
Synopsis
: Five years ago our heroes the Duckrockers thought they had figured it all out - they had found themselves girlfriends to take to Sione's wedding and the future was looking bright: Michael had come to accept that commitment wasn't for him and he was always going to fancy white girls Albert had finally hooked up with his co-worker Tania Stanley, always the weird one, had managed to find himself a nice girl one of the catering staff from the wedding and Sefa had even got the courage to propose to his long term girlfriend, Leilani. And Bolo? Well, apparently his name is actually Paul.
Fast-forward five years and things haven't quite gone as the boys might have planned: Albert is now married to Tania and they are living in suburbia, both working in insurance and also trying (unsuccessfully) to have a baby Sefa and Leilani are still together and now have two kids although despite Sefa's proposal, they're still not married. And while Sefa's business is falling apart, Leilani seems to be living life to the full Stanley is now a trainee Deacon in the Future Church Michael has moved to Australia but the boys don't hear from him often and Bolo has thrown in his job with Sefa and taken up work with Sione, Michael's younger brother.
Growing up appears to be driving the Duckrockers apart but when they're confronted with one of life's unexpected turns and Bolo goes missing, their Minister once again brings them together and sends them on a quest. Their mission: to find Bolo. Where do you start when you are looking for this one Samoan in the worlds largest Polynesian city?
As they set off on the physical search for Bolo, each of the Duckrockers is also on a personal journey of sorts. But of course, the Boys being the Boys, the way they deal with things can only go wrong.
Release Date
: March 1st, 2012
Sione's Wedding The Legacy
Sione's Wedding hit New Zealand cinemas on March 31, 2006 with the biggest opening weekend of any film and went on to become the third highest-grossing New Zealand movie at the time.
Almost six years on from the initial release, actor and co-writer Oscar Kightley says he is still struck by how strongly people connect with the film. "I was surprised by the degree to which the film just fell into people's hearts. Even years later, I'm meeting people who say they go home every night and watch it after work to cheer themselves up. And I meet other people who say their kids quote it to them all the time so I'm thrilled that people have taken to it to that extent."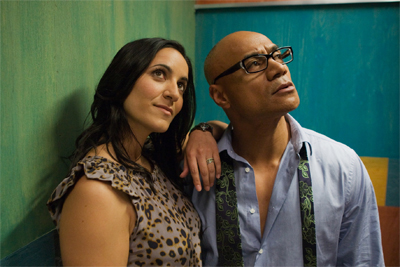 The Birth of a Sequel
The idea of a sequel to Sione's Wedding was first floated by the film's Producers and co-writers (Oscar Kightley and James Griffin) in 2006 but it would be another five years before it became a reality.
"Sione's Wedding was a terrific success at the box office and is still a very popular film," explains Producer John Barnett. "It also did fantastically well on DVD, notwithstanding the piracy, and it consistently attracts great television ratings. So pretty much at the outset of that film's release, we felt that there would be a demand for a sequel."
Oscar Kightley and James Griffin came up with a number of ideas although initially the pair resisted the notion of revisiting the same characters. "We had this notion of pushing ourselves as writers and also pushing the actors by trying to come up with something different for everyone," says Oscar Kightley. "But in truth, those characters never really went away...they always kind of hung around our heads. Finally we got to the point where it was coming up to five years since the first film so if it was going to happen, it was a case of now or never."
In fact, it was also the writers' commitments to other projects that caused the sequel scripting process to be delayed. "James Barnett had Outrageous Fortune pressing him for most of the five years and so that meant he had a lot less time on his hands and Oscar always has several projects on the go," says James Barnett. "But whenever the two of them got together they came up with ideas and we continued to talk backwards and forwards."
James Griffin and Oscar Kightley finally hit on a sequel concept that involved the core characters from Sione's Wedding in a story set five years later. "Once we made that decision it all just flowed and it felt really right?I don't know why I resisted so much initially," laughs Oscar Kightley. South Pacific Pictures greenlit the idea and the pair sat down to write the script in September/October 2010. The film's six-week shoot commenced in mid-April 2011.
Oscar Kightley was struck by how swiftly the machine cranked into gear once the script was complete. "Compared to the first film which took like five years before we got to shooting, this happened really quickly. It was awesome."
The Director
Simon Bennett was brought on as a director for Sione's 2: Unfinished Business and although this project marks his feature film debut, Simon Bennett has had a long association with the Sione's franchise.
"Simon Bennett's ideally qualified to shoot this picture and he's done a terrific job," says John Barnett. "One of the things that not many people know is that before we shot Sione's Wedding, we made a little teaser tape of how that film might look and how the characters would be: it was something that helped us raise the finance for the film. Simon Bennett actually directed that teaser video and was also involved in the development and casting of the first film so he has had a long association with the Sione's project."
Simon Bennett has also had a long history with South Pacific Pictures both as a director and producer on many of the company's primetime television productions including Shortland Street, Mercy Peak, Maddigan's Quest, Outrageous Fortune, Spies and Lies and, most recently, The Almighty Johnsons. "Simon Bennett's background was as a theatre director before he got involved in television so he understands performance, he understands comedic timing and he's done a great job with this cast who all respect him very much," says John Barnett.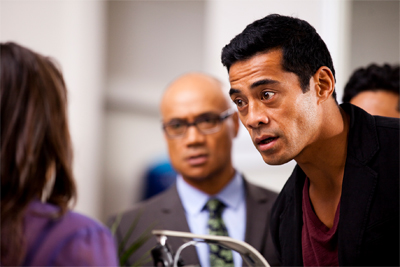 Simon Bennett relished the opportunity of helming his first feature film and was not fazed by coming on board to direct an already established group of characters. "James Griffin and Oscar Kightley wrote such a strong and compelling story with a group of characters that are already familiar in the viewers' minds and a group of actors most of whom I'd worked with before and really enjoyed working with. So we didn't have to do the same kind of groundwork that you have to do in a 'number one' film," he says. "The world of the film was clearly established in the first Sione's Wedding film and it was simply a matter of harnessing the somewhat chaotic energy at times of this particular bunch of people and sending them off on this particular quest".
The Crew
Simon Bennett, along with the Producers, hand-picked the crew to fill key creative roles. "The crew on this film were very much people I wanted to gather round me and most of them are people I'd worked with in the past," he says. "I think when you're directing you want to surround yourself with people who speak the same language as you do - which is a kind of shorthand. That way, you don't have to explain yourself for 25 minutes before they get what you're talking about because you've got a history, a track record and similar tastes and a similar understanding of language - you're on the same page and that's really good."
Production Designer Tracey Collins, Editor Bryan Shaw and Cinematographer Marty Smith have all been long-time collaborators of Simon Bennett's. "I've been working with Tracey Collins for about 21 years on many different projects," he says. "I first worked with her on The Taming of the Shrew at the Watershed Theatre back in 1990 and since then we've done a lot of theatre and television together as well. Bryan Shaw the editor I worked with extensively through Outrageous Fortune and The Almighty Johnsons and Marty Smith, the Director of Photography is a key collaborator for any director because a big part of what you're doing is how you're telling the story visually and Marty's fantastic at reading my mind and coming up with stuff that's even better than I could even possibly have thought of."
The Soundtrack
The soundtrack for Sione's 2: Unfinished Business is a key element of the film. "The music for this film is really important - just as it was the first time around," says John Barnett. "In the case of Sione's Wedding, we had a very strong urban hip hop soundtrack which was mostly from the Dawn Raid catalogue with a couple of new songs. With this film, partly because the characters have moved on in story terms, we enhanced the hip hop urban sound and brought in Don McGlashan to compose several key pieces which has really added to the score of the film."
Don McGlashan says his approach when it came to scoring the film was to find the right balance of light and dark mood. "The challenge is to find the tone so it's not really serious. It's a quest movie so there's a genre language and my job is to hit all the quest points but to do it with a kind of lightness of touch."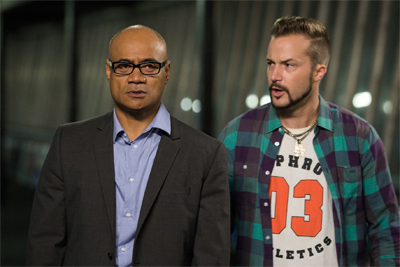 Composing the score for the film also enabled Don McGlashan to discover more of the local urban music scene. "I've been helped enormously by Dawn Raid who are the music supervisors for the film as well as Oscar Kightley himself who's come up with a huge amount of music and thrown it at us," he says. "We've had a lot of really great advice and then it was just a question of picking through everything. I've learned a huge amount about that area of New Zealand music."
Brotha D who heads up New Zealand hip hop label Dawn Raid Entertainment along with Andy Murnane was instrumental in getting a number of the local hip hop and R&B songs on the soundtrack of Sione's 2: Unfinished Business and says it is always beneficial for artists to feature on film soundtracks. "These opportunities are golden - especially now given the hard times we're having in the music industry," he says. "We're always looking for other platforms for our music to be exposed in and one of the bigger ones comes with pictures. A film like Sione's travels and people around the world are going to view it and many of them will get into the music that way which is a great opportunity for the artists."