The Film That Helped Define a Genre
Cast: Jason Mitchell, Omar Chaparro, Andrea Londo, Trevor Jackson, Lex Scott Davis, Allen Maldonado
Director: Director X.
Genre: Action, Crime
Running Time: 116 minutes

Synopsis: SuperFly - the film that helped define a genre in its characters, look, sound, and feel - is reimagined with Director X, director of legendary music videos (Drake, Rihanna), introducing it to a new generation. The screenplay is by Alex Tse. Soundtrack curated by hip-hop superstar Future.

SuperFly
Release Date: August 9th, 2018
About The Production
When Director X, one of the most acclaimed visual artists in music videos and helmer for such stars as Drake, Kendrick Lamar, and Rihanna, rewatched the 1970s classic Super Fly with an eye toward bringing it to a new generation, he was struck by how the film's motifs have become part of the culture writ large.

"We live in the age of hip-hop artists like 50 Cent, Jay Z, Gucci Mane, T.I., Migos, Rick Ross who have lived this 'Superfly' life," he says. "They wanted that dream. They came from circumstances where they didn't feel they had a lot of options, so they went this way" – meaning, he says, a life on the wrong side of the law. "They did that because they wanted to live the American dream. So even when they got a chance to let that be in their past, it came out in their music – the music we hear all the time. We hear these references, we hear this world. This story, right now, is very relevant to the culture."

Prolific film producer Joel Silver approached X to put his stylish spin on the story. X was enthused to work with the producer, whose catalog of films has earned more than $14 billion in worldwide revenue – and also includes two films that inspired X to become a filmmaker. "One of the first movies that Joel worked on was The Warriors, which is a landmark film in hip-hop culture and one of my favorite movies. Later, he produced The Matrix, again, one of my favorites and a movie that showed that how you tell a story can be as important as the plot. So I was thrilled to be working with him – I knew he'd bring a great sense of theatricality to the movie."

For Silver, X was the right choice for this Superfly remix, partly because the director's sense of style is so different from the original film's. "Super Fly had a very down and dirty look and feel while Director X has a very stylized, hyper real approach," says Silver. "His work with color, texture, design and cinematography is so inventive and original."

Because the film would have an original look, the filmmakers decided they could ground the story in the familiar. "When Joel and I were talking about where we were going take it, we decided pretty quickly we were really going to base it on the original," says X. "I'm a source material guy. I don't want you to change too much but I do want to see it progress. I wanted to see the hip-hop remix of Super Fly."

And making the hip-hop remix of Super Fly meant that this Superfly could build on the lasting legacy of the first film: the legendary soundtrack by Curtis Mayfield. The soundtrack went to #1, bolstered by the hit title track as well as "Freddie's Dead" and "Pusherman," and is now regarded as one of the greatest albums of all time. For the new film, X and Silver would team with hip-hop superstar Future, who would not only cultivate a soundtrack of trap beats and original songs but also join Silver as a producer of the film.

"I wanted the film to have a very real Atlanta sound – a wide breadth of artists that combine behind a singular musical vision. I also wanted it to have great resonance beyond the movie. The list of people who cross through all of these artists and can bring them together to sound like something cohesive and contemporary is extremely short – so when we hit on Future, it was a great thing that he was as into the idea as I was," says X.

"I grew up listening to Curtis Mayfield," says Future. "He's definitely one of the biggest influences on my music. So when X called me up and asked if I wanted to be a part of this… I was definitely excited to put my spin on it."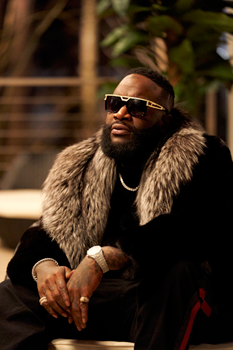 "I've known X forever – I don't even know how many videos we've done together. So the idea of putting him together on a project with Future seemed like magic to me," says Sylvia Rhone, President of Epic Records. "I'm always so excited by what can happen in collaborations, and Superfly seemed like a great chance for two artists to create something special. This soundtrack is the sound of Atlanta right now – not just as a solo project, but also by Future bringing others into the studio with him."

In spearheading the remake, Silver had his eye on the original film for years, recognising it as the type of material that would resonate with a modern audience. "Super Fly always stood out as a special and unique film and I've always had an eye towards doing something modern with it," he says.

To achieve that, Silver approached and won the confidence of Steven R. Shore, the son of Sig Shore, who produced the original Super Fly. Respectful of his father's legacy and the film he produced, for many years Shore declined opportunities for a Super Fly remake – until Joel Silver called. "Joel reminds me of my dad in some ways – he's part of the old breed, a two-fisted producer working hands on. That was how my dad operated and I loved watching Joel work," says Shore.

Boarding the film as an executive producer, Shore says that the new film captures the elements that made Super Fly resonate while also bringing it confidently and stylishly into the 21st century. "Joel had passion for the project and understood it," says Shore. "He expressed the same things my dad did – not only was it a classic 'one last job' movie, but it felt like the time was right. In 1974, we had a corrupt president being chased out of office. Joel noted that we have a similarly charged political environment today, and his instincts were right on – that's why it makes sense to revisit Super Fly."

Super Fly is a touchstone film in black film history, as X notes – and the director was inspired to put his own spin on that story. "As we look back now, these are really the first films in which black characters were independent, powerful, and had a modicum of control over their own lives. I think most people see the Priest character as a proud black man taking charge of his own life and owning his choices in a powerful way. With this film, I'm honoring the lineage of an iconic title that the community has been in love with for over 40 years. I want to honor it in a way that shows a new generation how black culture continues to be a catalyst for new trends in every area, from fashion to music."

About The Cast

In the role of Youngblood Priest, the filmmakers cast Trevor Jackson, best known for his roles on "grown-ish" and "American Crime Story" but also a talented songwriter, music video director, and rising R&B recording artist.

"For Priest, we wanted someone who just had an innate cool about them – someone who had you thinking, 'There's something about that guy,'" says X. "Trevor Jackson is one of those people. There is something about this guy, and he brings it."

What Priest does for a living doesn't define him; he has a moral code – tough as he is, he doesn't kill – and feels a responsibility to care for those who work for him. He wants for nothing, is well-liked and respected, but now that he has options, he chooses to opt out and start anew. "Priest is extremely focused, but a bit restless," says X. "He wants new challenges, he wants new things. There's people in the world that just shine brighter and Priest is one of these people. There are people in the world who get more and since they get more, they take more responsibility, and that's Priest."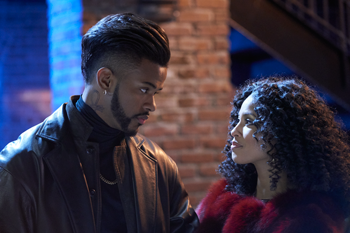 For Jackson, the role of Priest and the material offered the perfect mix of layers that appealed to him as an actor, "Priest is young, he's smooth, he's cool; it's a different kind of fly, for sure," says the actor. Having seen the original film, he says, he sought to make the role his own. "I wanted to try to find my own voice, do my own version of it. Priest is hungry, he's starving for success, the American Dream kind of success, and I definitely connected with him on that. Regardless of whether it's 1972 or 2018, whether you come from nothing or come from something, there's always going to be that pursuit of pushing forward and obtaining whatever that goal is of yours, and I feel like this is the perfect story to tell."

Besides Priest, the filmmakers would also retain key characters from the original Super Fly including Eddie, Georgia, Cynthia, Fat Freddie and Scatter. All would be reimagined in this modern version, but still recognizable to fans of the original. Priest's right-hand man, the guy who makes sure everything is in place for the boss and takes care of business, is Eddie. For the filmmakers, Jason Mitchell's charismatic turn as Eazy-E in Straight Outta Compton and most recently the Oscar®-nominated Mudbound, propelled him to the top of their short list for the role.

"There's an explosiveness behind Eddie's eyes, behind his words, behind his body language, and Jason channels it all flawlessly," remarks the director. "Eddie is someone who the streets both saved and took," says Mitchell. "He's the kind of guy that you just hate to love, but you can't help but love him. He's a super loyal guy, the kind of guy you want on your team."

Eddie knows he's good at his job and has no other aspiration but to stay the course and be king of the hill. "Priest has this idea in his mind that he's gonna get out but Eddie has more of a grip on life. He realizes they are doing too well to leave when they're on top. Big money is why they got in the game and Eddie doesn't want to leave. He loves Priest, but who knows what Eddie's gonna do. He's the wildcard," Mitchell continues.

"Eddie is deeply devoted to Priest, and Priest to Eddie, but their business is at the heart of that friendship," Mitchell continues. "Priest puts Eddie in an impossible situation when Priest decides to get out – that's fine for Priest, but what does it mean for Eddie? At a certain point, Eddie's going to have to look out for himself – he has a choice to make and I don't think he necessarily sees that choice as a betrayal."

Rounding out Priest's crew is Fat Freddie, played by New York stage actor Jacob Ming-Trent. Fat Freddie is Eddie's backup and ensures business is being handled. Of course, Fat Freddie sees everyone around him flashing cash, and although he isn't ready, he wants a seat at the table.

"Fat Freddie is a stone-cold killer," says Ming-Trent. "He's very ambitious, but first and foremost looks out for Eddie and Priest. He's the muscle in the crew but he wants a little more, just like everybody else. He's just trying to get something for himself, which always leads to conflict."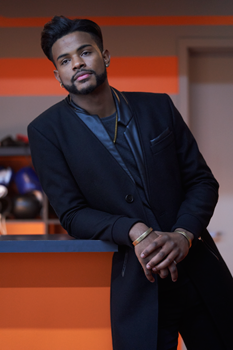 Freddie's also a bit error-prone, according to X. "We've all got that friend – if someone's gonna mess up something, when they break the pricey vase or forget to show up on time – it's going to be him. That's Fat Freddie," says the director.

In Super Fly, Priest had two girlfriends who each came from two very different backgrounds. According to X, it's an updated take on the original film. "In the original, Priest has two girlfriends, but you don't know if they know each other or how they feel about each other. They bring opposing viewpoints about Priest," says X. "As we thought about that, we thought that the modern version of that would be that the three of them would be in a committed relationship together – the three of them love each other deeply. It's unconventional, but we embraced what the source material gave us. It was a choice that evolved from the original film, so we brought their differing perspectives into the story – Georgia and Cynthia are the yin and yang. They each have valid points, but they're always opposite, so you get both sides of the argument from these two. Altogether you can see how these two women and Priest make one unit."

Lex Scott Davis and Andrea Londo take on the roles.

Georgia's relationship with Priest runs deep, they go back but you wouldn't know it from her polished, professional manner as the decidedly upscale art gallery owner with the glamorous clothes.

Davis, who previously starred in the CBS series "Training Day" and the telepic "Toni Braxton: Unbreak My Heart," says that the characters' points of view have also evolved from the original film. "The women have strength and something to say. They're powerful," she says. "I'm excited to be a voice for that type of woman who can be fun and fly, and also possess dominance and strength. I'm most excited to bring the 2018 versions of these characters, to a new generation, my generation."

Davis says that Georgia, her character, shows different sides at times. "She can be street one minute, then poised the next when she needs to be. She knows that there's a time and place for everything. She's strong, cool, classy – she has that maturity, that wisdom."

Londo, who is known for her role on the Netflix series "Narcos," portrays Cynthia, a woman who owns her authority and can navigate any situation with a stern, nononsense approach.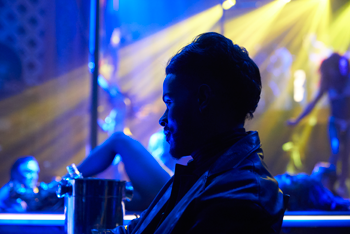 "I always look for one redeeming quality in any character I play," she says. "It's not a matter of liking or disliking the role, but whether or not the personality and the actions are true in the context of the world she exists in. I certainly found that in Cynthia – she's real. Some of her is stereotypical – she's feisty, sexy, strong – but she has to be in order to be successful and succeed in this world she's so passionately strived to be a part of. You get the sense that she fought hard to be where she is in life. And at the end of the day, her story is about protecting what she's built, a life she's unwilling to sacrifice for anyone, and I value that." Michael Kenneth Williams, who is known for his roles in HBO's "Boardwalk Empire" and "The Wire," plays the role of Scatter.

"Scatter's the Mr. Miyagi to Priest's Daniel-san, but you know the old saying of how the student becomes the teacher? It definitely applies to Priest and Scatter," says Williams. "The dynamic between Scatter and Priest is old school versus new school so there's some friction between the two. Scatter's not going to go down easily. He may be the old dog, but he still knows the tricks and his tricks still work in this game."

"I got my start in the music video world when Hype Williams, Spike Jonze, Marcus Nispel and Paul Hunter were doing their thing," says Williams. "I still watch music videos, so I've seen a lot of X's work and I'm inspired by it. The right X video will get you in the gym, but it's not only about the song itself, it's also about the imagery that matches the song and the intent and the emotion behind it. That matters to me. X is truly a master at his craft, so it's an honor to work with him and to see him get his shot, especially with a film like Superfly."

One way of paying homage to the trap music scene of Atlanta that infuses all aspects of the filmmaking was to cast the supporting roles with some of the region's stars and legends. Antwan "Big Boi" Patton, best known as one-half of the hip-hop duo Outkast, was cast as Mayor Atkins, a shady politician who has no qualms working the systems for his own ends. Rick Ross, whose elaborate estate became a key film location, plays Racks. Lecrae Moore, the Christian rapper, makes an appearance in the funeral scene.

Big Boi, a fan of the original film, remembers his dad and uncles watching the film when he was a kid. Later, he would discover the Curtis Mayfield soundtrack and find the similarities with his Atlanta-tinged musical tastes. "The score to Super Fly was one of the first things I fell in love with," he says. "The music captured the essence of the characters and the whole movie – Curtis Mayfield really, really destroyed that soundtrack. And later, it was one of our major influences of making music. With Atlanta being the hotbed for music right now, the sound that's embedded inside Atlanta is from the early days of Outkast with 'Player's Ball,' which has a Curtis Mayfield feel to it, to the album 'Southernplayalisticadillacmuzik,' it kind of syncs up with the Superfly remix. I think Atlanta is the spot for music, and as far as style and influence and culture."

As Priest puts his exit strategy into motion, circumstances get more complicated and he gets pulled further back into the business as he faces additional obstacles: rival gang Sno Patrol, drug kingpin Adalberto Gonzalez, and a pair of crooked cops.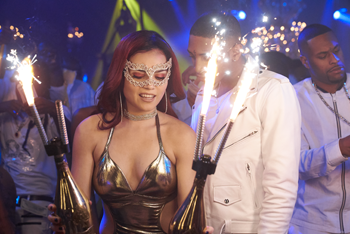 Sno Patrol is the high-profile gang fronted by Q and his hot-tempered lieutenant Juju. "Alex came up with the idea behind Sno Patrol and how they wear all white," says X. "I thought it was perfect. It informs the movie the minute they're introduced on screen. Once you see the bad guys all wearing white, driving white cars with white guns, it shows we're turning it up a bit and having a little fun with this thing."

Hip-hop artist Big Bank Black, Atlanta born and bred, would be cast in the role of Q, who runs Sno Patrol yet has established a cordial détente with Priest. Big Bank Black came to the attention of the filmmakers at the suggestion of Atlantabased recording artist 21 Savage, who participated in an early table read of the script. 21 Savage was on the mark: Director X and Joel Silver were charmed by the rapper's innate swagger.

"We wanted to bring some authenticity for some of our key roles and that's what guys like Bank bring," says X. "He's from Atlanta and knows this life. He is Atlanta."

"I wanted to be a part of the movie, especially because it was set in Atlanta," says Big Bank Black. "Atlanta's running the game right now."

"Big Bank, his name fits him. He's flashy, big money, music, swag, everything. I feel like he is perfect for this film and the role of Q," says producer Joel Silver. "Basically, he took his real life and just brought the feeling to the film. I feel like the best part of this movie is half the time it doesn't feel like there's any acting in it – a lot of the cast brought a little bit of themselves into it, which makes the film feel real natural and authentic."

Los Angeles-based hip-hop artist Kaalan "KR" Walker stepped into the role of Juju, Q's hot-tempered and reckless right-hand man, who has a major issue with Priest. The only thing holding him back is his respect and loyalty to Q.

"Juju is hateful, he's jealous, he hates following rules, and he hates anybody that tries to tell him what to do," says Walker. "But he sees himself as a leader and hates watching someone else be a leader. That's the guy he wants to be. He has a leader mindset, so the fact he has to take orders, is very difficult for him."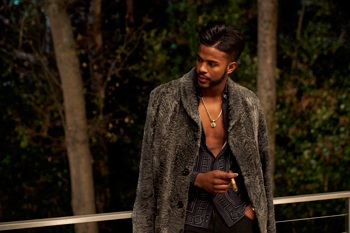 Veteran actor Esai Morales would be cast in the role of Adalberto, the calculating, ambitious head of the Mexican drug cartel and Scatter's source. When he sees what Priest is capable of, he makes Priest an offer he can't refuse.

"Priest has inserted himself into Adalberto's world looking to get a bigger piece of business. After a shaky start, Adalberto makes it clear to Priest that he should follow my line of thinking as far as being smarter and producing more," says Morales. "Adalberto sees this young, charismatic, handsome man as the way to up his own game, so he's making more money."

Dirty cops were a major part of the original film's plot and they resurface, albeit, in an unexpected way. Actress Jennifer Morrison portrays Detective Mason and Brian Durkin portrays Officer Turk Franklin, who stumble upon Priest and Eddie's operation. It's an abundance of unexpected riches for the dirty cops, who begin to squeeze the pair into a tighter corner.

"Detective Mason is just a really bad person," says Morrison. "She is a highly corrupt dirty cop. Maybe she started out undercover for the department and went rogue and started making money on the side by having these drug dealers in her pocket. As she got more and more corrupt she's just gone down a really dark path where she's pretty much manipulative and horrible and sort of soulless."

About The Music

With the musical foundation established by Curtis Mayfield's iconic soundtrack, Silver and X knew there were only a handful of music producers who could create the musical soundtrack to match the heightened level of excitement and anticipation they were intent on creating for the film.

X had a definitive vision and person in mind. "What made the Super Fly soundtrack something special was that Curtis Mayfield had a singular vision for the music. That's what I wanted for our Superfly: I wanted to hand the music to someone who would have a vision that would understand the world, could make a commentary on it. When you start talking about these requirements, really there's only one person, and that's Future. It couldn't be anyone else."

Future, the Atlanta-based producer, songwriter and recording artist would be tasked with curating the soundtrack as well as producing the film alongside Silver.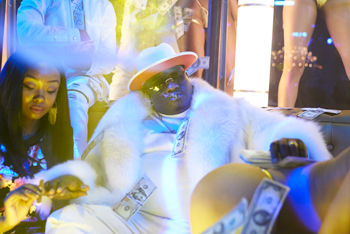 Fellow Atlantan Zaytoven, a music producer known for his work with such artists as Future, Gucci Mane, and Usher, would also re-team with Future.

Performing on 10 of the soundtrack's 13 songs, Future teams with some of the world's biggest names in trap music, including 21 Savage, Young Thug, Lil Wayne, Gunna, and PARTYNEXTDOOR. In addition, there are original tracks from Sleepy Brown, Miguel, and Khalid x H.E.R.

Zaytoven explains the roots of trap music and why it's such a perfect fit for Superfly: "The sound of Superfly is Atlanta – Atlanta is the biggest spot for culture for the hip-hop community. You couldn't do this movie anywhere else but Atlanta."

And the sound of Atlanta right now is trap music. Zaytoven continues, "Trap music is more of a feeling, I'm a musician and a producer, so I make a lot of hard trap music, and trap beats. But on top of that, I layer it with soul, feeling and some heartfelt melodies and chords. It's hard and edgy, but it's funky at the same time. It's just got a certain swag to it. There's just a funky feel to the music that really is similar to what Curtis Mayfield was doing at the time."

"Trap music is in the attitude," Zaytoven continues. "It's about creating an atmosphere. Even when the song is about success, you know it can all go wrong. That's perfect for this movie and what these characters are going through."

Even as filming began, Jackson, a rising R&B artist, was eager to see what the soundtrack would be knowing Future was spearheading it. "Who's more current than Future?" he says. "He makes multiple bangers every year. He's the perfect balance and perfect guy to head up the music."

Making Atlanta Superfly

As Director X is one of the most innovative and visually inventive filmmakers in the music video world, it's no surprise that his watchword was to bring style. He explains, "My philosophy for the entire film is everything is super fly: the lighting, the camera movements, the clothing, the sets, the cars, the guns and the actors. Everything you see is a little fly-er than normal. I want people in the movie theaters to ask, 'Where'd they get that?' 'That's so cool. 'Look at that!' It's a wave of cool stuff flying at you constantly for two hours as you enjoy the ride."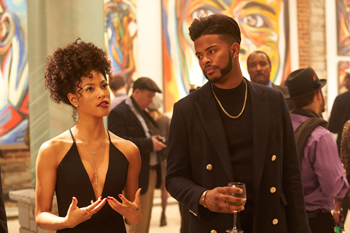 Where the original Super Fly was set in Harlem, the new film is set in Atlanta. Seen by many as the "capital of the South," Atlanta has seen a renaissance and now serves as a cultural center, with a kinetic mix of music, sports, film and television entertainment interwoven throughout its streets.

"Harlem was the epicenter of black culture," says X. "It was what the whole world heard and thought of. The clubs in Harlem were famous worldwide. Even the drug dealers in Harlem were famous worldwide. It was really what Atlanta is today – if you're an artist in Atlanta and you've got a hit record, you've got a hit record around the world. When we're telling this story for today, we're placing it in the epicenter of today's black culture. There is no question that it has to be Atlanta."

Silver, who spent time in Atlanta in 2016 during production on The Nice Guys starring Russell Crowe and Ryan Goslin, was immediately smitten with the diversity and charm of the city. "I was really intrigued by the city. It's an incredible panorama of urban life," he says. "I really felt the energy and excitement of the city, and the thrilling nature of the music scene and the clubs, and I just thought that this was where Superfly should take place."

Production Design

Veteran production designer Graham Grace Walker was charged with bringing all of these aspects of the city to life on film. From the sexy Masquerade Club or Priest's modern home, it would be up to Walker to visualize the film's diverse backdrop. "Superfly was a huge challenge from the very beginning and thanks to a very efficient art department and construction team, we were able to help bring the film visually to life," he says. "In the end there are some outstanding sets and locations I am very proud of."

One of the more attention-grabbing landscapes Walker would design is the Masquerade club. Filmed inside the baroque-themed Atlanta nightclub Opera in Midtown, Walker, set decorator Kristen D. Walker, and their team would spend several weeks preparing the site for filming by integrating some of the existing décor into a seductive adult playground reminiscent of an eye-popping Cirque du Soleil performance.

In the hands of X, the club becomes an elevated, fantastical circus that overloads the senses on every level. A vibrant harmony of flashing lights, thumping, rhythmic beats, beautiful tactile fabrics mix with luxurious shine, glitter and smooth cool surfaces, all showcasing stunning women of every ethnicity, sexily clad in masks and little else. Darkly lit corners allow for more intimate interactions while dancers perform on stage. Above it all, scantily clad aerialists perform suspended by red silk fabric.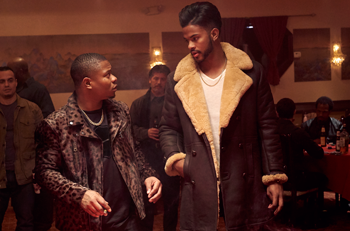 Costume Design

In the original film, furs, suits, hats and sexy attire were memorable and integral to portraying a time and place. X wanted his film to showcase an equally timely mix of modern style. X himself brought a point of view and opinion to each and every character's look, and to bring it about he had a close collaboration with costume designer Antoinette Messam, translating and integrating a finely tuned aesthetic into their new incarnation of Superfly.

From a costume design standpoint, Messam's approach is always to help build each character with a tailored design story. While the fashions of the original Super Fly admittedly had a huge cultural impact, Messam saw the attitude and a rebellious independence, which resonated with her; for example, the original Priest, played by actor Ron O'Neal, may have rocked a fur coat, silk shirts and fedora, but it was his confidence that pulled the look off – his look helped further the story. "One of the things that was really amazing about the original Super Fly was that Priest was such a presence, and his look complemented it all," she says. "That's what was important to me as I began to work on the costume design for a contemporary audience. It was about the overall look and tone we established for a host of characters."

An entire world of culture was open to Messam in her designs. "It was important to me and X that the overall costume design for the film was super fly on its own, that each look had an intent that spoke about its character while being modern and not necessarily beholden to one place or a certain style," she says.

Trevor Jackson is well over six feet and sports straight, slicked back hair. To augment this new look, Messam opted to give the smooth, cool character an unexpected design story: he would have well-edited, sophisticated, fashionforward pieces from the likes of Phillip Plein, AllSaints, and Burberry. Jackson's tall, lithe frame allowed Messam the luxury of outfitting him in almost anything she pulled and it would fit the bill.

From suede Balenciaga boots worn with a Daniels New York shearling coat to a Fear of God black leather coat worn over an AllSaints Balmorro Blazer, Messam and her team would source hundreds of items to build Priest's wardrobe.

Eddie's ebullient personality belies a lethal strategist; his wardrobe was full of statement pieces to illustrate the showman in him. Mitchell would sport a Beaver fur coat from Henig Furs (the go-to furrier in Atlanta), GStar jeans, and even a John Varvatos leopard print leather jacket.

Mitchell couldn't have been happier with the end result. "The costumes in Superfly are super, super dope," he says. "I'm wearing everything from fur coats to Rolexes. Everything about Superfly is over the top. We've got the whips [expensive cars], we've got Rick Ross' house, we've got everything."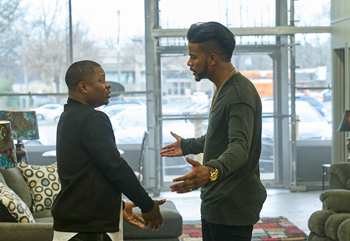 Jacob Ming-Trent was also coveting the clothes but he also saw the bigger tableau X and Messam were creating. "Antoinette's costume design is unbelievable," he says. "I was even eyeing some of the clothes for myself during our fittings. The costumes, the shoes, the jewelry, it all makes you want to live this life. Once you see the money, the luxury cars, the huge sprawling estates, and the beautiful people – it all brings you further into the story. Then, of course, it pulls you back – 'Oh, there's a bigger cost to this, and it's not the price tag.'"

Due to fast-paced pre-production and filming schedule, Messam would use every tool and connection in her arsenal to produce a layered mix of designer pieces peppered with fashion-savvy affordable garments to create an enviable mix of styles. This high-low approach of fashion selects would include a who's who of fashion – Balenciaga, Tom Ford, Gucci, Valentino, Versace, and the hip label Fear of God, alongside Zara, H&M and Topshop.

Messam was also given an exciting canvas to explore the women characters. Davis says that as Georgia, she was able to explore a look a bit more extravagant than she goes for in real life. "Georgia is a little more glam than me so once I'm in her clothes, I do feel more glamorous. It gives you that extra push when you're all done up in hair and make-up.

Messam would further the dichotomy between Georgia and Cynthia by giving them equally sexy looks with wholly different approaches. "I love that there is a contrast between what Georgia and Cynthia are wearing," says Davis. "Both are very glamorous, but in two different ways. Cynthia is very glamorous, but with a street twist, whereas Georgia is edgy and takes risks in a New-York-FashionWeek way. It's nice to see both of these women with two completely different styles that reflect their characters."

In contrast to Georgia, Cynthia shows off by wearing body hugging clothes with bold colors and sparkly bling. A changing rotation of hair colors – red, blue, pink – accentuate it all.

One of the bigger design challenges for Messam was working with the all white color palette for the high profile Sno Patrol. Their outlandish, in your face style is punctuated by lots of bling, expensive luxury cars, and expansive mansions, all in their signature color of white.

Working within the limited color palette, Messam would still give each Sno Patrol member their own individual vibe and she sometimes found inspiration in the unlikeliest of places. "The looks for Sno Patrol actually have some Japanese elements," she says. "We added unstructured shapes and textures to mix it up. You definitely have your street vibe, but I also wanted pieces that were not necessarily urban. The color is the unifying element, but each character's personality still came through in their costume. It was important that they all looked like individuals, just all in white."

The filmmakers would even carry over the color motif by enlisting property master Mark Wallace to source white weapons. Luckily, there were several manufacturers who actually could produce white weapons for filming.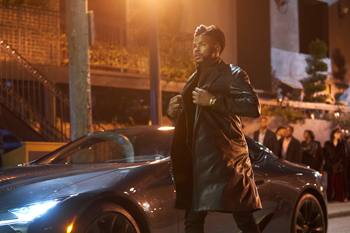 The Cars

Picture car coordinator Casey Richter would round out the opulence of the Superfly imagery with a fleet of luxury vehicles that crossed a broad spectrum. Priest's sleek sophisticated style would be visualized by a dark grey 2018 Lexus I500, while Eddie races his flashy silver 2016 Audi R8 Spyder through the streets of Atlanta.

As the capo of Sno Patrol, Q rocked many high-end vehicles, from a 2017 RollsRoyce Wraith to a 2016 Mercedes s550 sitting on custom Forgiato wheels, while the remainder of his crew chose to flaunt their white Range Rovers and Lamborghinis. On any given day Richter, would have hundreds of thousands of dollars of high-end vehicles on set. For one particular scene, in which Priest collects an overdue payment from one of his dealers, Richter had a garage full of eye candy, including a $740,000 Lamborghini Aventador SuperVeloce and a $300,000 Lamborghini Murcielago, I640 among others.


SuperFly
Release Date: August 9th, 2018