Vin Diesel Fast & Furious 7
Cast: Vin Diesel, Paul Walker, Dwayne Johnson, Michelle Rodriguez, Jordana Brewster, Tyrese Gibson, Chris 'Ludacris" Bridges, Elsa Pataky, Lucas Black, Djimon Hounsou, Tony Jaa, Ronda Rousey, Nathalie Emmanuel, Kurt Russell, Jason Statham
Director: James Wan
Genre: Action, Crime
Rated: MA
Running Time: 134 minutes

Synopsis: Ian Shaw seeks revenge against Dominic Toretto and his crew for the death of his brother.
Continuing the global exploits in the unstoppable franchise built on speed, Vin Diesel, Paul Walker and Dwayne Johnson lead the returning cast of Fast & Furious 7. James Wan directs this chapter of the hugely successful series that also welcomes back favorites Michelle Rodriguez, Jordana Brewster, Tyrese Gibson, Chris 'Ludacris" Bridges, Elsa Pataky and Lucas Black. They are joined by international action stars new to the franchise including Jason Statham, Djimon Hounsou, Tony Jaa, Ronda Rousey, Nathalie Emmanuel and Kurt Russell. Neal H. Moritz, Vin Diesel and Michael Fottrell return to produce the film written by Chris Morgan.
Fast & Furious 7
Release Date: April 2nd, 2015
About The Production
One Last Ride: Production Begins

As Fast & Furious 6 concluded and director Justin Lin wrapped his four-film-long run with the franchise, producers Moritz and Diesel and screenwriter Morgan began the search for somebody to take the position behind the camera. They needed a filmmaker who could step in and oversee the multiple moving parts of an established, big-budget, fan-driven franchise while furthering the key story, character and action beats that have resonated with fans for more than a decade.

Australian director James Wan, who had reinvigorated the suspense genre with such blockbuster hits as Saw, The Conjuring and Insidious, would sign on to take over the reins for the next chapter. Known for character-driven, innovative and commercial fare that features dramatic tension in highly visual work, Wan knew he was ready to helm the latest entry of a series synonymous with inventive mythology and over-the-top action.

James Wan was keen to place his imprint in the genre on such a high-profile film as Fast & Furious 7. 'I'm a fan of the Fast & Furious franchise, first and foremost, but it was exciting for me to break out of the genre that I'm generally known for and tackle such a big and beloved series," James Wan says. 'A big part of my goal for Fast & Furious 7 was to push myself to the limit and bring something a bit different to the table. The idea of playing in a playground as big and established as this one is fascinating."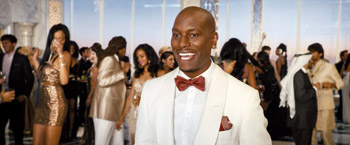 Considering Fast Five's postscript shocker that revealed Letty Ortiz was still alive, fans impatiently waited for another epilogue in Fast & Furious 6 that would propel the saga in a surprising new direction. The filmmakers did not let them down. The revelatory coda that followed the last movie not only set the next sequence of events in motion, but it satisfied the franchise's most frequently asked question regarding the timeline of how Tokyo Drift and Sung Kang's laconically cool Han, who was first introduced in that film, fit into the franchise's timeline and serialized narrative.

As the producers have long intimated, the multifilm arc did absolutely include Tokyo Drift and was extended by the brotherhood between Dom and Han. The third movie would eventually and strategically nest into the larger, Fast & Furious mythology. It was all part of a master plan.

The reveal of the heretofore unknown driver, portrayed by a methodically serene Jason Statham, who rammed Han's car with his Mercedes, is the hallmark of the franchise's clever mining of past character and plot elements to spark riveting new storylines. It's a testament to what has sustained the Fast saga for well over a decade, keeping audiences thoroughly entertained and engaged with story points and action that keep them coming back.

Vin Diesel is respectful of moviegoers who've placed their trust in the core team who has shepherded all seven of the films. He says: 'The fact that the audience has allowed us to jump around in the chronology of Fast, and has been willing to take that ride and stay with us, is a feat in itself. One of the cool things about the way we've orchestrated the Fast & Furious saga for the last 10 years is that nothing is accidental. Everything comes together in Fast & Furious 7. Questions are answered, and new thoughts are proposed. If it lives in the saga, it's a seed for something new and will be revisited."

For longtime Fast screenwriter/executive producer Morgan, who is on his fifth tour of duty with the series, that means continuously updating his effective color-coded Post-it note system"one that has tracked everything from past characters, cars and specific story points within bigger arcs"some tying back to previous films, as well as significant talismans such as Dom's silver cross pendant. 'Everyone and everything has value in our world," provides Morgan. 'This honors what the franchise is, and it honors the fans who return to enjoy the next chapter."

A prime example is Letty's circuitous journey back to Dom, one that proves to be a nearly insurmountable hurdle as she tries to piece together her past and find her emotional footing…so she has a chance at sharing her future with her soul mate.

Riveting storylines with much-loved characters are not the only draw for Fast & Furious audiences. Deeply interactive cast and film engagement on social media platforms has allowed die-hard fans unheard-of access to talent and exclusive material that has fostered a years-long dialogue and symbiotic relationship. Courtesy of the interactive, immersive nature of social media, it's one that has grown exponentially larger with each successive release. There's an ownership unique to Fast audiences, who are often looked to as barometers of tone and story, as well as tastemakers of locations and cars.

Vin Diesel, a close monitor of the series' online presence, has harnessed that feedback, most notably by taking heed of the online outcry over Letty's death in Fast & Furious"polling fans on who they would like to see (re)join the series and rewarding them with firsthand information about the films in real time.

The actor/producer would prove to be a much valued Fast partner to James Wan, who appreciated the camaraderie and fellowship offered by Vin Diesel. The director shares: 'Vin was a vital partner for me with this film. Having his support made a huge difference with my coming onboard as the director. Very early on, we talked about the characters and the overall franchise"where it's been and where it could go in the future. That early friendship between us helped the making of Fast & Furious 7 be so much more productive. Obviously, he knows what to do with the character of Dom, but he was very open to my directing and guiding him. I was and am very grateful for that."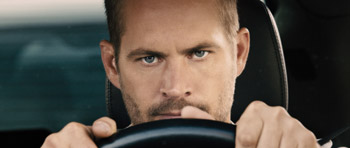 Honoring Our Brother: Celebrating Paul Walker

As the Fast & Furious 7 production was underway in November 2013, tragedy struck and our family lost a beloved father, son and brother, and the world lost a treasured friend, co-worker, talent and humanitarian: Paul Walker. Those who had been fortunate enough to work with Walker over his five films in the Fast & Furious franchise shared the sentiments of everyone who was touched by his life on and off screen. This loss was nothing less than devastating.

Producer Moritz, who, alongside Vin Diesel, Jordana Brewster and Michelle Rodriguez, has been with Paul Walker since the beginning of his career, walks us through that time: 'After the unfortunate passing of our good friend and colleague, Paul Walker, there was a lot of talk among us that we were going to stop and not finish this movie. After some time, it dawned on us that Paul Walker would want us to finish it. Vin Diesel and I talked about it, and we agreed that we had to do whatever it would take to finish this movie for him. We had to continue not in spite of what happened, but actually because of it. There's a deep respect for who Paul Walker was as a man, as a father and as a friend, and we weren't going to put anything on screen that ever jeopardized that.

'Then it came to how could we actually finish Fast & Furious 7," the producer continues. 'We had shot most of the movie with Paul Walker, but we wondered how we were actually going to make this work. I have to say, he was looking down on us. Because of unused footage that we had from previous movies and the use of new technology, we were able to complete the film inspired by Paul's spirit and give him and his best-known character a perfect cinematic send-off. This movie is a testament to his legacy."

Vin Diesel speaks on behalf of his fellow cast and crew when discussing why Fast & Furious 7 had to be the ultimate celebration of Paul Walker's life: 'Paul Walker was a brother to me. The relationships among the Fast family are deep and meaningful, and our characters would do anything for each other. That support and sense of family that exists in the film bleeds off screen with us. With this film, the whole world gets to feel a part of our family."

With the gracious assistance of Paul Walker's brothers, Caleb Walker and Cody Walker, as stand-ins, his final appearance on screen became a reality. Jordana Brewster, who has portrayed the stalwart Mia Toretto beside Paul Walker for the past 14 years, welcomed her longtime friends to the set and shares why it has long been a place for family: 'It's been really special…and in a way surreal. I had a moment when I was driving with my son on a golf cart, and I remembered years ago on the first movie when Paul Walker came on set with his daughter on his shoulders. It was a bit full circle that way. We all share a very special bond."

Chris Morgan, who has served as the series' narrative architect since Tokyo Drift, sums the team's pride in Fast & Furious 7 and dedication to giving fans a fulfilling way to remember and celebrate Walker: 'To lose a member of our family in the middle of production was utterly devastating. But to be able to have everyone link arms and pull together, and finish this movie in a way that is beautiful, is something we're all so proud of. I know that Paul Walker would really love it."

Vengeance Hits Home: The Heroes Return

With Fast & Furious 7, the gang is thrown into new situations replete with multiple enemies, just as they face growing pains and ghosts from their past. When it came to the next chapter for Dom and Brian's journey, returning home to Los Angeles as free men was always the endgame. Acclimating to their new existence, however, would be another matter entirely. Discussing the complexities of their homecoming, James Wan remarks: 'After fighting so hard to come back home, our heroes finally are able to, but then what they realise is that maybe this isn't the life for them anymore. The kinds of adventures that they've been on have become more of who they are, who they've grown into. There's definitely internal conflict that you've now become a stranger in your own home."

In the reinvigorated series, Fast Five was the first chapter to introduce compelling new characters"on both sides of the law"who give Dom and the team a legitimate run for their money. Beginning with Dwayne Johnson's elite DDS agent Hobbs and extending to Evans' menacing Owen Shaw, at every turn, the team's mettle is tested. However, it is the by-the-book Hobbs who, after chasing Dom and the crew for years, finds himself firmly on Dom's side when all of their lives are threatened. The team has earned Hobbs' trust and respect, and with that comes a level of unparalleled protection and camaraderie.

Says Dwayne Johnson of Hobbs' progression throughout the series: 'From the beginning, our goal was to create a character who was just a badass from the word go, and had a cowboy sensibility. But he also has this unique ability to trash talk and back it up, which became this Hobbs-speak of delivering those lines but with a sly, implied wink for the audience. That's a fine balance to carry over four years of playing a character. I like the idea of creating this guy who has superhero tendencies and powers without being a superhero."

In discussing one of the film's pivotal fight scenes, Dwyane Johnson sums up the entire cast's feelings about their ship's captain: That Wan just got them and the Fast franchise. Says the performer: 'Sitting down with James Wan early on and creating the opening fight scene with Jason Statham and designing the way it was going to be shot, I was very happy with it and with him. What we created is very cool. It's really something else."

Inhabiting a character for more than a decade is a rarity for most actors, but it's something that the multicultural ensemble takes quite seriously"whether it is about dialogue, story points, wardrobe or car selection. There's a certain amount of fierce pride that comes with their endurance, which parallels the swagger of streetwise underdogs they all helped bring to audiences so many years ago. No one owns that pride more than Michelle Rodriguez.

Amidst Fast & Furious 7's tale of revenge, mounting emotional stakes and blazing action lies Dom and Letty's love affair. Vin Diesel and Michelle Rodriguez are the first to realise that and work hard to keep that love story based in reality. Even when bookended among perilous circumstance, amnesia or new relationships, their love is rooted in a shared history and faith in each other.

'Dom and Letty's relationship is something that you don't see in this day and age," reflects the actress. 'It's that rare loyalty that you only see in old-school marriages. It's that level of loyalty, but with a Bonnie-and-Clyde twist. You watch the evolution of these characters and see that romantic loyalty. Vin Diesel and I continuously see those moments and think, -That's beautiful.' It's something we all wish we had."

Even though Mia's been the emotional connection to the brotherhood between Dom and Brian, her older brother's focus has always been protecting her. Early on, it was about Brian's flirtations; now, it's much more serious. Whether manning operations in the Rio heist or forsaking herself for their young son Jack's safety, Mia is the constant heart of the Toretto family…as well as the person who strives to carve out a semblance of peace for them all.

As a new mother herself, Jordana Brewster wholly understands Mia's motivation to protect her loved ones. 'One of the things that I worked hard to develop with Mia was balancing motherhood and her family," Jordana Brewster shares. 'Mia has this very intuitive sense about what's going on with the men in her life, even though they're not the most communicative. I enjoy playing around with that conflict, and I respect her for being as dependable as she is amidst all the turmoil."

Of course, the family extends beyond just the immediate Toretto/O'Conner/Ortiz crew. Marking his fourth turn as Brian's childhood friend from juvenile hall, Tyrese Gibson is back as Roman Pearce, who bucks authority and again provides more of the film's comedic elements. Roman first appeared in 2 Fast 2 Furious, when Brian goes on the lam and meets up with his longtime friend in Miami.

In Fast & Furious 7, Roman maintains his bravado as he pushes for more of a leadership role. However, he bites off more than he can chew when his plan to rescue an elite hacker named Ramsey is actually put into motion. Tyrese Gibson, pleased with screenwriter Morgan's turn of events for his longtime character, acknowledges that Roman's heart is in the right place. Remarks the actor: 'Roman has to be the voice of reality. While everybody else is ready to do whatever Dom says, Roman is not having it. He's got a perpetual problem with authority, which was established from day one in 2 Fast. But Roman won't ever let the team down; even against his own instincts, he's in. I love that he lives his life on the brink of destruction."

Chris 'Ludacris" Bridges reprises his role of Tej Parker, the automotive and tech tactician who first appeared in 2 Fast 2 Furious alongside Paul Walker and Tyrese Gibson. Chris Bridges was happy to see his character get a bigger piece of the action this time around. The humorous rivalry between Tej and Roman remains intact and now extends to the brilliant Ramsey, who is caught in the middle of their bickering. Although she and Tej bond easily over their techie pursuits, while playboy Roman tries to work his magic with unsuccessful results, Ramsey takes the attention in stride.

'It's definitely like Tej and Roman are back in junior high," laughs Chris Bridges. 'They never stop keeping it fun and entertaining, especially when a beautiful woman is involved. Now you get to see them act crazy and childish and get competitive with one another."

One of the more complicated relationships for Dom is with the other love in his past, Elena Neves, portrayed once again by Elsa Pataky. The Spanish actress debuted in Fast Five as the feisty Rio cop who connects with the renegade expat over their shared losses and leaves her home and career behind to go into exile with him. They'd built a satisfying life together in the Canary Islands, but once Dom makes the decision to seek out the truth about Letty, Elena knows she's lost him to his first love. Even as she flourishes working with Hobbs at the DSS and has rebuilt her life, vestiges of her love for Dom remain.

As she read the script, Elsa Pataky's first instinct was to want Elena to fight for her life with Dom, but she soon grew to understand her character's decision that showed a deep love for him. 'The sacrifice that Elena makes is such an amazing way of showing her love, but it doesn't mean she's not suffering," says the actress. 'Not many people would be able to do that, and that is beautiful. Elena's not selfish at all, and I believe the audience can feel that she's doing what she's doing for him. At the same time, she's strong enough to get her life back, especially her job, which is something she fought for. She's resilient."

The Fast and the Furious: Tokyo Drift's Lucas Black reprises his role of Sean Boswell, the loner who discovers his calling and family in Tokyo's underground world of drift racing. As excited as the actor was to return to the series, he was just as eager to see how Morgan and the filmmakers would orchestrate Sean's return to the fold.

Still, Lucas Black was thunderstruck about the ingenuity of how they would pull off the reunion and story point with such an emotional impact. Recalls Lucas Black: 'I thought it was a genius idea. It just shows how deep and continuous that bond is; that code that Dom lives by is instilled in this family they've created. Dom is basically Han's big brother, and although we didn't know that in Tokyo Drift, Han takes Sean under his wing and teaches him those same core values. That's what the audience loves; heck, that's what I love about it. This family will ride or die together."

Welcome to Our World: New Cast of the Series

With the ensemble cast of returning all-stars set, the filmmakers again sought to mix it up with new and ingenious castings roles that intersect with longtime principals. To whet the appetite of the audience for the next chapter, the producers and James Wan knew they wanted to introduce the team's nemesis in a thrilling new way.

In the Fast tradition of villains, Owen Shaw had been the most impressive rival the crew had come up against. However, with one lethal move against Han, Jason Statham's Deckard Shaw eclipses his brother with an endgame even more personal: to take Dom and the crew down, one by one. 'Shaw's a force to be reckoned with," cites Moritz. 'Our guys are warriors now. Some of the best in the world, and we needed a warrior who could go up against them. We all had that gut feeling that Jason Statham should be our man, which was confirmed with the overwhelming response to his appearance in the last film."

Jason Statham, the pedigreed alumnus of a string of popular action films, is quick to point out that his character is not a one-dimensional villain. Like Dom, Shaw lives by a code: to avenge his brother. And in his pursuit of the team, he is a man with an unvarying moral compass, albeit a skewed one. 'It's not complicated with Shaw," cites Statham. 'He's very black-and-white. Blood is blood and nothing gets in the way of that, so he's left with no choice but to avenge his brother. Everything is on the table, and he's coming to do to them what they did to Owen. But, as opposite as Dom and Shaw are, they're very much alike. They both have that code; they both believe in family. It's a great parallel for the two characters."

Once he identified the lethal new threat to his family, Dom takes the offensive and goes after Shaw. Anticipating this clash of the titans, Wan developed a style that provides a perfect visual expression to the action and stunts that the series is known for…especially working with the added theme of revenge. 'Fast & Furious 7 touches on that very classic theme of vengeance, retribution and seeing the consequences of what that brings," the director says. 'I'm a big fan of that cinematic theme, and to be able to bring a bit of a darker sensibility into this particular franchise has been cool. It grounds this film with a very strong primal emotion."

One of the more anticipated additions to the cast is that of veteran performer Kurt Russell, who steps into the role of the enigmatic government official who offers Dom, Brian and the team a tangible solution to their very deadly problem. The character isn't specifically identified in the film other than the self-ascribed 'Mr. Nobody."

This enigmatic cypher operates quid pro quo, as U.S. intelligence needs Dom and his crew as much as the team needs his resources to track down Shaw. It becomes a race of who gets to the invaluable prototype tracking device first. Unofficially, the U.S. government wants dibs, which means any operation must be off the books. Fortunately, that's Dom's specialty.

When word spread that Russell had expressed interest in the role, excitement ran high among the cast and crew. The beloved actor possesses versatility when it comes to action, comedic and dramatic film roles, which makes him a natural fit as the authority figure who connects with Dom and offers him a solution to the Shaw problem. Says Moritz of the casting: 'We were all so thrilled that Kurt even entertained the idea of playing with us, and he is perfect in this role. There is a hint of eccentricity to his character; he actually recognizes and appreciates the fact that Dom and his group operate so far outside the box. Kurt could play it straight but he has this cool, unexpected take on what would have been the traditional bureaucratic taskmaster."

British actress Nathalie Emmanuel, best known for her role as Missandei, translator and companion to Daenerys Targaryen on the enormous hit HBO series Game of Thrones, joins the cast in the role of Ramsey, the genius underground hacktivist whose latest masterpiece of technology, known as God's Eye, is the key to tracking down Shaw before he can hunt down our team. Every government and terrorist cell on Earth wants it, and its creator is disposable.

Ramsey's device can simultaneously hack into anything on a digital network"whether its mobile phone, audio, video, ATM, wireless or computer device"and extrapolate hundreds of bits of information to track down anyone, anywhere across the globe. In the wrong hands, it has the potential to be a deadly, omniscient tool for whomever possesses it. If Dom finds Ramsey, he finds her much-sought-after tracking device and can use it to hunt Shaw before handing it off to the U.S. government. The catch? Intel on the invaluable tracker has hit the streets, and a mercenary named Mosi Jakande (Hounsou) has snatched Ramsey and the skip-tracing device.

For newcomer Emmanuel, her first task upon learning she had snagged the coveted role was to binge-watch the entire catalogue. Needless to say, she looked forward to reading the script to see how her Brit hacker fit into the Fast realm. On her first day of production, she found out fairly quickly. The filmmakers have an established rite of passage of thrusting their newest cast members in with the returning full ensemble cast on day one. For example, Luke Evans had a nerve-racking first day on Fast & Furious 6, lensing tense confrontation scenes with Dom, Hobbs and the crew. That day also happened to include the film's biggest 'holy sh*t" moment, when Hobbs' mole, Gina Carano's Riley, was revealed.

Despite not having met the whole cast, Emmanuel enjoyed her inaugural day and took the intensity all in stride, knowing it would inform and deepen her performance. The scene they filmed was Ramsey's first encounter with her unknown rescuers when they learn quickly that she is no shrinking violet, but a brilliant hacker who speaks her mind and has an immediate, and accurate, read on each of them.

Ramsey may be a social nonconformist more comfortable sitting in front of her computers than thrust within the loose, easygoing camaraderie that pervades the group. Still, she has the skills to fit in, and despite some misgivings, she eventually succumbs to their charms. As Dom, Brian and the team try to elude Shaw, what they don't count on is the determination of mercenary Mosi Jakande, played by Djimon Hounsou, and Kiet, Jakande's primary enforcer, portrayed by Thai martial artist/actor Tony Jaa: two men who want the prototype tracking device as badly as they do.

As the villainous Jakande, who ultimately joins forces with Shaw out of necessity, Hounsou literally hit the ground running. Upon wrapping production on Guardians of the Galaxy, the actor flew to Atlanta to meet with Wan, Diesel and the producers and then was whisked off to Colorado to film action scenes with the second unit before returning to Atlanta. The role was a pure adrenaline rush for Hounsou, whose scenes were all action-oriented. Whether in the midst of a firefight or low-flying aerial shots, he enjoyed the ride.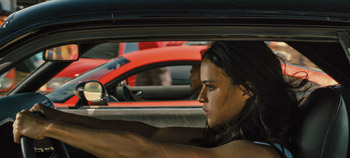 Recalls Hounsou, the two-time Academy Award®-nominated actor: 'My first days of filming on second unit with a helicopter were a walk in the park compared to the scenes we filmed on main unit. We had some spectacular stunt scenes, and that was the first notion that I had truly arrived at Fast & Furious 7."

Perhaps best known for his gravity-defying action performances in the Ong-Bak trilogy and gasp-inducing videos on YouTube, Jaa was a natural choice for Wan and the producers when it came to casting Kiet. Cast and crew were equally excited to get a firsthand look at his exploits, which include expertise in Muay Thai, Tae Kwon Do and acrobatics, among others. As much as the cast and crew enjoyed watching Jaa inhabiting a no-nonsense butt-kicking on-screen persona, it all belied a humble, yet gregarious, man who charmed them from day one.

Also joining the ensemble are Romeo Santas, the superstar Latin recording artist who portrays Mando, a helpful friend of Dom and Brian's in the Dominican Republic; and John Brotherton as Sheppard, Mr. Nobody's right-hand man. One of the most fascinating new members of the team was mixed martial arts fighter and UFC Women's Bantamweight Champion Ronda Rousey, who made her acting debut in The Expendables 3.

In Fast & Furious 7, Ronda Rousey plays Kara, an unstoppable guard of the Abu Dhabi elite, who must battle against Letty…while both are dressed to the nines. Michelle Rodriguez counts herself among Ronda Rousey's biggest fans, describing a particularly curious day on set: 'She's awesome; she's so strong and cool. Ronda picked me up over her head like it's nothing. She's over here having a conversation while I'm over her shoulders. Girls like her are just amazing."

Falling from the Sky: Insane Cars of Fast & Furious 7

Whether fast or furious, when it comes to the cars used in the Fast series, the formula is simple. Surmises Morgan: 'Cars are like a cowboy's horse or a Samurai's sword. They are an extension of our heroes and representative of their personalities. We always try to maintain that philosophy but accomplish it in a fresh new way with every film. The constant though: Brian will always get the fast car, while Dom always gets the furious car."

It is up to picture car coordinator Dennis McCarthy, a lifelong car enthusiast who turned his passion into a career, to fully realize that guiding principle in order to withstand the scrutiny of his fellow gearheads, while also entertaining the masses who line up to see each film.

The Fast alum began working on the series with Tokyo Drift and continues to curate the automotive eye candy that literally drives the high-octane action for which the franchise is known. With Fast & Furious 7, McCarthy once again proves he is the go-to guy to visualize the most outlandish and difficult action scenes in order to make this film the standout chapter when it comes to the cars and what they are capable of doing.

From the get-go, McCarthy knew the cars needed to satisfy a long list of requirements for story points, practically executed action on the ground and in the air. From the mountain rescue sequence with one-of-a-kind, off-road muscle cars to the final showdown"among the team, Hobbs, Shaw and Jakande's mercenaries on the streets of Los Angeles"McCarthy and his crew custom built and modified the majority of the fleet to handle the pounding that Morgan's script inflicts on the cars…not to mention the stunt team.

Working in tandem with special effects supervisor Dan Sudick (Iron Man franchise, The Avengers) and his department was key to pulling off a number of scenes, some that McCarthy initially thought had to be done using CGI.

He was wrong.

McCarthy fabricated badass off-road versions of Dom's trusty 1968 Dodge Charger R/T, as well as Letty's 2015 Dodge Challenger SRT 392, Roman's 1968 Chevy Camaro Z/28, Brian's 2014 Subaru Wrxsti and Tej's 2014 Jeep Rubicon X. The 'Franken-cars" needed to withstand a gamut of stunts expected from a Fast & Furious car, with the added mobility to handle off-road demands. As Dom says, matter-of-factly: 'I want the demon love child between that Charger and that [pointing at a military Humvee]. This time it ain't about being fast."

Raiding in Azerbaijan

Perhaps the most challenging task for McCarthy was the limited time frame in which to conceptualize and build the five off-road hero cars needed to pull off a roadside raid alongside a speeding convoy in the Bass Göynük mountains in Azerbaijan. Those scenes would kick off filming for the production's second unit, which handled the bulk of the action-driven scenes.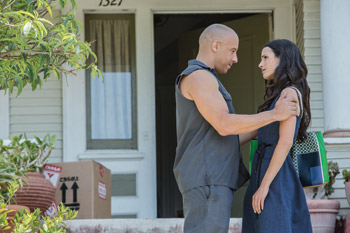 Ultimately, years of fabricating Fast cars had given McCarthy and his team a unique shorthand of what was needed, and they rose to the challenge of delivering a fleet of the perfect cars for filming. 'I was excited about the off-road sequence," says McCarthy. 'That's something I've been pushing for over the years. It's one of my hobbies, so to see that finally come about in a script was great. We put a lot of effort into building those cars, especially the off-road Charger. It was built from scratch. Trying to fit all our custom components of an off-road vehicle in the Charger body and still leave enough room for Vin was a challenge. It is probably my favorite car in Fast & Furious 7."

Of course, as with all Fast films, additional spare cars and shells are built to handle the demands of multiple units filming, as well as several special effects rigs that allowed Wan and cinematographer Stephen Windon to create tighter, more stylized shots on the cast as they tumbled, spun out or free-fell. Sudick's special effects team would design several rigs, all aptly named for their specialty: tumble, rotisserie, shaker and launch.

The actors admittedly had a love-hate relationship with those rigs. The returning cast knew what they were in for; however, new cast members had an eye-opening experience.

Emmanuel, a newbie to the action genre, enthusiastically embraced it all, despite some occasional bumps in the road. 'I was excited that I got to do some of my own stunt work," she says. 'It's all explained to you, but you still walk onto set not fully knowing what to expect in terms of the rigs; they're so imaginative and fun. One day, Vin and I are in the off-road Charger and they're shaking us left and right, tumbling up and down, and everyone keeps checking in with us and I'm feeling fine. All day it's like this until our last shot, where we spin around three times. I realize quickly that this is my limit." She laughs: 'I felt like I might have to vomit, but I didn't."

The veteran cast all had varying degrees of nausea and strained muscles, while others whooped it up and asked for another ride.

Free-falling in Colorado and Arizona

The steep jagged peaks of Colorado set the stage for the scene known among cast and crew as the 'snatch-and-grab" sequence. It is one of the more ambitious and practically filmed sequences, one that has Dom, Brian and the team launching themselves (and their cars) out of a C-130 cargo plane, free-falling and then parachuting to a treacherous mountain road below to knock off a convoy.

The company's action unit would begin filming this series of scenes in fall 2013 and, once again, would be helmed by second unit director/stunt coordinator Spiro Razatos and second unit cinematographer Igor Meglic (Fast Five, Fast & Furious 6), along with stunt coordinators (and brothers) Andy Gill (Fast & Furious 6) and Jack Gill (Fast Five) [also second unit director alongside Joel Kramer], who have perfected the formula of filming and choreographing inventive, practically executed action sequences and one-upped themselves each chapter. As they did everything conceivable to the stunt cars, the foursome would again put McCarthy's team through the paces. Each auto was customized to perform a multitude of specialized tasks"whether drifting, high-speed transitioning from pavement to running the gauntlet down the rough hillside terrain, and even going airborne with a parachuted landing. Whenever possible, the filmmakers opted to go practical with the action in order to visualize Dom, Brian and their crew deploying from the C-130.

Over three days in Arizona, utilizing a C-130 aircraft, camera-mounted helicopters and skydiving camera operators, the second unit team conducted a military air-style drop of each of the driverless cars"at altitudes ranging from 10,000 to 12,000 feet"to capture one-of-a-kind images for the sequence.

The second unit crew was prepared for filming in Colorado's high elevation areas of Pikes Peak and Monarch Mountain, but midway through filming, unpredictable weather threw them a curveball when frigid temperatures"coupled with a snowstorm that dumped several feet of snow on the set"sidelined the cast, crew and vehicles.

Luckily, their next stop was the warmer climate of Atlanta, where they met up with the main unit to film elements of the third-act showdown, which features Shaw, Jakande and Kiet facing off against Dom, Hobbs and the team in a cataclysmic showdown.

Vaulting in Abu Dhabi

Whereas the 'snatch-and-grab" sequence was all about the furious power of the vehicles, the Fast & Furious 7 scenes set in the United Arab Emirates were all about refined beauty and speed. Once the team hits Abu Dhabi, the capital city of one of the world's wealthiest countries, they outfit themselves in the best high-end exotics money can buy: a burgundy 2015 Dodge Charger for muscle-car aficionado Dom, a blue McLaren P1 for international car lover Brian, a black 2014 Dodge Viper for Letty, a yellow Ferrari 458 for Tej and a white 2012 Bugatti Veyron for Roman.

But the real crown jewel of the Abu Dhabi sequence is the prized multimillion-dollar W Motors Lykan Hypersport, which is housed in a vault of a billionaire's 80th-floor penthouse towering above the city. The reason that Dom and the crew have flown halfway around the world? It just so happens that Ramsey's tracking device is embedded in a speed drive tucked away inside the super car.

The highly coveted high-performance car clocks in as one of the fastest in the world and had a limited run of only seven automobiles that were manufactured in 2013. Not only is it supremely fast, but it also boasts over-the-top luxury touches, including white gold, diamond and sapphire adornments. So priceless that it had to be locked away in a vault, the HyperSport ticked all the boxes for the filmmakers when it came to selecting a car for the scene.

For the production, McCarthy was able to secure five replicas, in addition to the original. The replicas would do all the heavy lifting, while the $3.5 million original was used for close-ups and tighter beauty shots.

More eye candy, some rare and/or priceless, appears in the film as well. Besides the stalwart Charger, Dom busts out a 1969 Ford Gran Torino and a one-of-a-kind behemoth known as the Maximus Ultra-Charger, a reinvented brushed metal 1968 Dodge Charger with fat wheels and a 2,000-horsepower engine that stops everyone in their tracks. McCarthy was at the annual SEMA (Specialty Equipment Market Association) car show in Las Vegas when he came across the car and knew he'd hit the jackpot. He was looking for something unique for Dom and found it in this super luxury car, which is valued at more than $1 million.

Letty's hot-looking 1970 Plymouth Barracuda, which audiences glimpsed in one of the final scenes in Fast & Furious 6, smokes her opponents in the Race Wars scene, and a stellar 1998 Toyota Supra appears in one of Fast & Furious 7's final scenes.

Statham doesn't miss out on stunning cars either. He is outfitted with a quintet of fast, functional vehicles: a 2014 Jaguar F-Type R, 2014 Maserati Ghibli, a Fast Attack military vehicle, a 2010 Lamborghini Aventador and a 2008 Aston Martin Db9.

Practical effects were supplemented by the brilliant wizardry of visual effects supervisors MICHAEL J. WASSEL and KELVIN MCILWAIN, who have both been with the series since Tokyo Drift. Without their team's masterful, seamless work, the film wouldn't be nearly as spectacular as what appears on screen.

Vengeance Hits Home: Stunts of the Film

Beginning with the epic Dom-Hobbs matchup in Fast Five, hand-to-hand combats have become a staple in each chapter, with several memorable matchups"including Han and Roman squaring off against Jah, played by Indonesian martial artist Joe Taslim, and the free-for-all inside the Antonov cargo plane. But, most notably, Letty's fight-or-die approach against the military-trained Riley, played with laser-focused intensity by mixed martial arts fighter-turned-actress Gina Carano, was the standout bout. The pair went at it with a ferocity that became a game-changer for the series and intensified fan expectations for what would come next.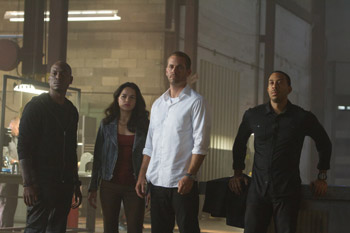 For Fast & Furious 7, the filmmakers looked to veteran supervising stunt coordinator Joel Kramer (The Conjuring, upcoming Terminator Genisys) and fight choreographer Jeff Imada (The Twilight Saga: Breaking Dawn"Part 2, Iron Man 2) to design and execute multiple action scenes"including an astounding six fight sequences in the film"with the ensemble, as well as the new cast members and seasoned fighters Statham, Jaa and Rousey.

Wan, an avowed action-film buff, had specific parameters of how he wanted to illustrate the action. Working in tandem, Kramer, Imada and Windon and Wan came up with inspiring new ways to capture the fast-moving action at every angle. It was a constant challenge for the team to continue to push the envelope, yet keep the stunts within the realm of the Fast milieu.

The director recalls the challenges: 'I wanted to shoot fight action where we let the actors do their thing without cutting it up too much, and just let my camera hold on them. Also, I'm a big fan of pyrotechnics in my camerawork, so I also wanted to bring some of that aesthetic that I've applied in suspense thrillers into big action sequences and fuse the styles."

Kramer reflects on Wan's unique decision: 'James gives us the vision of how he sees stunt sequences, but he always gives us leeway in its execution. I don't like to add a bunch of useless eye candy if it's not going to serve the characters or the story, and that's where James excels. He's great at layering in what works for the characters and for the scene, and Steve [Windon] always comes up with a great way to shoot it."

Their collective method showcased all the hard work the actors were putting in to ensure that savvy audiences knew they were getting authentic, practically performed stunt work. Not only was Imada incorporating multiple fighting disciplines, but he also heightened the level of play by using the surrounding environment as another component. Every aspect contributed to the task at hand of creating evocative fighting action.

Kicking off an explosive early sequence in the film are Hobbs and Shaw, two men who are both military-trained and have a healthy dose of experience and self-confidence. Pitting the brutal enforcers in an all-out test of strength, technique and mental acuity is the perfect way to prepare audiences for what is in store.

Johnson and Statham, athletes who each possess impressive skill sets, embark in a brutal battle that showcases their natural athletic ability and finely honed, well-matched fight skills. The two performers worked closely with Imada to ensure that the scene was fresh and original. Johnson was all-in when it came to working with Statham, a fellow perfectionist. Says the performer: 'When it comes to fighting action, Jason brings an authenticity to this franchise. He's a pretty tough guy, and he's legit. He is a guy who is all about wanting to make every scene incredible, and I am really happy with the action sequence that we were able to put together. It's a great blend of Jason showcasing his well-versed martial-arts techniques and my inflicting Hobbs' very straightforward, hard-core way of fighting. From day one, we both were able to establish a cool shorthand with each other and bounce off ideas. That only elevates the action even more."

The most challenging sequence for them all was set within the narrow confines of a bus, one that was speeding out of control in the 'snatch and grab" series of events. This was particularly challenging for Jaa, whose kinetic running, jumping and flipping moves are an integral part of his style.

Key to Imada's approach was highlighting the best of his actors' expertise into his design. 'My goal was to utilize all the tight, confined areas and give the audience a great feeling of action having Tony show off his signature moves," says the fight choreographer. 'It was nice to use traditional techniques but also keeping it loose and improvising, which is what the scene demanded. The characters each use their combined street smarts and their savvy of combat, all while incorporating their precarious environment. It's a cool fight."

Once again, Letty taps into her street cred when she goes head-to-head against a four-woman security detail, one led by Kara, at the billionaire's jet-set party that is crashed by Dom and the team. For the sequence, Rodriguez donned a custom-made red dress designed by costume designer Hays that gave her the lethal combination of sex appeal and mobility.

For her part, reigning UFC champion Rousey wore a curve-hugging Herve Leger dress, which was also customized to allow the trained fighter to move freely. What also sets this particular fight apart from the others in the film is that both actresses wore high heels throughout the matchup, which begins in the bedroom of the penthouse before spilling out into the party. As with all his fights, Imada choreographed a fast-paced bout punctuated by constant, relentless movement between the combatants.

As she always is when it comes to the film's action, Rodriguez jumped into both physical and fight training with her signature gusto, training sometimes twice a day. Kramer and Imada were heartened by her enthusiasm and provided her with background on the concepts and principles of what she would be facing. Rodriguez was well-versed in responding and reacting to what was coming at Letty as she faced trained fighters.

Joining in on the fight action for the first time is Bridges, who was happy to see Tej get more physical both in and out of the car. Over the years, Bridges has become a devotee of the martial-arts technique known as 52 Blocks (or Jailhouse Rock). He felt right at home as he and veteran stuntman Matt Leonard blocked out their fight. Along with Imada, they integrated elements of the style rooted in the urban streets into the scene. Says Bridges: 'There's a great history of this martial art and a lot of people have no idea what it is. It's very fast, with a lot of continuous movement with knees, elbows and your head."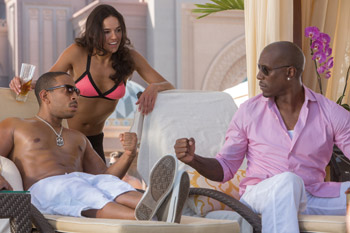 Last, but certainly not least, is the third-act final showdown between Dom and Shaw, which, for all intents and purposes, is a straight-up L.A. street fight. It's a challenge that Dom throws down to Shaw, who readily accepts by laying down his gun and squaring off against the man responsible for his brother's death. The fight goes from zero to full throttle in a matter of seconds as Dom, all visceral emotional power propelled by the desire to protect his family, rages against Shaw, the stone-cold assassin avenging his own family.

Remarks Statham: 'Fast & Furious 7 is full of testosterone, and the best way to show that is to get down and dirty with bare knuckles. That's the way the audience wants to see it go down. That's the way that Shaw and Toretto want to do it."

Diesel, always focused on maintaining his fitness level, stepped up his training, often working out with Jaa during downtime to ensure the sequence was the best it could be. Shares Kramer: 'Vin's a tough dude and does all of his own fight work. He's methodical when he breaks down a scene. He figures out the character, why he's doing it, and we walk him through the choreography so he understands why he's doing what. He picks up on it very quickly and then we train for it and execute the sequence. He's a dream to work with."

Los Angeles to Abu Dhabi: Locations and Design

Years spent as fugitives have finally brought the crew back to Los Angeles, but this comes at a steep price. The devastating loss of Gisele (Gal Gadot), coupled with Letty's struggle to cobble together her present with chunks of her elusive past, has profoundly affected them all. Returning to L.A., where it all began, was something the cast wanted as much as their on-screen counterparts. But, more importantly, it was essential they revisit iconic locations such as the Toretto house, the outlook at Dodger Stadium, the empty nighttime streets east of downtown and the hot, dry desert for Race Wars.

To have Dom, Brian, Letty and Mia come home to Los Angeles is what Diesel refers to as 'hitting the reset button" for the crew who literally began their journey on the streets. The City of Angels is their touchstone, and returning jump-starts their story"as it did from the first chapter to the fourth and now the seventh of the saga. It was bittersweet and nostalgic for Diesel to once again have L.A. as the story's backdrop.

The performer explains the importance of highlighting the film's history this way: 'It's rare for anyone in Hollywood to do a sequel and actually return to the original locations multiple times. Returning to Los Angeles to film at these old locations proves that Dom, Brian, Letty and Mia were able to come home, and there's something powerful about the ability to do this in the seventh film, as it ties up the whole series in a very cohesive way. It started here, and it ends here with L.A. as the backdrop. I'm proud of Universal, for making sure we did it right."

Perhaps the most well-known Fast location of all is the Toretto family home, which is the figurative heart threaded throughout the series' various storylines. With Fast & Furious 7, the fabled home meets its demise as Shaw's onslaught continues with Dom, Mia, Brian and Jack in jeopardy. It's a heartbreaking turning point for Dom that sets his play in motion.

After the first film, the house would also appear briefly in Fast & Furious and Fast & Furious 6. Over a decade and several different homeowners later, the Echo Park home would once again be at the forefront of filming. Once again, Dom's garage at the rear of the property, his sanctuary, would need to be reassembled. The original structure was razed by the previous owners, which meant production would need to reassemble the set piece that the studio warehoused after Fast & Furious. Fortunately, the house interior had remained much the same.

Says Brewster: 'As an actor, what's so fun about filming at the house again is to go back there and see how the neighborhood has changed so much, and yet you see the Toretto family market is still there down the street…or go into that house and feel instant memories. It was a walk down memory lane when we filmed at the Toretto house. It's special to be able to do that at an actual location; there's something very pure about that."

Another one of those locales was the desert backdrop for Race Wars. It proved to be one of the more gratifying, if not raucous, shoot days, especially for Diesel and Rodriguez. Fast & Furious 7's Race Wars scenes were filmed in July 2014 in Lancaster, 70 miles north of Los Angeles, with hundreds of cars and background extras braving temperatures topping 100 degrees in the shade. Car clubs and enthusiasts, and just plain film fans from across the country showed up to pay homage to the franchise that has inspired them over the years.

Car owner after car owner cited The Fast and the Furious as the defining moment for them, while others just showed up to be a part of filming and possibly capture a glimpse of Diesel and Rodriguez. Both actors were admittedly humbled by the overwhelming response of fans and reminded of the almost profound effect the films have had on pop culture. During downtime on set, Diesel and Rodriguez would walk through the crowd admiring the cars, taking pictures and signing autographs.

'It was a very surreal, gratifying moment to be back at Race Wars," recalls Diesel. 'Fans were reciting lines out loud from the first film with a reverence and regard. It's a certain kind of validation you can't buy that's authentic and reminds you that even though it's just a movie, it has a positive effect that people adopt as their own."

The underground, untamed outlaw vibe of The Fast and the Furious' Race Wars, which captivated audiences with the spectacle of sexy scantily clad women mixed with equally sexy fast cars with drivers racing for pink slips, has grown up. The modern-day incarnation retains the carefree partying with hot ladies and fast cars but has taken on a more structured vibe showcasing corporate-sponsored motorcycle acrobatics, drifting and, of course, drag racing, with more than 300 cars on site.

Once again, McCarthy's extensive knowledge and experience of all the major car-racing events, such as King of the Hammer, also proved to be a great resource for the filmmakers when looking to reincarnate Race Wars almost 15 years after the original sequence. Production designer Bill Brzeski would oversee the visual aesthetics for this shiny, updated, more commercial version of Race Wars, which would be on par with the glossy looks of most X Games extreme-sports events.

Principal photography began in September 2013 in Atlanta, where cast and crew previously filmed Fast Five. A number of interior sets along with exterior green-screen sets were built north of Atlanta, including the opulent Abu Dhabi penthouse party space and bedroom sets, as well as the cement factory and Hobbs' office, which is decimated by the free-for-all between Hobbs and Shaw. Scenes utilizing the exterior sets of the Abu Dhabi penthouse and Jakande's bulletproof bus and stealth chopper were also filmed at the site.

The filmmakers would be remiss not to include one of the true mainstays of the franchise mythology: the Tuner Party. Race Wars set the standard in The Fast and the Furious, and each subsequent installment showcased the best that Miami, Tokyo, Los Angeles, Rio de Janeiro and London had to offer. Fast & Furious 7's version is decidedly upscale and international, although sexy women and one hot car are still at the center of the hedonistic fun.

The Abu Dhabi penthouse party scene would be one of the more fun scenes for both cast and crew to film. Set in the posh interiors of the 80th-floor penthouse apartment of a Jordanian prince, the team crashes the party to snatch the hard drive containing the tracking device.

A group of several hundred well-dressed background actors, gold-painted go-go dancers, stunt players and a sexy red Lykan joined principal cast, rapper T-Pain, who joined in as the party deejay, and crew over the course of a week to film the elaborately choreographed scene, which lifted the curtain on how billionaires party. The set was also designed and constructed to withstand the rigors of stunt drivers speeding and drifting through the set while stunt men and women in black-tie attire cowered, sprinted or dove out of the way.

Abu Dhabi offered the filmmakers an opportunity to inject more striking elements and locales into the franchise's mythology. Over the course of filming every installment, settings with thriving car cultures have always been incorporated into story lines. It was inevitable that the Middle East, home to some of the wealthiest people in the world with a taste for the finer things, including fast cars, make an appearance in the franchise that is built on speed.

Reflects Wan: 'The locations in Abu Dhabi are amazing. It adds a lot of production value to the film and makes it really exotic. We want to strike a balance with both the opulence in this part of the world as well as what is more traditional and cultural just to get a bit of that flavor into the film. It's a bit different to what the Fast & Furious fans have seen before so there is a natural evolution in the series."

Over the course of two weeks of filming in April 2014, the crew covered areas outside of Abu Dhabi in the Liwa Desert, as well as in the city center itself at such locations as the Sheikh Zayed Grand Mosque, Emirates Palace hotel (a former royal palace), Etihad Towers and the Yas Marina. Of course, aerial shots were a given, considering the city's recognizable skyline accentuated with vertigo-inducing skyscrapers.

The presence of the star-studded cast in Abu Dhabi drew enormous amounts of attention and garnered several royal visits to the set. Luckily, the cast was dressed to the nines in designer wardrobes from Tom Ford (Diesel, Bridges, Gibson) to Herve Leger (Emmanuel) for filming. This upgrade was a first for the Fast cast, who are used to filming in gritty attire such as T-shirts, jeans, work boots and leather jackets.

The opportunity to dress up for one their franchise's more daring heist scenes was enjoyed by all. Shares Rodriguez: 'I thought that was a great touch. Thank you, Chris [Morgan], for coming up with that. It's been 14 years, and after a while the Timberlands and the tank tops are cool, but there's only so long you can walk around looking like a grease monkey. You've got to grow out of it and see where it takes you. I love a good makeover."

As is the norm with the last three Fast films, no matter what far-flung locales Morgan's scripts take them to, the cast and crew always return home to spend their last days of production filming in Southern California. Fast & Furious 7 is no different, as Diesel and Rodriguez spent the last day of filming speeding along a back road in a fast car.

A true testament to the prevailing and strongest theme of the bond of family in the Fast & Furious franchise is once again depicted in its purest form as the light fades on the seventh chapter. Dom and the team make the choice that's best for their family. Concludes Diesel: 'You'll see as you watch Fast & Furious 7 that themes that have been initiated or planted in previous movies all come full circle here. In many ways, the most important one of all comes down to our family."

Ride Out: Music of the Film

Films of the Fast & Furious franchise are known just as much for their cutting-edge music as much as they are for the stunts and cars. Fast & Furious 7 doesn't disappoint, with its selection of songs from some of today's most powerful and influential hip-hop and R&B artists. All in service to the pulse-pounding action and the intimate moments among our characters, the music and lyrics constantly engage and surprise the audience. Composer Brian Tyler, who first began his work with the series on Tokyo Drift, has distinguished his work on each movie in the series with signature sounds that define the characters and advance their journeys.

From Wiz Khalifa & Iggy Azalea's (who also has a cameo in the film as one of the racers) attitude-infused 'Go Hard or Go Home" and the balls-to-the-wall 'Ride Out," from Kid Ink, Y.G., Wale, Tyga & Rich Homie Quan, to Prince Royce's deeply passionate 'My Angel" and the memorable 'Off-set" from T.I. & Young Thug, the soundtrack is rich with moments that reflect the tension and power of our heroes and their trials and tribulations.

For his part, Wiz Khalifa is no stranger to the Fast family, as the artist partnered with 2 Chainz on Fast & Furious 6's blockbuster anthem, 'We Own It." Alongside the YouTube-discovered sensation Charlie Puth, he also contributes 'See You Again," the emotional soft-piano infused ballad that underscores the series' commitment to the everlasting bonds of family.

Flo Rida (featuring Sage The Gemini and Lookas) creates the signature vocals for 'GDFR (Noodles Remix)," while Juicy J, Kevin Gates, Future and Sage The Gemini deliver the no-nonsense 'Payback" with lyrics such as 'Don't act like you don't know. Know what I came for. Too late to turn back, this is the payback," that could have easily been lifted from the hard-hitting dialogue for which Morgan's screenplays are known.

Additional contributions to the soundtrack include Sevyn Streeter's 'How Bad Do You Want It (Oh Yeah)," Dillon Francis & DJ Snake's 'Get Low," DJ Shadow's (featuring Mos Def) 'Six Days (Remix)," J. Balvin's (featuring French Montana and Nicky Jam) 'Ay Vamos," Fito Blanko's 'Meneo," and Skylar Grey's 'I Will Return." Finally, David Guetta brings his signature work to Kaz James' 'Blast Off."

Notably, the Fast & Furious 7 soundtrack, produced by Grammy Award-winning soundtrack producer Kevin Weaver and Warner Music Group President of Worldwide A&R Mike Caren, includes the first-ever album release of 'Turn Down for What," the worldwide smash from DJ Snake & Lil Jon.


Fast & Furious 7
Release Date: April 2nd, 2015