Zach Galifianakis Masterminds
Cast: Jason Sudeikis, Owen Wilson, Zach Galifianakis, Kristen Wiig
Director: Jared Hess
Genre: Action, Comedy
Rated: M
Running Time: 94 minutes

Synopsis: Based on a true story, Masterminds follows the riotous misadventures of unlikely anti-hero David Ghantt (Zach Galifianakis) as he pulls off one of the largest robberies in U.S. history. The trouble begins when David, a trusted armored-truck driver for Loomis Fargo, falls for beautiful guard Kelly Campbell (Kristen Wiig). After she quits her job, Kelly, egged on by local petty thief Steve Chambers (Owen Wilson), persuades David to clean out the company's vault in Charlotte, North Carolina.

After stuffing a van with more than $17 million of stolen cash, David delivers the money to Chambers' gang and flees to Mexico to lie low while the FBI searches for the culprits. Steve and his wife Michelle (Mary Elizabeth Ellis) buy a mansion with their ill-gotten wealth and dispatch overzealous hit man Mike McKinney (Jason Sudeikis) to Mexico to kill David. Once David discovers the betrayal, he returns to North Carolina on a mission to rescue his true love and expose Steve as the heist's real 'mastermind."

The rollicking comedy stars Zach Galifianakis (The Hangover franchise), Kristen Wiig ('Saturday Night Live," Bridesmaids), Owen Wilson (Midnight in Paris, Zoolander) and Jason Sudeikis ('Saturday Night Live," Horrible Bosses). The cast also includes Devin Ratray, Kate McKinnon, Mary Elizabeth Ellis, Ken Marino, Leslie Jones, Jon Daly and Ross Kimball.

Masterminds is directed by Jared Hess (Napoleon Dynamite, Nacho Libre) and screenplay by Chris Bowman & Hubbel Palmer and Emily Spivey. Lorne Michaels ('Saturday Night Live," Baby Mama) and John Goldwyn (The Secret Life of Walter Mitty) produce. Ryan Kavanaugh, Dana Brunetti, Kevin Messick, Jody Hill, Danny R. McBride, Erin David, Jill Messick, Tucker Tooley, Kenneth L. Hal

sband, Brett Dahl and Brent Almond serve as executive producers. D. Scott Lumpkin is co-producer. The creative team includes director of photography Erik Wilson (The Double), production designer Clayton Hartley (Anchorman 2: The Legend Continues) and costume designer Sarah Edwards (Michael Clayton).

Masterminds
Release Date: October 13th, 2016



About The Production
As the director of 2004's zeitgeist-defining nerd comedy Napoleon Dynamite and 2006's Nacho Libre, which stars Jack Black as a misunderstood Mexican monk who moonlights as a luchador, Jared Hess has demonstrated his gift for generating big laughs from underdog heroes. So it seems only natural that the Utah-born filmmaker became intrigued with the truth-is-stranger-than-fiction 1997 Loomis Fargo heist. Hess says he experienced an instinctive connection with the bizarre story, particularly with its protagonist, armored-truck-driver-turned-robber David Ghantt.

'The first time I saw an interview with David Ghantt and heard his side of the story about how things went down, it felt to me like he was always being underestimated by everybody," says Jared Hess. 'I could tell he was a good person who did the crime for love. Most people are risk-averse. They're afraid of failing so they don't take any chances, live quiet lives because it's easier. But when people take big risks, whether they fail or succeed, it's interesting to see them try."

Well before Jared Hess signed on to helm the project, legendary 'Saturday Night Live" producer Lorne Michaels had spent years championing a film based on the infamous heist, inspired by coverage on the ABC news magazine'20/20." 'I saw the footage of the robbery when it first happened in North Carolina and we originally wanted to develop the story for Amy Poehler to play the character of Kelly," Lorne Michaels says. After a succession of scheduling conflicts and script revisions, including a rewrite by Jody Hill and North Carolina native Danny McBride, the story eventually came to Jared Hess' attention.

Owen Wilson, who has starred in his fair share of quirky comedies, starting with his feature-film debut in Wes Anderson's Bottle Rocket and including high-concept goofs like Zoolander and Starsky & Hutch, appreciated the story's hilariously flawed master plan. 'It's about a heist pulled off by the worst criminals you could imagine," he says. 'In Body Heat, Mickey Rourke says to William Hurt, -Anytime you pull a crime, there's 50 ways you can screw it up. If you can think of 37 of them, you're a genius.' Our characters couldn't even think of three ways they could screw it up, so that's the problem."

Kate McKinnon, who plays David's fiancée Jandice, gravitated to the sheer zeal exhibited by the hapless gang. 'The story's great because it's about people who are valiantly trying to do something and they think they're doing a great job," she says. 'They actually couldn't be doing a worse job, but their enthusiasm is a beautiful thing and that's an American tale."

While Jared Hess and company invented some sequences for comic effect, there were plenty of astonishing facts to work with. 'I was surprised to find they really did hire someone to go down to Mexico and kill David," says Owen Wilson. 'This film's a little bit like Fargo in that there's some dark stuff yet it can still be funny. Most of the things in this movie really happened, and it's all so crazy and ridiculous, I thought if we just honored that, we'd be okay."

Becoming The -Masterminds'

A key player in bringing David Ghantt and his story to the big screen turned out to be the one cast member who actually grew up near the scene of the crime " Zach Galifianakis. 'As I started researching the story, Zach came to mind even before I knew he came from North Carolina," says Jared Hess. 'When I found out that he grew up a few hours away from where the actual heist occurred, I was even more like, -Man, Zach Galifianakis's gotta be the guy playing David.' He really brought authentic local flavor to the accent and the way he portrays the character."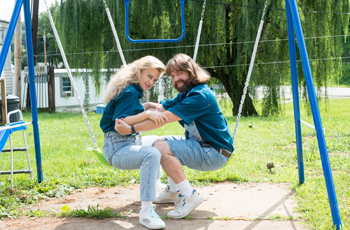 Zach Galifianakis, who was born in Wilkesboro, about an hour north of Charlotte, felt an immediate kinship with the world of Masterminds. 'I grew up with guys like David," he says. 'So getting into character was pretty second nature. It wasn't like I had to do a ton of research."

The actor developed a genuine fondness for his character after meeting the real-life David Ghantt in Los Angeles. 'I went to lunch with David and found him to be a gentle, sweet guy and even somewhat innocent," says Zach Galifianakis. 'He got wrapped up in a bad idea, but I think we're all guilty of that. David told me he used to be rambunctious back in his early 20s when he was making eight bucks an hour. We talked about temptation and the fact that he had this rough start in life. It was a terrible decision on David's part; the whole pull for him was never the money. I think he robbed because his heart told him to."

Playing the minimum-wage femme fatale to Zach Galifianakis' blue-collar thief, Kristen Wiig brought innate empathy to her zany interpretation of Kelly Campbell. 'In our version of the story, they're clueless people with big hearts," says Kristen Wiig. 'It's not that you should rob a bank if you're bored, but I think Kelly really did find something in her life she was looking for. She's the reason why David puts his life at risk. He loves her, and then she falls in love with him. I couldn't believe it was a true story."

The on-screen chemistry between Zach Galifianakis and Wiig infuses Masterminds' slapstick surrealism with a number of heart-warming moments. 'I've worked with Kristen before on other things but I really got to know her on Masterminds," says Zach Galifianakis. 'She's the goofiest lady in the greatest way and unafraid to try things. We really clicked " thank God, because it's the worst when you don't."

Inciting David and Kelly to commit crimes they wouldn't have dreamed of doing on their own is self-appointed ringleader Steve Chambers, aka 'Gepetto." 'Steve fancies himself an alpha dog who's pulling the strings among his group," says Owen Wilson. 'He can be sort of persuasive but he's not a tremendously likable person. He just wants to look cool. For me, the characters that end up being the most fun to play have at least one of the seven deadly sins and Steve Chambers definitely has quite a few."

Owen Wilson, who has co-written several Wes Anderson movies, brought a contrasting comedic style to the ensemble cast. 'Owen Wilson's the perfect counterpoint because his attention to language and how he phrases things is so distinctive," notes producer Lorne Michaels. 'If you only judged these characters by their actions they'd be thought of as idiots, so when you can make them sympathetic and show what they're thinking, the way Owen Wilson is able to do because of his intelligence, it makes the story more interesting."

'Saturday Night Live" veteran Jason Sudeikis initially had qualms about portraying jolly killer-for-hire Mike McKinney. 'He's a hit man who's done the job several times and with great zeal," says Jason Sudeikis, who earlier acted opposite Zach Galifianakis in the political satire Campaign. 'When I initially read the script, I didn't think I was necessarily right for the part because I tend to look at characters in a very literal way." But Sudeikis warmed to the strange friendship that blossoms in Mexico between the hit man and his target. 'David teaches Mike a little bit about God, love, Buddha " the big-picture things that someone who extinguishes life for money may not always deal with."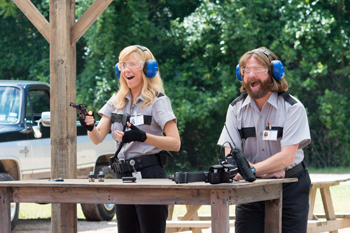 Even the supporting characters in Masterminds boast unexpected quirks, as Devin Ratray learned when he researched his role as Steve Chambers' sidekick Runny. 'He didn't want to get his fingerprints on the big bundles of cash so, true story, Runny handled the cash only with his wrists," says Devin Ratray, the former Home Alone child actor who more recently appeared in director Alexander Payne's Oscar®-nominated drama Nebraska. 'Runny held up the transportation of the money by at least 45 minutes because he kept on dropping it."

Primitive but effective, Runny's cash-moving technique actually prevented FBI agents (portrayed in the film by Leslie Jones and Jon Daly) from tracking heist suspects through fingerprints. 'I practiced lifting up lunch trays at the cafeteria with my wrists," Devin Ratray laughs. 'That's the kind of effort I put into research. That's where the real work and the joy of my craft comes in."

Good Vibes And Surreal Moments

Although the filmmakers traveled to Puerto Rico for some sequences where David is hiding out in Mexico, most of Masterminds was shot on location in and around Asheville, North Carolina. 'Of all the movies I've done, I think this one had the nicest feeling on set," says Michaels, whose credits include Baby Mama, MacGruber, Mean Girls, Tommy Boy, ¡Three Amigos! and Wayne's World. 'Zach Galifianakis and Kristen Wiig are perhaps the lead characters but they'd also show up when the others were shooting. There was a real sense that everyone was rooting for everyone else."

'If you looked at our set, there was nothing too elaborate, which was great," adds Zach Galifianakis. 'It allowed for more looseness and creativity. I remember working with Kristen Wiig until one in the morning when we got the giggles like you do if you attend a church where you're not supposed to laugh. I'm 44 and it's unprofessional to laugh at one in the morning with the other actors so I tried to play the disciplinarian. I told Kristen Wigg, -Try to be professional,' but I couldn't stop laughing while I said it. I don't usually crack up that much, but this set was really fun. At the same time, it's work. I mean you go in and you vomit your lines out and hope people like it."

From Jared Hess' vantage point, good vibes lead to good comedy. 'There were so many good places to go eat, so every night after the shoot we all hung out. It was a riot."

Cast and crew had plenty of time to take advantage of Ashville's lively restaurant and club scene because the weather sometimes failed to cooperate with the shooting schedule. Due to rain delays, it took nine days to film the climactic sequence that unfolds at the fancy mansion belonging to David Chambers and his wife Michelle, played by Mary Elizabeth Ellis.

'There were so many Salvador Dali moments," recalls Ratray. 'One time I was lying in the mud covered in duct tape with the rain falling in my one eye because the other one was taped shut. I look like I'm having a slight seizure with Zach standing over me in a white tuxedo, sunglasses and a rifle. Reading the script is one thing but shooting it for hours and hours, doing it again and again and again, sometimes you'd just look around covered in duct tape and say, -What the hell?' Every day there was something new."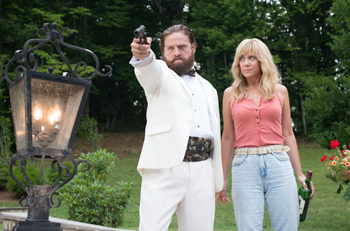 That '90s Look

As a fact-based movie set in the not-so-distant past, Masterminds occupies a largely unheralded region of the pop-culture timeline: the late 1990s. Costume designer Sarah Edwards embraced the task of dressing characters for a period that has yet to generate much in the way of nostalgia. 'It was challenging to find clothes because they're not really old enough to be in the costume rental houses yet, so we can't rent them," she says. 'At the same time people still have them in their closet, so they're not in vintage stores either. We spent a lot of time in thrift stores."

Although Masterminds takes place in 1997, the North Carolina characters lagged behind the times in terms of their fashion savvy, according to Sarah Edwards. 'People were still wearing things from the '80s," says the designer, whose previous work includes such contemporary dramas as The Secret Life of Walter Mitty and Michael Clayton. 'That period was actually a lot of fun to recreate, I mean, people were still wearing shoulder pads in the '90s."

Sarah Edwards especially enjoyed dressing Owen Wilson as gang leader Steve Chambers. 'Owen Wilson had no fear and went full on into the period," she says. 'We've now gone to skinny low-rise pants but when Masterminds takes place, everything was oversized. Steve Chambers wears great big printed crazy Zubaz pants with muscle T-shirts. The last time I saw someone wearing those, it was Joey Buttafuoco. And when Steve Chambers and his wife Michelle go to the mall with all their money and come out in matching red-white-and-blue windbreakers wearing incredibly high-waisted jeans " for me that was a great moment."

Sarah Edwards rooted the film's overall aesthetic in deliberately un-chic references. 'These characters don't have a tremendous amount of taste," she says. 'Their references are daytime television and the best store in town is probably a J.C. Penney. Jared Hess loves that period and really wanted to go there, so we looked at Sears catalogs from the mid-'90s. It's before the internet. It's before everybody had access to everything that was happening in the world so fashions came a little bit later to the South and we wanted to reflect that."

In Zach Galifianakis' interpretation of David Ghantt, the character's defining style trait took the shape of an outrageous pudding bowl haircut. 'It's a really unfortunate look," he laughs. 'I don't know how anybody could pull that off. David Ghantt doesn't really look like that in real life. He's much more badass, that's for sure, so we androgenized him a bit. I've never played anybody overtly sexual. I have to look goofy, but the hair takes the cake."

The filmmakers put a comedic twist on David Ghantt's wardrobe for the scene when he flees the country for Mexico. 'David Ghantt stuffed $30,000 in cowboy boots in real life, but in the movie we decided to put the cash in my underwear because who doesn't like midsection humor?"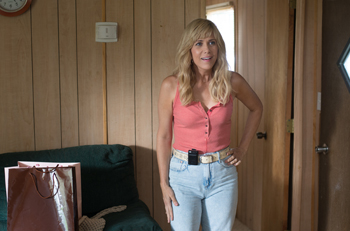 To portray Kelly Campbell, the woman who inspires David Ghannt's criminality in the first place, Kirsten Wiig worked with Edwards to make sure her character dressed in authentically unfashionable outfits. 'We looked at a lot of portraits of people that were taken in malls in the '90s including photographs taken by the Sears Portrait Studio," she says. 'Kristen Wiig really wanted to embrace that and wear things that were maybe not so pretty."

One of the movie's most startling costumes belongs to McKinnon's character Jandice, when she dresses up in a soap opera-inspired dress to pose for wedding photographs with David. 'The look for Jandice has been designed by a team of professionals who are well-versed in horrible things," McKinnon laughs. 'The worst kinds of hair, the very worst clothes, the makeup could be worse, but it could also be way better. It's actually not far from how I dress in real life, so I feel very at home in these clothes."

From Mobile Homes To Mansions

To create Steve and Michelle Chambers' pre- and post-heist homes, production designer Clayton Hartley and set decorator David Smith referenced the real-life couple's remarkably bad taste. For their pièce de résistance, the designers performed a mansion makeover honoring the gaudy sensibilities of the nouveau riche criminals. 'I said to all of my set decorator friends, -Guess what? This script has a black velvet Elvis Presley painting, and not only that, Playboy Bunny centerfolds,'" says David Smith. 'Because in the real-life Chambers' house, there was a whole bathroom full of centerfolds."

In fact, the filmmakers actually wound up toning down Steve Chambers' outrageous sense of décor, according to Smith. 'We did include a black velvet background painting of Elvis Presley, but we opted not to do the Playboy Bunnies. We also couldn't paint the walls bright red like Steve Chambers did because the owners wouldn't agree to it. They couldn't quite believe what we were doing to their house as it was.

'For me personally," adds David Smith, 'It's a lot more fun to work with character-driven environments like these than to do something pristine and beautiful out of the pages of Elle Décor or Architectural Digest."

Steve Chambers' huge new house and fancy cars spark suspicion from snobbish neighbors who have trouble believing the loser they knew in high school could have made his millions through any legitimate means. 'The big test for the characters was that that they weren't supposed to spend any money for a while," notes Michaels. 'They were just supposed to sit on it. But then you see how Steve Chambers and his wife make that first little move to buy clothes at the mall, thinking, -Maybe I can get just a little of that.' And from there it's a slippery slope. All these characters had to do was to go about their normal lives, but they couldn't do that."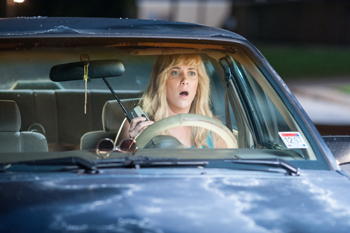 Standing in stark contrast to the sterile upscale suburban neighborhood where Steve and Michelle choose to live are the colorful Mexican streets where David finds himself fleeing law enforcement agents and a sadistic hit man. The Mexico scenes were actually shot in Puerto Rico, where the filmmakers constructed a vast flea market from scratch. 'Originally it was only supposed to be just one block but it kept growing until it became two blocks," says Smith. 'Everything was acquired on location. We tried to set it up fast but got rained out severely and had to change our schedule. We still had a lot of fun though."

True Story, Real Fun

Rated PG-13, Masterminds' hilarious sight gags and down-home characters offer a refreshing alternative to the raunchy humor that characterizes many profanity-laced summer movies, according to Zach Galifianakis. 'American comedies can be really loud with bad language and some people love that, but I feel like all the cursing and stuff has become kind of hacky now," says the actor. 'Jared Hess and I agreed on the idea that we could make jokes without that."

For all its bad behavior, Masterminds retains a certain innocence rarely featured in mainstream Hollywood comedy. 'With Jared Hess, I feel like you're never that far from a Warner Bros. cartoon where there's a little bit of Bugs Bunny and Daffy Duck. If you like that sensibility, you're going to like this movie because it's fun, it's going to last less than two hours and you're going to laugh a lot. Also, it won't insult your intelligence and the story holds your attention."

Ultimately, Masterminds owes its entertainment value to the filmmakers' deft take on events set in motion by wildly amateurish criminals 18 years ago. 'If everything had gone according to plan and worked out perfectly, I would probably be in Europe right now," says Ghantt, who serves as a consultant on the movie. 'I'd probably be living in Ireland where a person like myself would not stand out too much " except for my accent." Then again, if everything had worked out perfectly, audiences wouldn't get a chance to enjoy the hilarious screwball heist flick that is Masterminds.


Masterminds
Release Date: October 13th, 2016