Thanks to Rock Your Vibe here is your chance to win one of 7 x Kimmidoll Prize Packs valued at $38 each including:

1 x Kimmi Maxi Doll
1 x Kimmi Mini Doll
1 x Kimmi Keychain
Kimmidoll
A range of contemporary "Japanese Inspired" doll characters, each with anindividual meaning expressing one of "Life's True Values".
As a gift, Kimmidolls shares common beliefs and aspirations with friends and lovedones. As a decorative item for the home they represent a common connection shared by people all over the world. As a collectable each doll is unique andmeaningful, connecting with one of life's true values.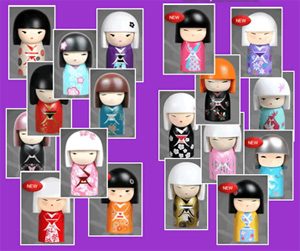 About Rock Your Vibe


With our range of products designed to inspire, motivate and delight, Rock Your Vibe is the ideal place to pick up unique gifts for someone special, a gift of abundence, spread some love, or send some wellbeing.
Our website also brings you newsletters, wallpapers and some other fun freebies. If you have any suggestions for other unique gifts you would like to see, please drop us a line - we'd love to hear from you.
Kimmi Maxi Doll - RRP: $19.99
Kimmi Mini Doll - RRP: $9.99
Kimmi Keychain - RRP: $7.99
Check out the fill range of Kimmidolls at
www.RockYourVibe.com.au